Want something that's really long on taste? Slam you in the face flavour? Indian hotel style chicken tikka jalfrezi fits the bill.
Stop and think about it. Chicken jalfrezi is a big curry. Toss in some chicken tikka and it's huge. Wrap it up in Indian hotel style gravy and it's completely over the top.
Lightly charred peppers. Green chilies. Onions. Chicken tikka. Tomatoes. And a whole lot of spice. This is a curry for people who want it turned up to 10.
Think I'm talking it up too much? Try it yourself. You'll see.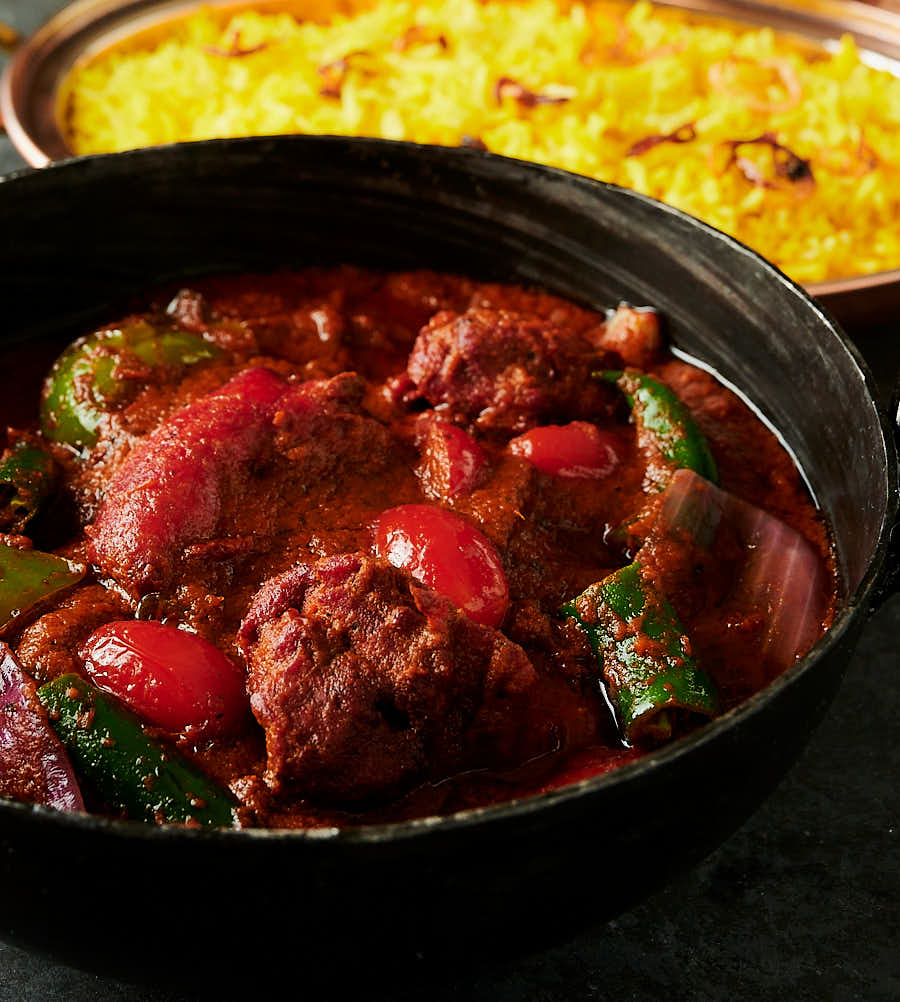 Indian hotel style is a whole new way to cook
That's actually not actually true. Hotel style is an old way to cook. Fine Indian restaurants have been doing it forever. But it's probably not what you think of when you think Indian restaurant cooking.
There are a ton of restaurant style curries on glebekitchen. I love those. Make them all the time.
But when I really want to pull out all the stops I go for hotel style. Hotel style takes those restaurant concepts and builds on them. Think fine dining. What they are serving in the posh restaurants.
Restaurant style is what most of the Indian restaurants do. Some do it better. Some worse. Usually you can do better yourself. If you try.
Hotel style is what's going on in the kitchens of the restaurants you can't get into. The really good ones. Chicken tikka jalfrezi fine dining style.
It's something to think about. If you want to really step up your curries, Indian hotel style is hard to beat.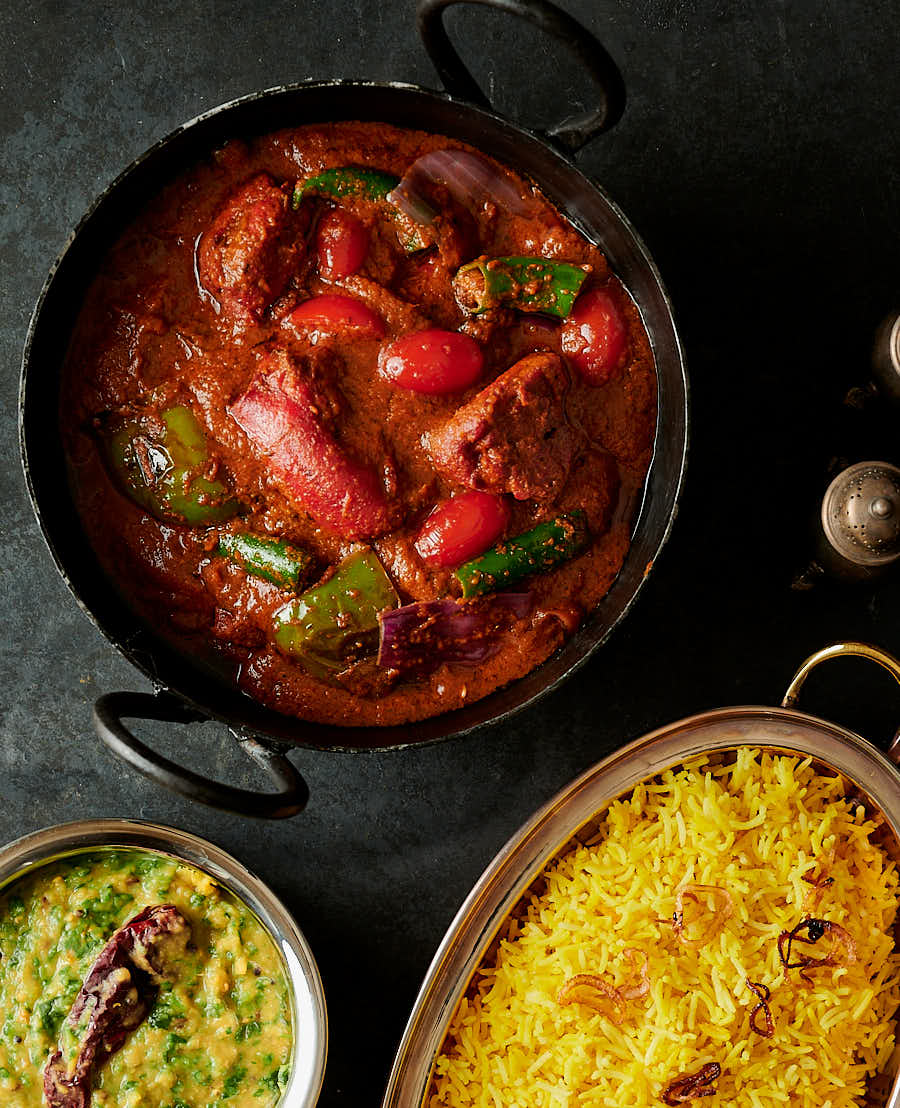 Blister your peppers for great chicken tikka jalfrezi
This is critical. Makes a huge difference. You have to get some blistering on your peppers. That's what makes jalfrezi what it is.
There was a time I didn't do this. And I was never impressed with the results. Jalfrezi was pretty low on my list.
Then I discovered what a difference blistering the peppers makes. How a bit of char on the edge of the onions adds the wow.
Just a hint of smoky flavour makes it work. Really well. Now jalfrezi sits pretty high on my list.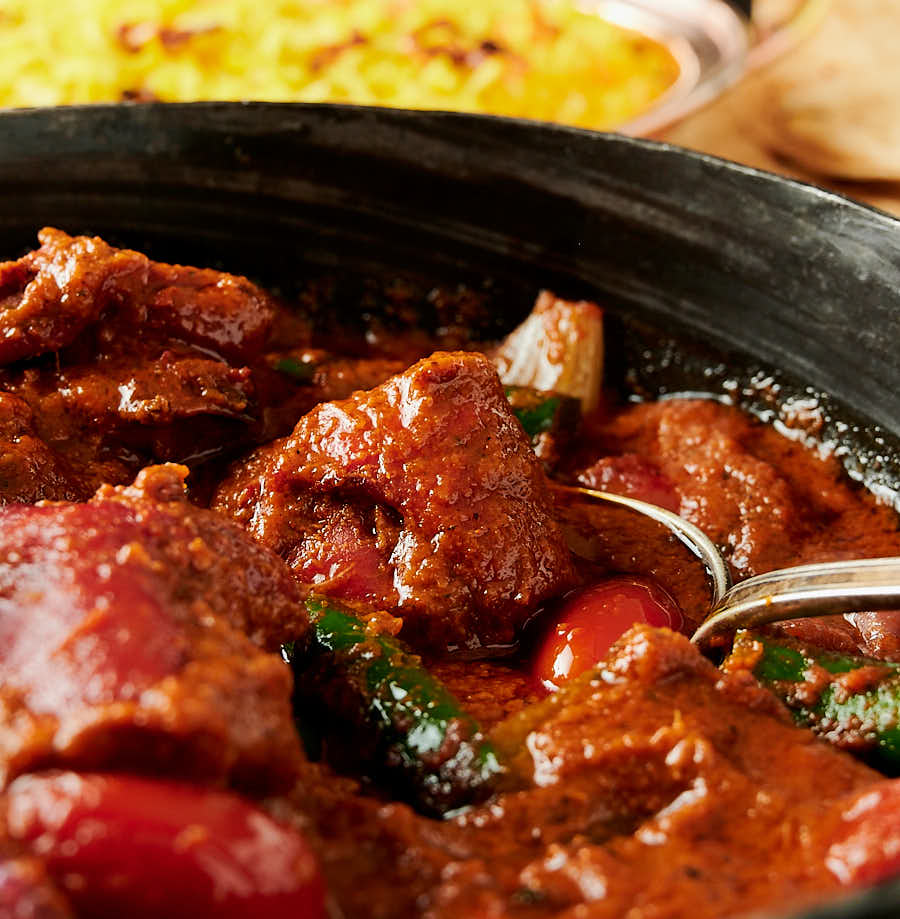 You need tikka for chicken tikka jalfrezi
Kind of obvious. I know. But there are a lot of ways to make chicken tikka. Some are more elaborate than others.
Some have yoghurt. I don't think I would use one of those here. I don't actually ever put yoghurt in my tandoori. Learned that trick in Bangalore and never looked back.
But you can make whatever tikka recipe works for you. I've included an easy one you can make in your oven.
I used the specified marinade for these pictures. Cooked it in the oven. Charcoal is better. Always. But there's so much going on the smoke kind of gets lost.
Works on the grill. Works in the oven. The important thing is you don't overcook it. That's dry chicken. And that will kill any chicken tikka jalfrezi. Always nail your chicken first. And go from there.
You can go full bore on your chicken tikka. That's better for sure. If you want to put the time in. But I do my full blown chicken tikka when I'm eating tikka. When there's nowhere to hide. When every detail matters.
This chicken tikka jalfrezi is not a subtle curry. So the nuances get lost. And simple tikka is probably good enough. Your call though. Not like I don't go completely overboard with the details on glebekitchen.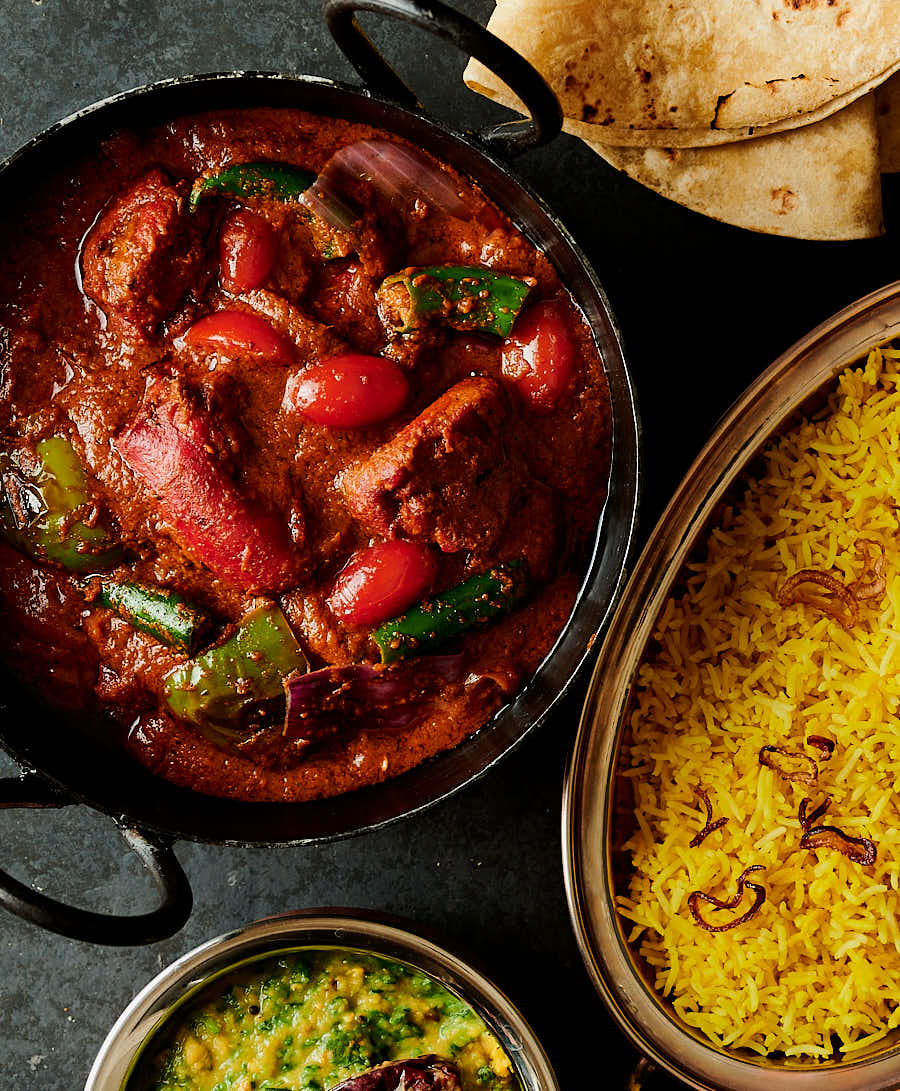 Naga or not?
This recipe works two ways. As written, it's the best chicken tikka jalfrezi I know how to make. Take a winner and add hotel curry gravy. Pretty hard to beat.
I like it a lot. With just that hint of naga from the marinade. A subtle note.
But I like naga pickle. It's crazy hot. But it's crazy delicious. In a really assertive way. It doesn't complement here. It changes the dish. To a naga chicken tikka jalfrezi.
That's a completely different beast. Naga is a flavour sledgehammer. Nothing subtle about it.
So it's your call. Make it as written. That's great. Or add naga. That's great too. Tough call. Try a drip of naga in a spoonful of sauce. And then decide.
Either way, I don't think you can go wrong…
Chicken tikka jalfrezi
Flavour on flavour is what this chicken tikka jalfrezi is all about.
Ingredients
Quick naga chicken tikka
4

chicken thighs

– boneless, skinless. Cut each thigh into 3 even pieces.

2

tbsp

tandoori masala

– available from any Indian grocer. Look for a brand that isn't all salt.

1

tsp

kasoor methi

– dried fenugreek leaves, crumbled between your fingers

1/2

tsp

kosher salt

– if your tandoori seasoning has a lot of salt leave this out.

1/4

tsp

naga pickle

– available from most Indian grocers (optional)

2

tbsp

vegetable oil
The spice mix
2

tsp

Indian restaurant spice mix

– recipe link below

1

tsp

kashmiri chili powder

1

tsp

kasoor methi

– dried fenugreek leaves

1/2

tsp

tandoori masala

– again, watch out for the high salt content brands.

1/2

tsp

kosher salt
chicken tikka jalfrezi
4

tbsp

vegetable oil

– any neutral oil is fine

1/2

cup

onion

– coarsely chopped

1/2

cup

green pepper

– coarsely chopped

1

tbsp

garlic ginger paste

– recipe link below

1

cup

Indian hotel curry gravy

– recipe link below. Dilute it with 4 tbsp water.

chicken tikka

– whatever chicken tikka you like

2

jwala green chili aka finger hots

– seeded and cut in half and then into 1 inch pieces (for a total of 6-8 pieces). You can add more. This is a jalfrezi after all.

4-5

cherry tomatoes

– halved
Instructions
Do your prep
Make your spice mix. Cut up your green chilies, onion, green pepper and tomatoes. Make your naga chicken tikka – or whatever chicken tikka you prefer. Have everything ready.

DIlute your curry gravy with 1/4 cup (4 tbsp) of chicken stock. You need to dilute it because the chicken is going in pre-cooked.
Make your quick naga chicken tikka
Combine the tandoori masala, kasoor methi, salt (if necessary), naga pickle and oil in a bowl large enough to hold all the chicken. This is your chicken marinade. It does not go into the final curry.

Add the chicken and combine with the marinade. Use tongs. This stuff will stain your fingers.

Marinate for about an hour. Pre-heat your oven to 400F while this is going on. Place a sturdy baking sheet in the oven to pre-heat.

Transfer the chicken (again, use tongs) to that pre-heated, sturdy but not too large baking sheet (can you tell the pre-heated pan is important?). Place in the oven. Cook for about 6 minutes. Flip all the pieces and return to the oven.

Cook until the internal temperature of the chicken reaches 165F. This should take another 4-8 minutes or so. Really depends on how big your chicken thigh pieces are. Remove the chicken from the baking sheet. Set aside.

You have a bit extra so snack on a piece or two if you must. I know I can never resist so I added an extra thigh to the recipe. Enjoy. Guilt free. If you aren't hungry they can go into the curry. Fine either way.
Make the chicken tikka jalfrezi
Heat the oil in a medium sized frying pan until the oil just starts to shimmer.

Add the onions and green peppers and stir every few seconds. Keep the peppers skin side down as much as you can. Fry until the pepper starts to blister and the onion edges turn brown.

Stir in the garlic ginger paste. Cook until the garlic ginger paste stops sputtering.

Turn your heat down to medium low and add your spice mix. This is why you need to use all the oil. You want to fry your spices. Too little oil and you risk your spices sticking or burning. Nothing you can do will fix burned spices.

It might look a little dry after frying the onions and peppers. You want the spices in oil. Not a dry paste. If it does look dry add a spash of oil immediately. Cook your spices for about 30 seconds.

Add the Indian hotel curry gravy. Stir it really well to get the oil to combine with the curry gravy. You want everything mixed together at this point. Bring to a simmer.

Cover loosely and cook for about 5 minutes.

Add the chicken tikka and the green chilies. Continue to cook for about 2 minutes to warm the chicken through. Add the tomatoes and cook another minute or so. At this point your sauce is going to be a little thick. Stir in a tablespoon or two of chicken stock or water to get the consistency you want. As much liquid as you need. This step is feel.

Taste. You have a decision to make. A 1/4 tsp of naga pickle mixed in at this point is a nice touch. It kicks the heat up though but it does add a distinctive flavour you can't get any other way. I like it both ways. Depends on my mood. The more classic jalfrezi leaves it out. Up to you.

Serve with rice, dal and Indian flatbreads of your choice.
Notes
Naga pickle is hot stuff. I love the taste. This is a jalfrezi so it can stand a little heat and, as written, this recipe is really just on the high side of medium hot. Try it in the tikka. If you really love naga think about making this a naga chicken tikka jalfrezi. It's a nice twist.
Make your Indian hotel curry gravy ahead of time. It takes time to make so think about doing it the day before.
I use this Indian restaurant spice mix in most of my Indian restaurant style curries.
For maximum flavour you should consider making your garlic ginger paste from scratch.
Nutrition
Serving:
2
servings
|
Calories:
720
kcal
|
Carbohydrates:
28
g
|
Protein:
43
g
|
Fat:
49
g
|
Saturated Fat:
12
g
|
Cholesterol:
194
mg
|
Sodium:
2022
mg
|
Potassium:
1148
mg
|
Fiber:
10
g
|
Sugar:
11
g
|
Vitamin A:
878
IU
|
Vitamin C:
62
mg
|
Calcium:
106
mg
|
Iron:
6
mg