Indian curry gravy, hotel style. This is something new. But something old. Probably really old. And the start of something new. And wonderful. For me. And hopefully for you.
If you like big, bold curries. If you want curries with a lush sauce that makes your mouth dance. Then this might just be the thing you didn't know you were looking for.
I didn't know I was looking for it. Until I found out about it. Then I knew I had to have it. And I can't believe how good it is.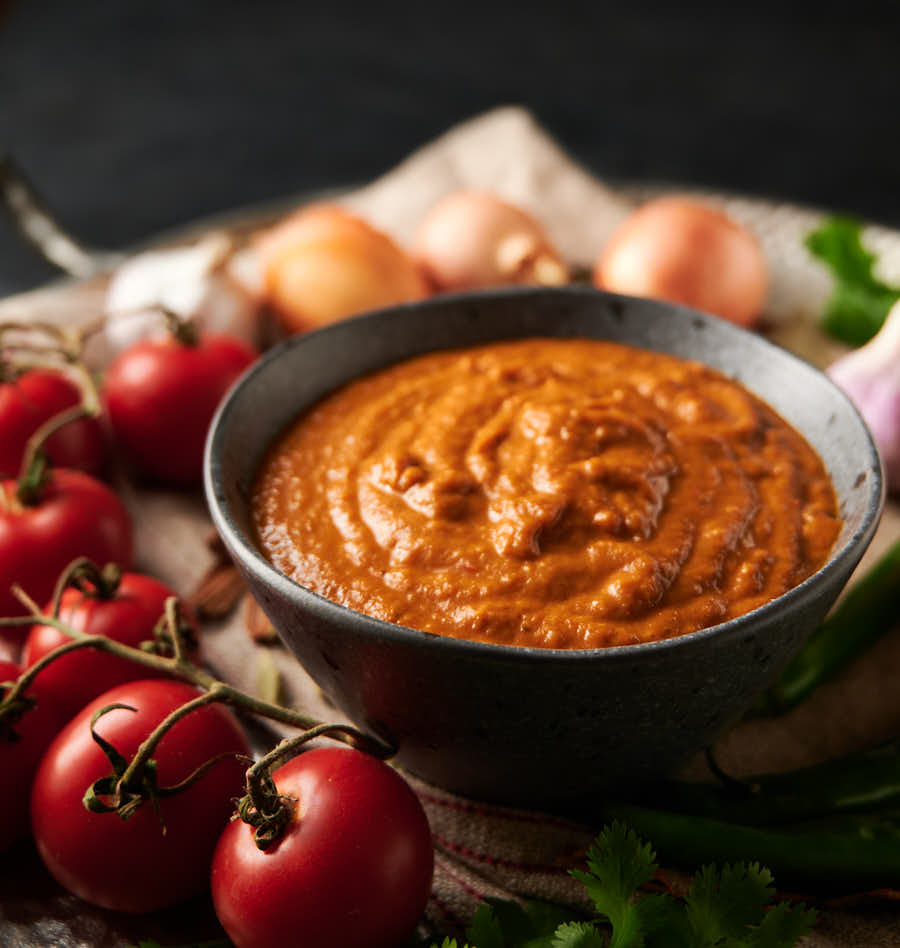 Not your everyday restaurant style curry gravy
This is not how they make curries in restaurants outside India. This is how they do it in India. And it's incredible.
Want to make curries like you get at your local takeaway? Like they do at every day Indian restaurants around the world? Then there are many, many recipes on glebekitchen. I call those restaurant style.
This is something different. My guess is this is how they do it at posh restaurants. The best of the best.
I'm just getting started with this. And I'm truly excited. Inspired even. On a mission. This needs to be a thing. My thing. Your thing.
What's old is new
I have a theory. It's just a theory. So if you're going to shoot me down be nice. Or don't. I can take it. But do try to be constructive at least.
I think this is how it's been done in India for a million years. Well, maybe not a million. But a very, very long time. It's closer to traditional technique. But adapted for restaurant style cooking.
Indian restaurant style cooking has it's roots in the UK. At least the style I write about. Indians came to the UK working on ships back in the day.
Apparently they weren't fans of life on the open sea. Because once they got to the UK they decided to stay rather than face the voyage home.
They needed work. And a lot of them wound up working in restaurants. Those sailors turned cooks became the architects of what is now mainstream Indian restaurant cooking in the UK.
Mainstream has its roots in hotel style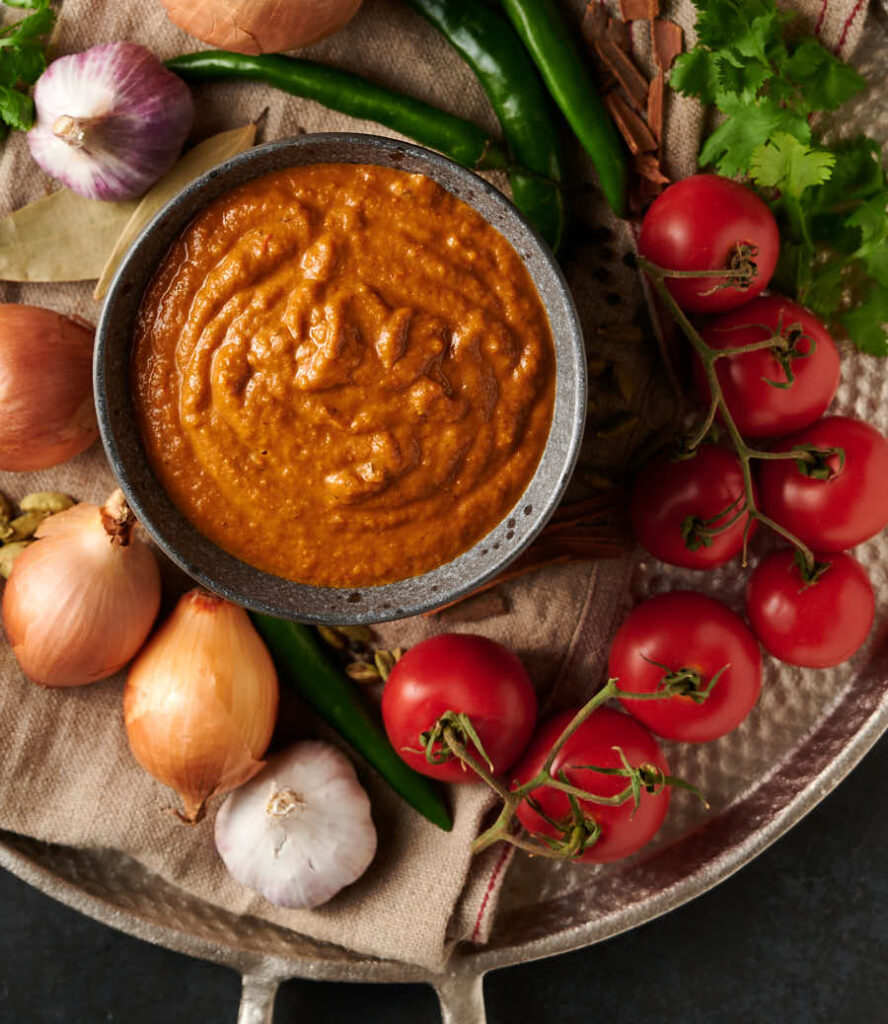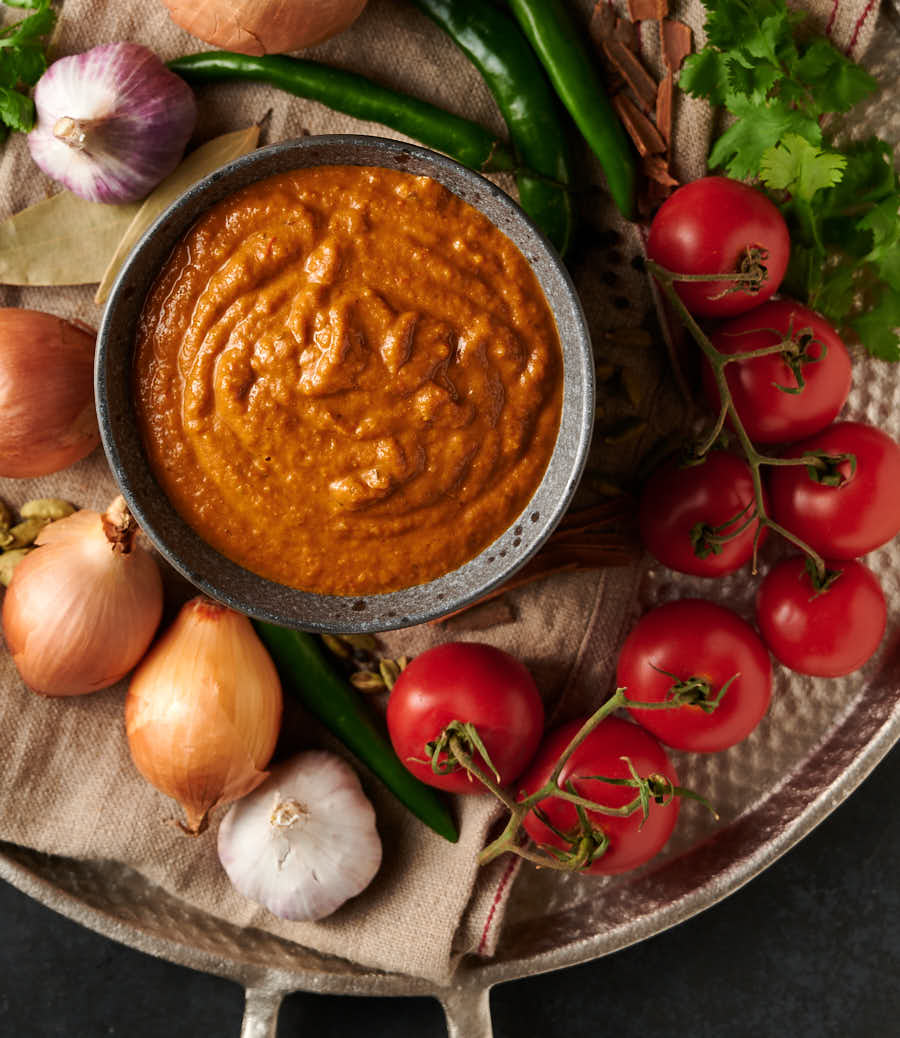 The sailors started with what they knew. That's only natural. And I'm guessing what they knew was curry gravy – hotel style.
As with all things, it evolved. The thick curry gravy became a thinner version. What's now called base gravy. They dropped the deep browning of the onions. Because it was easier. Simpler. Less work. And it worked well. Everybody loved it.
It became mainstream. Global. People worked in Indian restaurants in the UK. They migrated around the world. And they took the technique with them. Everywhere.
Except for the mothership. They stuck to their roots. Kept the faith. And somehow nobody is blogging about it. Nothing on YouTube. In English anyway.
Until now. I'm picking up the torch. Because I believe. And like any zealot, I'm hoping I can convince you.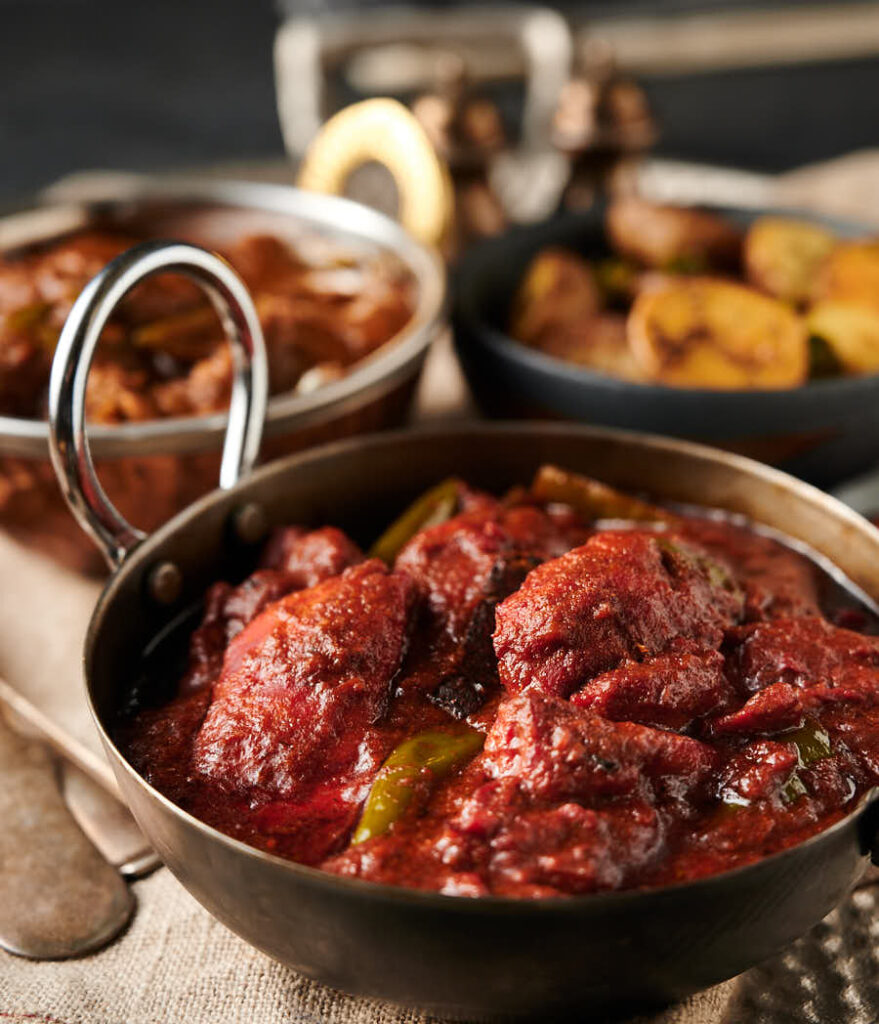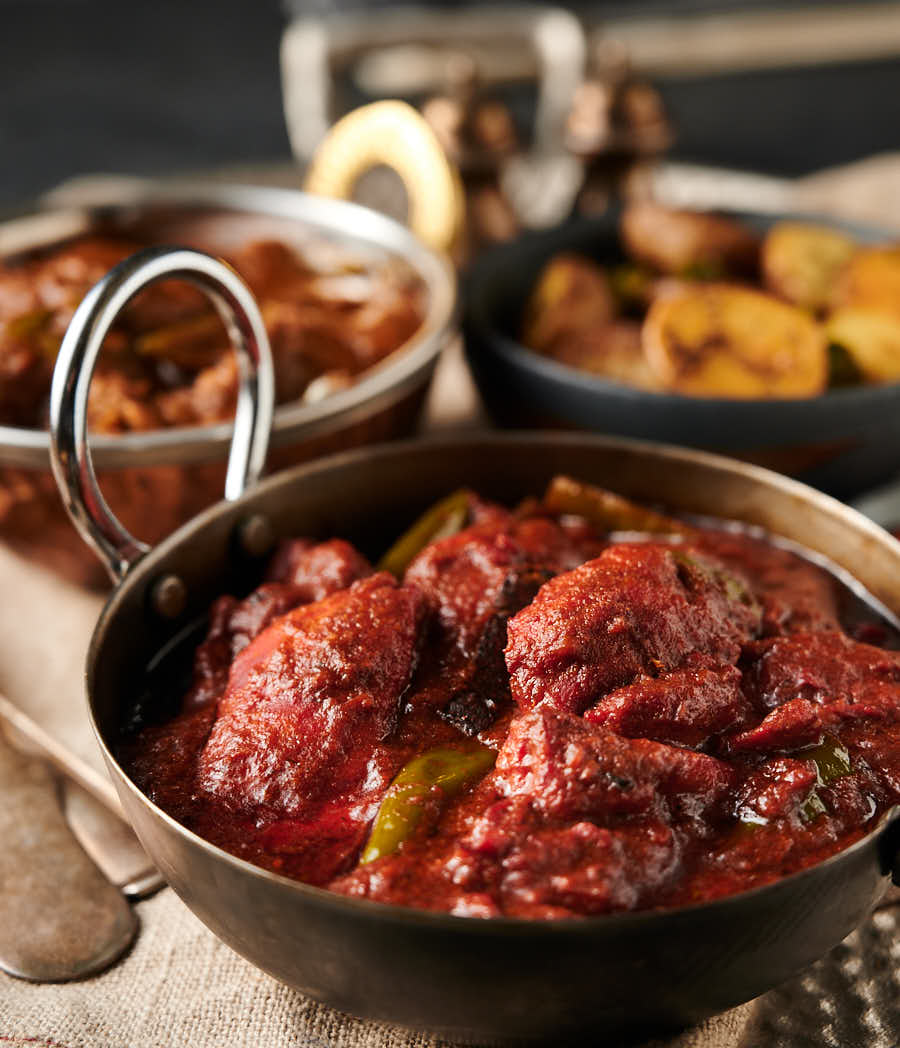 This is curry gravy for bold curries
The nice thing about UK style Indian restaurant cooking is there's only one curry base. It's bland by design. One size fits all.
I'm a huge proponent of that. I like to let my curries speak for themselves. One base. Many curries. Easy. Simple. Just like those cooks in the UK figured out.
And I love what you can do with those techniques. Don't get me wrong. It's amazing. Seriously amazing. This intro to Indian restaurant curries is a great place to start.
But if you want to take it to the next level? Want to follow me down the rabbit hole? This is how. Curry gravy built for specific curries. Genius.
Not quite bespoke. But not off the rack either. The right tool for the job. How can that not make things better?
This is the bold version. It's for madras. Garlic chilli chicken. Jalfrezi. Ceylon. For the curries where flavours are applied with a sledge hammer.
It is not for chicken tikka masala. Not by itself anyway. Or korma. Or butter chicken.
It is not delicate. That's a different curry gravy. I'll get to that. I'm just starting with the version that goes with my favourite curries.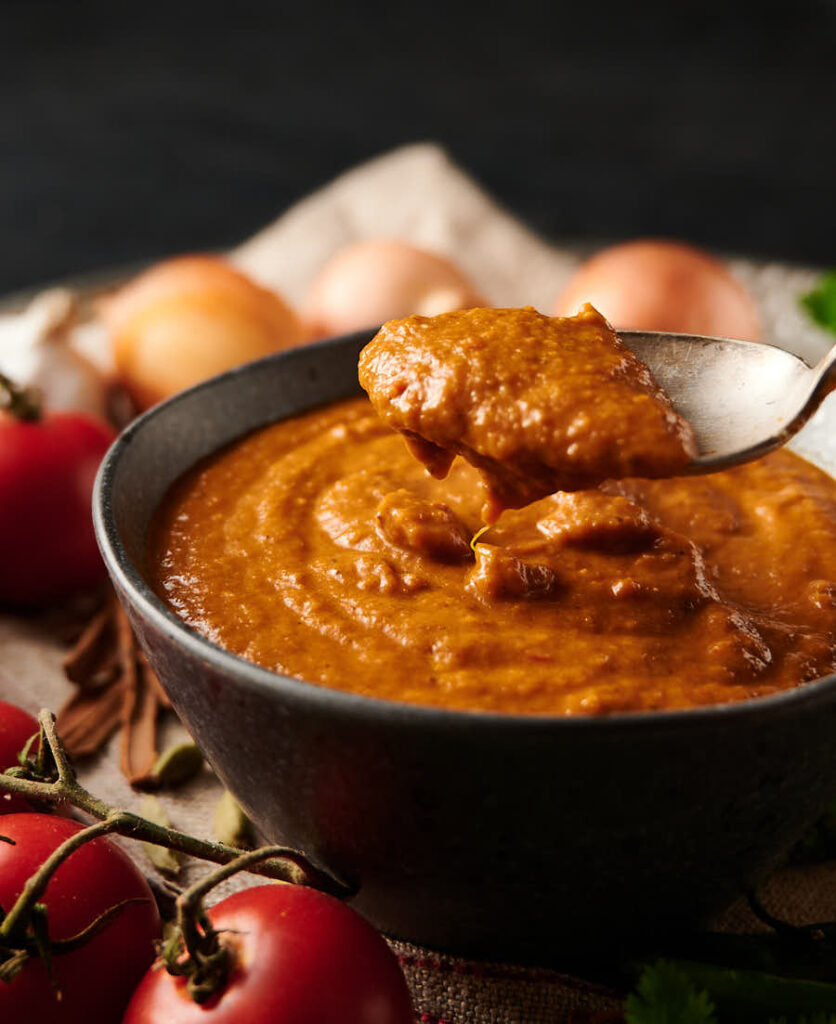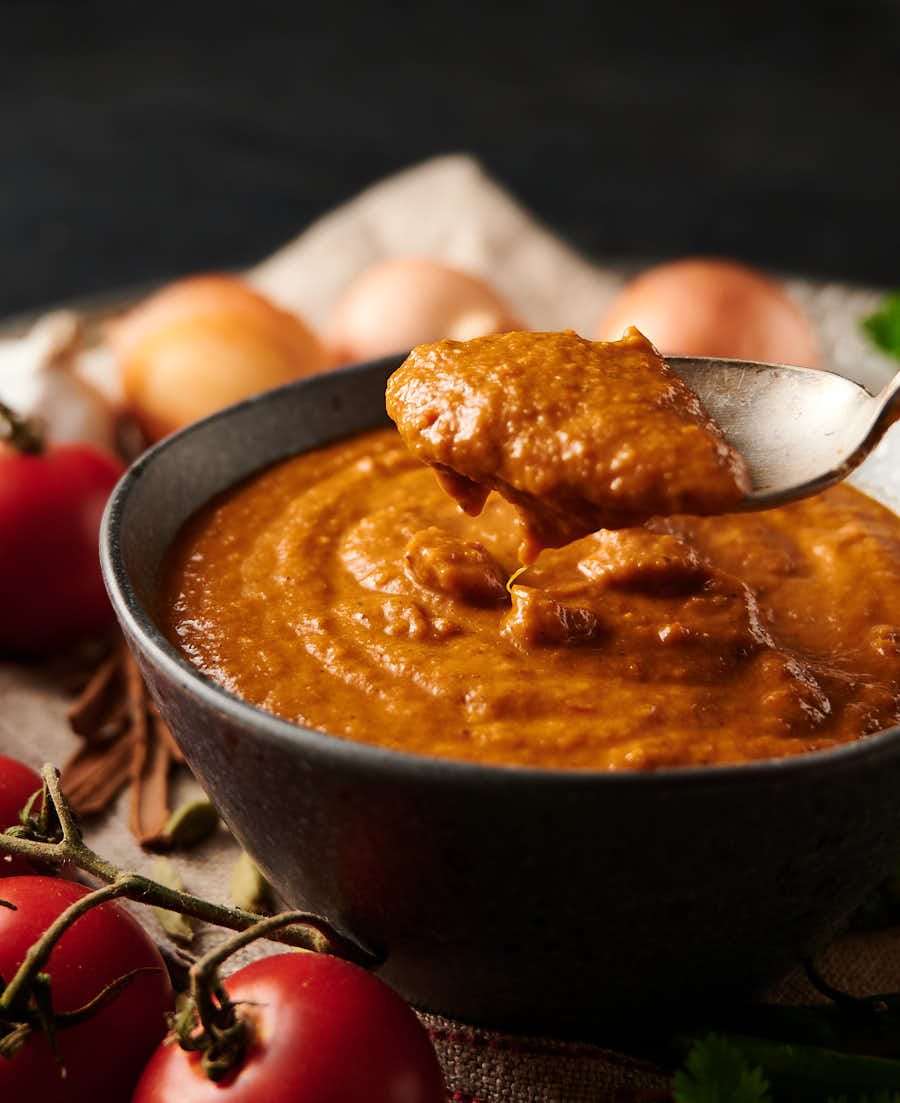 This is a game changer
This is a whole different approach. And right now I'm think I'm probably the only one talking about it. So you are probably thinking this is crazy.
And it is crazy. Crazy good. If you want to push it. If you want to take it to the next level. Then think about trying this. It's a whole new way of making restaurant style curries.
Except that it's about as old as the hills. Doesn't matter though. What matters is this curry gravy makes amazing curries. I'm not saying this way is better. But I am thinking it…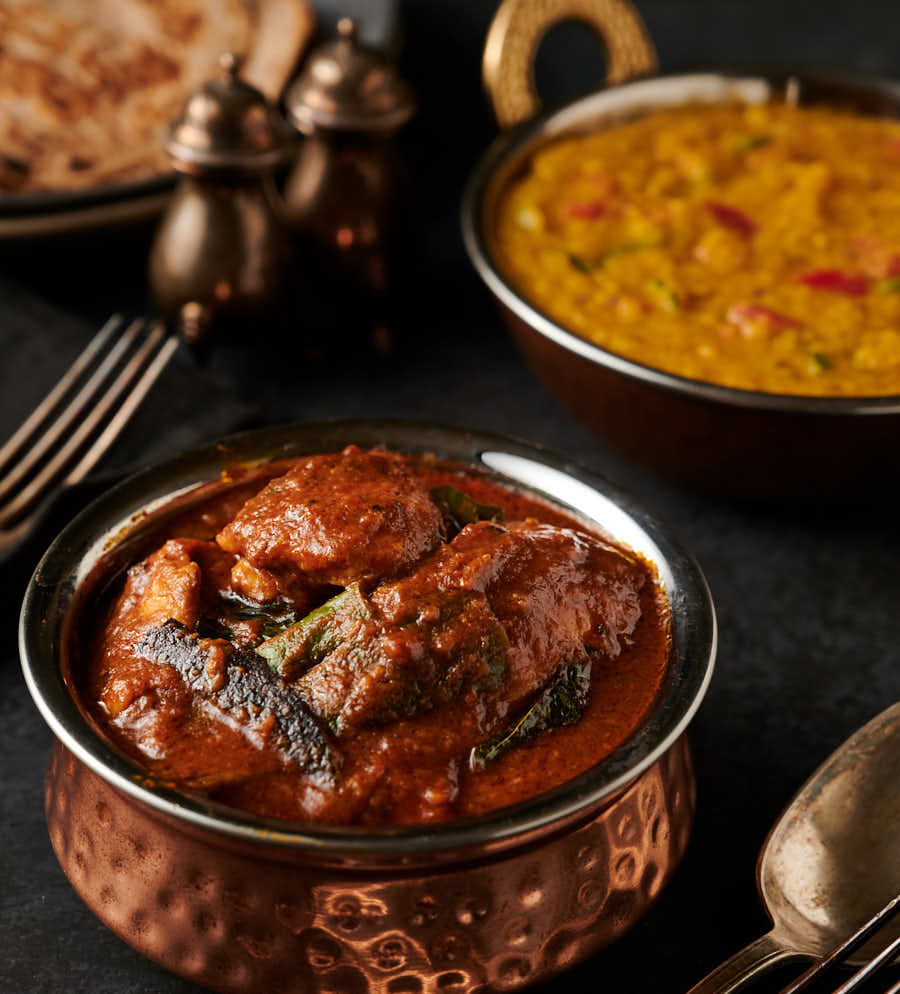 Indian curry gravy – hotel style
This is how they make the base gravy in fine Indian hotels.
Ingredients
1

cup

neutral oil

(e.g. canola)

3

lbs

onions

chopped – use a food processor

2

lbs

fresh tomatoes

chopped (or substitute plain canned tomatoes)

5

green cardamom

pods

10

black peppercorns

3

cloves

1

tej patta

Indian bay leaf (optional)

2

inch

cinnamon stick

or cassia bark

1/4

cup

garlic ginger paste

2

tsp

turmeric

1

tbsp

kashmiri chili powder

1

tbsp

cumin powder

2

tbsp

coriander powder

1

tbsp

kosher salt

4

green chilies

seeded

handful of cilantro

1

cup

water
Instructions
You need a lot of chopped onions for this. Do yourself a favour and use a food processor if you have one. Peel and half the onions. Cut each half into six pieces. Fill your food processor about 2/3 full and pulse around 5-8 times. You should have diced onions. Repeat until you have chopped all the onions.

As long as your food processor is out use it to chop the tomatoes (if using fresh). Easy.

Heat the oil in a pot large enough to hold all the ingredients.

Add the oil and heat over medium heat.

Once the oil starts to shimmer add the cardamom, black peppercorns, cloves, cinnamon and optional Indian bay leaf.

Let the spices bubble for about 20 seconds and then add the onions.

This takes some time and attention. Cook the onions over medium heat. Stir every minute of so. You want them brown. Nice and brown. Not tan. Brown. Think French onion soup. This is going to take you around 30-40 minutes and maybe more. But you are doing it once. For 8 restaurant portions of curry. So it's under 5 minutes a curry. Totally worth it.

While the onions cook do the rest of your prep. Make sure the tomatoes are chopped. Cut your green chilies in half and seed them (use a spoon).

Add the turmeric, cumin, coriander and kashmiri chili powder in a bowl. Add about a 1/2 cup of water and stir to make a slurry. You may need to add a bit more water. Doesn't matter.

Once the onions are this nice creamy brown mess add the garlic ginger paste. Stir to combine and continue to cook for about two minutes.

Add the powdered spice slurry and the salt. Cook another 3 minutes.

Add the chopped tomatoes, green chilies and cilantro. Simmer until the tomatoes are broken down. This takes about 10 minutes. The oil may have separated at this point. If it did, do NOT remove it. It's pure flavour.

Add a cup of water. Let it cool a bit. Puree the hotel style curry gravy, whole spices and all. Yes. Whole spices get pureed. Use a blender. If it's too thick to puree add a bit more water.

Make sure you vent your blender. Steam needs to escape or you'll be off to the hospital burn unit. Not good. Safety first.

You should now have about 8 cups of magic curry gravy to use in all sorts of curries.
Notes
This recipe makes enough for 6-8 restaurant sized curries. Make it and freeze it in one cup portions (237ml). That way, you can pull it out whenever you feel like making dinner.
Nutrition
Calories:
342
kcal
|
Carbohydrates:
25
g
|
Protein:
3
g
|
Fat:
27
g
|
Saturated Fat:
7
g
|
Sodium:
983
mg
|
Potassium:
592
mg
|
Fiber:
7
g
|
Sugar:
11
g
|
Vitamin A:
1251
IU
|
Vitamin C:
31
mg
|
Calcium:
77
mg
|
Iron:
2
mg