Welcome to crazy tasty land. Indian hotel style Ceylon chicken curry. For when you feel the need for something that really slams your tastebuds with flavour.
Think Sri Lankan spices. Green chilies. Curry leaves. Coconut. A whole lot of South Indian goodness going on here.
This is restaurant style cooking. Not like your neighbourhood restaurant though. This is posh. High-end. What happens when Indian chefs go looking for a Michelin star.
OK – maybe not a Michelin star. That's over the top. But I'm betting this is what goes on in serious Indian restaurant kitchens. The ones people line up for. And what goes on in the fanciest restaurants in India.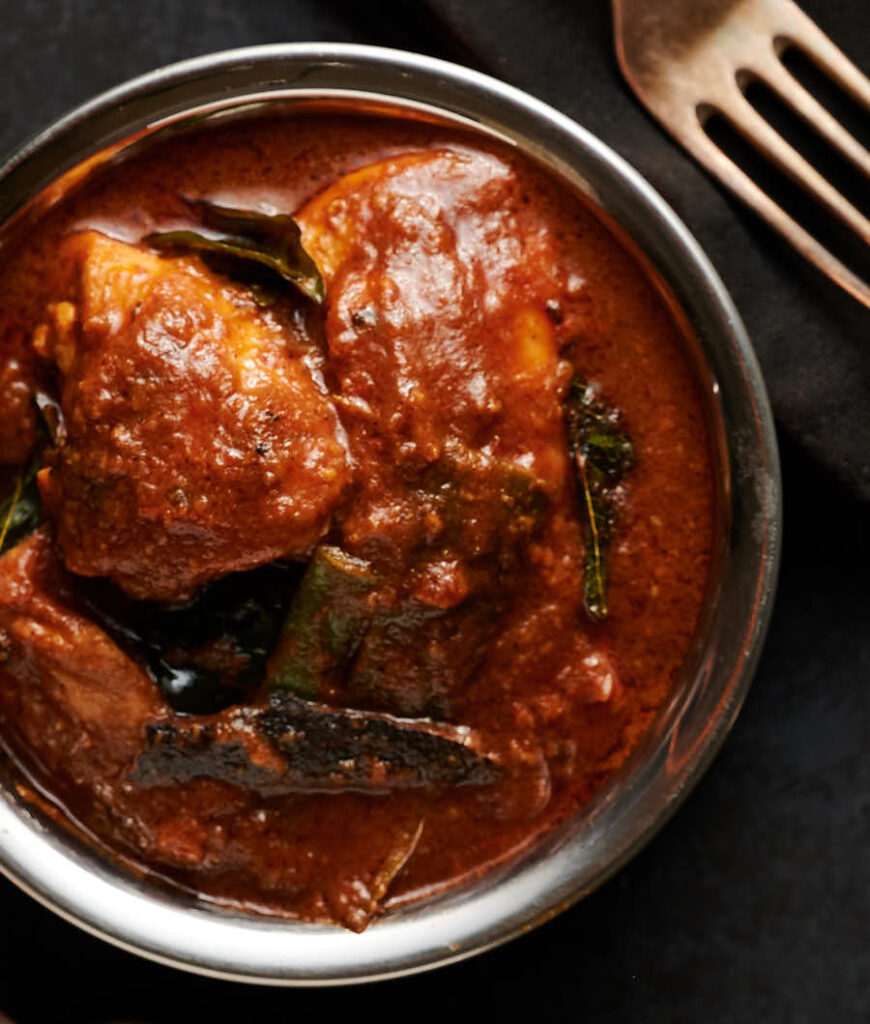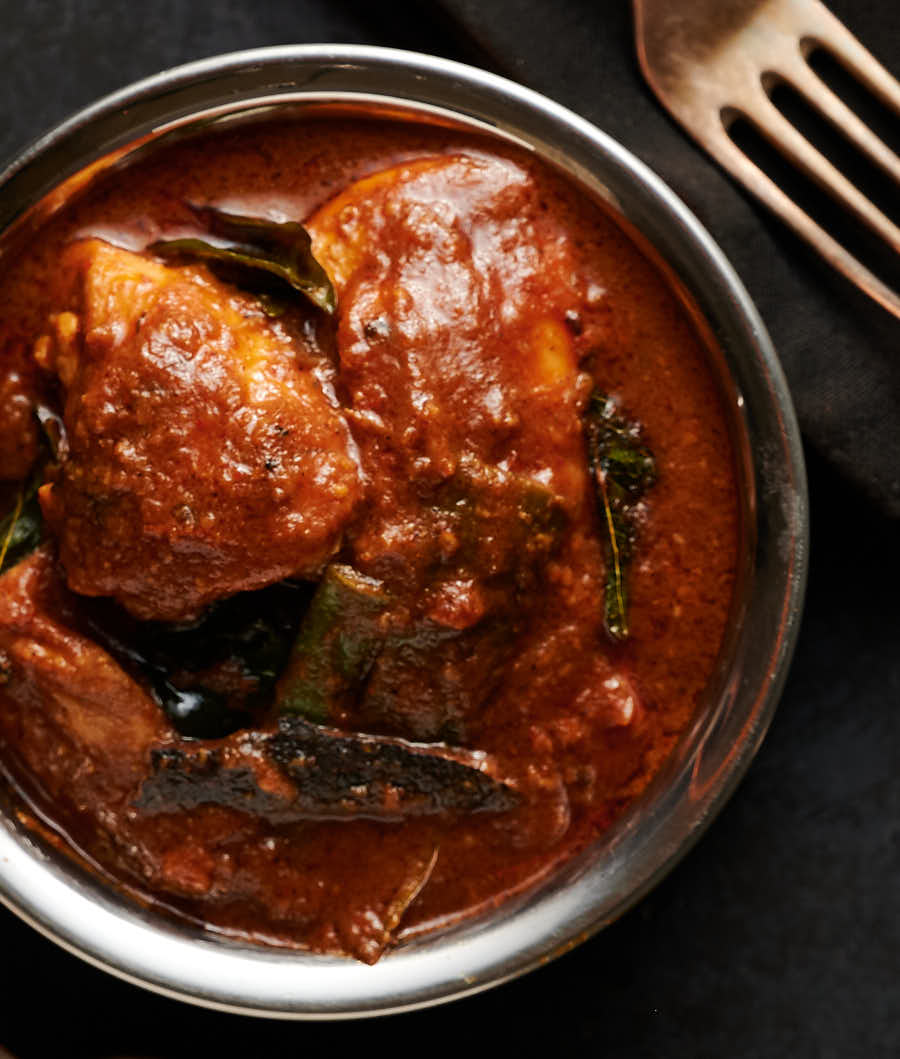 Indian hotel might not be a style you know
This is a little different. Don't jump into this recipe assuming you can just use your regular Indian restaurant curry base.
This is not one of those recipes. And for the record. I still love my regular curry base. But I'm really impressed with the results I'm getting with hotel style. With this sledgehammer curry gravy.
This is a new approach. A whole different take on how to cook Indian restaurant style.
Don't write me off. Don't run back to what you know. What you believe. Indian hotel curry gravy is a bit of a game changer.
It's not a lot of boiled onions. It's a lot of deeply browned onions. And that gets you somewhere completely different. A whole new depth of flavour.
This style is more work up front. But it's easier to make at dinner time. And it's way less messy. Some of the techniques are the same. It's about identical until you get to the curry gravy.
Then it changes completely. You don't need to add it in batches. It all goes in at once. And you don't need to fry it hard. It's already got the Maillard reaction magic built in.
I'd say it's actually easier. Safer. You are going to get it right the first time. And then every time.
Bottom line. Do this and you will make a delicious Ceylon chicken curry. Seriously tasty.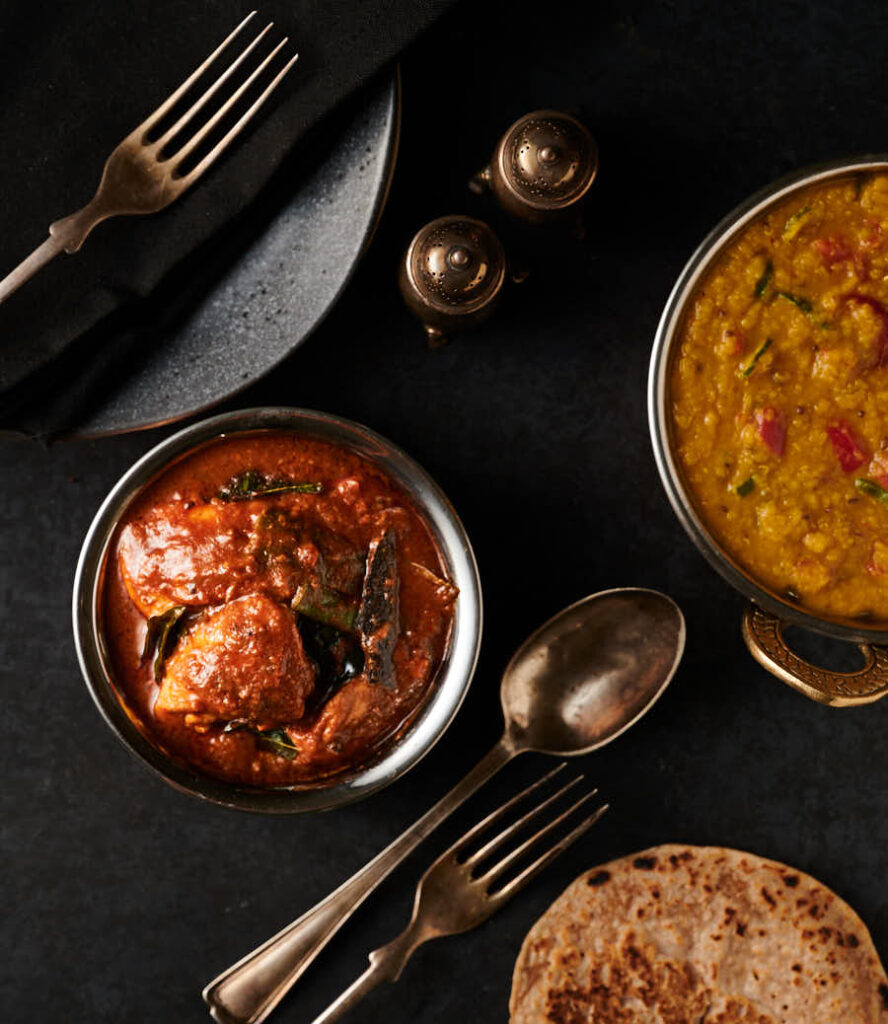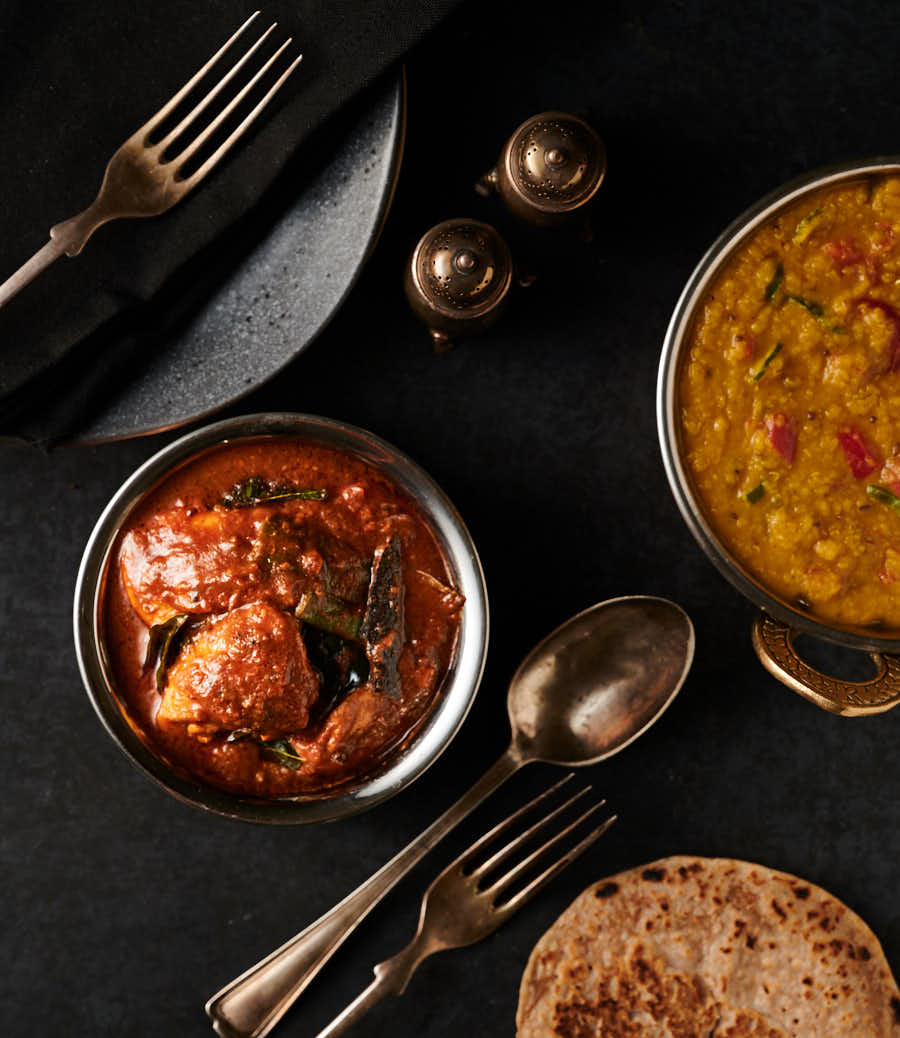 No need to pre-cook chicken when cooking Indian hotel style
This is my favourite thing about cooking Ceylon chicken curry hotel style. Any chicken curry really done hotel style. You don't need to pre-cook the chicken. That's incredible.
I'm not saying that because pre-cooking chicken is extra work. Look around. Glebekitchen is not about cutting corners. It's about doing what it takes. Always.
I'm talking about not dumping great chicken flavour down the drain. Because that's what happens when you pre-cook chicken. All those juices are lost. I have always had a big problem with that.
Not any more. The chicken poaches in the curry. The way it was meant to be. All those delicious juices in the sauce.
And in my mouth. Where they belong. Balance in the universe has been restored. I can sleep at night again.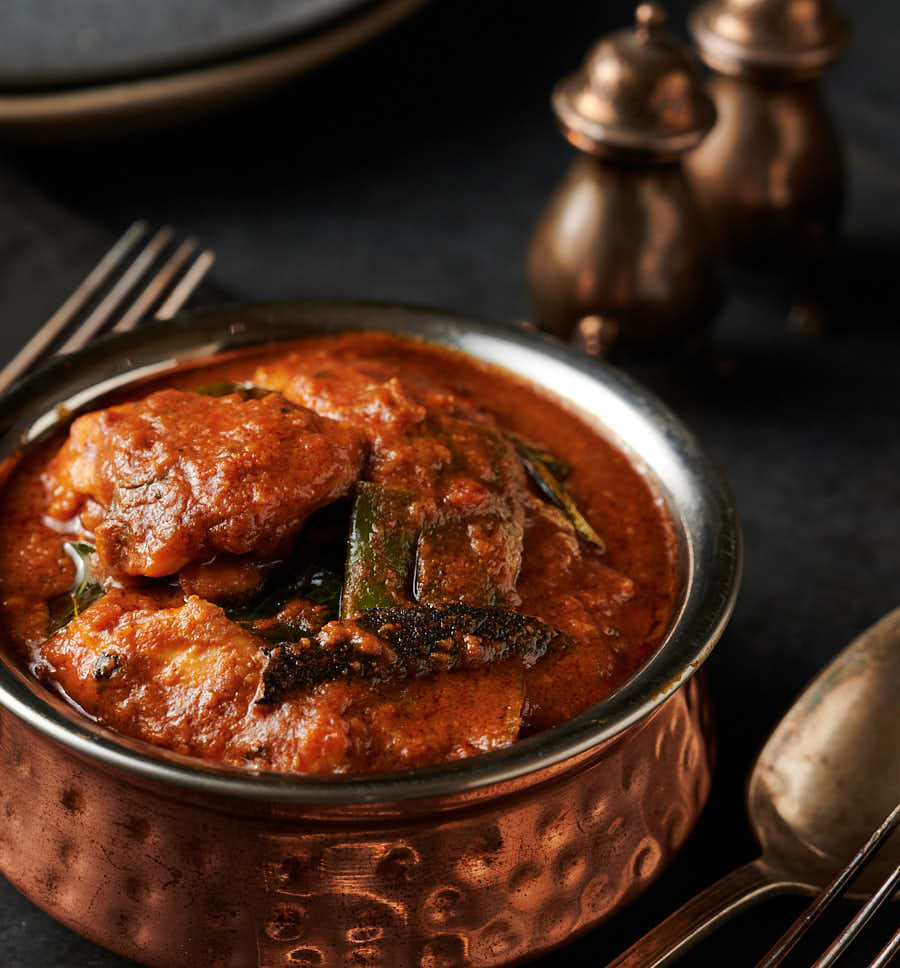 Ceylon chicken curry Indian hotel style
This is my inaugural hotel style recipe here at glebekitchen. The very first one. So I had to go for broke. I wanted wow. Serious wow.
So I'm going with Ceylon chicken curry. I've been meaning to make something like this for a long time. And I'm really glad I waited.
Because hotel style drives it completely over the top. It's different. But if you like South Indian this one is for you.
One thing is certain. This is the first of many.
ceylon chicken curry
Ceylon chicken is about all the wonderful tastes of South Indian and Sri Lankan cooking. Coconut milk, curry leaves and lots of spice!
Ingredients
The spice mix
2

tsp

Sri Lankan roasted curry powder

– Madras curry powder isn't the same but it will do in a pinch.

1 1/2

tsp

kashmiri chili powder

1 /2

tsp

kasoor methi

1/2

tsp

kosher salt

– a bit less if you use regular table salt
Ceylon chicken curry
3

tbsp

vegetable oil

– any neutral oil works

1

2" piece

cinnamon bark

– also called cassia bark

3

green cardamom pods

10

curry leaves

– no you don't have to count them. Around 10 is fine.

1

tbsp

garlic ginger paste

2

green chilies

– jwala type finger hot green chilies cut in half lengthwise, seeded and into 1 inch pieces

1

cup

Indian hotel curry gravy

– recipe link below

3

boneless, skinless chicken thighs

– cut into 3-4 pieces each

3

tbsp

coconut milk

1

tsp

tamarind paste

Pure tamarind paste – not tamarind sauce

1

tsp

brown sugar

or jaggery (optional)
Instructions
Do your prep
This goes fast. Be ready. Make your spice mix. Get your ingredients out and close to the stove.
Make the Ceylon chicken curry
Heat the oil in a medium frying pan until it just starts to shimmer.

Add the green cardamom, cassia bark and curry leaves. Cook about 30 seconds. You want to see little bubbles forming around your whole spices. It you don't get them right from the start heat your oil a little more next time. What you don't want to do is panic and crank the heat. You will just wind up burning things in the next step.

Stir in the garlic ginger paste and green chilies. Cook until the garlic ginger paste stops sputtering.

Turn your heat to medium low and add your spice mix. This is why you added a full 3 tablespoons of oil at the beginning. You want your spices to fry in the oil. Too little oil and the spices will stick or burn and you will be starting over.

Gently fry the spices in the oil, stirring constantly, for about 30 seconds. This is where magic happens. Volatile compounds in the spices will be released into the oil. And that is big flavour.

Turn the heat up to medium. Add the Indian hotel curry gravy. Bring to a simmer. Really stir it to get the oil to combine and cook for about a minute. You don't need it to fry hard like a regular restaurant curry. That's the beauty of hotel style. You already have that done. No need to make a mess of your stove.

Add the chicken in an even layer and cover the pan. After about 5 minutes flip the chicken pieces. Tongs are good for this. Can't beat a good set of restaurant tongs in the kitchen. Cook until the chicken is just done.

The chicken should take around 8-12 minutes to cook through. It really depends on how large the chicken thigh pieces are. Best bet is to use an instant read thermometer and go for 170F.

Once the chicken is done, stir in the coconut milk and tamarind paste. Simmer for one minute.

The texture should be about right at this point. If it's too thick add a bit of water or chicken stock Not a lot. Probably a couple tablespoons max.

If it is too thin (chicken throws a fair bit of liquid as it cooks) just let the curry simmer uncovered for a minute or two.

Taste and decide if you fall in the slightly sweet camp. If you do add the sugar and stir. It will open up the flavours a bit. I like it.

Serve with rice or Indian flatbread. Or both!
Notes
Make your Indian hotel curry gravy ahead of time. 
For maximum flavour you really should make your garlic ginger paste from scratch.
You may notice there's no tomato paste or passata in this recipe. The tomato comes from the hotel curry gravy. It's there already.
Nutrition
Calories:
639
kcal
|
Carbohydrates:
24
g
|
Protein:
35
g
|
Fat:
45
g
|
Saturated Fat:
14
g
|
Cholesterol:
161
mg
|
Sodium:
1415
mg
|
Potassium:
856
mg
|
Fiber:
7
g
|
Sugar:
11
g
|
Vitamin A:
893
IU
|
Vitamin C:
122
mg
|
Calcium:
93
mg
|
Iron:
4
mg