Green chili chicken curry prepared Indian hotel style. Seriously complex flavours brightened by green chilies and fresh tomatoes. If that sounds good, this one could be right for you.
This is Indian restaurant style cooking. But not like you think. It's not what's going on at your local takeaway. This is about making the absolute best curry you can.
Don't let the simplicity of the recipe fool you. The ingredients may be humble. But there is big flavour here. Really big. It will surprise you. In a good way.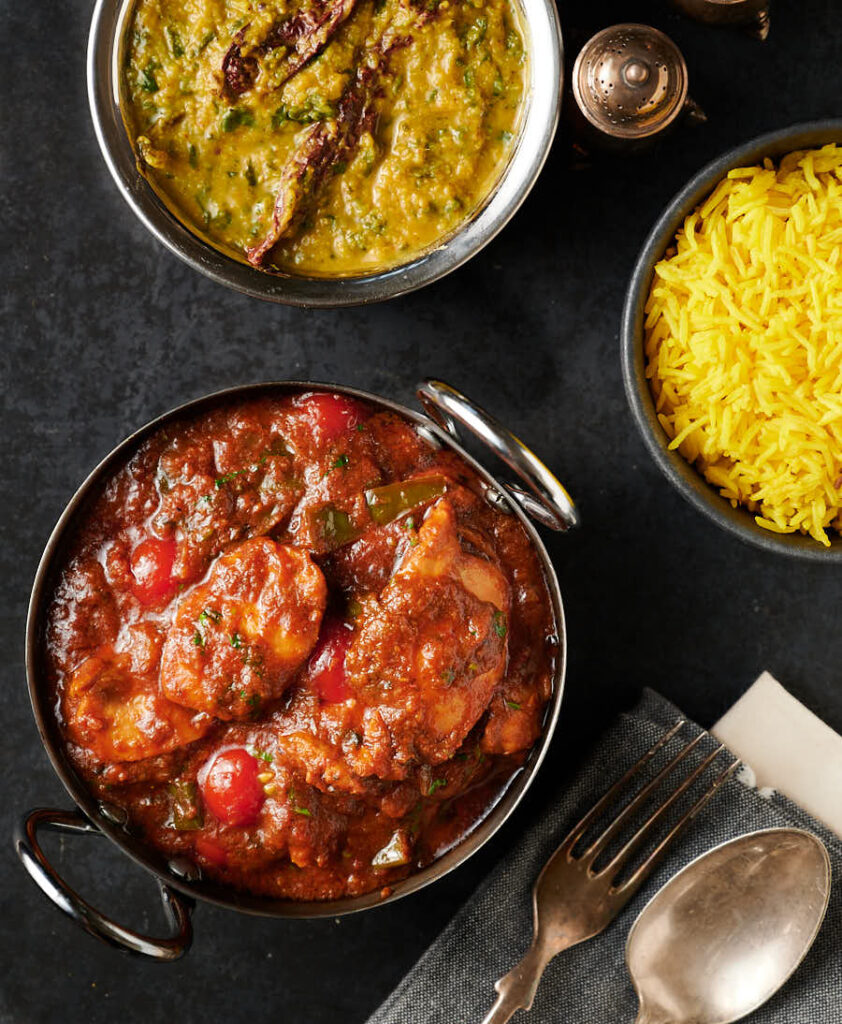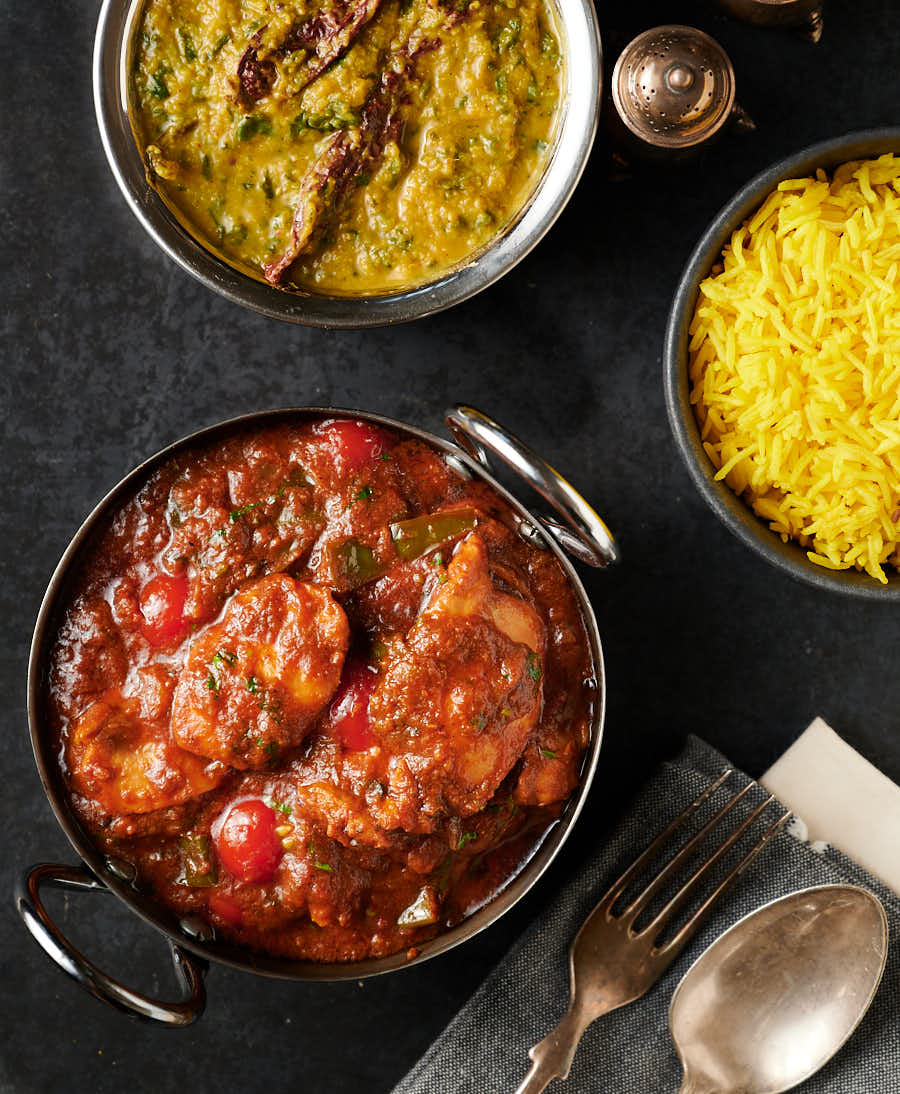 Hotel style is a new way to make Indian restaurant curries
If you already cook Indian restaurant style forget what you know. Just for a few minutes.
And read about green chili chicken curry. Prepared Indian hotel style. It's a whole new way to think about Indian restaurant cooking.
New to me, anyway. I actually think it's really old. I'm guessing this what Indian restaurant cooking used to be. Before it became what it is today.
What it was in the beginning. Somewhere along the way I'm guessing it was simplified. Adapted to scale. To work better in understaffed restaurants.
Indian hotel curry gravy became curry base. Something was found. But something was lost. Until now.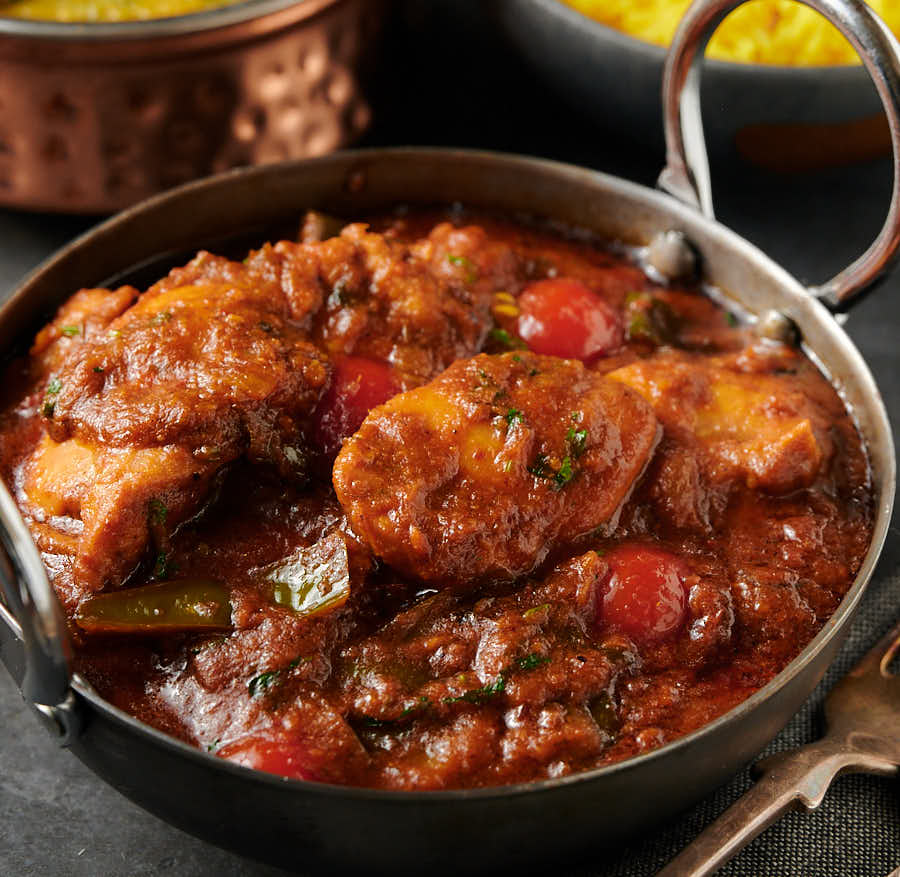 The evolution of curry base
Evolution in cooking is natural. Wonderful in fact. People figure things out. Other people hear about it. Pretty soon it's the new standard.
Restaurants are all about efficiency. They are businesses. They need to keep costs in check. That's why I'm pretty sure curry gravy evolved into curry base.
Because it's less work to make. Keeps labour costs down. And profits up.
Think about it. It's easy to chuck 100 pounds of onions into a huge pot. Add some water and spices. Boil. And puree. With a giant commercial stick blender.
That takes one guy maybe 3 hours in a restaurant kitchen. And he can make enough to feed an army some really good food.
Indian hotel curry gravy is completely different. It's about deeply brown onions. Like traditional Indian cooking. But in a way that makes it available on demand. In a restaurant.
It is more work up front. And it doesn't scale as well. It takes more people to make enough to run a restaurant.
But I'm not running a restaurant. I don't have to cook for 100. I'm trying to make the best curries I can at home. So I can afford to take the time.
And I only have to do it once every 8 curries. Works out to about 5 minutes a meal. I like that math.
I'm going backwards here. And I'm really happy about it.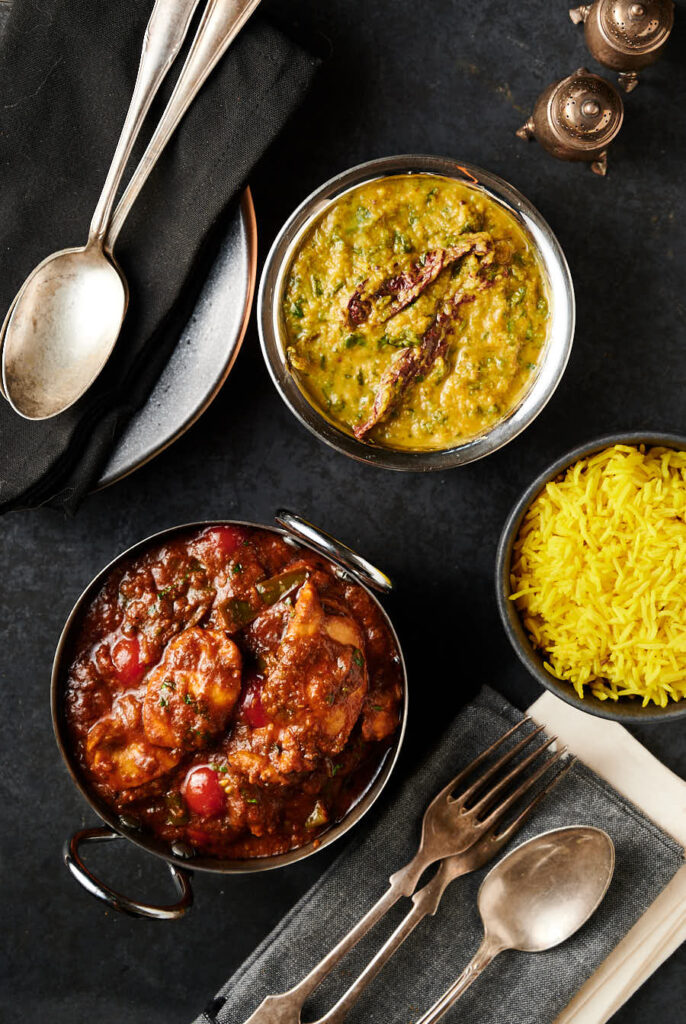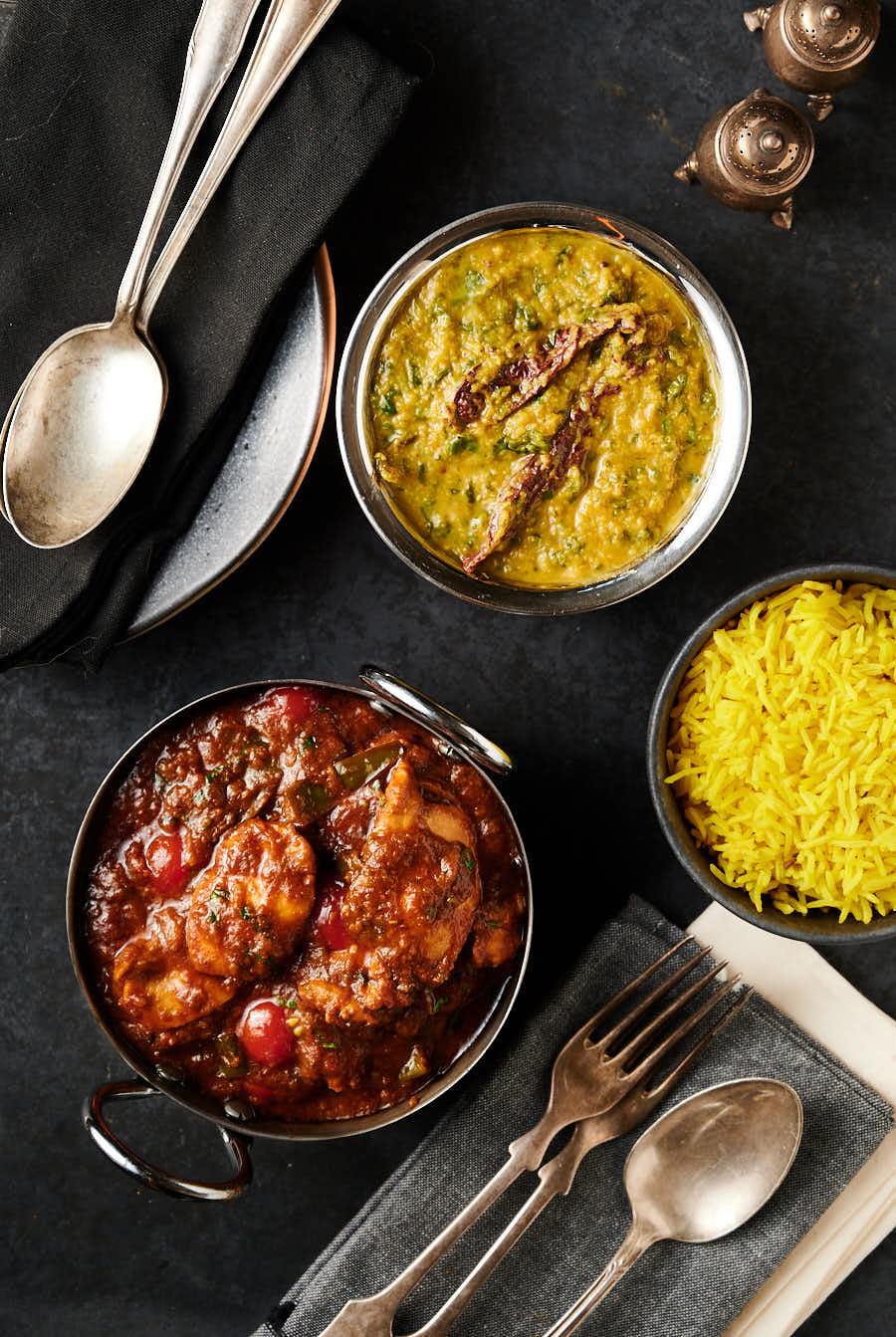 This is a new way to make restaurant curry
This is about taking it to another level. Think about a curry base that is specific to a class of curries. This is tailoring the base to the specific style of curry.
And it's actually easier than using curry base. The first few steps are similar. But there's no frying the curry base. No splatter everywhere.
I'd still wear old clothes though. Turmeric stains are killer.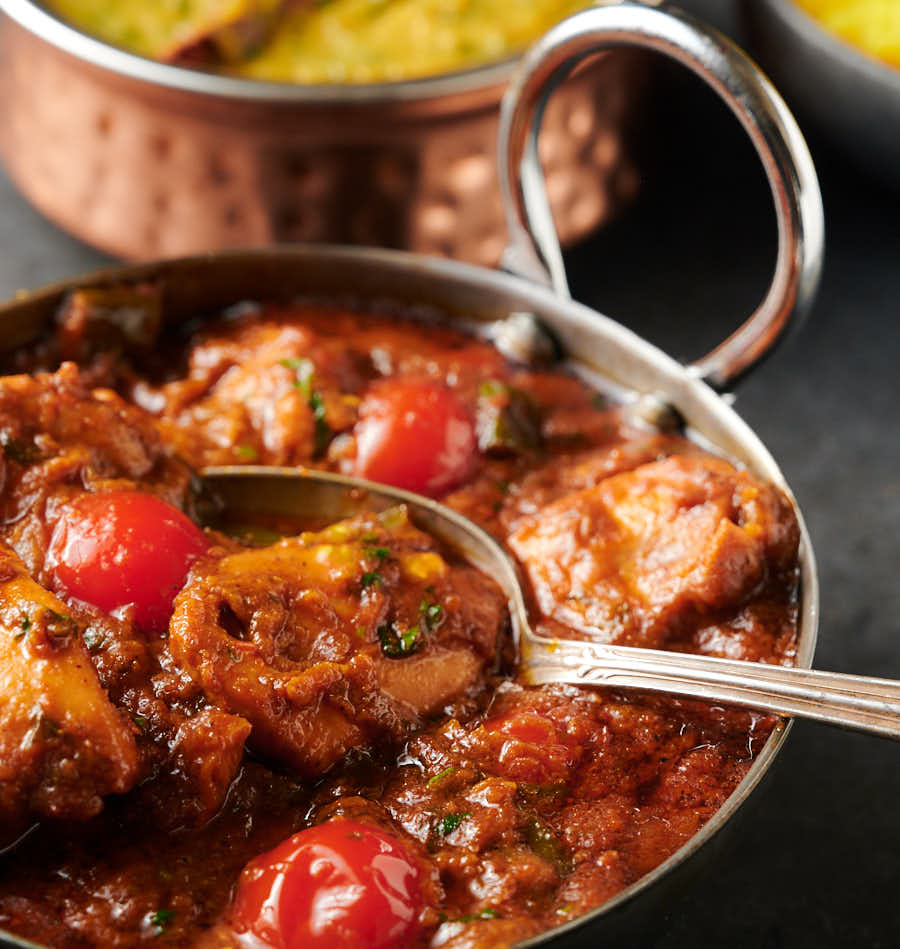 Green chili chicken curry gravy
Green chili chicken curry is a big, bold curry. So it uses a big, bold curry gravy.
One with the flavours you'd expect in a madras, jalfrezi or ceylon curry. Sledgehammer base. In your face base.
It's specialized. And it goes against what I have always said about curry base. But that's because curry base is one size fits all. So it's bland by design.
This is about matching the curry gravy to the dish. The right tool for the job. And that job is to get maximum flavour into your mouth.
Green chili chicken curry is a simple but seriously tasty curry done Indian hotel style. So you can judge for yourself. See if something humble can get you hooked.
Because if it does, you know all your favourites will blow you away.
Green chili chicken curry
This green chili chicken curry uses Indian hotel curry gravy to deliver flavours that are sure to please.
Equipment
A skillet with a lid. Or a lid from another pot that fits your skillet. You will need to loosely cover while the chicken cooks.
Ingredients
The spice mix
2

tsp

Indian restaurant spice mix

– recipe link below

1

tsp

kashmiri chili powder

1

tsp

kasoor methi

– dried fenugreek leaves

1/2

tsp

tandoori masala

– look for one that isn't mostly salt

1/2

tsp

kosher salt

(or 1/3 tsp of regular fine table salt)
Green chili chicken curry
3

tbsp

vegetable oil

– any neutral oil is fine

1/2

small

onion

– coarsely chopped. Shallot works well here if you have some.

1

tbsp

garlic ginger paste

– recipe link below

4

green chilies

– finger hots also known as jwala, seeded and cut into 1 inch pieces

2

tbsp

cilantro stems

– minced

1

cup

Indian hotel curry base

– recipe link below

3

boneless, skinless chicken thighs

– cut into 3 or 4 pieces each

5

cherry tomatoes

– cut in half

1

tbsp

cilantro leaves

– finely chopped
Instructions
Do your prep
Make your spice mix. Have your onions and cilantro chopped. Cut up your green chilies.
Make the green chili chicken curry
Heat the oil in a medium sized frying pan until the oil just starts to shimmer.

Add the onions and cook until the onions just start to brown at the edges. This should take around 3 minutes.

Stir in the garlic ginger paste, cilantro stems and green chilies. Cook until the garlic ginger paste stops sputtering.

Turn your heat down to medium low and add your spice mix. This is why you added 3 tablespoons of oil. You want to fry your spices in the oil. If you skimp on the oil you risk your spices sticking or burning. If your spices burn here you are starting over.

Add the Indian hotel curry gravy. Stir it really well to get the oil to combine with the curry gravy. You want everything mixed together at this point. Bring to a simmer.

Add the chicken thigh pieces in a single layer. Nestle them down into the sauce. Cover and cook about 5 minutes. Remove the cover, flip the chicken and recover. Cook until the chicken is done. Use an instant read thermometer if you have one. You are shooting for an internal temperature of 170F.

The sauce consistency should be about perfect. The juices from the chicken should be enough but if it looks dry add a couple tablespoons of water and stir to combine.

Add the cilantro leaves and stir. Then add the tomatoes and simmer just long enough to warm the tomatoes through.
Notes
Make your Indian hotel curry gravy ahead of time. 
I use this Indian restaurant spice mix in most of my Indian restaurant style curries.
For maximum flavour you really should make your garlic ginger paste from scratch.
You may notice there's no tomato paste or passata in this recipe. The tomato comes from the hotel curry gravy. It's there already.
Nutrition
Serving:
2
servings
|
Calories:
598
kcal
|
Carbohydrates:
24
g
|
Protein:
35
g
|
Fat:
40
g
|
Saturated Fat:
10
g
|
Trans Fat:
3
g
|
Cholesterol:
161
mg
|
Sodium:
969
mg
|
Potassium:
891
mg
|
Fiber:
8
g
|
Sugar:
10
g
|
Vitamin A:
673
IU
|
Vitamin C:
38
mg
|
Calcium:
78
mg
|
Iron:
4
mg