If you want the biggest flavours for dinner tonight make naga chicken tikka curry – Indian hotel style.
This is not one for the korma or butter chicken crowd. It's for those chasing maximum taste. Those that aren't scared of a little fire. It doesn't have to be super spicy. But nobody will ever call it bland either.
Try to imagine. Chicken tikka. Little tandoori chicken bites. The haunting aroma of naga chili. Wrapped up in a crazy tasty sauce spiked with a bit of green chili. Flavour on flavour on flavour.
Naga chicken tikka curry is definitely spicier than most on glebekitchen. Not unbearably hot as written. But it does pack a punch. You've been warned.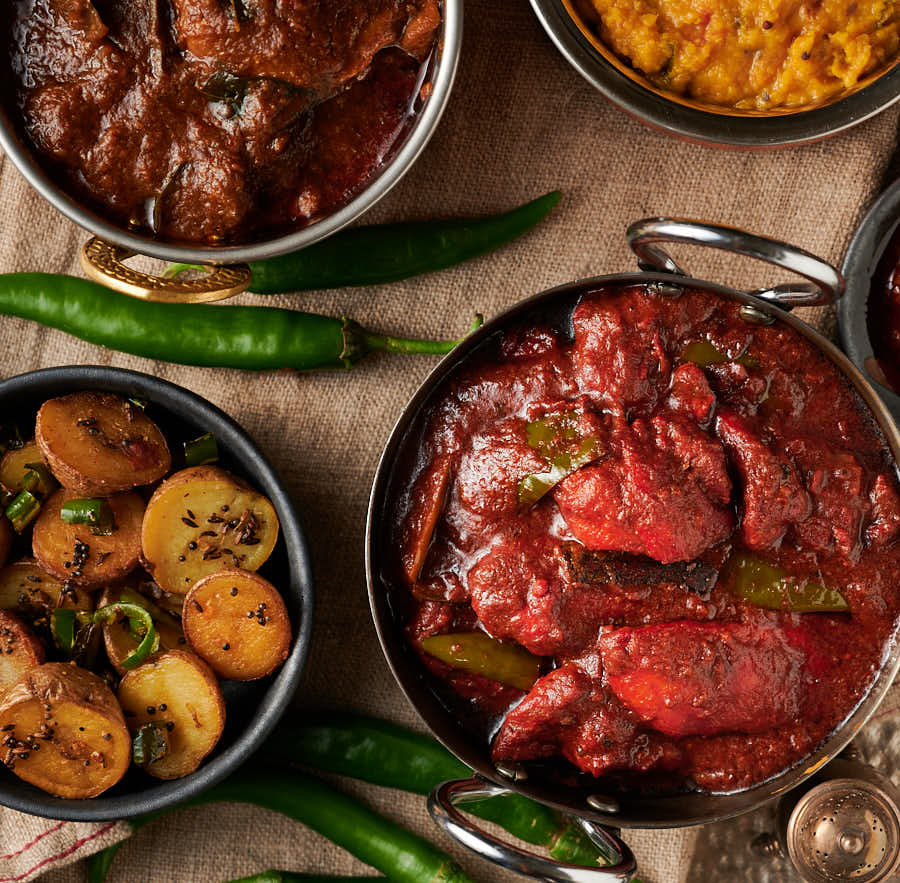 Naga chili pickle is the secret ingredient
Naga chili – or naga morich – is one seriously hot chili. Sits at the way high end of the Scoville scale. A superhot. It deserves respect. A little goes a long way.
You may be wondering why anyone sane would cook with them. That's a reasonable question. I'm glad you asked. Even if you didn't ask. Pretend. Humour me.
Indians make a pickle with them. Still crazy hot. But with a taste unto itself. And an incredible aroma. If you've ever tasted naga pickle you know exactly what I'm talking about. It's a bit of magic. For chili heads anyway.
Once you get your jar of naga pickle home resist the urge to taste it. First time I got some I did. I had to.
I'm nuts that way. Naga pickle is really hot. But really delicious. Do as I say. Not as I do. Seriously. Not a good idea. Very hot.
More is better
This recipe is a bit of a catch 22. Which isn't fair. I know. The recommended amount is quite spicy. But it has that naga flavour.
The high end gets into chili head territory. And you can go higher. If you can take it. The heat builds but that wonderful naga flavour does too.
I start at 1/2 tsp. Just starting to get enough naga flavour. And the heat is well inside my comfort zone. Spicy. For sure. But not insane.
I build from there. A little bit at a time. I push it to the high end of comfortable on any given day. Because I love naga.
Everyone's different. So start low and creep up on it. And decide whether you want the taste of green chili.
Leave it out and you can add more naga pickle. That one is a tough call. For me anyway. I love green chili.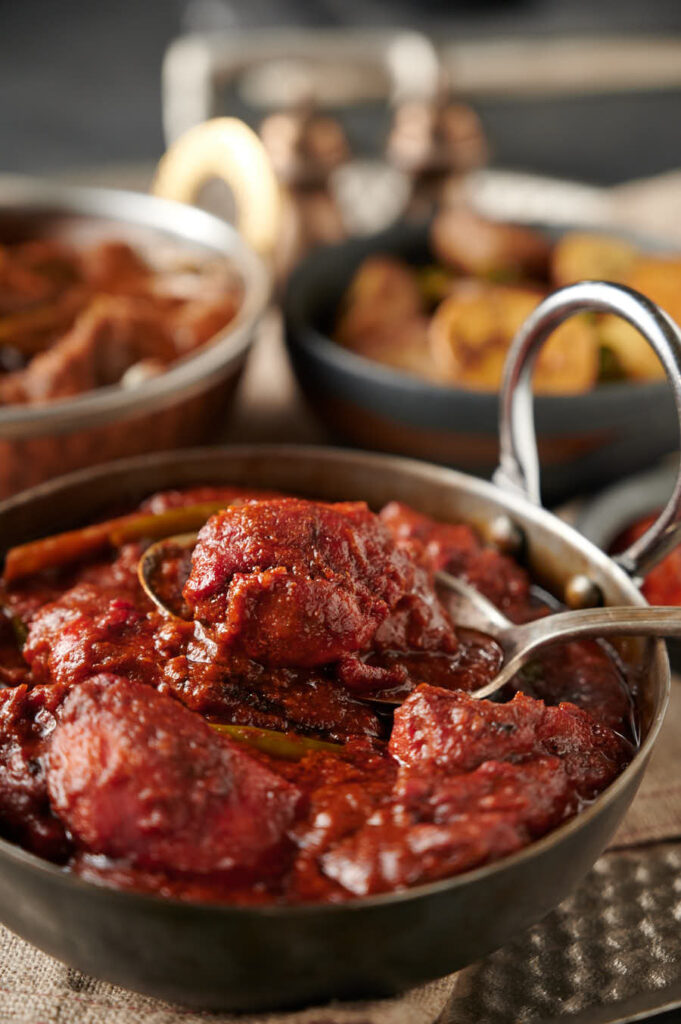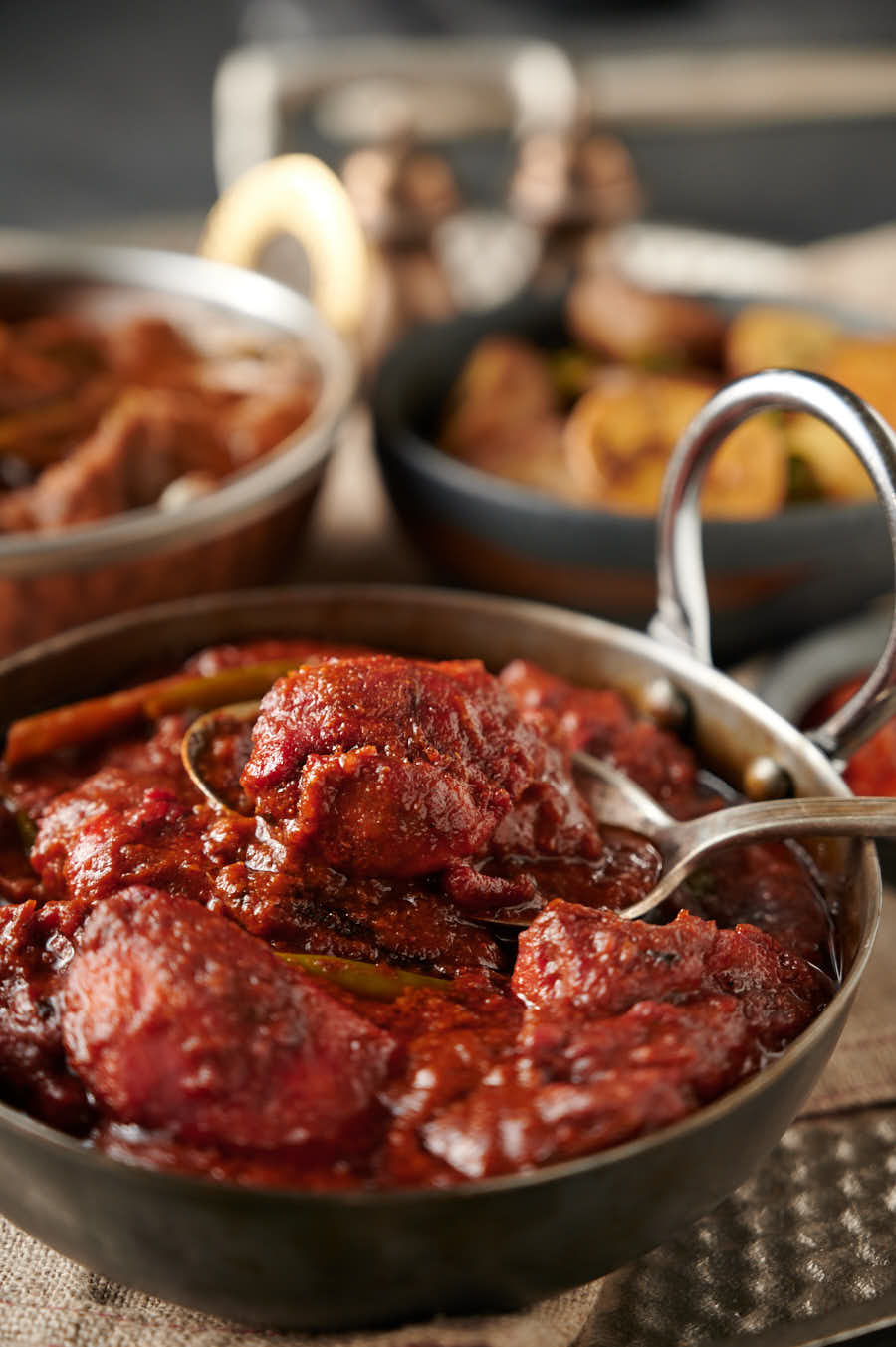 There's an easy way to make chicken tikka
This is a cheat. An easy way to make chicken tikka. Not up to the flavour of no-holds-barred chicken tikka I usually make.
But much simpler. And it works really well in a curry.
It's a simple marinade. Just some spices, oil and a bit of naga chili pickle. Yes. More naga pickle. Next time you make chicken tikka try that. It's a nice touch.
Roast the chicken on a metal baking pan in a 400F oven. That's pretty much it. No grill. No skewers. And no fuss. Just fast, easy chicken tikka.
I do miss the charcoal smoke though. Nothing beats that grilled flavour.
There's one little trick that adds even more flavour. When the chicken comes out of the oven put it in a bowl. Drizzle a little of the oil and rendered chicken juices from the pan over it.
Grab a little of that chicken infused spiced oil flavour for your naga chicken tikka curry. Never waste those bits of flavour. The little things matter. They add up.
I'm not going to put this in the recipe. It's a little bonus for those of you reading this. Our little secret.
And the portion of chicken is generous. Probably 3 thighs is actually about right. But you are going to snack. I know.
I can never help myself either. Not sure anyone can. So there's a chicken tikka snack buffer built into the recipe. If you can refrain the worst thing that happens is you have lots of chicken in your curry.
Indian restaurant hotel style is a little different
This naga chicken tikka curry is a little different from the regular Indian restaurant style curries on glebekitchen.
Different in a very good way. A whole new way.
The curry gravy is the thing here. It's not the same as the curry base I usually use. It's tailor made for big bold curries. Like this naga chicken tikka curry.
You still make it ahead of time. And you can still freeze it in restaurant sized portions. Ready to use on demand.
But hotel gravy is all about deeply browned onions. To deliver that deep, satisfying flavour. Loads of Maillard reaction. Umami galore. That's why it's special.
And it's not messy. Major added bonus. You don't fry the hotel style curry gravy hard. The onions are pre-browned. No more droplets of clothing destroying curry flying everywhere.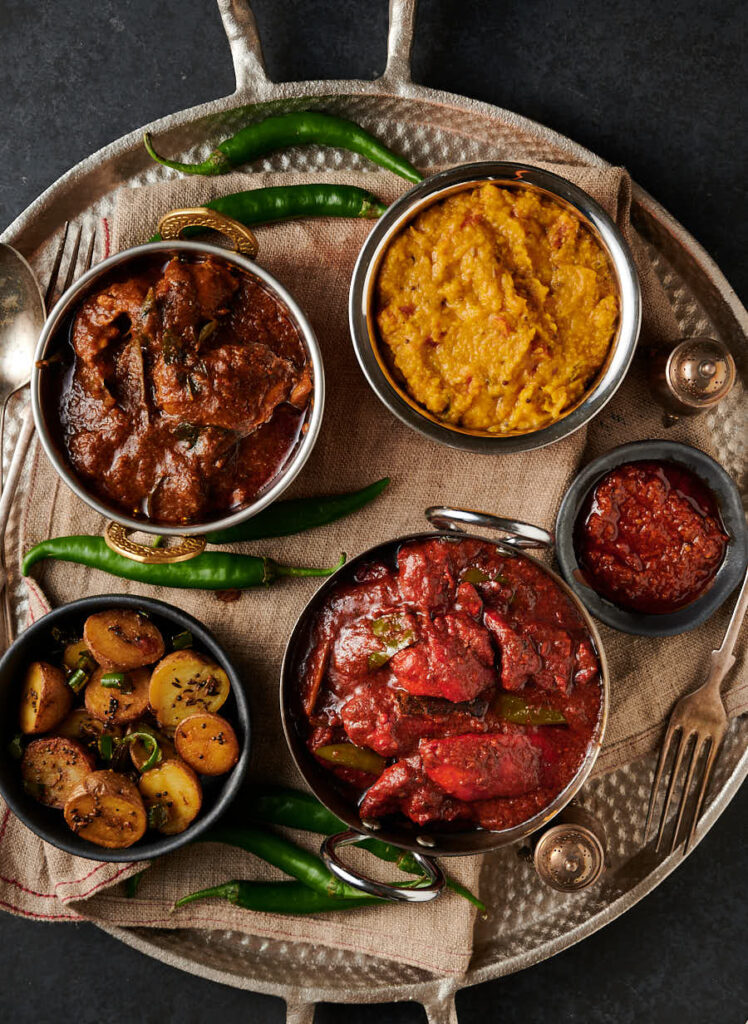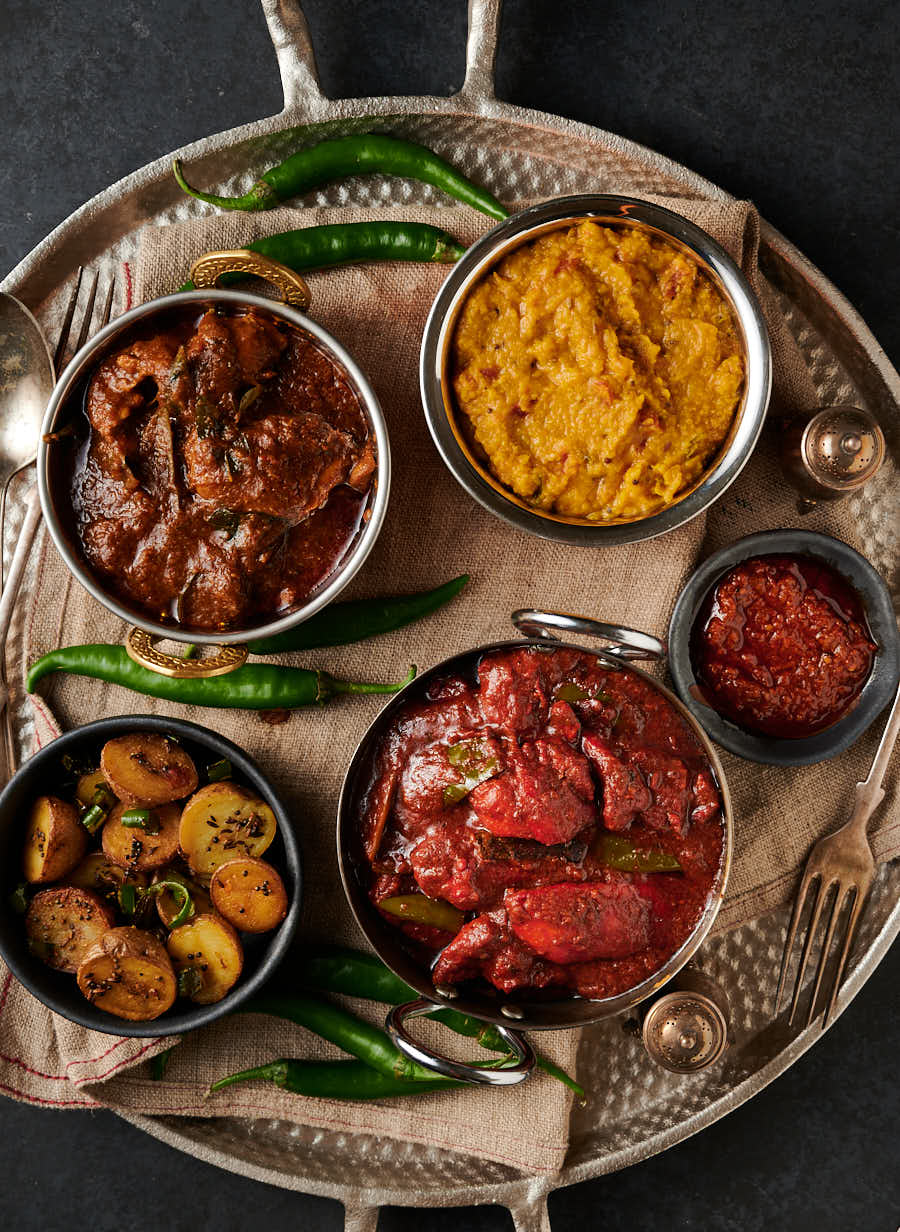 Naga chicken tikka curry is for the chili head in you
I keep things medium spicy on glebekitchen. Almost all the time. I like a nice balance of heat and flavour. It's always flavour first here.
This one is trickier. To get the flavour you need to add the heat. There's no way around it.
It doesn't have to be incendiary. Unless you want it to be. Two teaspoons of naga will light almost anyone's fire. Seriously hot. If you are a true chilihead, imagine the tastiest chicken tikka masala you've never had.
That's the dilemma here. More heat. More flavour. It's a tough call. Sorry to do this to you.
But it's also a matter of degree. Doesn't really matter how much you add. As long as you add some. After that, it's just gets more delicious. If you can take the heat, that is.
Naga chicken tikka curry
Naga chicken tikka curry is a spicy way to get your chicken tikka fix. This one is all about big, bold flavours.
Ingredients
Quick naga chicken tikka
4

chicken thighs

– boneless, skinless. Cut each thigh into 3 even pieces.

2

tbsp

tandoori masala

– available from any Indian grocer. Look for a brand that isn't all salt.

1

tsp

kasoor methi

– dried fenugreek leaves, crumbled between your fingers

1/2

tsp

kosher salt

1/4

tsp

naga pickle

– available from most Indian grocers

2

tbsp

vegetable oil
The spice mix
2

tsp

Indian restaurant spice mix

– recipe link below

1

tsp

kashmiri chili powder

1

tsp

kasoor methi

– dried fenugreek leaves

1

tsp

tandoori masala

– again, look for one that isn't mostly salt

1/2

tsp

kosher salt
naga chicken tikka curry
3

tbsp

vegetable oil

– any neutral oil is fine

1

2 inch

cassia bark

1

tbsp

garlic ginger paste

– recipe link below

1

green chili

– finger hot – jwala chili – cut in half and then into 1 inch pieces (for a total of 6-8 pieces). This is optional and for the chiliheads.

1

cup

Indian hotel curry gravy

– recipe link below. Dilute it with 3 tbsp chicken stock (better) or water.

the naga chicken tikka

1/2

tsp

naga chili pickle

– (see note). You can add more if you can take the heat. More naga pickle. More flavour.

3

tbsp

coconut milk

1

tsp

sugar

– jaggery or brown sugar
Instructions
Do your prep
Make your spice mix. Cut up your green chilies if using. Make your naga chicken tikka.

DIlute your curry gravy with 3 tablespoons of water. You need to dilute it because the chicken is going in pre-cooked.
Make your quick naga chicken tikka
Combine the tandoori masala, kasoor methi, salt, naga pickle and oil in a bowl large enough to hold all the chicken.

Add the chicken and combine with the marinade. Use tongs. This stuff will stain your fingers.

Marinate for about an hour. Pre-heat your oven to 400F while this is going on. Place a sturdy baking sheet in the oven to pre-heat.

Transfer the chicken (again, use tongs) to that pre-heated, sturdy baking sheet and place in the oven. Cook for about 6 minutes. Flip all the pieces and return to the oven. Cook until the internal temperature of the chicken reaches 165F. This should take another 4-8 minutes or so. Really depends on how big your chicken thigh pieces are. Set aside.
Make the naga chicken tikka curry
Heat the oil in a medium sized frying pan until the oil just starts to shimmer.

Add the cassia bark. You should see little bubbles forming around it. Cook for about 30 seconds.

Stir in the garlic ginger paste and green chilies (optional). Cook until the garlic ginger paste stops sputtering.

Turn your heat down to medium low and add your spice mix. This is why you added 3 tablespoons of oil. You want to fry your spices in the oil. If you skimp on the oil you risk your spices sticking or burning. If your spices burn here you are starting over. Cook the spices for about 30 seconds.

Add the Indian hotel curry gravy. Stir it really well to get the oil to combine with the curry gravy. You want everything mixed together at this point. Bring to a simmer.

Cover loosely and cook for about 5 minutes.

Add 1/2 tsp of naga chili pickle and the coconut milk and stir. Taste. Decide if you want more naga pickle flavour and heat. Creep up on it. I love the taste of naga pickle but it does get pretty spicy fast so be careful.

Decide at this point whether you want the sugar or not. It's optional and it depends whether you like that little hint of sweetness in the background.

Add the naga chicken tikka. Continue to cook for about 1 minute to warm the chicken through.

Serve to your chili head friends.
Notes
Naga pickle is hot stuff. If you are not a hard core chili head tread carefully. Start with 1/4 tsp. It will give you a good hint of naga. 1/2 tsp and you are getting pretty much the full naga experience but your curry will be pretty hot by most anyone's standard. Still almost in balance but on the hot end of the scale. A full teaspoon and you are in serious chili head territory. More than that and you'd best have an asbestos lining on your tongue.
If you overshoot on the naga pickle, try adding more coconut milk. It won't be the same but it will be a wonderfully creamy variation.
If you want to minimize the fire and maximize the naga flavour, leave out the green chilies. Naga is more important than the green chili flavour here. That might be the first time I've ever said leave out the green chilies. 
Make your Indian hotel curry gravy ahead of time. It takes time to make so think about doing it the day before.
I use this Indian restaurant spice mix in most of my Indian restaurant style curries.
For maximum flavour you should consider making your garlic ginger paste from scratch.
You may notice there's no tomato paste or passata in this recipe. The tomato comes from the hotel curry gravy. It's there already.
Nutrition
Serving:
2
servings
|
Calories:
682
kcal
|
Carbohydrates:
23
g
|
Protein:
43
g
|
Fat:
47
g
|
Saturated Fat:
15
g
|
Cholesterol:
194
mg
|
Sodium:
1944
mg
|
Potassium:
1000
mg
|
Fiber:
8
g
|
Sugar:
9
g
|
Vitamin A:
574
IU
|
Vitamin C:
19
mg
|
Calcium:
97
mg
|
Iron:
6
mg