Lamb madras. Done Indian hotel style. It's one of the big ones. Truly great. At least for me. Madras is king to jalfrezi's queen.
So I had to get this one right. And I think I did. Bold claim. I know. But it's good. Try it for yourself.
It's glebekitchen style though. No pre-conceptions. Just make it the best I can. So maybe a little different than what you're used to. Not a lot different. But different. In a good way.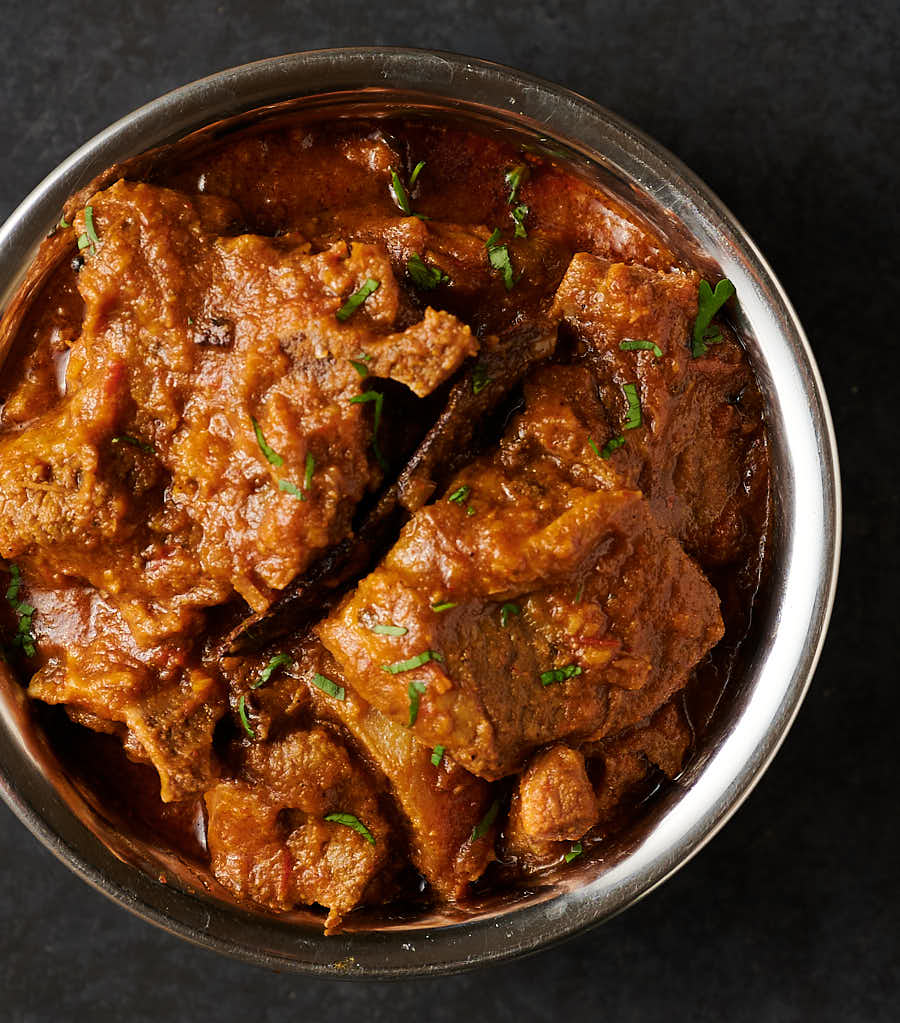 Madras was in South India
I know. Lamb madras isn't a real Indian dish. Madras isn't even a place anymore. It's Chennai now.
Nobody makes it in India. It's a British invention. Like chicken tikka masala. That's OK. Cooking evolves. Crosses borders.
It's actually better than OK. It's progress. Without progress we'd all still be eating what our grandparents ate. I've seen pictures. It wasn't pretty.
There's a story here. Or a legend. Not sure which. Not important really. It's fun either way. The story goes like this.
About a hundred years ago some enterprising soul had an idea. A semi-random mix of Indian spices. Called it Madras curry powder.
They put it up for sale in a shop on Leicester Square. It sparked a revolution. The UK curry revolution.
I'm putting the south Indian back into lamb madras. Why not? I like coconut oil. So a bit of that goes into this version.
And tamarind. For that hint of sour. Instead of lemon juice. Not conventional. But tasty. So I'm good with it.
And I'm serving it with parathas. A bite of this madras curry wrapped up in a bit of paratha? Heaven.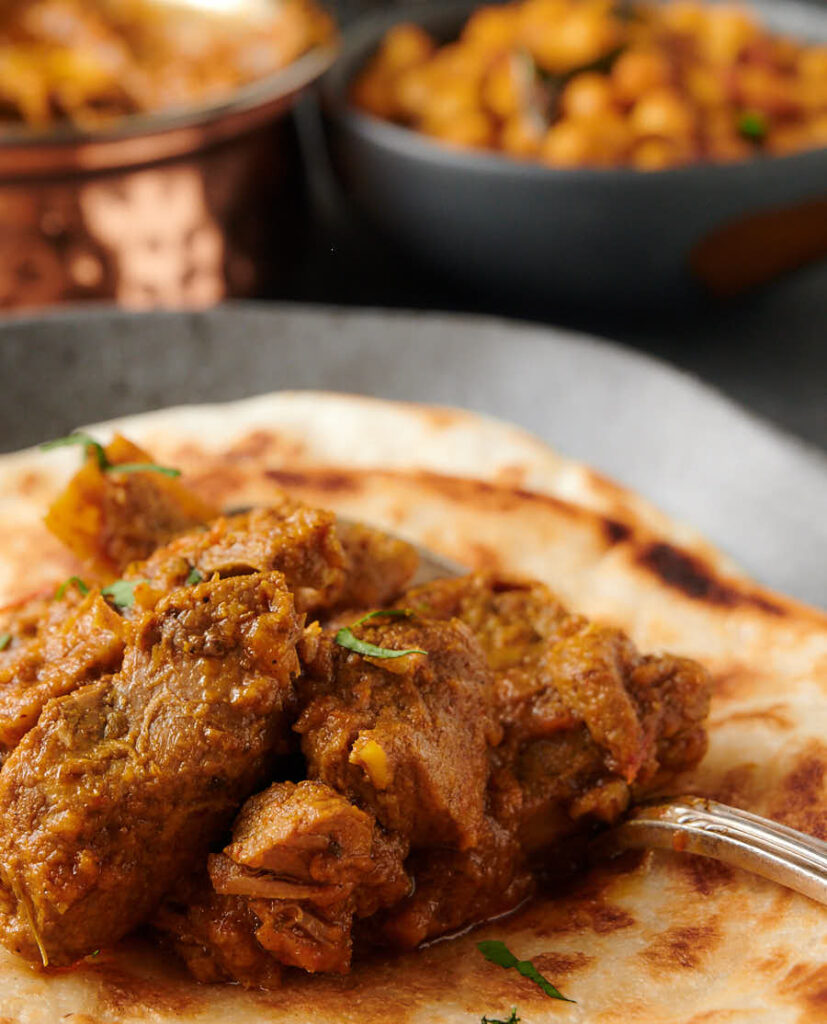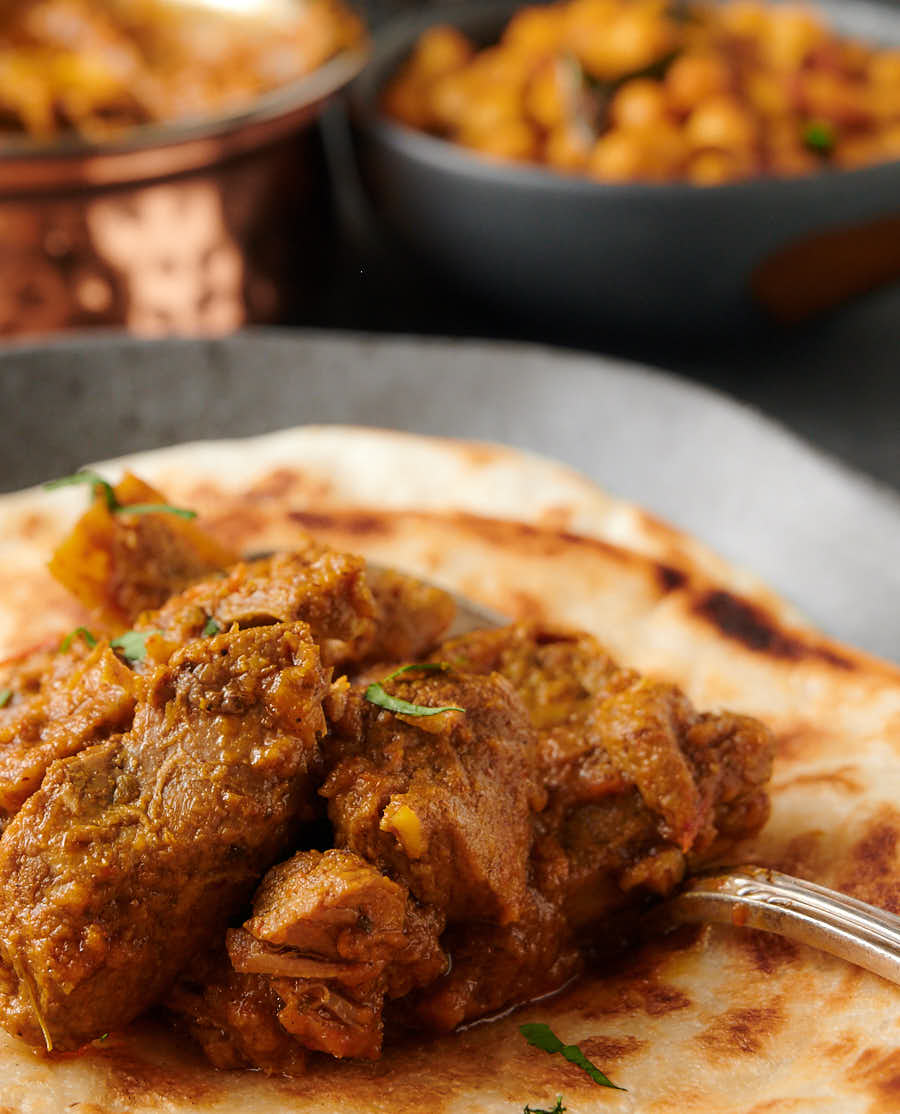 Chili pickle gives this lamb madras something special
Lagniappe. That's a Louisiana French term. It means a little something extra. I love that word. It defines glebekitchen. What I'm always looking for.
Chili pickle is the lagniappe in this lamb madras. It's a small thing. But a big thing.
Indian chili pickle is magic in a jar. It is very hard to go wrong adding it to any curry. And it works well here.
You can pick just about any chili pickle here. It's a flavour boost. Not the star. This isn't naga chili madras curry. You want that wonderful pickle flavour. But not too much of it.
Full disclosure. It can get spicy. Use naga pickle and it could get really spicy. Crazy tasty. But spicy.
If it gets out of control add more coconut milk. That should help tame the fire. A bit anyway.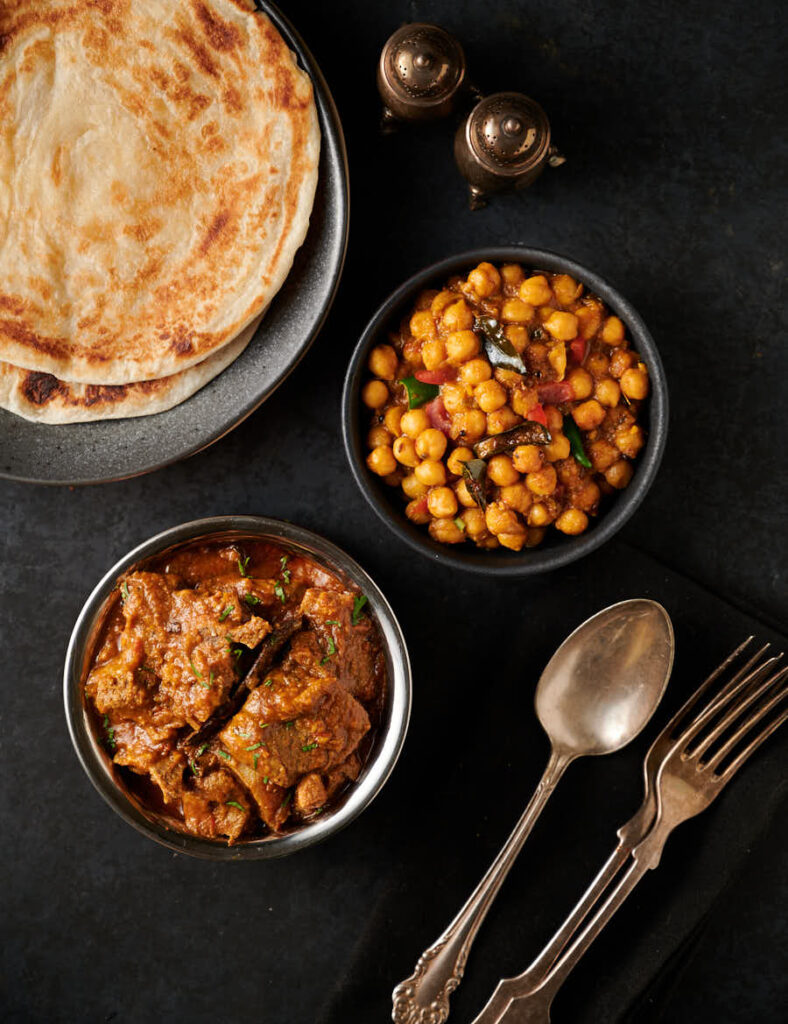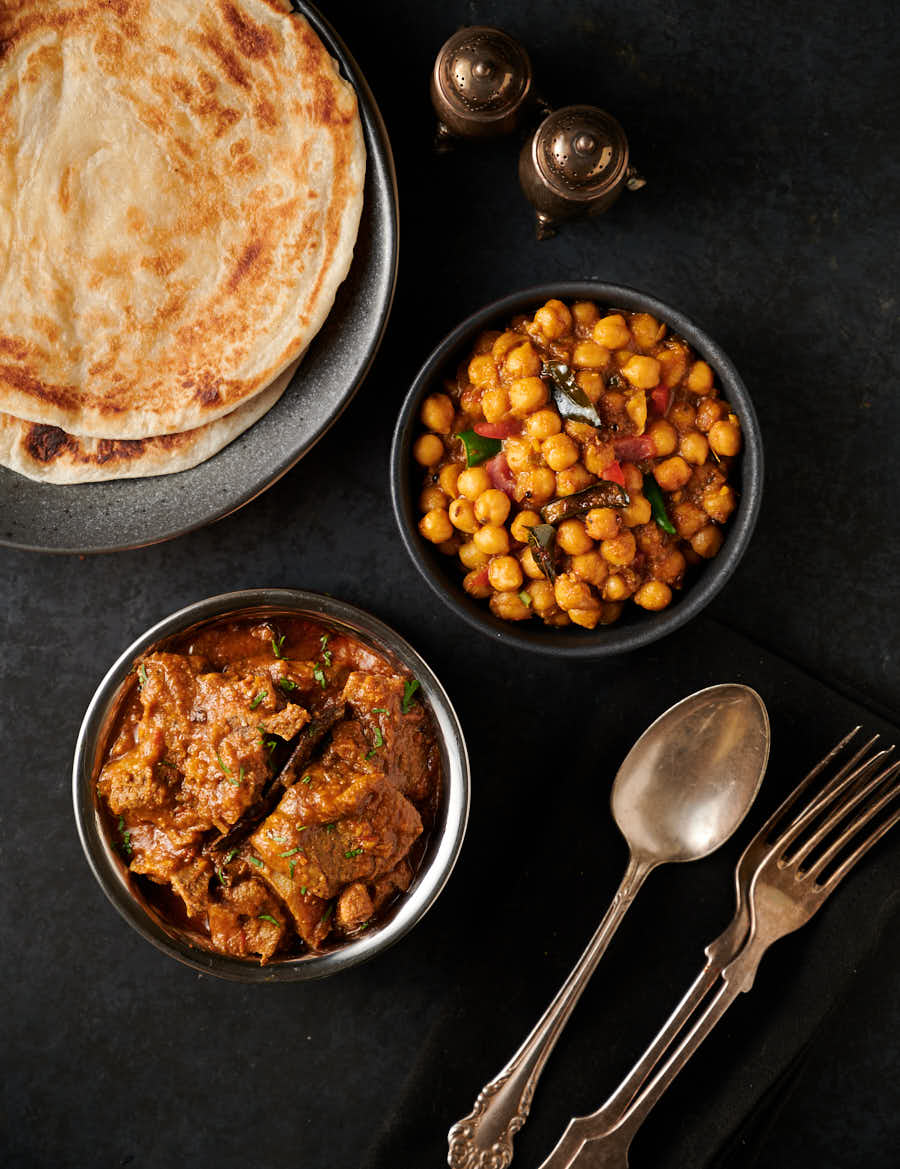 This is hotel style lamb madras
This is a different take on restaurant style cooking. It's not what you know. There is no curry base. Not the way you think about it anyway.
This is hotel style. Based on Indian hotel curry gravy. Think Indian haute cuisine. Mother sauces. The way it used to be. The way it probably still is at the best Indian restaurants.
I'm going back to fundamentals here. Pulling out all the stops. And I'm hoping you will follow.
This is not your local takeaway lamb madras. This is madras done to the max. May seem crazy to you. But sometimes you just need to make a leap of faith. It is so worth it.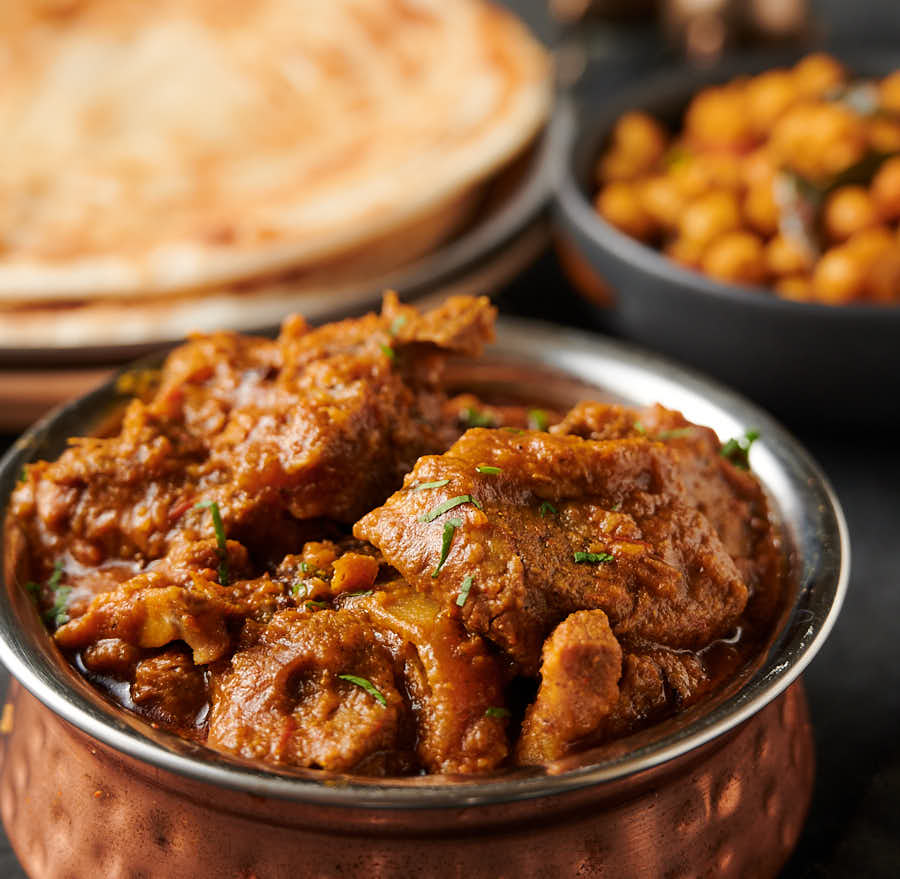 Lamb madras – Indian hotel style
This is a delicious take on restaurant style lamb madras.
Ingredients
Pre-cook your lamb
12

oz

lamb

I like shoulder best. Cut into 1 to 1 1/2 inch pieces.

1

tsp

curry powder

or mix powder if you prefer

1

tsp

kosher salt

– you want fairly salty to season the lamb. You will be discarding the cooking liquid.

1

cup

chicken stock

– enough to cover
The spice mix
1

tsp

Indian restaurant spice mix

– recipe link below

2

tsp

madras curry powder

– you can get this at your Indian grocer

1

tsp

kashmiri chili powder

1

tsp

kasoor methi

– dried fenugreek leaves

1/2

tsp

kosher salt
lamb madras
3

tbsp

vegetable oil

– any neutral oil is fine. I actually like a mix of conconut oil and vegetable oil (50/50) for this curry. Up to you!

1

2 inch

cassia bark

2

tbsp

minced shallot

or red onion

1

tbsp

garlic ginger paste

– recipe link below

the spice mix from above

1

cup

Indian hotel curry gravy

– diluted with 1/4 cup of water – recipe link below.

the pre-cooked lamb

3

tbsp

coconut milk

1/3

tsp

tamarind paste

– or tamarind pulp if you make it yourself.

1/4-1/2

tsp

chili pickle

– depending on which pickle you use this can make it quite hot. But the pickle really adds the final bit of wow.
Instructions
Do your prep
Make your spice mix. Pre-cook the lamb.

DIlute your curry gravy with 1/4 cup of water (the same 1/4 as in the ingredient list – don't dilute it twice). You need to dilute it because the lamb is going in pre-cooked. That probably doesn't make sense to you if you haven't made a chicken hotel curry yet. Just do it. It will work out.
Pre-cook the lamb
Add the lamb, curry powder, salt and chicken stock to a saucepan. You want enough stock to fully cover the lamb. 1 cup is a guess. I don't know how big your sauce pan is. Try to pick one that isn't way too big.

Bring to a simmer. Cook until the lamb is tender. This should take somewhere around an hour for lamb shoulder. Depends on how big your lamb chunks are. Also depends on the lamb. You are making stew. It's done when it's done I'm afraid.

Drain. Discard the stock (it will be very salty) and set the lamb aside. You can do this the day before if you'd like.
Make the lamb madras
Heat the oil in a medium sized frying pan until the oil just starts to shimmer.

Add the cassia bark. You should see little bubbles forming around it. Cook for about 30 seconds.

Add the diced shallots. Cook until they just start to colour up.

Stir in the garlic ginger paste. Gently fry until the garlic ginger paste stops sputtering. This is the only messy step.

Turn your heat down to medium low and add your spice mix. This is why you added 3 tablespoons of oil. You really want to fry your spices in the oil. Skimp on the oil and you risk your spices sticking or worse, burning. If your spices burn here you are starting over. No way around this.

Add the Indian hotel curry gravy. Stir it really well to get the oil to combine with the curry gravy. You want everything mixed together at this point. Bring to a simmer.

Add the tamarind paste, the cconut milk and the lamb.

Cover loosely and cook for about 5 minutes.

Taste the curry. If you can take the heat, add the chili pickle. A little goes a long way but it really makes a difference in flavour too.

If the sauce looks a little thick at this point add a bit of water and bring back to a gentle simmer. Cook for another two or three minutes. You want some of the lamb flavour to infuse the sauce.

Serve with rice or Indian flatbread. I like a tarka dal or chana masala on the side. But I always like a tarka dal or a chana masala on the side so I am hopelessly biased here.
Notes
Pre-cooking lamb is a restaurant trick to speed things up at service. 
You can make up batches of pre-cooked lamb and freeze it so it's ready when you want to make hotel style lamb curries. Just make sure you are starting with fresh lamb if you do this. You cannot refreeze lamb (or any meat, in fact).
Make your Indian hotel curry gravy ahead of time. It takes time to make so think about doing it the day before.
I use this Indian restaurant spice mix in most of my Indian restaurant style curries.
For maximum flavour you should consider making your garlic ginger paste from scratch.
You may notice there's no tomato paste or passata in this recipe. That's because the tomato flavour comes from the hotel curry gravy. It's there already.
Nutrition
Serving:
2
servings
|
Calories:
682
kcal
|
Carbohydrates:
23
g
|
Protein:
43
g
|
Fat:
47
g
|
Saturated Fat:
15
g
|
Cholesterol:
194
mg
|
Sodium:
1944
mg
|
Potassium:
1000
mg
|
Fiber:
8
g
|
Sugar:
9
g
|
Vitamin A:
574
IU
|
Vitamin C:
19
mg
|
Calcium:
97
mg
|
Iron:
6
mg