Think about beef and broccoli. Now think about what would happen if you took a classic and moved it to Thailand. That's what this is about.
Not the usual run of the mill beef and broccoli. Not the one you grew up on. Spicier. A little less "formula" tasting.
Not that different. But not the same either. If you are looking for Chinese Canadian (or American) beef and broccoli this is not the recipe for you.
If you are looking for something delicious with big South East Asian flavours keep reading.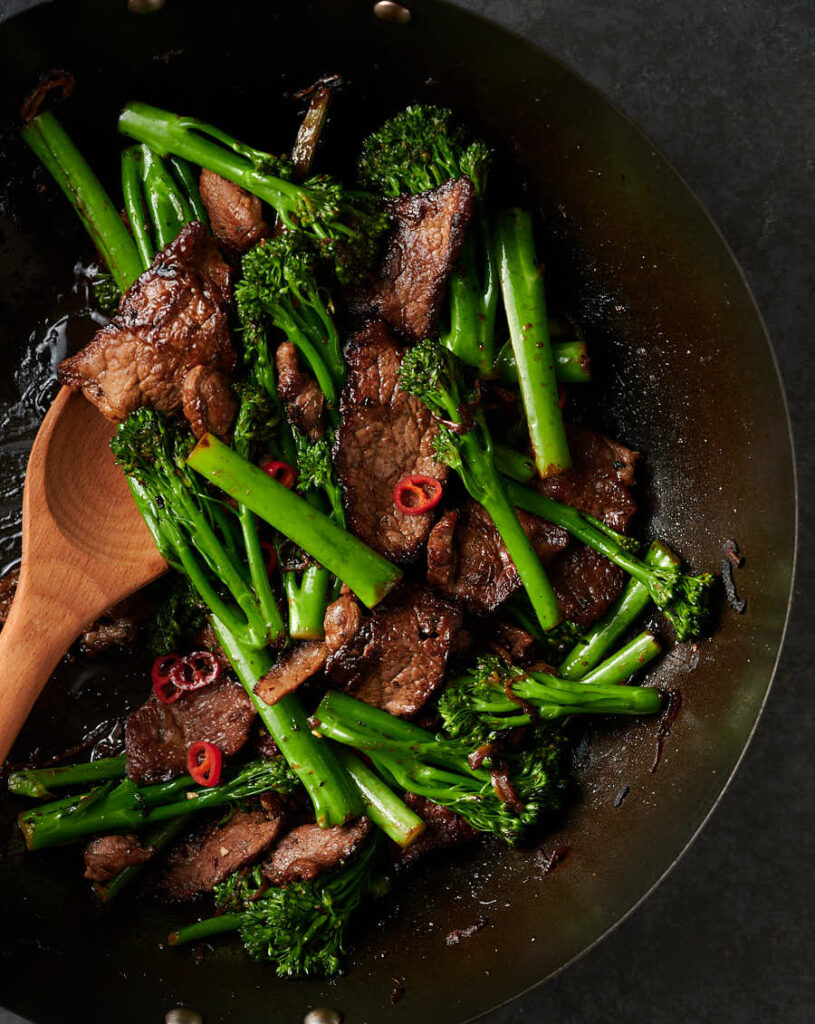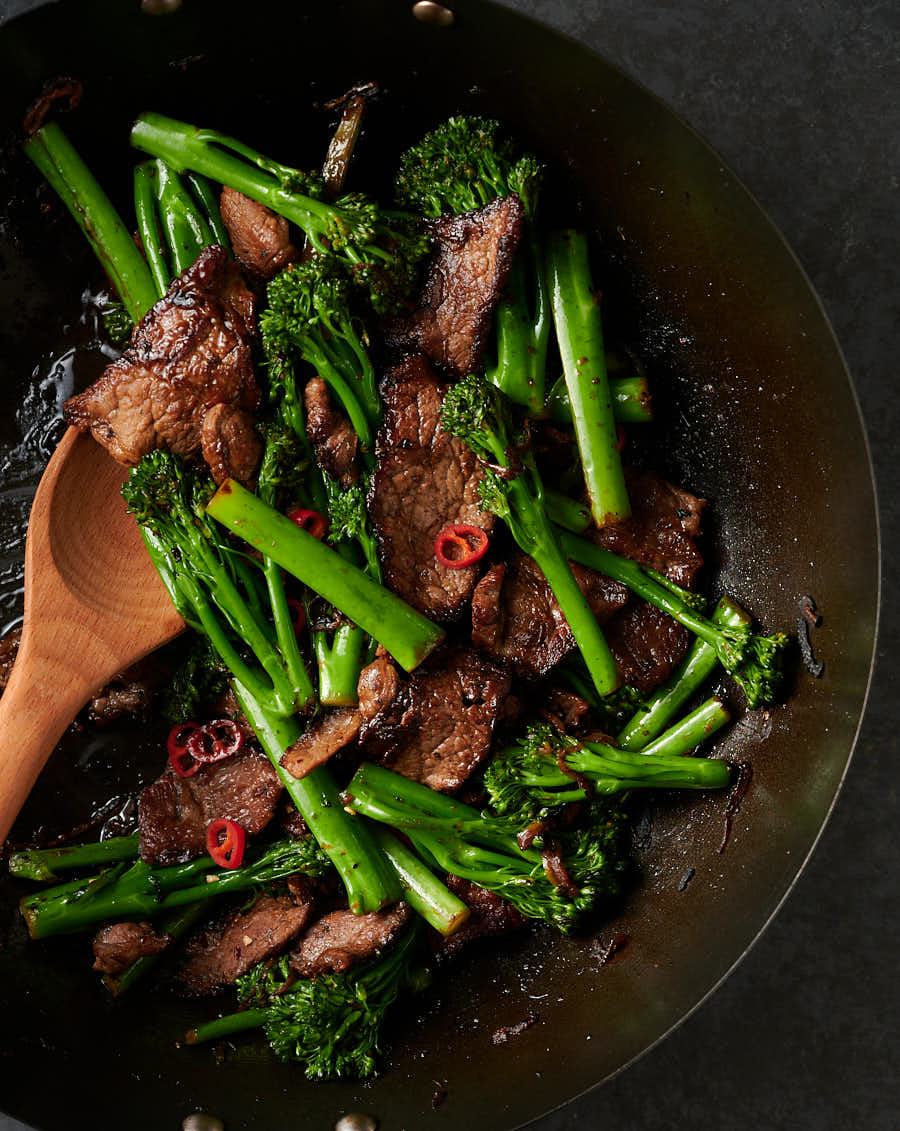 Beef and broccoli didn't start out with broccoli
I don't know if this story is true. So don't hold me to it. It is believable though. At least to me.
It goes like this. Immigrants arrived in North America. They missed the tastes of home. So they did what they could with what they could find.
They wanted to make beef and gai lan. Broccoli was the closest thing they could find. And so beef and broccoli was born.
That story has been told a thousand times through history. People come. People adapt. Good things happen. New classics are born. Culinary evolution.
I make this dish with gai lan. But I also make it with broccolini. I like the gai lan version a little better. But I can get broccolini anywhere.
So I did it here with broccolini. Because I'm guessing you can get it anywhere too. Works pretty much the same either way.
If you can get gai lan, go for it. If not, don't worry too much. All good.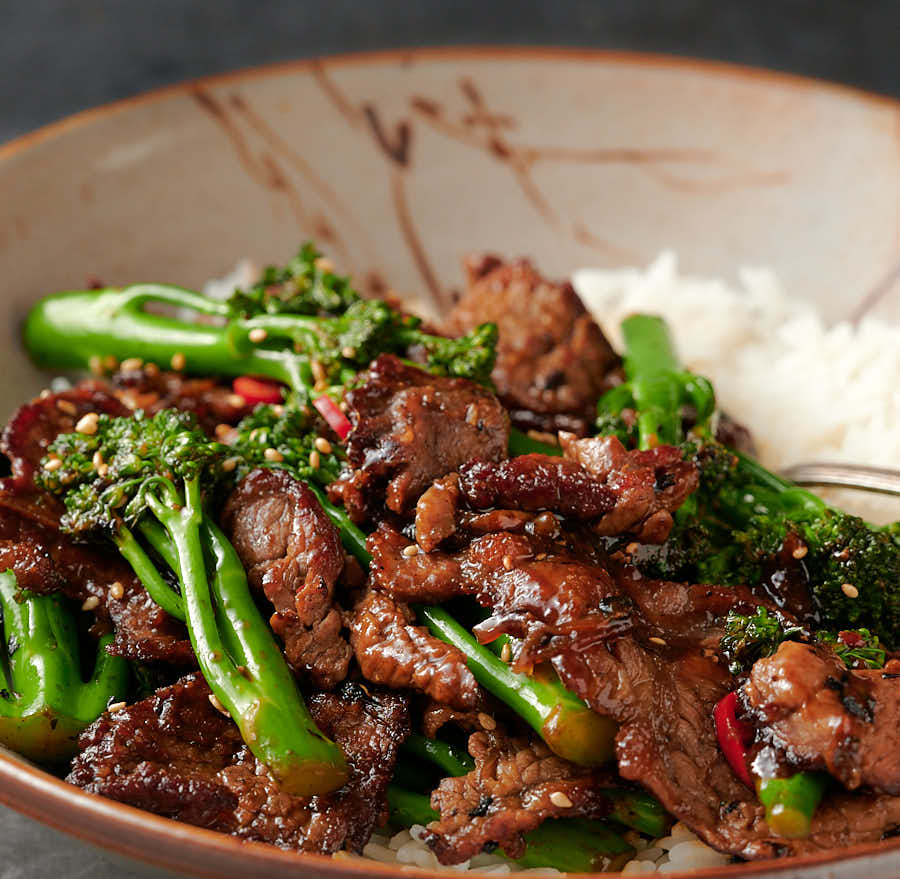 Don't overload your wok
You don't have the firepower that restaurants have. So there isn't much point trying to cook this the way they do.
If you put too much stuff in the pan it's going to steam. Your beef won't brown. Your broccolini won't get that wonderful smoky char. It just won't be as good.
So stir fry in phases. Cook half the beef. Then the other half. Beef releases water as it cooks. Water is the enemy of brown. It will take you an extra 90 seconds to do this. That's time well spent.
Then cook the onions and broccolini. Really crank the heat. Make sure you have enough oil in the wok. Push it. Hard. You want a bit of char on the broccolini.
Then bring everything together. Add the sauce and serve. It's more work but it works.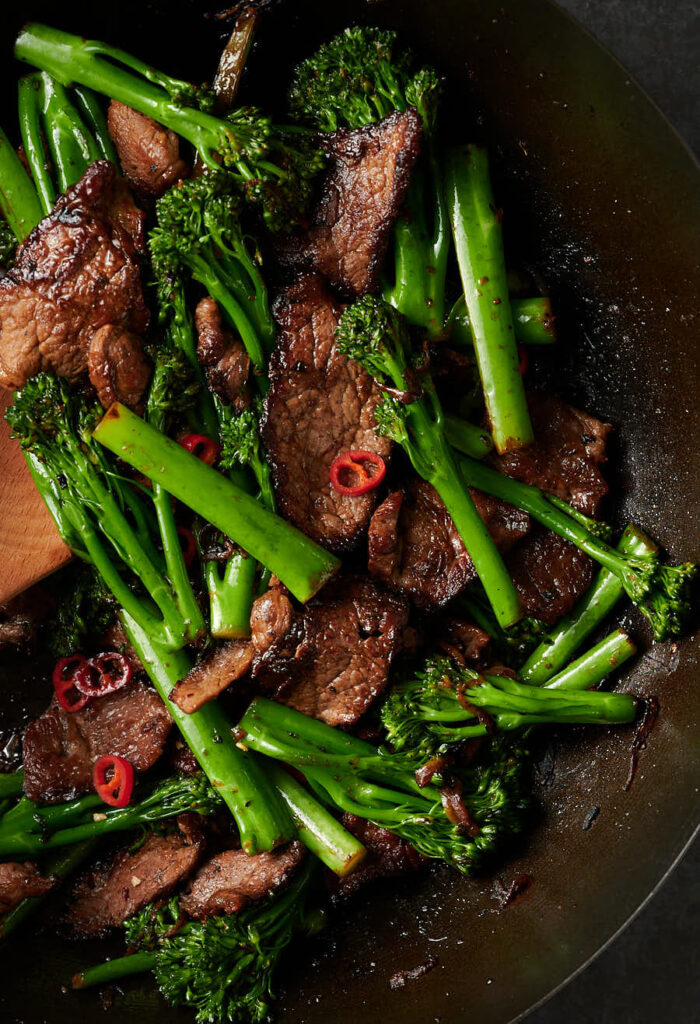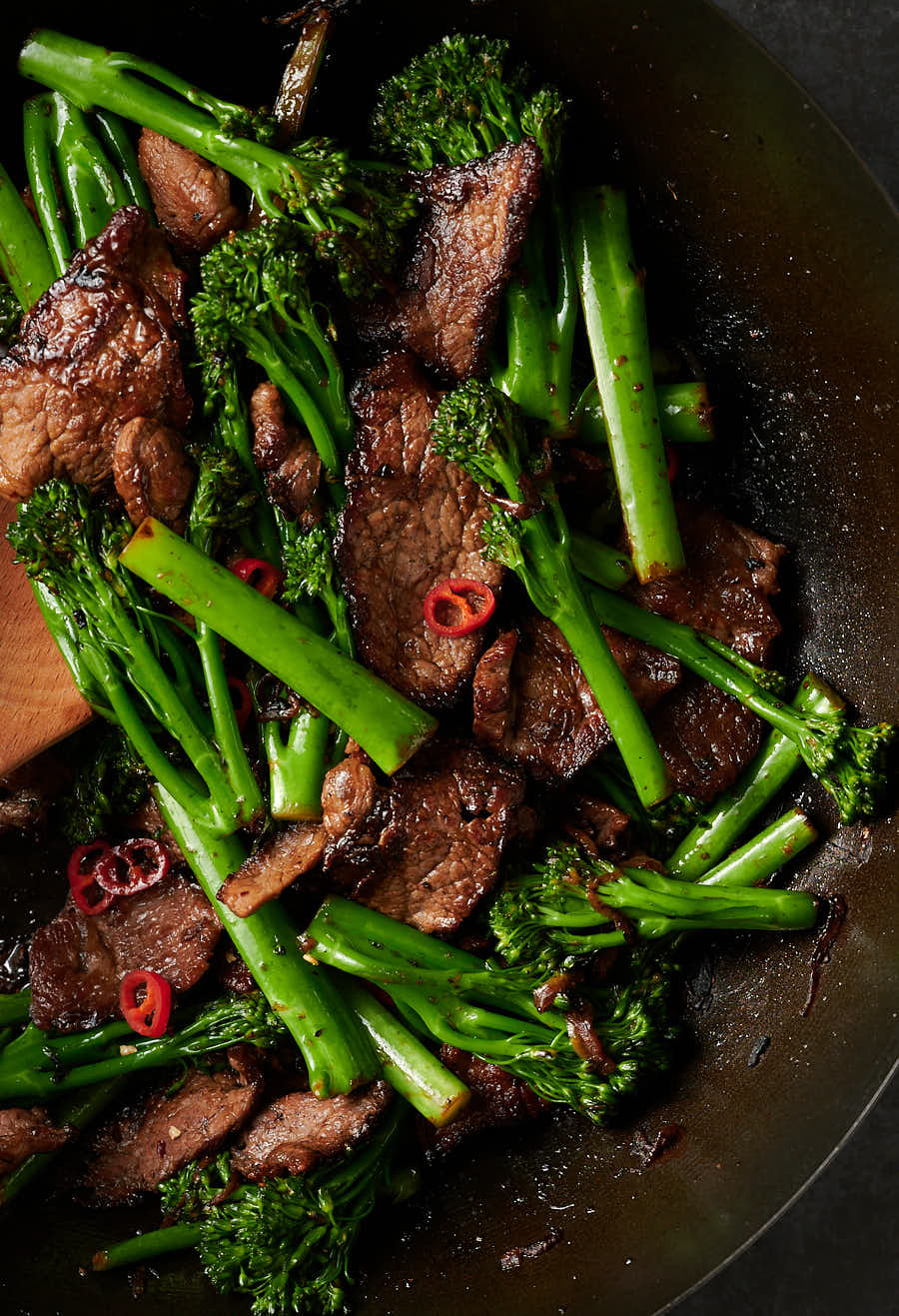 Think pad see ew without the noodles
This version of beef and broccoli is like Pad see ew. Without the noodles. And with beef instead of chicken or pork. OK – it's not that close.
But the underlying flavours are similar. Thai flavours. Chinese concept. It works.
Which is why ingredients matter so much here. Make this with Chinese soy and Chinese oyster sauce and it's pretty much Chinese.
Thai soy is different. Thai oyster sauce is different. These things matter. You'd be amazed how much these things matter.
Of course, adding fish sauce is really different. That's the sledge hammer here. I love sledge hammers. Mixes things up.
But if you like pad see ew think about making this. It's beef and broccoli. But different. I surprised myself with this one. Try it and see for yourself.
beef and broccoli – thai style
Beef and broccoli in a Thai-inspired update to the stir-fry classic.
Ingredients
The sauce
1

tbsp

soy sauce

– Thai light soy sauce or Golden Mountain sauce

1

tbsp

fish sauce

2

tsp

oyster sauce

– Thai oyster sauce

1

tsp

dark soy

– Thai sweet soy (or substitute a big pinch of sugar)

1

tsp

sambal oelek

or garlic chili sauce

3

tbsp

water
beef and broccoli
12

oz

beef sirloin

sliced thinly across the grain. Alternately, you can slice up a flank or skirt steak.

12

oz

broccolini

or gai lan if you can get it, cut into large pieces

1

medium

onion

thinly sliced (optional but tasty)

2

tsp

garlic ginger paste

1/2

tsp

cornstarch

2

tsp

water

mixed with the 1/2 tsp cornstarch

3

tbsp

neutral oil

you might need a bit more. Don't skimp. Saving a few calories is not worth it here.

1-2

red chilies

thinly sliced (optional)

sesame seeds

to garnish
Instructions
This is an attempt to emulate the high heat stir fry techniques restaurants achieve with burners that are just slightly cooler than the sun. You don't have this (I don't think) so a bit of extra work is a necessary evil here.

Combine all the sauce ingredients in a small bowl. Set aside.

Prep your beef. If using sirloin a small roast (or baseball steak) works well. Put the sirloin in the freezer for about 20 minutes and then slice about as think as you can get (1/8") across the grain. If you are using flank or skirt slice on the vertical bias (so the slice is bigger than the steak is high).

Use a wok for this if you can. It's just easier. A big frying pan will do as well. Pre-heat it over medium high heat. Add 2 tablespoon of the oil.

Turn the heat up to high. Crank it. When the oil starts to shimmer (that should happen fast) add half of the beef. Half is important. You don't want to overload your pan. You'll get steam if you do that and your beef won't brown. Cook, tossing frequently, until it gets some colour. Remove.

Add the remaining tablespoon of oil. Add the remaining beef and cook you did with the first half. Set aside.

Turn the heat down to medium. If your wok looks dry at this point add a bit more oil. Add the onions and cook until they are well softened.

Turn up the heat. Add the broccolini and stir fry until it starts to soften. Be vigorous. Toss stuff around. Like you were on TV. Have fun with it. This takes a couple minutes or more depending on how high your heat is.

You want to try to get a bit of that charred flavour on the broccolini. Push it hard. Your onions will start to really shrink and darken. Like fried shallots. That's good. After about two minutes if the onions are getting too dark add a couple tablespoons of water to the wok to cook things down a bit.

Turn the heat down to medium and add the garlic ginger paste. Cook for about 30 seconds, then add the beef back into the wok.

Add the sauce and toss until everything is warmed through. Add the cornstarch-water mixture and simmer until the sauce just starts to cling to the broccolini. Taste. If you think it isn't salty enough let it cook another minute to concentrate the flavours a bit. Remove from heat. Add the red chilies if using.

Garnish with sesame seeds and serve with jasmine rice.
Nutrition
Calories:
513
kcal
|
Carbohydrates:
21
g
|
Protein:
45
g
|
Fat:
27
g
|
Saturated Fat:
4
g
|
Cholesterol:
94
mg
|
Sodium:
1681
mg
|
Potassium:
771
mg
|
Fiber:
3
g
|
Sugar:
8
g
|
Vitamin A:
3216
IU
|
Vitamin C:
194
mg
|
Calcium:
167
mg
|
Iron:
5
mg