Thai beef noodles. Takeout flavour with ingredients you can get at the grocery store. No specialty market required and easy to make as well.
Thai beef noodles are a tasty weeknight dinner. They're a bit different. Not like pad thai really – although you could be forgiven for thinking that.
Garlicky, sweet, salty, spicy. A little bit smoky. Lots of big flavours going on. Good complexity. Good balance.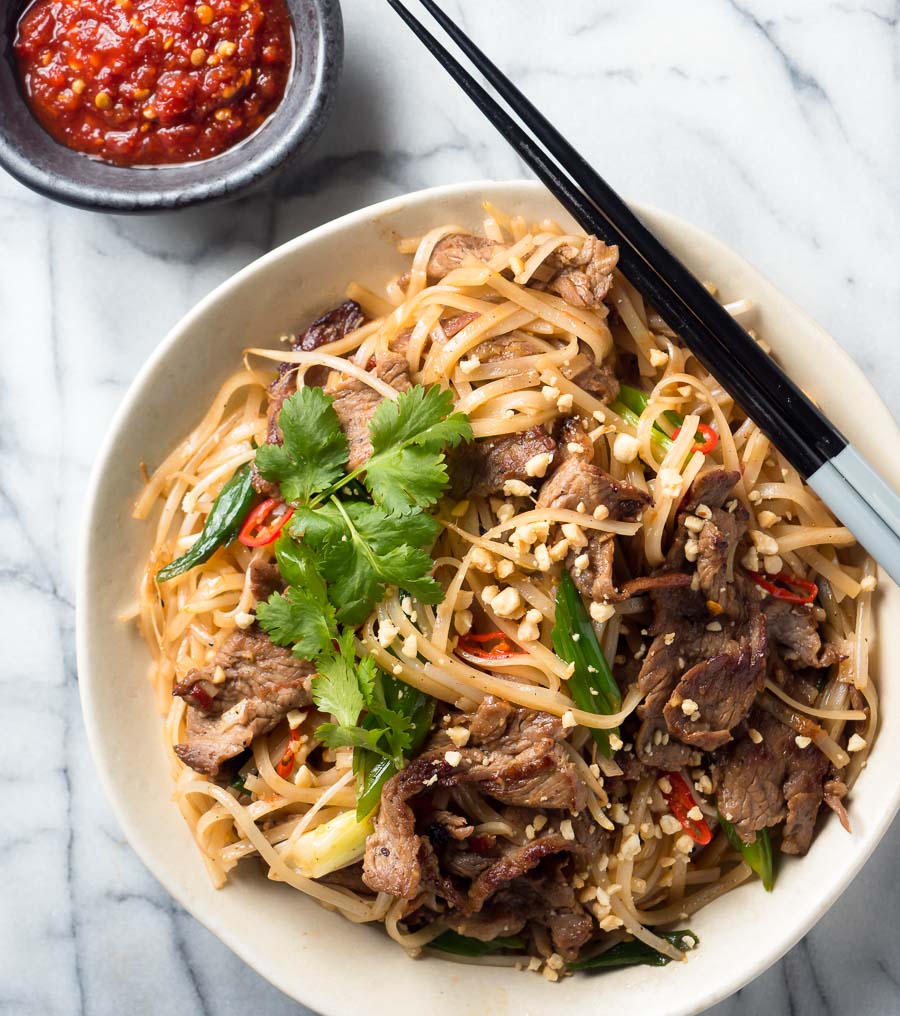 Thai beef noodles are street food
Imagine you were in Thailand and you ordered this on the street. The guy making it  would have his prep done. You should too. This goes fast.
Heat up a wok and go. Cook the beef.  After that, you'll have Thai beef noodles on the table in a couple minutes. Yes, that fast.
You should probably only make two servings at a time. Too much in the wok and it will steam. Steam is bad. Sorry noodles in the making. You are frying the noodles. Nicely coated is what you are after.
The trick is to cook all your beef up front. Have it ready to go and the rest comes together in a couple minutes. Literally. Two minutes an order. Street food.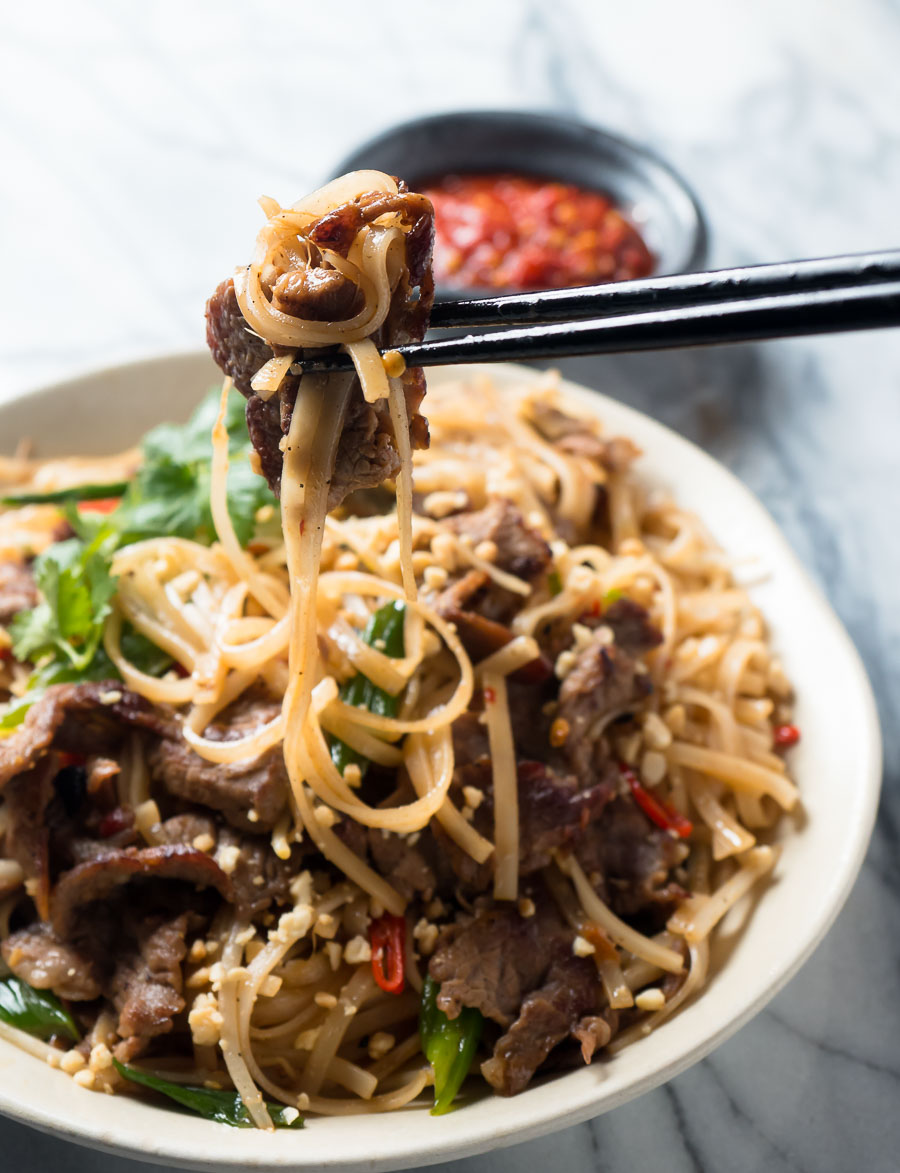 Big heat is the key
Restaurants have high output burners. Seriously high output burners. That's how they get that smoky stir fried taste. Regular stoves don't have that kind of juice.
So you need to adapt. Turn your heat up to max. Don't be scared. Even at max heat you aren't close to what they are using.
Fry your beef in batches. If the heat isn't high enough the beef with throw some liquid when it cooks. You'll get grey beef. Boiled. You don't want that.
If you see it happen you have too much beef in the pan. Or not enough heat. Or both. Don't panic. Spoon out the liquid. Add a bit more oil. Turn up the heat. Get that beef to brown.
Same goes for the rest. You want that smoky flavour. It's magic. Keep the heat high. Work fast. If you can taste a bit of smoke in the final dish you'll know you nailed it. You'll be spoiled for life. It's so good.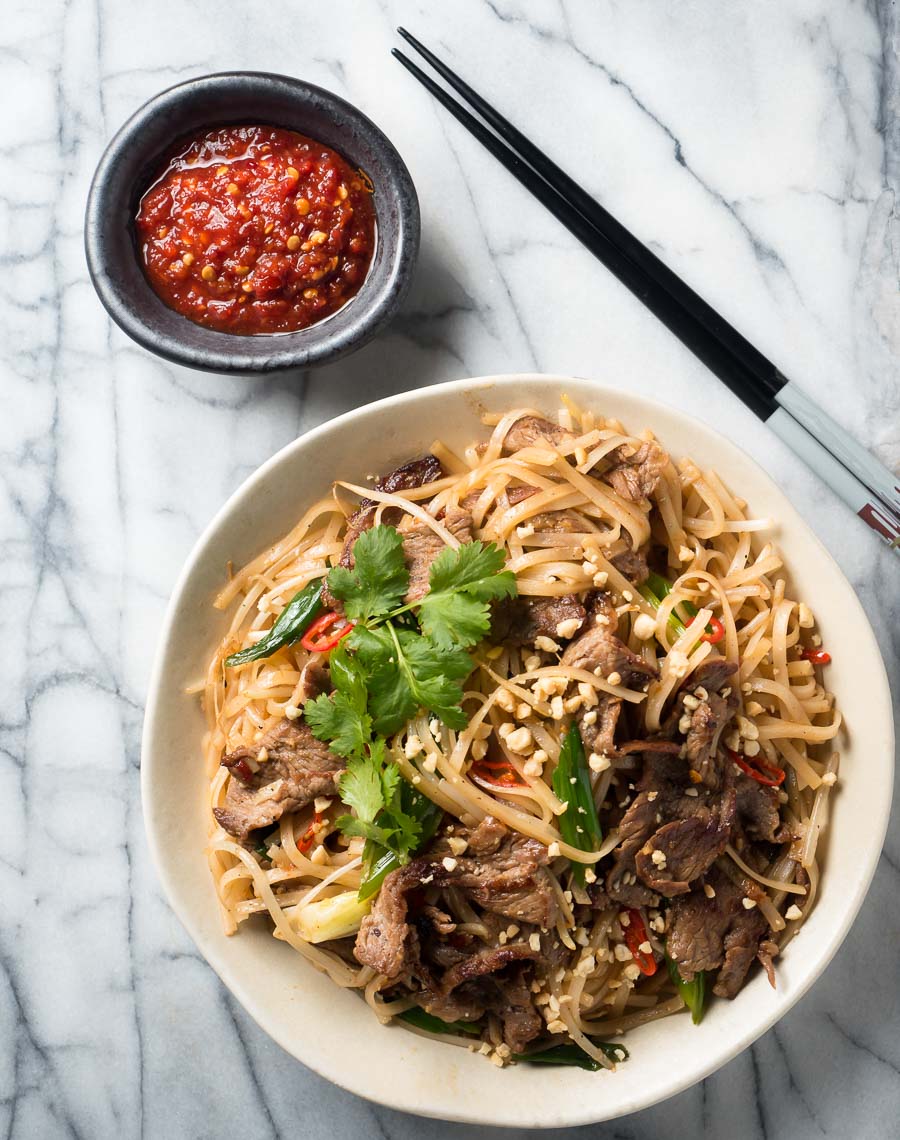 You can use shrimp or chicken instead
Play with the ingredients. It works with shrimp or chicken instead of beef. Like it spicier? Up the chili or the sambal oelek.
There's no hard and fast rule on exactly what this dish is about. Street food is like that. This isn't Cordon Bleu. There is no Thai noodle police.
The only thing you probably shouldn't change is the sauce. If you change that you're making something else. Nothing wrong with that. Just different.
Noodles matter for Thai beef noodles
As with any Thai noodle dish, the noodles are key. Do not boil your ban pho. Just don't do it. Instead, soak them for about 45 minutes in warm water. They will soften just enough.
Then toss them in hot oil until they are well coated. Do this before you add the sauce. It works.
Bon Appetit recently decided that sambal oelek was a trendy ingredient. It's a great chili paste so I do urge you to listen to them and find a jar.
It's been my go to asian chili paste for as long as I can remember. Any asian market should have it.
Thai beef noodles. Weeknight fast. Restaurant flavour. Street food fast. Easy. Delicious. Try it. You'll be glad you did.
thai beef noodles
Thai beef noodles make a great dinner any night of the week. Fish sauce may sound scary but it's in everything you get at Thai and Vietnamese restaurants. It makes a difference.
Ingredients
7

oz

rice noodles

- also known as ban pho

8

oz

beef

top sirloin or flank steak, sliced across the grain

2

large cloves garlic

minced

1

red finger hot chili

cut into fine rings

1

cup

green onions

cut into 1 inch pieces

1

cup

bean sprouts

rinsed

1

Tbsp

roasted peanuts

pretty finely chopped

2

Tbsp

cilantro leaves

chopped

3

Tbsp

vegetable oil in all
Marinade
1

Tbsp

low sodium soy sauce

2

cloves

garlic

minced

2

Tbsp

sake

1/2

tsp

brown sugar
Sauce
1

Tbsp

Thai thin soy sauce

- if you can't find Thai thin soy go with what you have

2

Tbsp

fish sauce

- don't fear the fish sauce. Never fear the fish sauce.

2

Tbsp

sake

1 1/2

Tbsp

brown sugar

1

tsp

sambal oelek

- I like 2 tsp but I like a little spicy
Instructions
Soak the noodles in warm water for 30-45 minutes.

Combine the marinade ingredients. Add the beef and set aside while you prep the other ingredients.

Mix together the sauce ingredients and stir well.

Heat a wok over high heat. Add 1 Tbsp oil.

When the oil is shimmering, add the beef and marinade and cook until the beef loses its red colour, abut 2 minutes. If the beef throws some liquid spoon it out. Add a bit more oil. Turn up the heat. Brown your beef. Grey is bad. Brown is good. Go a little longer if you have to. You really want some brown.

Remove beef and wipe out the wok with paper towel. Return the wok to high heat.

Add 2 Tbsp oil. When the oil is shimmering, add the green onion, garlic and red chili and cook about 15-30 seconds. You are going to get some of the smoky flavour from the onions so don't lay off the heat.

Add the noodles and stir until well coated with oil - about 30-45 seconds.

Return the beef to the wok along with the bean sprouts. Stir briefly and add the sauce. Add half the peanuts. Stir to combine and cook, stirring constantly, for one minute.

Add cilantro and stir.

Serve topped with peanuts and additional cilantro.
Notes
2 servings will fit reasonably in a wok. If you want to cook for more you will need a big wok or repeat the recipe as needed.
Don't boil the noodles - you will get mushy noodles. Take the time to soak them. It's important.
Nutrition
Serving:
2
servings
|
Calories:
1005
kcal
|
Carbohydrates:
107
g
|
Protein:
29
g
|
Fat:
47
g
|
Saturated Fat:
10
g
|
Cholesterol:
80
mg
|
Sodium:
2305
mg
|
Potassium:
714
mg
|
Fiber:
4
g
|
Sugar:
15
g
|
Vitamin A:
740
IU
|
Vitamin C:
52.2
mg
|
Calcium:
107
mg
|
Iron:
4.9
mg