Keema is a delicious way to spice up ground lamb or beef. It's a great way to add some big Indian taste to run of the mill ground meat.
Keema just means ground meat in Hindi. It can be any ground meat. Lamb, beef, goat or even chicken. So it probably doesn't help that this recipe is called keema. Not so precise. But I didn't name it. I just cook it.
It's like hamburger helper done right. It's beef or lamb with a good whack of spice. Not too much, mind you. Just enough to make sure it's perfect when you use it in a curry.
Keema is best used as a starting point
You can try it straight up with Indian flatbreads. It's a dry curry. Not bad. But it's best as an ingredient in dishes like aloo keema and keema matar. Or mixed with spinach. Or as a filling for killer samosas.
You could even use it as pre-cooked meat in most of the Indian restaurant style recipes on this blog. Keema madras or jalfrezi. Not the most conventional approach. But tasty.
Jalfrezi works particularly well. Something about the peppers and onions mixed with savoury ground meat. Kind of like an Indian twist on chili. Totally different flavours though. Don't bring it to a chili cook off.
You can mix in a little bit of cooked lentils and so something like a dhansak. That's pretty darn good too. Just make sure the lentils have some spice too. Or it will be a bit bland. Like I said. Lots of possibilities.
This probably won't become your favourite curry on it's own but what you can make with it may well be. Think of it as an ingredient into a bigger dish. A step along the way to something wonderful.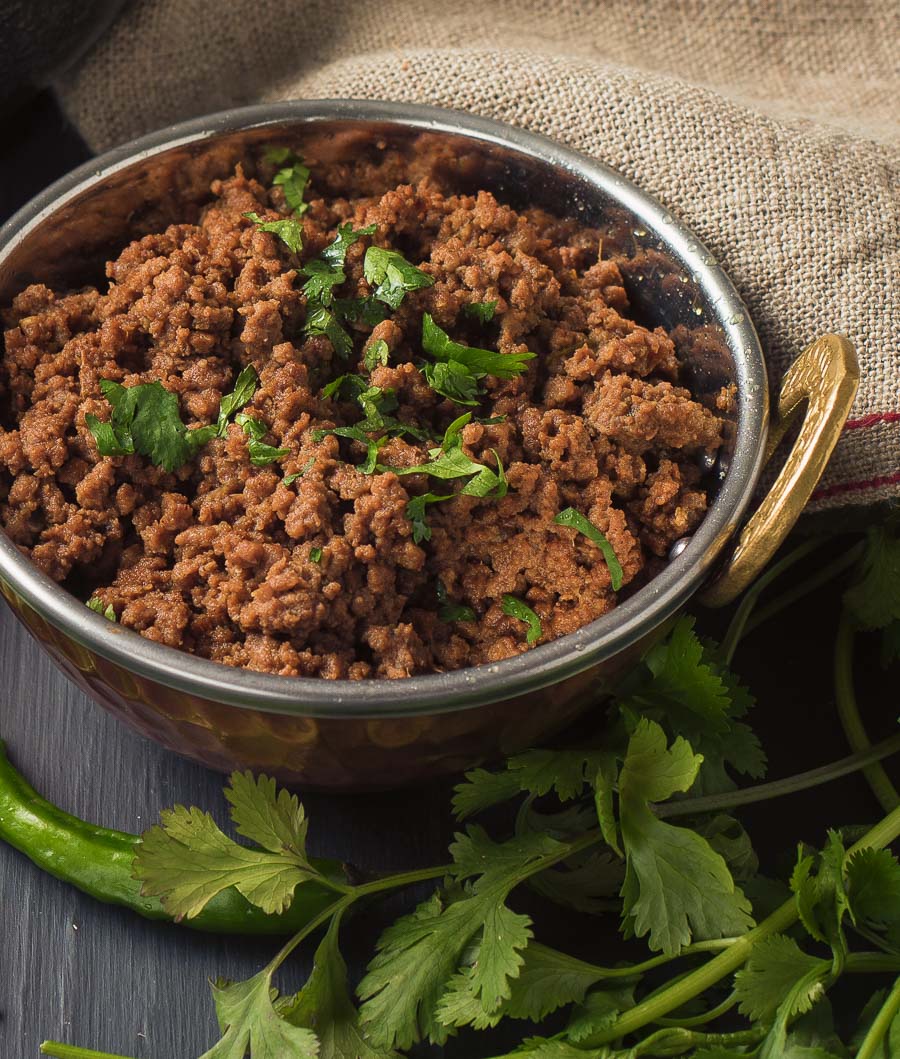 lamb or beef keema
This lamb or beef keema is really an ingredient for dishes like keema matar or aloo keema. If you can't wait, it's also good with Indian flatbreads.
Ingredients
12

oz

minced beef or lamb

2

Tbsp

oil

1

bay leaf

1

black cardamom

- whole, split (optional)

2

inch

piece cassia bark

- cinnamon stick

2

tsp

garlic ginger paste

- recipe link below

1/2

tsp

kasoor methi

- fenugreek leaves

2

tsp

madras curry powder

e.g Lalah's brand

1/2

tsp

salt

2

tsp

tomato paste with enough water to dilute to the consistency of pasetta

- dilute with water to the consistency of pasatta

2/3

cup

water
Instructions
Pre-heat your skillet over medium heat.

Add the oil. Once it starts to shimmer add the bay, cardamom and cassia. Cook until little bubbles form around the spices - about 30 seconds.

Stir in the kasoor methi, madras curry powder and salt.

Cook, stirring constantly for about 30 seconds.

Add the garlic ginger paste and cook until the sizzling subsides.

Mix in the tomato paste, stir to combine and cook about 30 seconds.

Add the beef or lamb, breaking up any chunks and cook until all the meat is brown.

Add the water and simmer for about 10 minutes until cooked through.

Spoon off most of the accumulated fat and reserve until ready to cook the keema matar.
Notes
Garlic ginger paste recipe can be found here.
Nutrition
Serving:
2
servings
|
Calories:
576
kcal
|
Carbohydrates:
3
g
|
Protein:
29
g
|
Fat:
48
g
|
Saturated Fat:
14
g
|
Cholesterol:
120
mg
|
Sodium:
749
mg
|
Potassium:
550
mg
|
Fiber:
1
g
|
Vitamin A:
90
IU
|
Vitamin C:
1.3
mg
|
Calcium:
50
mg
|
Iron:
4.2
mg