Perfect roast beef with demi-glace sauce is a dinner party worthy dish. A serious dinner party dish. For when you really want to impress. When you want to pull out all the stops.
It's not hard. It's done restaurant style. Do your prep and it will all come together. Big wow factor. Low stress factor. Not a bad combination.
A strip-loin means no bones to deal with either. I love prime rib. But I love this too. And it adds to the wow factor. Worth considering…
Demi-glace and reverse sear are what make this work
Demi-glace is what makes this work. It is one of the secret weapons in the high-end restaurant arsenal. Learn from them. Add it to your arsenal.
It's real work to make but you can freeze it. Just pull it out when you need a flavour grenade to push your cooking into the stratosphere. Pretty flowery description. I know. But it's that good.
If you don't want to make it you can buy it instead. Talk to your butcher or check in speciality stores. There's always Amazon if all else fails.
The other key trick is reverse sear. Slow roasting the beef gets you the perfectly evenly done beef. None of this well done most of the way through and just right at the centre.
No chewing through grey beef just to get at that one good bite. All good. The whole way through. Add that to your arsenal too.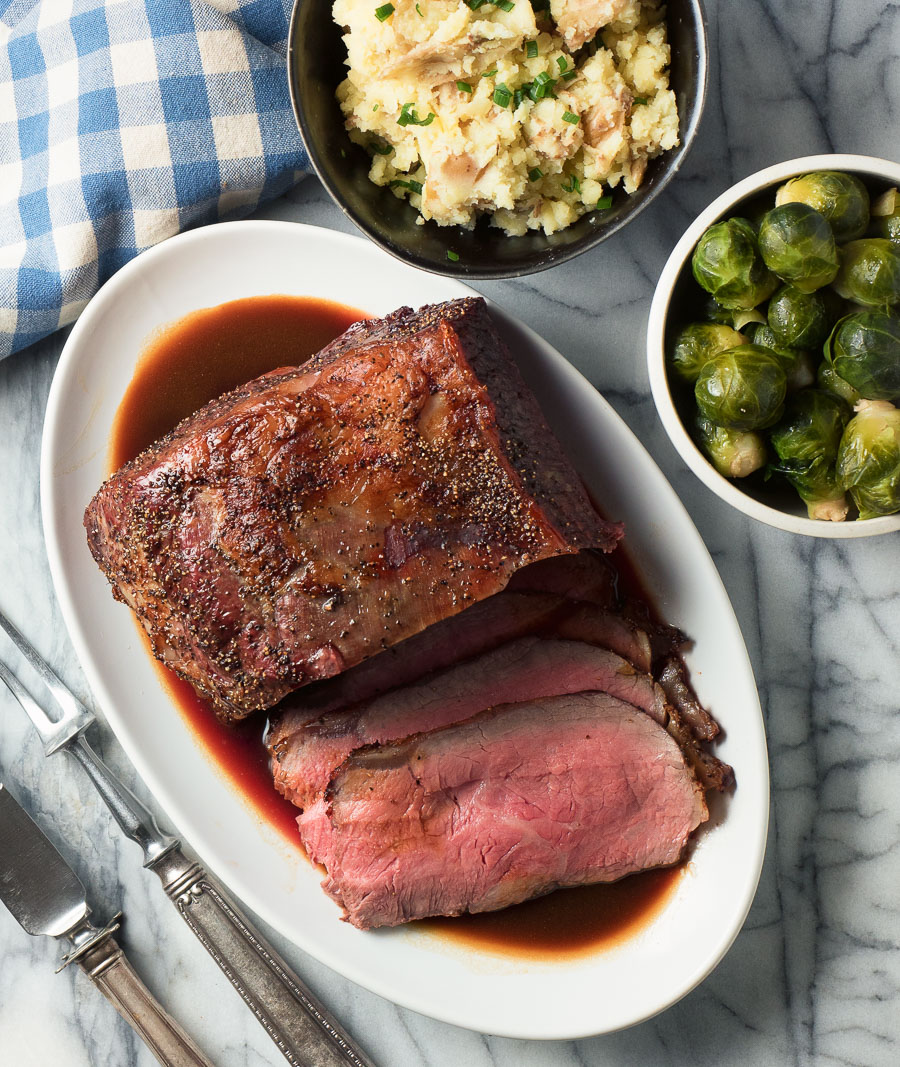 Restaurant style sauce brings it together
The sauce is what drives this into perfect roast beef territory. If you can get your hands on good quality demi-glace you are totally in business.
When you sear the beef at the end of the cooking process you will create a bit of fond in the pan. Those little bits of brown bits in the bottom of the pan.
Take the beef out of the pan. Spoon off any fat and place your pan over medium heat. Pour in a bit of stock and scrape up all the brown bits.
Get them to dissolve in the stock. That is deglazing and that is critical to any dish with a pan sauce. After that you just slide in the demi-glace and strain.
Perfect roast beef – every time
Perfect roast beef is a big claim. Probably too big. Too bold. But it is about as perfect as I can pull off. And it is repeatable. Get this down and you will never overcook a roast beef again.
Maybe I should have called it pretty close to perfect roast beef? The closest I can come to perfect roast beef? Try it. Decide for yourself. Your guests will love you for it.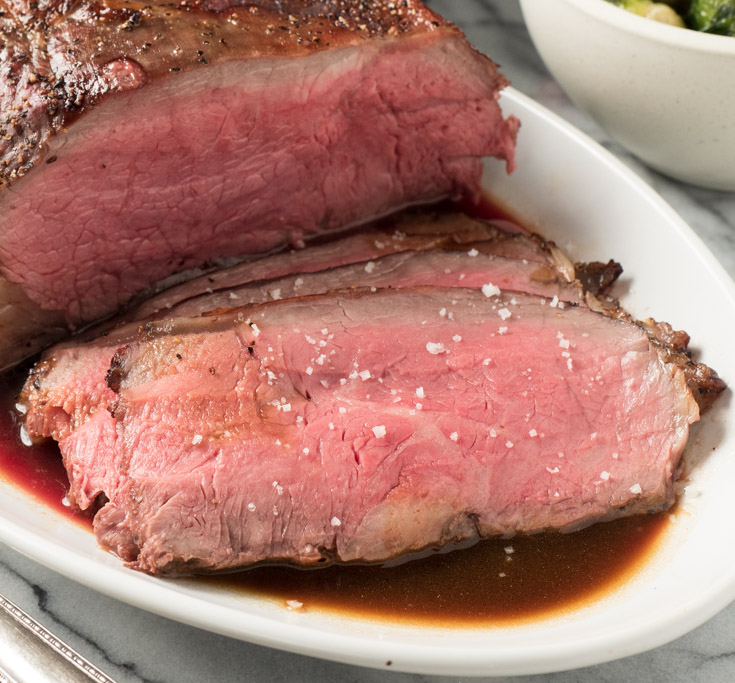 perfect roast beef with demi glace sauce
When you want to impress, a perfect roast beef with demi-glace sauce is really hard to beat.
Ingredients
1 3-4

lb

striploin roast

1/2

cup

chicken or veal stock

1

cup

demi glace

- recipe link below

fleur de sel

optional but great little flavour bombs
Instructions
A couple hours before you start cooking, take your roast out of the fridge. Season with salt and coarsely ground pepper. Let it warm up a bit.

Pre-heat your to around 235F. Your oven swings and probably isn't exactly right. You will be relying on your instant read thermometer so don't worry too much about the exact oven temperature.

Place the roast in an roasting dish that can go from the oven to the stovetop. You want something that's not too much bigger than the roast. Leave your big turkey roaster in the cupboard.

Slow-roast the beef for about 1 hour. A striploin isn't a big thick hunk of beef so it will cook fairly quickly. After an hour start checking the internal temperature.

When the roast reaches 118F degrees (rare)/123F (medium rare)/128 (medium) remove the roast from the oven. It will rest while you heat up your oven for the final sear. It can sit for 30-45 minutes.

Turn your oven up to 475F.

After about 30 minutes, return your roast to the oven. Cook for 5 minutes. It should brown up nicely.

Remove the roast from the oven, take the roast out of the roasting pan and tent with foil.

Place the roasting pan on the stove over medium heat. Add the stock and scrape up any little golden bits.

Add the

demi-glace

and heat through. Strain through a fine mesh strainer to remove any solids.

Slice the roast across the grain (like you were cutting steaks from the roast). I like about 1/4 inch thick but do what works for you.

Serve the beef with a drizzle of the demi-glace.
Notes
Demi-glace isn't as scary as you think. Read about it here.
Nutrition
Serving:
6
servings
|
Calories:
787
kcal
|
Carbohydrates:
10
g
|
Protein:
73
g
|
Fat:
47
g
|
Saturated Fat:
18
g
|
Cholesterol:
241
mg
|
Sodium:
985
mg
|
Potassium:
983
mg
|
Sugar:
3
g
|
Calcium:
70
mg
|
Iron:
5.8
mg