This one is epic. Korean pork bone soup or gamjatang is an all day affair. Rainy day cooking. Hurry up and wait as it simmers away. But when it's ready. What a great dinner on a rainy or cold winter night.
Gamjatang is pork bone soup that eats like a meal
It's called pork bone soup but it's more of a stew. Spicy, rich and delicious. Tender pork. Potatoes. Pork stock. Korean flavours. Tons of umami. Crazy good.
It's really no different than making stew. There's meat and potatoes and stock. Where it's different is the seasonings. That is pure Korean.
Gochujang is like spicy miso
It's a long list of ingredients. And they aren't easy to find. Gochujang, gochugaru and doenjang you should be able to find pretty easily.
Gochujang is worth seeking out on it's own. It's used in a lot of Korean cooking. It's like miso. Sort of. But with kick. Miso with Korean chili.
You can use it any time you want to add a little heat and Korean taste to a dish. Have you tried gochujang mayo yet?
Perilla leaves and perilla powder are tougher. But you can leave them out. Use chicken stock instead of making pork stock.
I'm not saying it will be the same I you don't make make pork stock though. Gamjatang is a pork soup. Pork. More pork flavour is better pork flavour.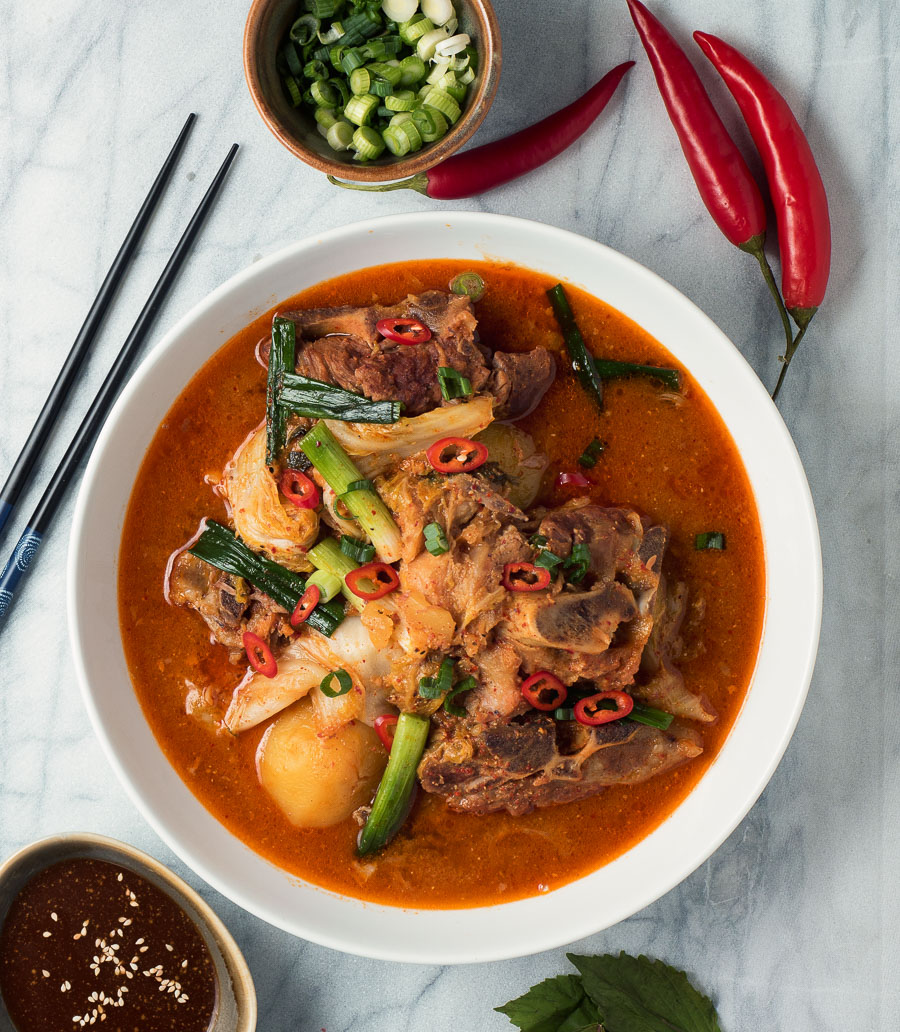 If you can't find pork neck bones shoulder works too
Pork neck bones aren't the easiest to find. Probably easiest at an Asian butcher. You could talk to your butcher. A little notice and a good butcher can do just about anything. I'm almost always pleasantly surprised.
Look for meaty pork bones. These aren't bare bones. Think bone in stewing meat. That's what you are looking for. Chunks of pork on the bone.
Or you could swap that out for pork shoulder or pork belly. Or both. Mmm… Both. That would be nice. Easier to eat. Better for company as well. Unless the company are your very best friends. Then go for the bones. Dig in. Enjoy.
These changes make gamjatang easier to make. Different. But still very, very good. How can you go wrong with pork belly and a bit of spice after all?
It's a long recipe as well. But it's mostly unattended. Make stock. Then make stew. That's exactly what this is. A couple extra steps along the way maybe.
But not more than that. And there's no reason you can't make the stock one day and the stew another. You could even freeze the stock.
This Korean pork bone soup is pretty authentic if you leave out the drizzling sauce. Probably the green onions shouldn't be there either. But both really add something special.
Korean gamjatang with a glebekitchen twist. Seriously epic.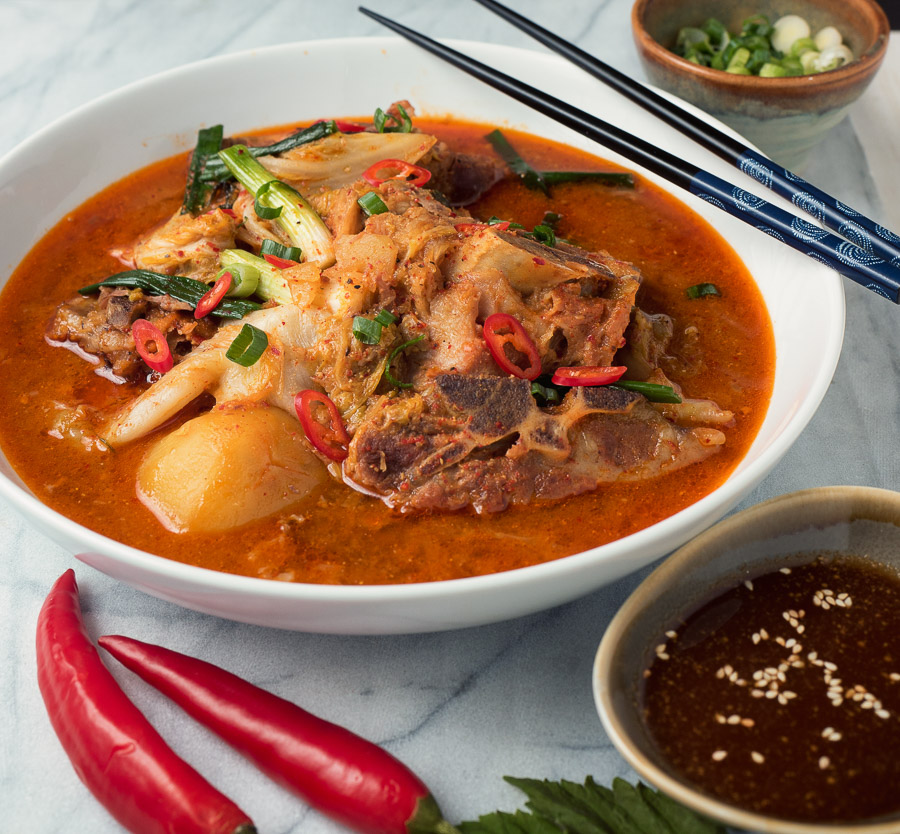 korean pork bone soup - gamjatang
Don't let the long list of ingredients throw you. If you can make stock and you can make stew you can make Korean pork bone soup.
Ingredients
The stock
3

lbs

pork neck bones

- cut into 1 1/2 inch pieces (talk to your butcher). You need 3 lbs for the stock and 3 lbs for the soup.

2

Tbsp

doenjang

3

green onions

2

cloves

garlic

8

cups

water
The spice mix
2

Tbsp

gochujang

1

Tbsp

gochugaru

- plus 2 more teaspoons if you like spicy

2

Tbsp

soy sauce

1

Tbsp

fish sauce

2

Tbsp

mirin

2-3

big cloves of garlic

- crushed

1

tsp

coarse ground black pepper

3

Tbsp

wild sesame seed powder

- deulkkae-garu - this is not easy to find but you can leave it out
The soup
3

lbs

pork neck bones

- cut into 1 1/2 inch pieces (really, talk to your butcher), in all

1 2

lb

pork hock

- cut in 6 pieces (again - your butcher is key)

3

Yukon gold potatoes

- cut in quarters

8

perilla leaves

- roughly torn (you can substitute shiso leaves or just leave them out)

1

lb

young napa cabbage or the inner leaves of an bigger one

6

green onions

- cut into 2 inch pieces
Drizzling sauce
3

Tbsp

soy

1

Tbsp

rice vinegar

1

tsp

sugar

1/2

tsp

wasabi

1/2

tsp

asian mustard

- e.g. Japanese prepared mustard
Instructions
Make the stock
You should have 6 or so lbs of pork neck bones in total. Some will be meatier than others. Keep those for the soup. You will need to blanch and rinse all the pork so you might as well do it all up front.

Put all the pork into a pot large enough to hold it all and cover with cold water.

Bring to a boil over high heat. Boil for 5 minutes. You will see a mess of scum form. Don't worry. Down the drain it goes.

Rinse the pork well with cold running water. Set 3 lbs of meaty pork bones aside.

Place 3 lbs of the pork neck bones (pick the ones with less meat) into a pot and add the water along with the green onion and 2 whole cloves of garlic.

Bring to a boil, reduce heat, cover loosely and simmer for 4-5 hours. Longer is better if you have the time.

Strain the stock into a clean pot large enough to hold the remaining pork, potatoes and cabbage. You should have about 5-6 cups. If you have less, add water to get to 6 cups.
The spice mix
Combine all the ingredients listed in the spice mix section in the ingredients together. Set aside.
The drizzling sauce
Combine all the ingredients in the drizzling sauce ingredient list. Stir until the sugar dissolves and the mustard and wasabi are evenly distributed. Set aside.
The soup
Mix 2 Tbsp doenjang with a bit of stock to dilute. Add the reserved pork neck bones and pork hock along thinned doenjang to the pot.

Simmer 90 minutes.

While the soup simmers, bring a pot of water large enough to hold all the cabbage to boil. Blanch the cabbage for 90 seconds. Remove the cabbage from the pot (use tongs) and cool under cold running water. Cut the cabbage into large bite size pieces.

After 90 minutes, thin the spice mix with a bit of stock and add it to the soup.

Add the potatoes and cabbage, being careful to submerge the potatoes.

Simmer until the potatoes are tender, around 30-40 minutes.

Add the green onions and simmer 3-4 minutes more.

Serve in bowls with a couple teaspoons of the drizzling sauce overtop. Garnish with green onion and sliced red chilies.
Nutrition
Serving:
6
servings
|
Calories:
679
kcal
|
Carbohydrates:
22
g
|
Protein:
53
g
|
Fat:
40
g
|
Saturated Fat:
14
g
|
Cholesterol:
190
mg
|
Sodium:
1118
mg
|
Potassium:
1321
mg
|
Fiber:
4
g
|
Sugar:
5
g
|
Vitamin A:
865
IU
|
Vitamin C:
36.5
mg
|
Calcium:
160
mg
|
Iron:
6.6
mg