Thai basil beef – pad gra prow – is one of the really great stir fried dishes from Southeast Asia. Garlic. Chili. Thai basil. Beef. A bit salty. The slightest hint of sweet. In wonderful balance. And it comes together in no time flat.
This is weeknight cooking at it's best. Super easy and super delicious. Nothing better than that. A bit more work than takeout maybe but you can say you did it yourself. And the house will smell great.
Thai basil beef – pure and simple
There are a lot of convoluted recipes for Thai basil beef out there. Not sure why. Some need to clutter this dish for some reason. But I won't do it.  No oyster sauce here. Or red bell pepper. Or lime.
Forget the stock. Just the basics. Clean. Simple. Pure. Like the guy with the street cart in Bangkok is doing I like to think.
All red chilies are not the same
This is important. There are chilies and there are chilies. The bigger ones tend not to be super hot. I'm not saying that's a hard a fast rule. I don't know what every chili in the world is like.
But for sure those little red Thai chilies are hot. Screaming hot. Blow a hole in the back of your head hot. So be careful. Check your chilies. If you like the heat from the larger ones stick with those.
If you want hotter then mix in some of the smaller ones. Don't say you weren't warned.
All soy sauces are not the same either
Get to know your soy sauces. There are big differences between them. Chinese is strong. Assertive. In your face. Great for Chinese. Not so great for anything else.
Japanese soy is just as you'd expect. Refined. Subtle. Delicate.
Thai thin is the right one here. It's a lighter soy. Has hints of fish sauce without the fishiness. I know that doesn't make sense but it's the best I can come up with.
I use Thai thin soy whenever I cook Thai. That and the Thai dark sweet soy. Depends what I'm making. It makes a difference. You need to try it to understand.
Grind the chilies with the garlic
That's the secret. Grinding the chilies with the garlic. It changes the whole flavour profile of this dish  Crushing the chilis releases juices. Those juices have flavour.
The mortar and pestle really does make a difference. Enough that I do it when I make this dish. It's a pain. But if you don't feel like it Thai basil beef is still really tasty.
Choice of beef is important. Any beef you would serve as a steak works here. New York striploin. sirloin, even flank. All safe bets.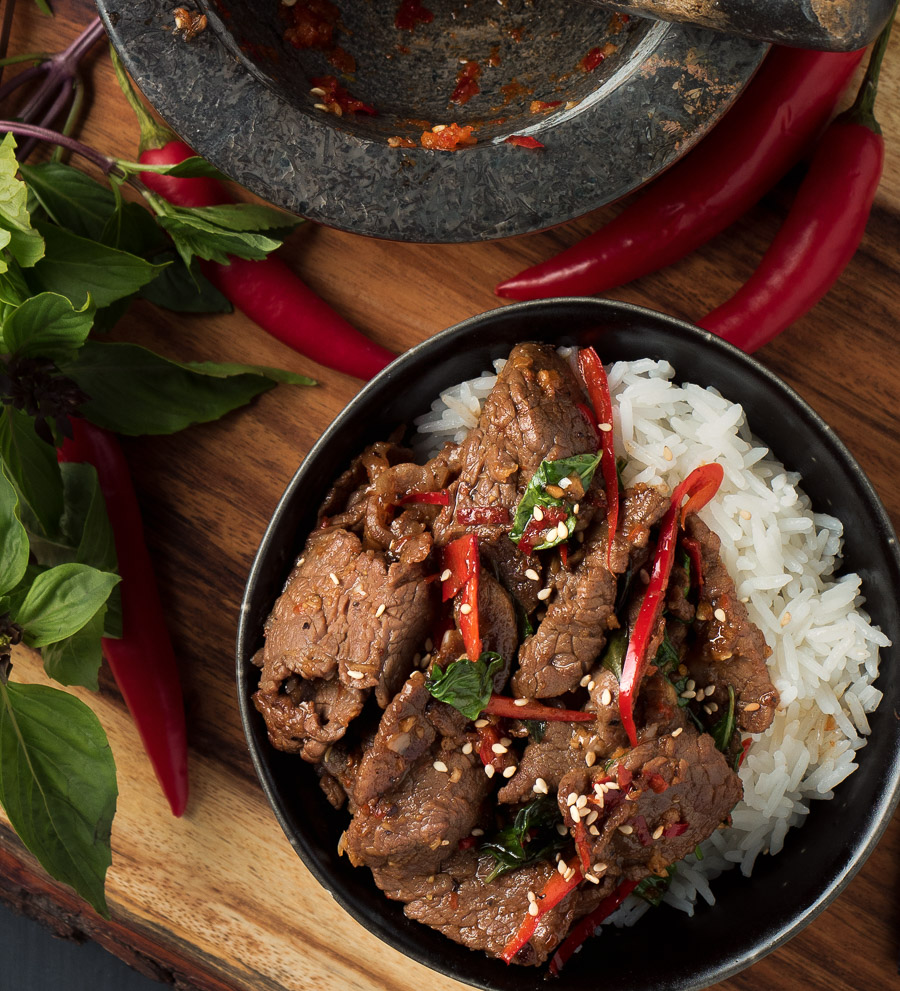 Other than that there is not much to Thai basil beef. Get your wok nice and hot. Don't overcrowd the pan. Make sure your rice is ready before you start cooking thai basil beef. Easy. Really easy. And so tasty.
This Thai basil beef recipe is inspired by Hot Sour Sweet Salty by Jeffrey Alford and Naomi Duguid. It's my go to for guidance on southeast asian food. If you can get your hands on a copy just do it. It's really good.
thai basil beef - pad gra prow
Thai basil beef - pad gra prow - is an easy, fast and delicious Thai stir fry that's ready in no time flat.
Ingredients
10-12

oz

good quality beef

- sirloin, striploin or flank, sliced thinly across the grain

1

tsp

soy sauce

- I really like Thai thin soy here

1/4

tsp

black pepper

5

cloves

garlic

- crushed

3

red finger hot chilies

- minced

1

red finger hot chili

- julienned

0-2

thai red chilies

- 0 isn't hot, 2 is pretty hot

1

Tbsp

fish sauce

1

tsp

sugar

a good handful of thai basil

3

Tbsp

vegetable oil
Instructions
Combine the beef, soy and black pepper and refrigerate anywhere from 10 minutes to 2 hours.

Combine minced chilies and crushed garlic in a mortar and pestle and grind to a coarse paste. This isn't essential and it's a bit of a pain but it does help up the flavour.

Add the fish sauce and sugar to the chili garlic mixture and keep close to the stove.

Heat a wok or large skillet over high heat.

Add one Tbsp oil and add half the beef. Stir fry until no red colour remains, about 1 minute. Remove the beef. If there's any liquid in the pan stir it around until it dries up.

Add the second Tbsp of oil and stir fry the remaining beef. Remove the beef and dry out the pan as you did above if needed.

Return the beef to the wok or skillet and add the chili/garlic/fish sauce/sugar mixture. Stir fry over high heat until fragrant, about 2 minutes. Add the thai basil and cook until wilted.

Serve with jasmine rice.
Notes
Put the beef in the freezer for 15-20 minutes. This firms up the beef and makes it easier to slice thinly.
If using sirloin or striploin, try to get a small roast. It is almost impossible to slice a steak across the grain.
This recipe scales well as long as you only stir fry 5-6 oz of beef at a time.
Nutrition
Serving:
2
servings
|
Calories:
426
kcal
|
Carbohydrates:
13
g
|
Protein:
34
g
|
Fat:
27
g
|
Saturated Fat:
18
g
|
Cholesterol:
86
mg
|
Sodium:
964
mg
|
Potassium:
830
mg
|
Fiber:
1
g
|
Sugar:
7
g
|
Vitamin A:
855
IU
|
Vitamin C:
131.7
mg
|
Calcium:
63
mg
|
Iron:
3.4
mg