Chicken tikka masala is a restaurant favourite just about everywhere. And you can make it in 30 minutes. For real.
Smooth sauce. Well spiced. Layered flavours. Might even be better than you get at your local Indian restaurant.
That's a pretty bold assertion. I know. You can let me know what you think.
Curries in 30 minutes
This is part of a series. There's already a masala chicken curry. A madras. A jalfrezi.
Full disclosure. It's not a new recipe. I'm redoing a series from 2017. It was called nearly restaurant style back then.
The recipes stay the same. I'm just updating the names. And the text. And the pictures. Pretty much everything other than the recipe.
I'll be adding some new recipes too. I like this series. Always have. I'm hoping you will too.
The onions are the thing
If you've cooked Indian you know. Onions are the thing. And those onions need to be cooked. And that takes time.
There's no getting around it. Well cooked onions are fundamental. But how you cook your onions isn't cast in stone.
That's where this approach is different. Stick some onions in the microwave. Cook them until soft.
Puree with a little oil and water. That's the magic here. A kitchen hack that really works.
Do that and it takes minutes to make the curry. Literally minutes. Flavours like you get in restaurants. In 30 minutes flat.
Just a little cream for big, bold chicken tikka masala taste
I use very little cream in this version. Lots of coconut milk. But just a hint of cream for richness.
More than a little cream blunts all the nuanced flavours. And that just doesn't work for me.
Might be restaurant chicken tikka masala heresy. That's OK. I don't care about rules. But I do care about tasty. This is tasty.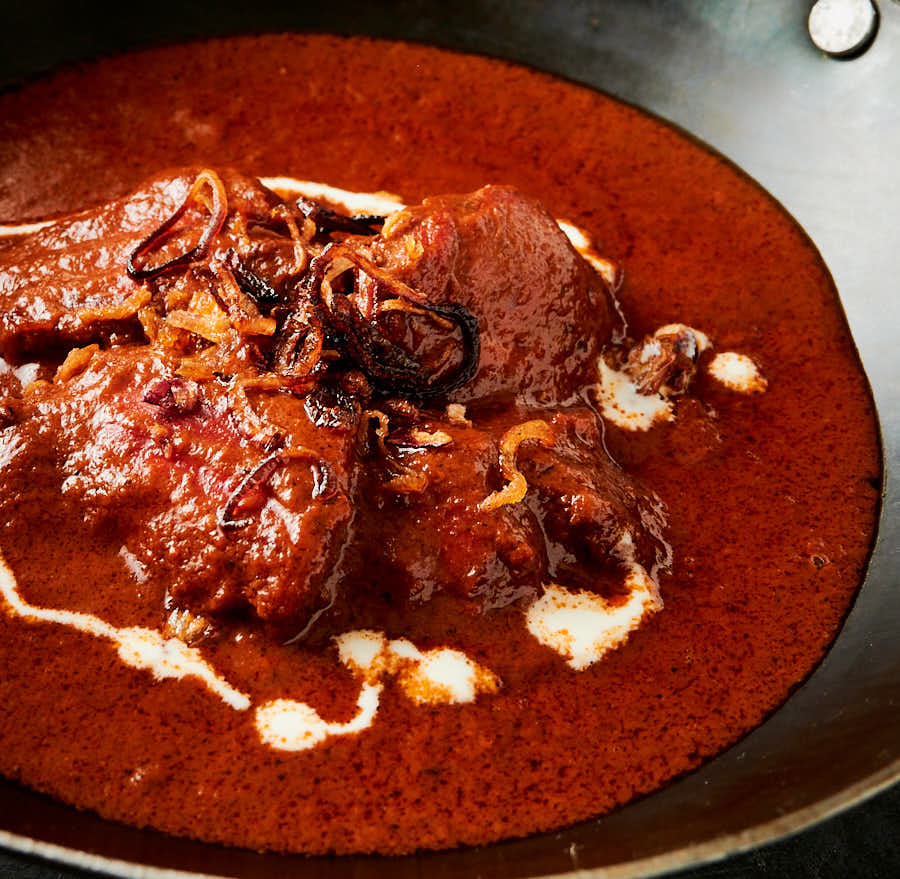 This chicken tikka masala is all about building layers of flavour. I don't want anything to come in the way of that flavour and my mouth.
BBQ tandoori chicken. Preferably over charcoal. That's already huge. Layer on tomato. Spice. Coconut milk.
A bit of jaggery or brown sugar. Some lemon to balance it. And a hint of cream for richness. That's what makes this special.
All tandoori masalas are not created equal
This chicken tikka masala uses quite a bit of tandoori masala. You can make tandoori masala or you can buy it.
If you buy it then you need to pay attention. Some tandoori masalas contain a lot of salt. A lot. A crazy amount in some cases.
That's not necessarily a bad thing in itself. But it can wreak havoc with this recipe. With any recipe really.
Taste your tandoori masala. If it tastes like salt it's salty.
Check the ingredient list. Most countries require ingredients be listed in order of quantity from highest to lowest. If salt is number one or number two it's salty.
Again, that's not a problem in itself. You just need to be aware. If your tandoori masala is salty leave the salt specified in the recipe out.
Taste at the end. Decide. Does it need more salt? Add a bit at a time. Until it's just right. You just need to manage it.
Commercial tandoori masalas also contain food colouring. I used a commercial blend for this recipe. So it would look like what you get when you make it.
I think it's too red. But there's not much I can do about that.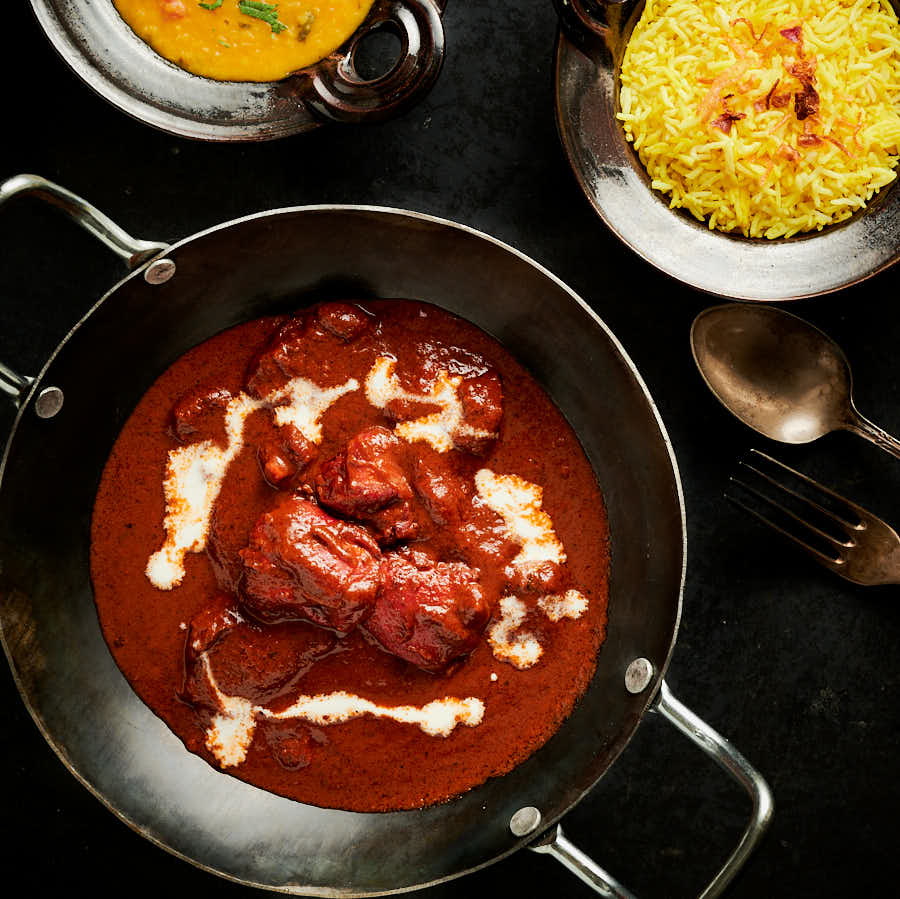 30 minute chicken tikka masala with a catch
You can make this dish in 30 minutes. Easy. But only if you make the chicken tikka ahead of time.
I'm fast in the kitchen. And pretty organized. And there's no way one person can BBQ chicken tikka and pull this curry together in half an hour.
So don't try. And don't expect this to take 30 minutes if you don't pre-cook your tikka.
Maybe plan for this one tomorrow. And make something grilled tonight. And cook the tikka while you are at it. It will keep a day.
Or make tikka and freeze it. Do that and you can make this dish any time you want. Just don't refreeze your chicken. That does bad things to the texture.
Or team up. Put one person on making the tikka. And the other at the stove making the curry. I could make that work in 30 minutes.
Or bite the bullet and realize it's going to take you 45 minutes. Maybe a bit more.
I suppose I should have called this "30 minute tikka masala as long as you pre-cook your tikka". That's a terrible name though. So I just couldn't do it.
I'm sorry if I've led you astray.
The 30 minute technique works with any curry
The best part of all this is once you figure it you can reproduce pretty much everything on the menu. Madras, jalfrezi, dhansak, dopiaza. They all work.
This may not be the most intuitive chicken tikka masala recipe you've ever seen. I get that. It's completely different from pretty much every recipe out there.
Don't let that scare you. This works. It works well. Take a leap of faith. You will never look back.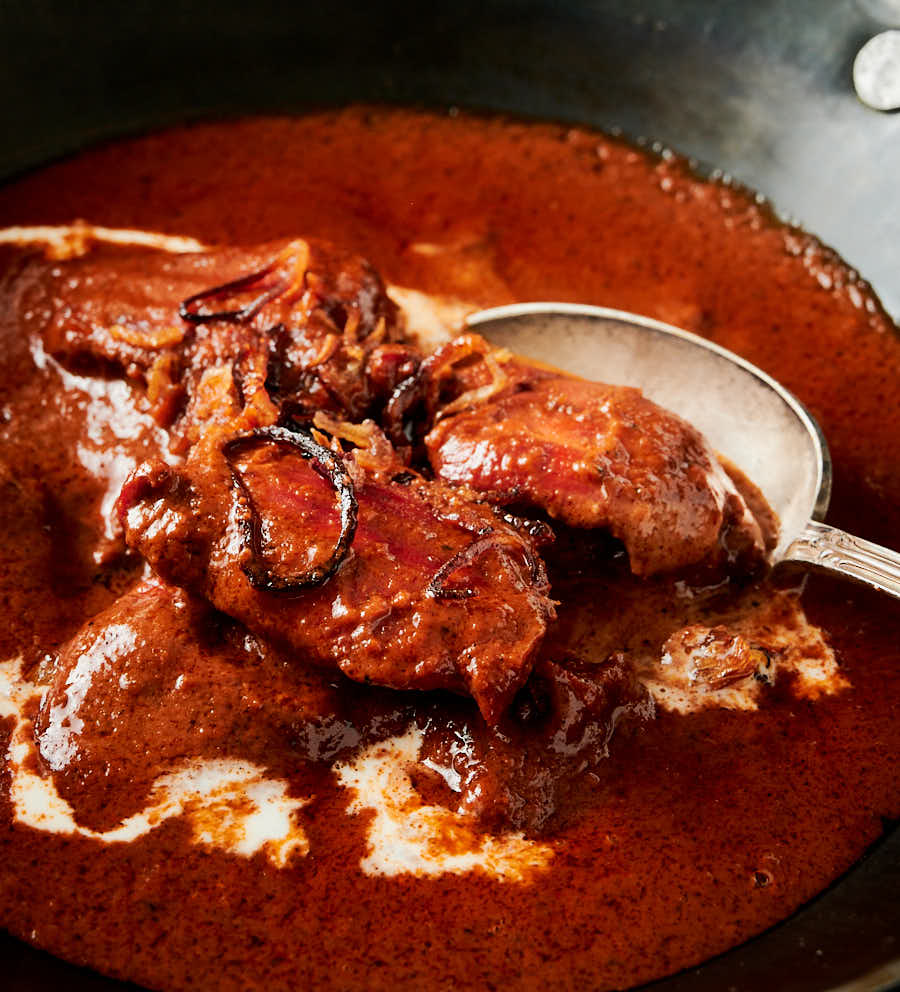 30 minute chicken tikka masala
Restaurant results in half an hour.
Ingredients
The onion paste
2

cups

onions – coarsely chopped

2

tbsp

vegetable oil

1

cup

water
quick tandoori chicken skewers
6

boneless skinless chicken thighs cut into 3 pieces per thigh.

or 2-3 boneless skinless chicken breasts

3

tbsp

tandoori masala

– you can get this from any Indian grocer.

3

tbsp

vegetable oil

1/2

tsp

kosher salt
chicken tikka masala
1

tbsp

garlic ginger paste

1 1/2

tsp

coriander powder

1 1/2

tsp

cumin powder

1

tsp

garam masala

2

tsp

tandoori masala

– see note. Please see note.

1

tsp

kashmiri chili powder

1

tsp

kosher salt

– about half if you are using table salt

2

tbsp

tomato paste diluted to the consistency of tomato sauce

4

tbsp

vegetable oil

1/2

cup

coconut milk

1

tbsp

brown sugar

or jaggery if you have it

1/6

lemon – juiced

1

tbsp

heavy cream

– I use 35 percent milk fat
Instructions
The onion paste
Place the onions in a microwave safe dish and cover loosely. Microwave at 70 percent until the onions are soft and translucent. This takes 10 minutes in my 1100 watt microwave. I can't predict how long it will take in yours…

Remove the onions from the microwave. Be careful. They will be hot. Let them cool slightly. Place the onions, 2 tbsp vegetable oil and 1 cup of warm water in a blender and puree until smooth. Set aside.
tandoori chicken skewers
Combine the tandoori masala, salt and oil. Stir to combine.

Cut chicken into large bite size pieces. Combine tandoori marinade with the chicken. Toss to coat the chicken and let sit, refrigerated, for one hour or so.

Thread the chicken on skewers (pre-soaked is a good idea if you are using wood). Grill, over medium high heat until just done. This should take about 5-6 minutes. Alternately, you can broil them. Set aside.
chicken tikka masala
Taste your tandoori masala. If it tastes like salt you have a salty product. Leave out the salt specified in this recipe. You can adjust at the end.

In a small bowl, combine the coriander, cumin, garam masala, 2 tsp tandoori masala, kashmiri chili powder and kosher salt if you are using it. This is your spice mix.

Heat 4 tbsp vegetable oil in a pot over medium heat until it shimmers.

Add the garlic ginger paste and cook until it stops spluttering. You'll understand what I mean when you do it.

Turn the heat to medium low. Add the spice mix and stir continuously until it starts to smell really good – around 30-40 seconds. Watch it carefully. If you burn the spices at this point you have to start over.

Add the diluted tomato paste and stir to combine. Turn the heat up to medium. Cook for 1 minute.

Add the onion paste and turn the heat up to medium high. Cook, stirring occasionally for about 5-6 minutes. Cover it loosely. It will splatter. If it doesn't your heat is too low. The curry will darken a bit as it cooks.

Turn the heat down to medium low. Add the coconut milk and brown sugar and simmer for another 3-4 minutes.

Add the pre-cooked tandoori chicken and lemon juice. Simmer until the chicken is warmed through – another 2-3 minutes.

Add the heavy cream. Stir to combine.

Taste for salt. If you've left the salt out it's time to decide if it needs more. I can't help you here. Not until I take over global production of tandoori masala anyway.

Grab a spoonful of the sauce. Look at it. If it seems a little thick add a bit of water. Maybe 2 or 3 tablespoons. Stir and warm it through. Your goal is the lush restaurant gravy texture you know and love.

Garnish with a bit of cilantro or fried shallots if desired. Drizzle a little more cream overtop if you want "the look". Enjoy!
Notes
All tandoori masalas are not created equal. Some are well balanced. Some have lots of salt. I don't know what brand you have and you probably can't buy the brand I use unless you live in Canada.
Taste your tandoori masala. If it tastes like salt it's salty. If salt is in the top 2 ingredients it's really salty. If it's salty leave the salt in this recipe out until the end.
Once you've stirred in the cream taste a bit of the sauce. If the flavours don't explode in your mouth it probably needs a little more salt. Creep up on it. Nothing ruins a dish like too much salt…
Nutrition
Serving:
4
servings
|
Calories:
582
kcal
|
Carbohydrates:
17
g
|
Protein:
35
g
|
Fat:
42
g
|
Saturated Fat:
30
g
|
Cholesterol:
161
mg
|
Sodium:
1112
mg
|
Potassium:
773
mg
|
Fiber:
4
g
|
Sugar:
7
g
|
Vitamin A:
425
IU
|
Vitamin C:
10.6
mg
|
Calcium:
78
mg
|
Iron:
4.8
mg