Sometimes delicious is just staring you in the face. This is one of those times. Indian onion salad. Move over Yucatan pickled onions. There's a new sheriff in town.
Onions. Chilies. Spice. Cilantro. Don't think you need Indian onion salad in your life? I think you're wrong…
Indian onion salad is not what you might think
Onion salad. Sounds a bit challenging. I get that. Crazy talk even. Who would want to eat a bunch of raw onions?
Turns out I would. And I bet you will too.
It's not what you think. The flavours are balanced. Mellow even. With great crunch. A little spicy. But not overpowering.
It works. It works really well actually. Thanks to a little bit of cooking voodoo.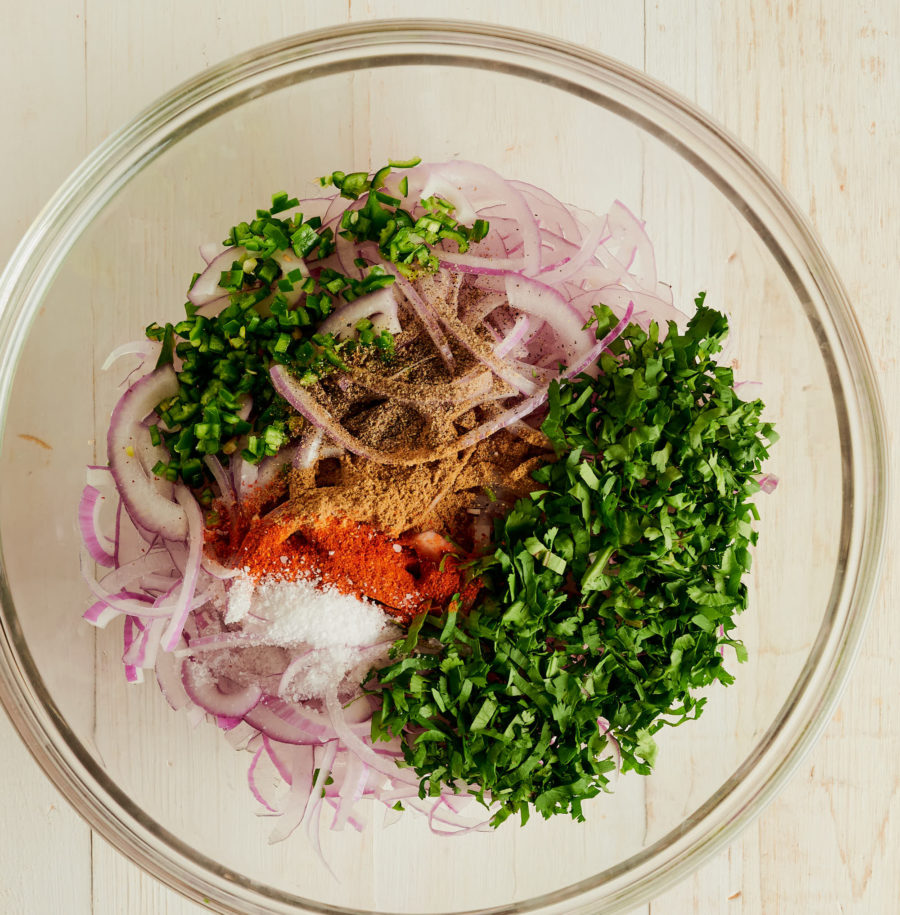 There's a way to take the bite out of raw onions
I learned this one from Rick Bayless. And it's a game changer.
Ever wonder by your pico isn't like the one they serve at your favourite taqueria? Why it's too sharp?
It's because they know something. Something you need to learn. De-flaming onions. Sounds exotic. But it's so simple it's ridiculous.
Wash that raw onion bite down the drain. That's it. Seriously. It's that easy. From ouch to yum in 15 seconds.
Just put the onions in whatever container you have that has holes in it. Colander. Sieve. Steamer basket. Doesn't really matter.
Stick the onions under the faucet. Run cold water over them for 15 seconds. Done.
Done enough for me anyway. I don't want onions with absolutely zero bite. If I wanted zero bite I'd use apples. Don't try that. Apples suck in this recipe.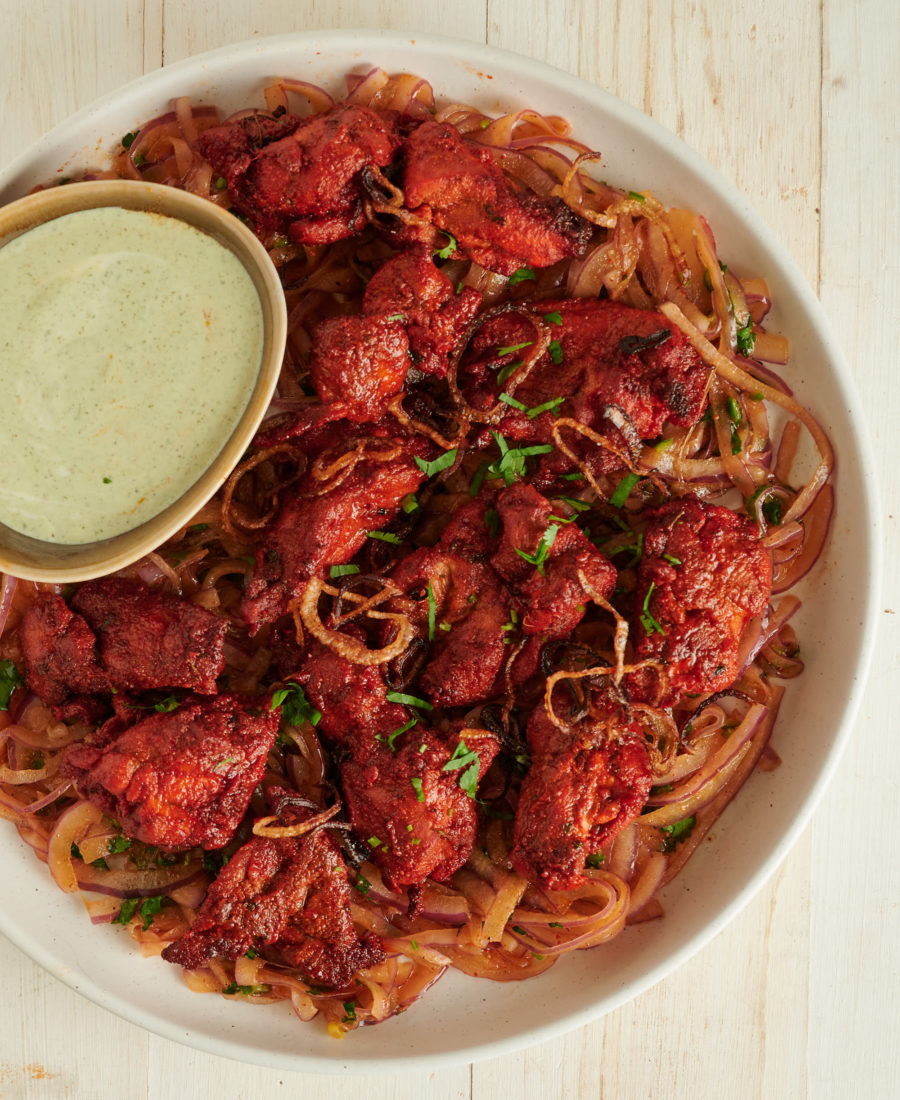 A perfect match for tandoori chicken
They say necessity is the mother of invention. Truth be told in my case it was more desperation than necessity.
Had friends coming for a backyard BBQ. Was going to make shashlik. Somehow managed to forget to get green peppers. Yes. I am really that dumb.
No time to run to the store. So I started thinking. What could go really well with tandoori chicken?
I came up with Indian onion salad. Wasn't really all that hopeful at first. Bit of a dinner party hail mary. But sometimes things go your way.
Cool salad against hot tandoori chicken. Crunch from the onion. Bite from the green chilies.
Zing from the lemon. Complexity from the spice. And the way the juices from the tandoori chicken mix with the Indian onion salad dressing.
It was a hit. And so it became a blog post.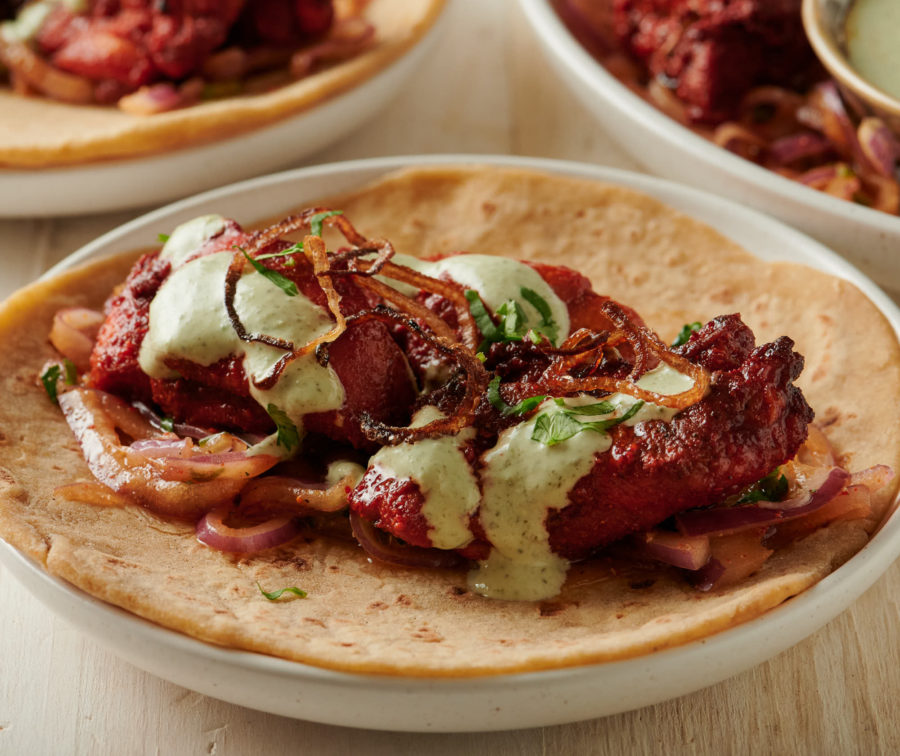 Indian onion salad makes for a killer roti chicken tikka roll
I really like Indian onion salad under tandoori chicken. Or chicken tikka. It's my new go to.
It's great with poppadum too. Forget that radioactive red onion stuff. This is way better.
Works with tandoori chicken shashlik. That's a good one. Think stylized Indian fajitas.
But my favourite is on a chicken tikka sandwich. Fast. Easy. And seriously, seriously delicious. The perfect Tuesday night dinner.
Fresh roti. That's another word for chapatti if you're wondering. A layer of Indian onion salad. Chicken tikka.
And a creamy green chili cilantro drizzle. That is one serious Indian-ish taco. Always a hit around here. Might have to do a blog post for that one too.
Oh, and if you're wondering – tikka is just a fancy name for boneless tandoori chicken. Little pieces. Cooked on a skewer. There's no other difference.
Not sure why tandoori chicken bites wasn't a good enough name.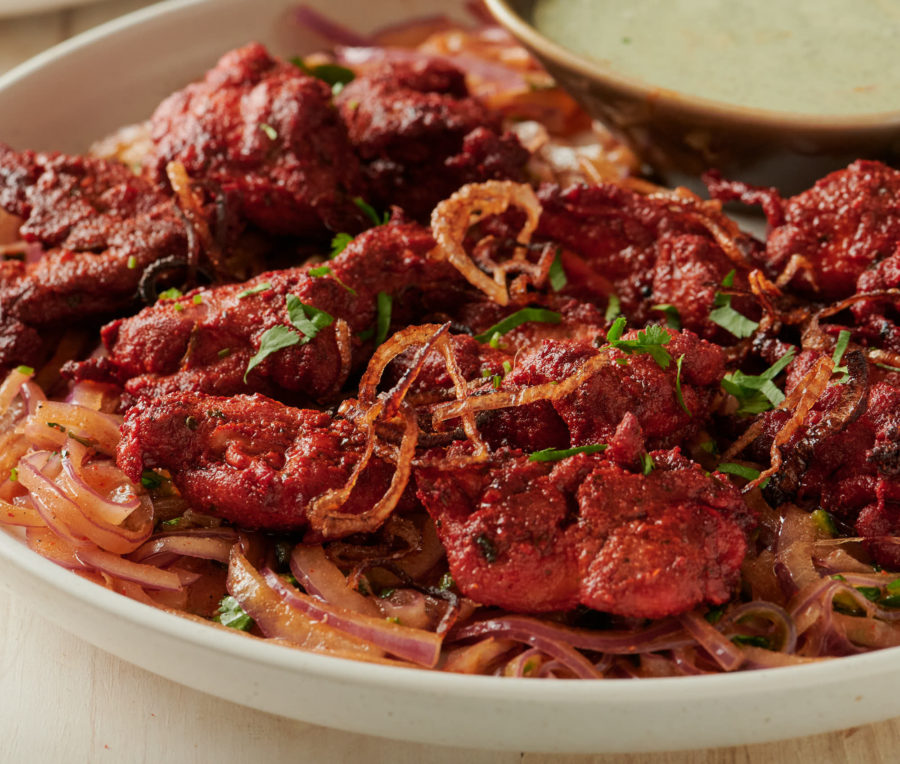 Indian or Indian-ish?
There is a straight up Indian onion salad. It's called laccha pyaaz. That's where I got the idea. But this isn't quite the same.
I'm a bit of a heretic. Not so concerned about lines. I have a whole series on Indian-ish. Stuff that doesn't quite fit the mold. Indian inspired.
This is laacha pyaaz meets pico de gallo. Sort of. When you just make stuff up in a blind panic it's a little hard to categorize.
I've dropped a few ingredients. Changed some other ones. This one is not as assertive as the full blown Indian version.
Which is unusual for me. I'm a big fan of the flavour sledgehammer. But I think it's actually a strength in this case. Makes it more versatile.
It's killer with tandoori chicken. The way the spicy drippings work with the cool crunch of onion is amazing.
But I'd serve this with a roast chicken. I'd put it on a grilled pork chop. Anything grilled really. On a sandwich. Or a composed salad. Indian-ish makes it super versatile.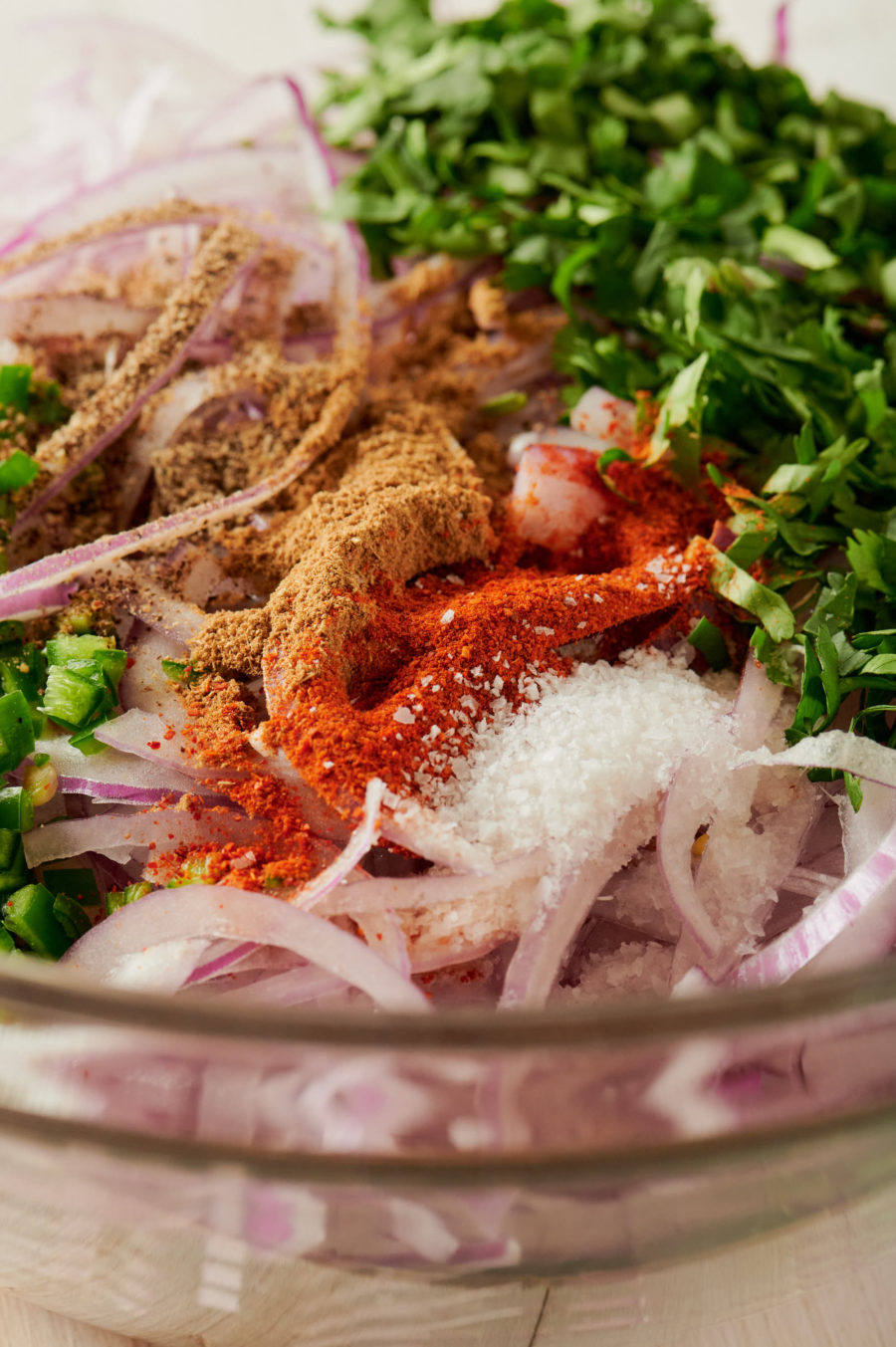 Make Indian onion salad
This is good stuff. I think it's great stuff. It's my new go to for any time I make tandoori chicken.
I get it's a little odd sounding. Not immediately intuitive. So I'm asking you to take a leap of faith.
I think you'll be pleasantly surprised. Indian onion salad with tandoori chicken. It's good living. Seriously good living in fact.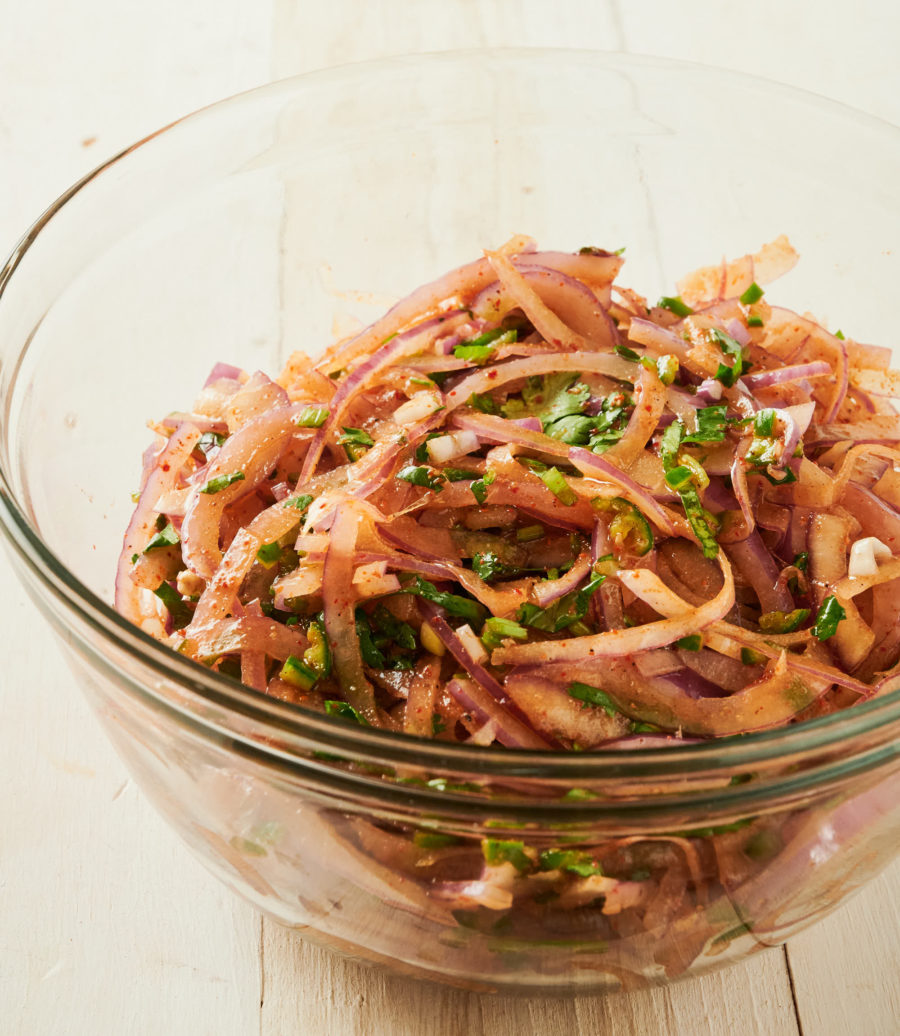 Indian(ish) onion salad
A great match for tandoori chicken, with popadums, as a condiment with biryani or in a roti sandwich.
Ingredients
1

Large

red onion

thinly sliced (10 ounces or around 300 grams)

2

green chilies

seeded and finely chopped

1/3

cup

cilantro

minced

1

tsp

cumin powder

1

tsp

Kashmiri chilli powder

1

tsp

kosher salt

less if using fine table salt

1/2

tsp

ground pepper

1/4

cup

vegetable oil

any neutral oil (canola etc)

1/2

lemon

juiced
Instructions
Slice the onions. Thin. I mean like 1/16 of an inch. 1/8 at the outside. This is the hardest part. A sharp knife helps a lot here.

De-flame the onions. Place the onions in a sieve and run under cold water for 15 seconds. This makes a huge difference. Takes the bite right out of the onions. Kind of magic. Don't skip this step. Do this when you make pico too.

In a bowl large enough to hold all the ingredients combine everything (onions, chilies, cilantro, cumin, Kashmiri chili powder, salt, pepper, neutral oil and lemon juice) and mix thoroughly to combine. Tongs are perfect for this. Tongs are perfect for a lot of things. Get a good set of tongs. Your life will be better for it.

Let stand for an hour at room temperature. This lets the onions soften and everything come together. It winds up sort of like pickled onions from a texture perspective.

Taste and adjust salt and lemon. Make some chicken tikka and smile.
Nutrition
Calories:
46
kcal
|
Carbohydrates:
2
g
|
Protein:
0.2
g
|
Fat:
4
g
|
Saturated Fat:
1
g
|
Polyunsaturated Fat:
1
g
|
Monounsaturated Fat:
2
g
|
Trans Fat:
1
g
|
Sodium:
220
mg
|
Potassium:
26
mg
|
Fiber:
1
g
|
Sugar:
1
g
|
Vitamin A:
34
IU
|
Vitamin C:
4
mg
|
Calcium:
6
mg
|
Iron:
0.2
mg