Chicken jalfrezi is on every single Indian restaurant menu. Now you can make it at home. Nearly restaurant chicken jalfrezi is a curry everyone can cook. On a week night even.
Maybe not as easy as opening up a jar of curry sauce and chucking in some chicken. But when was the last time that actually tasted like restaurant chicken jalfrezi? Seriously?
This is a bit more effort. Not saying you shouldn't use pre-fab curry sauce in a pinch. Still better than not cooking at all. But this is better. A lot better.
And it's so very close to full blown Indian restaurant cooking. It should be. It lifts key restaurant tricks. But simplified. And it really works.  Check out this guide to nearly Indian restaurant cooking.
Char your peppers a bit for great chicken jalfrezi
The key to a good chicken jalfrezi is the green peppers. Took me forever to figure it out. You have to scorch them. Get them to almost blister. Like when you roast chiles.
That gives the dish it's signature flavour. Without that it's not very good. With that it's awesome. So simple. But until you know it's enough to make you crazy. Like anything I guess. Easy when you get it. Infuriating until you do.
This one little thing made me go from "Why does my jalfrezi suck?" to "Wow. This chicken jalfrezi is the is wicked. I'm insufferably proud of myself!"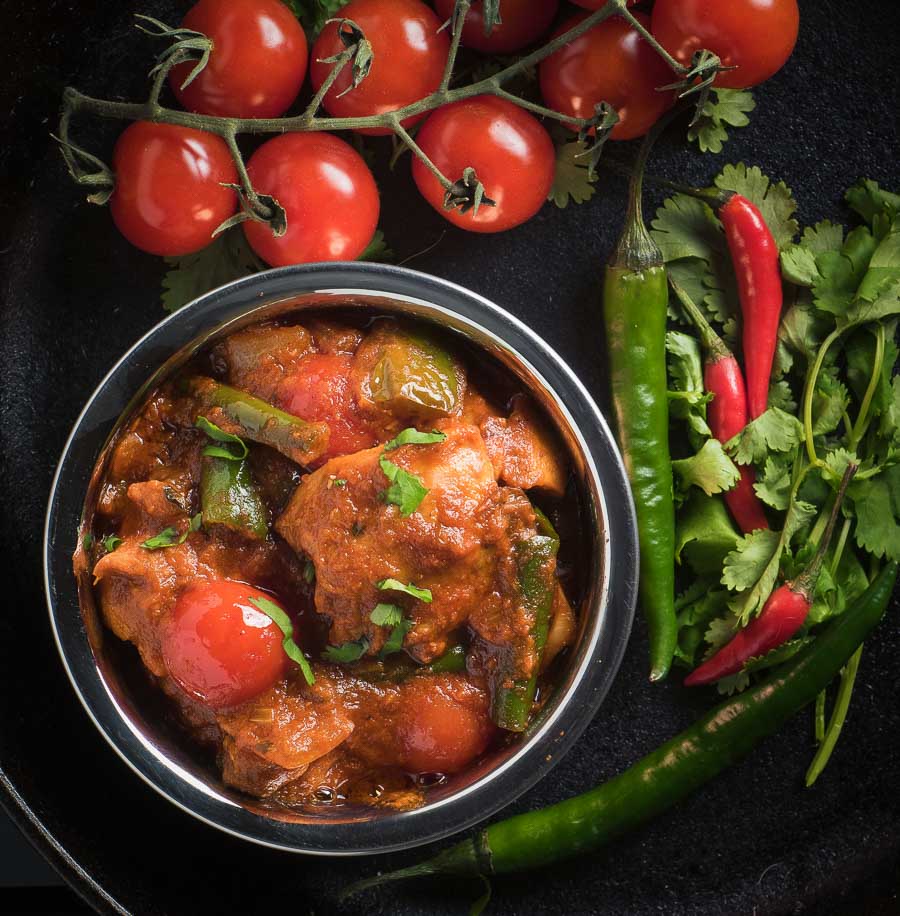 Onions make the sauce
The other key is onions. With Indian, it's always the onions. Homestyle Indian curries have you cook onions for a long, long time. It's pretty much the basis of all Indian curries.
You can try to skip this step but the results suffer. Never anywhere as good as it could be.
Nearly restaurant style relies on a simple trick to make sure they are cooked. And smooth. Luscious. Like you get at restaurants.
If you want to go for it, here's how to make a full blown restaurant style curry at home. It's always crazy good. But if you don't have time, nearly restaurant chicken jalfrezi is crazy good too…
Want more nearly restaurant style curries?
nearly restaurant style chicken jalfrezi
You don't need to dive into full blown Indian restaurant style cooking to whip up a really, really good chicken jalfrezi.
Servings
4
or 2 if you have really big appetites
Ingredients
The onion paste
2

cups

onions - coarsely chopped

2

tbsp

vegetable oil

1

cup

water
Chicken jalfrezi
6

boneless skinless chicken thighs cut into 3 pieces per thigh.

1

green pepper

- cut into 3/4 inch pieces

1

medium

onion

- cut into 3/4 inch pieces

4

tbsp

vegetable oil

3

tsp

indian restaurant mix powder

- see notes

1

tsp

tandoori masala

1

tsp

mild kashmiri chili powder

1

tsp

kasoor methi

- dried fenugreek leaves

1

tsp

kosher salt

- use a bit less if you are using table salt

2

tbsp

garlic ginger paste

- see notes

1 1/2

tbsp

minced cilantro stems

1 1/2

tbsp

tomato paste diluted to the consistency of tomato sauce

2

green chilies

- halved lengthwise, seeded and cut into 1 inch pieces

6

cherry tomatoes

- halved
Instructions
The onion paste
Place the 2 cups of chopped onions in a microwave safe dish and cover loosely. Microwave at 70 percent until the onions are soft and translucent. This takes 10 minutes in my 1100 watt microwave. I can't predict how long it will take in yours...

Remove the onions from the microwave. Be careful. They will be hot. Let them cool slightly. Place the onions, 2 tbsp vegetable oil and 1 cup of warm water in a blender and puree until smooth. Set aside.
Chicken jalfrezi
In a small bowl, combine the mix powder, tandoori masala, Kashmiri chili powder, kasoor methi and salt. This is your spice mix.

Heat 4 tbsp vegetable oil in a pot over medium heat until it shimmers.

Add the green pepper, skin side down. Cook for about 2 minutes. Add the remaining chopped onion and continue to cook until the onion starts to brown on the edges and the green pepper scorches a bit. You really want the colour on the green pepper skin. It's key to the taste of a jalfrezi.

Add the garlic ginger paste and cilantro stems and cook until the garlic ginger paste stops spluttering.

Turn the heat to medium low. Add the spice mix and stir continuously until it starts to smell really good - around 30-40 seconds. Watch it carefully. If you burn the spices at this point you have to start over. It will stick a bit. That's OK - you will deglaze with the tomato mixture.

Add the diluted tomato paste and stir to combine. Turn the heat up to medium. Cook for 1 minute, scraping up any spice mix that stuck to the pan..

Add the onion paste and turn the heat up to medium high. Cook, stirring occasionally for about 4 minutes. It will darken a bit as it cooks. Don't worry if it seems a bit dry. The chicken will release juices as it cooks and you should be left with a nice amount of sauce.

Turn the heat down to medium low. Add the chicken and green chilies and stir. Cover and simmer until the chicken is done. It's done when you measure the internal temperature and it says 170F, about 12-15 minutes. An instant read thermometer is a handy thing to have here...

If the curry is a bit thick add a bit of water or chicken stock and stir. Add the cherry tomatoes. Let the chicken jalfrezi simmer another minute or so. Taste for salt and adjust as needed. It may be a bit under salted at this point.

Garnish with a bit of cilantro if desired.
Notes
The recipe for Indian restaurant spice mix can be found here.
You can buy garlic ginger paste but it's easy to make and homemade is way better. Here's an easy recipe for garlic ginger paste. If you cook Indian fairly often it's so worth it to whip up a batch. It will keep for a few weeks in the fridge.
Nutrition
Serving:
4
servings
|
Calories:
454
kcal
|
Carbohydrates:
16
g
|
Protein:
34
g
|
Fat:
27
g
|
Saturated Fat:
18
g
|
Cholesterol:
161
mg
|
Sodium:
880
mg
|
Potassium:
777
mg
|
Fiber:
4
g
|
Sugar:
7
g
|
Vitamin A:
580
IU
|
Vitamin C:
41.7
mg
|
Calcium:
53
mg
|
Iron:
2.7
mg