Madras chicken curry. Big, bold tastes. Lush sauce. Just like you get at your local Indian restaurant. On the table in 30 minutes. For real.
This is crazy tasty curry in a hurry. Almost sounds too good to be true. But I can make this in a half hour flat. And so can you.
That makes this weeknight friendly. And it serves 4. So invite some friends. Grab some naan at your local shop.
Cook up some rice. Maybe a green salad. And have a dinner party on a Tuesday night. It's totally doable. And it would be fun. Everyone needs to have fun.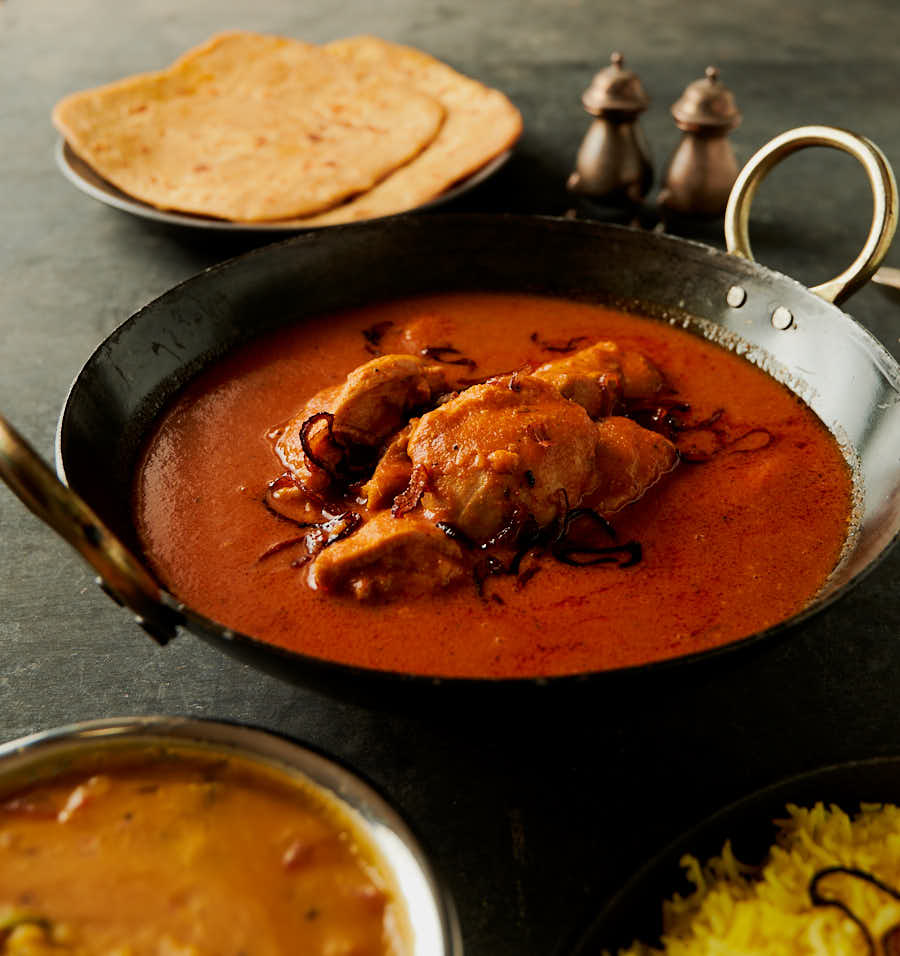 It's all about the onions
Onions are the foundation of a lot of Indian dishes. Doesn't really matter what you make. It always seems to start with "chop a whole mess of onions".
The next step is almost always "cook those onions until they're brown". That's the part that takes time. Like 20 minutes. Or more. 30 minutes even.
And it's 30 minutes of closely attended time. No wandering off to check your email. No checking Instagram. You need to pay attention.
There's an easier way. A way that lets you make restaurant quality chicken madras in 30 minutes. Total time.
Indian restaurants have this figured out. They make this stuff called curry base. Or curry gravy. They make huge pots of it. Takes a couple hours.
Hard to make a curry in 30 minutes if the gravy takes 2 hours. That's where your microwave comes in.
You can make curry gravy in the microwave. In 10 minutes. Zap the onions. Toss them in your blender. And then just cook like they do in restaurants.
Don't worry. Restaurant curries are easy. You'll see.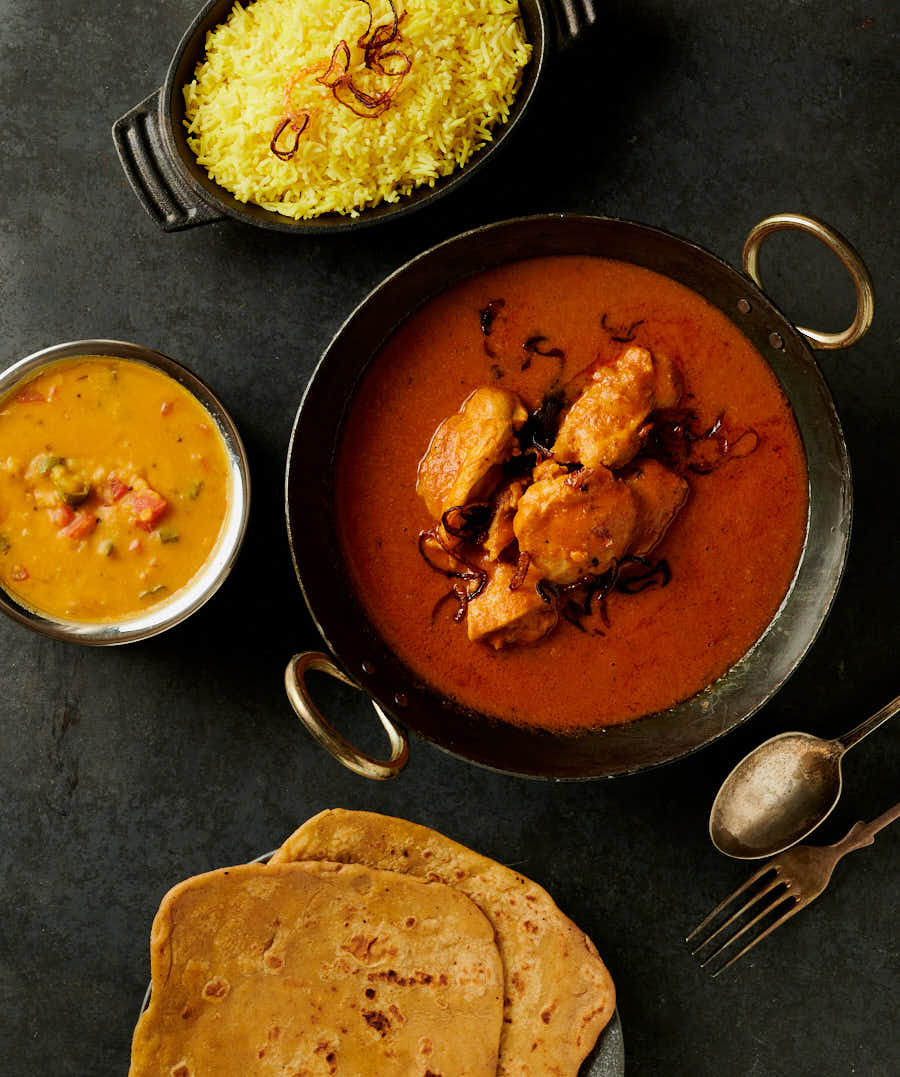 You need madras curry powder to make chicken madras
That should not be a surprise. It's in the name. Madras curry isn't actually an Indian dish. It's an English invention. And the definitive ingredient is Madras curry powder.
A bit of history. Mid 19th century London. Liecester Square to be specific. A shop starts selling a curry powder with South Indian influences.
It's a hit. A big hit. So much so that you can choose from multiple Madras curry powder at just about any Indian grocer.
It's the signature ingredient in Madras chicken curry. It needs to be there. Leaving it out isn't quite as ridiculous as leaving eggs out of egg salad. But it's close.
It's curry powder. But with a South Indian twist. Not just the uusual suspects. Curry leaves. Star anise. And more chili.
Not a crazy amount of chili. But more. A bit of bite that you won't get in your run of the mill curry powder.
What I want to know is when they're going to change the name to Chennai chicken curry?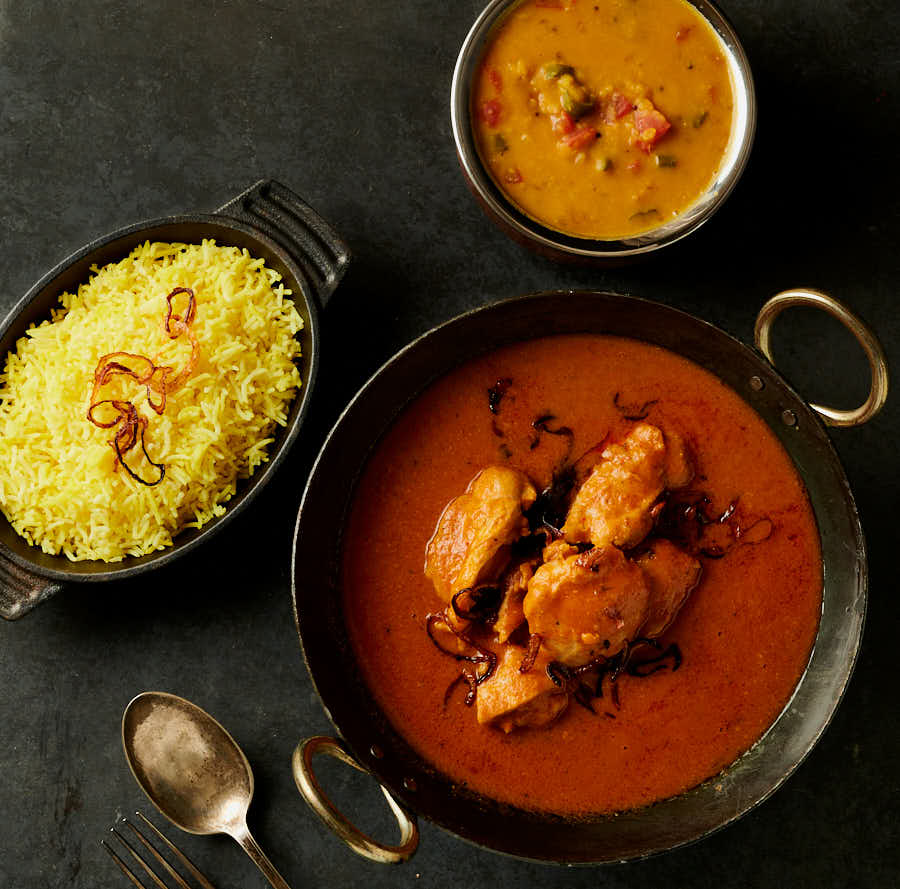 The sauce is the thing for madras chicken curry
That's the funny thing about curries. The sauce is the thing. At least for me. The chicken is good. But the sauce is what makes the dish.
So I'm always looking for ways to make a better sauce. It's about texture. Lush is a word I use a lot.
But it's about flavour first. Maximum flavour. So I look for it everywhere.
Restaurants pre-cook their chicken. They do it for speed. And they do it for food safety.
Knowing ahead of time that the chicken is cooked takes a big variable out of the equation.
That peace of mind comes at a price. A big price in fact. All those wonderful, flavourful juices from the chicken are lost forever.
Not here though. Here the chicken is poached in the final dish.
All those juices wind up in the sauce. And then in your mouth. Where they belong.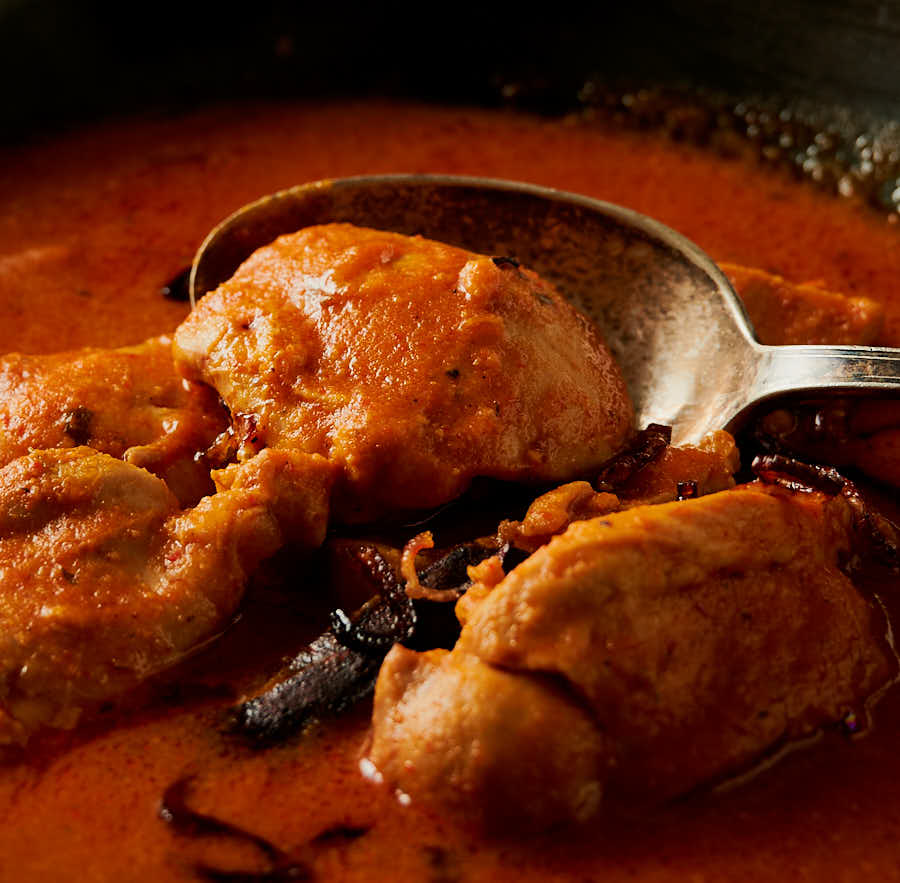 Restaurant results from restaurant technique
This is pretty close to full blown restaurant techniques. A lot of it is identical. The real change is the way the gravy is made. And cooked.
The rest is pretty much identical. Fry your whole spices. Cook out the garlic ginger paste. Bloom your powdered spices in oil to extract maximum flavour.
Fry the onion gravy. Add the chicken. Adjust the seasoning. That's the playbook. Get that down and you're on the path to mastering Indian restaurant style cooking.
It's not hard. Maybe a little different from what you're used to. But not hard. Once you understand the process you can cook anything.
The rest of the recipe follows lessons learned from restaurant style. Bloom the spices in oil. That's important no matter what style you go with.
If you like a little spicy. And you're craving a lush restaurant sauce. Then this chicken madras is one for you!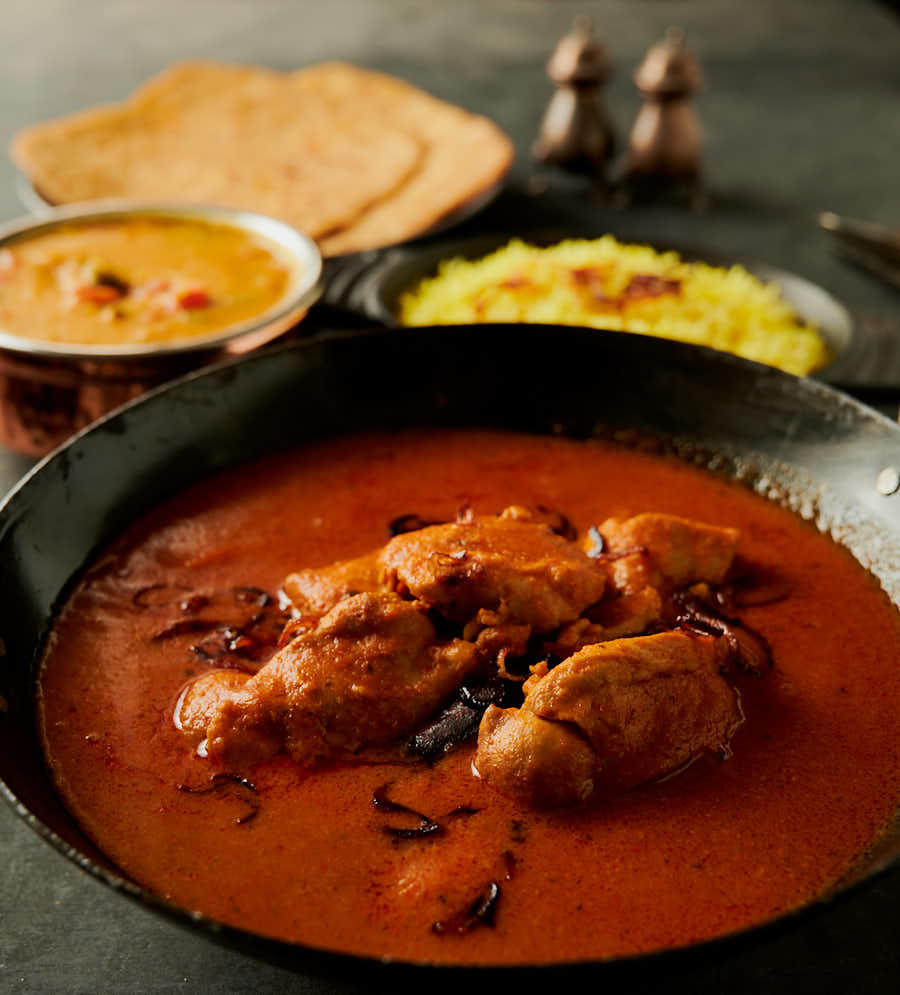 Weeknight cooking – weekend results
This is an old recipe. From 2018 in fact. Originally published as part of a nearly Indian restaurant series. So it's a retread. All new pictures and text. But a retread nonetheless.
I'm bringing it forward because I believe. Madras chicken curry for all. Any day of the week.
Because good food shouldn't be a weekend thing. It should be an everyday thing.
Madras chicken curry on Tuesdays. I think that should be a thing. I'm hoping you feel the same.
30 minute chicken madras
You can put a restaurant quality chicken madras curry on the table in 30 minutes.
Ingredients
The onion paste
2

cups

onions – coarsely chopped

2

tbsp

vegetable oil

1

cup

water
chicken madras
6

boneless skinless chicken thighs

cut into 3 pieces per thigh.

4

tsp

madras curry powder

– available at any Indian grocery

1

tsp

paprika

– for colour

2

tsp

mild kashmiri chili powder

1 1/2

tsp

kasoor methi – dried fenugreek leaves

1 1/2

2 inch

piece of cinnamon bark

– also called cassia bark

1

tsp

kosher salt – use a bit less if you are using table salt

big pinch

butcher's grind black pepper (coarse grind)

– about 1/8 tsp

2

tbsp

garlic ginger paste

1 1/2

tbsp

tomato paste

plus enough water to dilute it to the consistency of tomato sauce

4

tbsp

vegetable oil

1/6

lemon

– juiced
Instructions
The onion paste
Place the onions in a microwave safe dish and cover loosely. Microwave at 70 percent until the onions are soft and translucent. This takes 10 minutes in my 1100 watt microwave. I can't predict how long it will take in yours…

Remove the onions from the microwave. Be careful. They will be hot. Let them cool slightly. Place the onions, 2 tbsp vegetable oil and 1 cup of warm water in a blender and puree until smooth. Set aside.
chicken madras
In a small bowl, combine the madras curry powder, paprika, Kashmiri chili powder, kasoor methi, black pepper and salt. This is your spice mix.

Heat 4 tbsp vegetable oil in a pot over medium heat until it shimmers.

Toss in the cinnamon bark and let cook a few seconds. You will see little bubbles forming around the bark.

Add the garlic ginger paste and cook until it stops spluttering.

Turn the heat to medium low. Add the spice mix and stir continuously until it starts to smell really good – around 30-40 seconds. Watch it carefully. If you burn the spices at this point you have to start over.

Add the diluted tomato paste and stir to combine. Turn the heat up to medium. Cook for 1 minute.

Add the onion paste and turn the heat up to medium high. Cook, stirring occasionally for about 4 minutes. The curry will darken a bit as it cooks. Don't worry if it seems a bit dry. The chicken will release tasty, tasty juices as it cooks and you should be left with a nice amount of sauce.

Turn the heat down to medium low. Add the chicken and stir. Cover and simmer for about 5 minutes. Flip each piece of chicken and continue cooking until the chicken is done. It's done when you measure the internal temperature and it says 170F, about 10-15 minutes. I can't tell you exactly how long this will take. I don't know how big your chicken pieces are.

If the curry is a bit thick add a bit of water or chicken stock and stir. Add a squeeze of lemon juice. Let the chicken madras simmer another minute or so. Taste for salt and adjust as needed.

Garnish with a bit of cilantro or fried shallots if desired.
Notes
You can buy garlic ginger paste but it's easy to make and homemade is way better. Here's an easy recipe for garlic ginger paste. If you cook Indian fairly often it's so worth it to whip up a batch. It will keep for a few weeks in the fridge.
Nutrition
Serving:
4
servings
|
Calories:
433
kcal
|
Carbohydrates:
11
g
|
Protein:
34
g
|
Fat:
27
g
|
Saturated Fat:
18
g
|
Cholesterol:
161
mg
|
Sodium:
801
mg
|
Potassium:
670
mg
|
Fiber:
3
g
|
Sugar:
4
g
|
Vitamin A:
915
IU
|
Vitamin C:
9.7
mg
|
Calcium:
52
mg
|
Iron:
2.8
mg