Chicken masala is big on homestyle chicken curry flavours. But with that wonderful Indian restaurant gravy. Homestyle meets restaurant cooking.
Chicken masala is what would happen if your local Indian chef decided they wanted their childhood fave. But made it restaurant style. Tomatoes, onion, garlic, ginger, chilis and spice all wrapped up in a lush, delicious sauce.
Chicken masala is not tikka masala
You probably already figured this out. But I want to be clear. This has nothing to do with chicken tikka masala. Nothing. Except maybe it's a chicken curry.
There's no tandoori chicken. There's no cream. It's not red. No coconut. Not the same thing at all. So now you know. Don't say you weren't warned. 
This is a classic Indian chicken curry. No exotic ingredients. Straight forward. Simple spices. You can probably get everything in this curry at your local supermarket. 
Except maybe the green chilies. But you could substitute jalapeños if you have to. I don't think it would be all that different. Go with smaller pieces. And use less. Jalapeños have a bit more bite.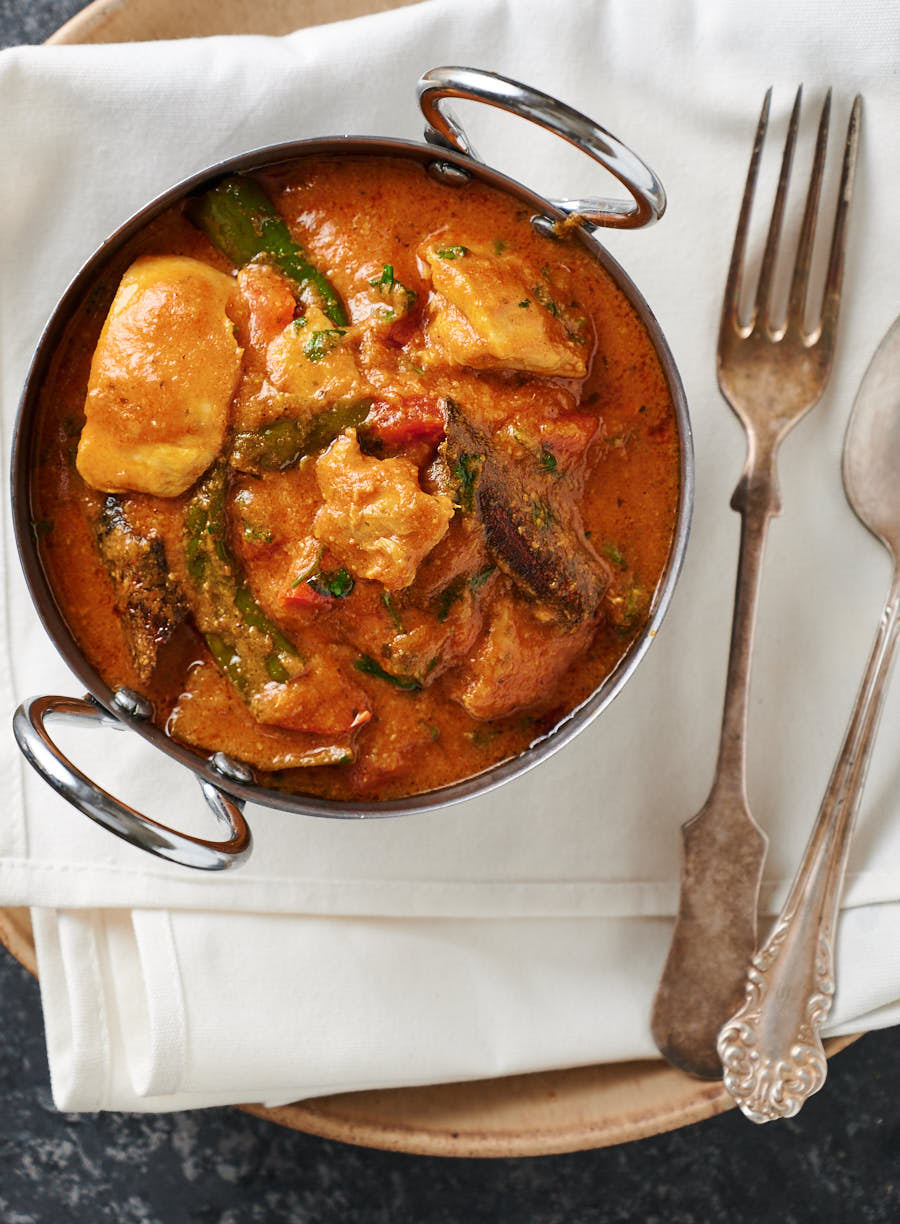 This chicken masala was inspired by homestyle cooking
I got the idea for this dish from an old classic Indian cookbook by Julie Sahni. Her chicken masala ingredient list isn't a whole lot different than this one. Except the green chilies. That's all glebe kitchen.
There's a lot more cilantro than the original as well. I wanted something bright against the sauce. Something to really wake up the taste buds. But I didn't want to stray too far from the original. Cilantro fixed it up nicely.
What changes is how the ingredients come together. Makes the dish completely different. Chicken masala – done restaurant style. You can read more about the techniques in this nearly restaurant style primer.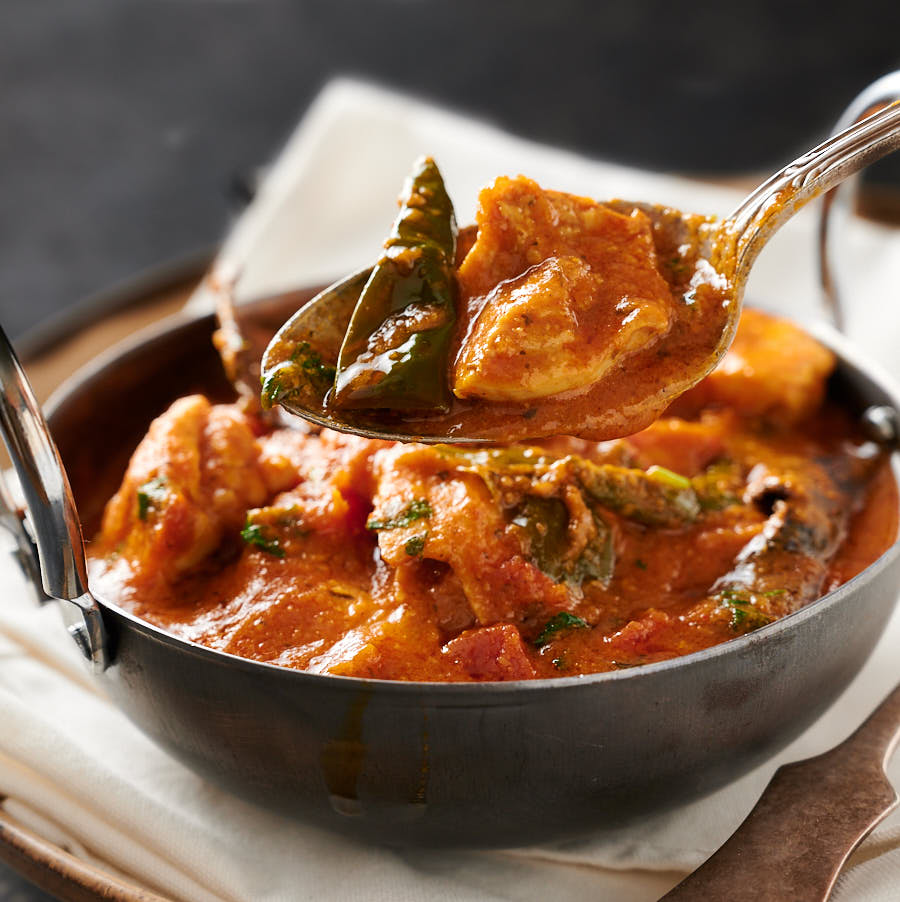 They could serve you this in an Indian restaurant
Indian restaurants serve curries that you just don't see at home. That's why you can't ever seem to make what they serve. Almost all the recipes you see are home cooking. Indian home cooking is amazing stuff. 
But it's not what you get in restaurants. They approach it in a way that lets them cook curries to order. In 10 minutes. Nobody would wait an hour for a curry. So they adapted. 
Full blown Indian restaurant cooking takes a lot of prep. The curry itself takes 10 minutes to cook. But you have to make this magic stuff called curry base. Or base gravy.
Whatever you call it, it is the Indian restaurant kitchen's secret weapon. There are a ton of recipes based on it on this blog. Not a big deal really. Make it and freeze it. Always ready to go. Or you can go nearly Indian restaurant style.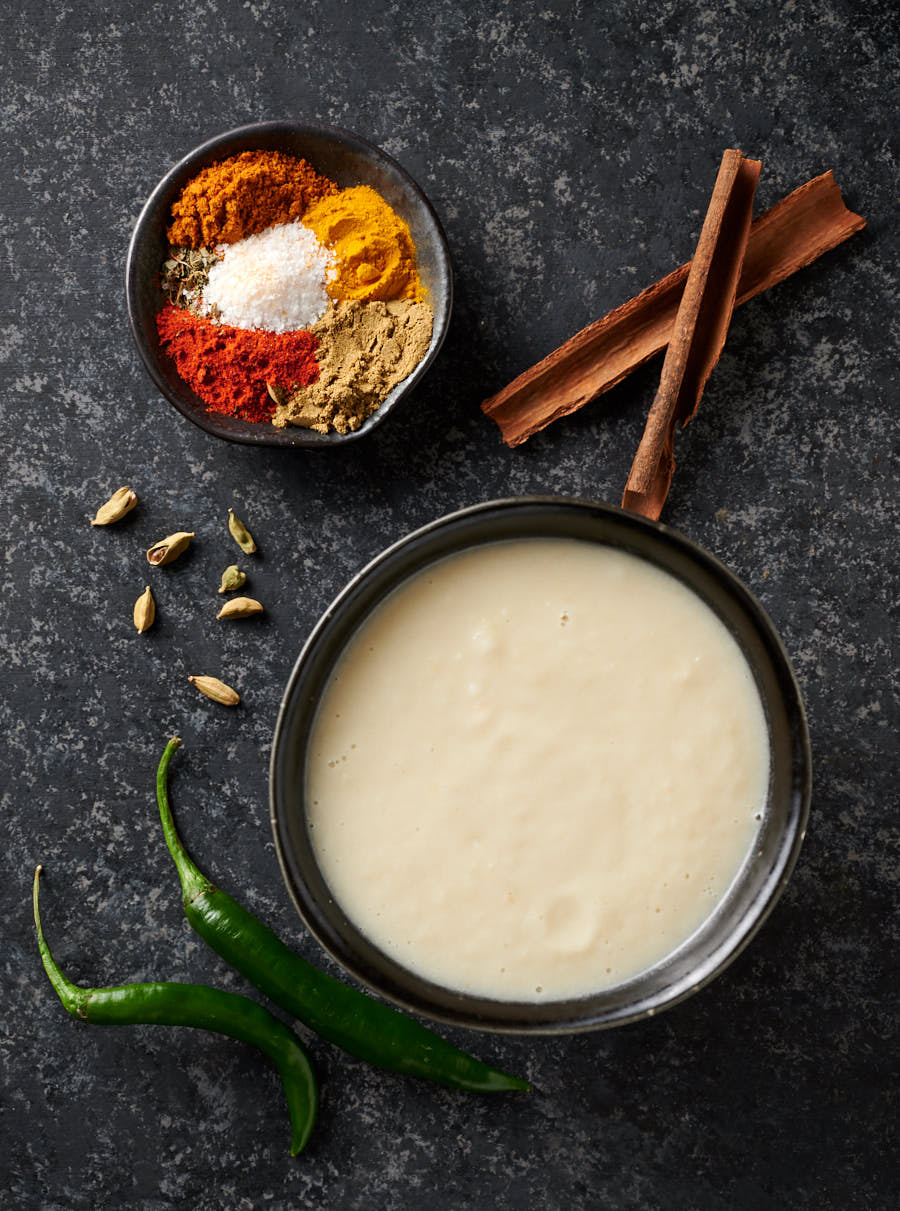 Onion paste is the other secret weapon
You can make a very tasty Indian restaurant style curry without curry base. Some restaurant style purists are probably jumping up and down fuming at that statement. But it's true. Not quite perfect maybe. But very, very close.
Onion paste is my answer to curry base. Instant curry base. Microwave curry base. I'm pretty sure this is a glebe kitchen original. 
It's basically the same thing. Curry base has a few more flavours built in. That's true. But at the core curry base is just a lot of boiled onions. Onion paste is just a lot of microwaved onions.
And you can make onion paste for one curry. In around 15 minutes. Easy. And it works.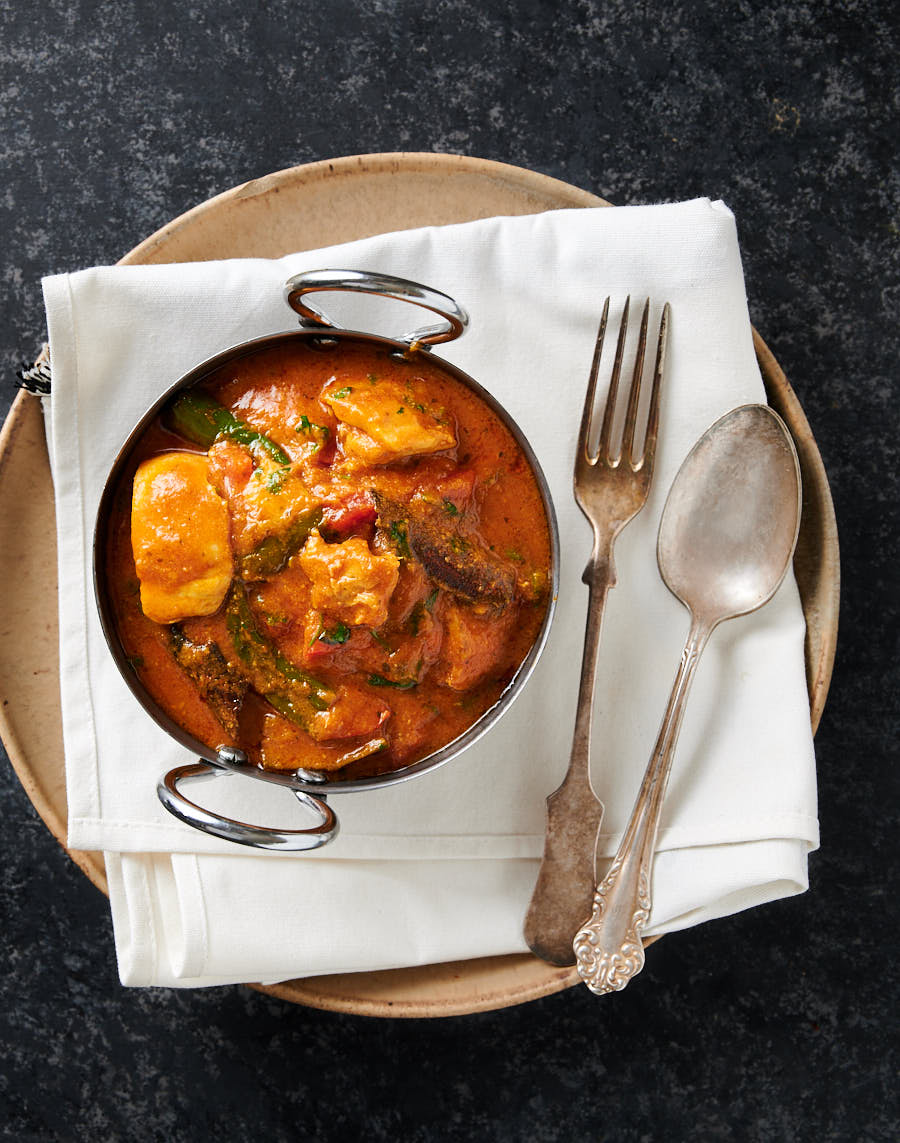 Nearly Indian restaurant chicken masala
This is a simple curry. Straight forward flavours. Long on taste. Nearly restaurant style chicken masala is what you get when you take a family dinner classic and apply some restaurant technique.
This isn't the flashiest curry on this blog. It isn't that well known. But it is worth trying. Sometimes simple is a good thing…
chicken masala - nearly restaurant style
Chicken masala is a classic homestyle curry made like they would serve it in a restaurant
Ingredients
The onion paste
2

cups

onions - coarsely chopped

2

tbsp

vegetable oil

1

cup

water
chicken masala
6

boneless skinless chicken thighs cut into 3 pieces per thigh.

1

tsp

indian restaurant mix powder

- see notes

2

tsp

cumin powder

1

tsp

turmeric powder

1

tsp

mild kashmiri chili powder

1

tsp

kasoor methi

- dried fenugreek leaves

1

tsp

kosher salt

- use a bit less if you are using table salt

2

inch

piece of cinnamon bark

- also called cassia bark

4

green cardamom pods

2

tbsp

garlic ginger paste

- see notes

2-3

green chilies

cut into large pieces

2

tbsp

tomato paste

plus enough water to dilute it to the consistency of tomato sauce

4

tbsp

vegetable oil

1/4

cup

tomatoes

- diced

2-3

tbsp

cilantro

- coarsely chopped
Instructions
The onion paste
Place the onions in a microwave safe dish and cover loosely. Microwave at 70 percent until the onions are soft and translucent. This takes about 10 minutes in an 1100 watt microwave oven.

Remove the onions from the microwave. Be careful. They will be hot. Like burn you with the steam hot. Let them cool slightly.

Place the onions, 2 tbsp vegetable oil and 1 cup of warm water in a blender and puree until smooth. Set aside.
chicken masala
In a small bowl, combine the indian restaurant mix powder, turmeric, Kashmiri chili powder, cumin, kasoor methi and salt. This is your spice mix. It goes in after the garlic ginger paste.

Heat 4 tbsp vegetable oil in a pot over medium heat until it shimmers.

Toss in the cinnamon bark and green cardamom. Let cook about 20 seconds. You will see little bubbles forming around the bark.

Add the garlic ginger paste and green chilies. Cook until the garlic ginger paste stops spluttering.

Turn the heat to medium low. Add the spice mix. That's the mix you made above and put in the small bowl - not just the Indian restaurant spice mix. Stir continuously until it starts to smell really good. This takes around 30-40 seconds. Watch it carefully. If you burn the spices at this point you have to start over. This is called blooming the spices. It is one of the secrets to Indian cooking.

Add the diluted tomato paste and stir to combine. Turn the heat up to medium. Cook for 1 minute.

Add half the onion paste and turn the heat up to medium high. Stir to combine. Cook for about a minute. Add the rest of the onion paste and stir again. Cook, stirring occasionally for about 4 minutes. Don't worry if it looks dry. The chicken will release juices as it cooks. Instant delicious.

Turn the heat down to medium low. Add the chicken and stir. Cover and simmer until the chicken is done. It's done when you measure the internal temperature and it says 170F, about 12-15 minutes. An instant read thermometer is a handy thing to have here...

If the curry is a bit thick add a bit of water or chicken stock and stir. Add the diced tomatoes and cilantro. Let the chicken masala simmer another minute or so. Taste for salt and adjust as needed.

Garnish with a bit more cilantro if desired.
Notes
The recipe for Indian restaurant spice mix can be found here.
You can buy garlic ginger paste but it's easy to make and homemade is way better. Here's an easy recipe for garlic ginger paste. If you cook Indian fairly often it's so worth it to whip up a batch. It will keep for a few weeks in the fridge.
Nutrition
Serving:
4
servings
|
Calories:
444
kcal
|
Carbohydrates:
14
g
|
Protein:
35
g
|
Fat:
28
g
|
Saturated Fat:
18
g
|
Cholesterol:
161
mg
|
Sodium:
893
mg
|
Potassium:
703
mg
|
Fiber:
4
g
|
Sugar:
5
g
|
Vitamin A:
465
IU
|
Vitamin C:
12
mg
|
Calcium:
58
mg
|
Iron:
3.2
mg