Chicken masala curry. Ready in 30 minutes. Deep flavours. Straightforward ingredients. And a crazy tasty Indian restaurant gravy.
This is what would happen if the chef at your local Indian restaurant was craving comfort food. Chef's special chicken. It's probably already on the menu.
It's actually what happens when I crave comfort food. Tomatoes, onion, garlic, ginger, green chilis and spice all wrapped up in a lush sauce. Curry in a hurry.
Chicken masala is not tikka masala
You've probably already figured this out. But I want to be clear. This has nothing to do with chicken tikka masala. Nothing at all.
There's no tandoori chicken. No cream. No coconut. So now you know. Don't say you weren't warned.
This is a classic Indian chicken curry. But with that smooth restaurant sauce you crave.
Straight forward. Simple spices. You can probably get everything in this curry at your local supermarket.
Except maybe the green chilies. But you could substitute jalapeños if you have to. Will be different. But still great.
Go with smaller pieces. And use less. Jalapeños have a bit more bite.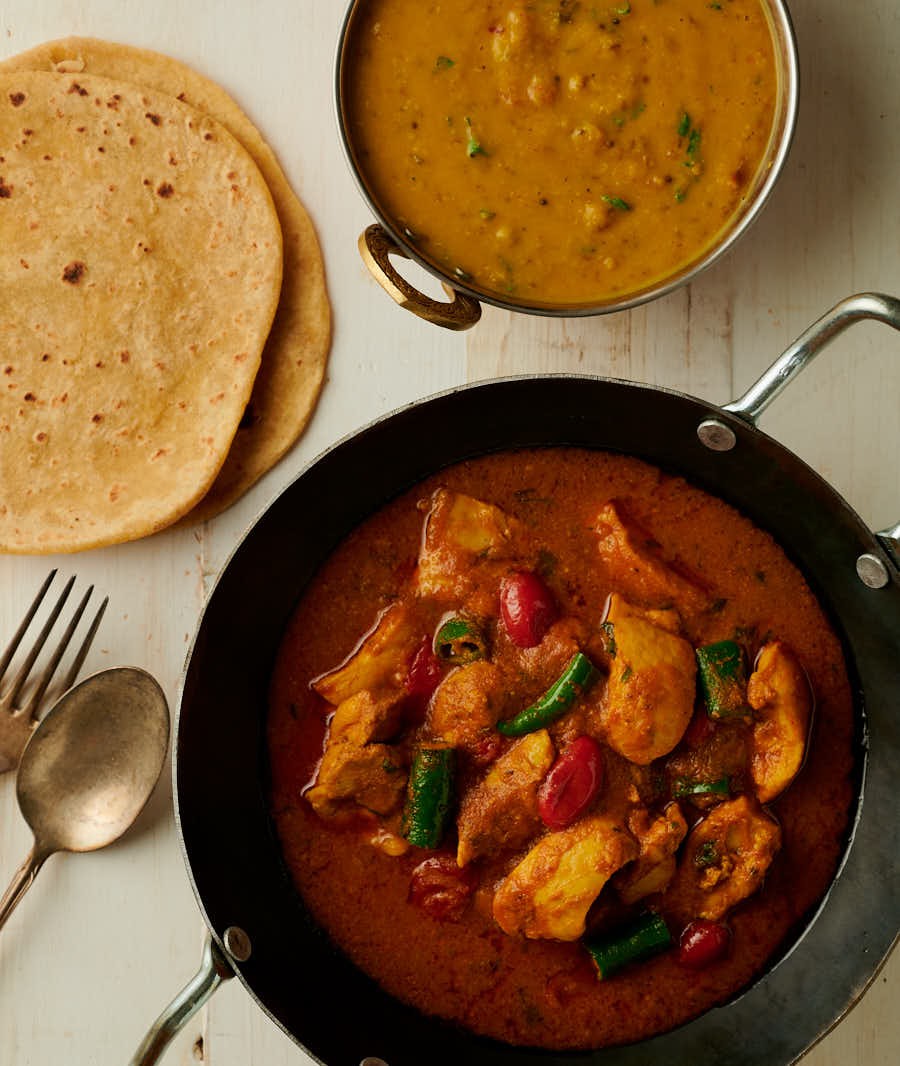 30 minute chicken masala is inspired by homestyle cooking
The inspiration for 30 minute chicken masala comes from an old book by Julie Sahni. The ingredients line up pretty closely.
Except the green chilies. This dish screams for green chilies. That's not her. That's glebekitchen.
What changes is how the ingredients come together. Ingredients matter. But technique matters more. Makes this version completely different.
Ms Sahni's dish is traditional. This version moves solidly towards restaurant cooking. And restaurant results.
If this was on a menu at your local Indian restaurant it would read "Succulent morsels of chicken with Chef's special blend of spices, tomatoes, fenugreek leaves and green chilies".
The truth in advertising version? "Chef's mom's chicken curry that she made me for my birthday when I was young that I turned into a restaurant dish".
If anyone knows who actually writes Indian restaurant menus please leave a comment. I think it's all the work of the same person.
I do love the descriptions though. Always good for a laugh.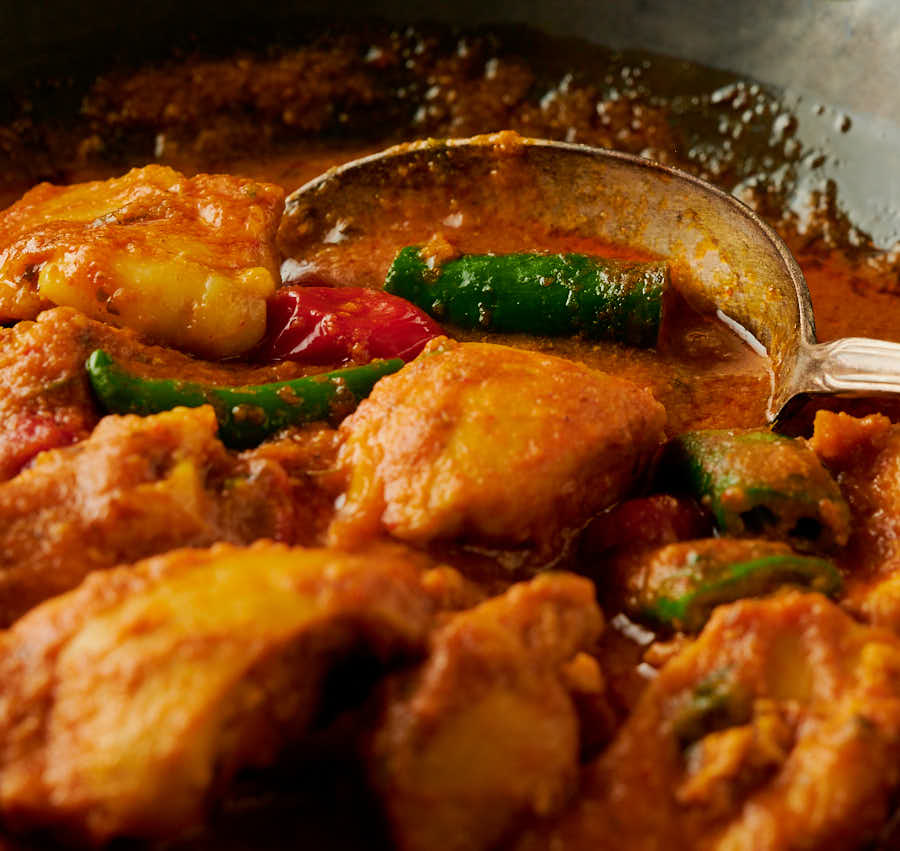 Takeaway flavours at home
Indian restaurants approach cooking in a way that has absolutely nothing to do with the four hundred twenty seven million Indian recipes online. That's a fact. Mostly.
The whole internet is about traditional Indian cooking. Restaurants do things differently. Surprisingly differently.
This isn't quite the way they do it. But it's close. Very close. Nearly Indian restaurant. And it takes 30 minutes. Start to finish.
A lot of the techniques used come from Indian restaurant style.
Blooming spices to extract maximum flavour?
Absolutely.
Frying onion gravy to make that smooth sauce you crave?
That's here too.
What isn't here is the prep. The hours of prep. Restaurants cook for scale. And that means having everything ready for service.
Restaurants can crank out curries in 10 minutes flat. They have adapted. Nobody is going to wait two hours for their dinner.
There is a ton of prep that goes into that. Gravies. Masala pastes. Spice blends. Pre-cooked protein. All fundamental in an Indian restaurant kitchen.
If you want to go the distance there is a whole section on Indian restaurant cooking here on glebekitchen. It's a fun little rabbit hole. If you have the time.
Don't have the time? Or the inclination? This will get dinner for 4 on the table in 30 minutes.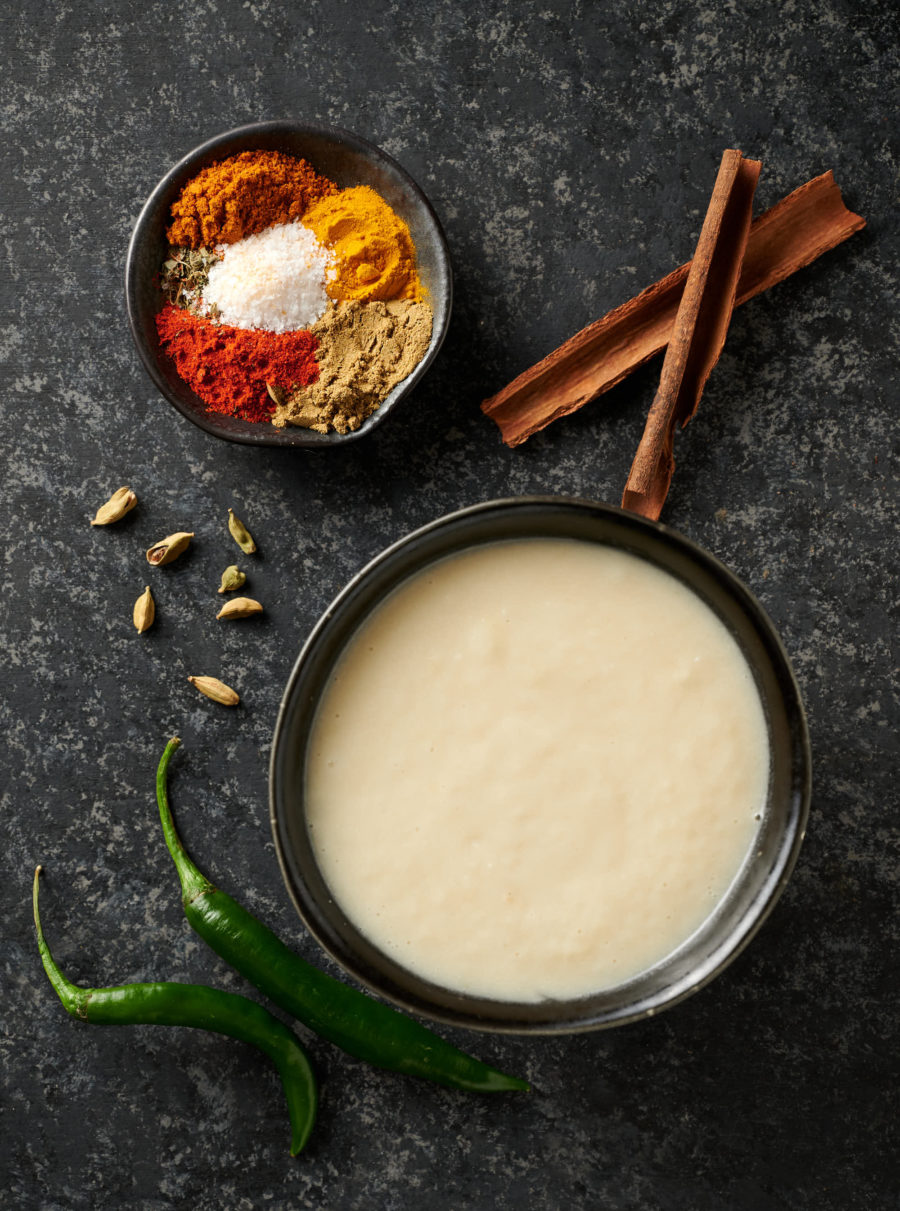 Onion paste makes this chicken masala possible
Restaurants use this stuff called curry base or gravy to make their dishes. It's basically a whole lot of boiled onions blended up to make a sauce. Takes a couple hours to make.
This is curry in 30 minutes. Can't have a two hour step in it. The math just doesn't work. I'd get called out. Get all sorts of nasty comments. Luckily there is another way.
Onion paste is that other way. The backbone of curry in a hurry. Microwave curry gravy. Instant curry base. I'm pretty sure this is a glebekitchen original.
This recipe is a re-tread. First published in 2019. Part of a nearly restaurant series. I I thought it would be a hit. But very few seemed to get where I was coming from.
Which was making restaurant style curries in 30 minutes from a standing start. So this is a new series of fast, easy Indian dishes.
This is marketing. No doubt about that. But I'm hoping people get it this time. Give it a go. Who doesn't want great curry in 30 minutes? I know I do.
The curry snobs will hate this. It challenges dogma. Not exactly the same as pure restaurant technique. So it must be wrong.
I'm not too worried though. I have a whole section of restaurant curries for them. And I don't really like the curry snobs anyway. Small-minded thinkers block progress.
Microwaved onions instead of boiled onions. Maybe a few less trace spices. Not quite the same a restaurant style.
But you can make it on a Tuesday. WIth zero prior planning. That works for me. I have a day job too.
And for what it's worth I took new pictures for this update. And I think I made the recipe instructions a bit more amusing.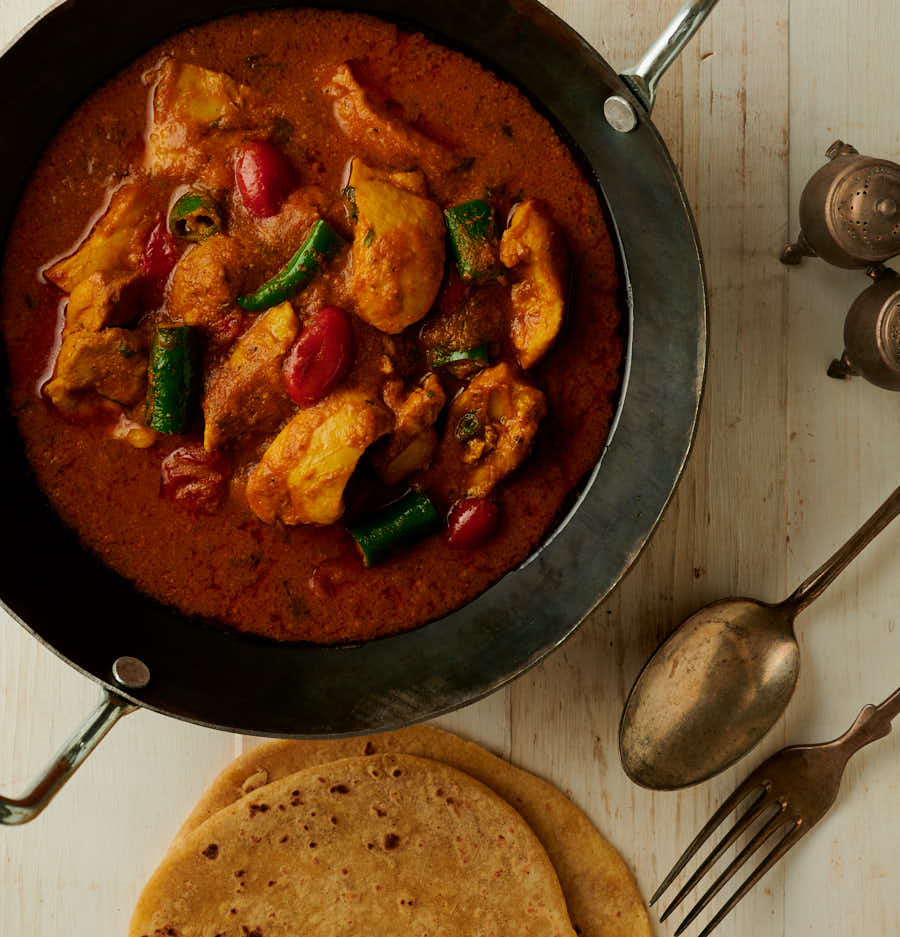 Give yourself the time you need
This recipe can be done in 30 minutes. That's how long it takes me. But that doesn't mean you have to get it done in 30 minutes.
This isn't a contest. The only prize is your dinner. It's a good prize. But you get it no matter what.
Cook at your own pace. If it takes you 35 minutes that's OK. 40 minutes is OK too.
The important thing is you enjoy your time in the kitchen. Don't stress. This is supposed to be fun. Try to keep that in mind.
Chicken masala on the table in 30 minutes (or thereabouts)
Chicken masala is a straight down the middle chicken curry. And that's a good thing. It has all the backbone flavours you expect. And the delicious bite of green chili.
Not complicated. Not too many crazy ingredients. Straight forward flavours that just works. This is a solid, tasty chicken curry.
Chicken masala is not a flashy dish. Not famous either. But don't let that stop you.
It's a classic chicken curry. Which means really tasty. And a restaurant style sauce. On the table in 30 minutes. Or maybe 34 minutes if things don't go perfectly.
That should be enough to make you smile. Makes me smile anyway. Great curry for everyone. Fast.
30 minute chicken masala curry
Chicken masala brings homestyle flavours to Indian restaurant curries
Ingredients
The onion paste
2

cups

onions – coarsely chopped

2

tbsp

vegetable oil

1

cup

water
chicken masala
6

boneless skinless chicken thighs cut into 3 pieces per thigh.

1

tsp

indian restaurant mix powder

– see notes. Or just use a commercial curry powder. That works too.

2

tsp

cumin powder

1

tsp

turmeric powder

1

tsp

mild kashmiri chili powder

1

tsp

kasoor methi

– dried fenugreek leaves

1

tsp

kosher salt

– use a bit less if you are using table salt

2

inch

piece of cinnamon bark

– also called cassia bark

4

green cardamom pods

2

tbsp

garlic ginger paste

– see notes

2-3

green chilies

cut into large pieces

2

tbsp

tomato paste

plus enough water to dilute it to the consistency of tomato sauce

4

tbsp

vegetable oil

1/4

cup

tomatoes

– diced

2-3

tbsp

cilantro

– coarsely chopped
Instructions
The onion paste
Chop your onions coarsely. And by coarsely I mean 1/2 inch pieces. No point going any finer. Just wasting time…

Place the onions in a microwave safe dish and cover with cling wrap. Punch a hole in the top. Microwave at 70 percent until the onions are soft and translucent. This takes about 10 minutes in an 1100 watt microwave oven.

Remove the onions from the microwave. Be careful. They will be hot. Like burn you with the steam hot. Let them cool slightly.
Do your prep
Do your prep while the onions are in the microwave.

In a small bowl, combine the indian restaurant mix powder or curry powder, turmeric, kashmiri chili powder, cumin, kasoor methi and salt. This is your spice mix.

Get your blender out. Get the pan on the stove. Measure out your ingredients. Cut up the chilies. Dice the tomatoes. Dilute the tomato paste.

Cut the chicken into big bite size pieces. I like 3-4 pieces per thigh. Thighs are just better. More fat. More flavour. And more forgiving.

The microwave should ding any second now. Place the onions, 2 tbsp vegetable oil and 1 cup of warm water in a blender and puree until smooth. Leave the paste in the blender. There is no point making more dishes here…
Make the chicken masala
Heat 4 tbsp vegetable oil in a pot over medium heat until it shimmers.

Toss in the cinnamon bark and green cardamom. Let cook about 20-30 seconds. You will see little bubbles forming around the bark.

Add the garlic ginger paste and green chilies. Stand back. Cook until the garlic ginger paste stops spluttering.

Turn the heat to medium low. Add the spice mix. That's the mix you made above and put in the small bowl. Stir continuously until it starts to smell really good. It This takes around 30-40 seconds. Watch it carefully. If you burn the spices at this point you have to start over. This is called blooming the spices. It is one of the big secrets to Indian cooking. It's also why you you need to add all the oil specified in this recipe. Things will go poorly for you if you try shave calories.

Add the diluted tomato paste and stir to combine. Turn the heat up to medium. Cook for 1 minute.

Add half the onion paste and turn the heat up to medium high. Just dump it out of the blender. Stir to combine. Cook for about a minute.

Add the rest of the onion paste and stir again. Cook, stirring occasionally for about 4 minutes. Don't worry if it looks dry. The chicken will release juices as it cooks. Instant delicious.

Turn the heat down to medium low. Add the chicken and stir. Cover and simmer until the chicken is done. It's done when you measure the internal temperature and it says 170F, about 10-15 minutes. I can't tell you how long this takes. I don't know how big your chicken pieces are. I also don't know how hard things are simmering in your pan. An instant read thermometer is a handy thing to have here. It's actually a great thing to have period. Great chefs use them. You should use them too.

If the curry is a bit thick add a bit of water or chicken stock and stir. You are after a saucy consistency like you get in a restaurant.

Add the diced tomatoes and cilantro. Let the chicken masala simmer another minute or so. Basically you are just warming the tomatoes through. Taste for salt and adjust as needed.

Garnish with a bit more cilantro if desired. This dish goes great with a simple tarka dal, chapattis and rice.
Notes
The recipe for Indian restaurant spice mix can be found here. If you don't have the time to make it you can use a commercial curry powder. Please don't use garam masala. That is a very specific spice blend full of warming spices. It is not a general purpose blend no matter what you've been told. 
You can buy garlic ginger paste but it's easy to make and homemade is way better. Here's an easy recipe for garlic ginger paste. If you cook Indian fairly often it's so worth it to whip up a batch. It will keep for a few weeks in the fridge. Do that ahead of time or there is zero chance you will hit 30 minutes though…
Nutrition
Serving:
4
servings
|
Calories:
444
kcal
|
Carbohydrates:
14
g
|
Protein:
35
g
|
Fat:
28
g
|
Saturated Fat:
18
g
|
Cholesterol:
161
mg
|
Sodium:
893
mg
|
Potassium:
703
mg
|
Fiber:
4
g
|
Sugar:
5
g
|
Vitamin A:
465
IU
|
Vitamin C:
12
mg
|
Calcium:
58
mg
|
Iron:
3.2
mg