If you are a big butter chicken fan this one is for you. This is knock-down, drag out, go for gold cooking.
Seriously. It's what they are serving at the best Indian restaurants. This is not your average takeaway butter chicken.
And it's easier to make. Doesn't make sense. I know. But it's true. This is better. And easier.
Crazy talk you say? Read on. Not that far out there. You'll see.
Restaurants run with (at least) two base gravies
Surprised? Something you don't hear about much? Turns out good restaurants have a different gravy for butter chicken.
Maybe that's one of the last Indian restaurant "secrets" out there. I don't know. Probably not. I just asked and they told me. So not really a secret.
What I do know is the better Indian restaurants run with two base gravies. The best run with more. But it's at least two.
There's an onion based gravy. Backbone of a lot of curries. It can be restaurant style or hotel style. But there has to be onions.
And then there's a makhani gravy. Or red gravy. That's what they use for butter chicken. Specialized.
If you've ever wondered why your butter chicken doesn't taste quite like it does at posh Indian restaurants, makhani gravy is what you're missing.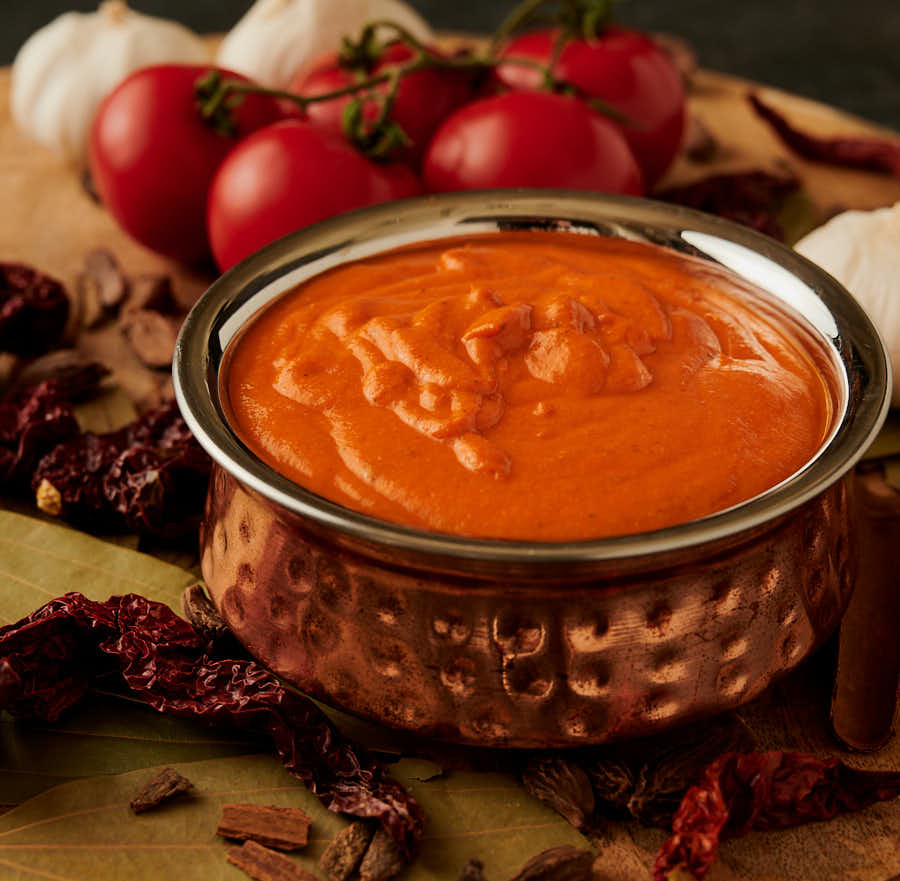 There are no onions in butter chicken
Unsecret number 2. There are no onions in butter chicken. High-end versions anyway.
Now you are certain I am crazy. "No onions? That cannot be. Ridiculous. This blog is run by a lunatic". I going to stop now. I'm hurting my feelings.
It's counter-intuitive. I know. Onions are the foundation of a lot of Indian dishes. But not all of them. This is an example.
It shouldn't really be a surprise. India is a huge country. A foodie country. With a long history of regional cooking. There are literally thousands of dishes. Tens of thousands.
Which leads me into my favourite rant. Indian food is popular around the world. But somehow it's still a formula. The same 15 dishes. At every restaurant. Over and over. Boring.
I get that people might not be ready for Bengali fish head stew (your loss btw). But there are a lot of more approachable dishes.
But somehow the same dishes are good enough. For everyone. A few variations maybe. But when was the last time you went to a restaurant that didn't serve a vindaloo? Or a butter chicken? Why do we put up with this?
If you see the irony in what I've just said, know that I am laughing at myself. Can't get too serious.
Especially when you are preaching. And writing about the single most overdone restaurant dish in the world. In the same blog post. But I feel good about it because at least it's crazy good.
In my defence I do push South Indian pretty hard on glebekitchen. And I slide in as much Bengali cooking as I can. Maybe not the fish head stew. But I'm trying…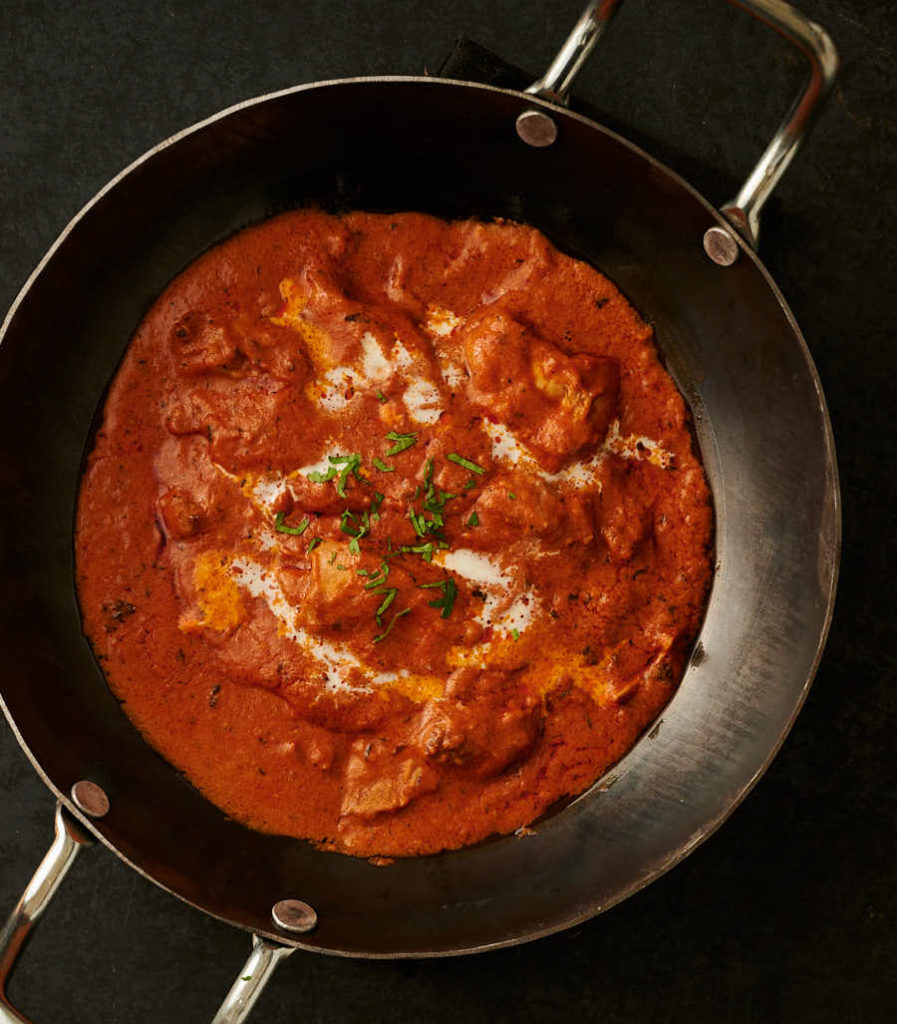 Cashews for the win
Cashews add a richness that butter and cream can't match. There's serious lushness factor working here. Lushness. Like that is even a word…
It might push the cost of this butter chicken out of the reach of a lot of restaurants. Cashews are not cheap. But if you like butter chicken and have a dollar or two to spare it makes a difference.
Sucks to be me though. I am allergic to cashews. I tested this recipe using cashews. Wasn't pleasant. But I did it. My wife loves it. I just took little tastes of sauce along the way.
I know the cashew version is better. But I won't ever get to enjoy it. You can though. And I think you should. I don't mind. I've come to grips with my allergy.
And I'm going to do a macadamia nut version anyway. For everyone that is allergic to cashews. All seven of us. We'll be so set.
Scale this recipe easily
The nice thing about hotel style is it scales. Easily. You don't have to worry about frying curry base like you do in restaurant style.
Make it for two like in the recipe below. Or use the servings slider to adjust. It just works. 2 people or 6 people for dinner? No problem. I have no control over how high that slider goes though. So use a bit of common sense.
Less mess. Easy scale. More flavour. Hotel style brings it all.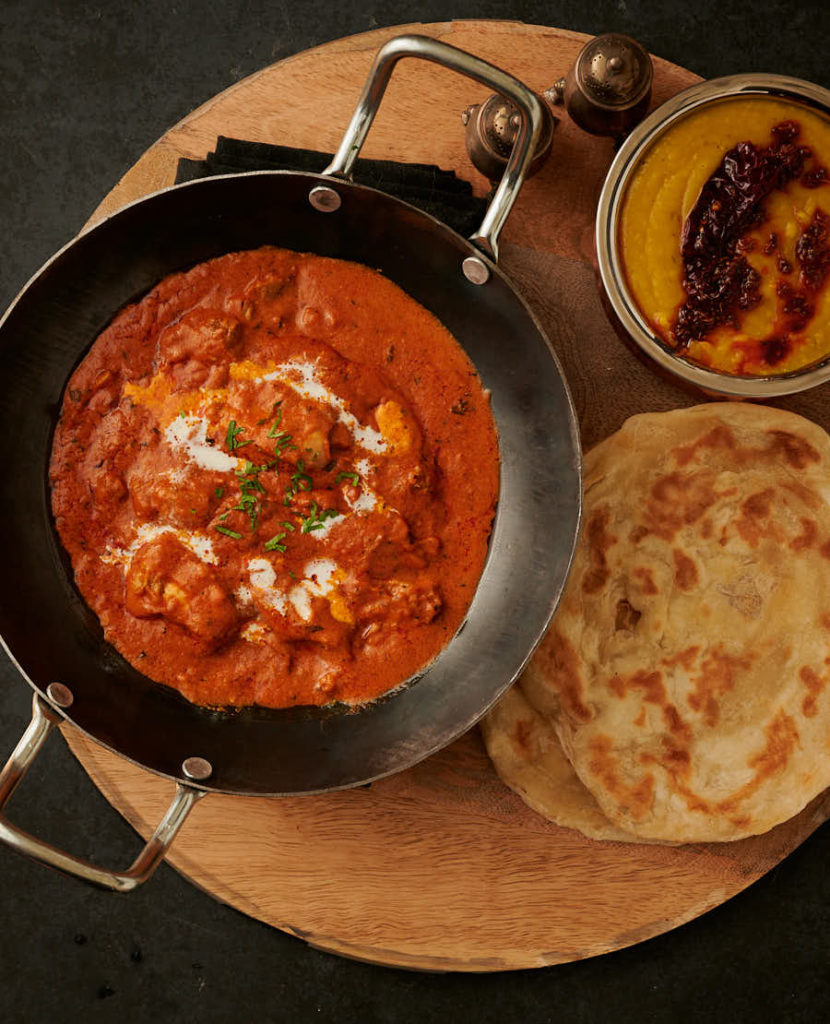 Hotel style butter chicken
I didn't invent hotel style. This is my version. Has a little more bite maybe. But it's been around forever. And it's closer to you than you might think.
The Ruby Murray at Dishoom is hotel style. They don't call it hotel style in the book. But it is absolutely hotel style.
See? Posh Indian restaurant. Hotel style. No onions in their version either if you're wondering.
That's an amazing cookbook by the way. Seriously. If you want something a little different it's worth every penny.
Forget what you think you know about butter chicken. Take a leap of faith. Pretty sure you will surprise yourself. In a good way.
hotel style butter chicken
This is how they make butter chicken at the best restaurants.
Ingredients
quick chicken tikka
3

chicken thighs

boneless, skinless

2

tbsp

tandoori masala

– avoid brands that are high in salt

1

tsp

kasoor methi

1/2

tsp

kosher salt

2

tbsp

neutral oil
butter chicken
2

tbsp

neutral oil

e.g. vegetable

2

tsp

garlic ginger paste

1

tsp

kashmiri chili powder

leave it out if you want really mild.

1/2

tsp

kosher salt

1

tsp

kasoor methi

1

cup

makhani gravy

– with cashews. Recipe link below.

3

tbsp

heavy cream

1

tbsp

butter

1

tsp

honey

to taste

cream to drizzle
Instructions
quick chicken curry
Make sure you've made your makhani gravy before you start. Combine the tandoori masala, kasoor methi, salt and oil in a bowl large enough to hold all the chicken.

Add the chicken and combine with the marinade. Use tongs. This stuff will stain your hands and you will not be happy at all.

Marinate for about an hour. Pre-heat your oven to 400F while this is going on. Use convection mode if you have it. I hear an air fryer is good for this as well. Place a sturdy baking sheet in the oven to pre-heat.

Transfer the chicken (remember your tongs) to the pre-heated baking sheet and place in the oven. Cook for about 6 minutes. Flip all the pieces and return to the oven. Cook until the internal temperature of the chicken reaches 160-165F. This should take another 4-8 minutes or so. Really depends on how big your chicken thigh pieces are.

Set the chicken aside. Try not to snack too much. I didn't include extra chicken tikka this time.
butter chicken
Pre-heat a pan large enough to hold all the ingredients over medium low heat.

When it starts to shimmer add the garlic ginger paste. Stir continously until it stops sputtering. This should take about 30 seconds. You don't want it to colour up too much. Be careful.

Add the kasoor methi, salt and kashmiri chili powder (if using). This recipe is on the mild end of medium spice so if you like a little warmth leave it in. It makes a difference. It also makes a difference to the colour of the final dish.

Stir to combine and let bubble for about 45 seconds. Watch your pan. You don't want the spices to stick or burn at this stage.

Add the makhani gravy. Stir to combine and bring to a lively simmer. Simmer about a minute.

Add the honey and stir to combine.

Add the chicken. Continue to simmer until the chicken is warmed through – about a minute assuming it's not coming from the fridge.

Stir in the butter and cream. Adjust the consistency with a little water or chicken stock (bouillon cubes are mostly salt not stock so don't use that) at this point to get it to a nice restaurant texture. I can't really tell you exactly how much because it depends on how hard your simmer was as well as your exact timing. I use about 3-4 Tbsp. Sometimes a bit more.

Butter chicken is nice with a drizzle of cream. It makes it look a bit more special but it's not necessary – just fun!
Notes
You can use any chicken tikka recipe you like. Just make sure you have roughly 3 thighs worth. The quick chicken tikka is just my regular quick naga chicken tikka without the naga. If you want butter chicken with kick don't fear the naga.
The makhani gravy used in this butter chicken includes the cashews but not the butter and cream. Take it to the red gravy point. It works with the full makhani gravy recipe as well – it will just be a little richer.
Nutrition
Serving:
1
g
|
Calories:
826
kcal
|
Carbohydrates:
34
g
|
Protein:
38
g
|
Fat:
62
g
|
Saturated Fat:
14
g
|
Trans Fat:
1
g
|
Cholesterol:
191
mg
|
Sodium:
1833
mg
|
Potassium:
1957
mg
|
Fiber:
10
g
|
Sugar:
19
g
|
Vitamin A:
5878
IU
|
Vitamin C:
80
mg
|
Calcium:
129
mg
|
Iron:
6
mg