Lamb bhuna curry. Thick. Rich. Lush. Hotel style. There is a lot of flavour going on here.
This is a classic restaurant curry. But one that's getting upscaled. In a big way.
Hotel gravy. Tomato masala. And lamb. It's hard to go wrong with lamb when it comes to making curries.
Bhuna is no exception. Lamb just adds some wow. It always adds some wow. If you want a chicken version check out the notes. Poultry does work as well.
What is lamb bhuna?
That's a question I don't actually have the answer to. As far as I can tell there's no such thing as lamb bhuna.
Google it. It's a thick curry. With tomato. And spices. See what I mean? That description fits a lot of curries. Not particularly helpful.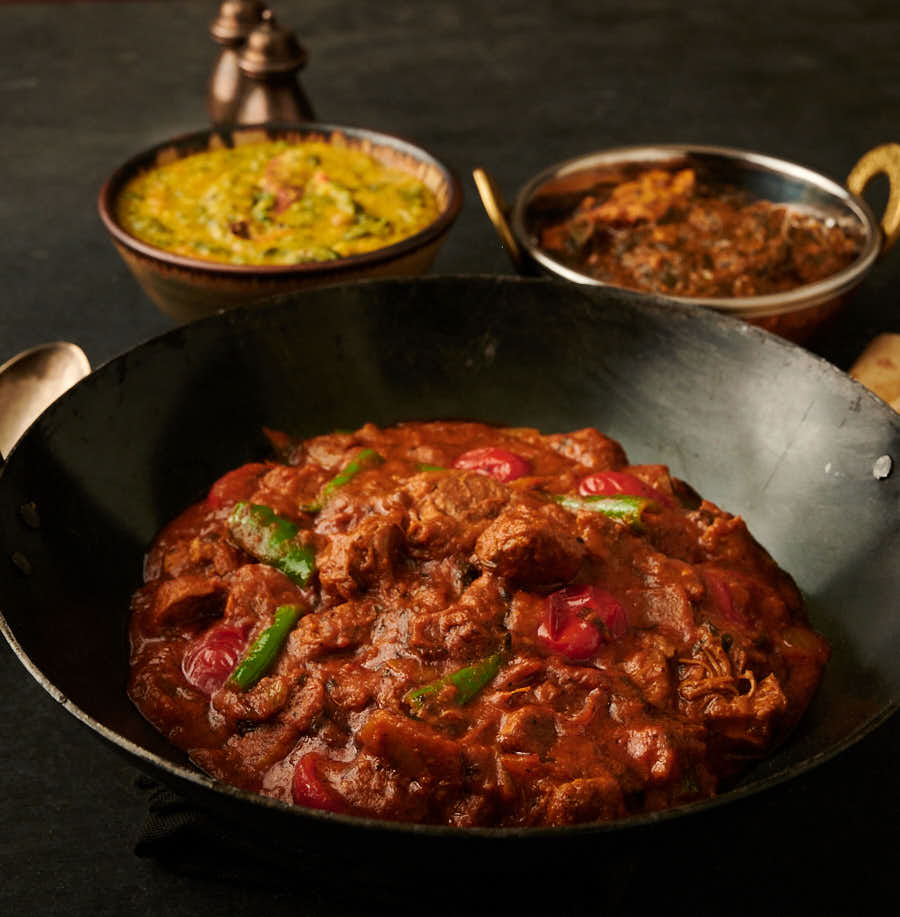 Technically I think it's supposed to be a dry curry. Fried spices and meat left to stew in their own juices. That sounds amazing to me. But doesn't line up with what you get in restaurants.
So I have my own definition. Onion. Tomato. A spice flavour profile that's bold but not way out there. Deep flavours.
Green chilies and onions. A little bit sweet. A little bit tart. And lamb for the richness that only lamb can bring.
That's my lamb bhuna. Done hotel style. Call the curry police if you have to. But I'm going with it.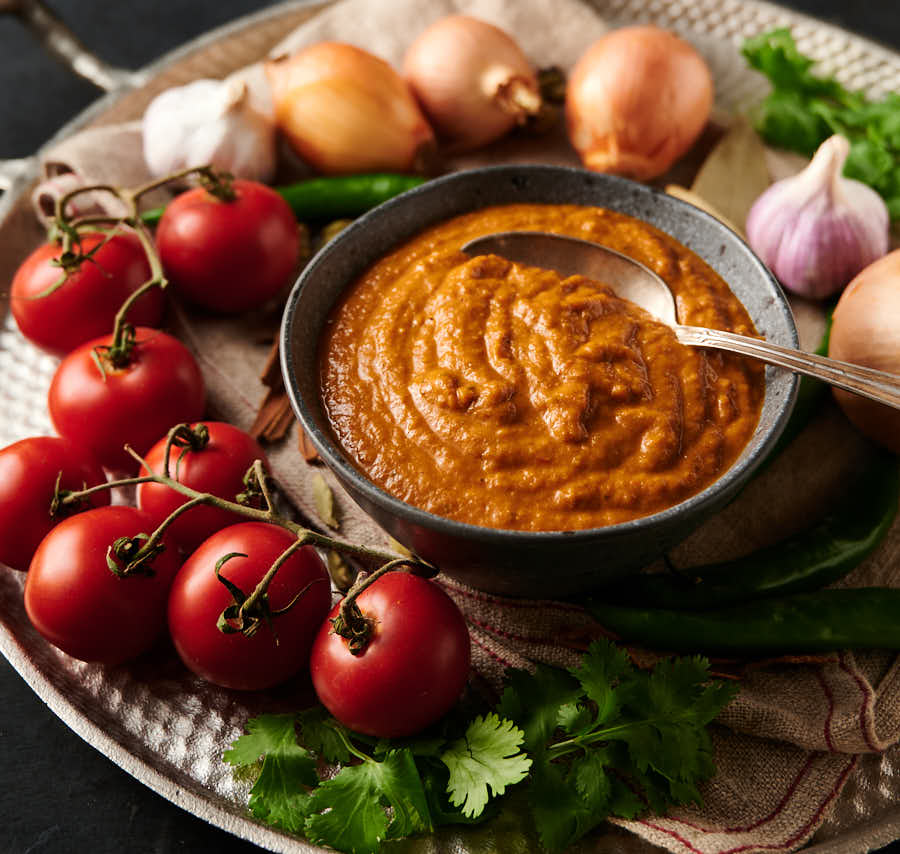 A tale of two gravies
This is the first of the dual gravy recipes. Told you it was coming. The right tool for the job. And more than one tool when needed.
The backbone is hotel gravy. That's where the deep flavour comes from. If you haven't checked out hotel gravy it's definitely worth a look. Game changer I think.
And for the tomato I'm using makhani gravy. Sort of. It's makhani gravy without the butter and cream. Cashews optional. So technically not makhani gravy. More of a tomato masala.
Same recipe though. Just don't add the cream and butter at the end when you make the gravy.
That's what I do when I make "makhani" gravy. Take it to the point right before the dairy goes in. Add the butter and cream when I need it. That way it's two gravies in one.
See what I mean? The right tool for the job.
Cashews are optional because I'm allergic. So I can't use them. Well, I guess I can but it's really, really unpleasant. So I don't.
The hotel butter chicken rocks without cashews. And so does this lamb bhuna.
You could use passata instead I suppose. Wouldn't be quite as good though. And the makhani gravy is really easy to make. And fast. So I always go for it.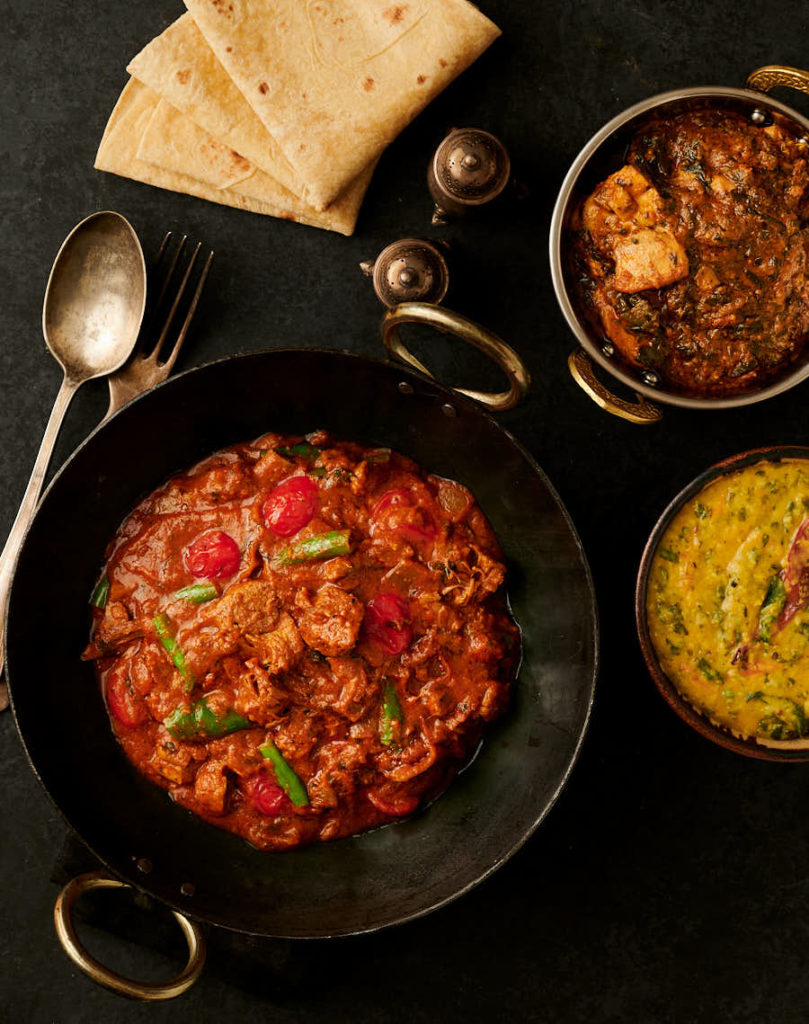 The secret is in the prep
This is high end restaurant cooking. And it takes real prep. Don't think you can start this recipe an hour before dinnertime.
Four hours before maybe. If you're organized. And you're comfortable running things in parallel.
Hotel gravy is probably at least an hour. And you have to pay attention. This isn't like regular curry base. You need to brown the onions to get the flavour. No walking away while that's going on.
Makhani gravy is easier. Toss some stuff in a pot and simmer. Puree. Done. But it takes time.
Pre-cooking the lamb is easy. But lamb is tender when it's tender. There's no rushing it.
So that's three pots going at once. If you are super organized maybe you could pull it off in around 2 1/2 hours. Plus clean up.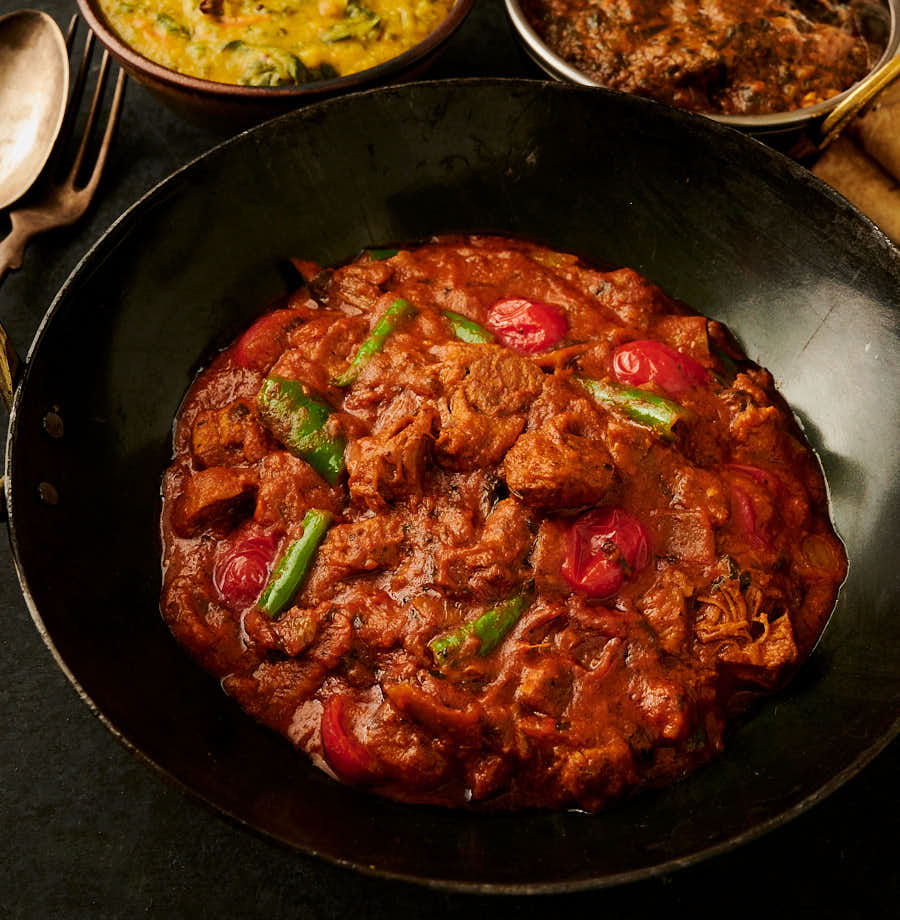 Think like a restaurant – it will save your sanity
You could try to kill yourself and do it in one day. It is doable if you are determined.
Or you could take a more restaurant approach. Restaurants do their prep during the day. So everything is ready at service. And then cook to order.
That's sort of how I do it. Except I don't do it all in one day. Make the hotel gravy one day. The recipe makes enough for 8 curries. Freeze it in one cup portions. So it's ready when you need it.
Make the makhani gravy another day. Or even the day you make this lamb bhuna. Freeze it in half cup portions.
Batch cook lamb. Portion it out and freeze it too. If you want to do this you really need a vacuum packer. Freezer burn awaits those that don't remove all the air. Or you can cook it the day you serve. Up to you.
Do your prep. That way you can make lamb bhuna on a Tuesday night. For real.
Lamb bhuna hotel style
This is serious cooking. But you get a serious lamb bhuna at the end. It's real work. And it's totally worth it.
Hotel style. For when you want what they are serving at the best Indian restaurants.
Lamb bhuna – Indian hotel style
Lamb bhuna done hotel style delivers a seriously tasty curry.
Ingredients
Pre-cook your lamb
12

oz

lamb

I like shoulder best. Cut into 1 to 1 1/2 inch pieces.

1

tsp

curry powder

or mix powder if you prefer

1

tsp

kosher salt

– you want fairly salty to season the lamb. You will be discarding the cooking liquid. Most of it anyway.

1

cup

chicken stock

– enough to cover
The spice mix
2

tsp

coriander powder

1

tsp

cumin powder

– you can get this at your Indian grocer

1/2

tsp

turmeric powder

1

tsp

kashmiri chili powder

1

tsp

kasoor methi

– dried fenugreek leaves

1/2

tsp

kosher salt
lamb bhuna
4

tbsp

vegetable oil

– any neutral oil is fine.

1/2

onion

– coarsely chopped

2

green chilies

– jwala chilies, seeded and diced.

2

tbsp

cilantro stems and leaves

– finely diced

1

tbsp

garlic ginger paste

– recipe link below

the spice mix from above

1

cup

Indian hotel curry gravy

– recipe link below

1/2

cup

makhani gravy

– recipe link below. Without the butter or cream. I use the cashew free version.

the pre-cooked lamb

1/2

tsp

tamarind paste

– or tamarind pulp if you make it yourself.

1/2

tsp

jaggery

or brown sugar

3-4

cherry tomatoes

halved
Instructions
Do your prep
Make your spice mix. Chop your green chilies and onion. Mince the cilantro.
Pre-cook the lamb
Add the lamb, curry powder, salt and chicken stock to a saucepan. You want enough stock to fully cover the lamb. 1 cup is a guess. I don't know how big your sauce pan is. Try to pick one that isn't way too big.

Bring to a simmer. Cover. Cook until the lamb is tender. Keep an eye on the liquid level. You want the lamb submerged the whole time. This should take somewhere around an hour for lamb shoulder. Depends on how big your lamb chunks are. Also depends on the lamb. You are making stew. It's done when it's done I'm afraid.

Drain. Set the lamb aside. You can do this the day before if you'd like. You can also use this stock to dilute your final curry if you like. No sense wasting flavour. It's pretty salty though so you need to roll back on the salt in the spice mix and season to taste at the end. Maybe drop the salt to 1/3 tsp and tweak if needed.
Make the lamb bhuna
Heat the oil in a medium sized frying pan until the oil just starts to shimmer.

Add the chopped onion. Cook until it just starts to colour up.

Mix in the cilantro and green chilies. Cook for another 30 seconds or so.

Stir in the garlic ginger paste. Gently fry until the garlic ginger paste stops sputtering. This is the only messy step.

Turn your heat down to medium low and add your spice mix. You want to fry the spices in the oil. This is why it's important not to skimp on the oil. The oil helps keep the spices from sticking and burning (really bad). You are also making spiced oil here and that spiced oil will carry flavour into every bite (really good).

Add the Indian hotel and makhani curry gravy. Stir it really well to get the oil to combine with the curry gravy. You want everything mixed together at this point. Bring to a simmer.

Add the tamarind paste, the sugar and the lamb.

Cover loosely and cook for about 5 minutes.

If the sauce looks a little too thick for your taste at this point (technically this is supposed to be a thick curry) add enough water or some of the leftover lamb stock. If you use the lamb stock remember to watch your salt levels. Bring back to a gentle simmer. Cook for another two or three minutes. You want that lamb flavour to infuse the sauce.

Add the cherry tomatoes and cook until they are just warmed through.

Serve with rice or Indian flatbread. I like a tarka dal or chana masala on the side. But I always like a tarka dal or a chana masala on the side so I am hopelessly biased here.
Notes
Make your Indian hotel curry gravy ahead of time. It takes time to make so think about doing it the day before.
You can swap out passata for the makhani gravy/tomato masala but it's not quite the same.
For maximum flavour you should consider making your garlic ginger paste from scratch.
Chicken bhuna
If you want to make this with chicken you can add raw chicken thighs in place of the lamb. Nestle the chicken into the sauce and cook for about 5 minutes on one side. Flip the pieces and continue cooking until you get an internal temp of 170F. This should take another 8 minutes or so.
The chicken will throw a fair bit of liquid as it cooks (lots of flavour in that liquid) so the curry will be a bit runnier. If you like a runny curry cover the pan when you cook. If you want it thicker leave the cover off to let some of the liquid evaporate.
Nutrition
Serving:
2
servings
|
Calories:
783
kcal
|
Carbohydrates:
13
g
|
Protein:
32
g
|
Fat:
67
g
|
Saturated Fat:
24
g
|
Trans Fat:
3
g
|
Cholesterol:
124
mg
|
Sodium:
894
mg
|
Potassium:
674
mg
|
Fiber:
4
g
|
Sugar:
6
g
|
Vitamin A:
445
IU
|
Vitamin C:
14
mg
|
Calcium:
74
mg
|
Iron:
5
mg