Weeknights don't need to be boring. You can whip up a Korean beef bowl in around 40 minutes.
Dinner on the table in less time than it takes to order in. A whole lot less expensive too I bet.
And it scales. Feed a crowd if you need to. No problem. Just up the quantities.
Might need to cook the beef in batches. So it browns instead of steams. But everything else scales perfectly.
Korean beef bowl is like super simple bibimbap
That's kind of how I think of Korean beef bowl. A simple way to make bibimbap. Really easy. Speed fix. Not quite authentic. But close enough for Tuesdays.
You could even just make the beef and serve it on rice. A little kimchi on the side. Pretty tasty. I'd eat that. And smile.
But I like it better with a couple banchan. And a couple different drizzles. A little extra flash. For not a lot more work.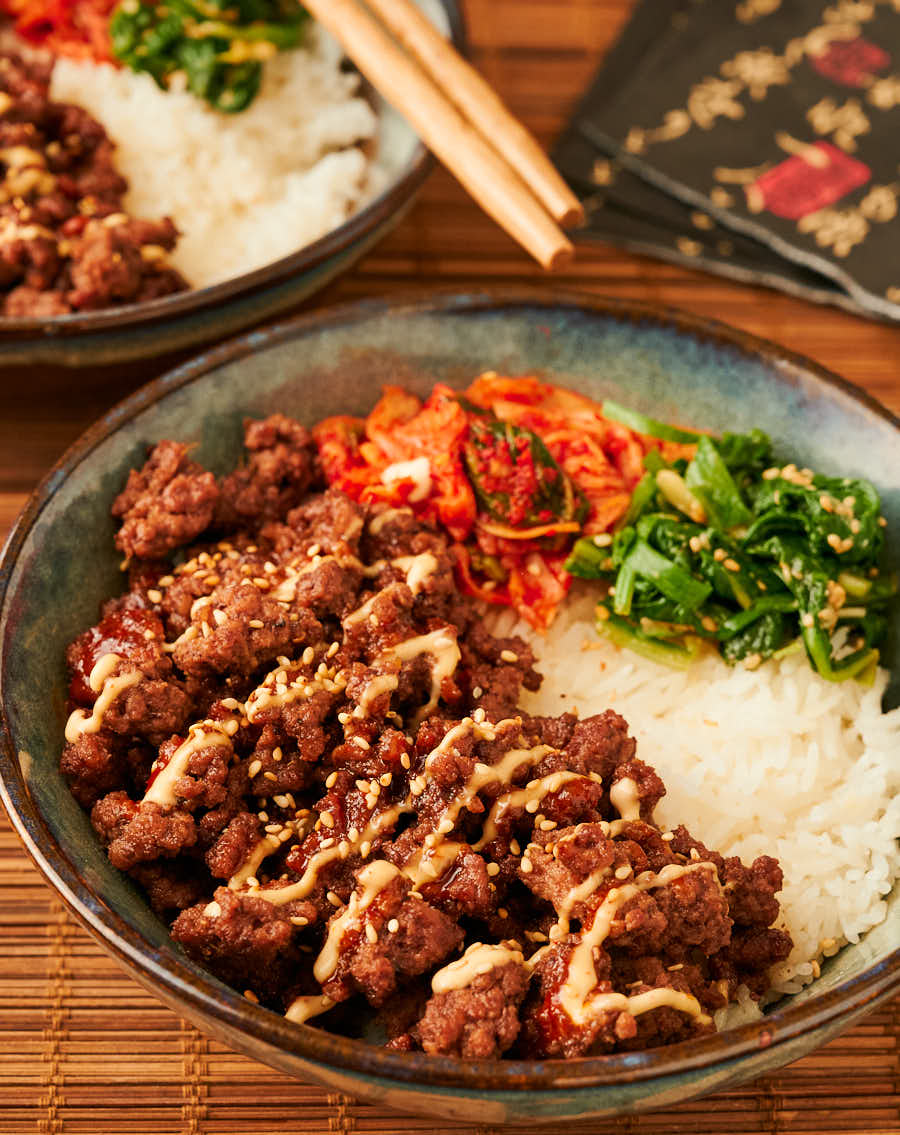 Use whatever banchan you want
Banchan is the name for all those funky condiments served with rice. The army of little side dishes they put out at Korean restaurants
Kimchi is probably the most famous. And for me it's essential to Korean beef bowl. But there's no reason you can't add others.
Kimchi is easy where I live. They sell it at the regular grocery stores now. It's arrived. It's a thing.
For other flavours you might have to do a little more work.
There are all sorts of goodies in the coolers at your local Korean grocer. Have a look. Assuming you have a local Korean grocer I guess. I'm lucky that way.
If buying banchan isn't an option you can make your own. Banchan don't tend to be a lot of work. But they will push you past the 40 minute mark.
If you have no idea what I'm talking about go to a Korean restaurant. Order something that comes with banchan.
15 little bowls of delicious. A bowl of rice and an army of banchan is good living. Nothing else required.
I bought the kimchi. But I made the marinated spinach. It probably took me as long as making everything else in this dish.
You'll have a pretty big mess on your hands if you try to get this done too and still hit the 40 minute mark.
Better to do it the day before. Or just buy it. The spinach recipe is from Serious Eats if you're wondering.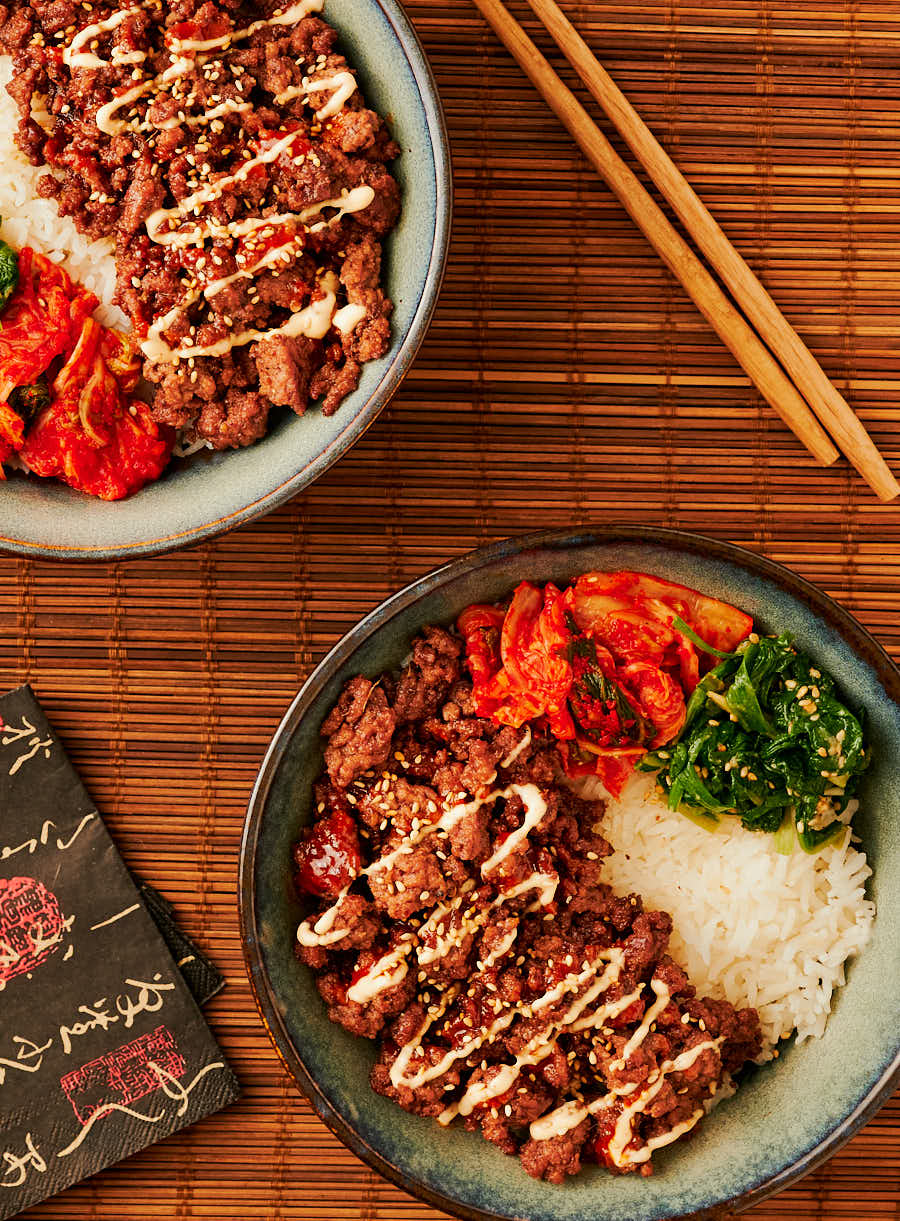 It has to be sticky rice
If you want to eat Korean beef bowl with chopsticks you are going to need sticky rice. Straight jasmine isn't going to cut it.
It's a double whammy. Rice and ground beef is tough. Not easy unless you are a chopstick grand master.
But a big part of the flavour is in the sauce. And that sauce has the juices from browning the beef.
And those juices coat the rice. So they separate into individual grains. About impossible to pick up with chopsticks.
See what I did there? I called the rendered beef fat "juices". To soften the blow. Because the beef fat is a huge part of the flavour.
Embrace it. Live a little. It tastes good. Fat tastes good. Thank you Julia Child for showing us the way.
Use lean ground beef though. Medium is pushing it. Even I think that's too much.
So you have a choice. Give up on chopsticks. Or make sticky rice.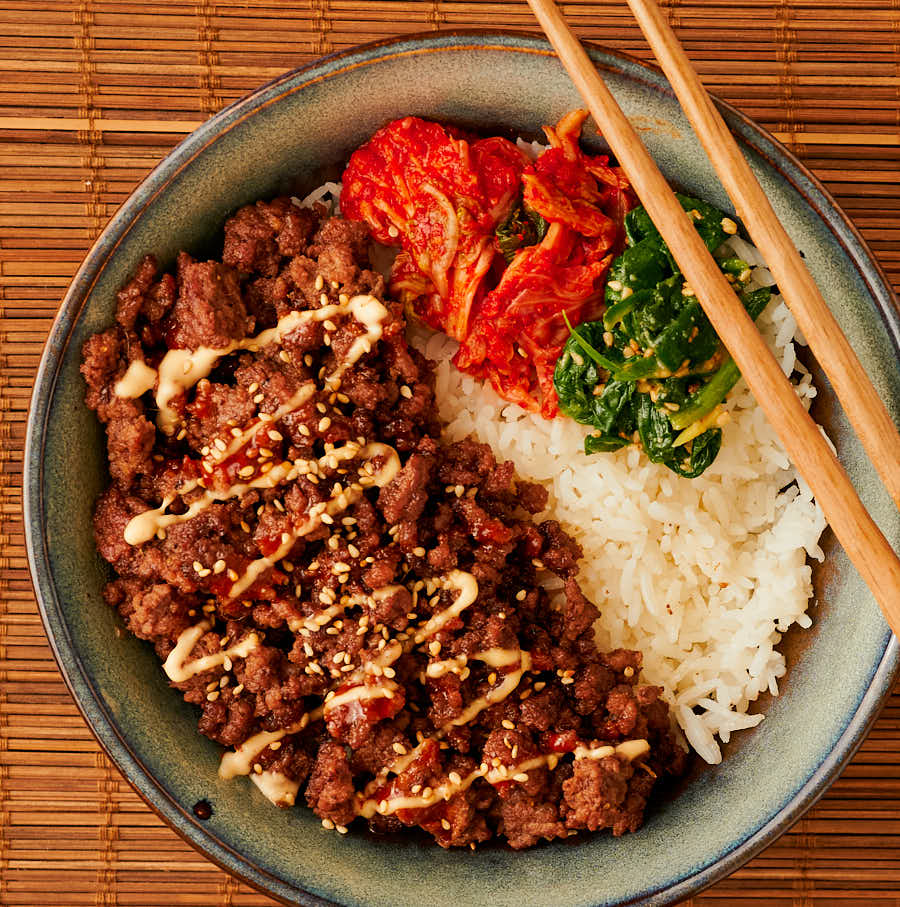 An easy way to make sticky rice
There's the real way to make sticky rice. Soaking. Steaming. Special gear.
It's magical stuff. But it's not weeknight cooking. Not for me anyway. If it is for you go for it.
There's an easier way. Might not quite have all the magic. But at least you'll be able to get the rice to your mouth. With chopsticks. And eat your dinner in less than an hour.
I didn't invent this. It's an undocumented trick. I heard from a friend. Not sure why it's not a thing.
Or maybe it is a thing. And I just can't come up with the right search terms. Don't know. But I do know it's easy.
There's this stuff called glutinous rice. Or sweet rice. You can get it at Korean groceries.
Straight up it's like making a rice hockey puck. Or whatever sport uses a puck where you live. Not great.
But if you use a little bit. Mixed in with the jasmine rice. Then you have something that works in a Korean beef bowl.
And it's no more work than making the rice you were going to make anyway. I call that a win.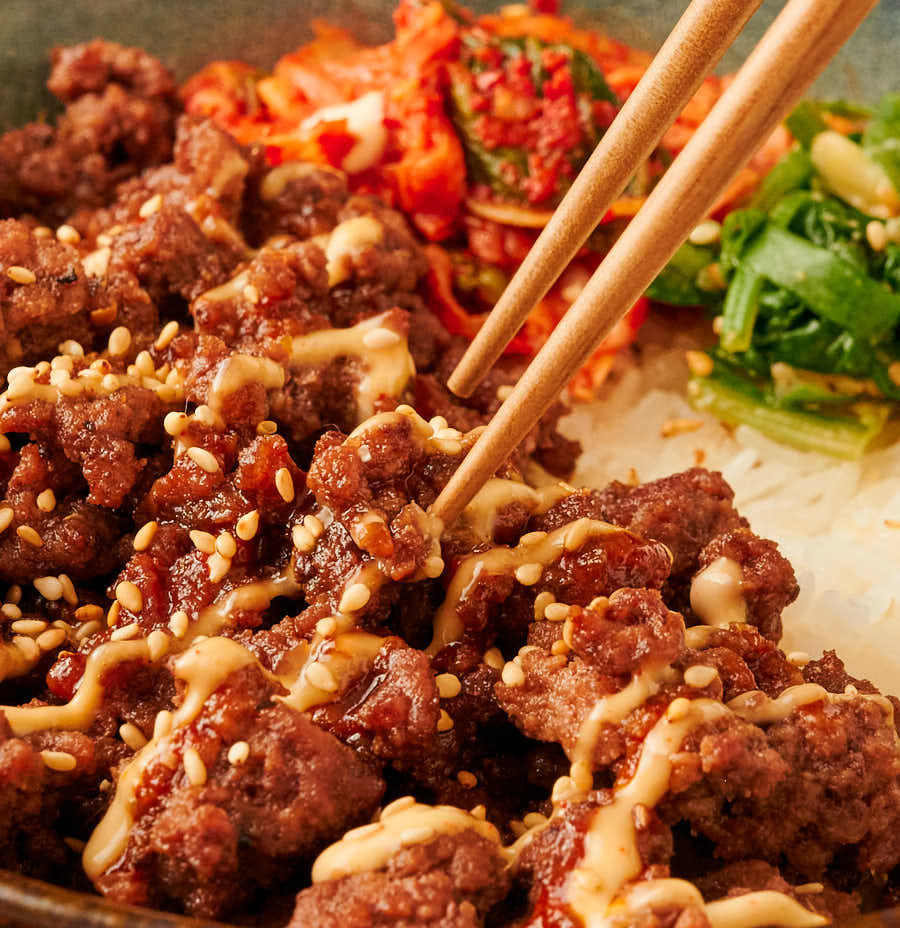 Food truck style Korean beef bowl
If I had a food truck I'd serve this. And I'd want it to stand out. A little wow. To keep them coming back.
So there's two drizzles. But one is a variation of the other. So it's not a big deal. Like they do in restaurants. Or food trucks I guess.
The first is the gochujang drizzle. It's a red sauce. Big flavours. Wake your mouth up type flavours.
You don't need the second drizzle. But it's fun. And it adds a little creaminess.
You ready? It's just a bit of the gochujang drizzle with some mayonnaise and a bit of sour cream to lighten it.
Not even homemade mayonnaise. Hellmans. Or Duke's I guess. If you're lucky enough to live where they sell that.
Just not that sandwich spread stuff that calls itself a miracle though. That stuff is not mayonnaise.
Weekend flash for weeknight cooking
This isn't as complicated as you think. Mix up a sauce. 3 minutes. Fry some hamburger. Under 10 minutes. Make a drizzle or two. 5 more minutes. Cook some rice. Well – that takes as long as it takes.
It is totally doable during the week. Korean beef bowl. For when you want better than takeout. On a Tuesday. Seriously.
Korean beef bowl with gochujang drizzle
The gochujang drizzle gives this Korean beef bowl a little extra kick.
Ingredients
simple bulgogi style sauce
1/4

cup

soy sauce

1/4

cup

brown sugar

2

cloves

garlic

crushed

1/2

inch

piece of fresh ginger

grated on a microplane

1

tsp

sesame oil

pinch

black pepper
easy sticky rice
3

tbsp

glutinous rice

also called sweet rice.

13

tbsp

jasmine rice

1 cup less three tablespoons. Put the three tablespoons of glutinous rice in your measuring cup and top it up with jasmine rice. Easy.

1

tsp

kosher salt

– a little less if you are using regular table salt

1 1/2

cups

water
gochujang drizzle
2

tbsp

gochujang

1

tbsp

sesame oil

1

tbsp

water

2

tsp

rice wine vinegar

2

tsp

brown sugar

2

tsp

soy sauce

I like Thai thin soy for this recipe but a good Japanese soy works well too.
Creamy gochujang drizzle
1

tbsp

mayonnaise

1

tsp

sour cream

gochujang drizzle

to taste. Maybe a teaspoon or so.
korean beef bowl
12

oz

lean ground beef

2

tbsp

vegetable oil

banchan of your choice to serve

– I think kimchi is a must

white sesame seeds to garnish
Instructions
Make the simple bulgogi style sauce
Mix the soy and brown sugar in a small saucepan. Warm until the sugar fully dissolves.

Let cool and add garlic, ginger, sesame oil and black pepper.
Red gochujang drizzle
Combine all the ingredients. Mix completely. Set aside.
Creamy gochujang drizzle
Combine the mayonnaise and sour cream.

Add a bit of the red gochujang drizzle. Taste. Decide if you want more. A teaspoon or so should get you to where you need to be. You want a lighter counterpoint to the beef and red drizzle so don't go crazy here.
Easy sticky rice
Combine the glutinous rice with the jasmine rice. The easiest way to do this is to put 3 Tbsp glutinous rice in the measuring cup and add enough jasmine to make up one cup total rice.

I use a rice cooker for this. Shame on me. Toss everything in a rice cooker. Hit a button. Wait. Perfect rice every time.

If you don't have a rice cooker it's a little trickier because jasmine cooks faster than glutinous rice. Combine the rice, salt and water in a saucepan that has a lid. Bring to a lively simmer. Reduce the heat to low, cover and cook for the time specified for the jasmine rice (around 12 minutes). Let stand 5 minutes. Try this once with whatever rice you get to make sure everything works for you before going for it at dinner.
Korean beef bowl
Add the oil to a frying pan that is large enough to hold the beef and sauce.

Add the beef, breaking it up into small pieces, and brown. You need to make sure you cook the beef through. Underdone ground beef is not to be trifled with.

When the beef is done add the simple bulgogi sauce and stir. Simmer for a couple minutes.

To assemble your Korean beef bowls put a layer of rice in each bowl. You might not need all the rice – unless you are really hungry. Beef goes on the rice, then the drizzles. Spinkle the beef with sesame seeds and garnish with the banchan of your choice.
Notes
You probably won't need all the rice. 1 cup cooked for two people is a lot of rice. For really big appetites.
Nutrition
Serving:
2
servings
|
Calories:
979
kcal
|
Carbohydrates:
113
g
|
Protein:
47
g
|
Fat:
37
g
|
Saturated Fat:
10
g
|
Trans Fat:
2
g
|
Cholesterol:
109
mg
|
Sodium:
3303
mg
|
Potassium:
894
mg
|
Fiber:
2
g
|
Sugar:
33
g
|
Vitamin A:
49
IU
|
Vitamin C:
4
mg
|
Calcium:
93
mg
|
Iron:
6
mg