Tandoori masala is a little bit of Indian BBQ fairy dust. The stuff that makes grilled chicken magic. Or lamb chops crazy tasty.
You can buy tandoori masala. Just about anywhere. Every Indian grocer on the planet sells it.
Super convenient.Comes in a nice neat container even. But it has a fatal flaw. And I just can't take it anymore.
There is too much salt in commercial tandoori masala
And that makes me a little crazy. Commercial tandoori masala is made to season meat right before it hits the grill. Nothing else.
So it's salty. Like commercial dry rubs. Or cajun spice. Salt is sometimes even the first ingredient.
It works. It's ridiculously expensive for something that's mostly salt. But it works. A one trick pony. A good trick. Grilled chicken likes salt.
But it is a real pain when you want to use it as an ingredient. In a chicken tikka masala for instance.
You have to figure out how it will impact your salt balance. That's the part that drives me crazy.
And every brand is different. Some have more salt than others. Some use a mix of salt and MSG. Two separate ingredients. So they go lower on the list of ingredients. Sneaky.
Makes it really hard to write recipes. One brand works but another one is way too salty. That's why I am doing this post. I'm tired of being limited.
I'm working on a hotel style chicken tikka masala right now. And commercial tandoori masala is messing with my ability to get the results I want. So it has to go.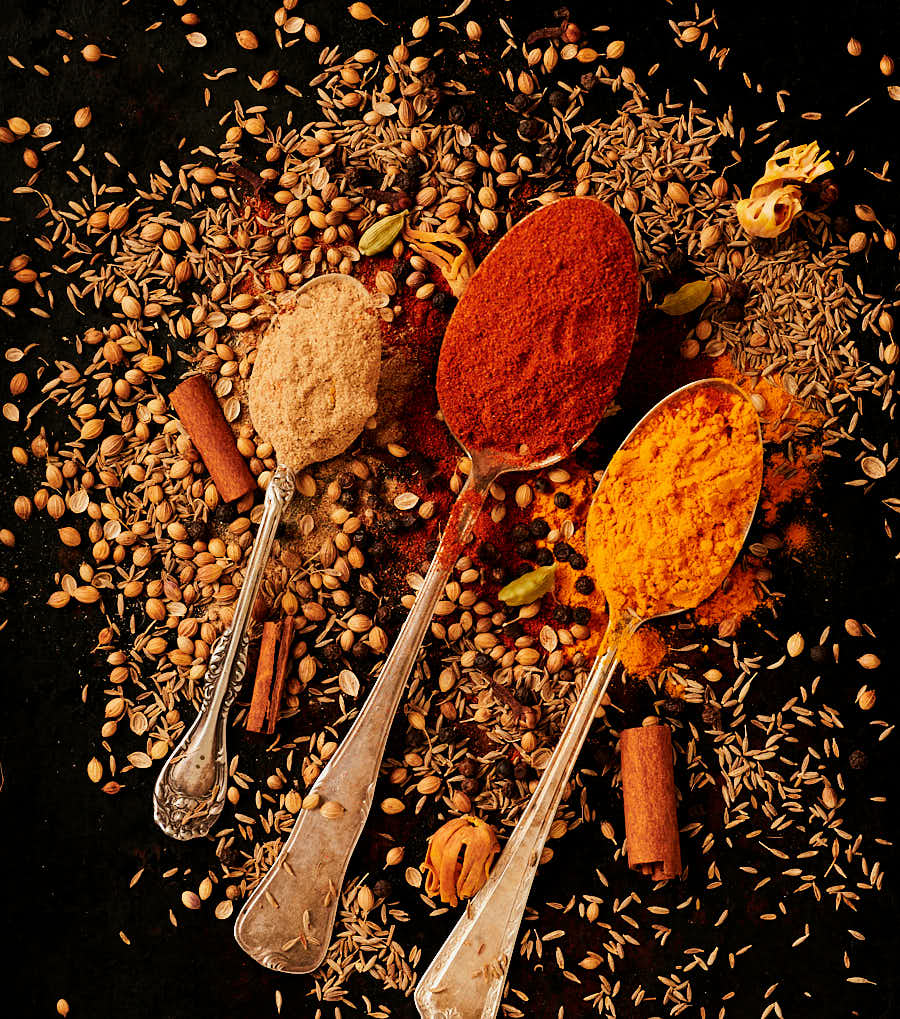 Amchoor is the secret ingredient
I thought a lot about this recipe. Tasted a lot of spice mixes. Ate a fair bit of tandoori chicken. Not a hardship. I love tandoori chicken.
I came to the conclusion that the error bars on tandoori masala are pretty big. A little more of this. A little less of that. Doesn't make a huge difference.
Except for one ingredient. Amchoor. Ground dried mango powder. There's a tang to tandoori masala. It's important. Critical even.
That tang has to come from somewhere. Cheaper blends use citric acid. The better ones use amchoor. I'm going with amchoor.
Red doesn't mean anything
Tandoori chicken is red. Right? It's always red. Here's the thing. It's really supposed to get its colour from a whole lot of chili powder, paprika and turmeric.
That's the awesome version. Maybe not for the faint of heart though. So the watered down version uses food colouring.
Food colouring adds no flavour. None. Looks good though. It's what people expect to see.
Think of red icing. Does that taste like tandoori? No? Same stuff. Zero added flavour. Literally. Pure cosmetics.
I don't know where it started. It has to be bright red/orange or it's not tandoori. Why is that even a thing?
I'm feeling the shame here though. The hypocrisy is almost more than I can bear. Almost. I'm bad. I use food colouring when I take pictures for glebekitchen.
Terrible. I know. But red sells. Nobody would care otherwise. Which is unfortunate. But also fact. I am guilty of propagating the myth.
I'm going to stop. Enough is enough. Truth in tandoori chicken here from now on. Well mostly anyway. Like I said. Red sells.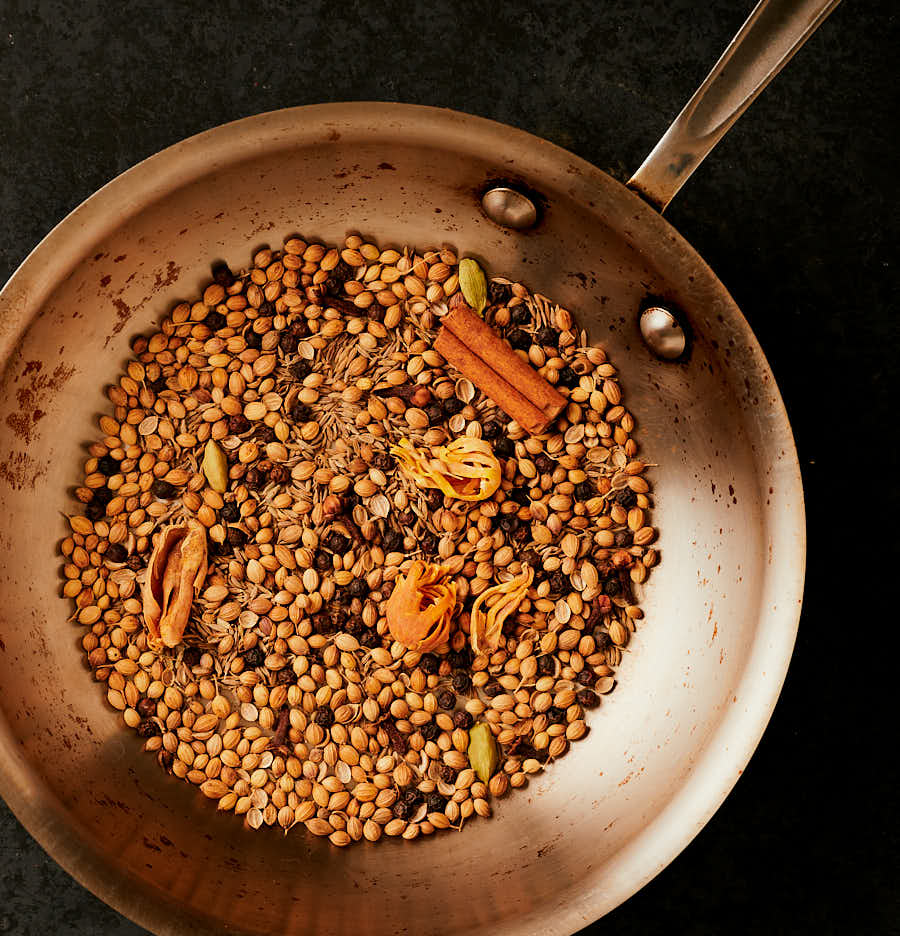 Fresh ground spices make a big difference
I'm not sure it's possible to overstate how big a deal freshly ground spices are. Game changer. Mind blower even. Huge.
I clearly remember the first time I did it. Was a long time ago. My memory sucks. I don't remember what I had for breakfast this morning.
But I remember that first bite. A simple chicken curry. An extraordinary chicken curry.
I don't always do it. It's work. I'd have some of the best recipes on the internet if I asked everyone to grind their spices for every dish.
I'd also have the smallest audience on the internet. So I try to keep it in check. It's a balance. I save it for when it really matters.
There's a time and place for everything. Your kitchen is the place. This is the time. Tandoori masala is so worth the effort. Try it. You'll see.
Small batches are best for tandoori masala
This recipe does not make a lot of tandoori masala. And there's a reason for that. The wonder that fresh ground spices brings does not last forever. It fades.
It does scale though. If you need a lot of it just use the slider in the recipe card. You can make a kilo of it if you want.
I like to keep my batches small. Use it up. While it's still amazing. And then make some more.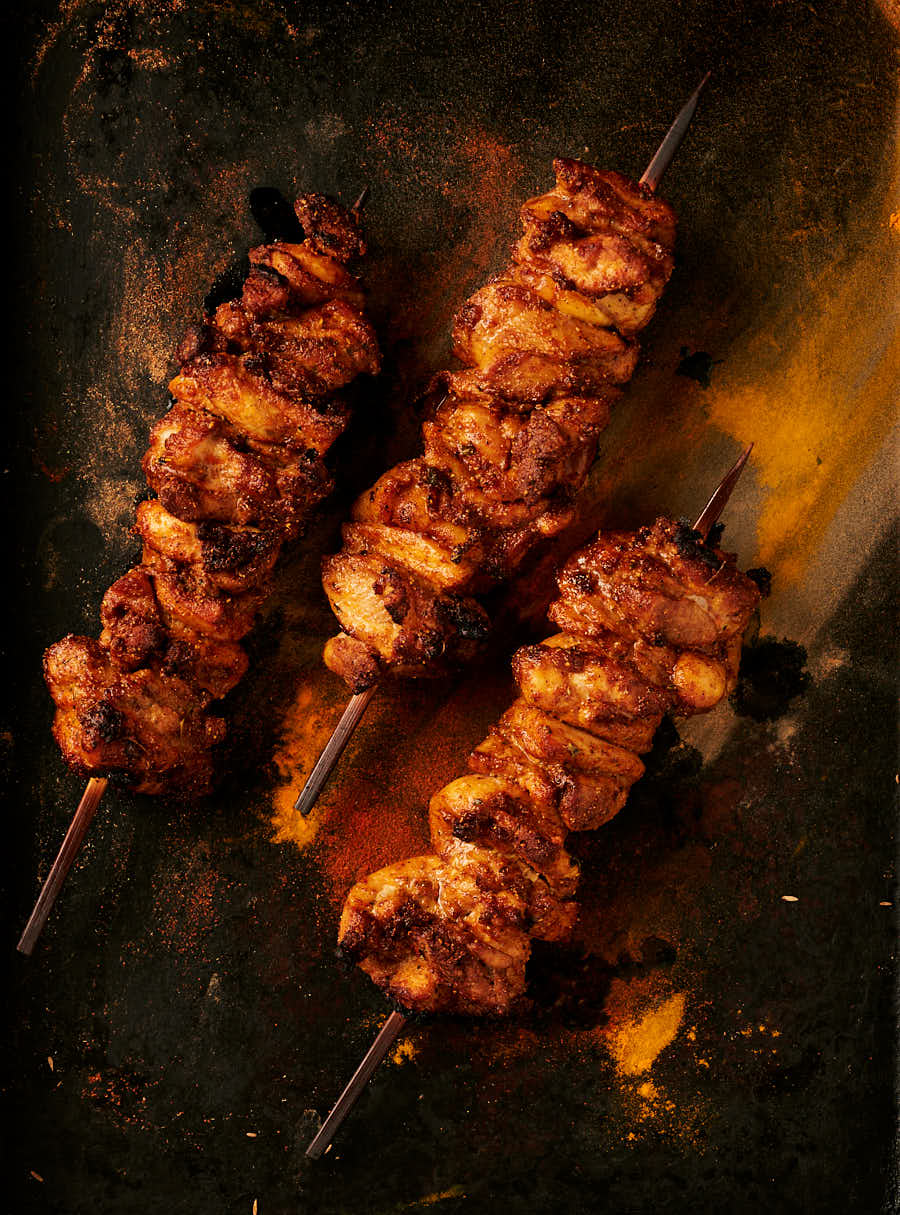 Tandoori masala from scratch
It's not hard to make tandoori masala. Dead easy really. If you can measure spices you can make it.
Toss some whole spices in a pan. Toast them until fragrant. Grind. Mix with some ground spices. That's it. Boiling water is more complicated.
You control the salt. You control the colour. And you enjoy the flavour that only fresh ground spices can bring.
If you are really hung up on eating red chicken then do it. A little red food colouring changes nothing. Flavour-wise anyway. Doesn't really matter.
We do first eat with our eyes. It's your kitchen. Your call. I'm about flavour. Colour is up to you.
Bottom line. If you want maximum flavour this is for you. Tasty stuff. Red or not.
tandoori masala
Tandoori masala is easy to make and fresh ground spices make it special.
Ingredients
whole spices
3

tbsp

coriander seed

1

tbsp

cumin seed

3

blades

mace

– about 1-2 grams

1

tsp

black pepper corns

1

inch

cinnamon

not cassia for a change

3

clove

3

green cardamom
ground spices
1

tbsp

paprika

for colour

2

tsp

kashmiri chili powder

1

tsp

turmeric

4

tsp

amchoor powder

1

tsp

granulated garlic powder
Instructions
Toast your whole spices
Pre-heat a small skillet over medium-low heat. Toast the spices, shaking the pan constantly, until fragrant. This should take about 2 minutes.

Allow whole spices to cool. Transfer to a spice grinder (I like my old blade style coffee grinder for this). Grind to powder.

Combine with powder spices and shake well to combine. Store in a glass jar in a cool, dark place.
Use your tandoori masala
You can use it as is in dishes calling for tandoori masala. You may need to up the salt. If a recipe calls for store-bought tandoori masala they are counting on the salt in the mix.

To make a simple tandoori marinade combine 3 tbsp tandoori masala, 1 tbsp garlic ginger paste, 2 tsp of salt, 1 tsp of kasoori methi and 1/4 cup of vegetable oil. A little naga pickle is nice if you like some extra heat. A little mint sauce is a nice touch as well if you have it. Stir to combine.

Pour over your chicken and mix. Marinate up to 4 hours. Squeeze the juice of 1/2 a lemon and mix again. BBQ. Preferably over charcoal. Or in your pizza oven to mix things up.
Nutrition
Serving:
8
tbsp
|
Calories:
227
kcal
|
Carbohydrates:
46
g
|
Protein:
7
g
|
Fat:
8
g
|
Saturated Fat:
1
g
|
Sodium:
94
mg
|
Potassium:
771
mg
|
Fiber:
16
g
|
Sugar:
5
g
|
Vitamin A:
4762
IU
|
Vitamin C:
6
mg
|
Calcium:
261
mg
|
Iron:
11
mg