There are chicken tikka masala recipes out there that are about garam masala and tomatoes. Or tomato soup. This is not one of those recipes.
This is the other end of the spectrum. Go for gold. Pull out all the stops. If you love chicken tikka masala you need to try this version.
Not everyone wants to go the distance. I get that. For some people tomato soup and garam masala is good enough.
I am not one of those people. If you are not one of those people read on.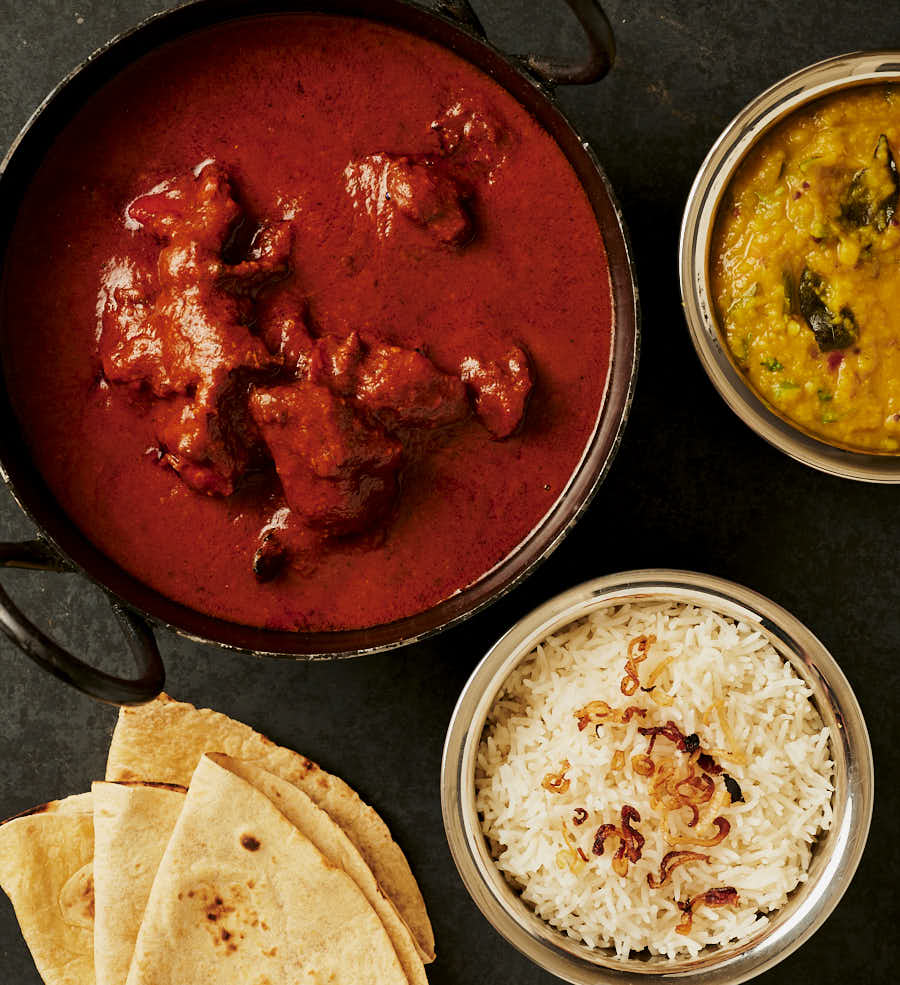 Chicken tikka masala has humble roots
Indian cuisine is old. It has history. Real history. Truly old world. Timeless. Migrating people. Merging of cultures. Locavores adapting. Absolutely fascinating.
Chicken tikka masala isn't part of that history. It's new. Relatively speaking of course. We are talking about a cuisine with a history that goes back millennia. More.
The best story I know is chicken tikka masala was invented in the 1970s. Which is pretty old. But not really. Spoiler alert. It doesn't even come from India.
Story goes like this. A bus driver goes to his local. Orders his regular. And decides it doesn't have enough sauce.
So he sends it back. The pivotal moment.
The chef has an ulcer. He's eating tomato soup. Like anyone with an ulcer would be eating tomato soup. Not my story. Just go with it…
The chef gets annoyed. Somebody is complaining about his masterpiece. And he's stuck eating canned tomato soup.
He tosses his leftover soup in the guys curry. "That'll shut this guy up" he's thinking. A waiter delivers the chefs wrath. And it happens.
Culinary history is made.
Myth? Probably. But it's a great story. What I really want to know is what curry the bus driver ordered. Anyone know that part of the story?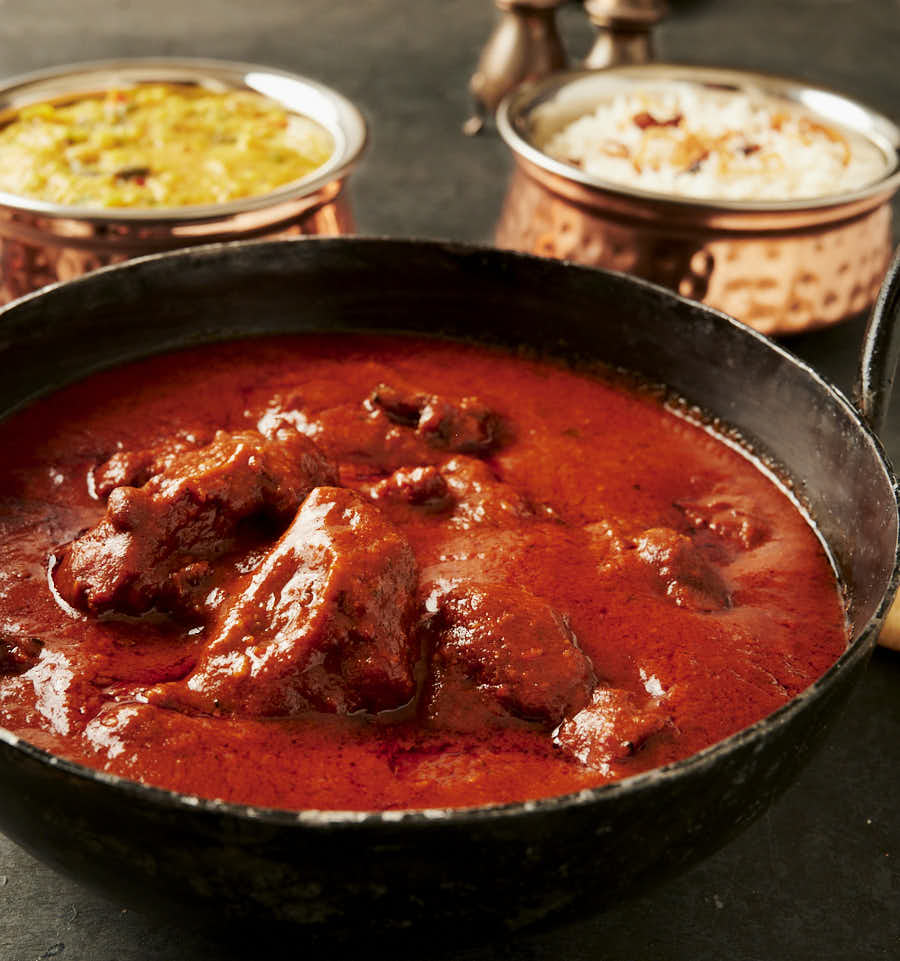 Choice of chicken tikka matters
This dish is about chicken tikka in sauce. Really good sauce. But sauce. So the chicken tikka has to be good.
Use whatever chicken tikka recipe you like. If it's good enough to stand on it's own it's going to be good enough for this recipe.
I'd push you to this version of chicken tikka. But I'm already asking a lot with this particular recipe. I get that maybe that's over the top. So I'm offering up a simpler version.
A little naga pickle really works in this version. If you can take the heat naga pickle is something you should consider. Such tasty stuff.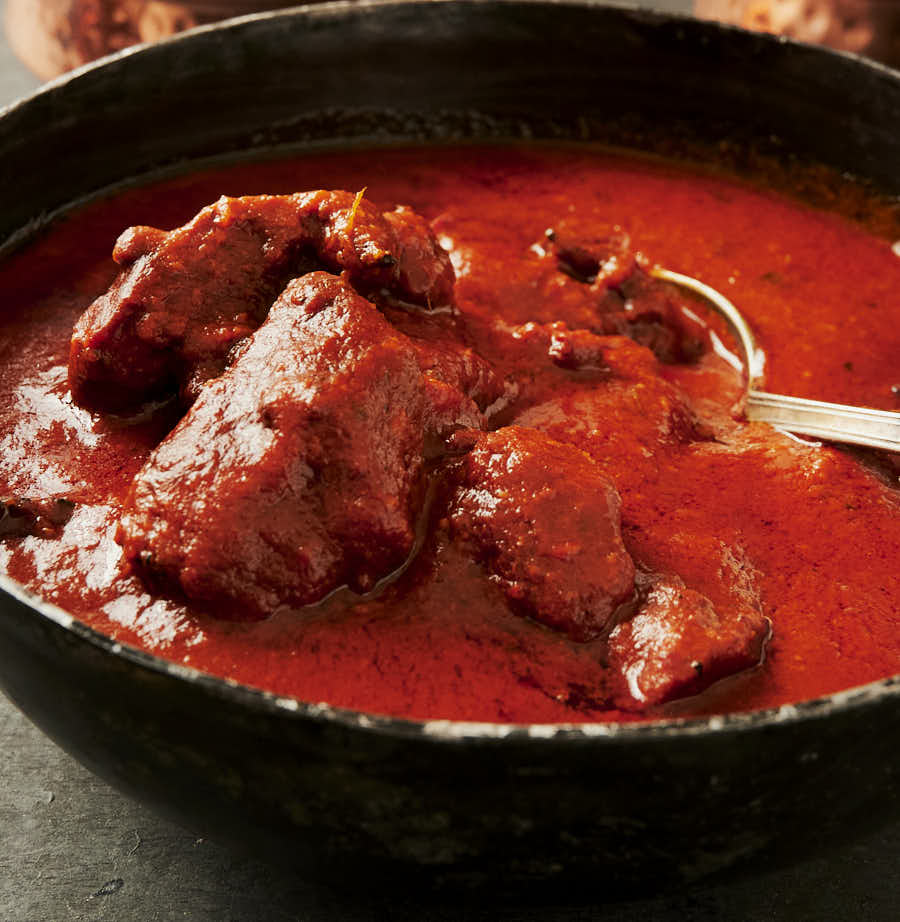 A little tang is nice
I like that tandoori tang in chicken tikka masala. But I don't think day-glo red is right for hotel style. This is posh. Day-glo isn't particularly posh.
So I had to limit the amount of tandoori masala that goes into this recipe. More tandoori masala. More red. A problem.
And the different brands of tandoori masala have wildly differing salt content. Another problem. I changed brands mid recipe development. And it messed everything up.
In the end I gave up. I stopped working on this recipe. And came up with my own tandoori masala.
Problem solved. You can still use commercial blends. You just have to be careful with how much extra salt you add. And be OK with how red your curry winds up.
I took these pictures using a commercial version. I thought I had it. The day I took pictures I tried a new commercial tandoori masala. And it was way too salty.
So if you make your version with the glebekitchen tandoori masala and it's not the same colour that's why. You'll get the colour I wanted to see.
I will take the pictures again. Glebekitchen is supposed to be what you see is what you get. Pictures of my dinner. Always.
But I've had a lot of requests for this recipe so I can't wait. And it was my dinner that night. Before I gave up on commercial masala. Please forgive me. Just this once.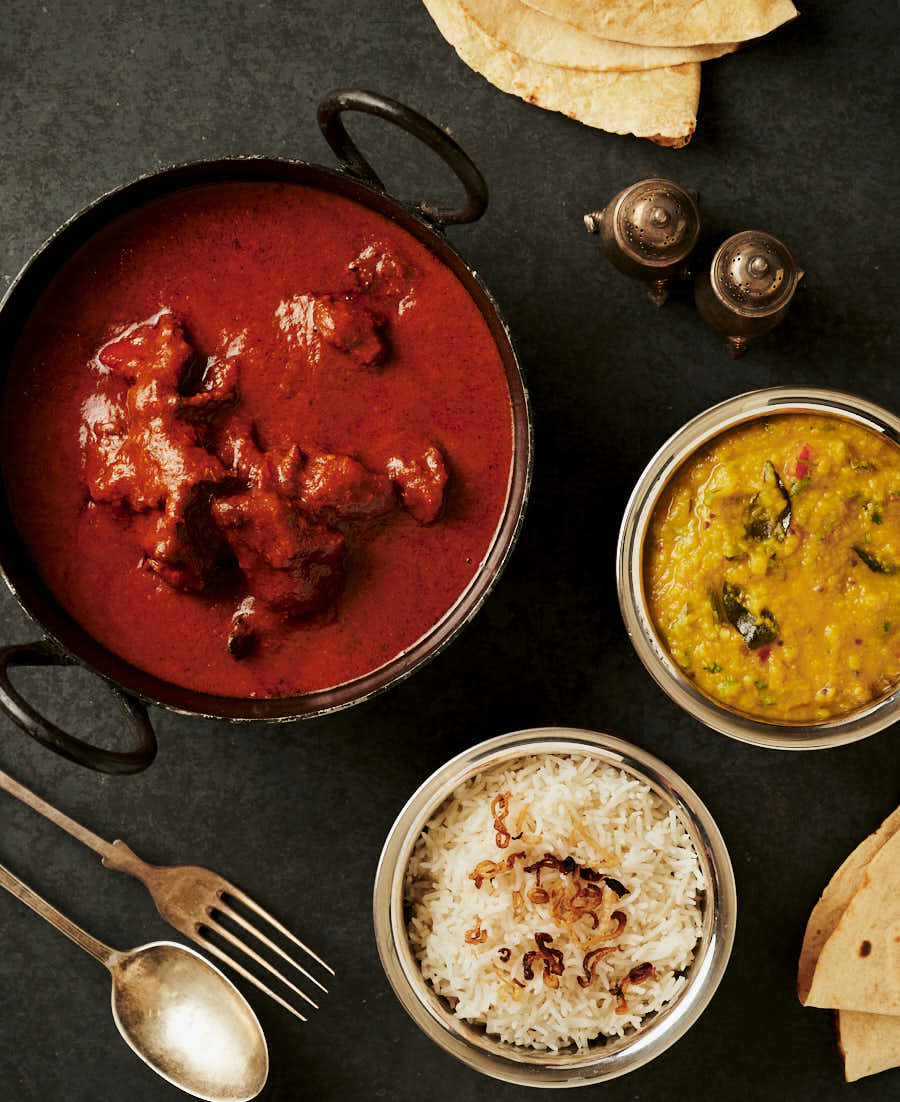 There are two gravies in this one
If you're new to hotel style cooking it's a little different from what you might be used to. If you cook restaurant style anyway.
Hotel style is super posh restaurant style. It's still restaurant cooking. Cooking to order. But it brings a more discipline.
The basic idea is the same. There's a gravy. It's the base of the curry. But it's a completely different gravy.
And in this chicken tikka masala there are two gravies. Yes. Two gravies. Think like a high end restaurant.
The sauces are foundational. Like French cooking. Which is why I love it. This is India meets Cordon Bleu. Like I said. Discipline.
There's an onion gravy. I call that hotel gravy. It's where the depth of flavour comes from.
And there's the makhani gravy. Rich tomato flavour. Tang. A little sweetness. Another layer of flavour.
Not really makhani gravy actually. Tomato gravy. Because you use the version without the butter and cream.

Two gravies. One serious curry.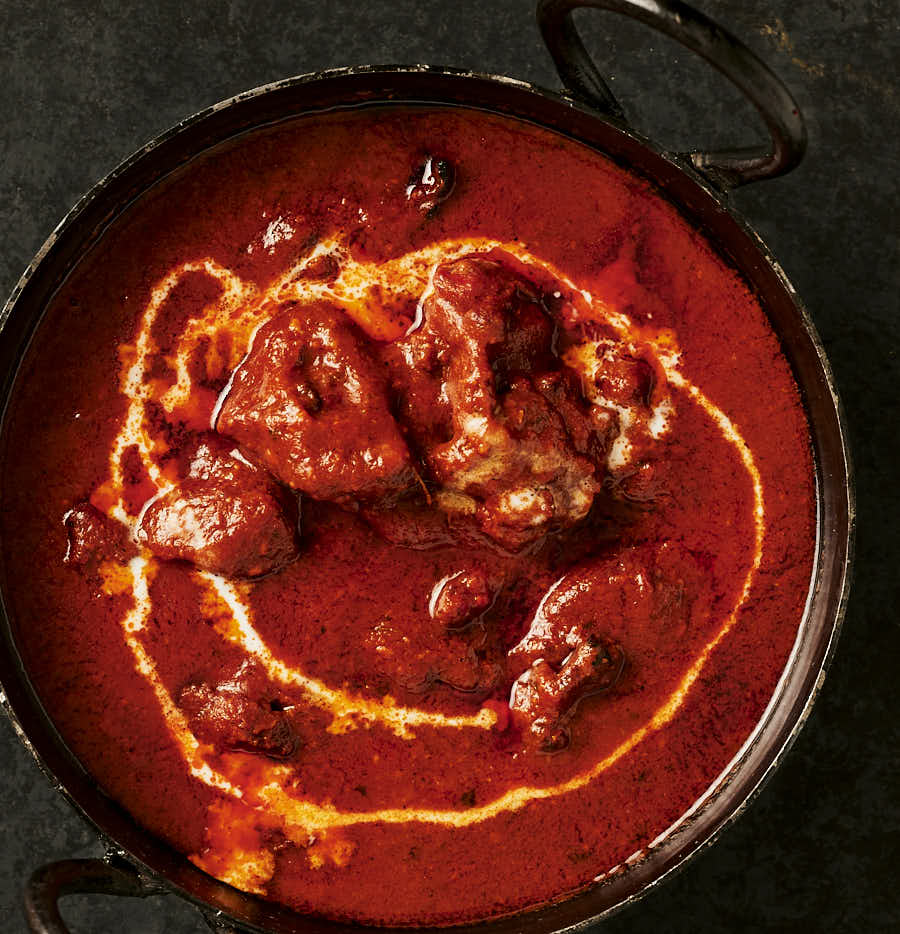 Chicken tikka masala – hotel style
This may be the most complicated chicken tikka masala recipe out there. I haven't looked that hard. But I wouldn't be surprised.
So I get that this one isn't for everyone. It's not for the those with a passing interest. Not for the Campbell's soup and garam masala crowd.
It is for those that are ready to go the distance. Those that are looking for something special. If that's you then this one might be what you're looking for.
chicken tikka masala – Indian hotel style
Tender tikka morsels, hotel gravy, makhani gravy, spice and coconut milk come together to make this one serious chicken tikka masala.
Servings
3
people as part of a larger Indian meal
Ingredients
Quick chicken tikka
1 lb

chicken thighs

boneless, skinless. Each thigh cut into 3 or 4 pieces

3

tbsp

tandoori masala

– you want a brand that isn't super heavy on the salt. Or you can make your own. See the link in the notes.

2

tsp

kasoor methi

1/4

tsp

naga pickle

– optional but so tasty if you can stand the heat

1

tsp

kosher salt

– an extra tsp of kosher salt if you are using the glebekitchen tandoori masala.

3

tbsp

neutral oil
The spice mix
2

tsp

tandoori masala

– same story as above.

1

tsp

turmeric powder

1

tsp

coriander powder

1/2

tsp

cumin powder

1/4-2

tsp

kashmiri chili powder

1/4 tsp is pretty mild. 2 tsp has a bit of kick. You decide.

1/4

tsp

amchoor powder

– dried mango powder

1 1/2

tsp

kasoor methi

– dried fenugreek leaves

1

tsp

kosher salt

– if you use the tandoori masala recipe below (no salt). If you are using a commercial tandoori masala I'd think about cutting it back to 1/2 tsp max and seasoning to taste at the end.
chicken tikka masala
1

cup

Indian hotel curry gravy

– link below

1/2

cup

makhani gravy

– without the added butter and cream (link below)

5

tbsp

neutral oil

– canola or vegetable oil

2

tbsp

garlic ginger paste

the spice mix from above

2

tsp

brown sugar

– I'm not crazy about sweet curries so if you like it sweet you can probably add a bit more.

1/2

cup

coconut milk

1/4

cup

heavy cream

– optional. The cream adds richness but also blunts the flavour. Go with what you prefer. I usually leave it out.

enough chicken stock to get you to the consistency you want

chicken stock is not cubes.
Instructions
Make your simple chicken tikka
Combine the tandoori masala, kasoori methi, salt and oil. Stir to combine. If you like a bit of spice a little naga pickle goes nicely in this mix.

Add the chicken thighs. Mix. Use tongs for this. This stuff stains. Badly.

Marinate anywhere from 1 to 4 hours.

While the chicken marinates, preheat your oven to 400F. Pre-heat a baking pan.

Use your tongs to place the chicken onto the pre-heated baking sheet. Return the baking sheet to the oven. Cook for around 6 minutes. Flip each piece and return the baking sheet to the oven. Continue to cook until the internal temperature of the chicken reaches 160-165F. This should take another 4-8 minutes or so. Really depends on how big your chicken thigh pieces are. When you've hit your target internal temp set the chicken aside.

If you can I do recommend using a BBQ. Asian groceries and restaurant supply stores sell these little wire mesh grates. They are awesome for grilling little pieces like tikka. No skewering required.

I strongly prefer charcoal over gas. Set yourself up for a direct zone and an indirect zone. Cook the chicken over the indirect zone until you get to an internal temp of about 150F then char the chicken up a bit over the direct zone. Those little Asian grill grates are really nice for this. You can just slide the grate, chicken and all from the indirect zone to the direct zone and back. Super handy. Remove the chicken when you get to 160-165F and set aside.
Make the hotel style chicken tikka masala
Make your spice mix. Measure out all the spices, kasoor methi and salt and toss them into a little bowl. It's all going in at once.

Pre-heat a skillet large enough to hold all the ingredients over medium-low heat. Pick a skillet that has a lid. Add the oil.

When the oil starts to shimmer add the garlic ginger paste. Cook, stirring continuously, until it stops sputtering. This part can get a bit messy. Stand back. You want to drive the water out and cook the paste a bit. You don't want it to colour up.

Add the spice mix. All of it. Stir to combine and fry for about 30-45 seconds. You want the spices to fry in the oil If it looks dry or it's starting to stick reduce the heat and add more oil. You are blooming spices. This is where the magic happens. If you don't have a really good hood fan your house should smell like an Indian restaurant at this point.

Add the hotel gravy and the makhani gravy. Stir to combine. Get the oil worked into the sauce. Cover and simmer for 5 minutes.

Stir in the coconut milk and brown sugar and then add the chicken tikka. Cover and simmer until the chicken tikka is warmed through.

Add the heavy cream if using.

Look at the consistency of the sauce. If you would like it a bit thinner add a bit of chicken stock and stir. You probably won't need any if you are using the heavy cream. Simmer for about a minute.

Serve with rice and naan or chapatis. A nice chana masala or tarka dal is always good too.
Nutrition
Calories:
753
kcal
|
Carbohydrates:
27
g
|
Protein:
12
g
|
Fat:
69
g
|
Saturated Fat:
18
g
|
Polyunsaturated Fat:
11
g
|
Monounsaturated Fat:
27
g
|
Trans Fat:
1
g
|
Cholesterol:
59
mg
|
Sodium:
2084
mg
|
Potassium:
1013
mg
|
Fiber:
8
g
|
Sugar:
12
g
|
Vitamin A:
2127
IU
|
Vitamin C:
39
mg
|
Calcium:
118
mg
|
Iron:
6
mg