The kathi roll is a beautiful thing. One of the greats. This is one serious sandwich.
Think chicken tikka wrapped up in a flaky paratha with a crazy delicious sauce. A sauce with a glebekitchen twist.
I'd put it up there with a Philly cheesesteak. Banh mi. Pulled pork. Maybe even Montreal smoked meat on rye with a kosher dill.
No, not really. Montreal smoked meat is my sandwich holy grail. My king of sandwiches.
The day I put up something I say is better than that is the day you'll know I've lost my mind.
That said, I love with this sandwich. It just works. If I had a food truck it would be on the menu twice a week. At least.
Kathi roll is Bengali street food
Here's where it gets a little freaky. Nature vs. nurture. I made this sandwich up. I just did it one night when I was jammed for dinner.
Had some tikka. And parathas. Whipped up a sauce. And sat down to eat.
And I loved it. So I thought I'd blog about it. But I needed a name. Jammed for dinner chicken paratha sandwich isn't really selling it.
So I started googling. To come up with a name that would mean something to somebody. And I discovered the kathi roll.
That's not the freaky part. It's hard in the world of food to come up with something completely new. People have been eating for a long time. I wasn't surprised.
Turns out it's Bengali street food. That's the freaky part. I've never been to Kollkata. But my genes come from there. My Bengali sandwich gene finally kicked in. I can't wait to see what comes next.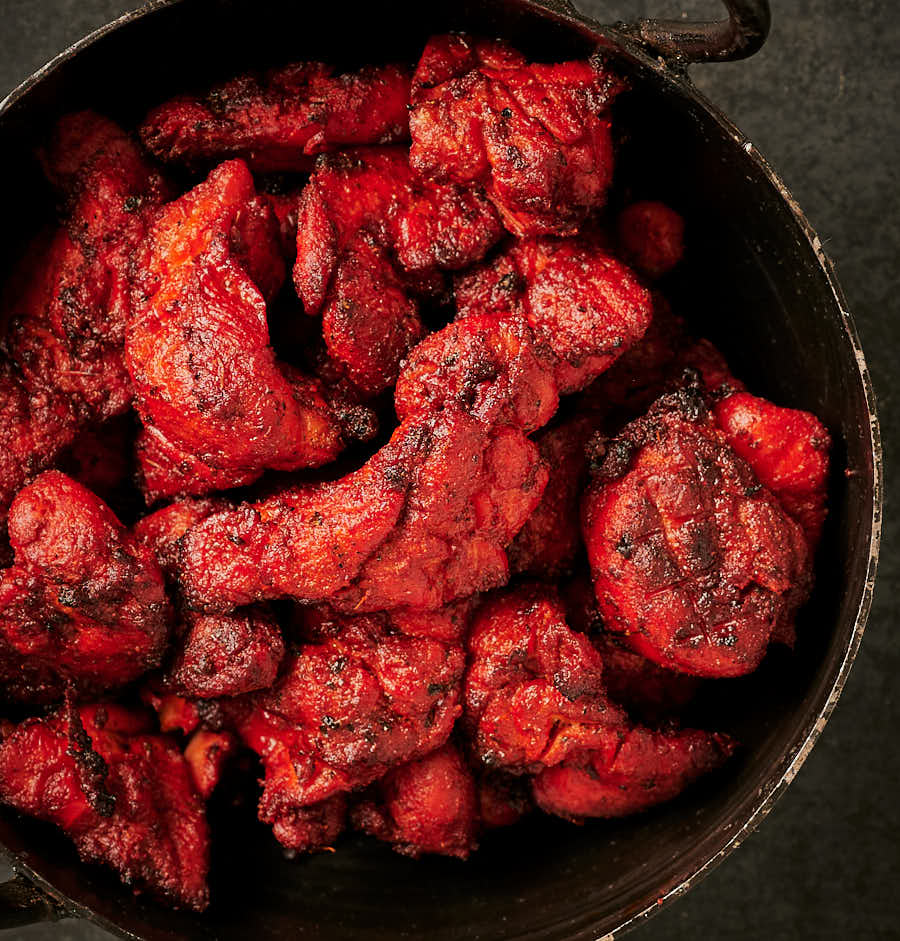 Great chicken tikka makes a great kathi roll
That's just so patently obvious I'm embarrassed to write it. But it's also true.
I have my own thoughts on chicken tikka. Bet you are shocked. And I'm a bit unapologetic about it. No big surprise there either.
Want to rock your tikka? Leave out the yoghurt. Seriously.
I can hear you. "No yoghurt? Every recipe on the internet has yoghurt. You're an idiot. How can it not have yoghurt?"
Here's the thing. Context matters. Yoghurt marinades work OK. If you have a tandoor.
And it's the "if you have a tandoor" part matters. That's important. Are you firing your tikka at 900F? Context matters. Temperature matters.
I've tried it with yoghurt. And without. And I think it's way better without. Over charcoal. At around 500F. If you have a tandoor maybe yoghurt is right for you. Context.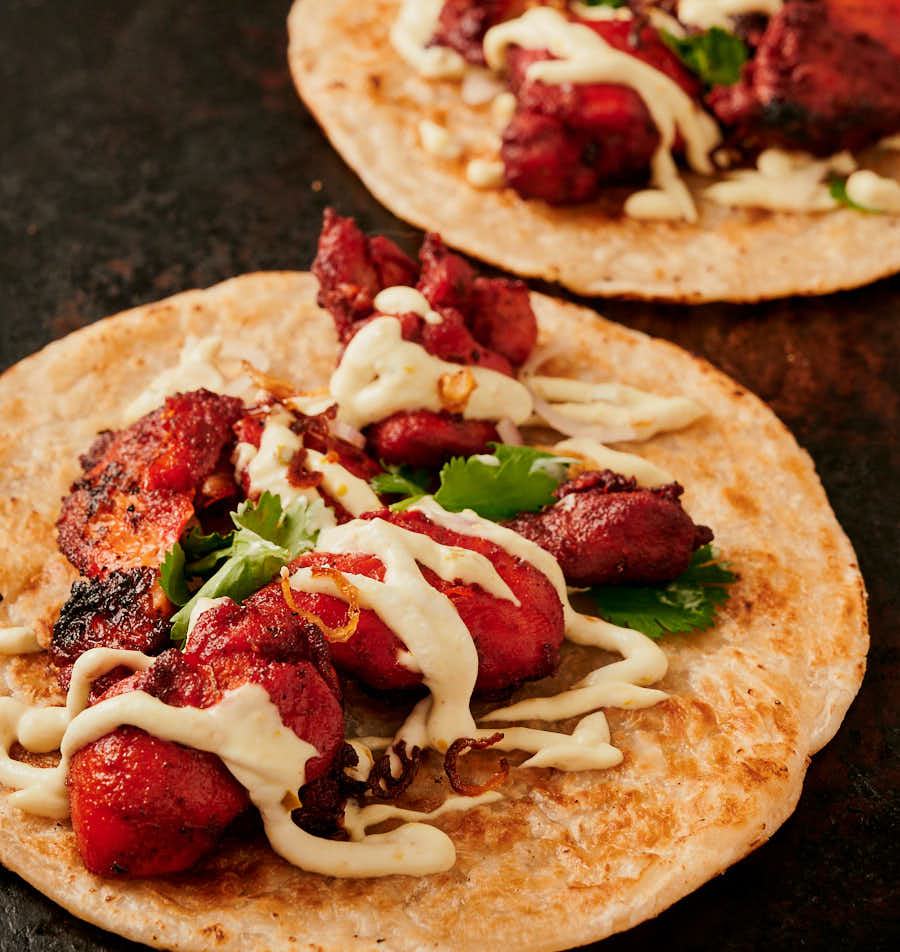 I like a charcoal BBQ for chicken tikka
This recipe works in an oven. It works well. But it's really hard to beat the kiss of smoke a charcoal grill brings.
Things like tikka are a bit of a pain on a grill. You can use skewers. But if a piece or two stick to the grill it can get tricky.
There's an easier way. It doesn't cost much at all. And it's handy for all sorts of grilling. Shrimp. Vegetables. Tikka. Pork belly. The list is long.
They sell these little wire mesh grills at Asian groceries. At least around here. For around $5 each.
You can even get really nice ones in stainless. For about $20 a pair. Money well spent.
You set them right on your existing grill. Set up your fire up so you have a direct and indirect zone.
Put the tikka on the little Asian grill. And it becomes a single unit. Chicken and grate. You can slide that single unit around.
Start it over indirect heat. Let your chicken cook and pick up some smoke.
When it's almost done slide the whole thing over direct heat. Give your chicken a little char. If it gets a bit out of hand slide it back to the indirect zone. Total control.
This works on gas as a well. You don't get the wonderful charcoal smoke but it's a great trick no matter what fuel you choose. Spend the 10 bucks. Or splurge on stainless steel. It's so worth it.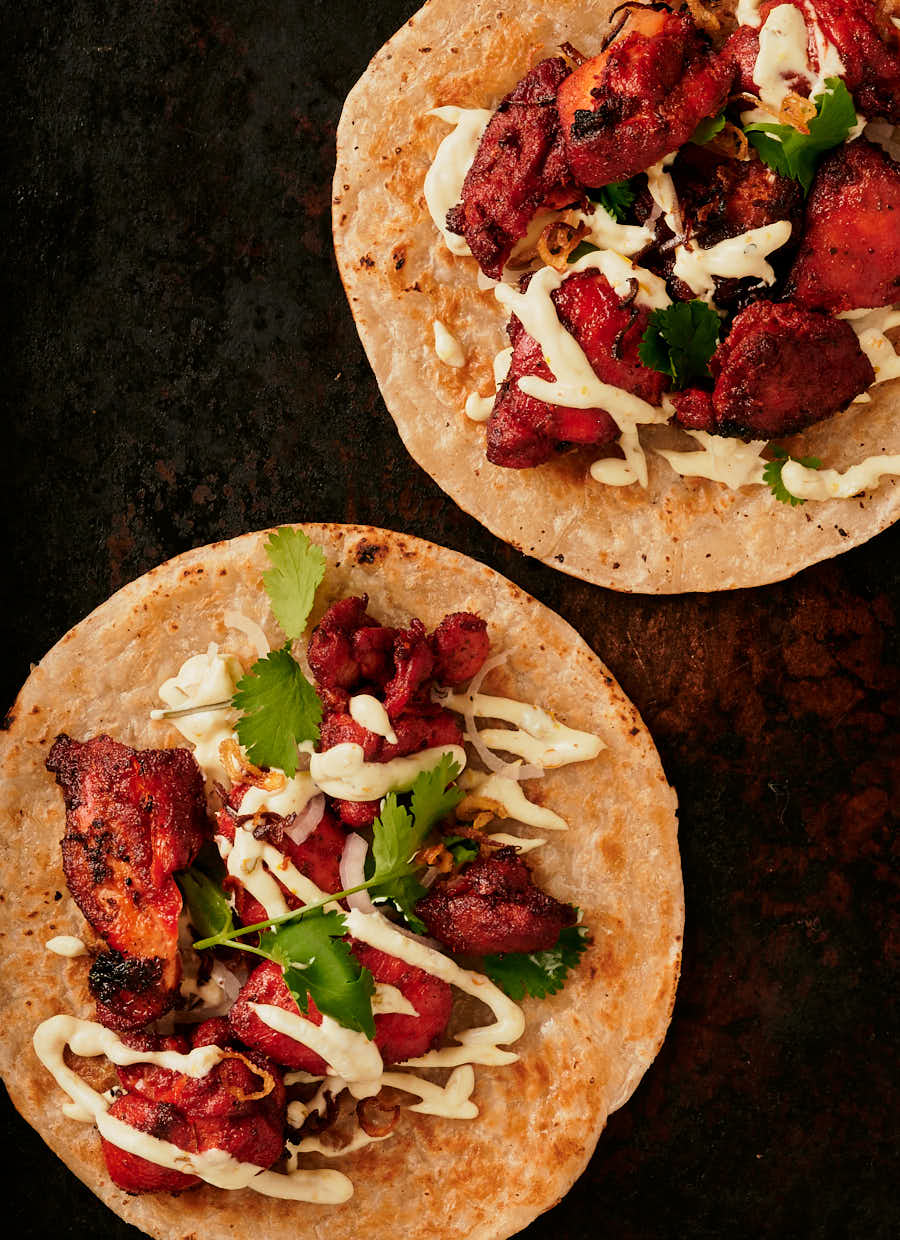 Bread matters too
A kathi roll is fancy name for a paratha wrap. So choice of bread matters.
Parathas are hands down my favourite flat bread. No contest. If you've never had one you need to fix that.
Naan is good. I think chapatis are better. But parathas are in a whole different league.
They are to naan as a croissants are to a dinner rolls. Puff pastry to wonder bread. Just not the same.
You could try making these kathi rolls with naan. But then they would be naan rolls. You could even try with a tortilla. That would be a tikka wrap.
Neither are anywhere near as good though. If you want the real deal go with parathas. You won't be sorry.
The sauce makes it
There are a lot of recipes for tikka out there. And quite a few for kathi rolls. This one is a little different. I'm not trying to be authentic here.
This is about making a sandwich I could serve from a food truck. And get famous for it.
That's where the sauce comes in. There's a glebekitchen twist here. Traditional is green chutney. That's pretty tasty. But not tasty enough. Not for my food truck.
I'm going with a mango and green chili pickle sauce. With yoghurt. And mayonnaise. And it's the mayonnaise that makes it.
Believe. It's what makes a great sandwich amazing.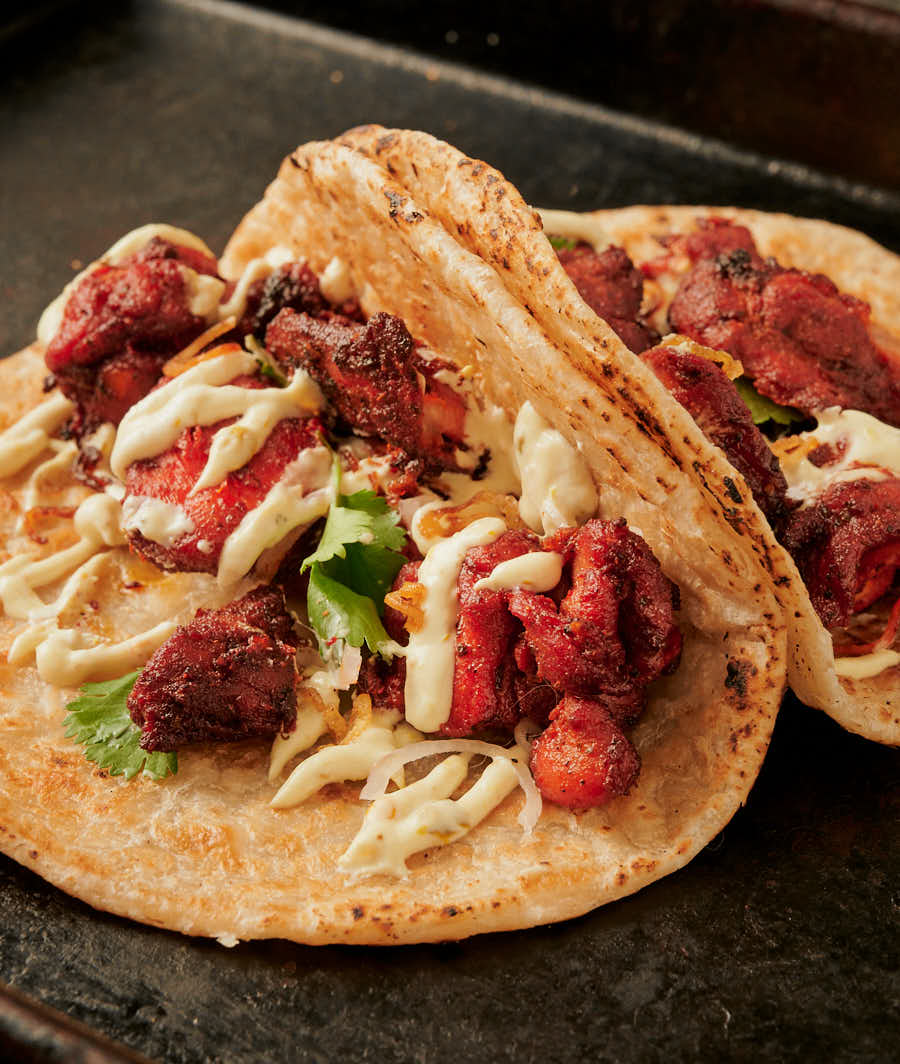 Kathi roll – one serious sandwich
Some really good tikka hot off the grill. Fresh cilantro. Sliced shallots. A good drizzle of sauce. All wrapped up in a warm, flaky paratha.
Might not be a Montreal smoked meat sandwich. But it's a serious contender for second place. I need to get on the food truck thing. To spread the word. The world needs more kathi rolls. Care to join me?
Kathi rolls – food truck style
Kathi rolls are a sandwich worthy of dinner. Seriously delicious.
Ingredients
Kathi roll sauce
3

tbsp

plain yoghurt

1

tbsp

mayonnaise

1/2

tsp

mango pickle

1

tsp

green chili pickle
Chicken tikka
1

lb

boneless, skinless chicken thighs

cut into 1 to 1 1/2 inch pieces. Look at the chicken pieces. Doesn't always work out exactly.

2

tbsp

tandoori masala

– look for a low sodium brand or make your own (see notes).

1

tsp

kasoor methi

1/2

tsp

kosher salt

– you may need more or less depending on how salty your tandoori masala is.

1/2

tsp

naga pickle

– optional but really tasty. Not as crazy as you might think but pretty spicy. Definitely not for those that don't like heat.

3-4

tbsp

vegetable oil

– any neutral oil
kathi rolls
4

parathas

the chicken tikka

the kathi roll sauce

garnish as you like. thinly sliced shallots, thinly sliced green chilies, cilantro, fried shallots. Have fun here…
Instructions
Make the sauce
Chop the pickles as finely as you can. Mix the pickle with the mayo and the yoghurt. That's it. Sometimes simple can be great.

The quantites really depend on the brand of pickle you choose. If it's a particularly salty pickle you may need to cut it with a bit more mayo/yoghurt. Or you may need to add a bit more pickle. Trust your instincts.

If you want to use a squirt bottle make around 10 times as much and use a blender. Like a restaurant would. It's good on burgers too. Especially lamb burgers. Mmmm… lamb burgers.
Make the chicken tikka
Combine the tandoori masala, kasoori methi, salt and oil. Stir to combine. If you like a bit of spice a little naga pickle goes nicely in this mix.

Mix your marinade with the chicken thighs. Really stir to get it each piece coated. Use tongs for this. And watch your clothes. This stuff stains. Badly. Unless you make your own tandoori masala of course.

Marinate anywhere from 1 to 4 hours. 
Oven method
While the chicken marinates, preheat your oven to 400F. Pre-heat a sturdy baking pan. 

Remember to use your tongs. Place the chicken onto the pre-heated baking sheet and return the baking sheet to the oven.

Cook for around 6 minutes. A timer is never a bad idea. Flip each piece and return the baking sheet to the oven.

Continue to cook until the internal temperature of the chicken reaches 170-175F. This somewhere between 4-8 minutes. Total cooking time depends on how big your chicken thigh pieces are. When you've hit your target internal temp remove the chicken from the oven and set the chicken aside.
Grilling (BBQ) method
I really like a BBQ for chicken tikka. Truth be told I strongly prefer charcoal over gas. Set yourself up for a direct zone and an indirect zone.

You can use skewers but if you can get one of those little wire screens they use for grilling at an Asian grocer or restaurant supply store they are super handy.

Cook the chicken over the indirect zone until you get to an internal temp of about 160F then char the chicken up a bit over the direct zone. You may have to move it back to the indirect zone if it starts to char too much before it gets to the target internal temp.

Remove the chicken when you get to 175F and set aside.
Make the kathi rolls
Put a smear of sauce on the paratha. Top with chicken tikka. You may want to cut the pieces in half to make things easier to eat.

Drizzle with a bit more sauce.

Garnish with cilantro, thinly sliced shallots, green chilies or crispy fried onions. Garnish with what you like is what I'm saying here. Make these kathi rolls your own.

Eat them as you would a taco. Tilt your head as you take a bite. And enjoy!