Palak chicken curry is something you need to try. If you haven't already. Spinach, chicken, and spice. Deceptively simple. Seriously delicious.
It's not one of the big ones. But it's a really good one. And a great way to sneak in a bit of greens.
Although this isn't really a sneak. Spinach is what makes this dish great. It there. Balanced perfectly against the other big flavours. A bit of magic.
You have to taste it to understand. And you really do need to taste it. All the cool kids are eating palak chicken curry. Just ask them.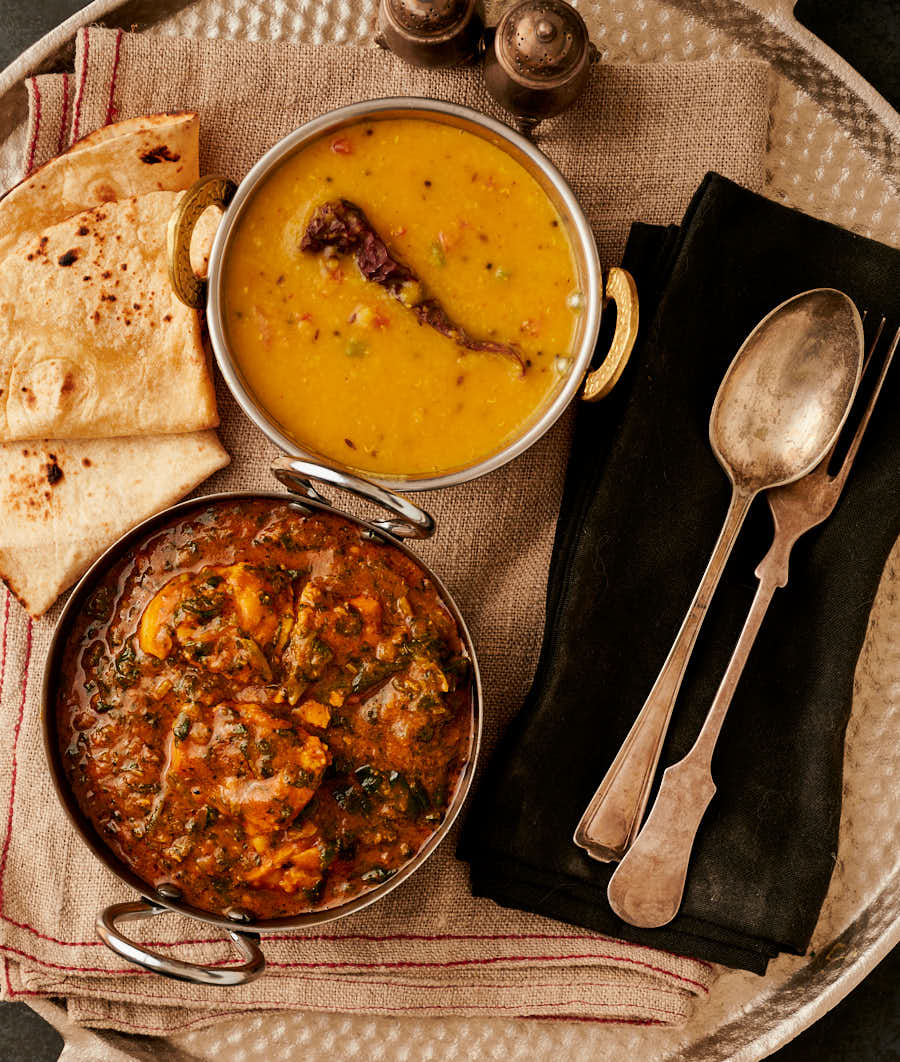 Palak chicken is spinach chicken curry
NO! You are saying NO. I can hear you. Everybody knows spinach curry is called saag. Or saagwala. It even says saagwala in the title.
I put saagwala in the title on purpose. So you'd find this. And hopefully read enough of this post to get to this point. Saag is greens in Hindi. Spinach is a green. But it's not the only green.
Chard is a green. Mustards greens – well the name says it all. Kale is a green too. Not a great green though.
I don't know the word for kale in Hindi. My guess is blech. Could be yuck. Hard to say.
Palak is the name of a specific green. Spinach. So palak chicken curry is spinach chicken curry.
Spinach chicken sounds terrible though. Who would order that? My guess is nobody.
Palak chicken is way better marketing. I'd totally order palak chicken curry. And I'd love it.
Maybe if they had a cool name for kale I'd order that too. But I'm pretty sure I wouldn't love it.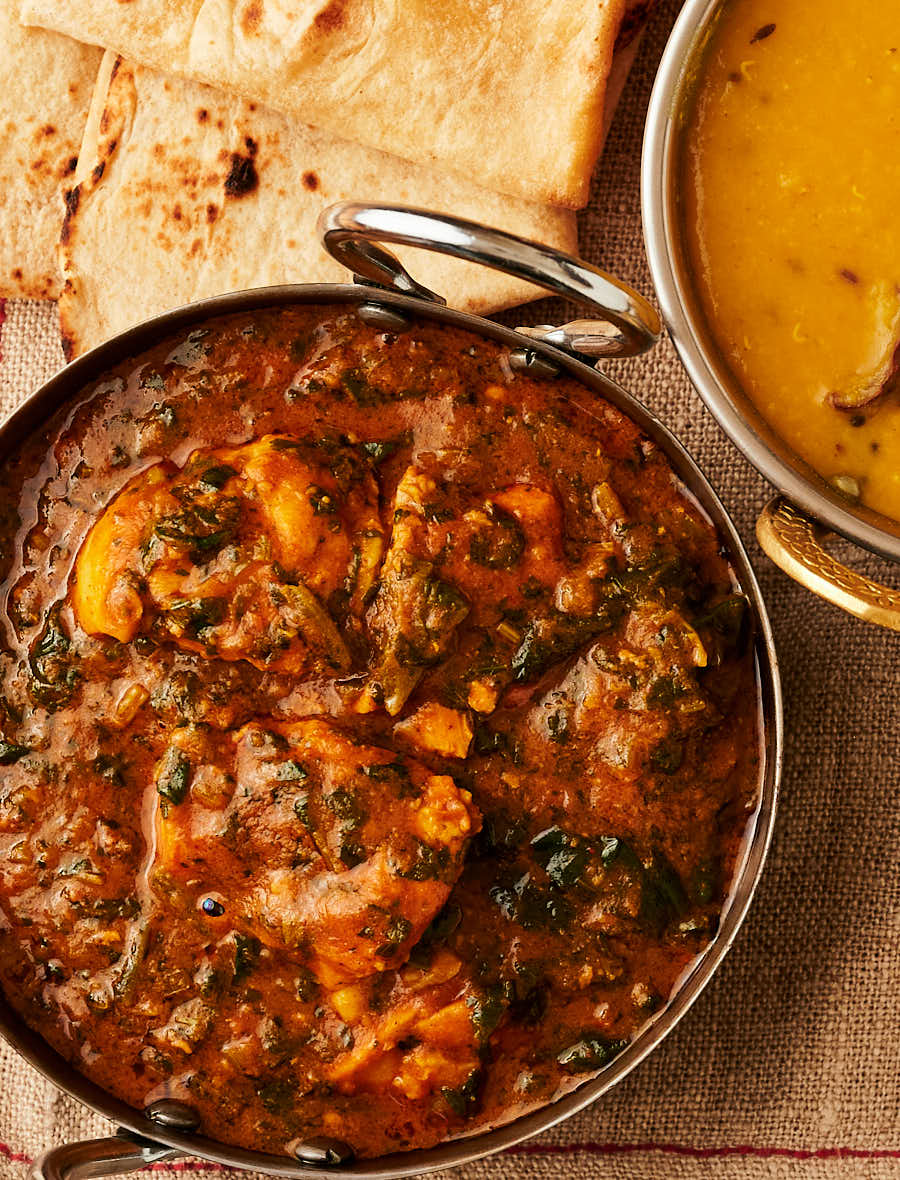 This is the posh restaurant version of palak chicken
If you've been around glebekitchen you can probably skip this section. If you're new read on.
This is fancy restaurant cooking. It's not what you may be used to if you already cook restaurant style.
This isn't the one size fits all base gravy approach. You don't have to fry your gravy hard to get the taste. You don't have to put up with the mess either.
I'm not saying there's anything wrong with restaurant style. Not at all. I'm a fan. Look around. There are many, many restaurant style recipes here.
I cook them all the time. It's fun. And it's tasty. And it is just exactly what you're getting at your local Indian restaurant I bet.
But if you want to cook like the best restaurants. Or like you ate in restaurants in India. Then hotel style is worth a hard look.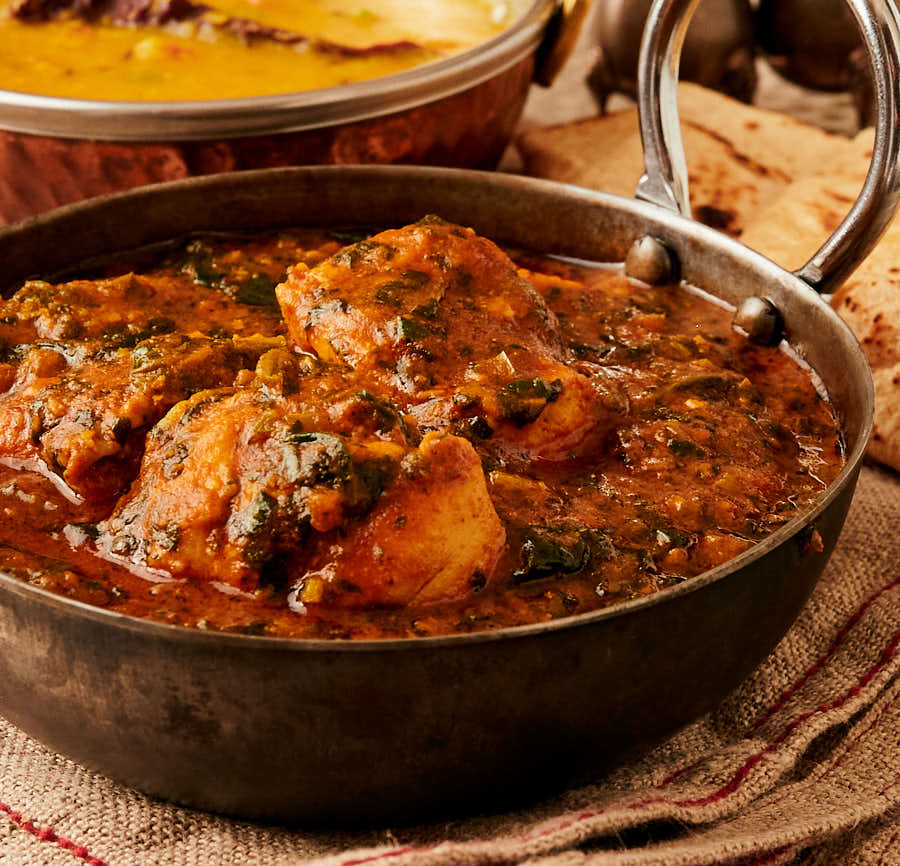 Hotel style is about deeper flavours
When I want to pull out all the stops. When I want to really impress. That's when I go for hotel style. It's about a few specialized gravies. The right tool for the job.
Think fine dining. You wouldn't make a brown sauce for rack of lamb using béchamel. And you don't make all your curries using the same base gravy. Not when you're cooking hotel style anyway.
It's a different approach. Hotel style is about deeply flavoured gravies. Restaurant style gravy is bland by design.
Hotel style goes the other way. Put as much of the right flavours in a gravy. And use that gravy where it fits.
You don't shoe-horn the wrong gravy into a recipe. You use a different one. Or you use combinations. A little of this one. A little of that one. High-end cooking.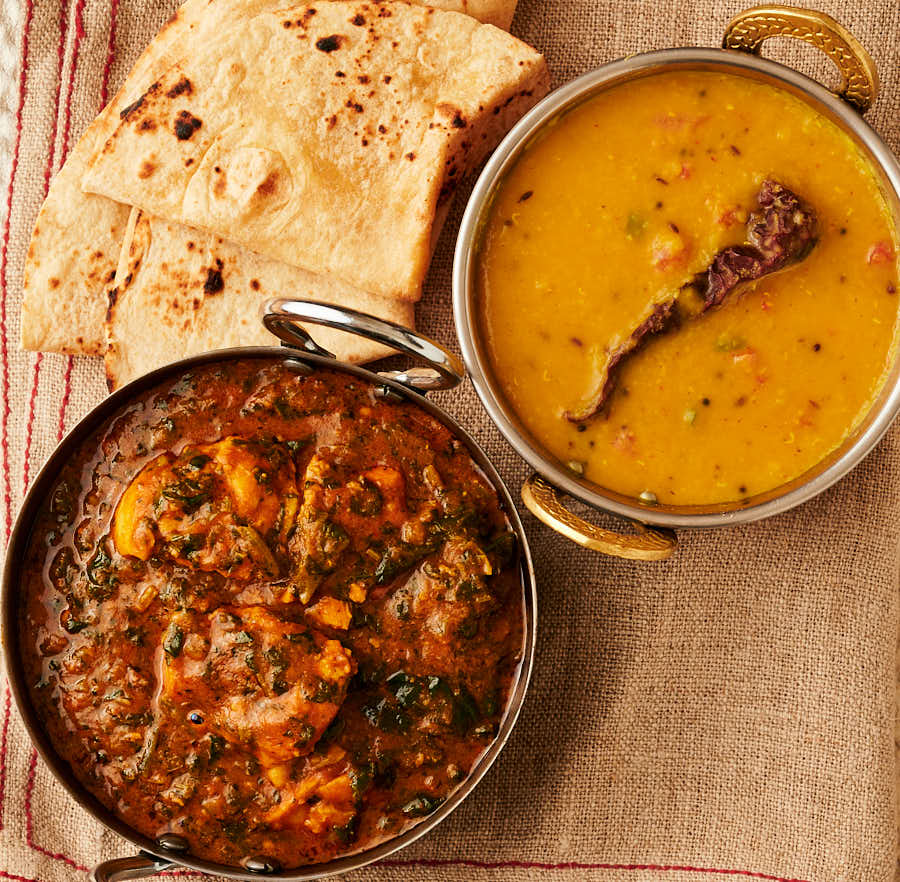 Put palak chicken in your curry rotation
Palak chicken curry or chicken saag may not be your go to curry. It may not even be one you've heard of. But it's tasty stuff.
A little spicy. Earthy. Almost rustic. Lush at the same time. And deeply flavoured. That's the magic of hotel style cooking.
When you need a break from madras or jalfrezi or whatever your favourite is remember this. Order it next time. Or better yet, make it yourself. You owe your tastebuds this one.
palak chicken curry – Indian hotel style
Spinach and spice and everything nice.
Ingredients
The spice mix
1

tsp

coriander powder

1

tsp

kashmiri chili powder

1/2

tsp

cumin powder

1

tsp

kasoor methi

– dried fenugreek leaves

1/2

tsp

turmeric

1/4

tsp

garam masala

– garam masala is potent stuff. A little goes a long way.

1/2

tsp

kosher salt
palak chicken curry
4

tbsp

neutral oil

e.g. vegetable oil

1

tbsp

garlic ginger paste

– recipe link below

2

green chilies

– (jwala chilies) seeded and finely chopped

the spice mix from above

1

cup

Indian hotel curry gravy

– Recipe link in the notes. It's meant to be thick. The juices from the chicken will thin it and you can adjust it to taste at the end.

3

tbsp

cilantro leaves and stems

– finely diced

3-4

boneless, skinless chicken thighs

cut into 4 pieces each

4

oz

frozen spinach

– the shredded stuff. Thawed and drained. See note below.

1/4

cup

chicken stock

– up to 1/4 cup as needed. Add enough to get the curry to the consistency you like.

1/6

lemon

juiced
Instructions
Do your prep
Measure out your spices. Prep your chicken. Measure out a cup (237 ml) of Indian hotel curry gravy.

Thaw and drain your spinach. Chop your cilantro and green chilies. Be ready to go.
Make the palak chicken curry
Heat the oil in a medium sized frying pan over medium heat until the oil just starts to shimmer.

Stir in the garlic ginger paste. Gently fry until the garlic ginger paste stops sputtering. This can get a little messy.

Add the chopped green chilies. Cook for about 30 seconds, stirring constantly.

Turn your heat down to medium low and add your spice mix. Cook for about 30 seconds. You want to fry your spices in the oil. Do not skimp on the oil. Bad things happen if the spices stick and burn. The oil (and temperature control) are your friends. Nothing worse than burned spices. Chuck it and start again if that happens. There's no fixing it…

Add the Indian hotel curry gravy. Stir it really well to get the oil to combine with the curry gravy. You want everything mixed together at this point. Bring to a simmer.

Add the chicken thigh pieces in a single layer. Nestle them down into the sauce. Cover and cook about 5 minutes.

Remove the lid, flip the chicken and replace the lid. Continue simmering until the chicken is done. You are shooting for an internal temperature of 160F. It will get to 170F as the curry finishes cooking.

Don't have an instant read thermometer? Not a bad idea to get one. Done is not subjective. It's a measurement that you cannot do without a thermometer. You are guessing otherwise.

Add the spinach and stir it to combine.

At this point you have a decision to make. If the chicken threw a lot of liquid the sauce might be right. My guess is you'd like it a bit thinner. More like a restaurant sauce. Add a couple tablespoons of chicken stock. Check it again. If it's still too thick, add a bit more stock. I've never added more than a 1/4 cup.

Add the lemon juice, cover, and simmer for another two minutes.

Palak chicken goes great with chapatis or rice. A nice tarka dal rounds the meal out nicely.
Notes
Make your Indian hotel curry gravy ahead of time. It does take time to make so think about doing it the day before. You can freeze one cup portions and pull them out when you need them. That's what I do.
For maximum flavour consider making your garlic ginger paste from scratch. I know I say this a lot but it makes such a difference.
The weight specified for the spinach is before thawing and draining. 
1 cup is 237 ml.
Nutrition
Serving:
2
servings
|
Calories:
589
kcal
|
Carbohydrates:
16
g
|
Protein:
35
g
|
Fat:
43
g
|
Saturated Fat:
8
g
|
Cholesterol:
161
mg
|
Sodium:
1253
mg
|
Potassium:
779
mg
|
Fiber:
5
g
|
Sugar:
6
g
|
Vitamin A:
702
IU
|
Vitamin C:
16
mg
|
Calcium:
88
mg
|
Iron:
4
mg