Indian restaurant chicken jalfrezi. Big, bold flavours. Just like they serve at your favourite Indian restaurant. Except this is one you can make it yourself.
This isn't one of those recipes that promise to come close to Indian restaurant jalfrezi. This is the way they do it in restaurants. Seriously. Exactly like they make chicken jalfrezi in restaurants.
The whole approach might seem a little different from what you've seen before. That's because it's not fakeaway. This is the real deal. Restaurant technique. Restaurant results.
If you go for it you will surprise yourself. Could even be an "aha" moment. I know it was for me. Took me years to figure this out.
Full disclosure – this is an updated post. I've rewritten it, taken new pictures and added a video. But the recipe itself has not changed in any way.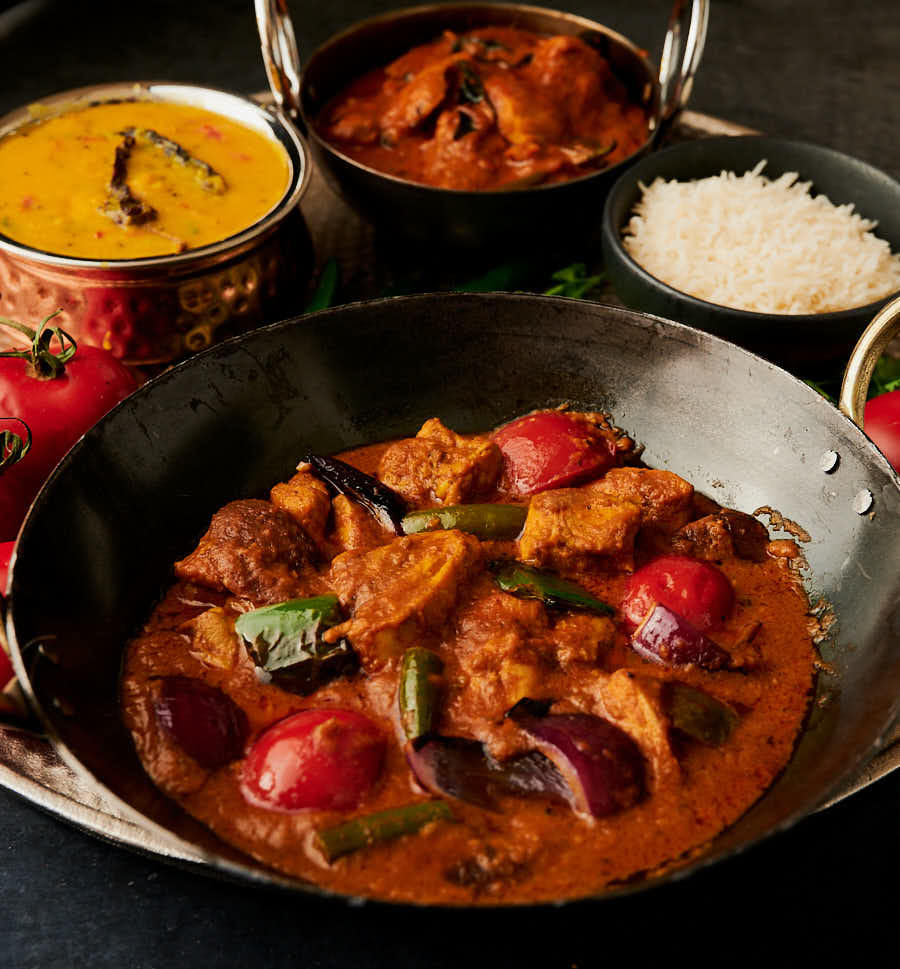 Restaurant technique for restaurant results
The first thing you need to know restaurant style is completely different. There's no slow browning of onions. That lush sauce? It comes from using a thing called curry base.
Curry base is this kind of weak onion soup. Vaguely curry flavoured. Not particularly tasty on its own.
Bland by design really. Think of it as the canvas you paint your curries on. The spices. The chilies. The onions. The peppers. That's how you take curry base and make a great chicken jalfrezi.
The Maillard reaction is the secret weapon here. When the curry base hits the hot oil magic happens.
Actually science happens. Amino acids, reducing sugars and heat. That generates millions of flavour compounds. It's the same thing that happens when you brown meat. Or bake bread. It touches your life every day.
And it's what makes restaurant style curry technique possible.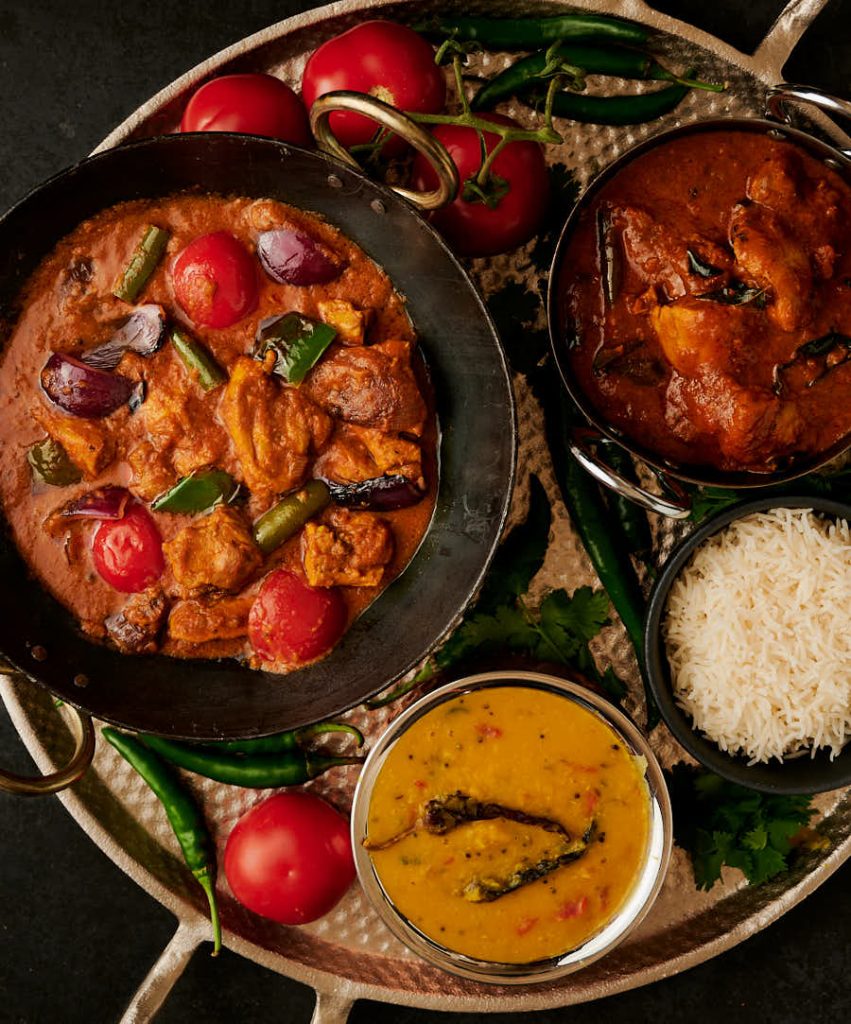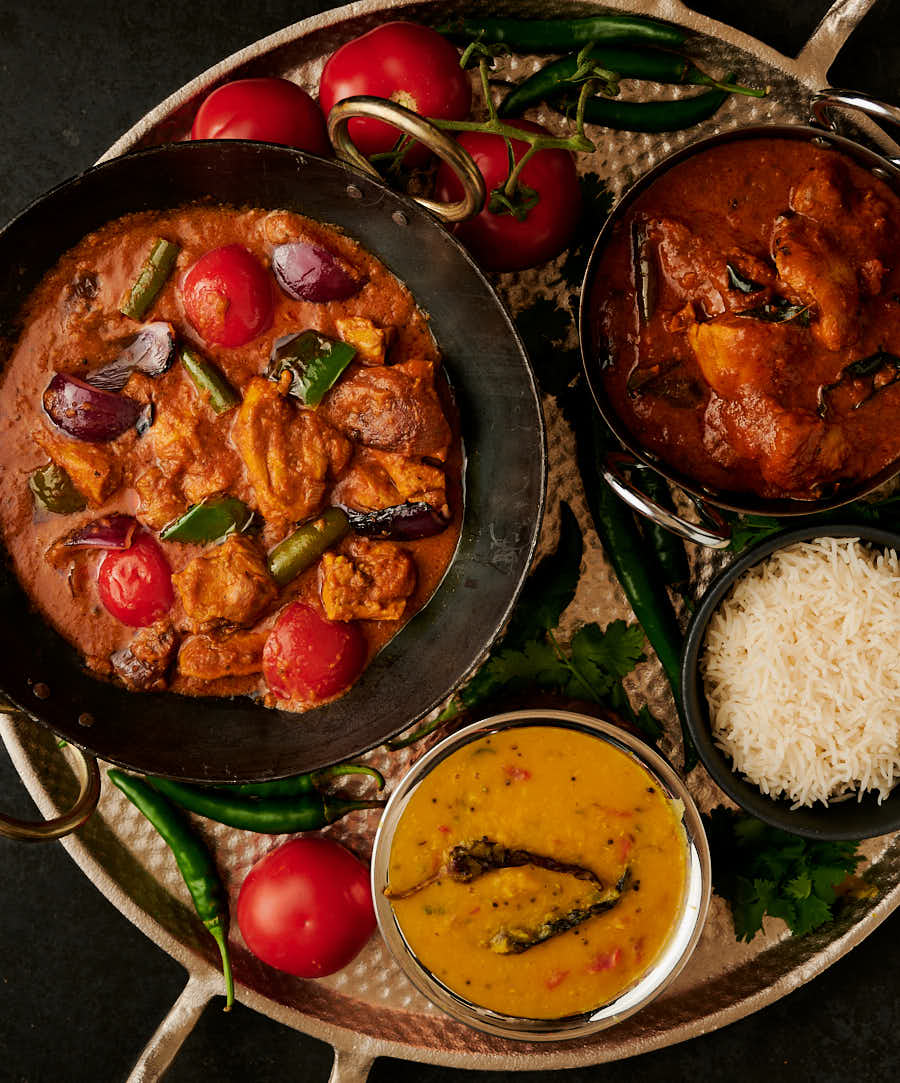 Bloom your spices for maximum flavour
Blooming spices is a fancy way of saying fry your spices in oil. That's another key restaurant technique.
There are oil soluble flavour compounds in powdered spices. Blooming the spices extracts that flavour into the oil. And that oil carries those flavours into every bite.
That smell that wafts out of Indian restaurants as you walk by? That's the smell of blooming spices. And it makes a big difference.
Watch your heat. If it looks like things are going sideways pick up the pan. Get it off the heat.
You need enough oil in the pan to do this. You want the spices well coated in oil. Spices bubbling in oil.
This is not diet food. And cutting back on the oil is going to get you in trouble. The spices will stick. Or burn. If you burn your spices you are starting over. There's no fixing that.
Do it right though, and you will be making curries that amaze.
Blistered peppers make great chicken jalfrezi
I used to wonder why I didn't always love Indian restaurant chicken jalfrezi. Sometimes it was great. A really fabulous dish. Other times I'd be asking someone to pass me the tarka dal instead.
Took me a long time to figure out what the difference was. Where the magic came from. Turns out it comes from a hint of smoky flavour. Simple once you know.
That smoky flavour comes from frying the peppers and onions hard. You want to see the skin of the peppers blister. The edges of the onions turn brown. That's the trick. Nothing to it.
That's what makes Indian restaurant chicken jalfrezi special. So push it a bit. Really go for it.
Restaurant style Indian cooking means restaurant prep
This is cooking restaurant style. That means 10 minutes start to finish. There's not time to wander of to chop things once you've started. You need to move like they do in restaurants.
And you need to be ready like they are in restaurants. They have everything prepped and ready to go. You do to.
The French call this mise en place. That means everything in its place. Vegetables chopped. Spices measured out. Chicken pre-cooked. Curry base warming at the side.
Everything ready to go. It's not hard if you take the time to do your prep. It's a trainwreck waiting to happen if you don't.
Don't let that scare you. It's 10 minutes of prep. And then you are good to go. It's fun cooking this way. And the results will amaze you. Nothing here not to like.
I have some things to help you make the jump. There's a guide to Indian restaurant technique complete with a video explaining things in detail.
You can do this. You should do this. It's a bit of a leap. But once you're on the other side you will never look back.
Indian restaurant chicken jalfrezi. Try it. You may never go for takeaway again…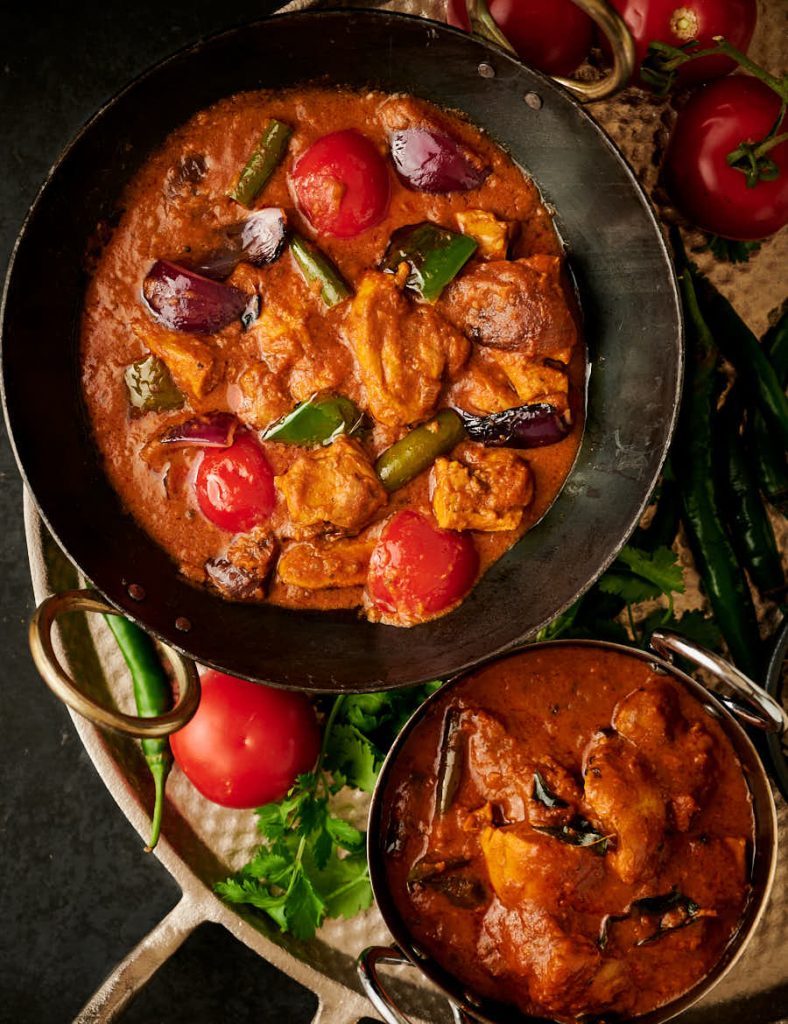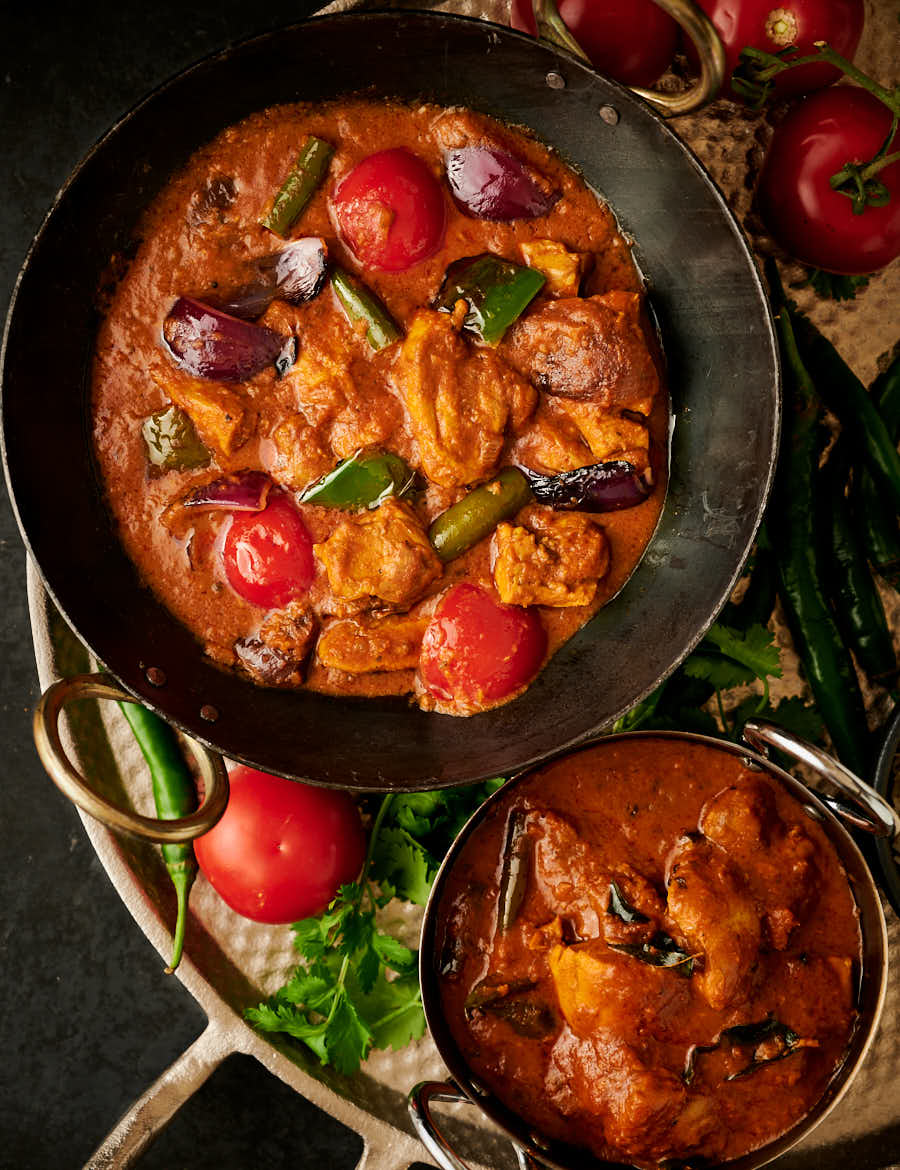 indian restaurant chicken jalfrezi
Indian restaurant chicken jalfrezi is all about big, bold, smoky flavours. Make sure you really blister your peppers to get the full experience.
Ingredients
The spice mix
2

tsp

indian restaurant spice mix or curry powder

– recipe link below

1

tsp

kashmiri chili powder

or 1/4 tsp cayenne mixed with 3/4 tsp paprika

1

tsp

kasoor methi

– dried fenugreek leaves

1/2

tsp

tandoori masala

1/2

tsp

kosher salt
The curry ingredients
4

Tbsp

neutral oil

– e.g vegetable oil

1/2

cup

coarsely chopped green pepper

1/2

cup

coarsely chopped onion

1

Tbsp

garlic/ginger paste

– recipe link below

1

Tbsp

tomato paste with enough water to dilute to the consistency of pasatta

1

Tbsp

cilantro stems

– finely chopped

15

oz

curry base

– recipe link below

10-12

oz

pre-cooked chicken or lamb

2

finger hot green chilies

cut into half then split

4

cherry tomatoes

halved
Instructions
Make the spice mix.

Dilute the tomato paste with enough water to get to the consistency of passata.

Heat your frying pan (don't use non-stick) briefly over medium heat. Add the oil. Use all the oil specified. It's important.

When the oil starts to shimmer add the onions and green peppers and stir every few seconds. You want the green peppers to be skin side down as much as possible. Fry until the pepper starts to blister and the onion edges turn brown.

Next comes the garlic ginger paste and the cilantro stems. Add them into the pan and cook it, stirring constantly, until the garlic ginger paste stops sputtering.

Turn down the heat and add the spice mix. This is the critical step. Stir it constantly for 30 seconds. If it starts to darken lift the pan off the heat. You want the spice mix to cook in the oil but not burn.

Turn the heat up to medium high. Add the diluted tomato paste and stir until bubbles form (the oil will likely separate). This takes around 30 seconds to one minute depending on the heat.

Add 3 oz of curry base. Stir until bubbles form (little craters really), around 30 seconds. Watch the edges of the pan. The curry can stick here.

Now add 6 oz of curry base and stir briefly. Let it cook until the bubbles form again. This takes 1-2 minutes.

Add the rest of the curry base and let cook until the bubbles form. Turn the heat down to low and add the pre-cooked lamb, beef or chicken and the green chilies.

Let the curry simmer for about 5 minutes. If it gets too thick add a bit more curry base. Don't add water. Add the cherry tomatoes and cook until they are heated through.

Garnish with a bit of chopped fresh cilantro and serve.
Notes
Make your curry base gravy ahead of time.
I use this Indian restaurant spice mix in all my Indian restaurant style curries.
For maximum flavour you really should make your garlic ginger paste from scratch.
If you haven't read about Indian restaurant technique yet, do that before you start cooking.
Have all your ingredients prepped and ready to go.
If you are making multiple curries, have your curry base warming in a pot on the stove. If you are just making one, microwave it to warm it up right before you start cooking.
Indian restaurants pre-cook their meat so it's ready for service. This recipe assumes the same. To pre-cook chicken, simply simmer it with a bit of curry powder and salt in chicken stock for about 10-15 minutes – until it's barely cooked.
To pre-cook lamb or beef, do the same but plan for 1 to 1/2 hours for lamb and 2 hours or more for beef. You are making stew meat so you are braising until tender. You will need to keep an eye on the level of the stock. For beef use beef stock.
Nutrition
Serving:
2
servings
|
Calories:
509
kcal
|
Carbohydrates:
19
g
|
Protein:
32
g
|
Fat:
33
g
|
Saturated Fat:
3
g
|
Cholesterol:
90
mg
|
Sodium:
1166
mg
|
Potassium:
990
mg
|
Fiber:
5
g
|
Sugar:
6
g
|
Vitamin A:
870
IU
|
Vitamin C:
49.5
mg
|
Calcium:
26
mg
|
Iron:
2.1
mg