If you love ramen and you love curry then curry chicken ramen could be your new favourite.
Ramen noodles. Crispy golden chicken. A perfect egg. And a Japanese curry broth. Tasty stuff.
I love ramen noodles. Crazy about them. Tonkotsu ramen is one of my all time favourite things to eat. Seriously. It's an addiction.
But tonkotsu broth takes 12 hours to make. The chashu pork is no joke either. Labour of love. Totally worth it. But tough for a Wednesday night dinner. Unless you start making Wednesday dinner on Tuesday.
So I look for easier ways to get my ramen fix. I don't do instant ramen anymore. I want better. Way better. And curry chicken ramen fits the bill.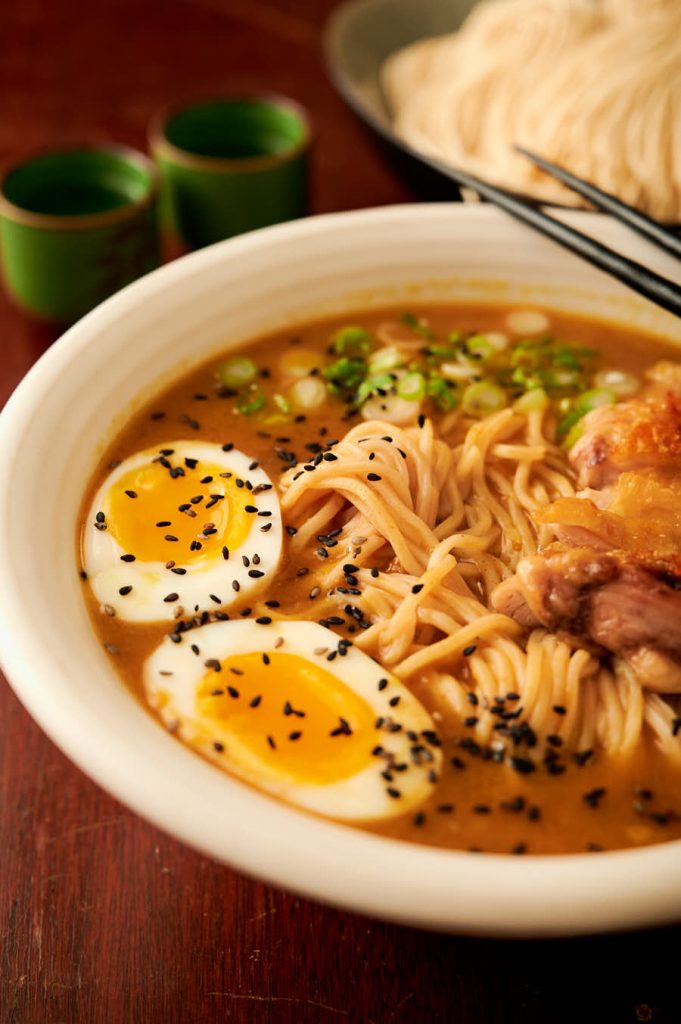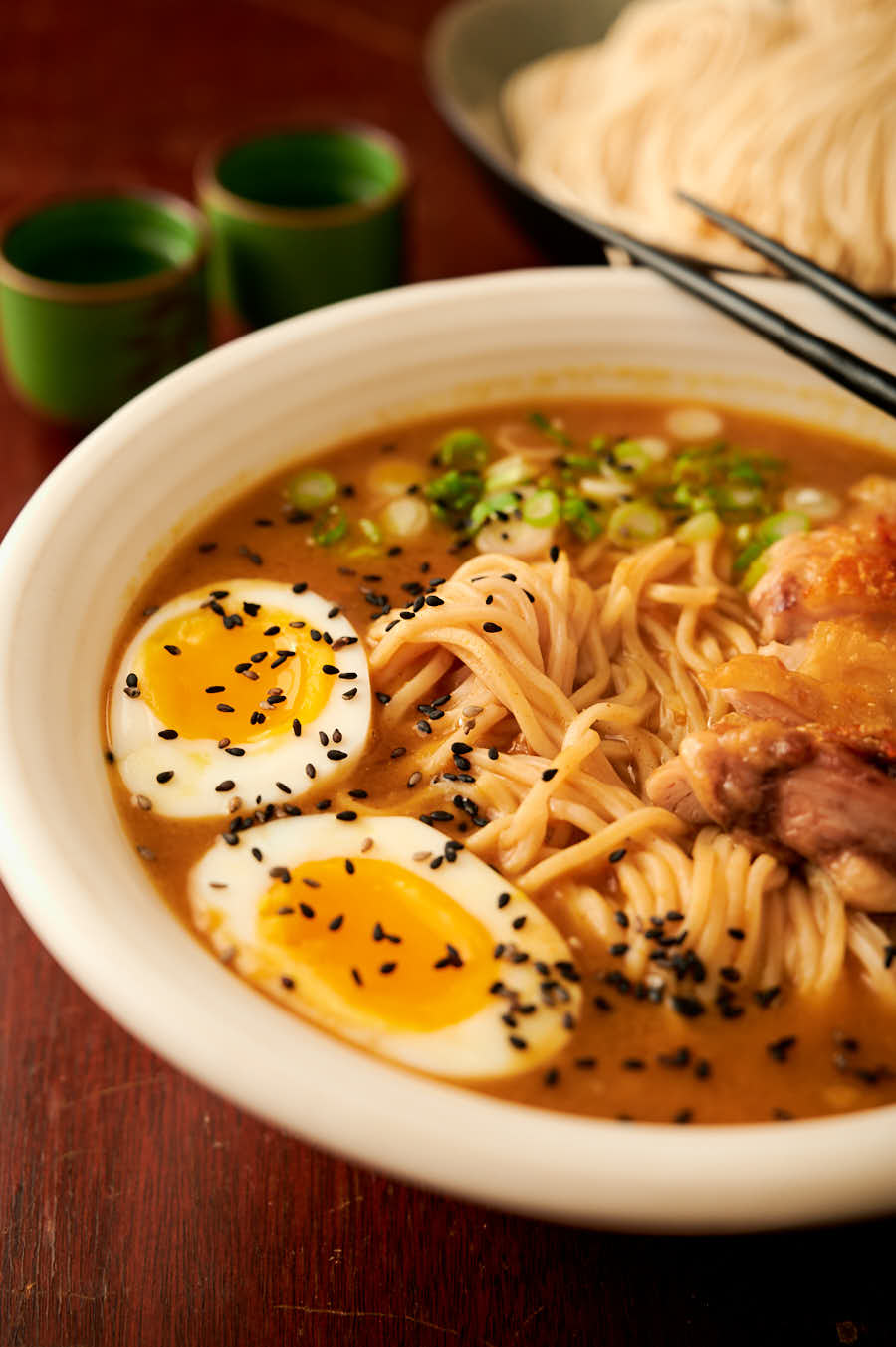 Curry chicken ramen is weeknight dining
This is not a difficult recipe. It doesn't take forever. Once the chicken is done cooking it's a 10 minute meal.
You can have dinner on the table in under 40 minutes from the time your oven is pre-heated. Not bad for something seriously delicious. Time well spent.
You need to be organized though. This isn't putting a frozen lasagna in the oven. It's still cooking. You can't get something for nothing. It just doesn't work that way.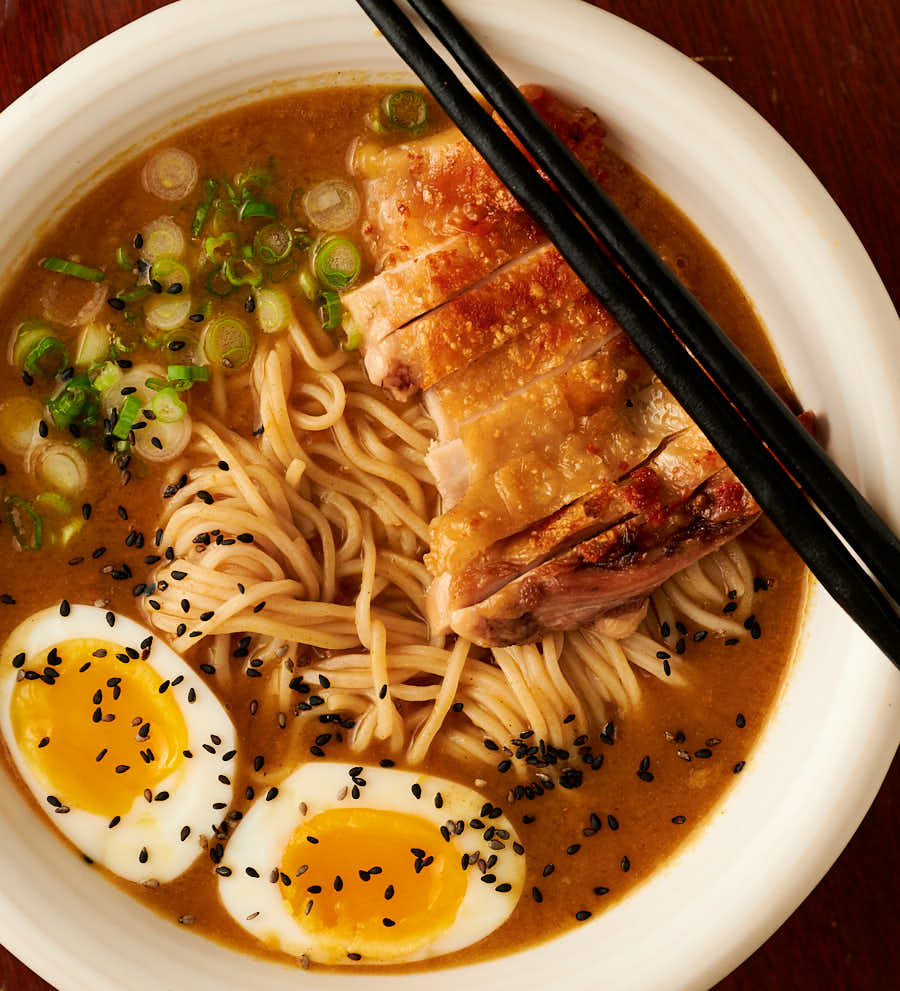 Japanese curry cubes make it easy
It may not be the most famous but Japanese curry is really good eating. It's different from Indian but familiar. Milder for sure. A hint of fruit.
Japanese curry is worth making from scratch. If you can cook Indian you can make it. I make it regularly. If you get into Japanese curry you should try it.
But even Japanese don't always make it from scratch. They have a secret weapon. Curry roux cubes. And they use their secret weapon a lot.
Go to an Asian store that has a good Japanese section. And look at how much shelf space the curry cubes get.
I'll save you a trip. It's a lot. A wall of curry cubes. Literally. That should tell you something. This is a thing. Like the frozen pizza aisle.
Don't get me started on that though. Frozen pizza – bad. Curry cubes – good. At least I think so.
No need to take my word for it. Ask your Japanese friends. That's how I found out about it. Asked for a curry recipe. Got a strange look. And told "just use the cubes. Everyone does."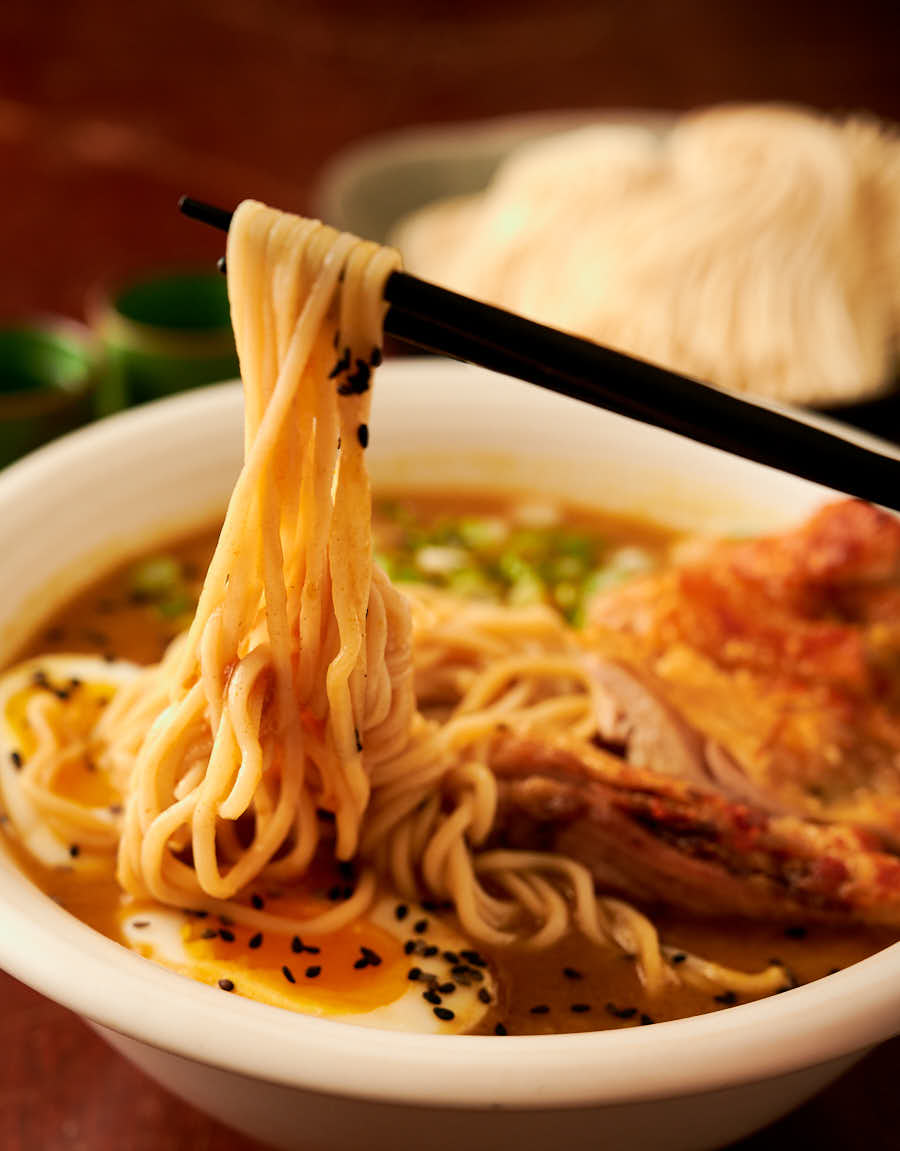 The right noodles matter
Noodles are the backbone of any ramen dish. So it's worth seeking out the best noodles you can get.
Ramen noodles are different from other noodles. They are alkalinated. Look for some sort of carbonate in the list of ingredients. That isn't some sort of bad thing.
It's what makes ramen noodles what they are supposed to be. Gets that wonderful ramen texture. Makes them special.
In order of preference I like fresh ramen noodles best. But they can be hard to come by. And they aren't consistent. But if you can find good ones they are great. I'm lucky. I have a supply.
You can get dried ramen noodles at most Asian grocers. I use those too. Imported from Japan. They work well for curry chicken ramen. Not quite like good fresh noodles. But close enough to keep me happy.
What I don't recommend are instant ramen noodles. The just add water and wait three minutes stuff. They are not right for this recipe.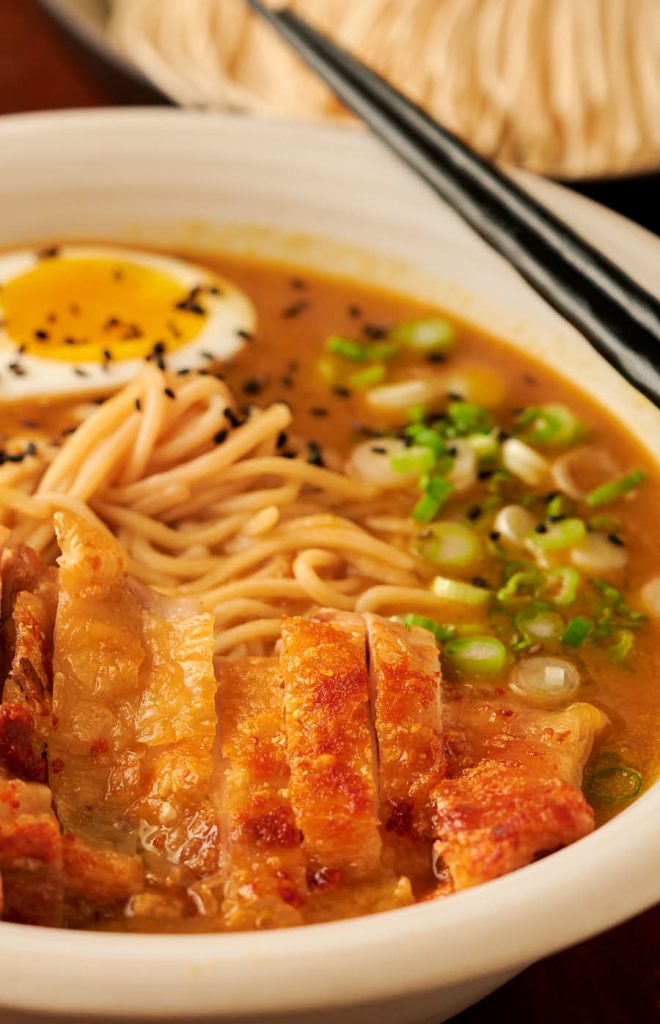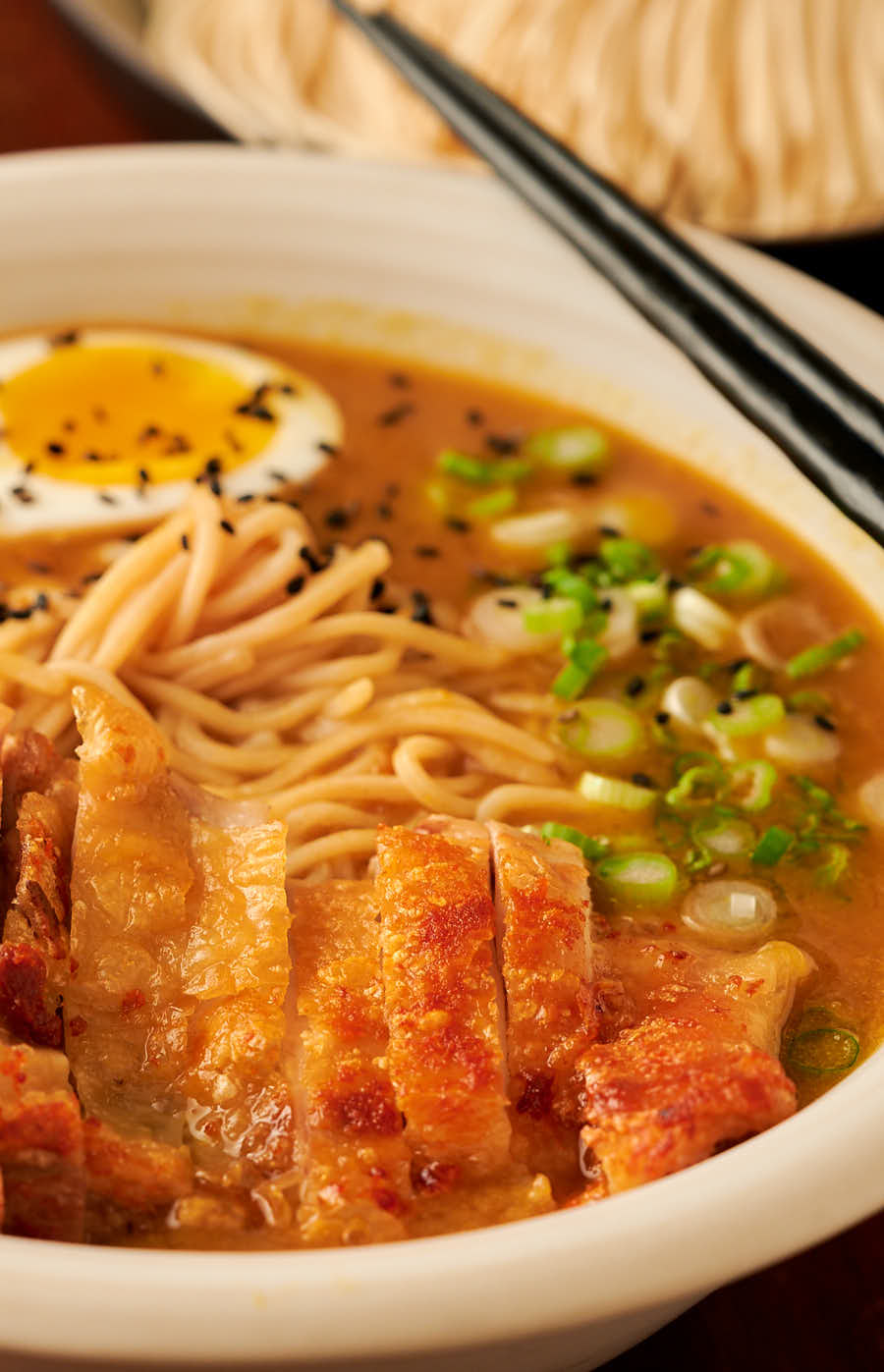 Depth of flavour comes from roasting the chicken
It isn't exactly conventional. Roasted chicken ramen. But the depth of flavour roasting brings is what makes curry chicken ramen work.
It's about the skin. Crispy chicken skin is hard to beat. But it's also about what's going on in the pan.
Fond is the name for those wonderful little bits you get when you roast chicken. Or beef. Or pork. Any protein really. It's the basis of a good pan sauce.
And it's the basis of good chicken ramen. Not traditional. But it brings it together. I'm always looking for that extra bit of flavour. And fond is what does it here.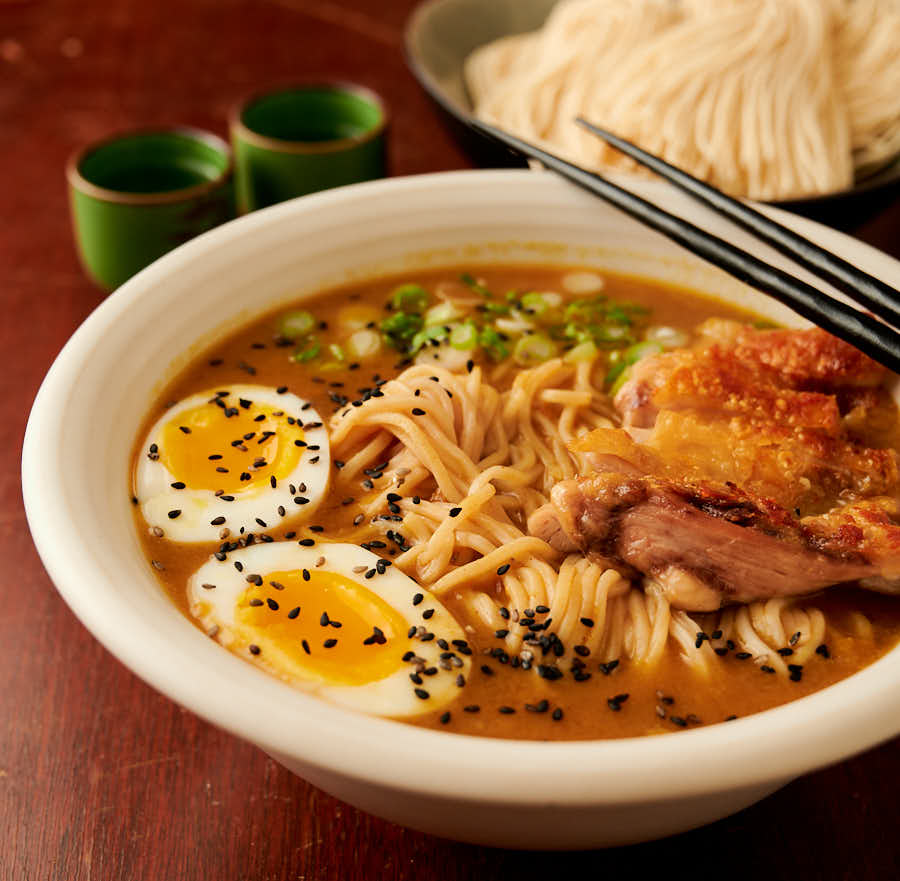 Curry chicken ramen is what's for dinner – any night of the week
Dinner during the week doesn't have to be takeout. Or something from the frozen aisle.
Roast some chicken thighs. Boil some eggs. Cook some noodles. Toss in some Japanese curry cubes. That's it.
Not as easy as picking up the phone. I get that. But you get ramen for dinner. And curry. And crispy chicken. In one bowl.
That's like the triple crown of weeknight dinners. For me anyway. Next time you reach for the phone make curry chicken ramen instead. You won't regret it.
Curry chicken ramen
Curry chicken ramen is a big bowl of tasty that's perfect for weeknight dinners.
Ingredients
3

boneless chicken thighs

– with the skin left on.

salt

to season the chicken

3 1/2

cups

no sodium chicken broth

– homemade is always a nice touch

2

large eggs

– you really want fresh eggs here

2

Japanese curry cubes

– Golden Curry seems to be a pretty popular brand

8

oz

fresh ramen noodles

a bit of oil

to rub on the chicken

green onion and sesame seeds to garnish
Instructions
Put a big pot of water on to boil to cook the noodles. Pre-heat your oven to 375F. Put an ovenproof skillet large enough to hold the chicken in the oven to pre-heat.
Medium boiled eggs
Gently lower the eggs into the boiling water (the water for the noodles) and cook for 6 1/2 minutes for large eggs. 7 1/2 minutes for extra large eggs.

After 6 1/2 (or 7 1/2 depending on the size of the eggs) minutes place the eggs in a bowl of ice water to cool. You want them to cool quickly to stop the yolks from hardening.

Peel the eggs and set aside.
Cook the chicken
You can ask your butcher to bone out the chicken thighs or do it yourself. The important thing is the skin stays on.

Rub the chicken with a bit of vegetable oil and season with salt.

Remove the skillet from the oven. Be careful. The handle is hot. Putting a bar towel on the handle to remind you is never a bad idea. This is one burn you can live without.

Place the chicken, skin side up, in the skillet and return to the oven.

Cook until the chicken reaches an internal temperature of about 170F. This takes 12-15 minutes. Remember – that handle is hot.

Flip the chicken so the skin side is down and place the pan over medium heat. Fry about a minute. You just want the skin to crisp up and turn golden. Remove the chicken from the pan and tent with foil. Set aside.

Spoon off the fat. Leave the darker liquid and any fond in the pan. That stuff is serious flavour.
Make the broth
Deglaze the pan with a bit of chicken stock. Scrape up any those little bits in the bottom of the pan. Add about two cups of stock. Bring to a simmer.

Place the cubes in the stock, remove from the heat and cover. Let it sit for 5 minutes.

Uncover and look. The cubes should be melted at this point. Stir them into the stock. It isn't easy to get the curry cubes fully melted and smooth. You will likely have to chase little bits around your pot. I've tried all sorts of approaches. This is the best I've figured out so far but it isn't perfect.

Add the remaining stock and simmer for about 4-5 minutes.

While the stock simmers cook the ramen noodles per the instructions on the package.

Drain the noodles.
To serve
Slice each egg in half lengthwise. Be careful. The yolks still have a bit of runny texture.

Divide the noodles across two bowls. Ladle the broth into the bowls. Slice the chicken into strips (use a sharp knife so you get skin and chicken in each slice) and arrange the chicken overtop the noodles and pour half the broth into each bowl. Add the eggs, submerging slightly to warm them through.

Garnish with green onion and sesame seeds and dig in!
Nutrition
Serving:
2
servings
|
Calories:
843
kcal
|
Carbohydrates:
69
g
|
Protein:
47
g
|
Fat:
40
g
|
Saturated Fat:
12
g
|
Cholesterol:
413
mg
|
Sodium:
837
mg
|
Potassium:
611
mg
|
Fiber:
1
g
|
Sugar:
2
g
|
Vitamin A:
423
IU
|
Calcium:
55
mg
|
Iron:
6
mg