Chicken dopiaza. Hotel style. This is something you know. Might even be a favourite. But not quite how you might be expecting. This dopiaza brings seriously big flavours.
Onions. Spices. Green chilies. Chicken. Simple really. Nothing unusual. Until you add hotel style gravy. That makes it special. Kicks it up a notch.
The big chunks of fried onion and the fried onion garnish don't hurt either. Lots to love here.
Hotel style is different
If you haven't heard about hotel style I'm glad you're here. Hotel style is about maximum flavour.
Not exactly restaurant style. Close. Really close. But tastier. The way you wish restaurants served it. Flavours that make your taste buds sit up and take notice.
Think about curries you've eaten at your favourite Indian restaurant. Now imagine you could do better. That you could get deeper flavours. That's hotel style.
The same lush sauces you get in restaurants. But with all the wonderful flavours that you get with traditional Indian cooking. It's a little bit of curry magic.
This is how they do it in Indian hotels. And really posh restaurants. Cooked to order. But true to tradition.
If you've ever eaten in high end restaurants in India you know what I'm talking about. This is not what they serve you at your local takeaway. This is what they serve at those restaurants you can't get a reservation at.
No idea what I'm talking about? You can fix that. Easy. Just make this chicken dopiaza. You'll get it. And you'll never look back.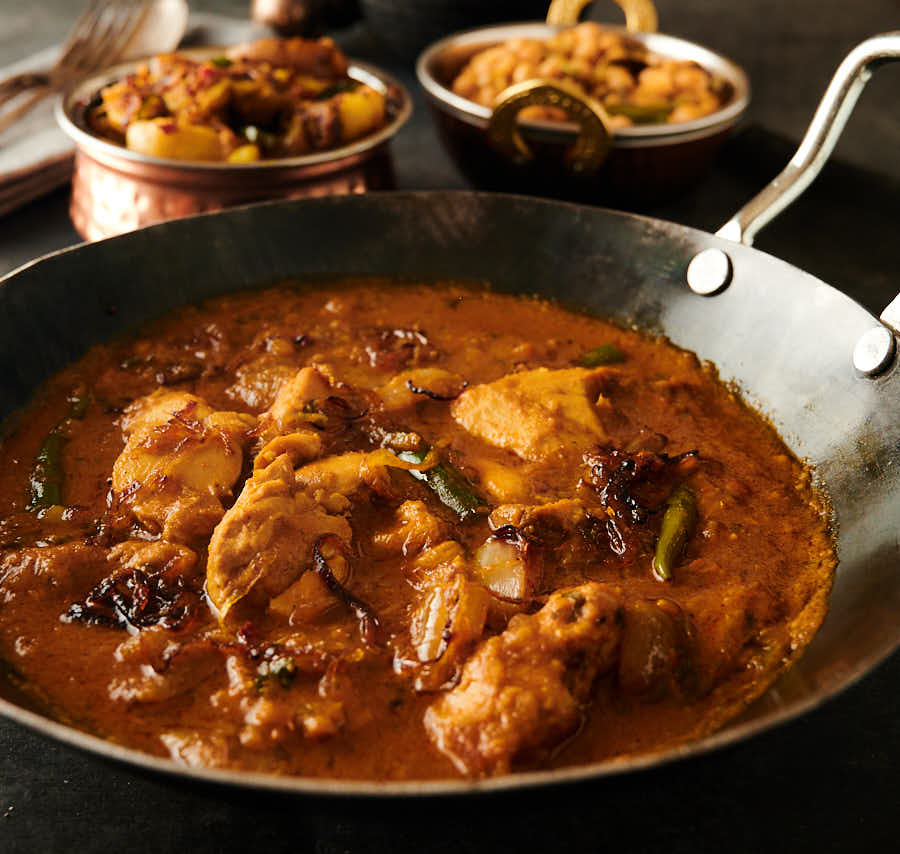 Chicken dopiaza is an ancient dish
There are famous Indian dishes that have nothing to do with India. Dishes with Indian sounding names. That trace their roots to restaurants in the UK. Chicken tikka masala is the classic example.
Chicken Dopiaza isn't one of those. It's the real deal. An ancient dish. Been around for centuries. I love that. Traditional Indian goes mainstream.
And there's even a story. Bit of history. Maybe "history" is a stretch. Myth maybe? It goes back to the Moghuls. There's even an emperor in the tale.
Once upon a time – so the fable goes – a cook in the imperial kitchen screwed up. Somehow added too many onions to a dish. Big mistake. Lucky for that cook, the emperor liked it.
So the cook didn't get fired. Or whatever the penalty was for too many onions back then.
The cook's name was Do Piaza.
That's the story. But dopiaza also sounds a lot like do pyaaj. Which means two onions in Hindi.
It all seems a little too cute to me. But that's the story. I didn't make it up.
My spidey senses are tingling a bit. Think about it. A guy who's name is two onions adds too many onions to a curry for an emperor. And then gets a dish named after him.
Yo. Emperor here. Mr. Two Onions – you put too many onions in this dish. But I like it. So I'm going to name it after you.
Hmmm…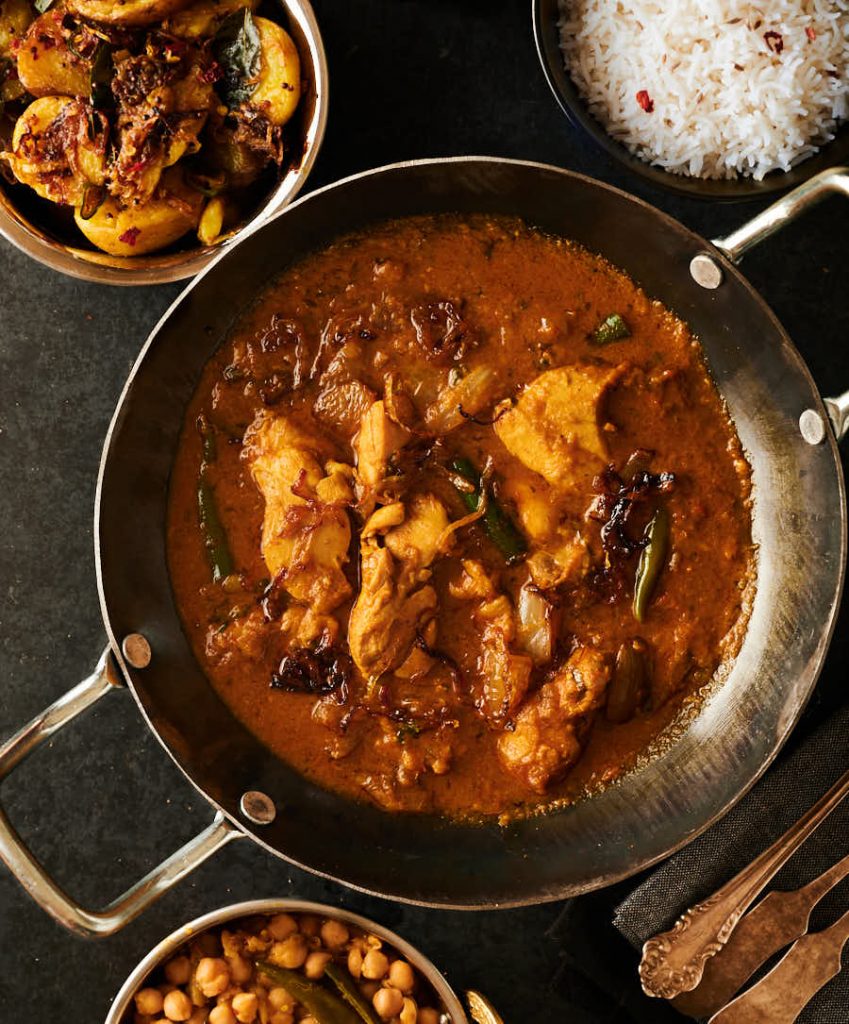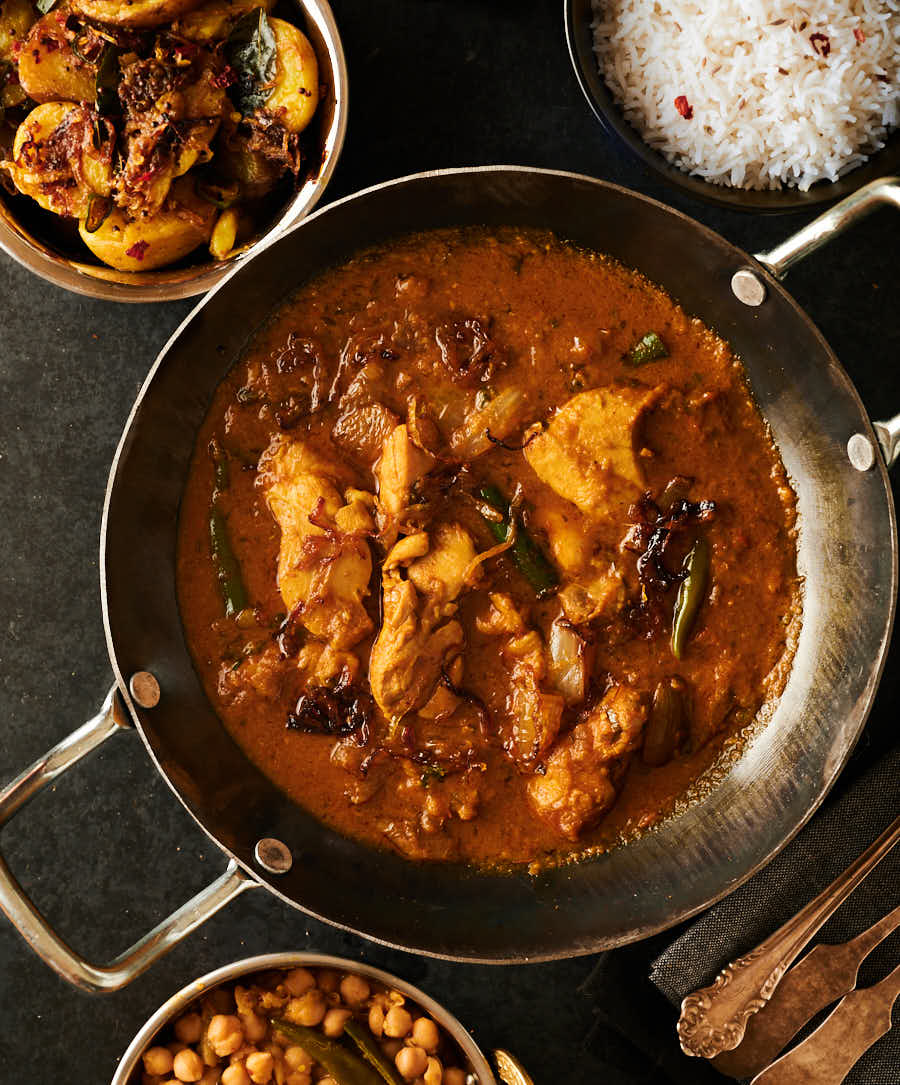 Four onions in this chicken dopiaza
Technically this isn't a dopiaza. There are onions in the hotel style gravy. Lots of onions. Beautiful, deeply-browned onions.
There's finely chopped onions in the chicken dopiaza. A little flavour boost. And a nice texture.
There's big chunks of onion. The ones you expect in dopiaza. That satisfying bite of onion that's fundamental to the dish.
And there's the crispy fried onion strands to garnish. A little flourish of flavour right at the end. Really pushes it over the top.
The fried onions aren't essential. But they are a nice touch. A bit of flash if you feel like showing off.
So if dopiaza is two onions this is actually a recipe for chaar pyaaj. Four onions. Or onions four ways.
That does not roll off the tongue. And nobody has a clue what chaar pyaaj is. So I'm calling it dopiaza.
Doesn't matter what it's called though. What matters is that it's seriously tasty stuff.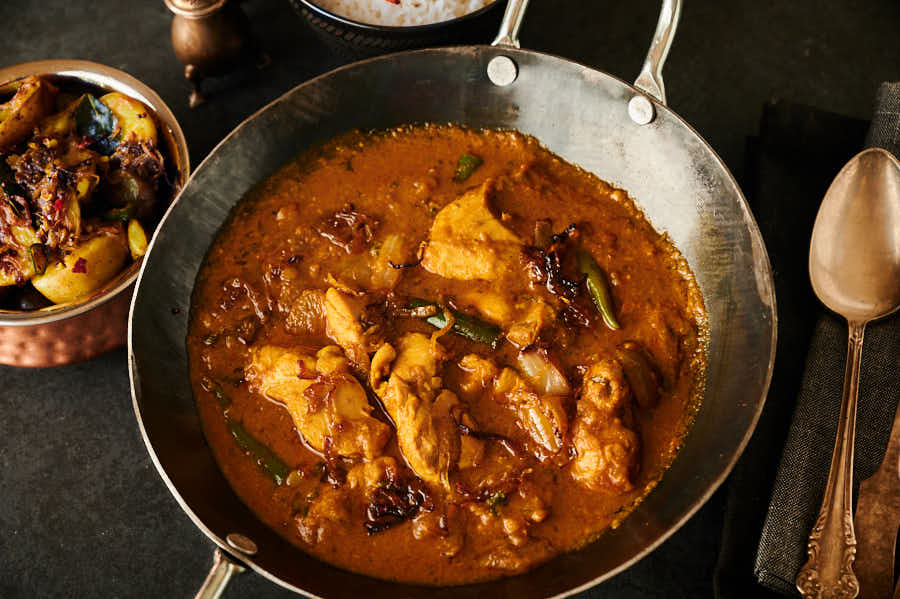 Chicken dopiaza – Indian hotel style
Hotel style brings real depth of flavour to this chicken dopiaza.
Ingredients
The onions
1/2

onion

– cut into large segments (petals) – about 2/3 cup total

4

tbsp

vegetable oil

– any neutral oil (look at how much is in the pan)
The spice mix
1 1/2

tsp

Indian restaurant spice mix

– recipe link below

1

tsp

kashmiri chili powder

1/2

tsp

coriander powder

1/2

tsp

cumin powder

1

tsp

kasoor methi

– dried fenugreek leaves

1/2

tsp

kosher salt
chicken dopiaza
vegetable oil

– to get back to 4 tbsp total

1/2

cup

onion

– finely chopped

1

tbsp

garlic ginger paste

– recipe link below

1

cup

Indian hotel curry gravy

– recipe link below. Dilute it with 4 tbsp water.

3

boneless, skinless chicken thighs

– cut into 3 or 4 pieces each

2

jwala green chili aka finger hots

– seeded and cut in half and then into 1 inch pieces (for a total of 6-8 pieces).

1

tbsp

cilantro

– minced leaves and stems
The onion garnish
1/2

large onion

thinly sliced

2

tbsp

vegetable oil

– any neutral oil
Instructions
Do your prep (including the onion garnish)
Make your spice mix. Combine all the spices and the salt into one small bowl. Cut up your green chilies and onions. Prepare your spice mix.

If you are going for the onion garnish heat 2 Tbsp oil in the pan you will be making your dopiaza. Add the onions and fry until they are well brown. This takes 10-15 minutes so make sure you do it ahead of time. This adds a little something nice. It isn't critical though. So don't worry if you don't have time to do it.
Pre-cook your onions
Add 4 tbsp oil to the pan you will use to prepare your chicken dopiaza. Look at how much oil is in the pan. You will need to top it up a bit to get back to the same level when you make your dopiaza.

Add the coarsely chopped onions (big pieces). Fry until softened and edges just barely start to darken. You want them soft so don't push your pan too hard. Silky soft. A little oily. And a bit of char on the edges. That's what you want.

Use tongs to remove the onions. Set aside.
Make the chicken dopiaza
Re-heat the oil in until the oil just starts to shimmer.

Add the onions and stir every few seconds. Fry until the onion edges turn brown.

Stir in the garlic ginger paste. Cook until the garlic ginger paste stops sputtering. This should take around 30 seconds.

Turn your heat down to medium low and add your spice mix. This is why you need to use all the oil. You want to fry your spices. Too little oil and you risk your spices sticking or burning. Nothing you can do will fix burned spices.

Cook your spices for about 30 seconds.

Add the Indian hotel curry gravy. Stir it really well to get the oil to combine with the curry gravy. You want everything mixed together at this point. Bring to a simmer.

Add the chicken. Cover loosely and cook for about 5 minutes.

Add the green chilies, pre-cooked onions and cilantro. Continue to cook until the chicken is cooked through. This should take somewhere between 2 to 5 minutes depending on the size of your chicken pieces. As always it is best to use an instant read thermometer and target an internal temperature of around 175F for thighs.

At this point your dopiaza sauce might be a little thick. Stir in chicken stock or water, a tablespoon at a time to get the consistency you want. As much liquid as you need. This step is feel. You want your dopiaze sauce lush.

Garnish with the fried onions and bit of cilantro if you like.

Serve with rice, dal and Indian flatbreads of your choice.
Nutrition
Serving:
2
servings
|
Calories:
720
kcal
|
Carbohydrates:
28
g
|
Protein:
43
g
|
Fat:
49
g
|
Saturated Fat:
12
g
|
Cholesterol:
194
mg
|
Sodium:
2022
mg
|
Potassium:
1148
mg
|
Fiber:
10
g
|
Sugar:
11
g
|
Vitamin A:
878
IU
|
Vitamin C:
62
mg
|
Calcium:
106
mg
|
Iron:
6
mg