Green chili chana achari. Not like any other chana masala you've ever tasted. Different. But so tasty.
I know you've never tried it. Because I made it up. It doesn't exist. Or it didn't. Until now.
But now it does. And I hope you try it. Even though you've never heard of it. It's easy. Healthy. Vegan even.
Not that I care. I just like it. It passes my big flavour bar. What else do you need?
This one is pure glebekitchen
Full disclosure. I wrote this post for me. For purely selfish reasons. I want to remember. This one is now in my regular rotation.
I came up with it as a quick side for an Indian dinner. Green chili chana achari just happened.
I didn't develop it over time. No tinkering. Didn't even really think about it. Needed a chickpea dish. Whipped something up in a hurry. Tasted it. Loved it. And scribbled it down.
Maybe I could play with it. Make it better. Tweak it. Somehow. It's possible. But I don't think it needs it. This one fits my mouth just fine. Exactly the way it is.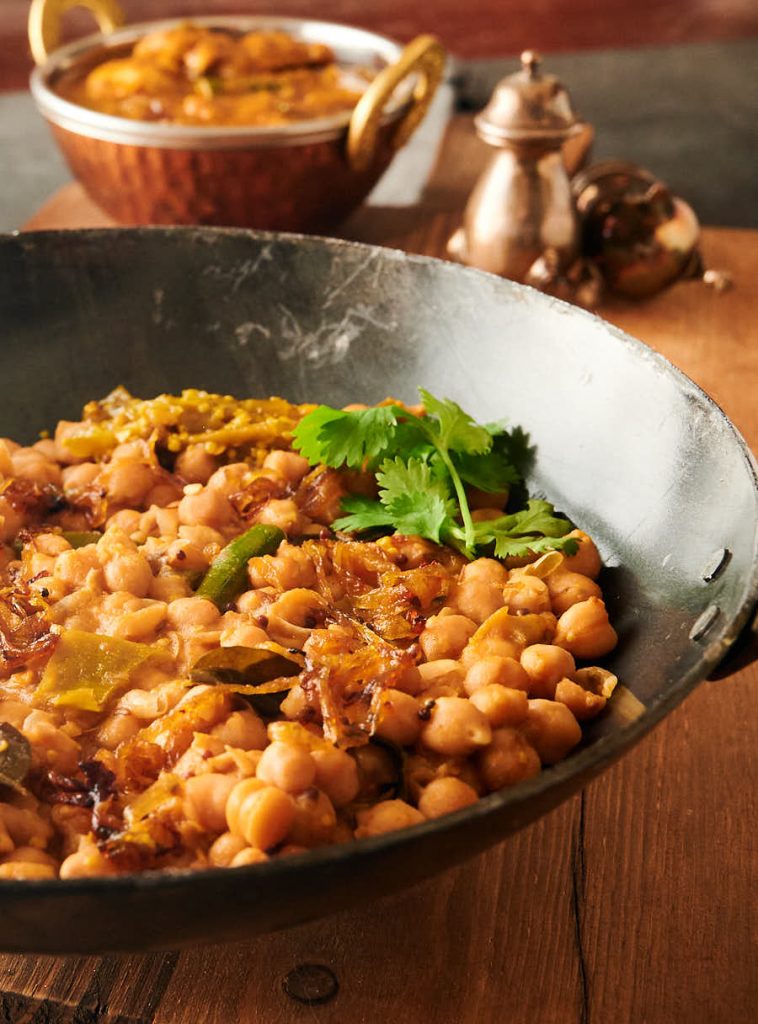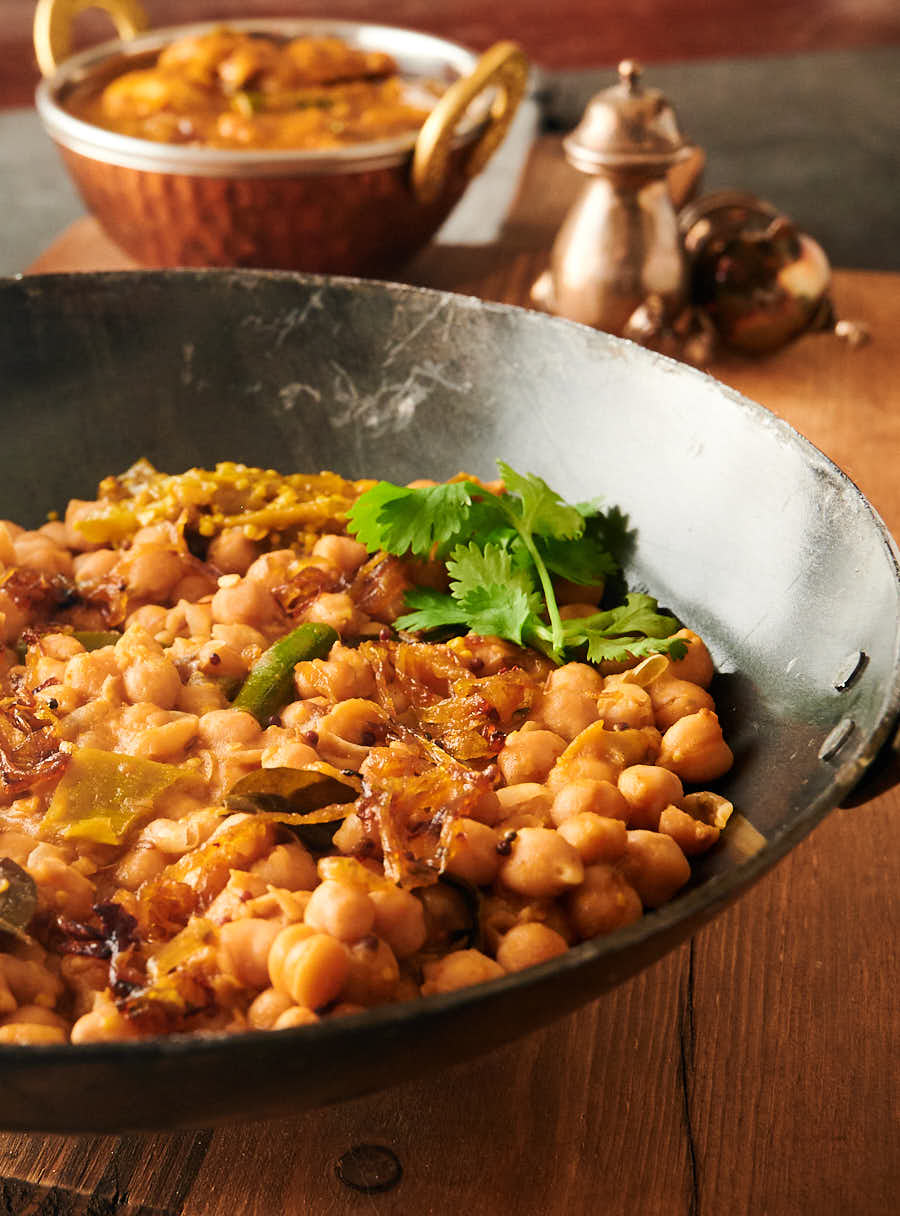 Green chili pickle is the secret ingredient
I'm loving playing with Indian pickles these days. They make hotel style achari chicken what it is.
Garlic pickle puts garlic chilli chicken right over the top. Seriously. Right over the top. You need to taste that one to believe it.
And I'm slipping naga pickle in anywhere I can. I love naga pickle. If you've never tasted Indian pickles you need to start. This is not about kosher dills.
This is a simple recipe. Some onion. Some spice. A few curry leaves. Some green chilies.
And green chili pickle. Green chili pickle is 80 percent of the flavour in Green chili chana achari. Without it, it's just another chickpea curry. Not bad. But nothing special.
Add some green chili pickle though. Magic happens. This dish is really just a way for me to eat more green chili pickle.
I use Mother's brand green chili pickle. For the record I don't do paid endorsements. Not ever. But the brand I'm using here is kind of important.
Mother's is heavy on the mustard seed. If you want exactly what I'm tasting see if you can find it.
You can pick another brand. Or make it yourself. May not be exactly the same. But I'm betting it will still be tasty.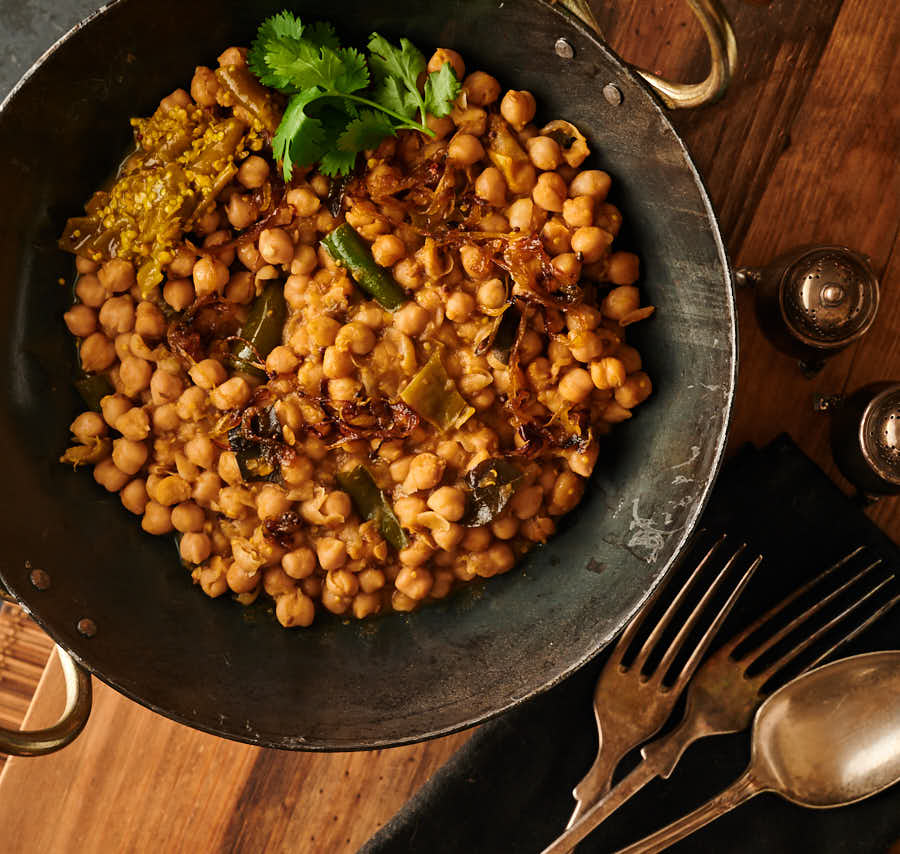 Green chili chana achari for your next dinner party
I love variety. Addicted to it. I want different tastes in every meal. Different textures. Melody. Counter melody. I get bored easily.
And Indian isn't any different. I always want to see a minimum of two dishes on my plate. Three is better. Four starts to push into thali territory. Which I love. But that is a crazy amount of work. So I don't do it often.
Think about adding green chili chana achari as that second note. A counterpoint to your star. Something that gives your taste buds a little surprise. Make your mouth smile.
Or make green chili chana achari as a main course. It's good enough to hold its own. I'm even eating it for breakfast these days. Did I mention I like this dish?
Think about it. Consider mixing it up. Try something new.
This one is different. A little bit out there. I get that it's a leap. But remember. I did this one for me. I am more than happy to share though…
Green chili chana achari
A little spice. A little green chili and some tangy green chili pickle make this chana seriously tasty.
Ingredients
The spices
1

tsp

mustard seed

1

tsp

cumin seed

1

tsp

kashmiri chili powder

1

tsp

cumin powder
green chili chana achari
3

tbsp

vegetable oil

– any neutral oil will work

1

large

onion

– diced

1

tbsp

garlic ginger paste

– homemade is always better

10-15

curry leaves

– fresh. If you can't get fresh just leave them out.

3

green chilies

cut lengthwise and then into 1 inch pieces

2

cans

chick peas

19 oz cans (540ml)

1 1/3

cups

water

– or chicken stock if you aren't cooking vegetarian

3-6

tsp

green chili pickle

– see note. Start with three tsp and creep up on the flavour you like

salt to taste
Instructions
Do your prep
Dice the onions. Rinse the chickpeas. Measure out your spices – whole in one dish, dried in another.
Make the green chili chana achari
Preheat your pan over medium heat. Add the oil to a pan large enough to hold all the ingredients.

When the oil starts to shimmer add the diced onion. Cook until lightly brown.

Add the garlic ginger paste. Cook until it stops sputtering – about 30 seconds.

Push the onion mixture to one side. You should have a puddle of oil in the pan. If you don't add a splash. You need this to cook the spices.

Turn down the heat to medium low. Add the whole spices, the curry leaf and the fresh green chilies. Cook for around 30 seconds.

Now add in the powdered spices. Stir those into the oil. You want them well coated in oil so they bloom. If it looks like the powdered will stick add a bit more oil. This is important. Cook for around 30-45 seconds.

Toss in the chickpeas and the water or stock and bring to a simmer. Cook, covered, for as long as it takes to get creamy chickpeas and a little body in the sauce. This will vary with the brand of chickpea. Somewhere between 20 and 60 minutes.

Keep an eye on the water level. Add more as required. In the end you want your sauce to have a bit of texture so don't drown the chickpeas. You are going for around half the liquid volume you started with.

This is the part that's up to you. It's hard to predict how much green chili pickle flavour you will want. Remember you haven't added any salt yet so everything will taste a bit flat. There's salt in pickle and I don't know how much there is in the brand you picked.

Add 2-3 tsps of green chili pickle. Stir and taste. If you think it could use more taste add another tsp. Repeat until you get a flavour profile that works for you. I use 6 tsps for the brand I use (Mother's).

Now taste for salt and adjust accordingly. I used 1/2 tsp but the chickpeas were pretty lightly seasoned. You may not need any more salt.

I love this as a side dish to just about anything or as a vegetarian main course.
Notes
Not all Indian pickles are created equally. There is considerable difference between brands. That's why the amount of pickle specified is a range. I use Mother's brand. You may use something else. The important thing is you creep up on what you like. 3 tsps is pretty lightly flavoured using Mother's. Six is just about right. 
This is in no way a product endorsement. It's the brand I can get and I like the flavour. Nobody is asking me to say this…
Nutrition
Calories:
320
kcal
|
Carbohydrates:
37
g
|
Protein:
12
g
|
Fat:
15
g
|
Saturated Fat:
3
g
|
Sodium:
762
mg
|
Potassium:
412
mg
|
Fiber:
12
g
|
Sugar:
3
g
|
Vitamin A:
329
IU
|
Vitamin C:
57
mg
|
Calcium:
108
mg
|
Iron:
4
mg