Achari chicken curry is not your run of the mill curry. In fact, it's not really like anything else. If you want something that stands out from the crowd this one is for you.
A little tangy. That's the best way to describe it. With aromas that reach down and grab you inside. At least that's what happens to me.
If you've ever tried achari chicken curry you know exactly what I'm talking about. If you've never tasted it, think about changing that.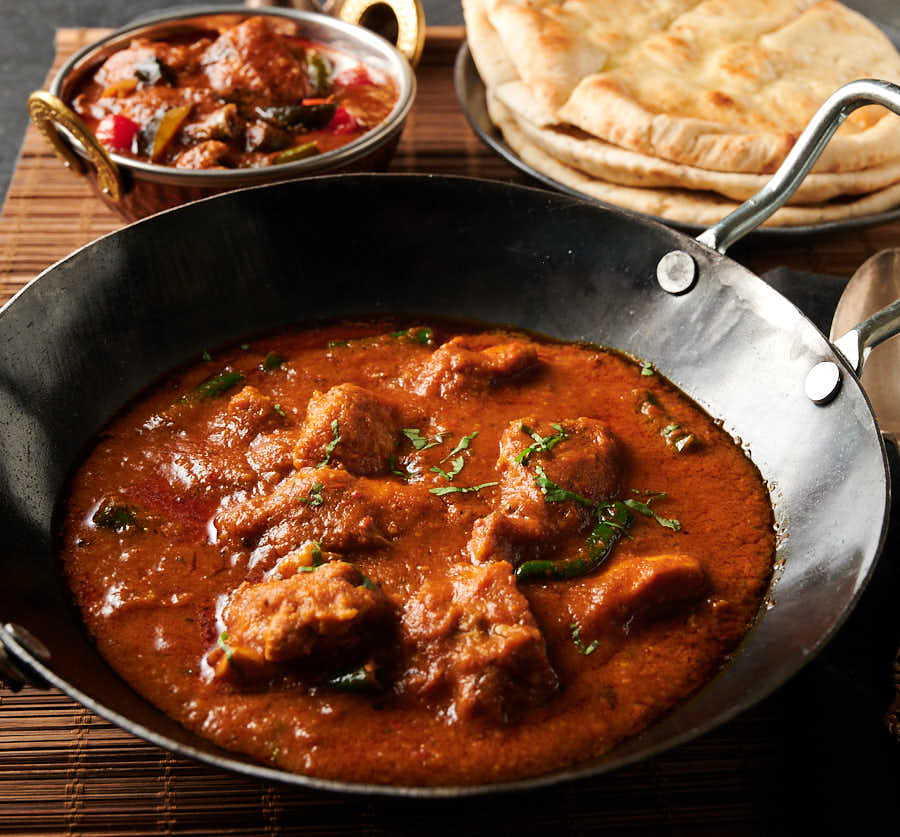 Achari means pickle in Hindi
Pickles in curry. How can that possibly make sense? Madness!
Turns out, it does make sense. A lot of sense. This isn't about kosher dills. This is about Indian pickling spices. Which have nothing to do with kosher dills. Except maybe the mustard seeds.
Indian pickles are a completely different beast. Related somehow I suppose. But not the same. At all.
Technically chicken achari is a curry cooked with the same spices that are used in Indian pickling. Chicken cooked with pickling spices. That's really tasty. But I want more.
More flavour. Always more flavour. So this version has garlic pickle. And maybe naga pickle for those who like it spicy.
That pushes it over the top. If you've tried the adding garlic pickle to garlic chilli chicken you know what a flavour boost that brings.
Hotel style achari chicken curry is about as subtle as a sledgehammer. And that makes me smile.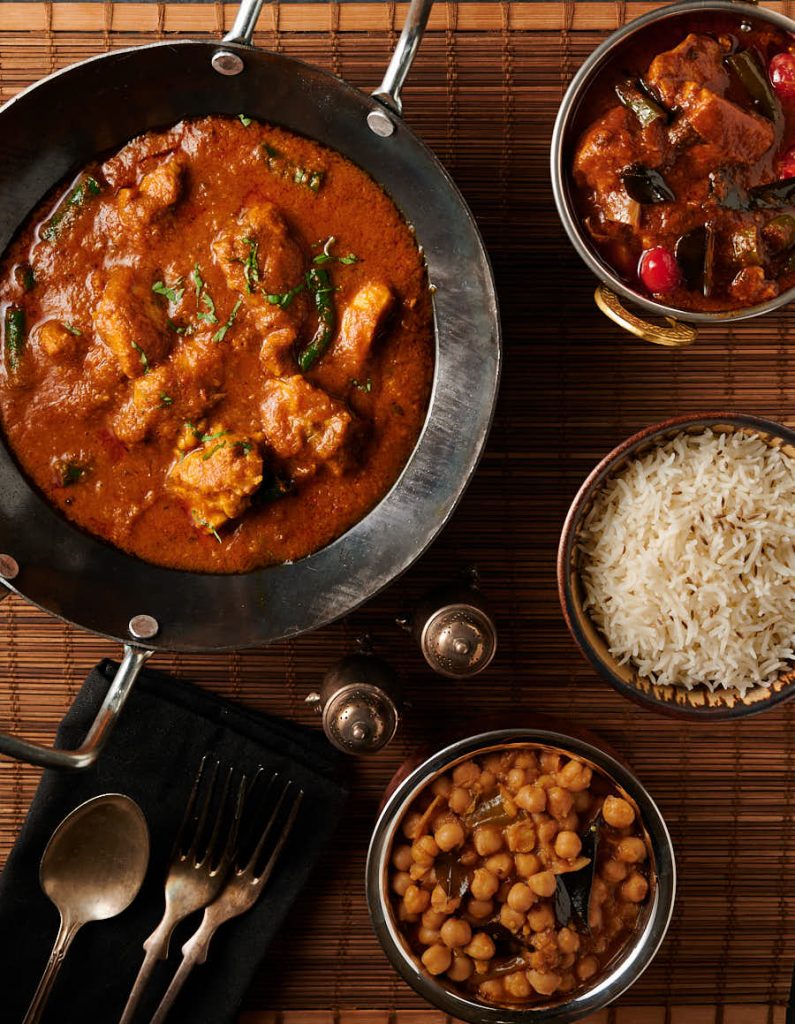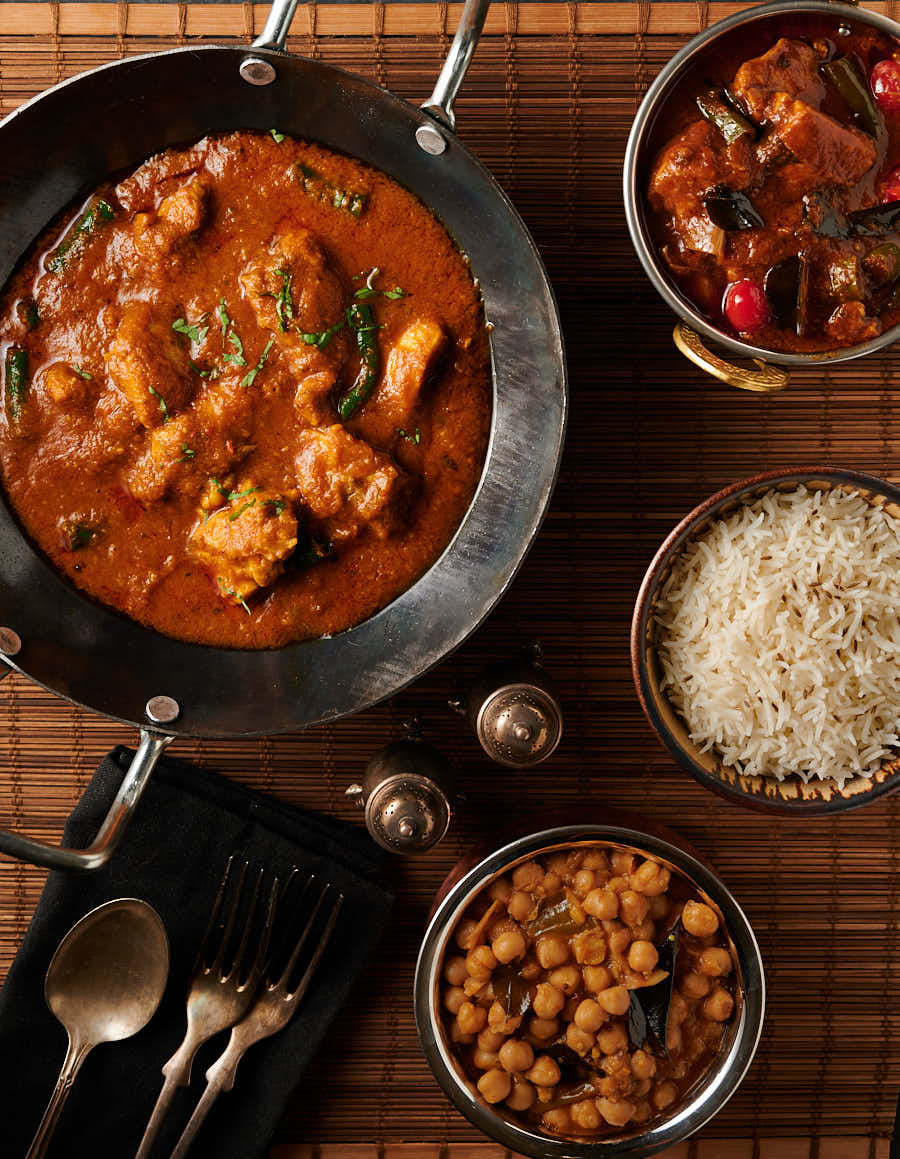 The right pickle for you
Choice of pickle makes a big difference. They are not all the same. Not at all. Green chili pickle is bright and spicy. The type I use is heavy on the mustard seed.
Mango pickle is dark. Earthy. Not so spicy. Naga, on the other hand. Naga pickle is seriously spicy. Melt your head hot. But it brings a flavour you cannot get anywhere else. It's just one of those things…
Garlic pickle is in your face. Like you'd expect. Garlic and chili. Seriously unsubtle. That's my preference here.
I like them all. Go with what you like. It's going in your mouth. Not mine. Your dinner. Your call.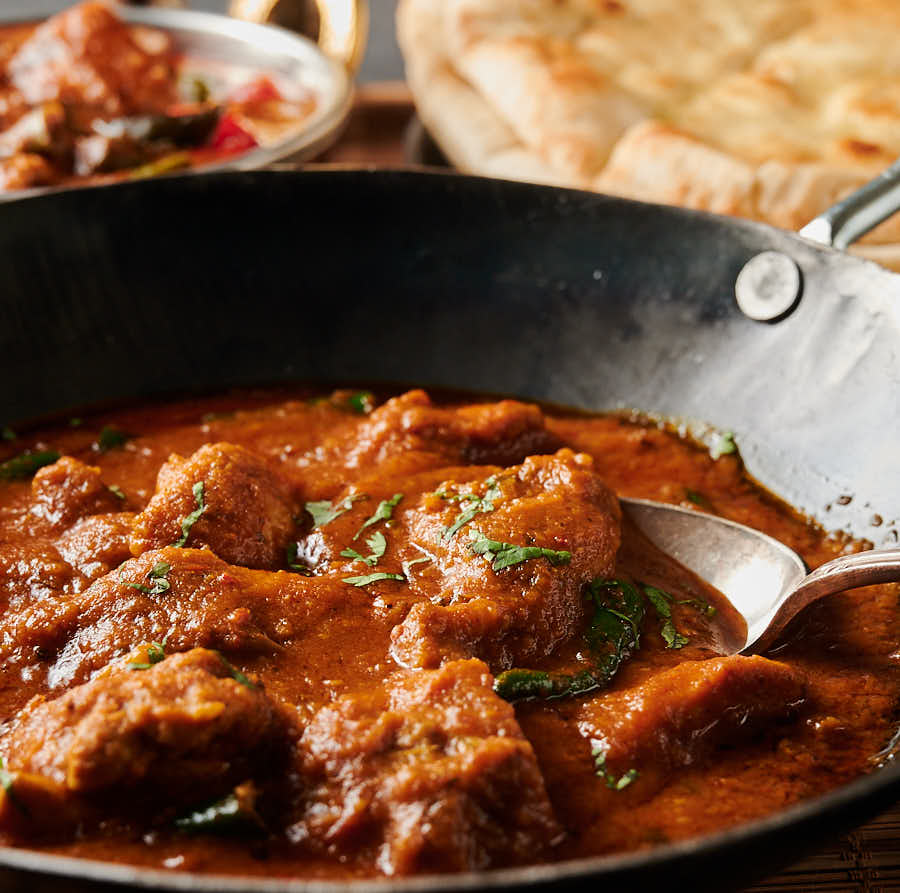 Fresh achari masala makes for great achari chicken curry
I'm going to make you toast whole spices for this one. Sorry. I know. It's a pain. You need a spice grinder. More time. More work.
But the payback is real. And it's huge. You just cannot get this flavour any other way. I try not to ask this too often.
But where are you going to get ground fenugreek seed? Or ground fennel seed? And what are you going to do with the rest of the package if you do find it?
If you have to grind two, why not grind them all? That's my excuse for asking here. You had to do it anyway.
I should probably grind spices every time I cook. Everything would taste better. But I don't always have time. And you'd probably go somewhere else for your recipes.
So that's not happening. I'm happy you are here. And they sell ground spices for a reason.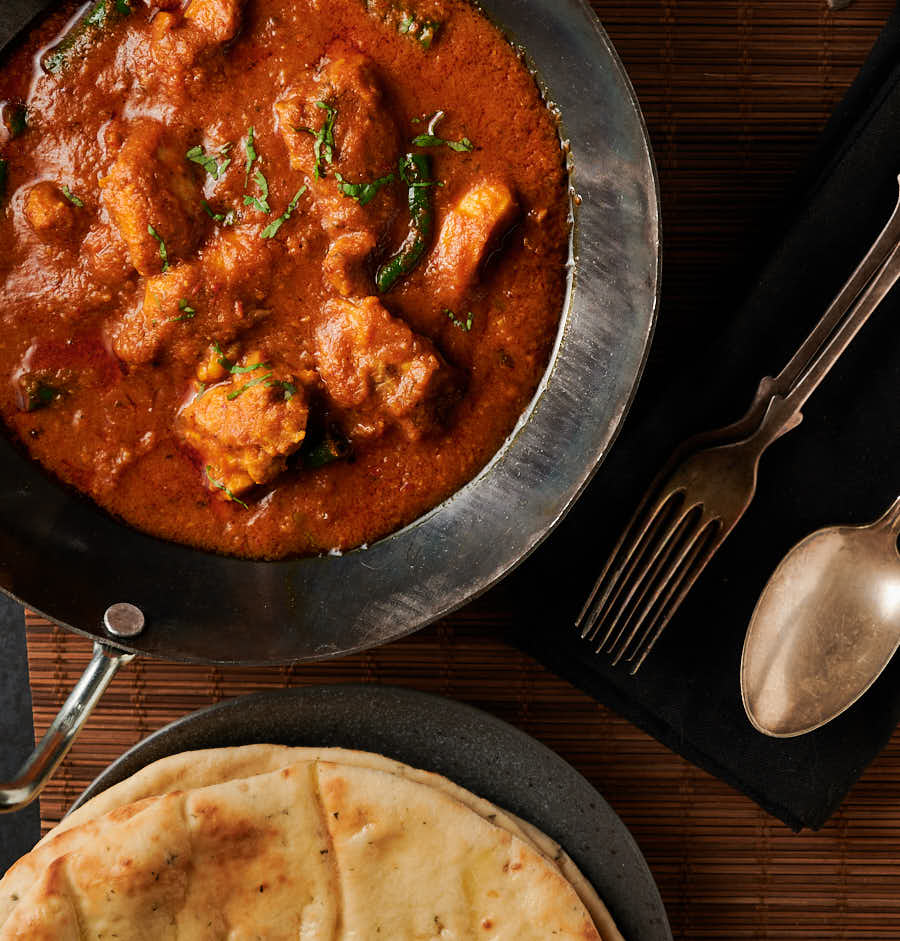 Hotel style achari chicken curry
Unless you are a regular around here, you've probably never heard of Indian hotel style cooking. It's a little different from what you might be used to.
It sits between typical Indian restaurant style cooking and traditional home cooking. You get the lush restaurant style sauces. And the deeper flavours you love from traditional Indian cooking. It's the best of both worlds.
There's a few nice benefits to hotel style. It's not as messy as Indian restaurant style. That spatter all over your stove? Gone. Easier to make. And way easier to clean up.
The secret is the deep browning of the onions in hotel style curry gravy. That's what really does it. The big difference. Fundamental.
More work up front + less mess = more flavour. That's the math. And I'm always about more flavour. So I like the math.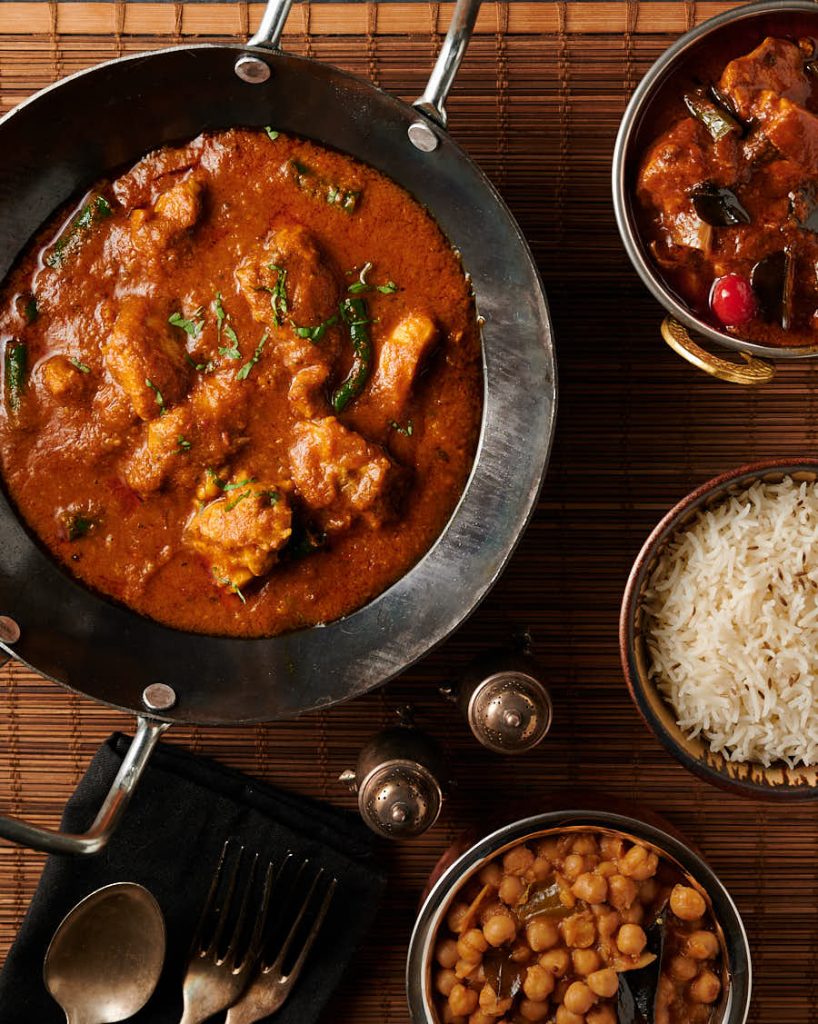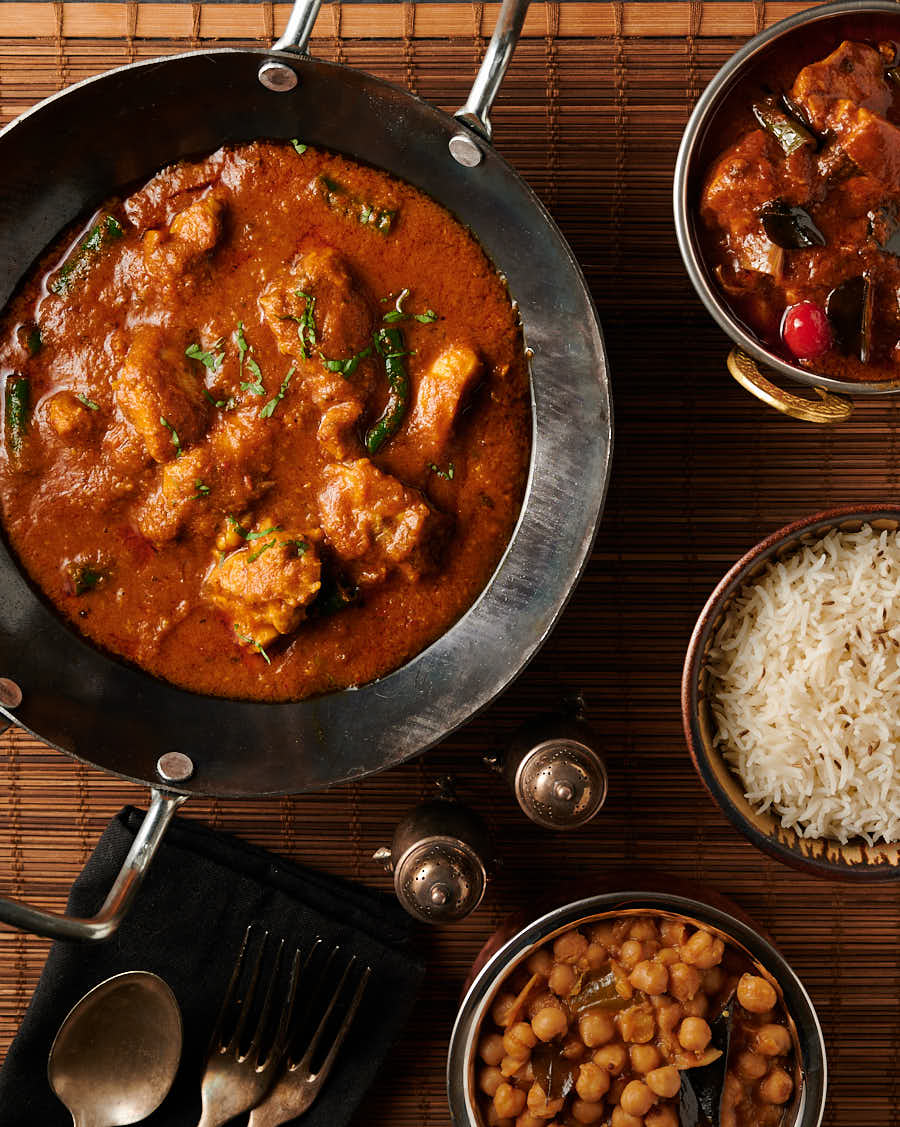 Hotel style is nothing new
I'm pretty sure modern day Indian restaurant cooking has its roots in Indian hotel style cooking. The way it's done in hotel restaurants in India. And the really posh Indian restaurants around the world.
Somewhere along the way it was simplified. Restaurants need to manage labour costs.
Time is money. So some enterprising cooks found a way to make it easier to make. Less effort. Less cost. That's totally understandable. Hotel style base is more work up front.
But something was lost. The depth of flavour diminished. The complexity muted.
The restaurant world split. Indian in India. Indian everywhere else.
I'm a fan of both styles. Both are good. Just different. Restaurant style is familiar. It's tasty stuff. No doubt about that.
But when I want maximum flavour. When I want to blow my friends away. When I'm going for the win. That's when I go hotel style. Every. Single. Time.
Fresh ground spices. Indian pickle. And hotel style technique. That's what this is about.
If you want something a little different. Something seriously delicious. Something that will break you out of the same old same old. Think about hotel style achari chicken curry. Your tastebuds will thank you.
achari chicken curry – Indian hotel style
Just a little bit of Indian pickle makes an amazing difference to the flavour of achari chicken curry
Ingredients
achari masala
3

dried kashmiri chilies

stemmed and seeded.

2

tsp

coriander seed

1

tsp

cumin seed

1/2

tsp

mustard seed

– brown

1

tsp

fennel seed

1/4

tsp

fenugreek seed
The spice mix
1 1/2

tsp

achari masala

– the ground spice. See above

1

tsp

kashmiri chili powder

1

tsp

kasoor methi

– dried fenugreek leaves

1/4

tsp

turmeric

1/2

tsp

kosher salt
achari chicken curry
3

tbsp

neutral oil

– mustard oil is more traditional. I like half mustard oil and half neutral (e.g. vegetable oil)

1

tbsp

garlic ginger paste

– recipe link below

the spice mix from above

2-3

finger hot (jwala) green chilies

cut into 1 inch pieces (optional and really depends what pickle you choose)

1

cup

Indian hotel curry gravy

– Recipe link in the notes. Don't worry if it seems too thick. The juices from the chicken will thin it out.

3

boneless, skinless chicken thighs

cut into 4 pieces each

2-3

tsp

garlic pickle

– possibly more – see note below.

1/4

tsp

naga pickle

– optional but so tasty. Even a 1/4 tsp will add real heat though so be careful.

1/4

cup

chicken stock

– if needed.
Instructions
Make the achari
Pre-heat a small skillet over medium-low heat.

Add the spices except the kashmiri chilies to the skillet.

Toast, shaking the pan, until they just start to get fragrant. This should take a two or three minutes. Add the kashmiri chilies and toast until the chilies start to colour. This happens fast so pay attention.

Let cool and grind to a powder with little chunks in it. Not super fine but not coarse either. Fine with little coarse bits in it. I should take a picture.

I like a coffee grinder for this. The old ones with the blade work well. Not the best for coffee. Great for spices.

You won't need all of it so transfer it to a jar with a tight fitting lid and store in a cool, dark place so it's ready for next time.
Do your prep
Measure out your spice mix. Prep your chicken. Measure out a cup (237 ml) of Indian hotel curry gravy. Cut up your green chilies if using.

Make sure you have everything ready to go.
Make the achari chicken curry
Heat the oil in a medium sized frying pan until the oil just starts to shimmer.

Stir in the garlic ginger paste. Gently fry until the garlic ginger paste stops sputtering. This can get a little messy.

Turn your heat down to medium low and add your spice mix. Cook for about 30 seconds. You want to fry your spices in the oil. Don't skimp on the oil. Bad things happen if the spices stick and burn.

Add the green chilies if you are using them. Cook another 30 seconds or so.

Add the Indian hotel curry gravy. Stir it really well to get the oil to combine with the curry gravy. You want everything mixed together at this point. Bring to a simmer.

Add the chicken thigh pieces in a single layer. Nestle them down into the sauce. Cover and ccok about 5 minutes. Remove the cover, flip the chicken and recover. Cook until the chicken is done. Use an instant read thermometer if you have one. You are shooting for an internal temperature of 160F. It will get to 170F as the curry finishes cooking.

Add the garlic pickle (or whatever pickle you decide to use) and the optional naga pickle if using. Stir well to combine.

Look at the consistency. You have a decision to make. If the chicken threw a lot of liquid the sauce might be right. If not, add a tablespoon or two of chicken stock and mix it in. Look again. If you are happy with it, cover and simmer for 2 minutes. If it's still too thick, add a bit morestock. I've never added more than a 1/4 cup.

Achari chicken curry is great with rice and a chickpea curry if you are feeling really motivated.
Notes
You can use whatever pickle you fancy for this recipe. Different pickles have different flavour profiles and intensity. Start with two teaspoons and taste. If you feel you want more flavour add another teaspoon. With naga pickle I would start at 1/2 tsp maximum. Two teaspoons of naga pickle will likely melt your face and quite possibly the pan you are cooking the curry in.
Make your Indian hotel curry gravy ahead of time. It does take time to make so think about doing it the day before. You can freeze one cup portions and pull them out when you need them. That's what I do.
For maximum flavour consider making your garlic ginger paste from scratch. I know I say this a lot but it makes such a difference.
1 cup is 237 ml.
Nutrition
Serving:
2
servings
|
Calories:
589
kcal
|
Carbohydrates:
16
g
|
Protein:
35
g
|
Fat:
43
g
|
Saturated Fat:
8
g
|
Cholesterol:
161
mg
|
Sodium:
1253
mg
|
Potassium:
779
mg
|
Fiber:
5
g
|
Sugar:
6
g
|
Vitamin A:
702
IU
|
Vitamin C:
16
mg
|
Calcium:
88
mg
|
Iron:
4
mg