Hariyali chicken curry is a little different. In a really good way.
In a curry rut? Want to try something a little out of the ordinary? This is not your everyday curry.
It's all about green chilies, mint and cilantro and spices. It's a wonderful, medium spiced curry that's really worth trying.
The secret is mint coriander chutney. Wrapped up in a lush hotel-style gravy. If you've never enjoyed a hariyali chicken curry, this is a good place to start.
Don't fear the mint. It may not be the first thing that springs to mind when you think Indian. But it is an undertone flavour. And it works. Really well. Have faith!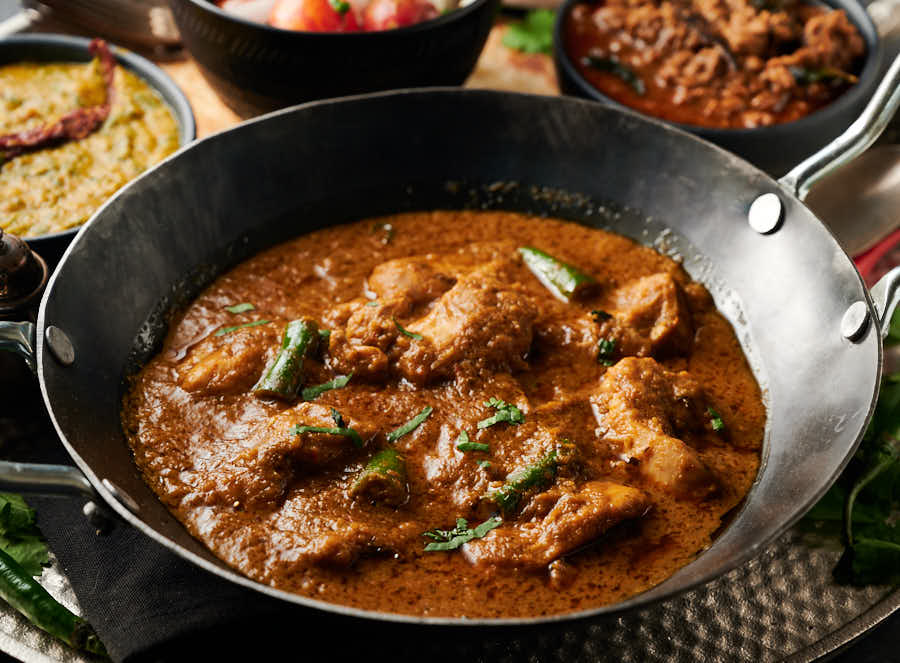 Variety is the spice of life
There are around 15 curries on the average Indian restaurant menu. They are all good. But 15 curries? Really? There are a billion people in India. Thousands of years of history.
And that's before thinking about regional cooking. Do you think it's possible a billion people with thousands of years of history might have more than 15 dishes?
This makes me crazy. I rant about it too much. I know. Sorry. But there is so much to Indian cooking. And the world only cares about 15 dishes? Seems to me like maybe we are missing out.
Dare to be different. Take a road untravelled. Make hariyali chicken curry. You won't regret it. Then make a nadan curry. Or a Ceylon curry. Mix it up! Your tastebuds will thank you.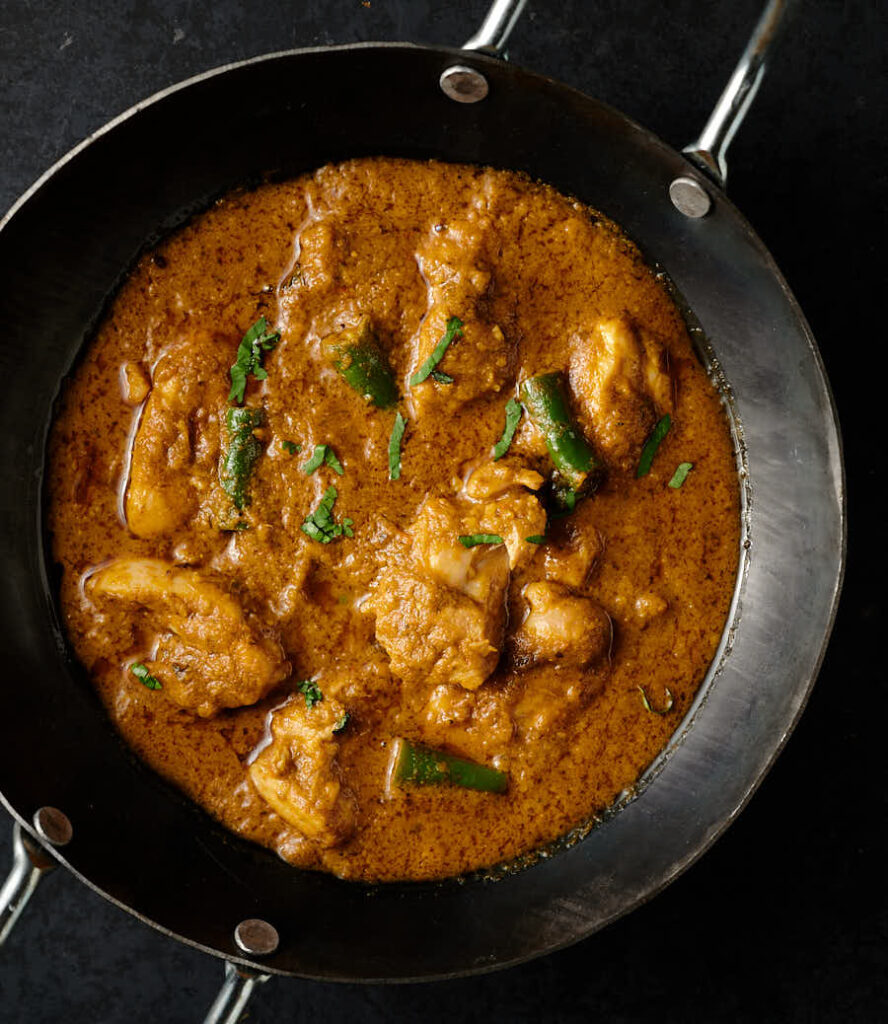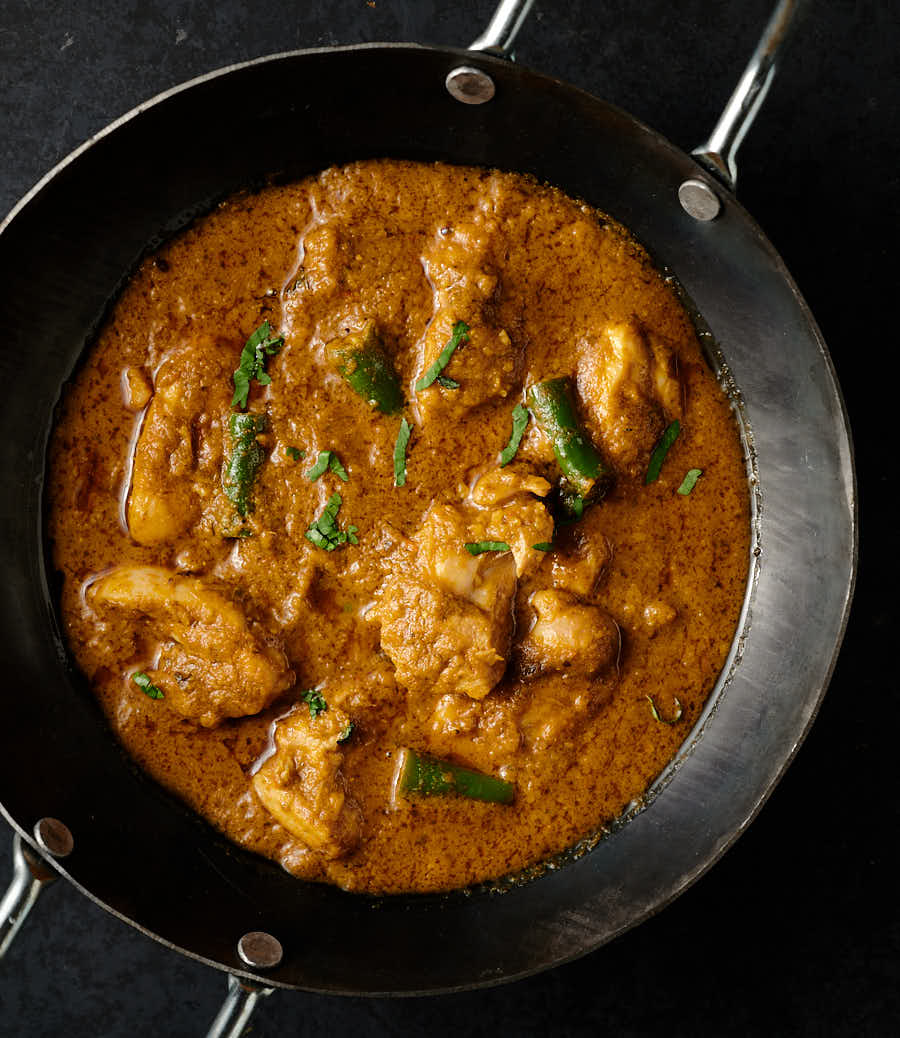 Hotel style takes restaurant curries to a new level
I am an Indian food addict. There's no doubt. Look around glebekitchen. There's a lot of Indian here. I come by it honestly though. It's my heritage. This is in my blood.
I'm a bit of a heretic though. I am not true to any one style. I love it all. Traditional is what I grew up eating. Home cooking. Comfort food. I have my favourite recipes posted.
I love restaurant as well. Lots of restaurant style recipes here. If you want to cook food like they serve at your favourite restaurant you won't go wrong here.
But when I want the lush sauces you get with restaurant style. When I want the deep flavours of traditional Indian cooking. And I want it in one place. That's when I pull out hotel style.
Hotel style is about bringing the depth of flavour you get in traditional food with that lush sauce you love at restaurants.
It's how the best restaurants do it. The uber-posh ones. If you want crazy delicious, hotel style delivers. Try it. You'll see.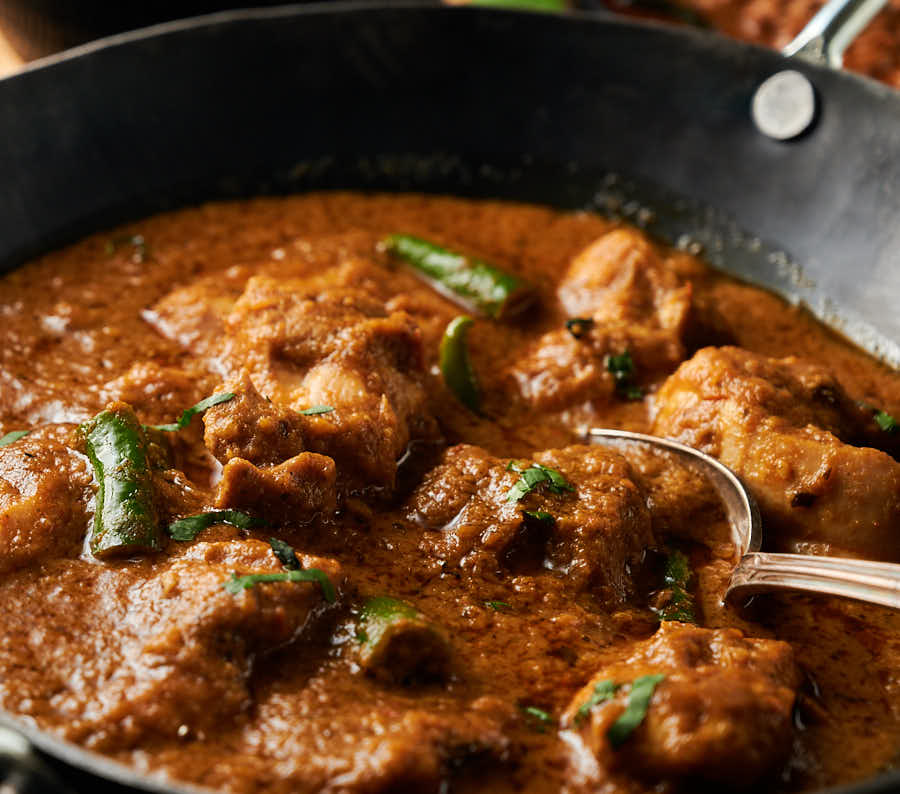 Hariyali chicken curry is green chicken curry – according to someone, somewhere on the internet
Told you I was a heretic. Hariyali means green. Day-glo green if the pictures on the internet are to be believed.
I could have made this hotel style hariyali chicken green. Wouldn't be hard. A good handful of spinach would do it.
But I didn't. Because I'm about flavour. And I don't think spinach works. Plus I don't like day-glo food. But that's me.
What I do like is flavours in balance. The green chili, cilantro and mint. The slightly sour tang of amchoor. The heat from the whole green chilies.
Not day-glo green. Sorry. But pure. Clean. Delicious.
That's a tradeoff I can always get behind. Works for me. If you can get past the fact it isn't bright green, I'm pretty sure this hariyali chicken curry is going work for you too.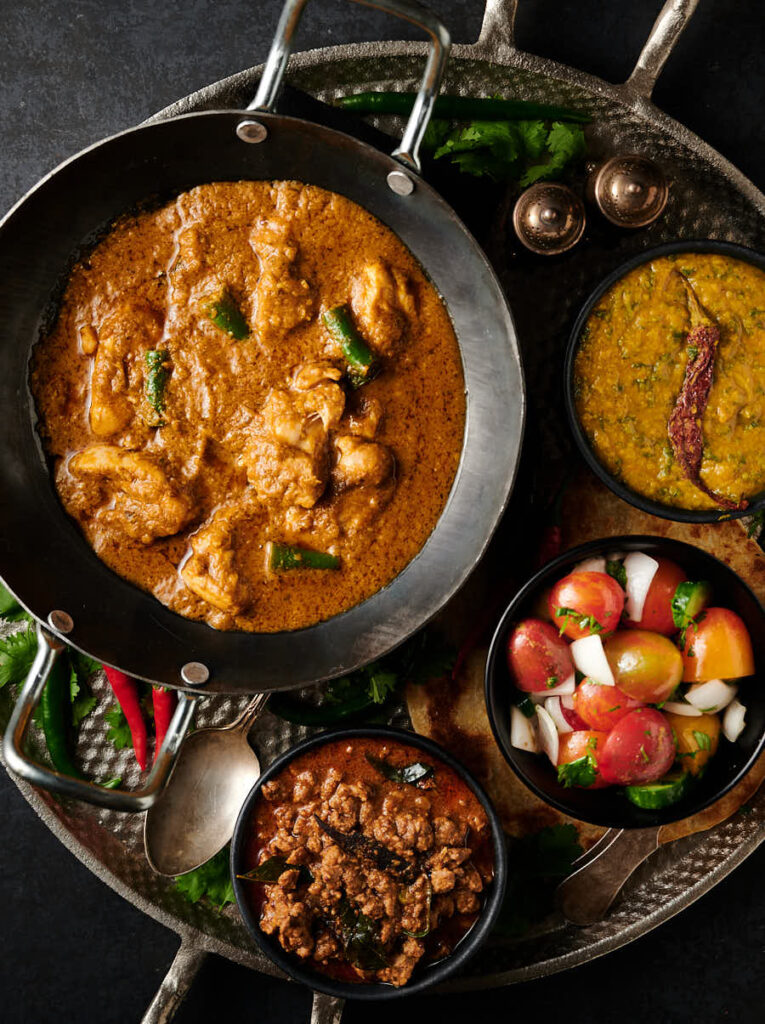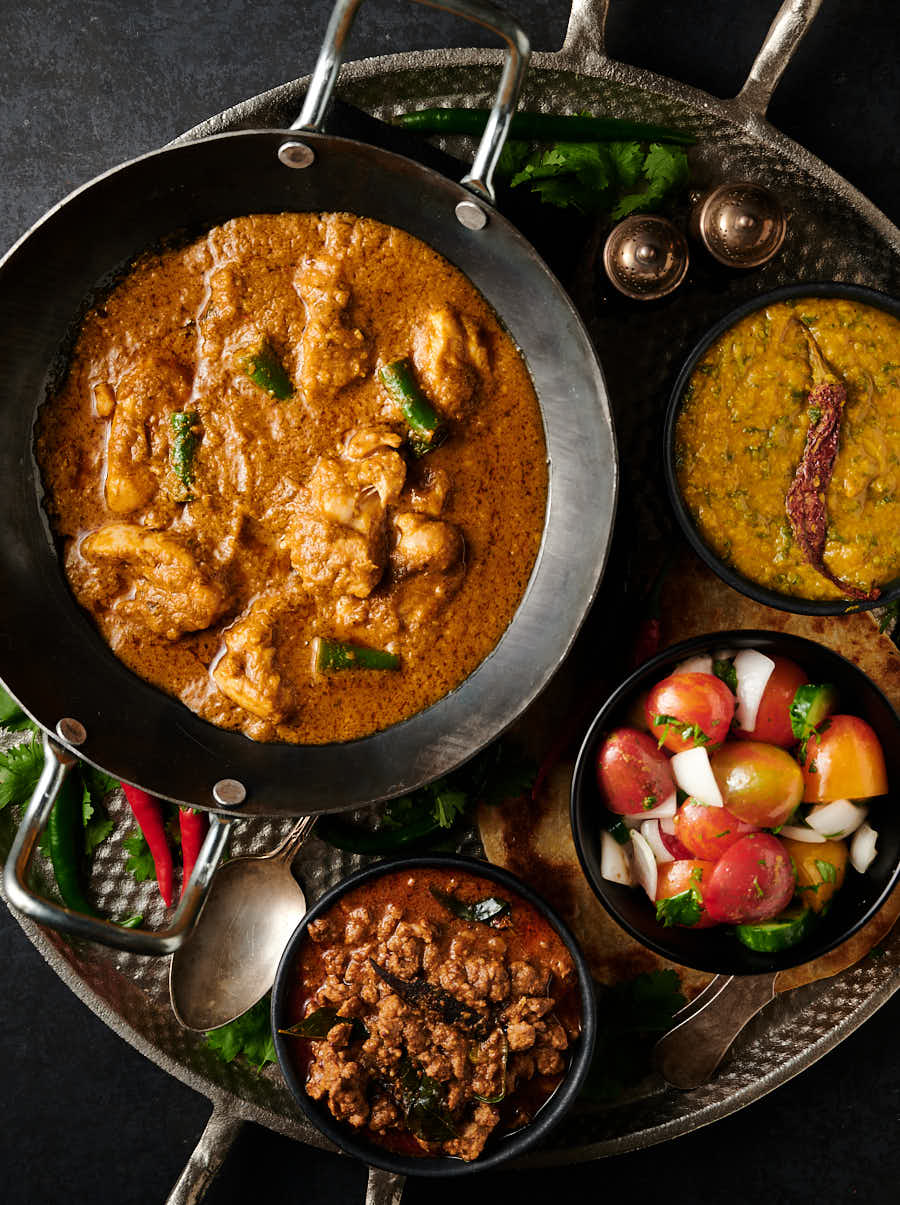 Hariyali chicken curry – Indian hotel style
Big, bold green chili, cilantro and mint flavours make hariyali chicken something special.
Ingredients
The spice mix
1

tsp

coriander powder

1/2

tsp

cumin powder

1/2

tsp

kasoor methi

– dried fenugreek leaves

1/4

tsp

amchoor powder

1/2

tsp

kosher salt
hariyali chicken curry
3

tbsp

vegetable oil

– any neutral oil is fine.

1

tbsp

garlic ginger paste

– recipe link below

2

green chilies

– cut into 1 inch pieces

the spice mix from above

1

cup

Indian hotel curry gravy

– don't worry if it seem to thick. The juices from the chicken will thin it out.

2

tbsp

mint coriander chutney

– recipe link below or use store bought

3

boneless, skinless chicken thighs

cut into 3-4 pieces each
Instructions
Do your prep
Make your spice mix. Dice your chilies. Prep your chicken.

Always good to have everything ready to go when you are cooking Indian restaurant or hotel style.
Make the hariyali chicken curry
Heat the oil in a medium sized frying pan until the oil just starts to shimmer.

Stir in the garlic ginger paste. Gently fry until the garlic ginger paste stops sputtering. This is the only messy step.

Add the green chilies. Cook another minute or so, stirring constantly (think stir fry).

Turn your heat down to medium low and add your spice mix. Cook for about 30 seconds. You really want to fry your spices in the oil. Don't skimp on the oil. Bad things happen if the spices stick and burn.

Add the Indian hotel curry gravy. Stir it really well to get the oil to combine with the curry gravy. You want everything mixed together at this point. Bring to a simmer.

Mix in the mint coriander chutney. Stir to combine.

Add the chicken thigh pieces in a single layer. Nestle them down into the sauce. Cover and ccok about 5 minutes. Remove the cover, flip the chicken and recover. Cook until the chicken is done. Use an instant read thermometer if you have one. You are shooting for an internal temperature of 170F.

The chicken will have thown it's wonderful juices at this point. You have to decide if you like the consistency at this point. If you would like it a bit runnier add a couple tablespoons of water and stir.

Hariyali chicken curry is great with rice or chapatis/parathas. Or both! A nice tarka dal and you have a feast.
Notes
Make your Indian hotel curry gravy ahead of time. It takes time to make so think about doing it the day before.
This recipe works with store bought  but for maximum flavour you might want to make your own mint coriander chutney.
For maximum flavour you should consider making your garlic ginger paste from scratch.
1 cup is 237 ml.
You may notice there's no tomato paste or passata in this recipe. That's because the tomato flavour comes from the hotel curry gravy. It's there already.
Nutrition
Serving:
2
servings
|
Calories:
640
kcal
|
Carbohydrates:
22
g
|
Protein:
36
g
|
Fat:
46
g
|
Saturated Fat:
14
g
|
Cholesterol:
161
mg
|
Sodium:
1257
mg
|
Potassium:
870
mg
|
Fiber:
7
g
|
Sugar:
8
g
|
Vitamin A:
891
IU
|
Vitamin C:
118
mg
|
Calcium:
117
mg
|
Iron:
5
mg