Mulligatawny soup. Haunting flavours of lentils, Indian spice, ginger, garlic and lemon. So tasty. Make this when you want something different. Something out of the ordinary. When your main course flavours are assertive.
It doesn't have to be an Indian dinner. Leave the chicken out and you have a nice "cream of" soup without the cream. Very posh. Use water or vegetable stock for a vegetarian option.
It works as an appetizer to an Indian meal too. Adds a bit of western structure to your meal. And you can make it ahead of time.
Mulligatawny soup – English or Indian?
Mulligatawny soup comes from Colonial India. Time of the British Raj. Back in the late 1800s. It's an English recipe really. Roots in Indian cooking for sure.
But British. It's like a tame sambar. Or a pureed rasam. A very western recipe with Indian flavours. East meets west. Kipling stands corrected…
Depending on who you believe it is named for the Tamil words for pepper and water. This recipe does have a good amount of black pepper in it.
Roll back on it if you're not a big pepper fan. Use a bit of white pepper instead if you are doing this for a fancy dinner party. That way you won't have the little black flecks.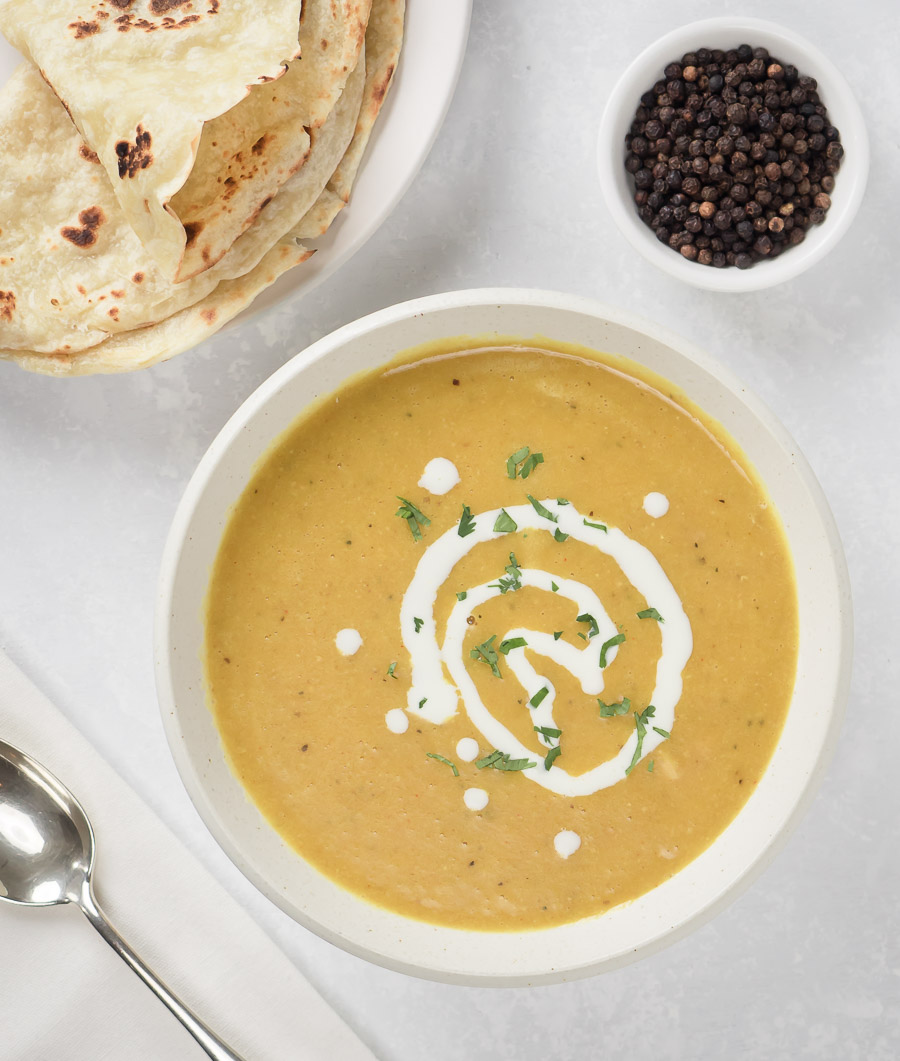 Mulligatawny soup is a lentil soup
This is a creamy lentil soup. Masoor dal or red split lentils to be exact. Great thing about masoor dal. Cook it long enough and it disintegrates into a wonderful mess. Just perfect for soup.
Like any pureed lentil soup it has good body. Texture. Mouthfeel. The spice mix adds a warming heat. The lemon brings a bit of acidity to cut through the relatively muted lentils. Wakes every thing up nicely.
I've seen a lot of mulligatawny recipes out there that have a ton of stuff in them. Vegetables. Rice. Coconut milk. Like a stew really. Or a vegetable curry.
I've even seen recipes without lentils. That just makes no sense to me. Just strange. I can see the coconut milk. I might try that some time.
But rice and no lentils? No thanks. You may disagree. I'm good with that. But try this version before you write me off…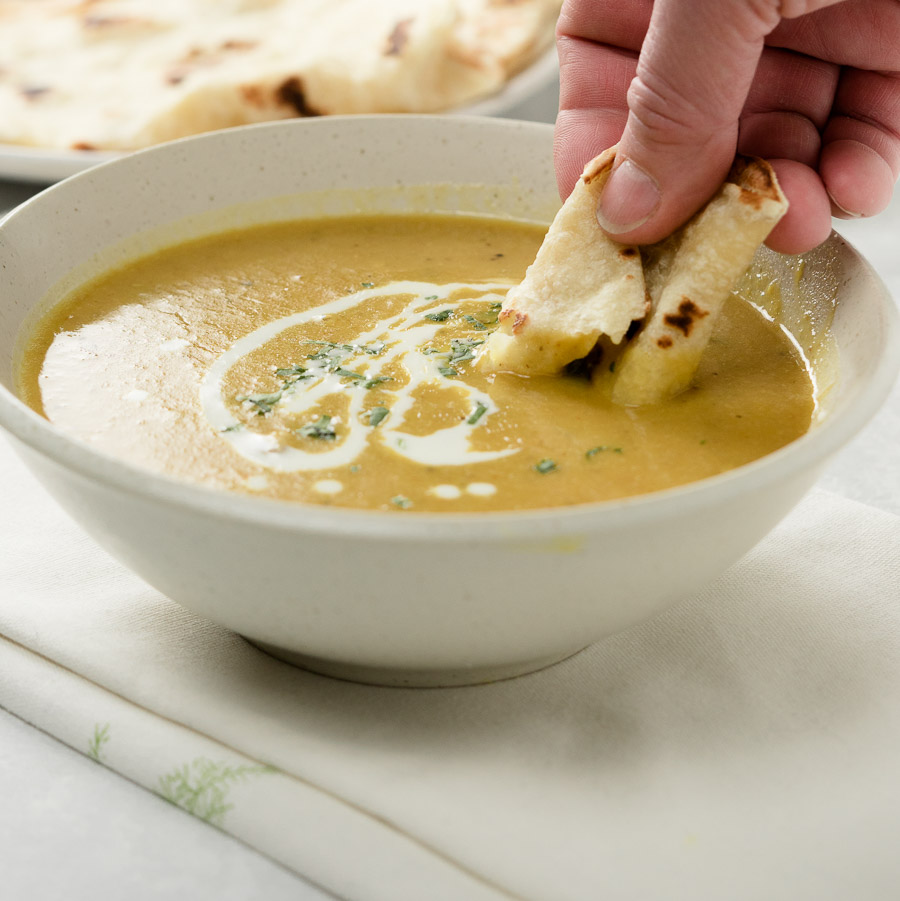 Make it ahead of time
The great thing about mulligatawny soup is it reheats really well. It's a lentil dish so there's nothing to get overcooked really.
You can just warm it up gently before you serve. If you are adding cream then do that after you warm it up.
Makes a great lunch too. Something to bring to work. It's even microwave friendly.
And it's a snap to make. Just cook some lentils and potatoes in some stock. Puree it. A blender works best.
Fry up some spices with garlic ginger paste. Cook the chicken. It's cut into small pieces so that takes no time. Toss it all together. Add a bit of fresh lemon juice to brighten things up and serve.
This recipe is adapted from a recipe in Madhur Jaffrey's Illustrated Indian Cookery. I think it's out of print. Really too bad – it's a great introduction to Indian home cooking. Probably the best one I've ever found. Certainly one of my favourites. I've had my copy forever.
Whether it's Indian or English, mulligatawny soup is a great addition to any menu. Try it. It will not disappoint.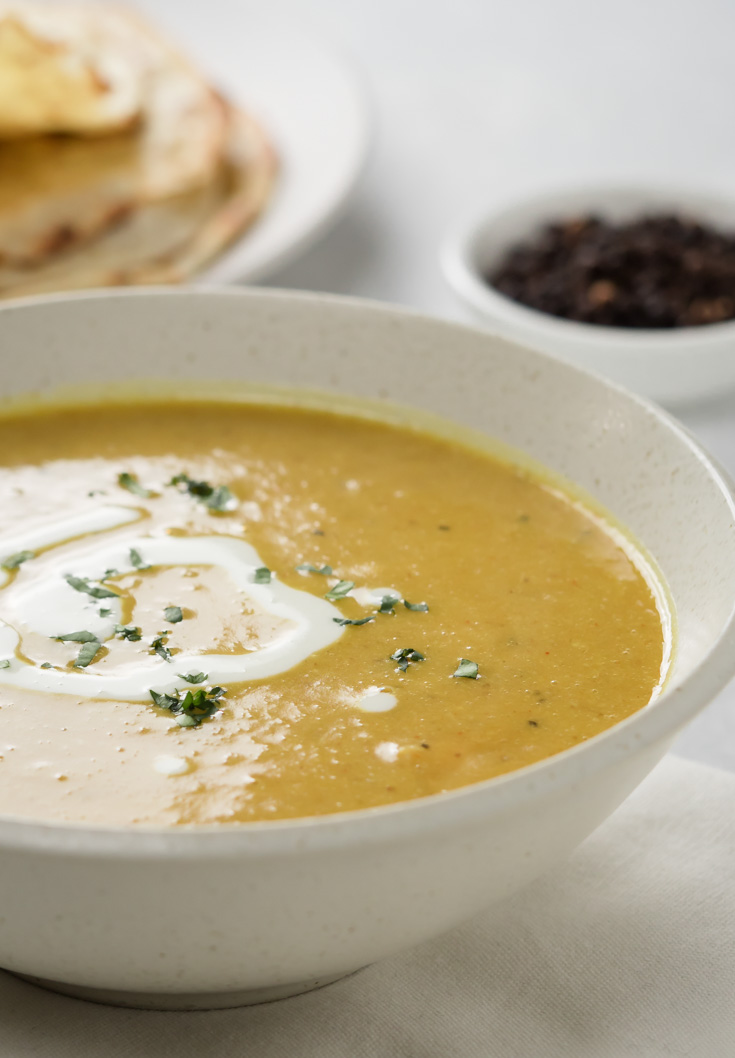 mulligatawny soup
Classic Indian flavours come together in this mulligatawny soup. Leave the bits of chicken out for a smooth, sophisticated Indian flavoured soup.
Ingredients
1

cup

red split lentils

- also known as masoor dahl

4

cups

low or no-sodium chicken stock

1/2

tsp

turmeric

4

oz

potatoes

cubed

2

Tbsp

garlic/ginger paste

- recipe link below

3

Tbsp

vegetable oil

Juice of 1/2 lemon

3

boneless skinless chicken thighs

or 2 boneless skinless chicken breasts
Spice Mix
1

tsp

ground cumin

1

tsp

ground coriander

1/2

tsp

mild kashmiri chili powder

or 1/4 tsp cayenne

1/2

tsp

course ground black pepper

or 1/4 tsp white pepper

1

tsp

kosher salt
Instructions
Combine lentils, chicken stock and turmeric and simmer covered for 30 minutes.

Add potatoes. Simmer another 30 minutes. Keep an eye on the pot so it doesn't boil over.

Puree the soup in batches. Your blender works best. Return soup to pot.

Trim visible fat from the chicken. Cut into 1/3 inch chunks.

Add oil to a clean frying pan. Heat over medium heat.

Pay attention at this point. Add the garlic ginger paste and fry, stirring constantly until the splattering stops.

Add the spice mix and continue to stir constantly for another 30 seconds. Regulate your heat. Don't let the spices burn!

Add the chicken and continue to stir. Cook chicken until almost done - about 3 minutes.

Add chicken mixture to soup pot. Simmer 3 minutes. Add lemon juice. Simmer an additional 2 minutes.

Thin the soup with stock if needed. Adjust seasoning (salt) to taste. To my taste another teaspoon or a bit more works. But everyone is different. Creep up on it. Can always add more. Cannot take it away.

Serve with a spoonful of raita or drizzle with a bit of heavy cream.
Notes
If you don't have garlic ginger paste make some. Combine equal quantities by weight with a 50/50 mix of vegetable oil and water to form a thick puree. Need more info? The recipe for garlic ginger paste is here.
Nutrition
Serving:
4
servings
|
Calories:
460
kcal
|
Carbohydrates:
40
g
|
Protein:
34
g
|
Fat:
17
g
|
Saturated Fat:
10
g
|
Cholesterol:
87
mg
|
Sodium:
1014
mg
|
Potassium:
1015
mg
|
Fiber:
14
g
|
Sugar:
4
g
|
Vitamin A:
140
IU
|
Vitamin C:
5.7
mg
|
Calcium:
56
mg
|
Iron:
6.1
mg