Garlic ginger paste is easy to make at home. And it is way tastier than anything that comes in a jar. Seriously. If you are looking to turn up your Indian cooking you need to start making your own.
Garlic ginger paste speeds up Indian cooking
Indian cooking is not trivial. Not easy. Real work. Those incredible flavours don't come for free. There's a big difference between opening up a jar of pre-fab chicken tikka masala curry mix and making it yourself.
If you want to start getting serious about cooking Indian making garlic ginger paste from scratch is a good first step. It keeps in the fridge so you can pull it out when you need it. And you'll need it a lot if you are cooking lots of Indian.
Watch for it. There are lots of Indian recipes out there that have garlic and ginger as ingredients. Lots. Which means you need to crush a bunch of garlic and grate ginger. Every time.
That's OK if you cook Indian once a month or less. But if you like Indian. If you cook it often. Then garlic ginger paste from scratch is something you need to make. I reach for it all the time.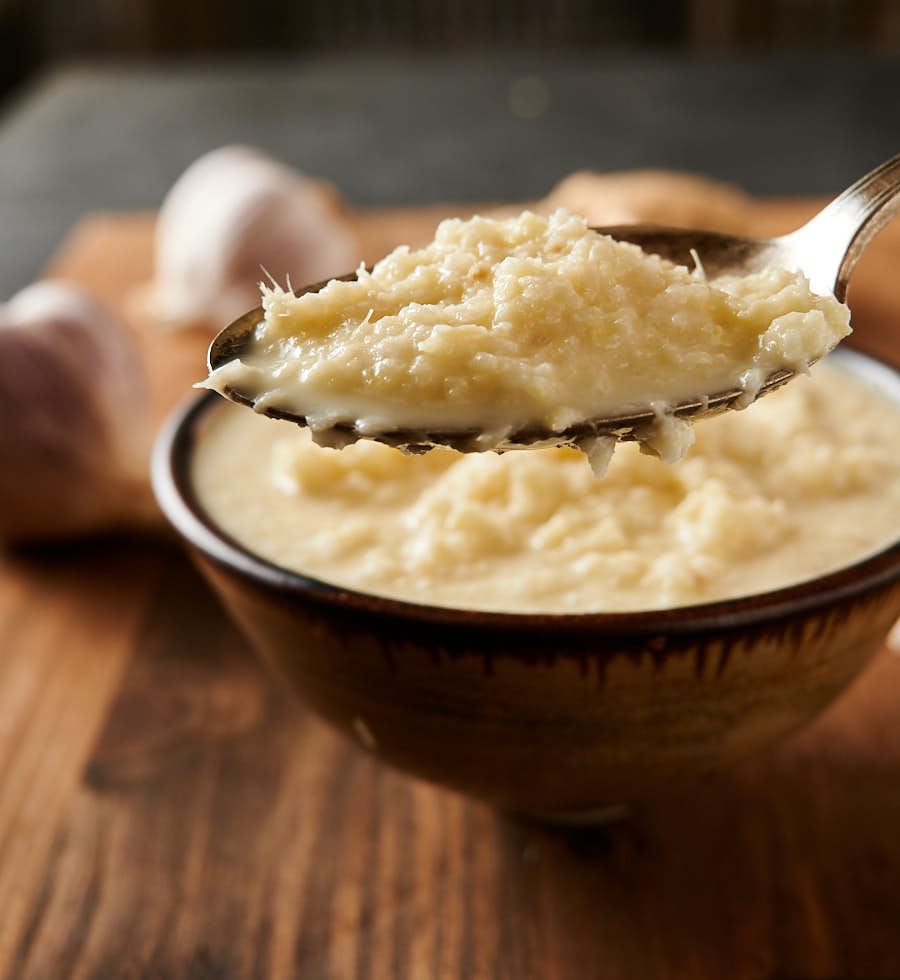 Fresh garlic ginger paste is just better
You can buy garlic ginger paste. I used to do just that. Then I tried making it fresh. I couldn't believe the difference. Like wow. That's crazy better!
You can eat store bought paste. A big spoonful straight from the jar. When you make it yourself though. There's no way you can eat it straight when you make it fresh. It will blow your head off if you try.
I threw out my jar of store-bought and have never used pre-fab since. And I never will again. Seriously. It's that big a difference.
It's easy and it keeps for weeks or even a couple months in a container in the fridge. It takes minutes to make. It makes all the difference in the world. There is nothing going for pre-fab except it is convenient. Bad. But convenient.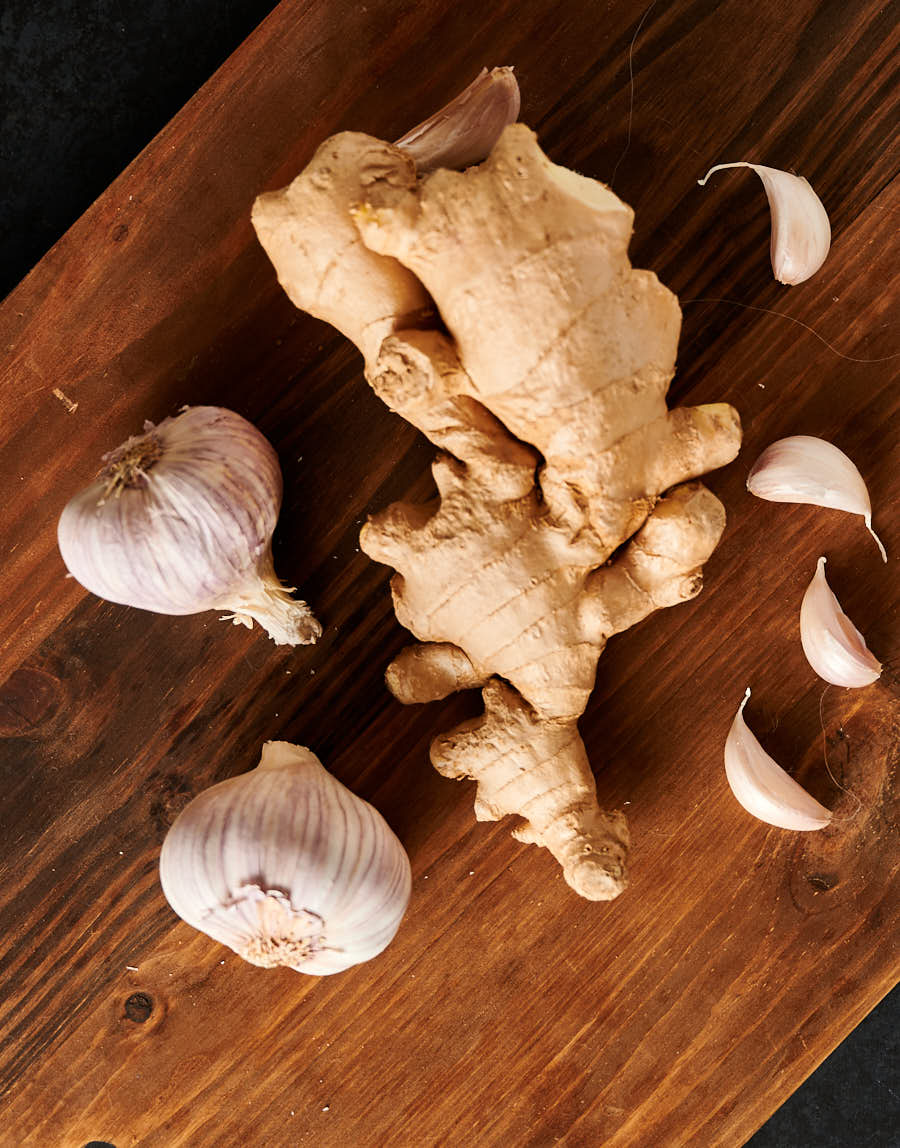 Use a spoon to peel ginger
I love this trick. Every time I need to peel ginger I grab a spoon. Makes peeling it easy. A snap really. Just drag the spoon across the ginger skin. Move towards you. That's it. It is easy to follow the nooks and crannies with a spoon.
A reader pointed out a great trick for garlic in the comments below. Take 4 or 5 cloves and put them in a jar. Shake hard. Some will come clean. The rest will peel easy. Just keep repeating until all your garlic is peeled. That's it. So easy. And it works. Thanks Tony!
Make garlic ginger paste from scratch. Do it. You will never look back. The first step towards better tasting curries. And better tasting is what it's all about.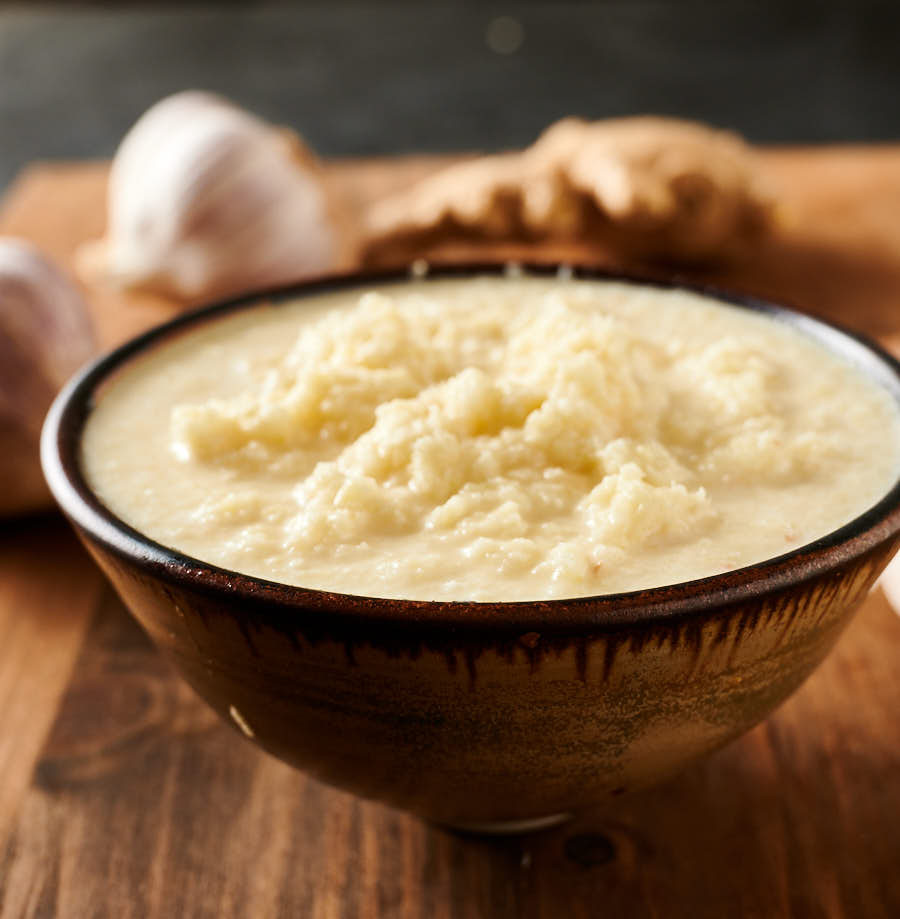 garlic ginger paste
Home made garlic ginger paste is way better than store bought. It's easy to make and it keeps well in the fridge. You can also freeze it in ice cube trays and pull out a cube when you need it.
Ingredients
6

oz

fresh garlic cloves

peeled – by weight

6

oz

fresh ginger

peeled – by weight

1/3

cup

of vegetable oil

1

tsp

salt

enough water to get it to all puree.

– with my blender it takes about 1/3 of a cup.
Instructions
Combine garlic, ginger, oil and salt in a blender.

Puree, adding water as needed to get the mixture to blend thoroughly.

Store in the fridge. Discard when the flavours fade.
Nutrition
Serving:
10
servings
|
Calories:
102
kcal
|
Carbohydrates:
9
g
|
Protein:
1
g
|
Fat:
7
g
|
Saturated Fat:
6
g
|
Sodium:
238
mg
|
Potassium:
139
mg
|
Fiber:
1
g
|
Sugar:
1
g
|
Vitamin C:
6.2
mg
|
Calcium:
34
mg
|
Iron:
0.4
mg