Japanese chicken curry is not like curry from anywhere else. It takes Indian flavours and makes it uniquely Japanese. Familiar. But not the same. Delicious.
It has Indian ingredients. But somehow they come together in a different way. I don't know why but I've loved it since the first time I tried it.
Japanese curry rice
I love evolution of dishes across cultures. It happens over and over. And Japanese chicken curry is no different.
There are a few different versions of Japanese curry. Curry bread is this crazy deep fried bread stuffed with Japanese curry.
It's on the go food. Train station food. Convenience store food. At least in Japan.
Curry udon is a big bowl of delicious. Fresh udon noodles swimming in curry. Truly Japanese. Truly awesome.
And then there's Japanese curry rice. Which is just what it sounds like. Rice and curry. Sounds Indian. But it's not.
It's my favourite of the bunch. Although curry udon is a really close second. Who am I kidding? They are all really good.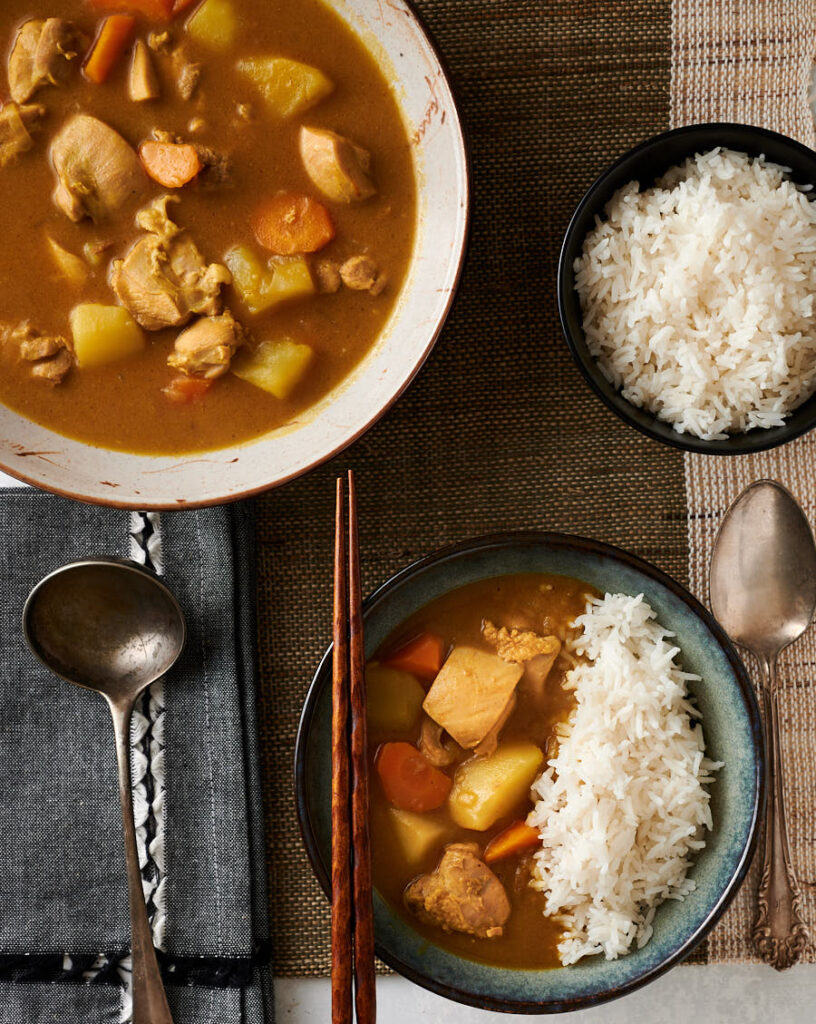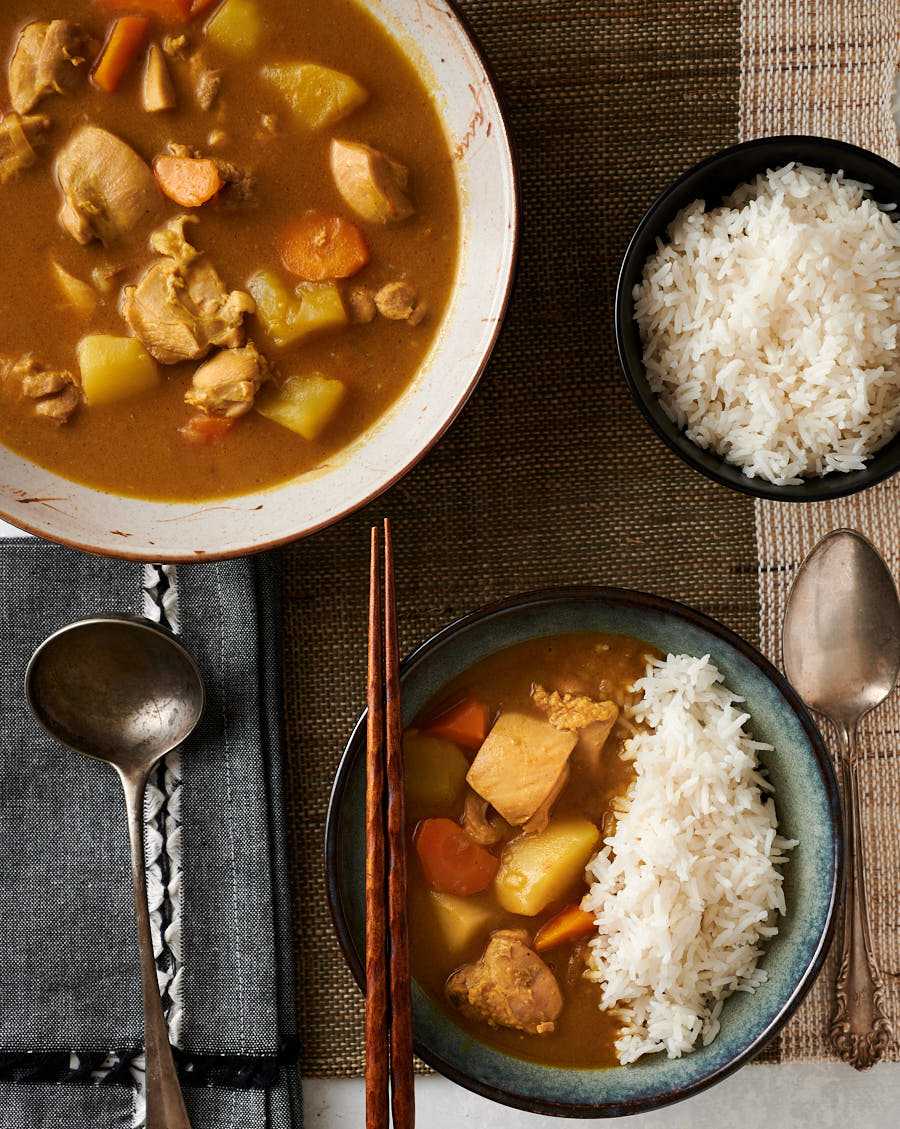 Japanese chicken curry – big in Japan
You don't see it much at Japanese restaurants outside of Japan. At least where I live. Sushi. Teppanyaki. Ramen. Even shabu shabu when I'm lucky. Those are big.
But Japanese curry is still relatively unknown. Which is a shame. It's really good. You should try it.
There's a story behind Japanese curry. It came to Japan while the British occupied India. The romantic version has members of the British navy introducing it to their fellow Japanese sailors.
I imagine the British curry was pretty close to what they ate in India at the time. And some bright Japanese navy cook took it and ran with it.
Made it thicker. Well suited for a chopstick culture. Smoother flavours. A hint of fruit. A bit sweet. Perfect with sticky rice. Perfect for the Japanese palate.
From the navy it spread to the army. Then to school cafeterias. And from there to the heart of Japanese culture. I love stories like that.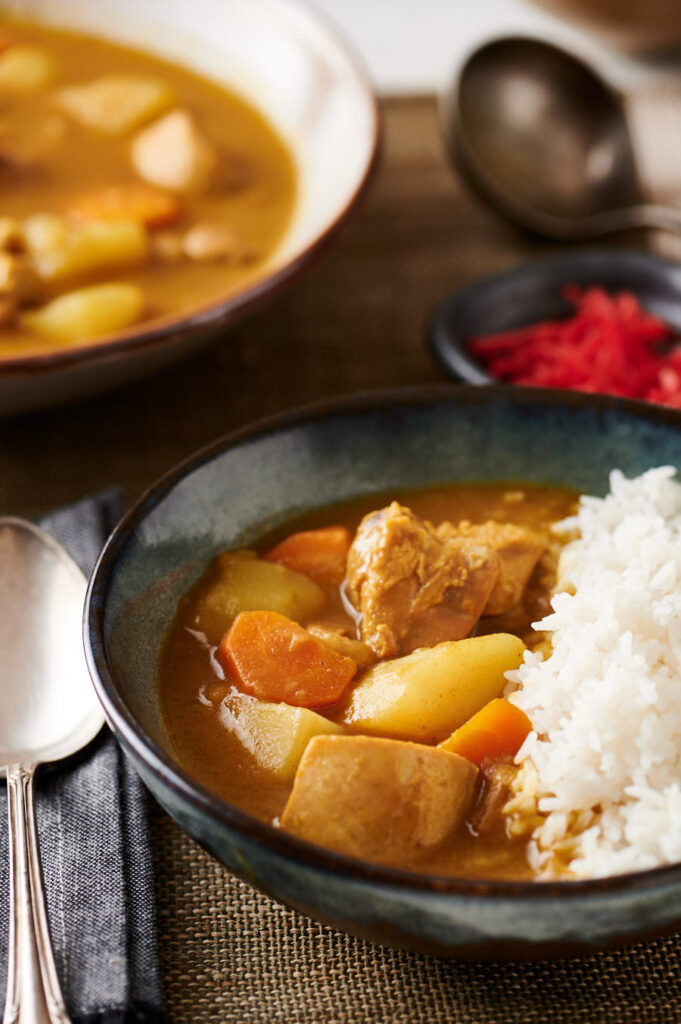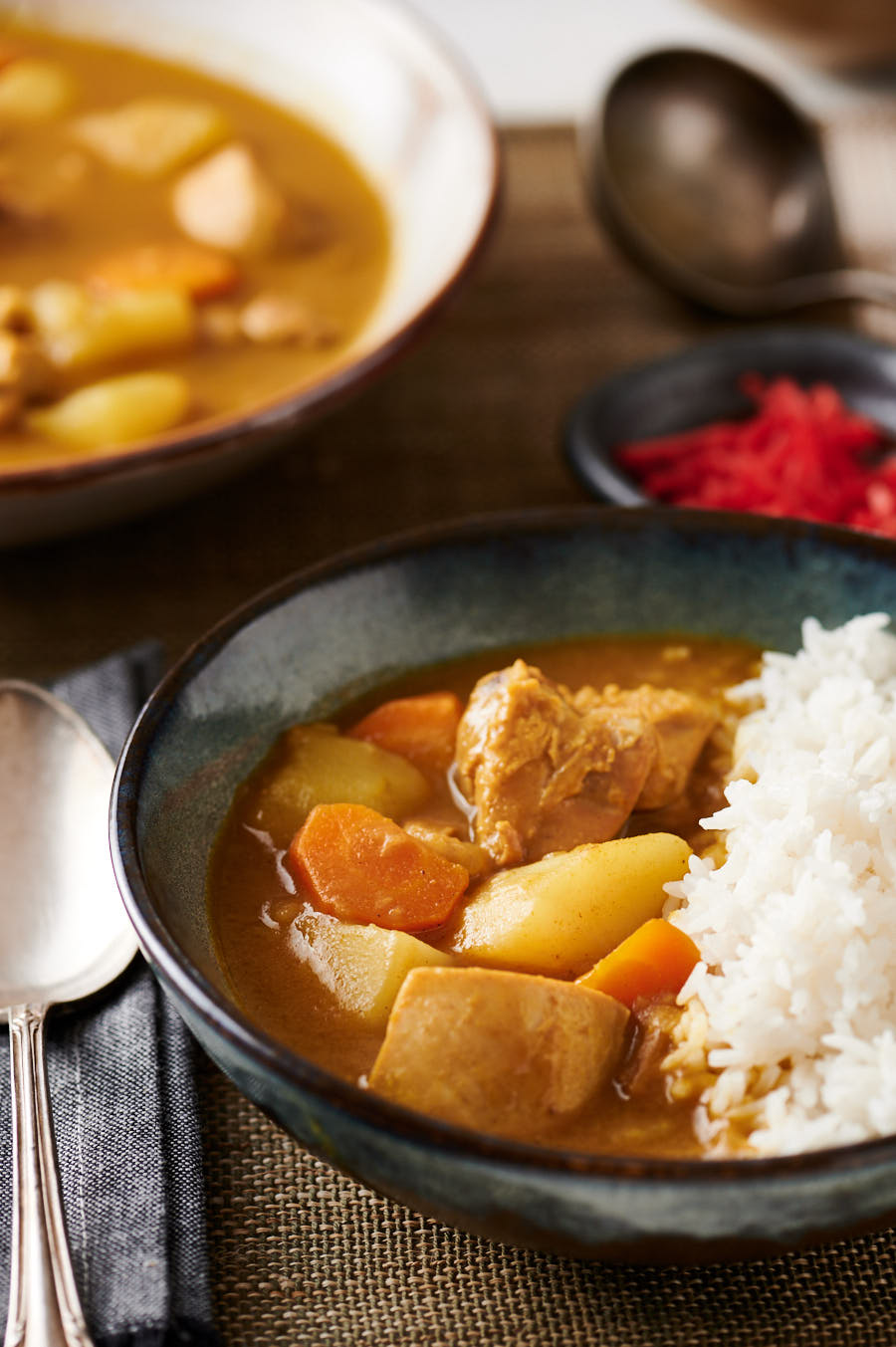 You can make Japanese chicken curry with curry cubes
That's a thing. Curry cubes. And it's big business. It takes the roux in this Japanese chicken curry recipe and serves it up pre-fab. Super easy. Fast food really.
And those cubes are pretty good. I like them. Use them in curry ramen. I know Japanese that swear by them.
Judging by the variety and quantity on the shelves of Asian markets it's popular. Lots of people making Japanese curry rice using cubes. Be sure of that.
But they all taste almost exactly the same. So there's no room to tweak them to suit your tastes. Or to mix it up a bit.
Making Japanese chicken curry from scratch isn't a lot harder. Not really that much work.
But you should make it from scratch
The cubes take out one step. And one pot. So they are easier. But that step isn't all that hard. You make a curry veloute. Which is just a fancy way of saying gravy.
You make a roux and add some liquid. Stir a bit. Then mix it into the curry. That's the effort you save with the cubes. And you get bragging rights. Curry rice from scratch.
There's a bit of technique here. I like to bloom the spices. Same as when I cook Indian.
And I want the raw taste cooked out of the flour. So I make a veloute. Like a béchamel but with the broth from the curry instead of milk.
And doing it from scratch will let you tweak the roux to your taste. Want it hotter. Add some chili powder. Cooking for kids? Maybe roll back on the curry powder.
Want it thicker? More flour and butter. Runnier. Back off the flour. Up to you. Dial it in for your tastes. Just like that cook on the first battleship to serve Japanese curry rice.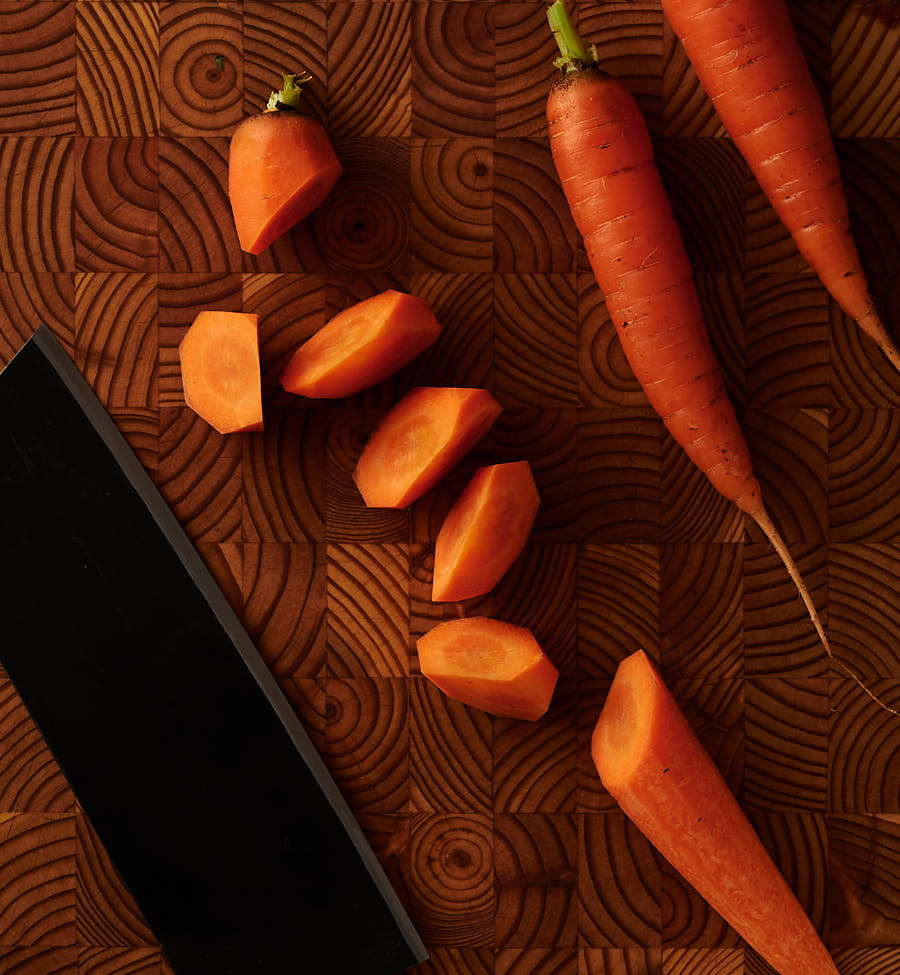 Chopping vegetables for Japanese chicken curry – rangiri style
You don't have to do this. I'm sure you chop carrots with the best of them. But it's a nice touch. And it's fun. Something to learn.
It's called rangiri. It's a technique to cut cylindrical vegetables like carrots evenly. And it's really easy. So why not?
Cut the ends off a carrot. Put it down on the board. Cut a piece off the large end with your knife at a 45 degree angle to the carrot. You should be looking at a carrot the cut end coming to a point.
Rotate the carrot 1/4 turn. With your knife still at the same 45 degree angle cut off the next piece. Keep repeating turn and cut. Turn and cut. Turn and cut.
Now look at the pieces on your cutting board. They should look like the picture. If they don't I've failed in my description. Sorry. Leave me a note telling me I suck and search for rangiri on youtube.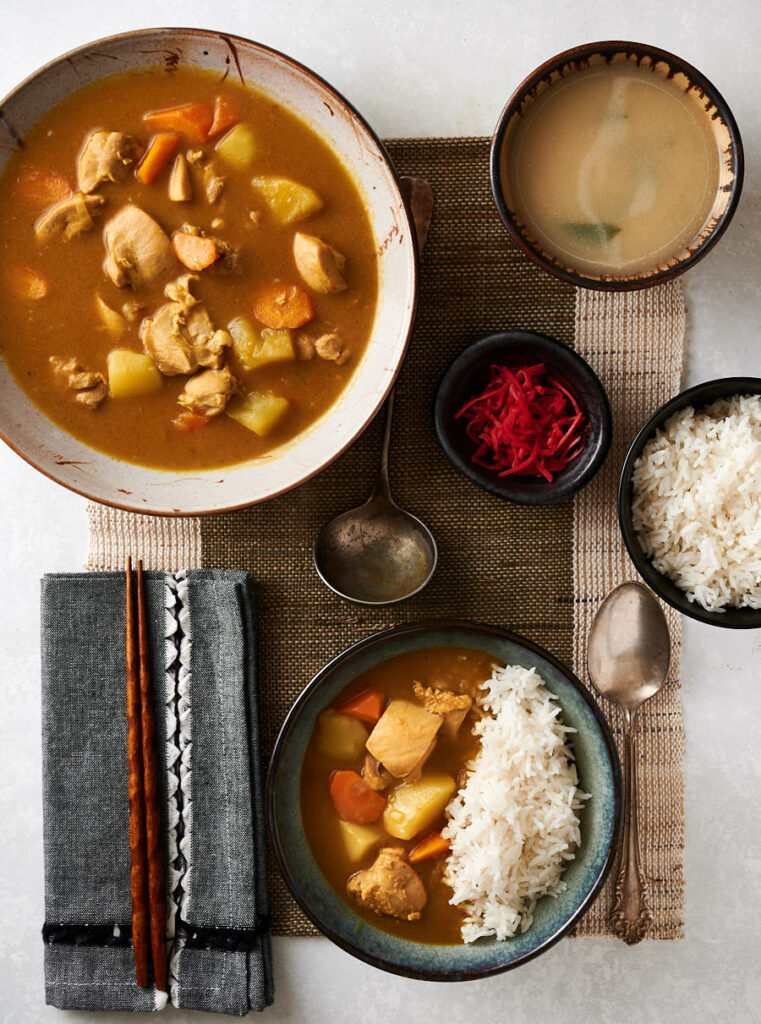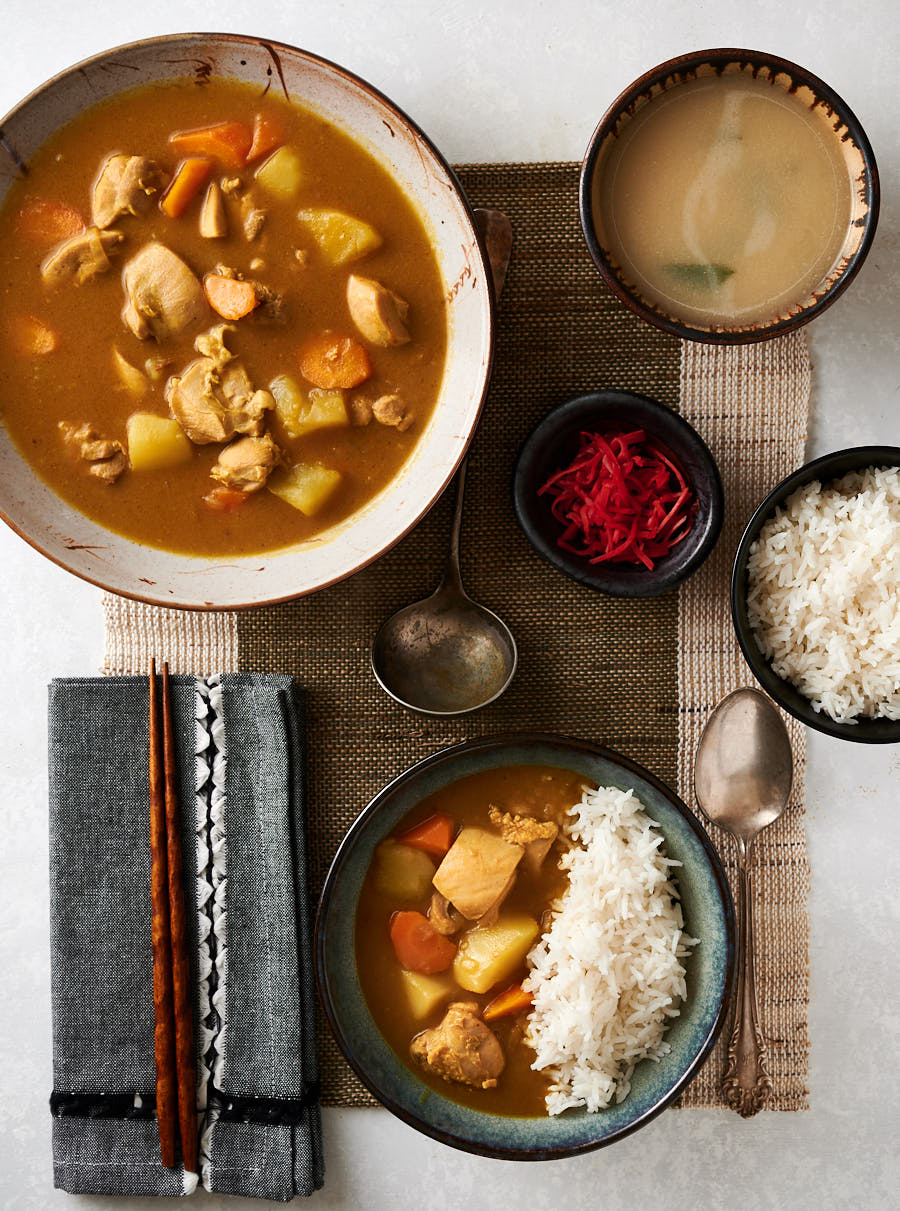 Tonkatsu sauce for the "secret ingredient"
There are two "secret" ingredients for Japanese curry. Honey and apple. I'll go one further. Japanese Worcestershire sauce is the third.
Japanese Worcestershire is hard to find. But tonkatsu sauce is not. It's a variant of Japanese Worcestershire. So it adds that flavour. And it's sweet. And it has apple in it.
See where I'm going? Three for one. It's my "secret" ingredient.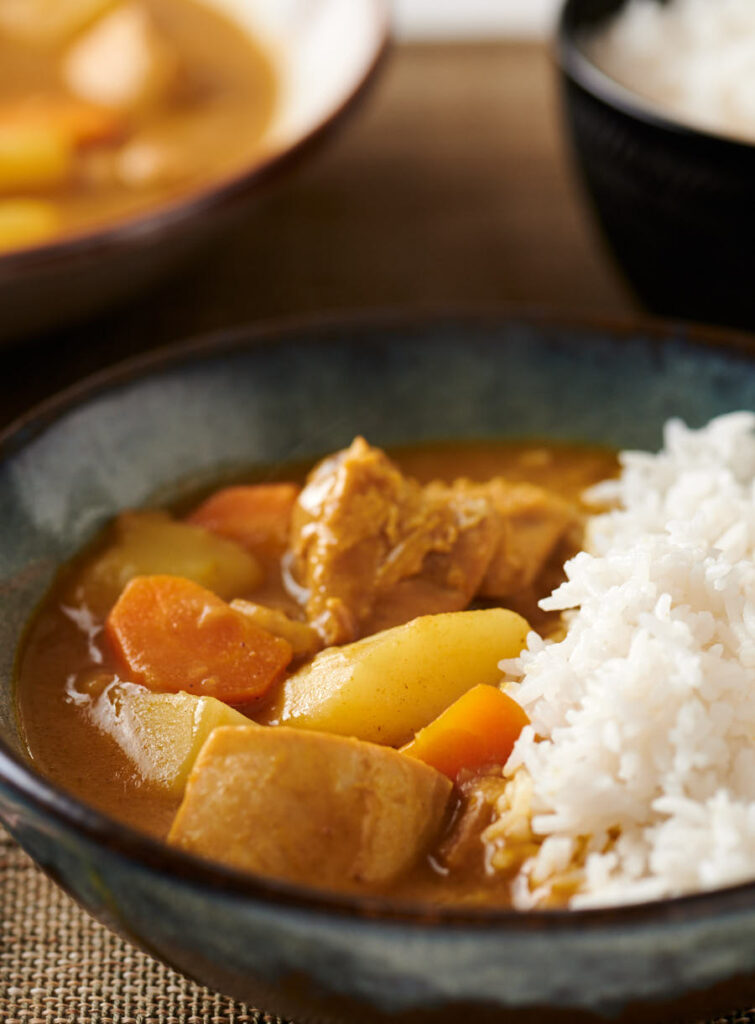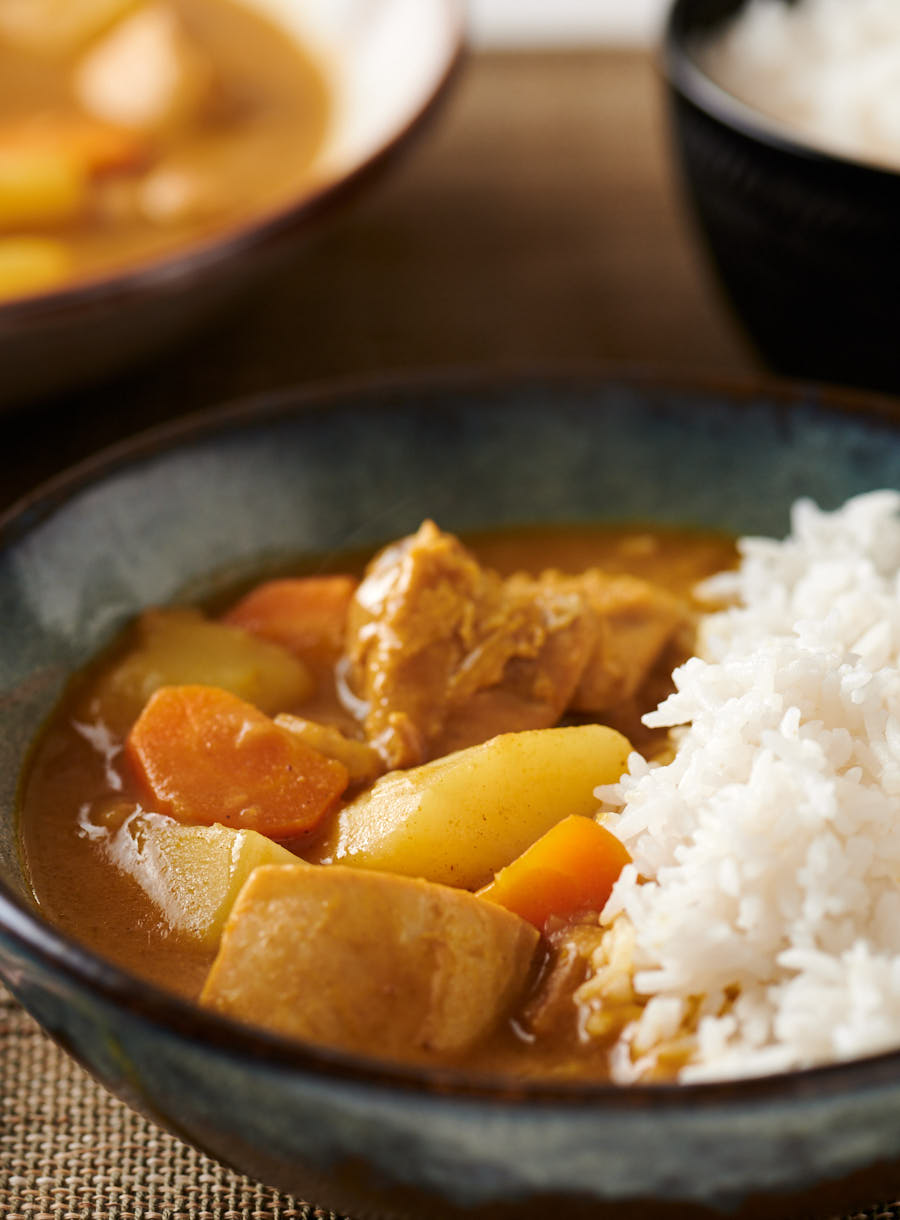 Try Japanese chicken curry
I want you to try this. If you have never had Japanese curry you need to taste it for yourself.
I don't care if you use the cubes. I don't care if you ignore this recipe altogether. This is a mission to get people to try something new. Something delicious.
Make Japanese chicken curry. Somehow. Using somebody's recipe. Just make it. I'm betting if you like Indian you are going to like Japanese curry rice too. I do. Familiar. But different. And tasty.
Japanese chicken curry
Japanese chicken curry is a delicious way to get your vitamin (C)urry
Ingredients
1

lb

chicken thighs

boneless, skinless and cut into bite size pieces

1

large

onion

about 8 oz sliced

8

oz

carrots

cut rangiri style (see above) if you want

12

oz

waxy potatoes

cut into bite size chunks

6

tbsp

butter

total

2

cloves

garlic

crushed

1/2

inch

piece of fresh ginger

grated

4

cups

chicken stock

low or no sodium or really plain homemade (just chicken and water – no fancy aromatics)

3

tbsp

Japanese curry powder

I use S&B brand

1

tsp

garam masala

4

tbsp

flour

2

tsp

salt

plus more to taste

1-2

tbsp

tonkotsu sauce

I like bull dog brand if you can find it. There are other brands that are easier to find if you can't. They will work too.
Instructions
Prep your vegetables. Slice the onion into 1/8 inch slices. Cut the onion in half from the stem to the root. Peel. Cut the stem end off. Now cut slices moving towards the stem end. You are cutting onion half moons.

Cut up the carrots, potatoes and chicken. You want bite size pieces.

Heat a pot large enough to hold all the ingredients over medium low heat. Add 2 tablespoons of butter. Let melt and then add the onions and the salt. Cook the onions for about 5 minutes stirring occasionally. You are going for soft and translucent. You don't want to let the onions brown.

Add the carrots, garlic and ginger (or 1 tbsp of garlic ginger paste if you stock it) and cook another 2 minutes.

Add the stock. Stir and bring to a simmer. Let cook 10 minutes. Set a timer. Makes things easy.

Add the potatoes. Cook another 15 minutes. Use your timer. Check the potatoes. They should be close to done. Depends on how big the pieces were. If they aren't starting to soften cook them until they do.

Add the chicken. Cook 10 minutes.

While the chicken cooks make the curry roux.

Heat the remaining 4 tablespoons of butter in a small sauce pan over medium low heat. Add the curry powder and garam masala and cook for about 30-45 seconds. Add the flour and stir to combine. You want all the flour coated with fat. If it's really dry add a bit of vegetable oil.

Cook the flour/spice mixture over medium low heat for about 2 minutes. This is your roux.

Now add a couple tablespoons of broth from the simmering curry. Stir to combine. It will make an ungodly looking mess. Goop. Don't worry. Add another couple tablespoons of broth and stir. Repeat that a couple more times.

Now add around 1/2 cup of broth and stir to combine. Add another 1/2 cup or so and stir. You sould be getting to the point where you have a really thick but smooth paste. Curry paste. It's better than it sounds. It's actually a variant of veloute which is a variant on bechamel. There's some cooking theory in this recipe…

10-12 minutes have gone by. Check the chicken. It should be done or at least close. Depends on how lively your simmer is though. Use an instant read thermometer. Safety first. You want it read around 155-160F at this point. The thighs are cooked at 170F but you can go a little higher. That's the nice thing about dark meat. It is forgiving.

Add the curry veloute (fancy way to say the curry paste) to the curry. Stir to combine. Bring to a simmer. The chicken should be done. Check it. If it's not cook it for another few minutes.

Taste. At this point the flavour profile will be similar to the cubes. Adjust salt. Now add one tablespoon of tonkotsu sauce. Taste again. This will add a hint of sweetness as well as that secret Japanese curry flavour. If you like it stop now. If you want more fruit and sugar add another tablespoon. I like it between one and two tablespoons. If you want big fruit taste add another tablespoon. I've never gone beyond that so I don't know if more is better. Three is too sweet for my taste.
Nutrition
Serving:
4
servings
|
Calories:
418.35
kcal
|
Carbohydrates:
35.44
g
|
Protein:
22.14
g
|
Fat:
22.35
g
|
Saturated Fat:
12.11
g
|
Cholesterol:
109.79
mg
|
Sodium:
1536.84
mg
|
Potassium:
1074.06
mg
|
Fiber:
5.62
g
|
Sugar:
6.68
g
|
Vitamin A:
10076.86
IU
|
Vitamin C:
14.41
mg
|
Calcium:
80.67
mg
|
Iron:
3.59
mg