If you are looking for a quick ramen fix this one can be on the table 30 minutes after you walk into the kitchen. It's rich, salty goodness in a bowl. And it's dead easy. 30 minute curry ramen. Crazy delicious. Weeknight effort.
I have a thing for Japanese food. Something about the simple perfection that is Japanese food just totally does it for me. I still remember the first time I tried the curry.
Curry ramen is fast food
In Japan curry is fast food. You pay for it at a machine. The machine spits out a token. Sit down and give them the token. Your meal appears.
You don't even need to talk. Japan is an absolutely fascinating place. And it has crazy good food.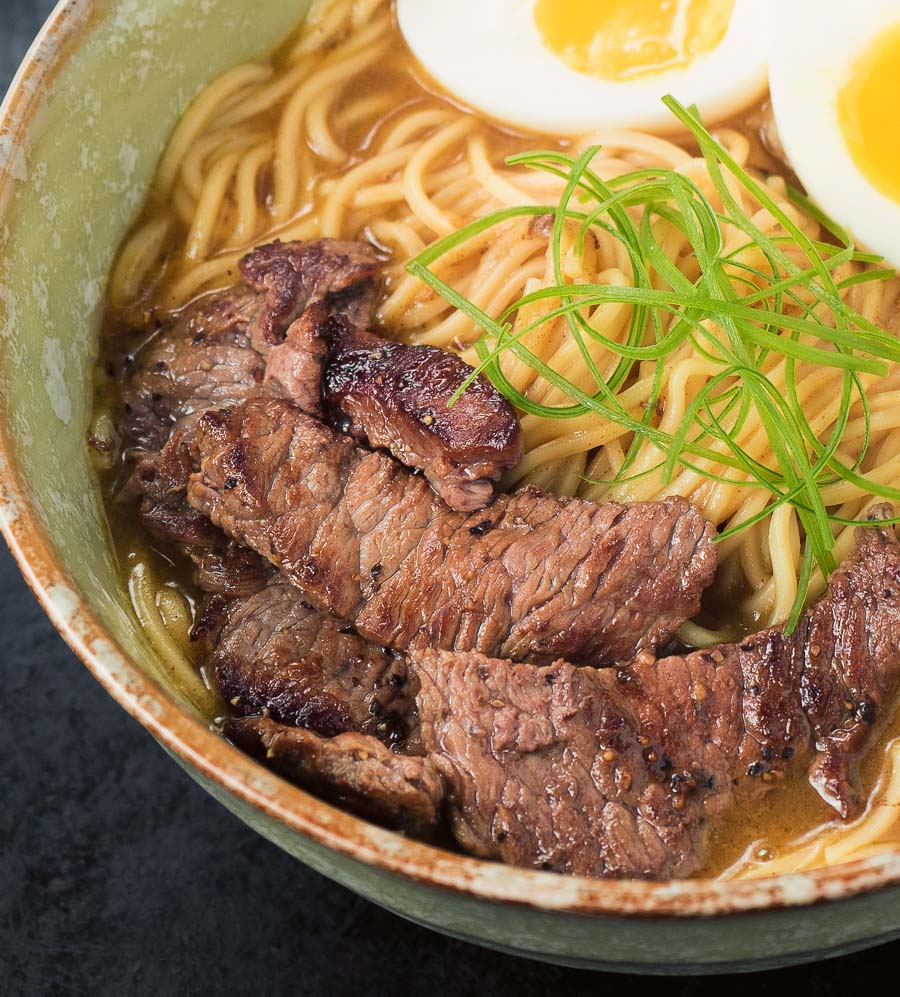 Japanese curry cubes makes this easy
I came back from Japan determined to recreate it. First stop on the quest. I asked a Japanese buddy at work for a recipe. He said "We just use the cubes." Cubes? What are cubes? What?
Clearly more research required. How can anything good come from cubes?
Next stop – I went to a casual Japanese restaurant and asked how they make the curry. "We use the cubes". Huh? Unbelievable!
But, genius that I am, I started to see the trend. Cubes. Everyone used the "cubes". Not sure what the "cubes? are but clearly time to figure it out.
Next stop –  a Japanese grocery store. Turns out they have a wall of curry cubes. Literally. About 20 different boxes marked "curry".
So I tried it. And it was pretty much like I remembered it. So now I use the cubes too. Not always. But often. I also make a Japanese chicken curry from scratch if you want to try that.
This blog is about near scratch cooking. Cubes don't belong. My real tonkotsu ramen takes more than a day. No magic there.
But I'm posting it anyway. Try it before you write me off. 30 minute curry ramen. Maybe it's cheating. But it's worth it. Seriously tasty stuff.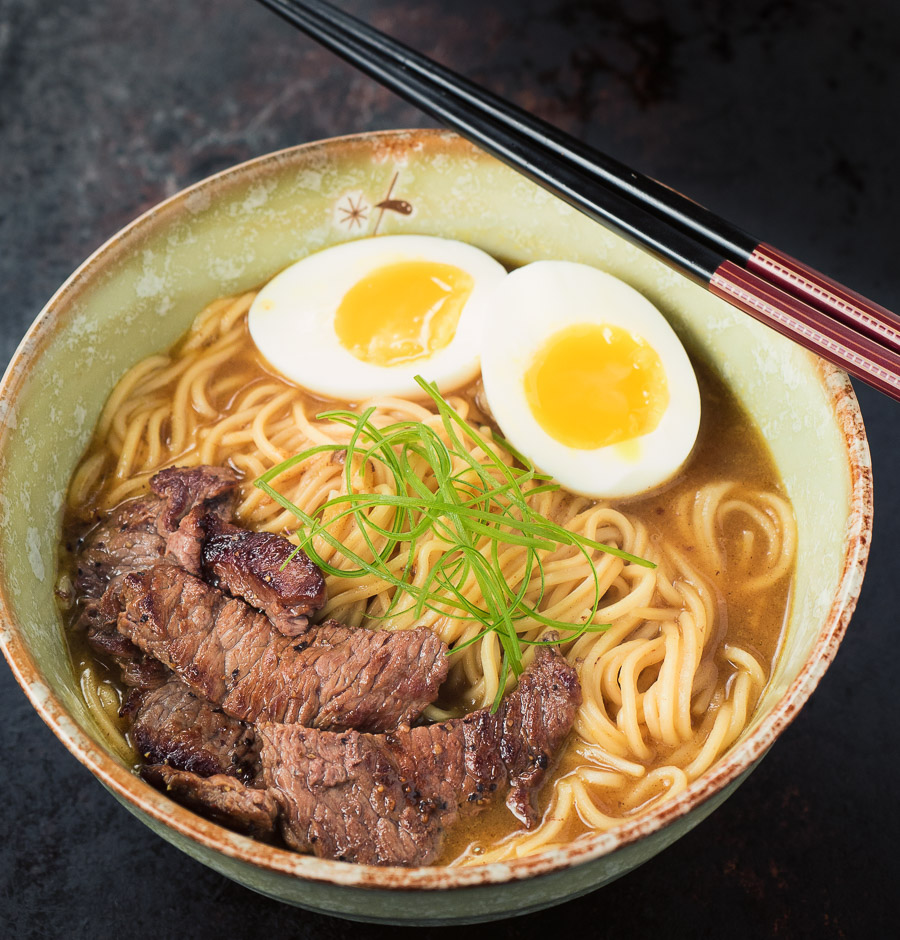 30 minute curry ramen
30 minute curry ramen is an easy way to get a delicious ramen fix on the table in half an hour.
Ingredients
8

oz

top sirloin

- can use chicken breast as well

4

cups

low or no sodium chicken broth

2

large eggs

- you really want fresh eggs here

2

cubes Japanese curry

- Golden Curry seems to be a pretty popular brand

ramen noodles

- or alkalinated spaghettini

a bit of oil

green onion to garnish
Instructions
Put a pot of water on to boil for the noodles
Cook the beef or chicken
Slice the beef into 1/4 inch slices or cut the chicken into 3/4 inch cubes.

Heat the oil in a pan large enough to hold the stock until it just shimmers.

Fry the beef or chicken until just done. Remove.
Medium boiled eggs
Gently lower the eggs into the boiling water (the water for the noodles) and cook for 6 1/2 minutes.

After 6 1/2 minutes place the eggs in a bowl of ice water to cool. You want them to cool quickly to stop the yolks from hardening.

Once they have cooled slice each egg in half lengthwise. Be careful. The yolks still have a bit of runny texture.
Make the broth
Chop the cubes into small pieces

Deglaze the pan with a bit of chicken stock then add about another cup of stock.

Add the chopped cubes into the stock and bring to a boil. These things don't dissolve very well so you will have to chase them with a spatula.

Once the cubes have dissolved add the remaining stock and simmer for about 4-5 minutes.

While the stock simmers cook the ramen noodles per the instructions on the package.

Drain the noodles.
To serve
Divide the noodles across two bowls. Arrange the beef or chicken overtop the noodles and pour half the broth into each bowl. Add the eggs, submerging slightly to warm them through.

Top with green onion and enjoy!
Notes
Alkalinated noodles come very close to authentic ramen noodles. Simply boil spaghettini or capellini in 8 cups of water to which 2 Tbsp of baking soda has been added. Hard to believe but it does really work...
Nutrition
Serving:
2
servings
|
Calories:
447
kcal
|
Carbohydrates:
17
g
|
Protein:
41
g
|
Fat:
21
g
|
Saturated Fat:
9
g
|
Cholesterol:
230
mg
|
Sodium:
1497
mg
|
Potassium:
871
mg
|
Fiber:
1
g
|
Sugar:
3
g
|
Vitamin A:
240
IU
|
Calcium:
68
mg
|
Iron:
3.6
mg