Warm corn bacon salad. It's one of those recipes that almost aren't worth posting. Nothing to it. Too easy to be taken seriously. But everyone raves. So here it is…
Corn season – at least where I live – is short. Too short. Weeks really. At it's peak, corn is a magical thing. Get it fresh from the side of the road and you can eat it raw.
And it's good raw. I've gnawed on my share of raw cobs… Wonderful stuff.
Don't know if it's good or bad but I get bored easily. Corn-on-the-cob is a fine example. Fantastic the first time every season. Really good the second time. A bit tired the third time. Don't think I ever get to the fourth time.
Warm corn bacon salad is for when you want something more than corn on the cob
Just don't care anymore. Cut it off the cob though, and you have something you can play with. Mix it up. All kinds of goodness waiting to happen. Corn-on-the-cob lovers – please don't judge me. I'm not judging you.
Warm corn bacon salad is one way to bling up corn. It's the concept that matters. That's what I want you to remember.
Cut it off the cob. Saute some aromatics. Cook the corn until it's just warmed through. Season. Serve. Cajun spice works. Jalapeno and tomato.
Bacon of course. Even butter and salt – like corn-on-the-cob but better. So much better.
Try it off the cob – I bet you never look back. It's addictive and it's only here weeks a year.
First one is free…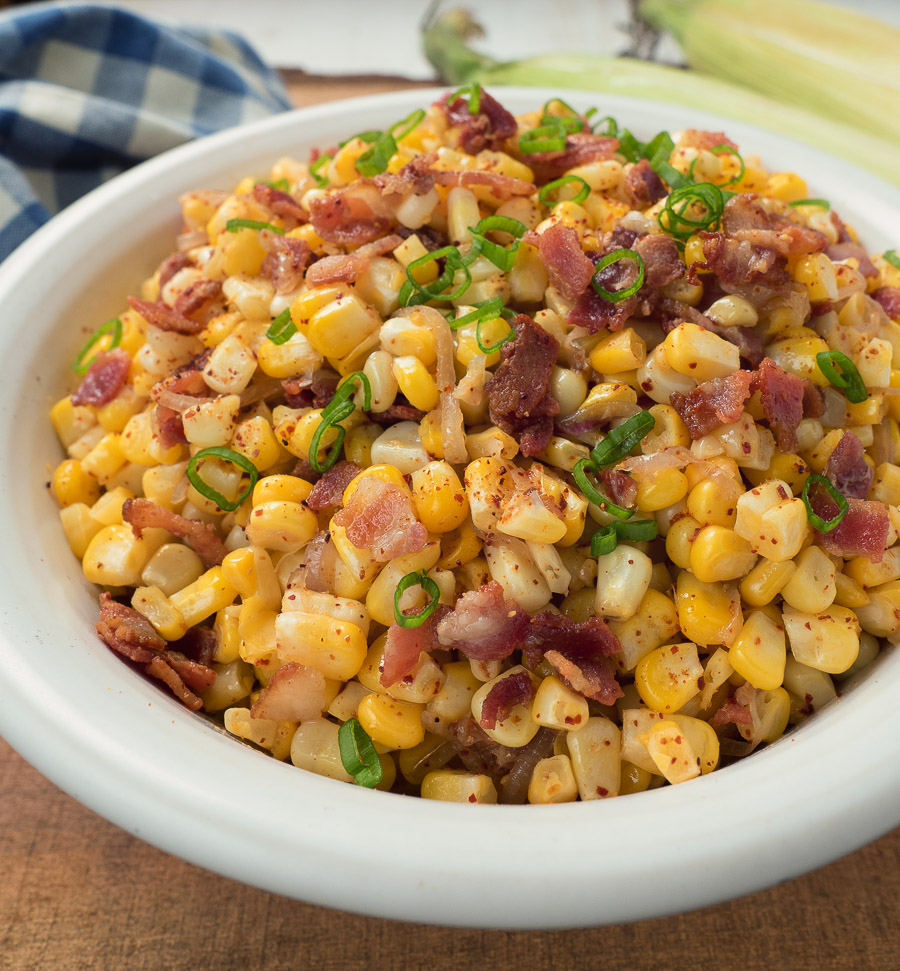 warm corn bacon salad
Warm corn bacon salad is an easy crowd pleaser and a great way to dress up corn when it's at its peak.
Ingredients
4

cobs fresh corn

- shucked

4

slices

good quality bacon

2

large shallots

- thinly sliced

1

tsp

piment d'esplette

- cajun spice or whatever you want - it should just work

salt to taste
Instructions
Stand the peeled corn on end. Use a sharp chef's knife to slice down the cob lengthwise to remove kernels. You should be able to do this in 4 slices. You want to be cutting down onto the board and away from you. Safety first!

Choose a frying pan large enough to hold the corn.

Cut the bacon into roughly kernel sized pieces and fry until done to your taste. Remove from the pan and set aside.

Spoon off all but about 1 Tbsp of bacon fat.

In the same pan, cook the sliced shallots in the 1 Tbsp bacon fat. You want medium low heat. You don't want your shallots to burn.

When the shallots are soft, add the corn and cook, stirring constantly, until the corn is just heated through, about 2 minutes.

Add the piment d'esplette or whatever spice you choose.

Adjust salt to taste and serve.
Nutrition
Serving:
4
servings
|
Calories:
248
kcal
|
Carbohydrates:
34
g
|
Protein:
8
g
|
Fat:
11
g
|
Saturated Fat:
3
g
|
Cholesterol:
14
mg
|
Sodium:
730
mg
|
Potassium:
421
mg
|
Fiber:
4
g
|
Sugar:
7
g
|
Vitamin A:
405
IU
|
Vitamin C:
9.5
mg
|
Calcium:
9
mg
|
Iron:
0.9
mg