Nihari gosht is seriously tasty beef stew Indian style. Beef in spicy gravy. Big bold Indian flavours. Seriously beefy. It's a classic for a reason.
Nihari dates back to the 18th century. And it's still wildly popular in India and Pakistan. Tradition says it's a beef curry. But you can make it with lamb. Or goat. I've even seen it done with chicken.
I like it best with beef. Some will say it has to be beef. Beef shin. Beef on the bone. But you can make it with oxtails. Or chunks of chuck.
That's what I usually do. Add some marrow bones. That's really good. Or oxtails. Oxtails push it right over the top. Crazy good. Bones really do make stew better.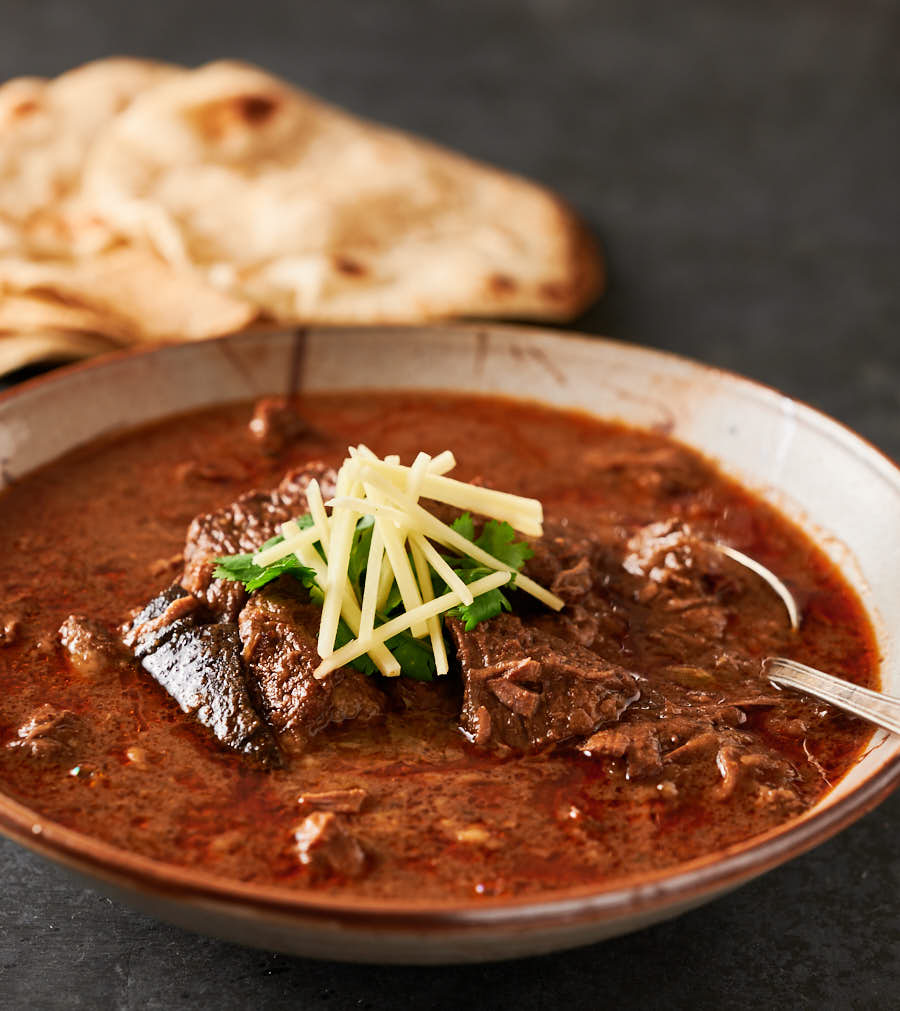 Nihari is breakfast food
Seriously. It's breakfast food. Once upon a time anyway. And what a breakfast it makes. A bit of beef. That crazy gravy. And a chapati or some naan. My kind of breakfast.
History says this was a dish they would start at night. So it would be ready first thing in the morning. That's how they rolled. Awesome.
If curry for breakfast isn't your thing then have it for dinner. I'm guessing that's how most people eat it.
I like savoury for breakfast so I'm happy either way. As long as I get some nihari I'm good.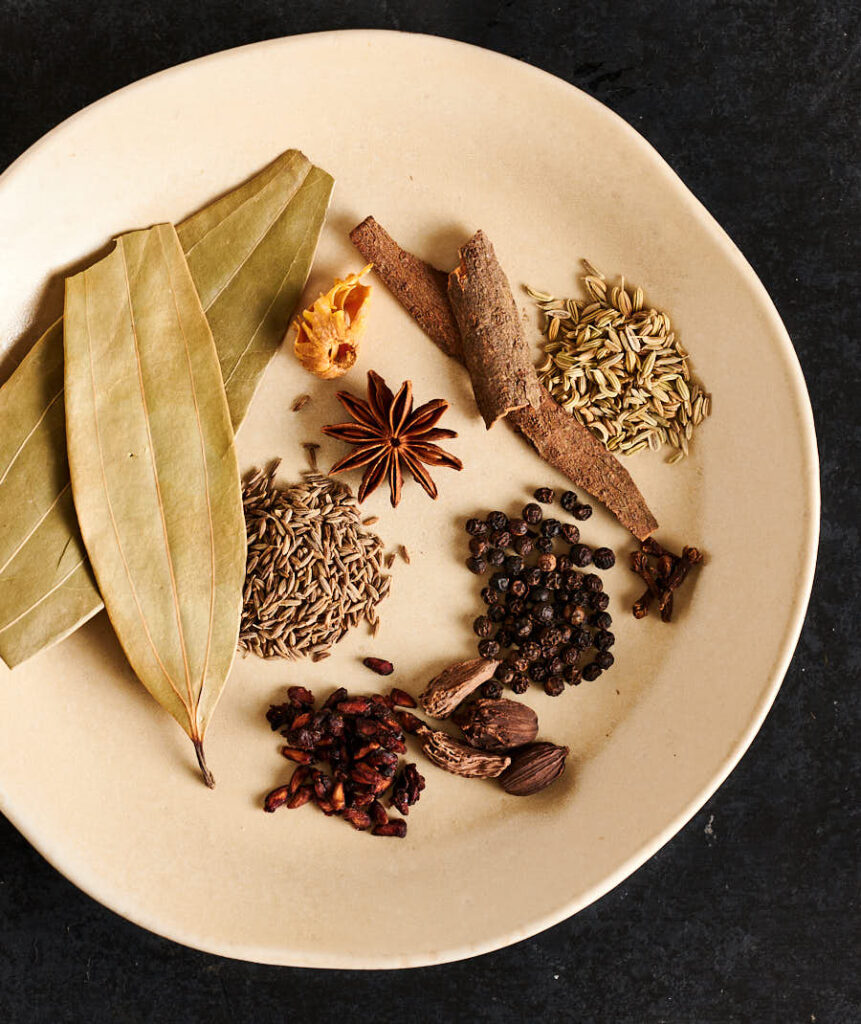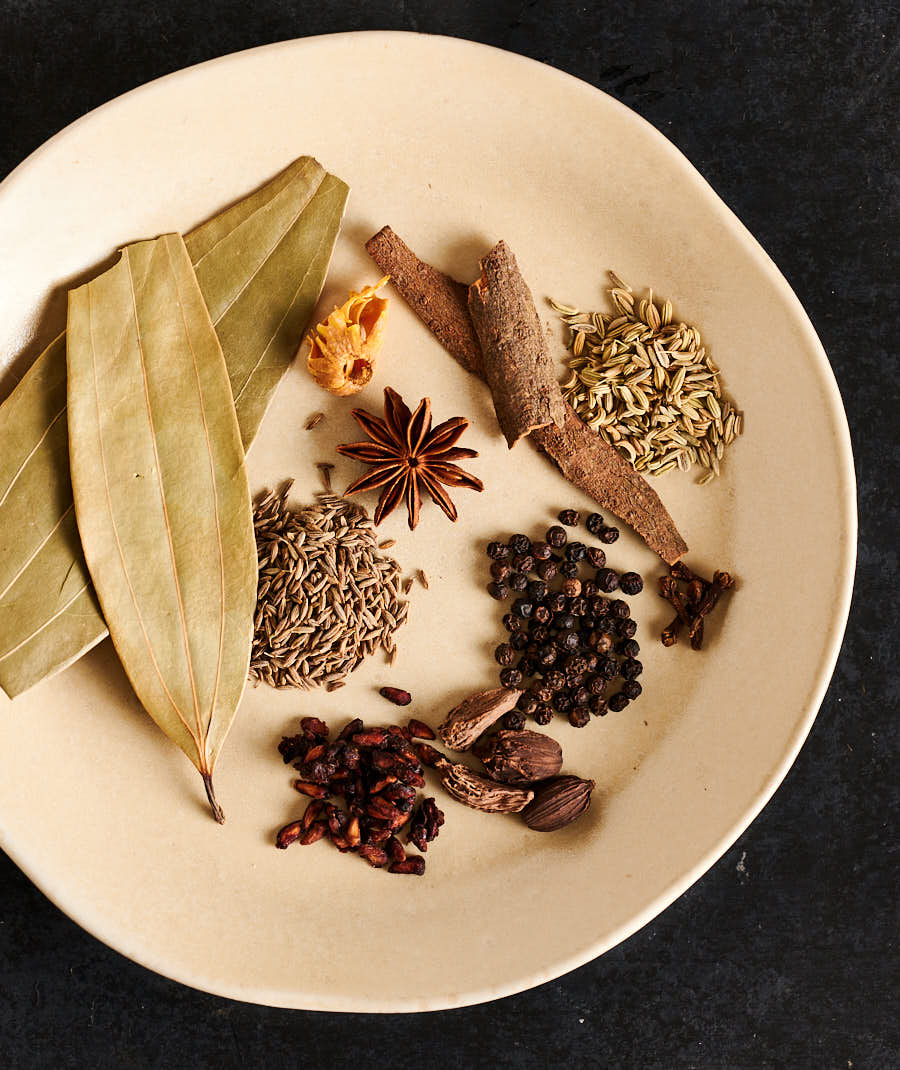 Nihari masala makes this dish
Don't let the long list of ingredients in the nihari masala throw you. I know there are a lot. A bit daunting even. But each one adds a little something. Complex flavours. But that's what makes nihari what it is.
Think garam masala. This is just like that but a different blend. There are all sorts of masalas in Indian cooking. This is just another one of those. Not a big deal really.
Roll up your sleeves and get it done. It doesn't take that long. And you'll have an arsenal of Indian spices at the end of it.
If you really don't feel like making nihari masala you can buy it. All the big spice mix companies make it. Check with your Indian grocer. It will still be good. Just a bit less special.
Fry your spices
I always do this. And so should you. Frying spices is part of the magic. They call it blooming. I call it mandatory.
Because I cannot stand the jarring edges you wind up with if you don't fry your spices. Seriously. Not. Good. Am I being unsubtle enough here? Just please fry your spices.
There's a fair bit of spice in this nihari. The other problem you run into if you don't fry your spices is texture. You get this background grittiness. Maybe I'm over-sensitive. But why risk it? Just fry your spices and don't worry about it.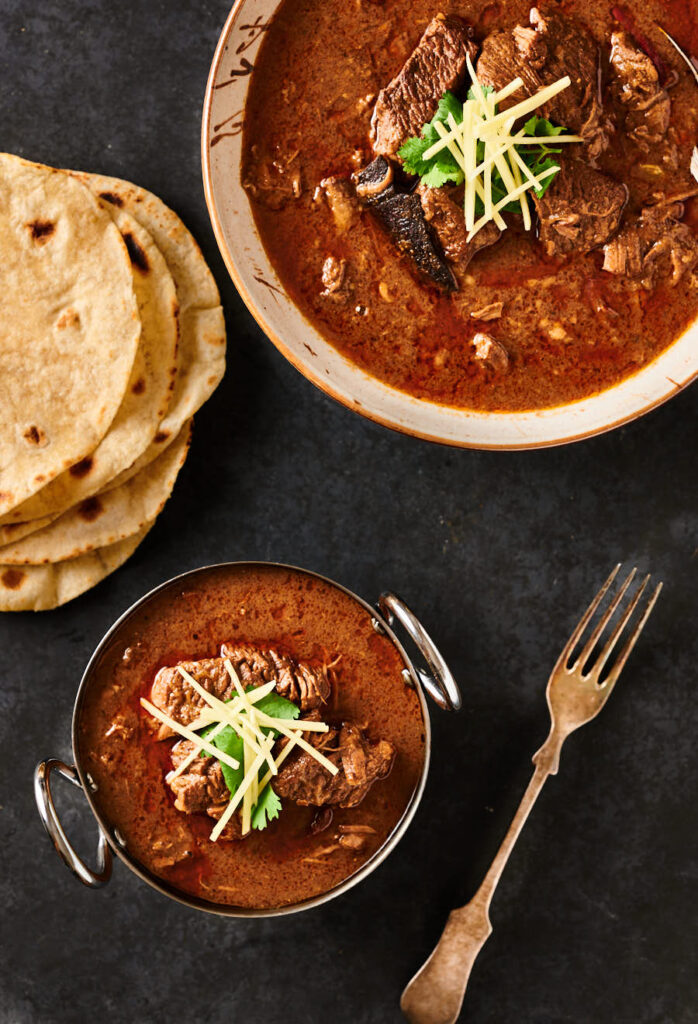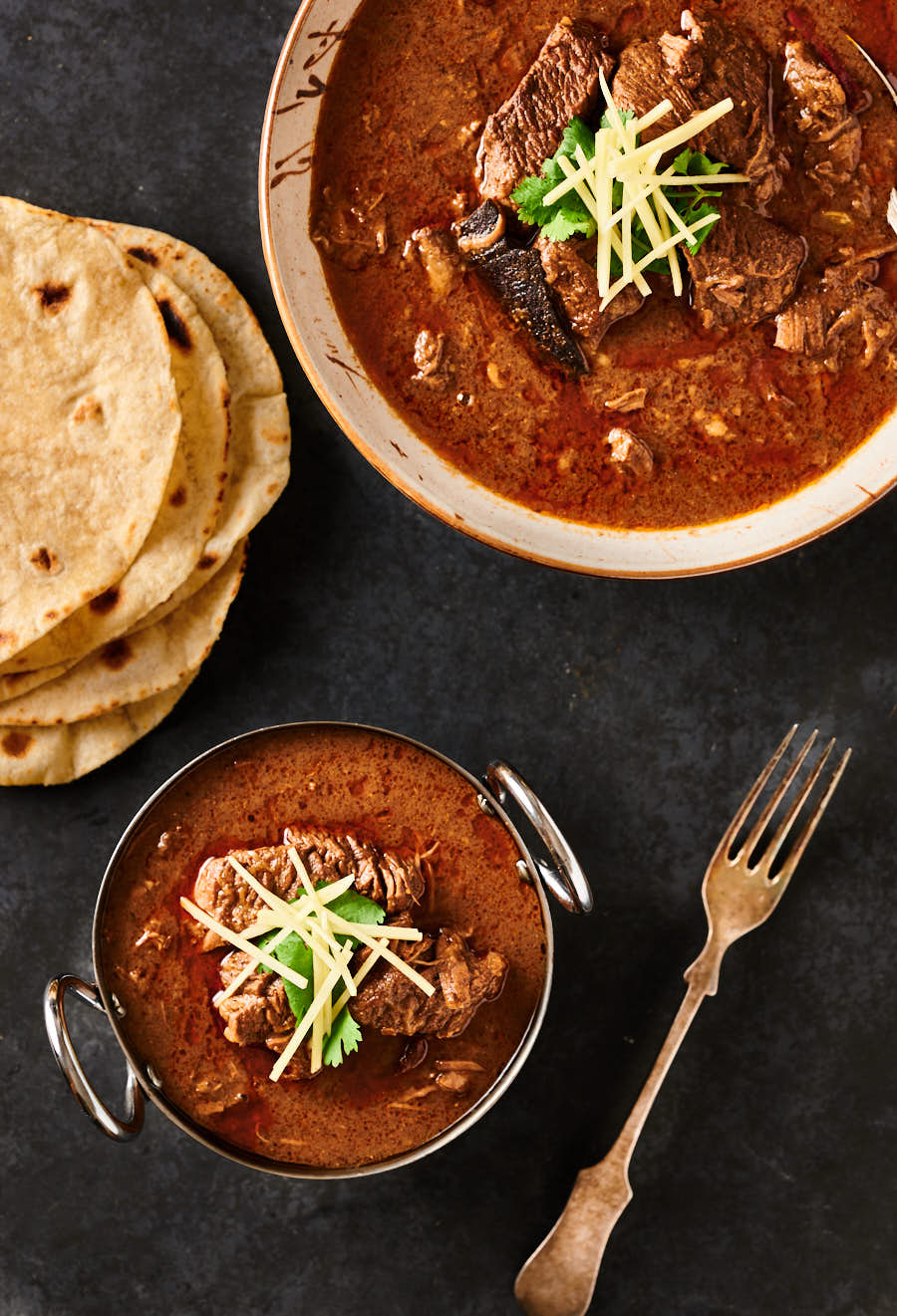 Bones make for great nihari
Bones make better food. I really believe that. And Cook's Illustrated has proven it. So if you can get bones into this dish just do it.
I think that's key for any homestyle curry. Or stew for that matter. It goes across borders. Stew is always better with bones.
If you are serving guests remove the bones before you plate. Unless those guests are good friends. Then serve them bones. Let them enjoy the marrow. Messy. Tasty. Fun.
If you can't get bones I'll let you in on a trick I use sometimes. It's unorthodox but I like it. Stock. Veal stock in fact. That's my secret for pretty much every beef stew I make.
Because it adds the gelatin you get from bones. The flavour. The mouth feel. Crazy but it works. Every Indian reading this now thinks I'm crazy. But I'm only half Indian. The other half is French.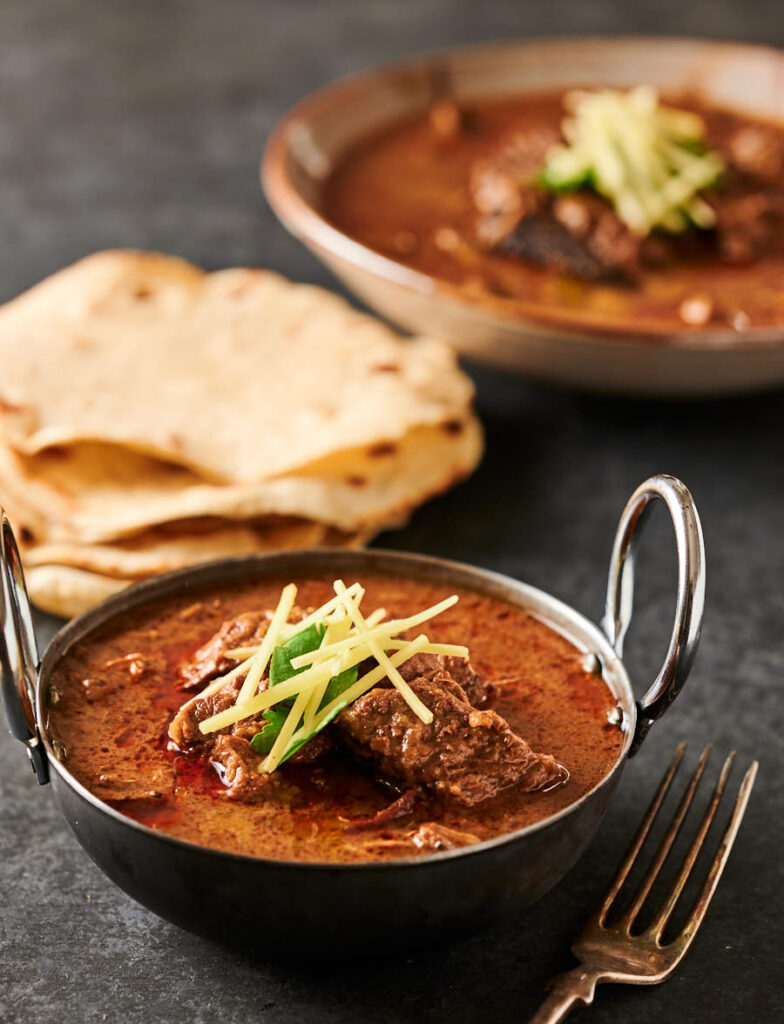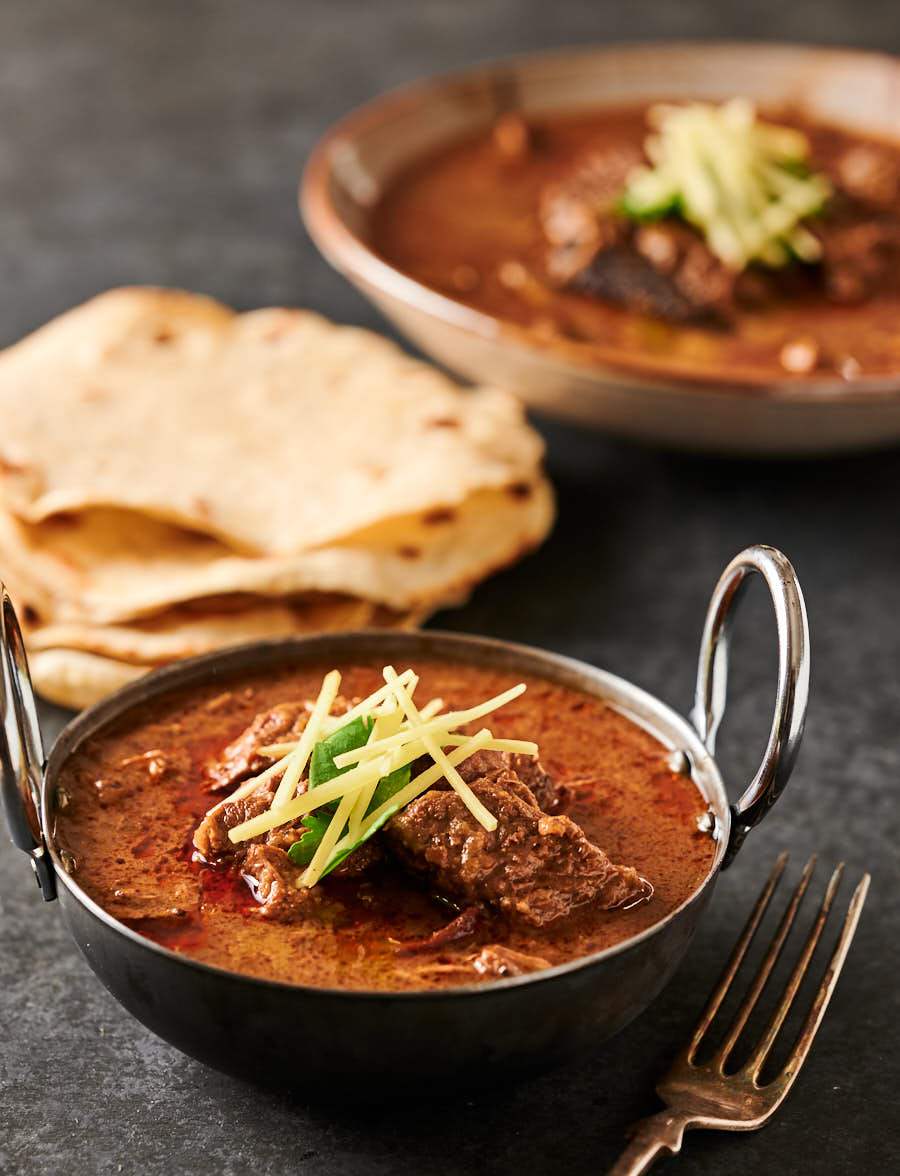 Make a roux to thicken the stew
That's the French in me as well. Roux. And then an Indian equivalent of a béchamel. Actually technically it is a velouté because it's not milk but let's not sweat the small stuff.
What it's not is just a slurry of flour and water. Again against conventional thinking. But I don't like raw flour any more than I like raw spices.
When you pull the nihari from the oven you'll see a bunch of red fat floating on top. That colour is an indication that the fat is loaded with all the fat soluble spice flavours.
It would kill me to throw that away. That's throwing away flavour. But I don't want my stew swimming in fat either. Don't get me wrong. I like some. Just not too much.
So I use the fat to make the roux. It's just exactly like making gravy. Spicy, magical gravy.
Beef in spicy gravy. Not the best marketing in the world. But think about it. Beef. In spicy gravy. Who doesn't want that?
Comfort food meets Indian spice. It's no wonder this dish is popular. It hits all the comfort food tick boxes. Indian style. There is nothing here not to love. Make it and see for yourself.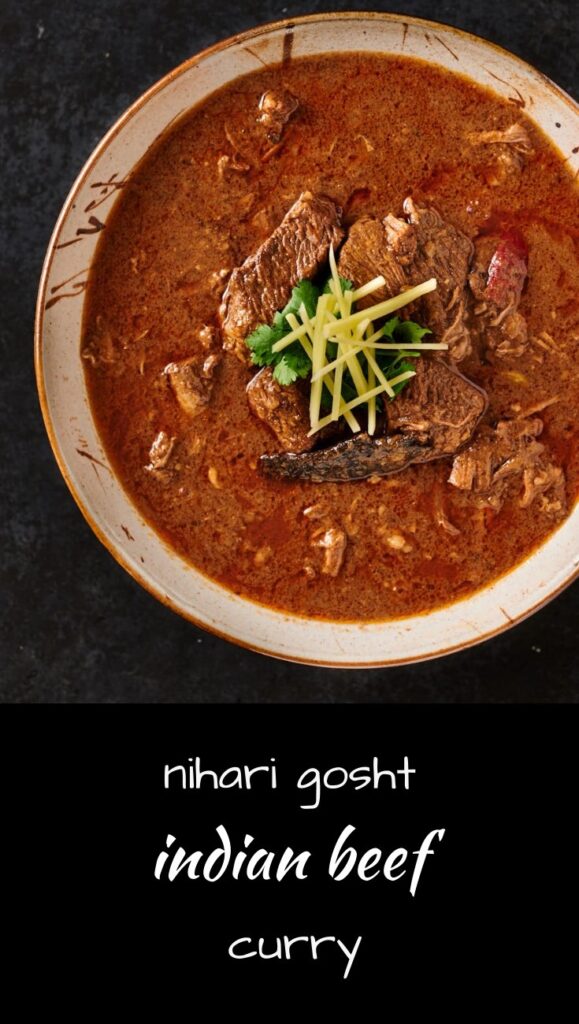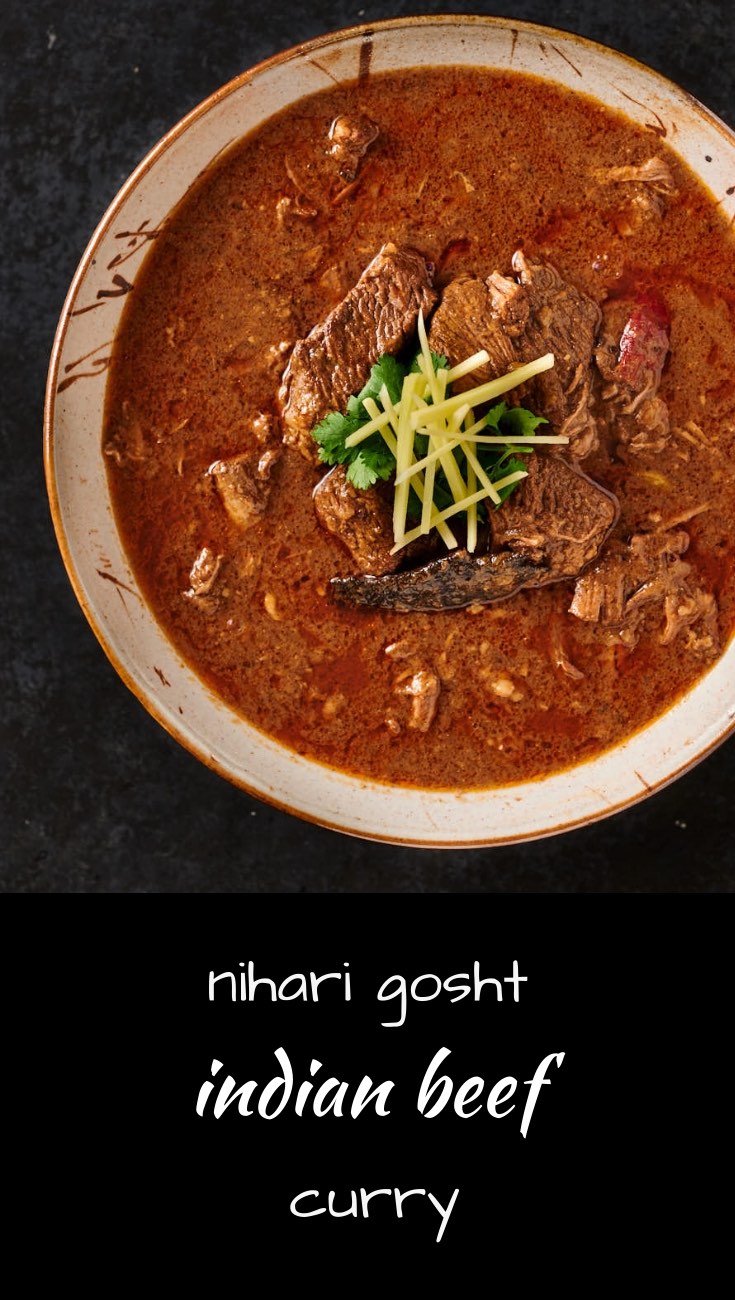 nihari gosht – indian beef stew
Nihari gosht or Indian beef stew is about as close as you can get to spicy comfort food.
Ingredients
nihari masala
1

tsp

fennel seed

1

tsp

cumin seed

1

tsp

pomegranate seed

also known as anardana

5

whole

cloves

4

whole

black cardamom

1

tsp

black peppercorns

2

indian bay leaves

also known as tej patta

4

inches

cinnamon bark

1

star anise

1

blade

mace

2

tsp

kashmiri chili powder

2

tsp

coriander powder

1/2

tsp

ginger powder

1/4

tsp

nutmeg powder
nihari gosht
2 1/2

lbs

beef chuck stew

plus some marrow bones if you can get them

1

large

onion

thinly sliced

8

tbsp

vegetable oil

or 4 tbsp oil and 4 tbsp ghee

1

black cardamom

5

green cardamom

1

2 inch piece

cinnamon bark

1-2

whole kashmiri chilies

all the nihari masala

2

tsp

kosher salt

3

tbsp

yoghurt

6

cups

water

– maybe more. Depends how much evaporation you get while cooking. Not more than 8 cups in all.

3

tbsp

whole wheat flour

1

inch

fresh ginger

julienned as fine as you can
Instructions
Make the nihari masala
Heat a small skillet over medium low heat. Add the cinnamon bark, star anise, and black cardamom. Toast until just starting to get fragrant. You will smell cinnamon.

Add the fennel seed, black peppercorn, cumin seed, and cloves. Toast another 30 seconds or so.

Let cool. Transfer the whole spices along with the mace, pomegranate seed and Indian bay leaves to a spice grinder. You will need to break up the bay leaves to get them to fit. Grind to a powder.

Add the kashmiri chili powder, coriander powder, ginger powder and nutmeg powder and stir to combine. This is your nihari masala.
make the nihari gosht
Pre-heat your oven to 325F.

Heat 6 tbsp of the oil in a dutch oven large enough to hold all the ingredients (or 4 tbsp ghee and 2 tbsp oil) over medium low heat.

Add the sliced onion and cook, stirring regularly, until the onion starts to brown. You may need to adjust your heat up a bit.

Once the onion has started to brown turn the heat back to medium low if necessary. Add the whole spices and cook for about 30 seconds.

Now add the nihari masala and salt and stir to combine. You want the spices coated in fat. If it looks dry add a bit more oil or ghee. Cook, stirring constantly, for about about a minute. Watch carefully. You don't want your spices to burn.

Add the beef and stir to combine. Cook the beef, stirring occasionally, until you no longer see any red. Be careful. You still don't want your spices to burn. If the spices start to stick you may need to add the remaining oil/ghee to make this work. I usually do.

Add half the yoghurt. Stir to combine and cook for about a minute. Add the rest of the yoghurt and repeat.

Add the water and the marrow bones if you can get them. Bring to a simmer. Cover the pot with a sheet of aluminium foil and then the lid. This acts similar to a flour dum. Another French trick.

Place in the 325F oven and cook. Give it a stir every hour. Cook until tender. This should take 2 to 2 1/2 hours. There's no hard and fast rule. It's done when it's tender. That depends on how close your oven is to mine. It depends on the size of the beef. And it depends on the beef. So nobody can tell you for sure. It's done when it's done I'm afraid.

When the beef is tender remove the dutch oven from the oven. Set on the stove. Give it a few minutes to stop simmering. There should be a good layer of bright red fat floating on the surface. That stuff is gold.

Skim off as much fat as you want to remove. Remember that fat has all sorts of wonderful flavours in it so don't go overboard. A little fat is good. If you are going to remove the bones now is the time to do it. But please don't think bones are a bad thing. Leaving them in is good too. Up to you.

Transfer 4 tablespoons of the fat to a small saucepan over medium low heat. Add 3 tablepoons of whole wheat flour. Stir to get all the flour coated in the fat. Cook the fat flour mixture for about 90 seconds, stirring constantly.

Add about a tablespoon of liquid from the nihari pot and stir to combine. It will turn into this thick paste. Don't panic. Do it again. And again. And again. After the 4th time add a bit more at a time. Maybe 2 tablespoons or so. Stir until it all comes together. Do that again. And again.

Now add around a 1/2 cup. Stir to combine. Finally add around a cup. Stir until it's a nice even texture. It should have the consistency of a fairly thick gravy at this point. Add this mixture into the nihari and stir to combine. Bring to a gentle simmer. If it seems a bit thicker than you would like add a bit of water. Up to a cup or so.

Taste at this point and adjust salt. It will need a bit more but not alot so be careful and creep up on it.

Add most of the julienned ginger. Keep a bit back for garnish.

To serve, spoon into bowls and garnish with a cilantro and a little bit of julienned ginger. Serve with an Indian flatbread. I like chapatis with nihari but naan works as well. Parathas are always good but the combination of parathas with nihari is pretty rich. If you are going for absolutely decadent that's a good way to do it.
Notes
Marrow bones make a real difference in this dish. If you can get your hands on some add them in when you add the water. They add a richness you just cannot get any other way. But if you can't it's still a really, really tasty dish.
You can use any beef stew in this dish. Beef shin (shank) works. Oxtails are fantastic. If you can make stew with it you can make nihari gosht.
Nutrition
Serving:
6
servings
|
Calories:
473
kcal
|
Carbohydrates:
11
g
|
Protein:
44
g
|
Fat:
29
g
|
Saturated Fat:
18
g
|
Cholesterol:
118
mg
|
Sodium:
919
mg
|
Potassium:
785
mg
|
Fiber:
3
g
|
Sugar:
2
g
|
Vitamin A:
299
IU
|
Vitamin C:
2
mg
|
Calcium:
100
mg
|
Iron:
5
mg