Thai sesame noodles. Think pad Thai with a big boost of sesame flavour. That's what this is. Sesame sauce. Rice noodles. Chicken. Or shrimp. Or both. Egg. Delicious.
It's a tasty weeknight dinner that's good enough to serve friends. Like takeout. But better. Because you made it yourself.
Sesame noodles mania
Funny thing where I live. Pad Thai has become Thai sesame noodles. I don't know what's going on. But lots of restaurants have jumped on the bandwagon.
I don't really understand what's going on. But it's popular. That's understandable. It's really good. Not pad though. By any definition I know. So I'm calling it Thai sesame noodles.
I don't even know if there's a real Thai version. Don't think I've ever seen it in a Thai cookbook. Pretty sure Andy Ricker isn't serving it a Pok Pok. But it's everywhere here. And I like it. So I wanted to figure it out.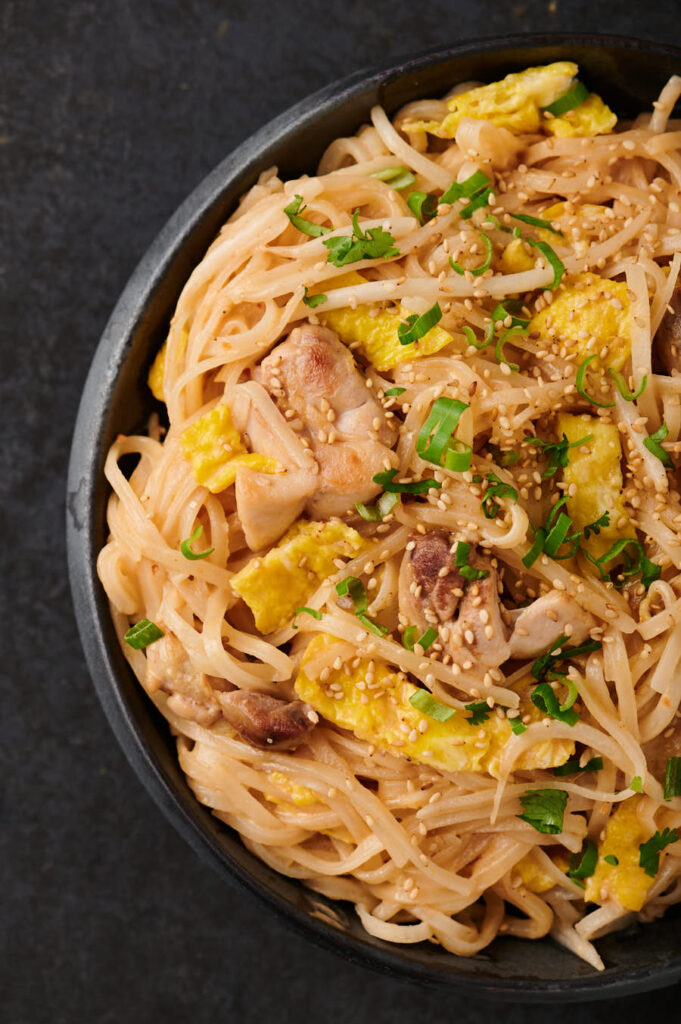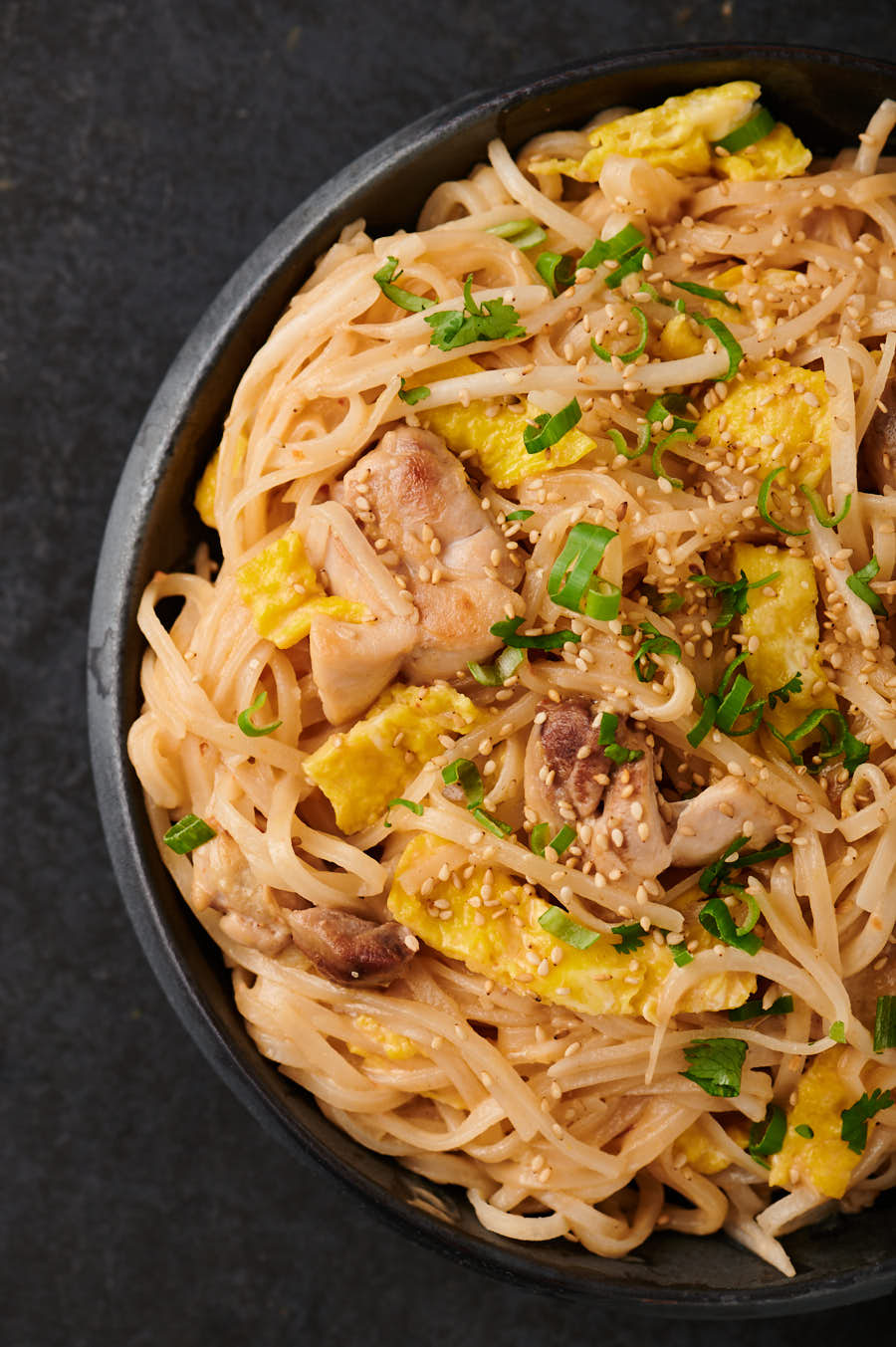 Sesame paste makes this recipe super easy
I started down a path of finely chopping peanuts and sesame seeds. I wanted to make it better than they serve here. More authentic somehow. I was wrong.
It didn't taste right. It didn't have the right texture. So I made things easy on myself. Chinese sesame paste. It melts into the sauce. Adds great texture. It just works. Why fight it?
You could substitute tahini here. It would be close. But if you can get to an Asian market then Chinese sesame paste is the way to go.
The sesame seeds in Chinese sesame paste are toasted before they are turned into paste. They go in untoasted in tahini. Makes a difference. It's worth trying to find the Chinese stuff I think.
Chinese in a Thai dish. A little odd I know. But I don't think this is actually a real Thai dish. So let's bend the rules a bit. Live a little…
Make the sauce then make the sesame noodles
At first I was sure I would just make a pad Thai. Toss in some sesame paste. And I'd be done. Wrong again. Not even close.
I played with adding Thai red curry paste. It added some zing. But it started tasting like Thai curry. Which isn't what I wanted. It was tasty though. Might do a Thai red curry sesame noodle dish some day.
You are making an emulsion here. Look at the pictures. It's smooth. Cohesive. Take the time to follow the instructions. They work. The order of ingredients and how you mix them in is important.
Not as tricky as mayonnaise. Not even close. But you don't want lumps. Smooth. Look at the picture. Like whipping cream.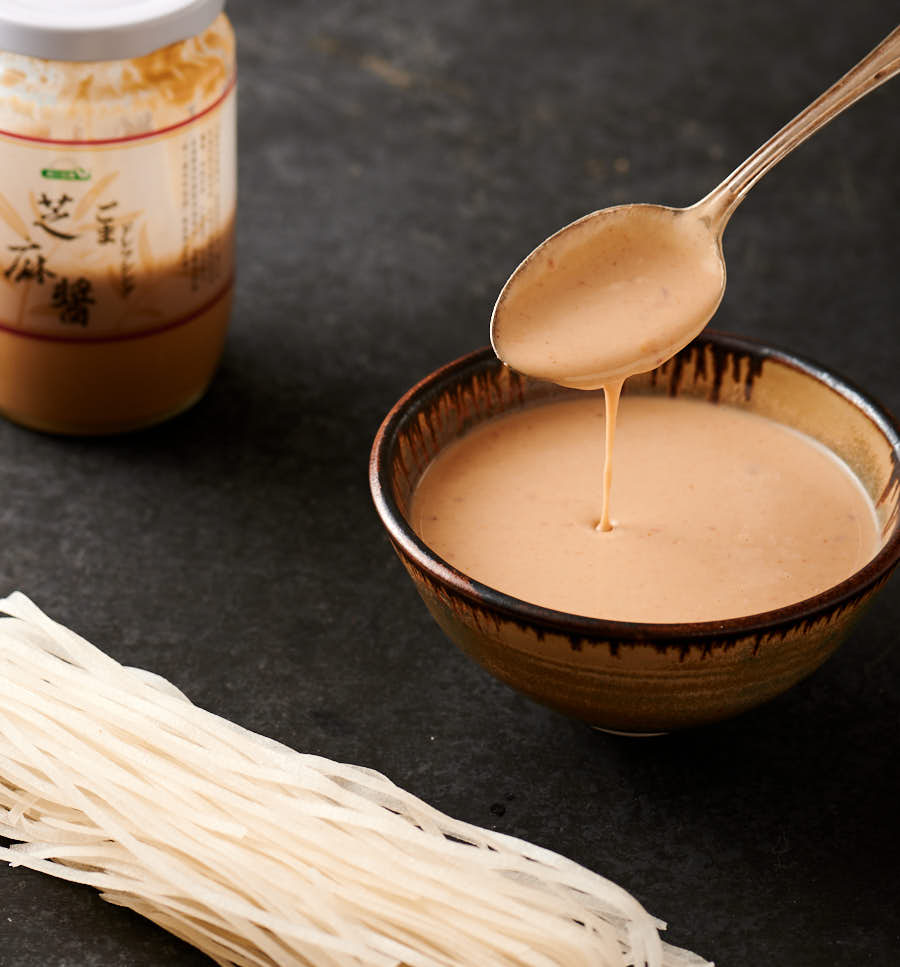 On cooking eggs
This recipe is written like someone in a stall by the side of the road would make it. On a blazing hot day at lunch. You point. You mime eating. Some guy who doesn't speak a word of whatever language you do holds up a finger. One order or two?
There's an easier way. And I'm only going to put this tip here. I'm leaving it out of the recipe. So all those people who didn't take the time to read this are never going to know. But you will.
It's tricky cooking the omelette in the pan with the noodles. You have to be fast. If you want everything perfect cook the eggs in a separate pan while the chicken cooks. Make an omelette on the side.
Take the cooked omelette and flip it out onto a cutting board. Slice it into ribbons. Toss them in when you add the bean sprouts. Perfect eggs. Easier. Maybe not as cool. But easier. Now you know.
How to get the perfect rice noodle texture
Rice noodles are delicate. The go from perfect to mush in a flash. I've done it. I'm guessing you have as well. Everybody learns at some point.
What I've learned is when you are frying rice noodles you just need to soak them in really hot water. You want them softened but not anywhere near done.
Pliable. That's the key. Still toothy. Not more than 30 minutes. And not boiling water.
Think about it. You are frying noodles. And then adding a wet sauce. Heating that through. All these things cook rice noodles.
So if you start with perfectly done rice noodles you are going to wind up with mush. Don't do it. Just soak and go. It's less mess. It works better. There's no reason to do otherwise.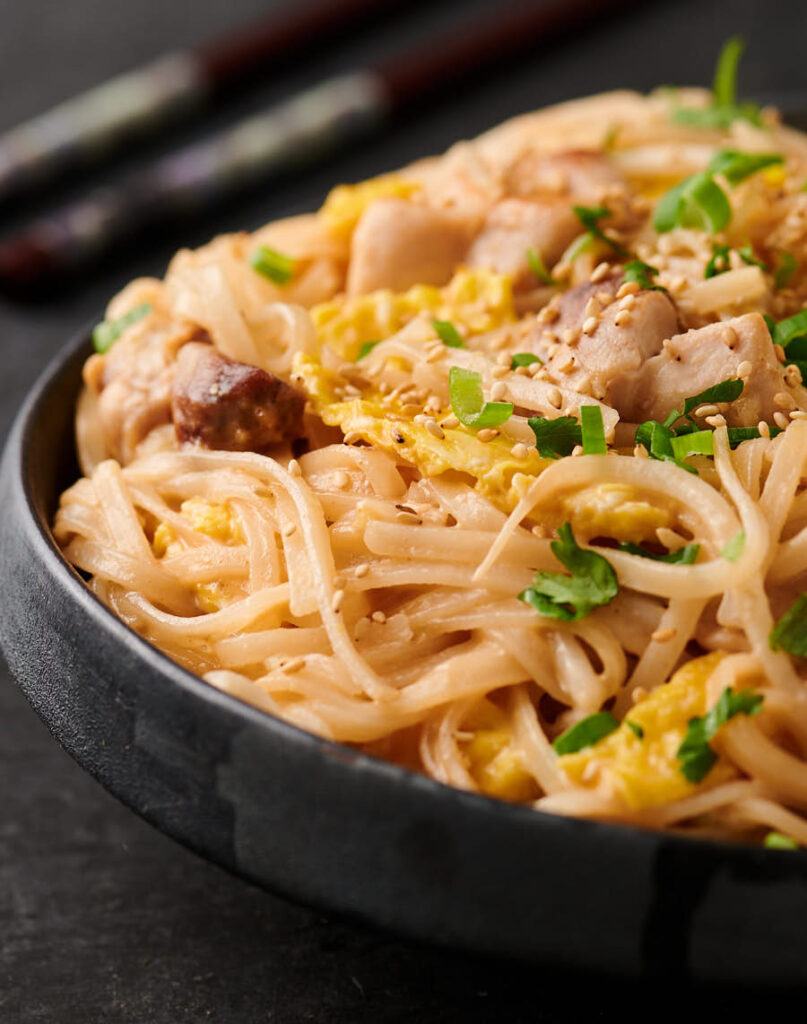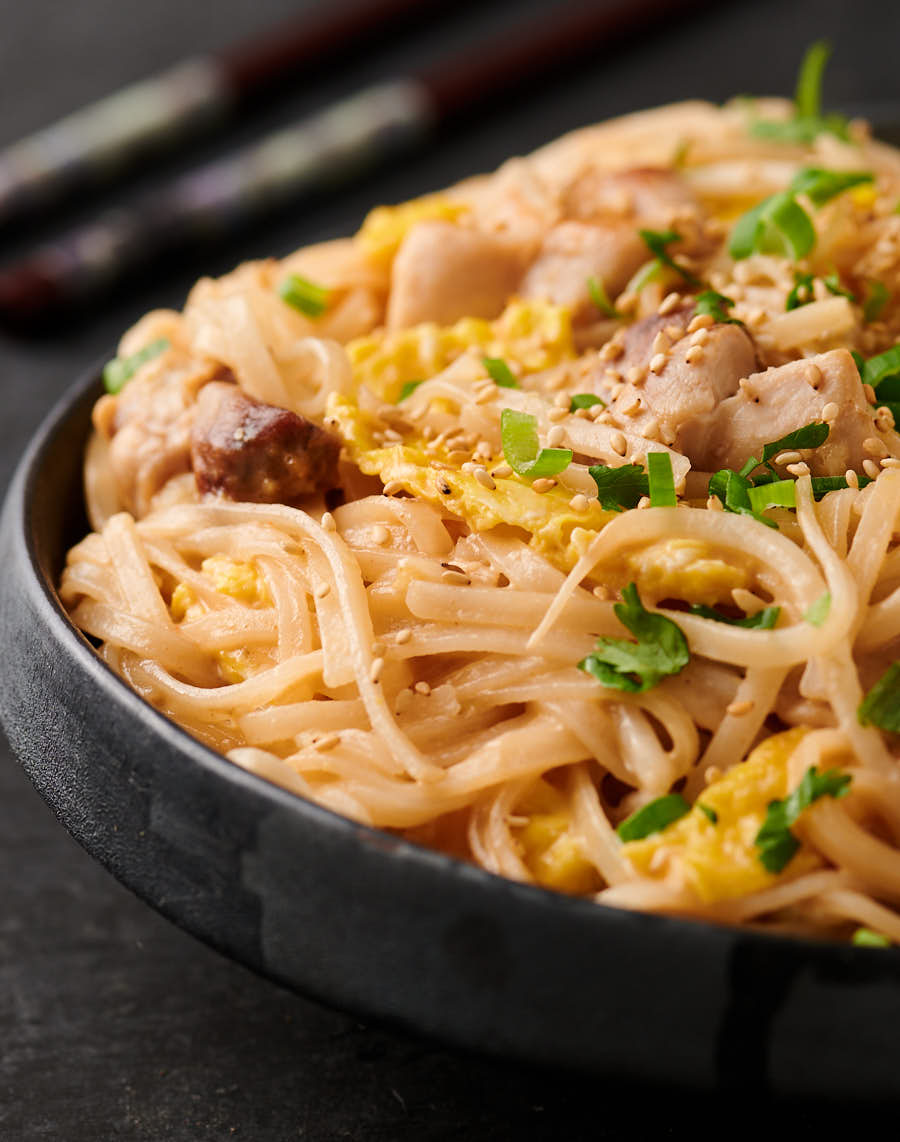 This is street food style
Make the sauce. Stir fry. Serve. This is street food style cooking. It goes fast. Really fast.
So be ready. Have your sauce made. Noodles soaked and drained. Garnishes prepped and handy. Everything at hand. Mise en place.
And then go. Heat the pan. Add some oil. Some bits of chicken. A little garlic. Toss in the noodles. Scramble an egg. Toss in some bean sprouts. Add the sauce. Garnish. Serve.
Just like that. Literally around 10 minutes from start to finish. And most of that is cooking the chicken. Please make sure everything is ready to go before you start. It will end badly if you don't.
This is great food fast. Weeknight food. Better than takeout. Thai sesame noodles. If you like rice noodles half as much as I do try this dish.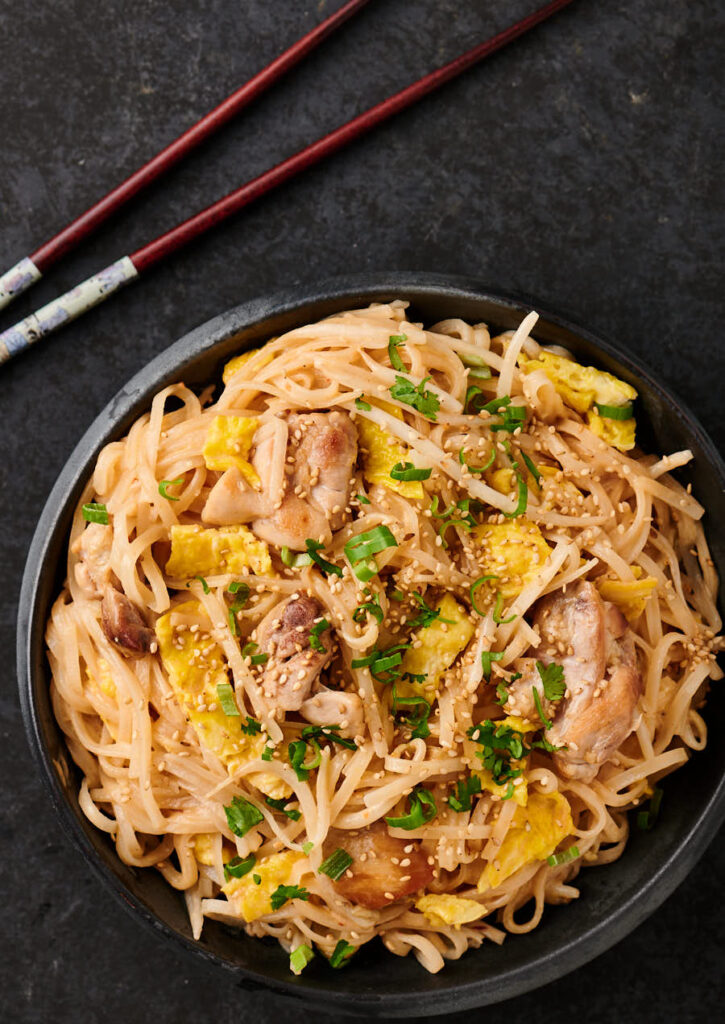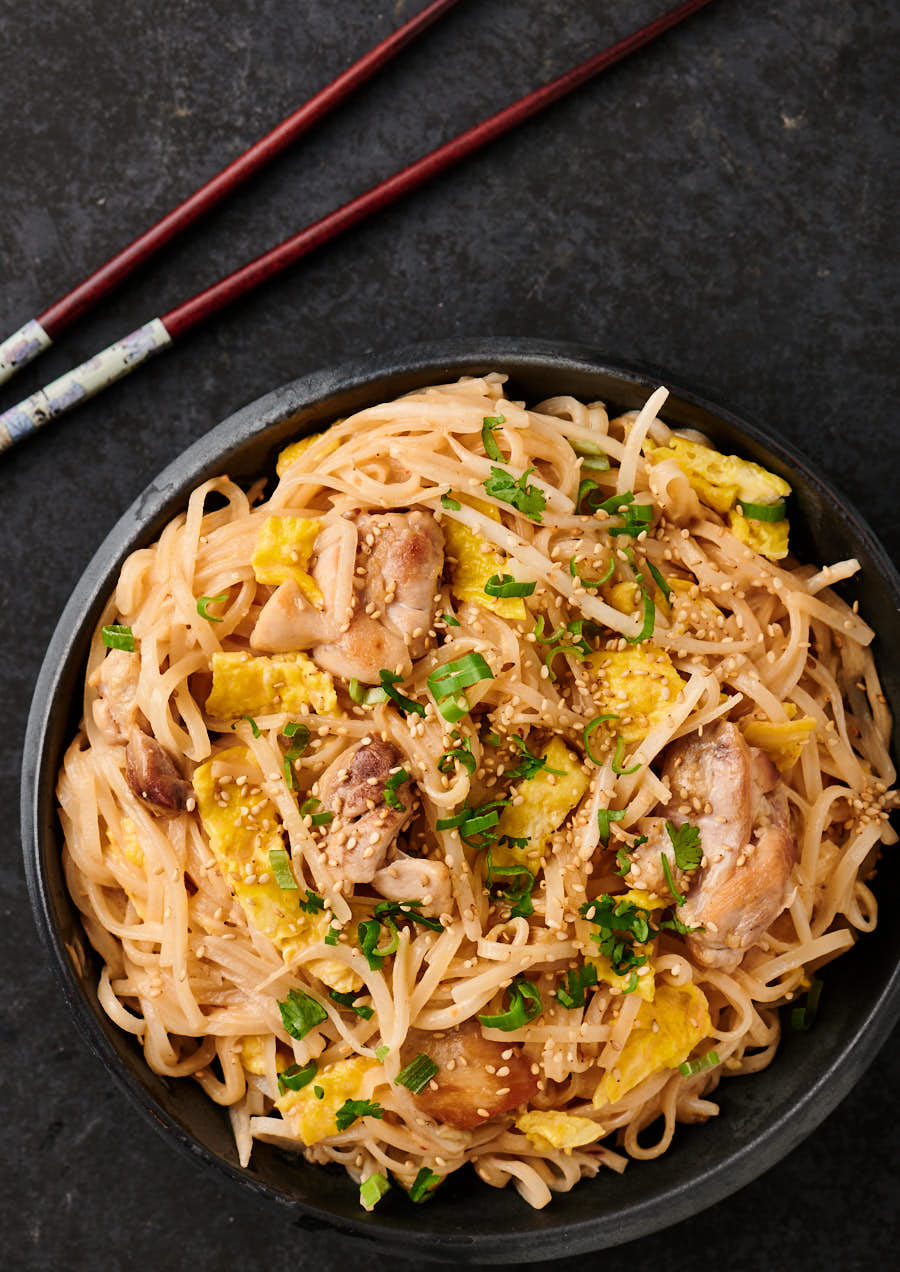 thai sesame noodles
Pad Thai with a big creamy sesame twist. Good food fast.
Ingredients
Sesame noodles
8

oz

flat rice noodles

3

chicken thighs

or one large chicken breast. Boneless, skinless.

1

clove

garlic

2

eggs

beaten

3

tbsp

vegetable oil

1

cup

bean sprouts

the sesame noodle sauce

cilantro, green onion, sesame seeds and chopped peanut

to garnish
Sesame noodle sauce
2

tbsp

sesame paste

available at Asian markets

1

tbsp

peanut butter

smooth for texture

1

tbsp

rice wine vinegar

2

tbsp

fish sauce

1

tbsp

tamarind sauce

I like Maggi brand – sour and sweet

1/2

cup

coconut milk

2

tsp

Asian chili sauce

optional – like sriracha or sambal oelek. Use your favourite but realize it will affect the flavours.
Instructions
Pre-soak your noodles
Fully submerge the rice noodles in lots of hot water. As hot as you can get it out of the tap.

Soak the noodles for about 30 minutes. It really depends on the brand. You want them pliable but still very toothy. They will cook more when you make the dish.
Make the sesame noodle sauce
Combine the sesame paste, peanut butter, tamarind sauce and rice wine vinegar. Stir until it comes together in a paste. Add the fish sauce and stir until it forms a smooth emulsion.

Gradually stir in the coconut milk. You want to keep the mixture smooth and even.

Add the chili sauce if using. Stir to combine. Set aside.
Make the Thai sesame noodles
Use a large non-stick pan or well seasoned wok for this. You want room to stir fry.

Cut the chicken into bite sized pieces.

Heat the pan over medium low heat. Add the oil and then the chicken. Cook, stirring regularly, until it is just done. This should take around 5-7 minutes but really depends on how big your pieces are.

Now add the garlic and fry, stirring continuously for about 30 seconds.

Turn up the heat to medium to medium high. Things will go pretty fast now. Add the noodles and stir to coat them with oil. Continue cooking, stirring constantly until the are just a little under your target consistency. This takes about a minute.

Move the noodles to one side and pour in the eggs. Scramble them. When they are set add the bean sprouts and start to stir everything to try to get the egg, chicken and bean sprouts distributed into the noodles. This is not easy. If it doesn't work for you don't worry too much. Just make sure you even things out when you serve.

Remove the pan from heat and add the sesame noodle sauce. Stir to get the noodles coated with the sauce.

Portion the noodles into two bowls and garnish with cilantro, sesame seeds or peanuts (or both) and green onion.
Notes
If you can't get Maggi Tamarina you can use a tamarind paste and a bit of sugar. If you can't get any tamarind sauce or paste add a second tablespoon of rice wine vinegar and a teaspoon of sugar. Not the same but still good.
Don't try to double this recipe. There will be too much stuff in the pan otherwise. You won't be happy with the results. If you want to serve 4 make it twice.
If you want shrimp instead of chicken my best advice is to pre-cook the shrimp and add it in with the bean sprouts. That's what I do. Always. If you want to nail cooked shrimp every time check out perfect shrimp cocktail.
If you don't want to go that route then toss them in the pan at the same time the directions tell you to add the chicken. Cook them until they just turn pink and then follow the recipe from there. 
Nutrition
Serving:
2
servings
|
Calories:
1054
kcal
|
Carbohydrates:
108
g
|
Protein:
37
g
|
Fat:
53
g
|
Saturated Fat:
32
g
|
Cholesterol:
261
mg
|
Sodium:
1953
mg
|
Potassium:
719
mg
|
Fiber:
4
g
|
Sugar:
6
g
|
Vitamin A:
238
IU
|
Vitamin C:
12
mg
|
Calcium:
100
mg
|
Iron:
6
mg