Perfect shrimp cocktail. Succulent poached shrimp dipped into a tangy cocktail sauce. Who doesn't want that? Here's how to do it right. Every time.
I love a good shrimp cocktail. Firm flavourful shrimp. Dipped into a sauce brimming with horseradish and lemon. One of my absolute favourite appetizers.
You might say old school. Dated. So 1970s. But I say classic. Something that stands the test of time.
It doesn't always have to be trendy. But if you love trendy then I say this is retro. Call it prawn cocktail instead. Does that make it better? Can you sleep at night now?
Try it once before you knock it. If you still don't like it leave a comment saying it's boring. I'm game to take that chance.
Shrimp cocktail doesn't have to be a watery mess
Shrimp cocktail (or prawn cocktail if we are calling it that now) gets a bad rap for one reason. The frozen shrimp ring. That thing is about the worst invention ever.
It's like they go out of their way to make it suck. Small shrimp. Insipid cocktail sauce. Cooked and then frozen. Throw in some freezer burn and you have one big watery mess. No thank you.
Now think about the shrimp cocktail they serve at fancy steakhouses. Jumbo shrimp. Delicious sauce. White napkins. And a huge price tag. $3 a shrimp. Ouch. Set it down next to that $50 steak and it's dinner time!
Or you can make it at home. And you can make lots of it. For about the price of good quality frozen shrimp.
What is prawn cocktail anyway?
That could read what is shrimp cocktail for a good part of the world. Two names. Same thing? Turns out no. They are different creatures altogether.
Shrimp live in salt water. Prawns live in fresh or brackish water. Shrimp are from the ocean. Prawns are not.
I think some parts of the world use the term interchangeably. Doesn't help clear up the confusion. And to make it worse they call pacific shrimp king prawns.
For this recipe it probably doesn't matter that much. Get what you can get. The cooking times are tied to weight per shrimp (or prawn) anyway.
Call it shrimp cocktail or prawn cocktail. Nobody cares. What matters is it's delicious when you do it right.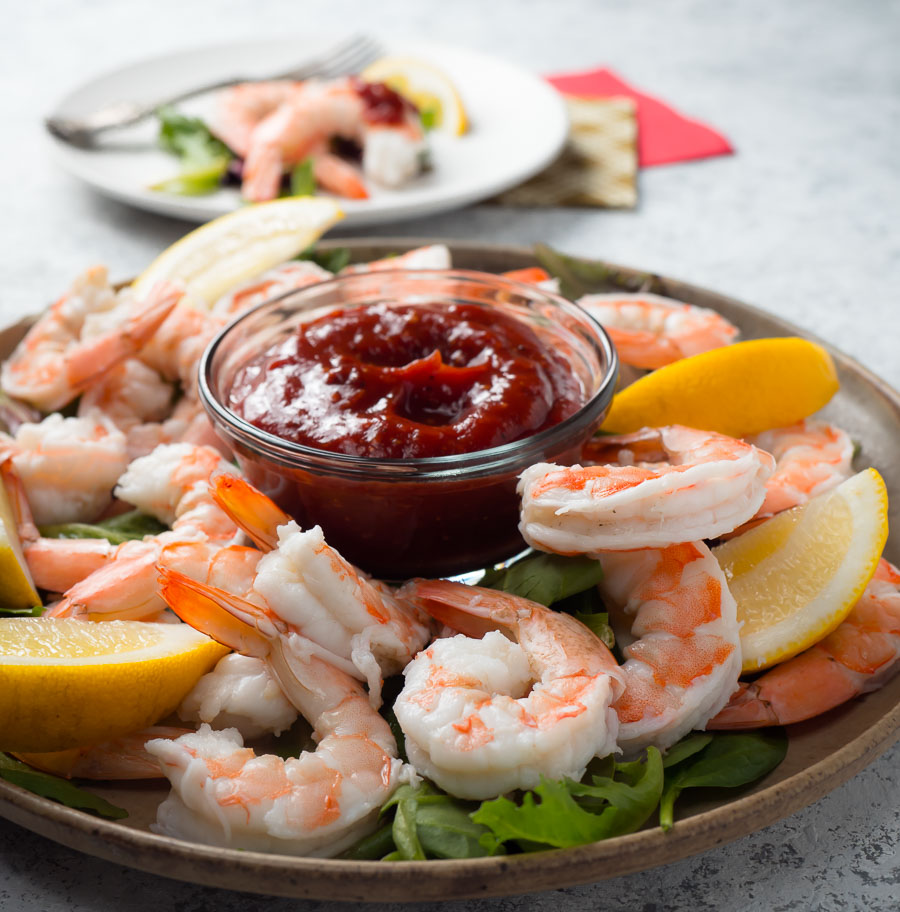 The cocktail sauce is important
The worst thing you can do is take your perfectly cooked shrimp and serve them up with a jar of pre-fab cocktail sauce. You want bright fresh flavours. Not something that was jarred 18 months ago.
That 2 year old bottle of horseradish that has been rattling around your fridge is not the place to start. Go to the store. Buy a fresh jar. When you get home taste the old stuff next to the new stuff. You'll see what I mean.
Fresh lemon juice is the other key ingredient. Don't use that stuff from the little plastic lemons. I don't know why that even exists anymore. Who can't buy a lemon these days?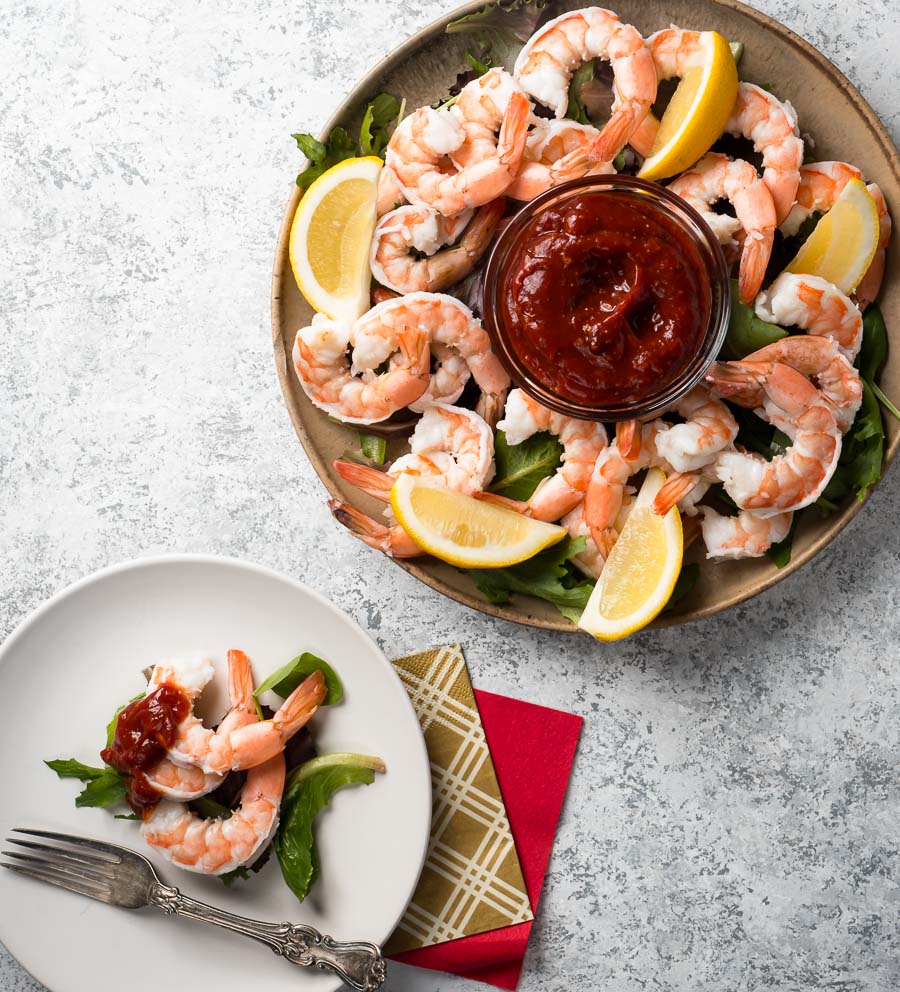 Perfect shrimp cocktail every time
I cannot take credit for this recipe. I didn't invent it. What I did do is spend years searching for the perfect, reproducible, absolutely foolproof shrimp cocktail recipe. This is it.
I found it in an old Cook's Illustrated book. I've simplified it some but the base technique is all theirs. In turn, they borrow pretty heavily from classic French technique.
Cooking is about evolution, anyway. There's very little revolution going on. There aren't too many people who are inventing something completely new.
A caveman put some woolly mammoth on a fire. That changed everything. Somebody else discovered salt. Huge improvement. And the guy who first decided to eat a lobster. That was something.
Since then it's been about refining technique. I'm kidding here. But not really…
Shrimp cocktail. Or prawn cocktail. Just really good retro party food. Try it. You'll see what you've been missing.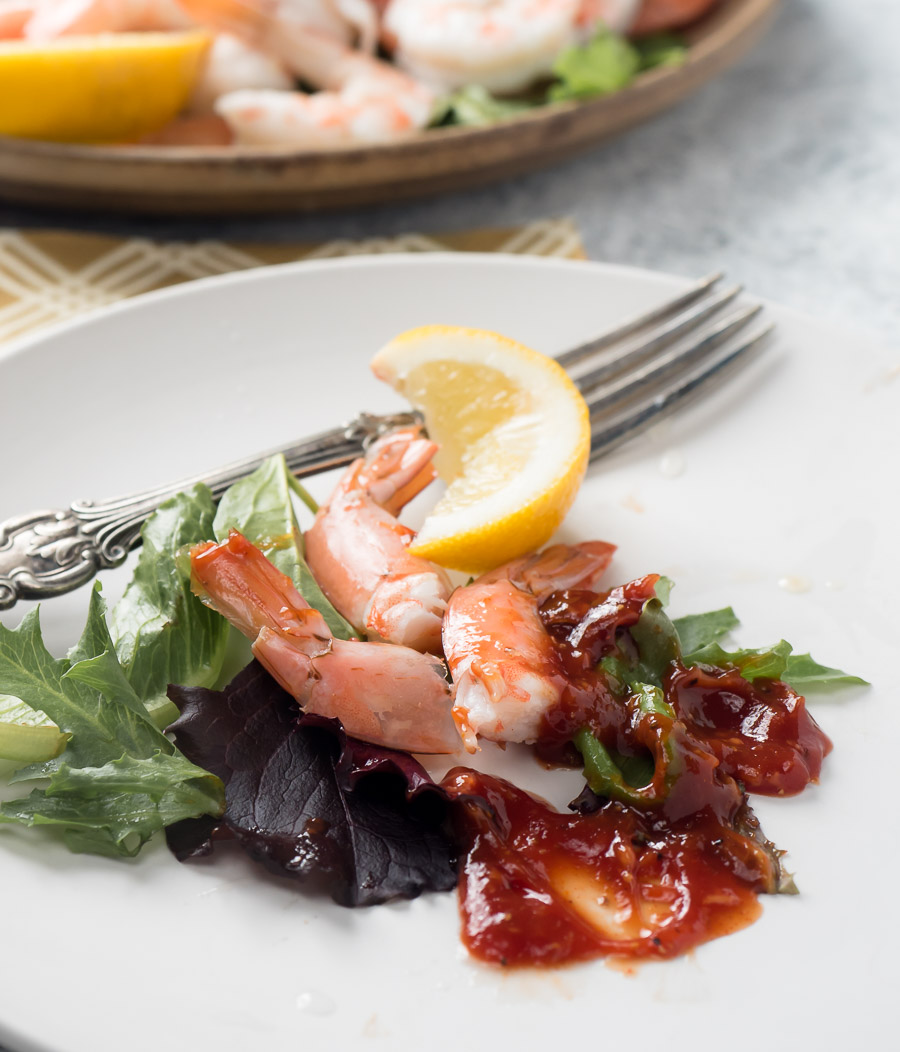 Perfect shrimp cocktail with homemade cocktail sauce.
Perfect shrimp cocktail makes a truly elegant and delicious appetizer for any party
Ingredients
Shrimp cocktail
2

lbs

shell-on 16/20 count frozen shrimp

1

cup

white wine

5

black peppercorns

5

coriander seeds

1

small bay leaf

1

tsp

salt
Classic cocktail sauce
1

cup

good quality ketchup

1

tbsp

prepared horseradish

- don't use the stuff you've had in the fridge for a year

1

tsp

pure chili powder

- e.g. New Mexican or ancho

1/3

tsp

kosher salt

1/3

tsp

black pepper

1

tbsp

fresh lemon juice

- maybe a bit more to taste
Instructions
Make the shrimp cocktail
Run the shrimp under cold water to thaw. Peel the shrimp, reserving shells. Place the peeled shrimp back into the refrigerator. Place the shells in a saucepan with 4 cups water, bring to a boil and simmer for 20-30 minutes.

Remove shells from the shrimp stock. Add the white wine, peppercorns, coriander seeds, bay and salt. Bring to a boil and simmer for 2 minutes. This is a court bouillon.

Turn off the heat and add 1 lb of shrimp to the saucepan. Cover and let sit for 8 minutes (set a timer). While the shrimp sits, set up a large bowl of ice water.

After 8 minutes remove shrimp from the court bouillon and plunge into the ice water. When cold remove shrimp, drain and refrigerate.

Bring the stock to boil. Turn off the heat and add the second pound of shrimp. Set the timer for 8 minutes and refresh your bowl of ice water. 

After 8 minutes remove shrimp from the court bouillon and plunge into the ice water. When cold remove shrimp, drain and refrigerate. See where this is going?

Repeat as many times as you want, although you won't need shells for any more than 2 lbs. If you are only doing one pound, reduce the amount of water to 3 cups for the initial stock step.

Serve with classic cocktail sauce.
Classic cocktail sauce
Combine the ingredients in a small bowl and stir to mix.

Let stand 15-30 minutes to let the flavours come together.
Notes
Cook smaller shrimp for less time. For 21-30 count go with 7 minutes. For 31-40 six minutes will do it. Anything smaller, don't bother...
Nutrition
Serving:
8
servings
|
Calories:
176
kcal
|
Carbohydrates:
9
g
|
Protein:
23
g
|
Fat:
1
g
|
Cholesterol:
285
mg
|
Sodium:
1555
mg
|
Potassium:
225
mg
|
Sugar:
7
g
|
Vitamin A:
255
IU
|
Vitamin C:
7.2
mg
|
Calcium:
176
mg
|
Iron:
2.8
mg