Peruvian chicken is good stuff. Seriously good stuff. And when you match it up with that crazy Peruvian green sauce you have a winner. Pollo a la brasa.
I love a good roast chicken. It's one of my favourite dishes. Just simple roast chicken seasoned with salt and pepper and maybe a couple sprigs in the cavity. Served up with a drizzle of a good pan sauce. Yum.
It's my comfort food. A well executed roast chicken is a fantastic, understated, magical thing. But sometimes you want something a little less subtle.
Peruvian chicken is not understated. Not subtle. Not delicate. This is hit you over the head delicious. Big tastes. Bold spice. Loaded with flavour. Drizzle a little magic green sauce on it and it's just wow food.
Not flashy wow. Not – "Wow. That is incredibly beautiful fancy food". More like "Wow – that is just crazy delicious". It's earthy. Comfort food.
Simple honest cooking. Food for friends and family. Satisfying. Food you will want to eat again and again.
Watch how to make Peruvian chicken
Aji verde – magic green sauce
The green sauce that goes with Peruvian chicken is called aji verde. Sounds exotic. But it's just dressed mayonnaise. Really dressed up maybe but still basically mayo.
Aji verde is a snap to make. Toss some stuff in a blender. Whiz. Done. Just as easy as that. So don't leave it out. Make it. A little goes a long way.
And aji verde drizzled Peruvian chicken sandwiches are epic. It's worth making this just for the sandwiches.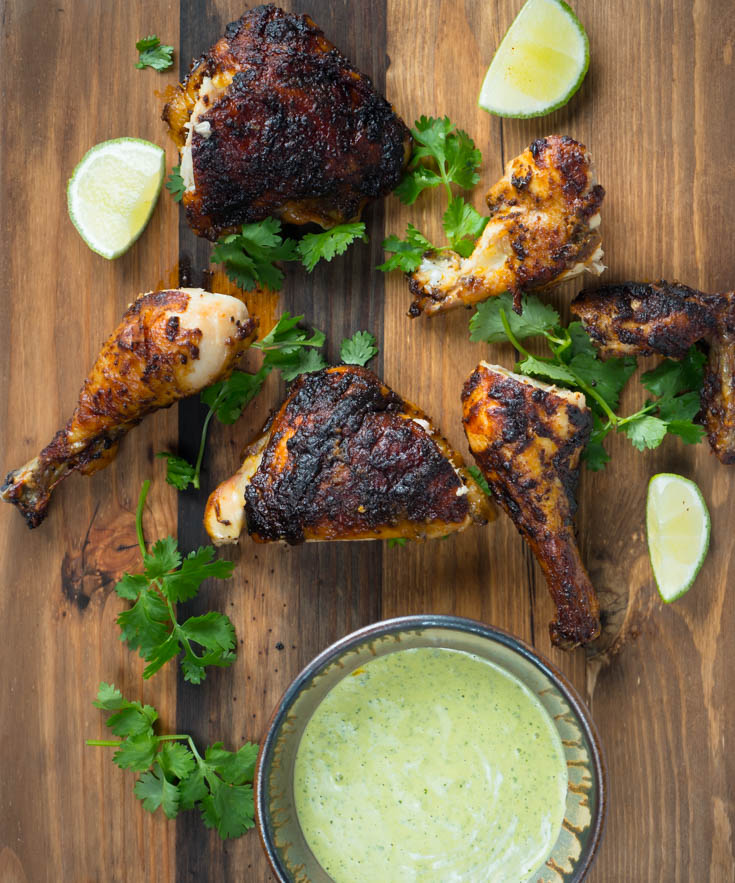 Aji amarillo – the other aji in Peruvian chicken
Aji means chili pepper in Spanish. So aji verde means green chili. Or green chili sauce I guess. I don't speak Spanish so the subtleties are lost on me. Probably doesn't matter.
What matters is aji amarillo. That's the secret ingredient here. Aji amarillo is a Peruvian yellow chili. One that nobody knows about. It's time to find out.
Think about the wonderful fruity, complex flavour of habanero. Now imagine you could have all that flavour without the heat. That's aji amarillo.
It's pretty much impossible to find the fresh chili peppers. Lucky for us Peru exports aji amarillo paste. Just about any decent latin grocery will stock it.
It's so worth seeking it out. I go looking for reasons to use it. And if you can't find it in town there's always Amazon. Without it, this is just another roast chicken. Get your hands on some. You won't regret it.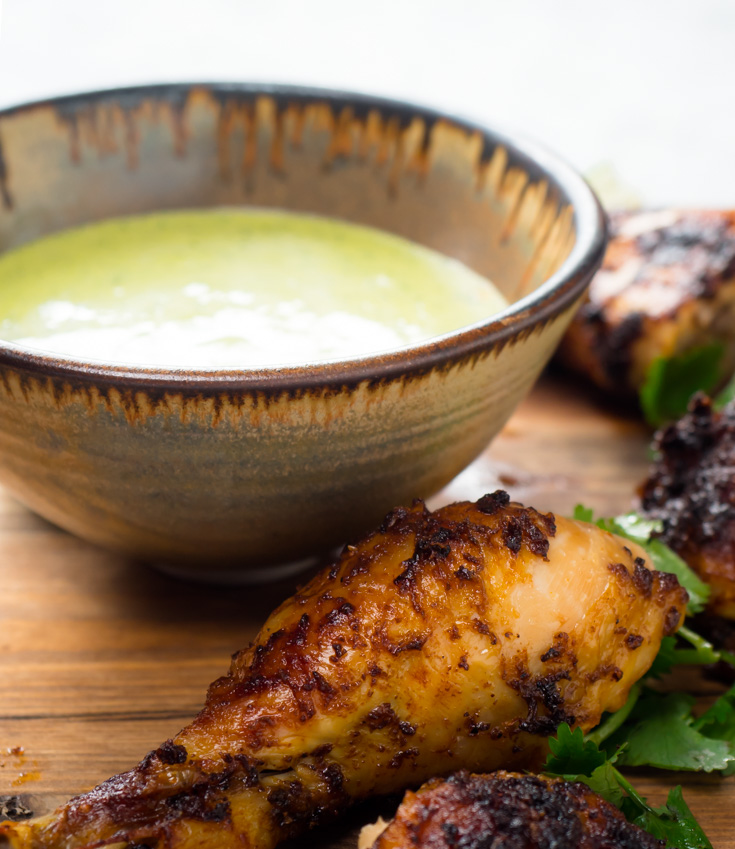 Peruvian chicken – pollo a la brasa
Peruvian chicken is best on a rotisserie. A rotisserie over charcoal. Do that and it's a whole different level of wow.
But most people don't do the rotisserie thing. Too bad. So the chicken here is roasted. Still really tasty. Still totally worth making. Easier too.
Roasting is not the same as rotisserie. That's obvious, you say. I know. But it makes a difference here.
There's no fresh garlic in this recipe. That's because fresh crushed garlic can burn. Or get really, really dark. Not so good. Granulated garlic doesn't have the same problem.
Fresh garlic isn't a problem with a rotisserie. Stuff falls off when you use a rotisserie. So it can't burn.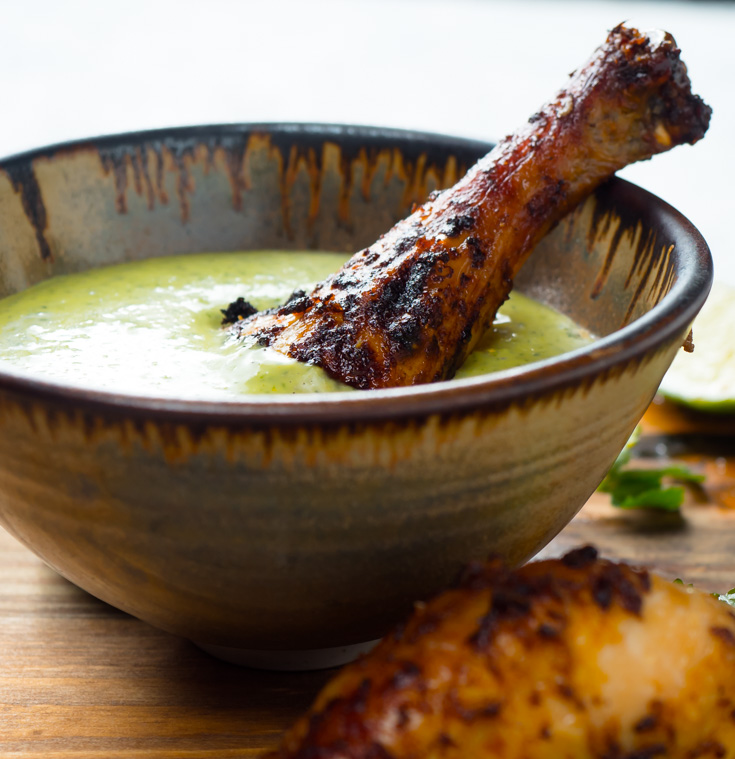 Use garlic or granulated garlic when you use your rotisserie. Either works. But use granulated garlic when you roast. It does make a difference.
Granulated garlic is not 100% authentic. But not grilling over charcoal isn't really authentic either. So I can still sleep at night.
Doesn't really matter though. What matters is this is some delicious chicken.
And aji amarillo is the star here anyway. Seriously. Anyone who tells you "This is Peruvian chicken but don't worry if you can't get aji amarillo, just use a green chili" is probably telling you how to make tasty chicken. But they aren't sharing a pollo a la brasa recipe.
Peruvian chicken with aji verde. Pollo a la brasa. As far as I can tell that's Spanish for crazy tasty chicken.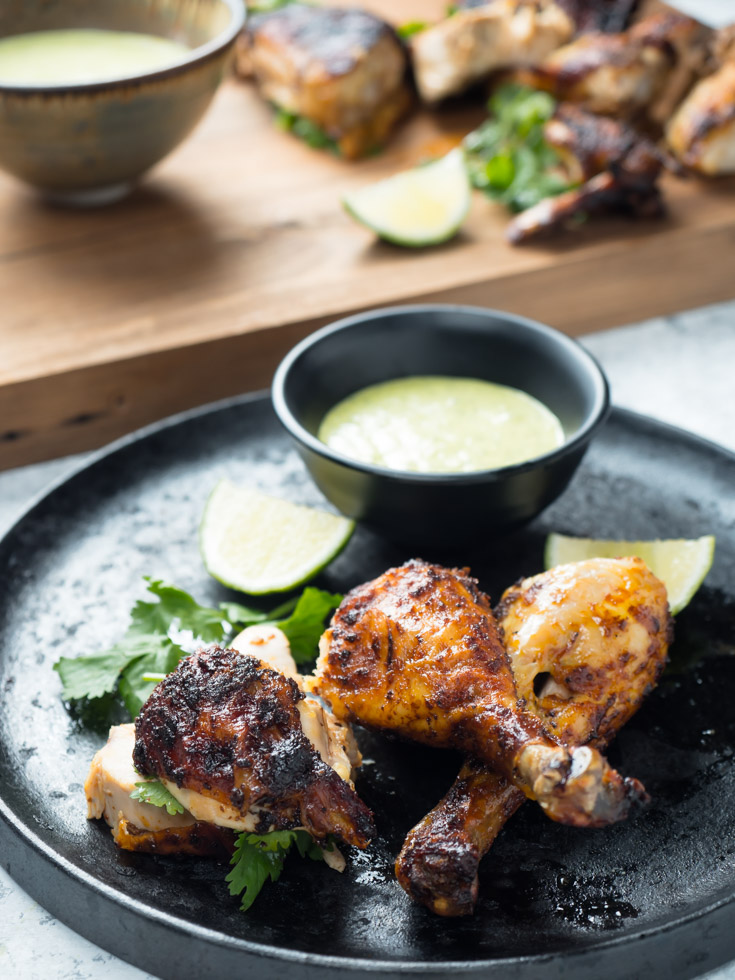 peruvian chicken - pollo a la brasa
Peruvian chicken or pollo a la brasa is one of the world's great roast chicken dinners.
Ingredients
Marinade
2

tbsp

aji amarillo paste

- Peruvian chili paste

1

tbsp

cumin powder

1

tbsp

paprika

1

tbsp

soy sauce

1

tbsp

cider vinegar

1

tsp

oregano

1/2

tsp

black pepper

1/2

tsp

granulated garlic

1/2

tsp

salt

3

tbsp

neutral oil

enough water to form a smooth paste
Aji Verde - Peruvian green dipping sauce
1

cup

cilantro leaves

- stems are OK mixed in here

1/2

cup

mayonnaise

1

tbsp

Aji amarillo paste

1

jalapeno

seeded and chopped

1

clove

garlic

2

tbsp

neutral oil

1/2

tsp

kosher salt

juice of 1/2 lime
Peruvian chicken - pollo a la brasa
1

3-4 lb

chicken

the marinade

Aji verde, cilantro and lime to serve
Instructions
Combine all the marinade ingredients. Stir to combine.

Combine the Aji Verde ingredients in a blender or food processor. If blending, put the liquid ingredients in the first. Layer in the jalapeño, garlic and cilantro last. Blend to combine. Set aside.
Peruvian chicken
Spatchcock the chicken. That's not a big deal. Just cut out the backbone (that's the part opposite the breasts). Open up the bird on a cutting board and push down hard on the breast. Easy. Check out the video to see what it looks like.

Coat the chicken well with the marinade. You should have lots. Get some on the inside surface as well. Refrigerate a minimum of 1 hour. You can go up to 12 hours.

Pre-heat your oven to 350F. I know I usually suggest higher but in the case the chicken will get too brown.

Place the chicken on a baking sheet or large skillet and roast until the thigh reaches an internal temperature of 175F. This takes 45 minutes to 1 hour. Remove from oven and let rest 10 minutes.

Optionally there is a lot of goodness in the bottom of your baking dish. You can spoon off the fat and deglaze with a little chicken stock. To deglaze heat up the pan and add the stock. Stir to get the brown bits to dissolve. This makes a nice little pan sauce. Adds a nice extra flavour boost for a change.

To serve, carve the chicken up into pieces. Split each breast half in half again (so you have 4 pieces). Cut off the wings. Split the thighs from the drumsticks. Serve with a drizzle of aji verde and pass the extra along side.
Nutrition
Serving:
4
servings
|
Calories:
378
kcal
|
Carbohydrates:
6
g
|
Protein:
1
g
|
Fat:
39
g
|
Saturated Fat:
4
g
|
Cholesterol:
11
mg
|
Sodium:
1019
mg
|
Potassium:
143
mg
|
Fiber:
1
g
|
Sugar:
2
g
|
Vitamin A:
1200
IU
|
Vitamin C:
7.5
mg
|
Calcium:
25
mg
|
Iron:
1.7
mg