This is a quick and easy mint raita that's perfect with papadums. Or onion bhaji. Or pakoras. Almost anything. Indian mint sauce.
Clean flavours. Bright. Tasty. Super easy to make. And versatile. There's not a lot not to like about this. Unless you want authentic Indian. This is not that.
This is my go to restaurant style mint raita. Restaurants outside of India that is. I don't think you'd find this Indian mint sauce anywhere in India.
It's a mint dip really. A little thinner than a classic raita. Sweet. I actually don't know why it works. But it does. I really shouldn't like it. But I do. I'm betting you will too.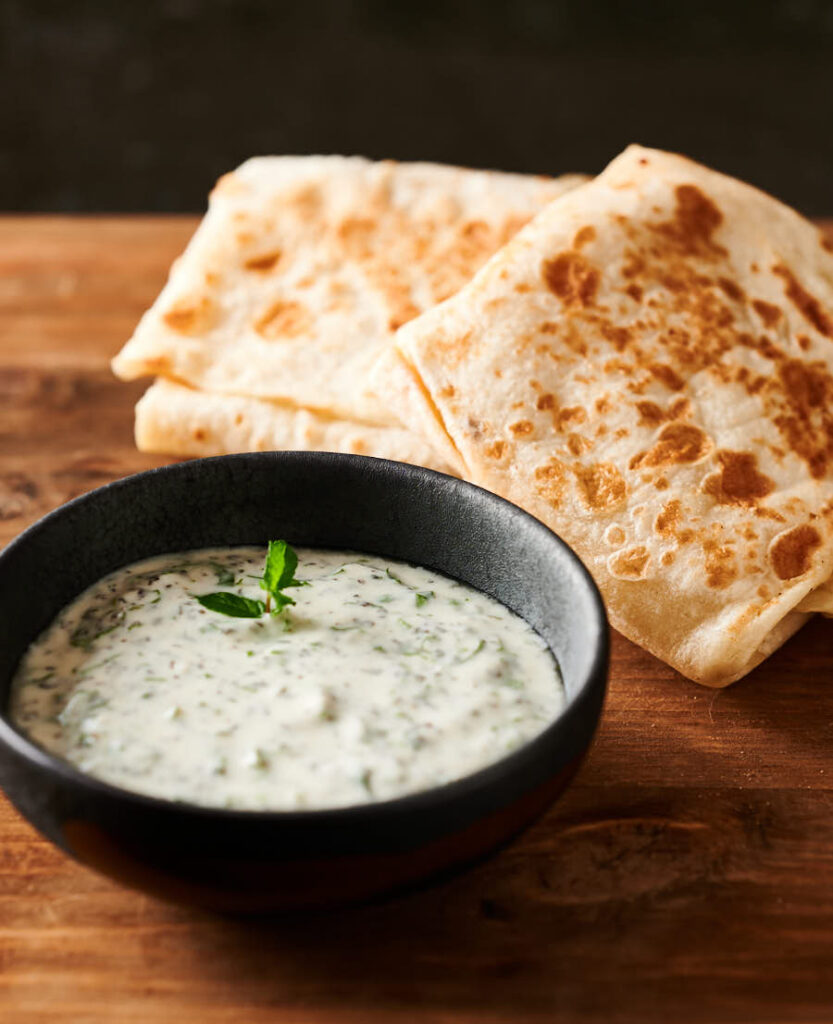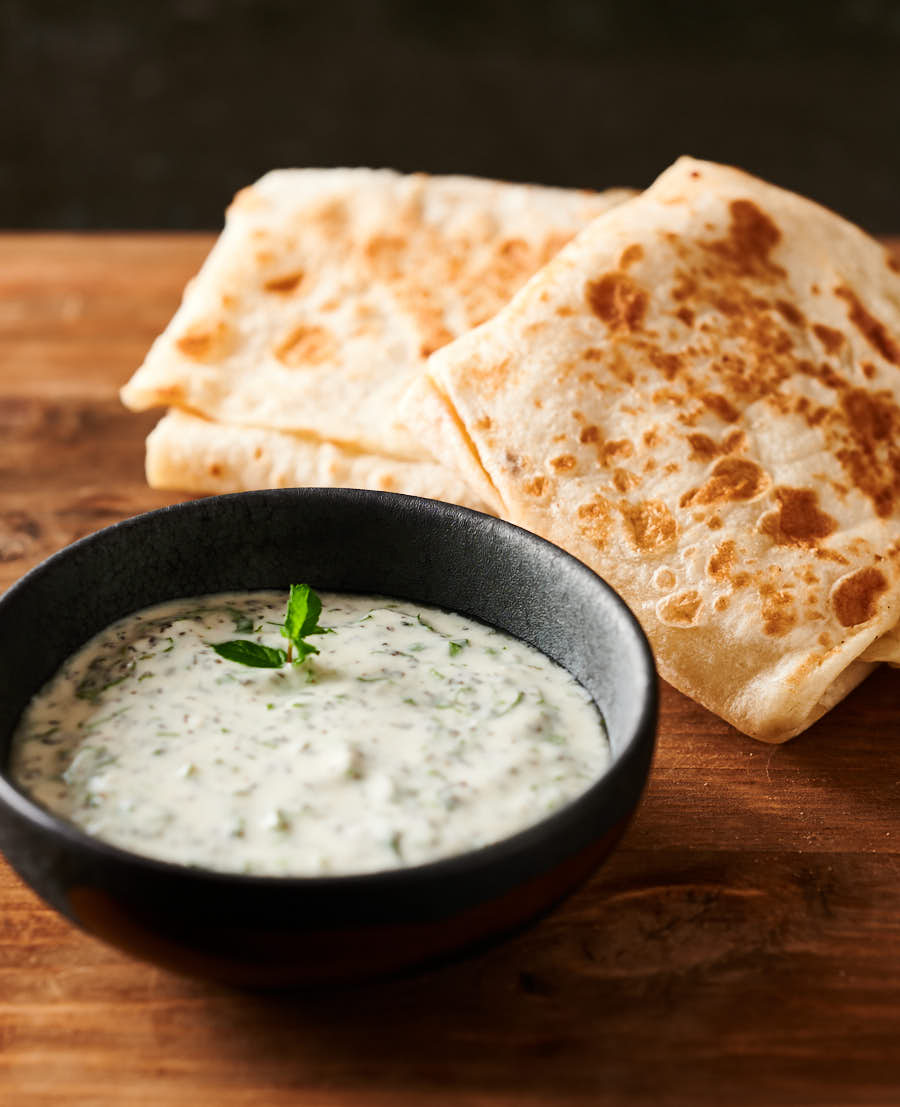 Mint raita takes no time to make
This almost isn't a recipe. Just toss some stuff in a bowl and mix. Literally. You need to chop some herbs I suppose. Two minutes. Measure a few ingredients. Maybe another minute or two. And stir. Fifteen seconds.
Stir in a bit of milk to adjust the consistency. Another thirty seconds. Taste and and add a bit of salt. Fifteen seconds. So under five minutes. This has to be the easiest Indian dish ever.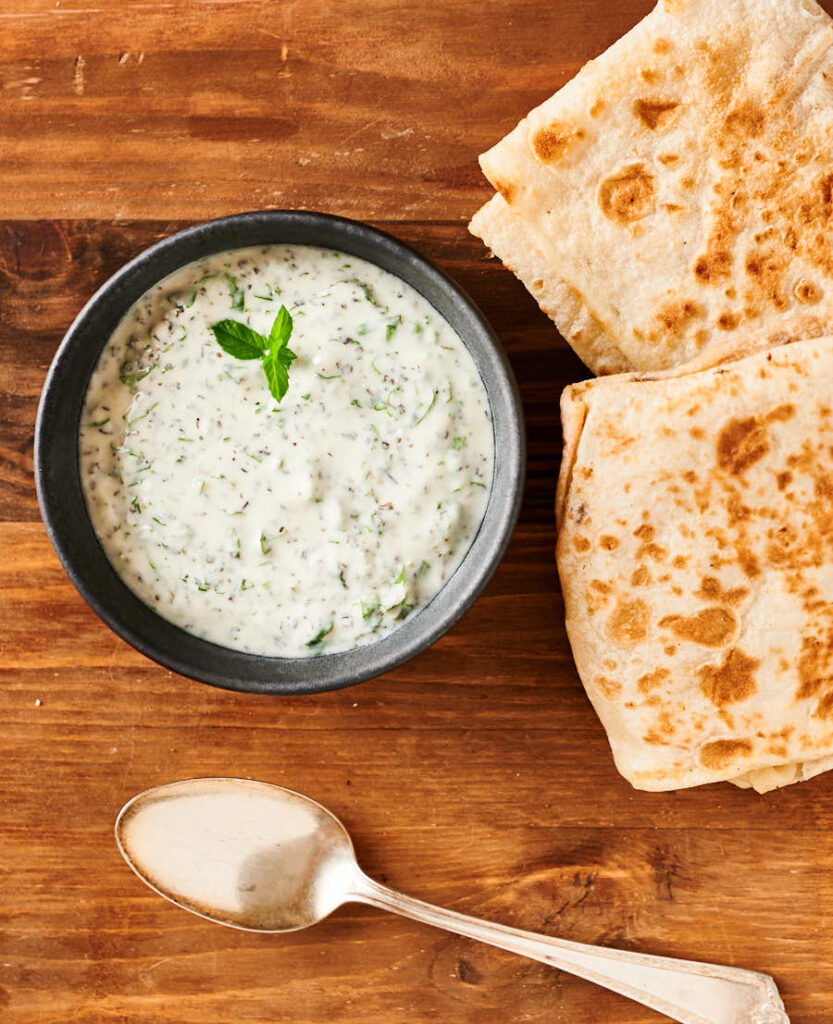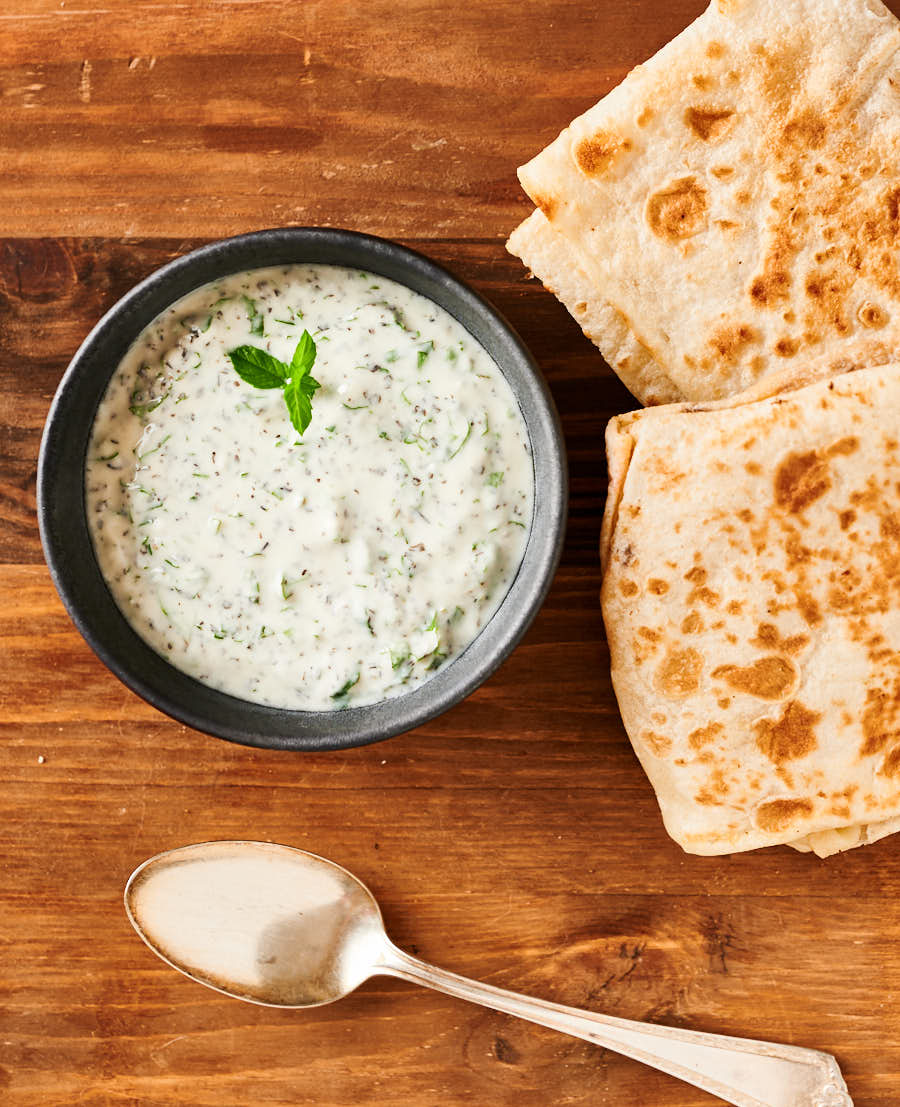 Make sure you have the right mint sauce
This one can trip you up if you aren't careful. Mint jelly is not the same as mint sauce. It's not hard to find if you know what you're looking for.
Check the ingredients. Mint, vinegar, and sugar. That's about it. A other things in there. But mostly just those three.
Coleman's is a famous brand. Baxters is another. Where I live there are domestic versions as well. It's a key ingredient in tandoori marinade as well. So it's good to have around.
That's it. A few ingredients. Instant mint raita. Not authentic. More like Indian mint sauce. Tasty stuff. Try it. It surprised me the first time I made it. Maybe it will surprise you as well.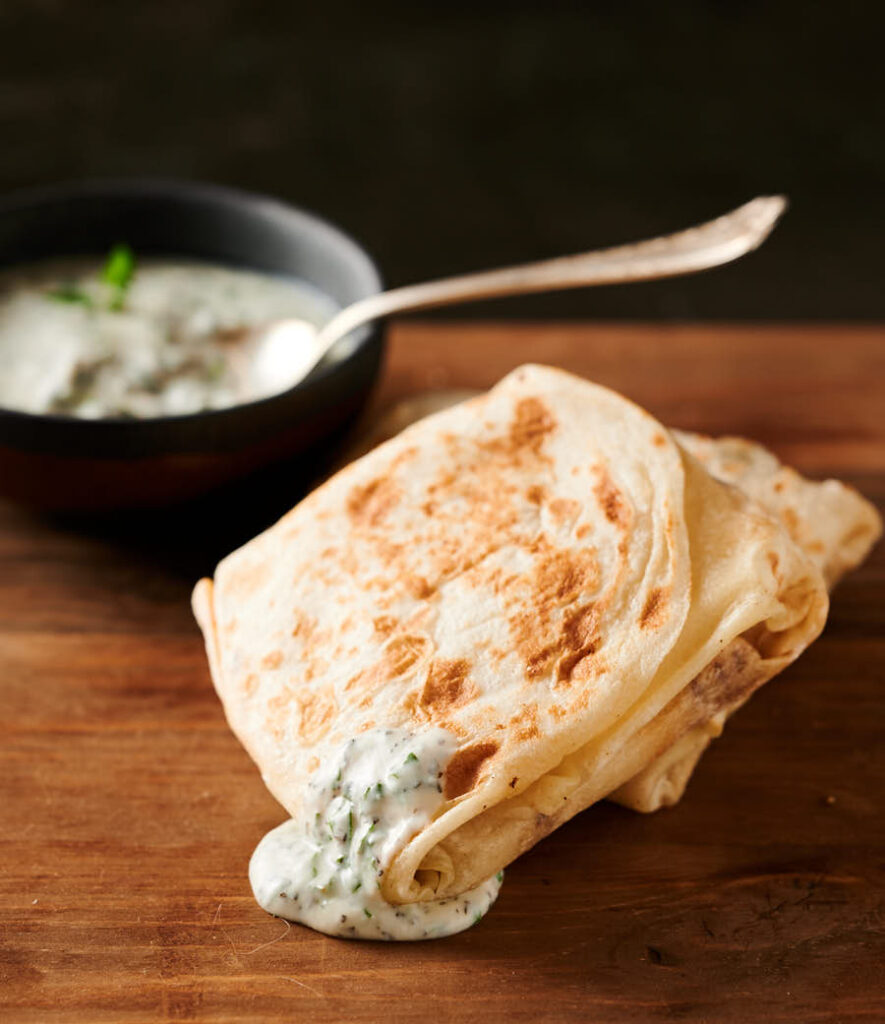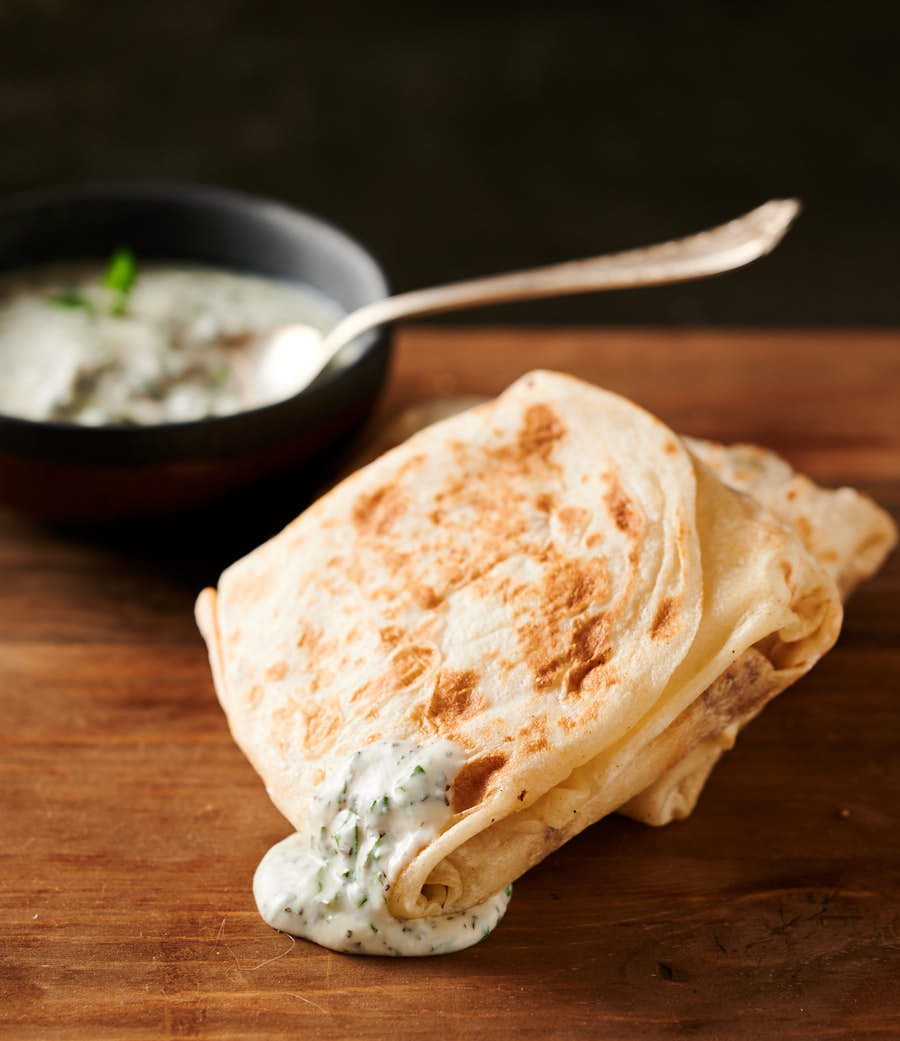 easy mint raita – indian mint sauce
Easy mint raita is a versatile dipping sauce that goes well with all sorts of Indian dishes.
Ingredients
1/2

cup

plain yoghurt

3

tbsp

cilantro

finely chopped

3

tbsp

mint

finely chopped

4

tsp

mint sauce

not the same thing as mint jelly

1/2

tsp

salt

2-3

tsp

milk

to adjust consistency (optional)
Instructions
Combine all the ingredients except the milk in a small bowl.

Add the milk, a little bit at a time, stirring it in until you get the consistency you like.
Nutrition
Serving:
4
servings
|
Calories:
25
kcal
|
Carbohydrates:
2
g
|
Protein:
1
g
|
Fat:
1
g
|
Saturated Fat:
1
g
|
Cholesterol:
4
mg
|
Sodium:
382
mg
|
Potassium:
47
mg
|
Fiber:
1
g
|
Sugar:
2
g
|
Vitamin A:
217
IU
|
Vitamin C:
1
mg
|
Calcium:
43
mg
|
Iron:
1
mg