Bagara baingan. Hyderabadi eggplant curry. South Indian flavours. Hotel gravy. Rich eggplant. This is just good living.
It's serious fare. Big enough to be the star. The main attraction. Unless your idea of a vegetable is the potatoes next to your steak.
If you can handle eating a carrot. Or a slice of cucumber. If you have any omnivore tendencies at all. Then maybe this will do it. It does for me.
Doesn't really matter though. Makes a great side dish. Try it that way. Maybe it will convince you.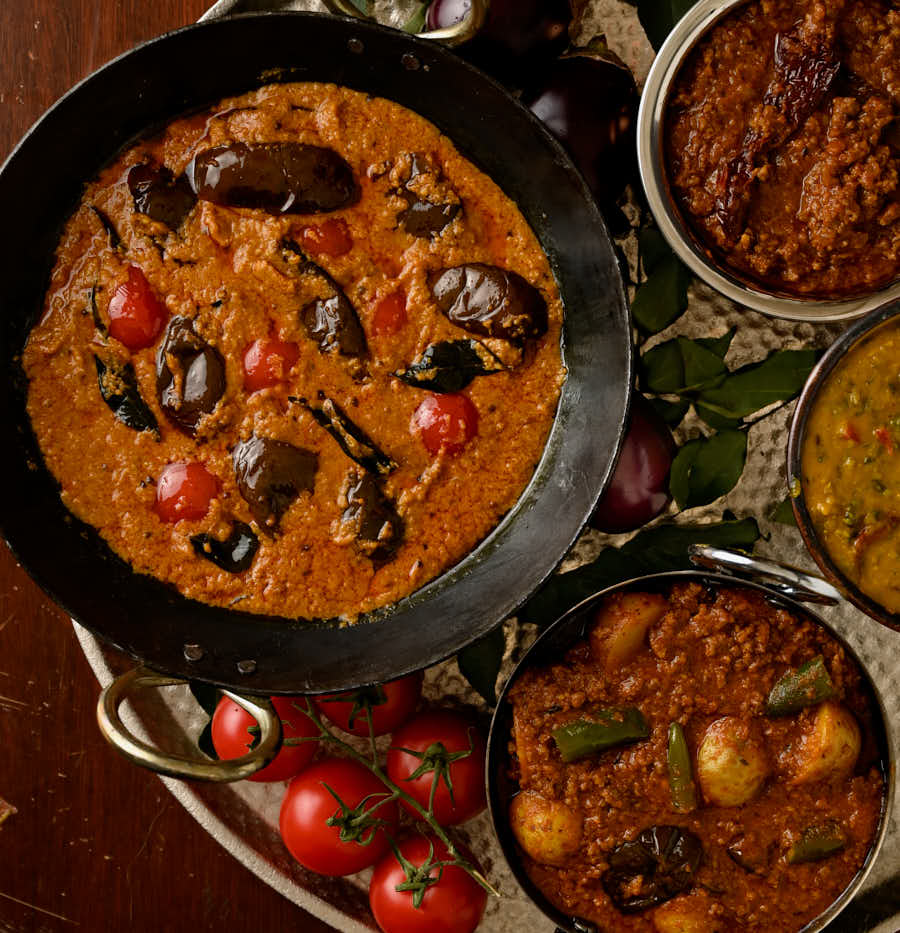 South Indian flavours
Bagara baingan hails from Hyderabad. And it brings some big South Indian flavours.
Curry leaves. Tamarind. Coconut milk. The holy trinity of South Indian tasty. Pretty much guaranteed to be good. Just honest regional home cooking.
Except this isn't traditional home cooking. This is how I would make bagara baingan if glebekitchen was a restaurant. I would be going for broke. The biggest flavours.
Because that's what glebekitchen is about. Maximum taste. Even if it means bending the rules a bit.
I'm going for upscale restaurant here. If you're looking for bagara baingan like your mom makes this isn't it. I would love to try your mom's version though. I love Indian home cooking. A lot.
Hotel style bagara baingan
If you're new here hotel style is a twist on restaurant style. Think of it as restaurant cooking. At really good Indian restaurants.
This is not typical takeaway fare. It's not completely different though.
There's that lush sauce. Have to have that. But that sauce has more depth of flavour. That's built into the Indian hotel gravy. The gee whiz here.
Think of it as posh Indian restaurant cooking. It's more work up front. Real work even. Which is why you don't get it at every Indian restaurant. Prep is expensive. Labour costs money.
Hotel style is easier when you actually cook your curries though. And it's less mess. No spatter. More flavour. Did you catch that? More flavour.
That's a tradeoff I can get behind. But don't get me wrong. I love restaurant style as well. I go both ways. And yes, I meant to say that. Hotel and restaurant. What were you thinking?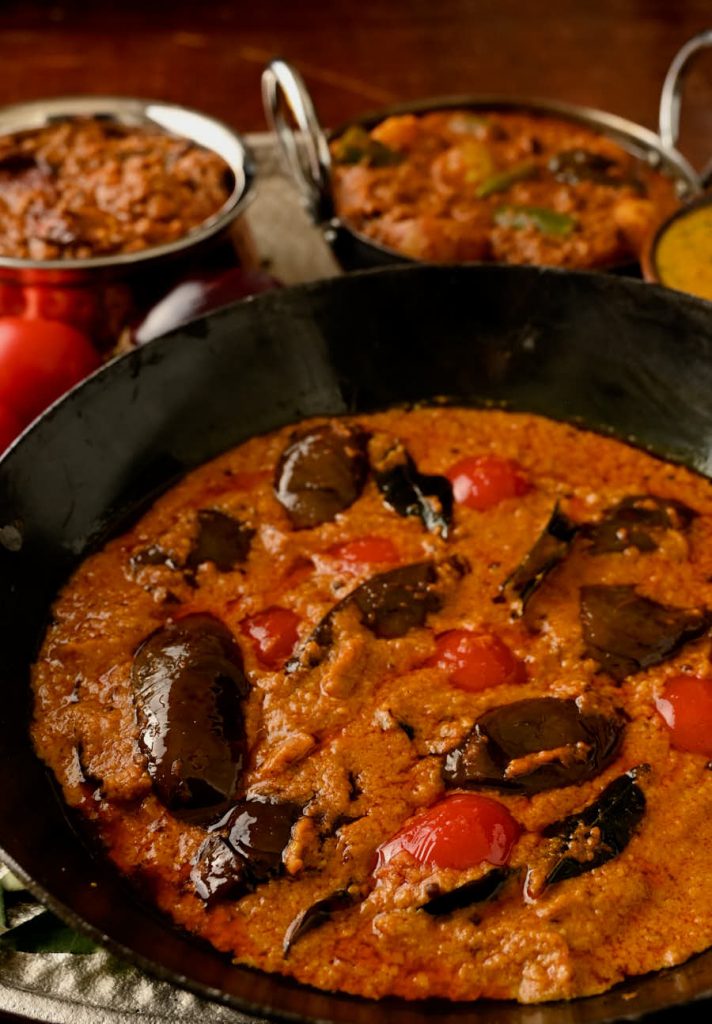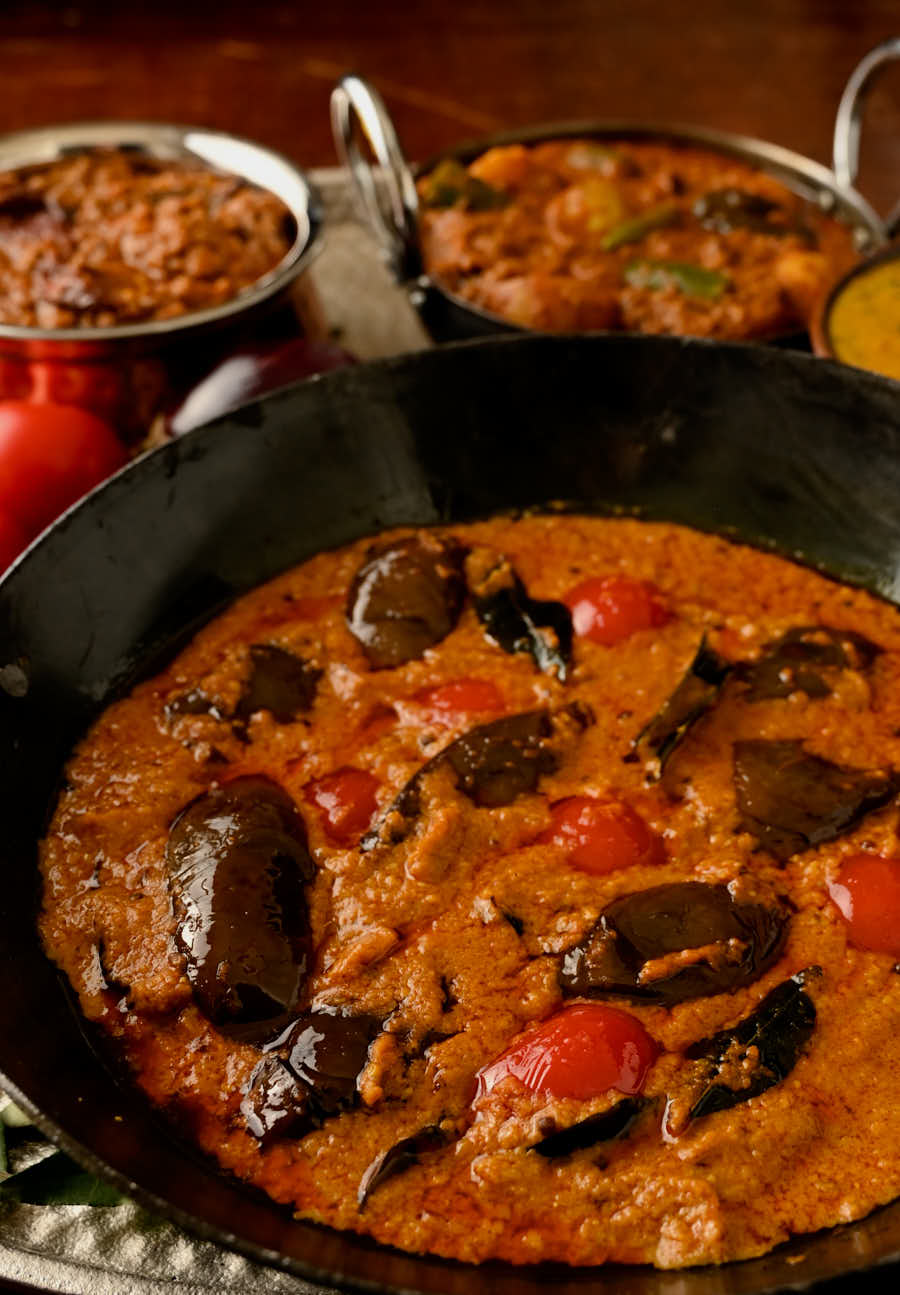 Peanuts and sesame seeds add richness
That's the secret here. A ground nut paste. It makes a difference. A big difference.
There's real mouthfeel here. Coat your tongue tasty. Satisfying. The richness of the nuts are what moves bagara baingan into main course territory.
There's a lot of spice in this dish as well. More than usual. Even for a hotel style curry.
Don't let that throw you off. All that spice is going up against coconut milk and the nut paste.
It's almost too much. Almost. Right on the edge of completely over the top. Which is what I like. This is not an austere dish.
The tang of the tamarind paste counters it. Brings things back into balance. The yang. It just works.
Roast your eggplant for bagara baingan
This is another place I'm drifting from tradition. I'm a fan of the meaty taste that comes from roasting those little Indian eggplants.
Fried is good too. Don't get me wrong. But I really like roasted. It's way less mess. And your house doesn't wind up smelling like a greasy spoon. It will still smell like an Indian restaurant though. I can't help you there.
It's worth looking for those Indian eggplants. The skin to flesh ratio is perfect for bagara baingan.
Look for them at Asian or Indian grocers. I even see them at regular grocery stores sometimes.
Watch for signs that say brinjal. Or ratna. If you're shopping at an Indian grocer anyway.
Or look for signs that say adorable little eggplants at the regular grocery store. No. Not really.
There's a trick to making it work. When roasted eggplant comes out of the oven the skin is tough. Not the best.
But if you put it in a Tupperware and seal the lid for 15 minutes right when it comes out of the oven it softens up nicely. Good trick for any roasted eggplant dish.
It's an important trick. Because the skin is a big part of this dish. It would just be a bunch of eggplant smush without it. Maybe the best eggplant smush I've ever made but not what I'm going for here.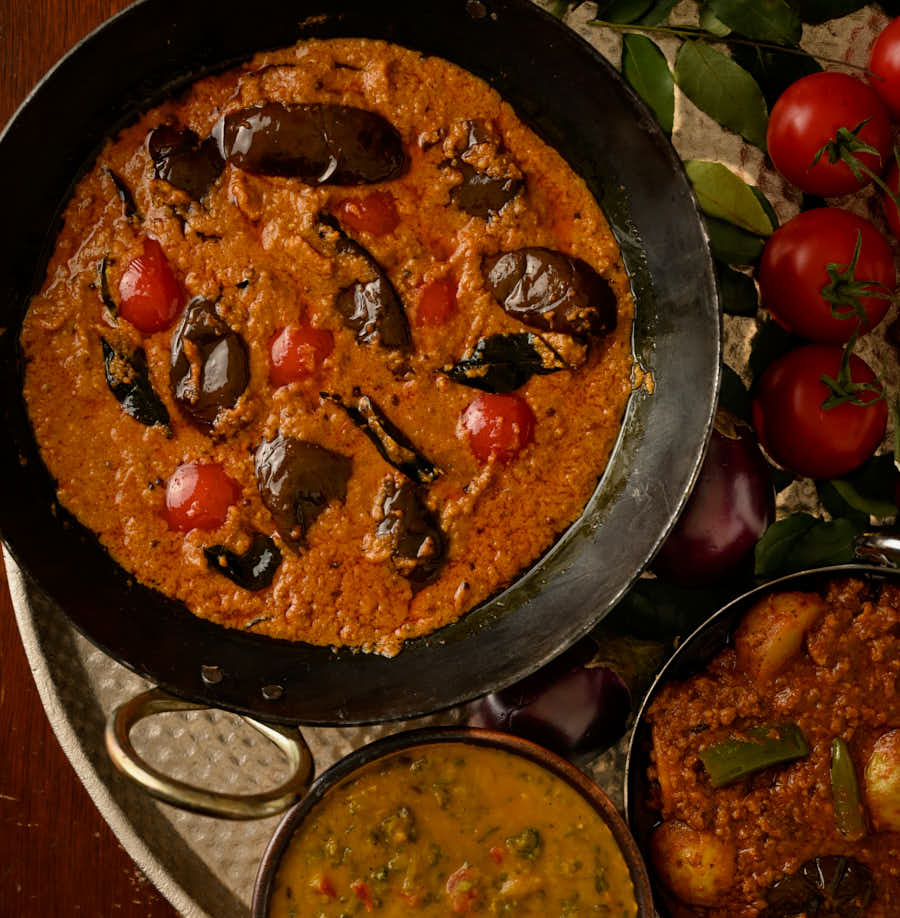 This one is for the real Indian food fans
This one is for food lovers. Most of the recipes here are. But this one is especially so. This isn't for the "I only eat butter chicken" crowd.
It's not for the "I only ever order the same dish every time" types. It could be. But it's probably not.
I know I'm not selling it. Working against myself really. But this is Indian for Indian food lovers.
It may not be what you know. Might be outside your comfort zone. But there is a whole world of wonder waiting for those who dare. And this could be your first step…
Bagara baingan – Hyderabadi eggplant curry
Big South Indian flavours and hotel style come together for a seriously satisfying vegetarian meal.
Ingredients
The eggplant
4

small

Indian eggplants

look for something called brinjal or ratna

vegetable oil

to lightly coat the eggplant

salt

to taste
The spice mix
2

tsp

coriander powder

1

tsp

kashmiri chili powder

1/2

tsp

cumin powder

1/4

tsp

turmeric powder

1/2

tsp

kosher salt
The nut paste
2

tbsp

roasted, unsalted peanuts

– skin removed

1

tbsp

sesame seeds

water to make a paste
Bagara Baingan
3

tbsp

vegetable oil

– any neutral oil is fine

1

tsp

cumin seeds

1/2

tsp

mustard seeds

2

tsp

garlic ginger paste

15

curry leaves

fresh – dried isn't worth the bother

1

cup

Indian hotel gravy

– recipe link below

4

tbsp

coconut milk

2

tsp

tamarind paste

– tamarind paste is not the same as tamarind concentrate

1-2

small

tomatoes

– quartered

water to thin the final curry to your desired consistency
Instructions
Cook the eggplant
Pre-heat your oven to 350F.

Quarter each eggplant along the long axis (think potato wedge fries)

Toss with a little vegetable oil and salt.

Place on a baking sheet, skin side down and roast about 20 minutes.

At this point the skin will be really tough. Transfer the hot, roasted eggplant to a tupperware and cover. Let sit on the counter for about 15 minutes. Tender skin.
Make the nut paste
This is actually easier with a mortar and pestle. You will fight hard using a mini food processor unless you make lots.

Combine the roasted peanuts and sesame seeds in your mortar and pestle. Beat on them to break them down. Add about 3 or 4 tablespoons of water and keep working them until you get something that looks like porridge but is semi-creamy. It won't be perfectly smooth like peanut butter but don't worry about it.
Make the bagara baingan
Choose a skillet that will hold all the ingredients.

Heat the oil over medium heat.

Add the cumin and mustard seeds. If your oil is at the right temperature you should see little bubbles forming around them. Cook for around 20 seconds.

Add the garlic ginger paste and the curry leaves. Stir until the garlic ginger paste stops sputtering.

Turn the heat down to medium low. Add the spice mix. Stir to combine the spices with the oil. You want to gently fry the spices in the oil. This is calling blooming the spices and it's where the real magic happens. Be careful though. If the spices start to stick pick the pan up off the heat. You don't want them to burn. There's no fixing burned spices.

Stir in the hotel gravy. Really mix it in to get the oil to combine. Cover and let simmer for about 5 minutes.

Mix in the coconut milk, nut paste and the tamarind paste.

Add the eggplant. Simmer for about a minute to warm through.

Look at the consistency. The nut paste really thickens this curry up. Add water until you get what you like. If you aren't vegetarian add chicken stock instead. I go for 5-6 tablespoons here.

Add the tomatoes and simmer until everything is hot.

Serve as a vegetarian centrepiece along with rice and a nice tarka dal or chana masala. Or serve it as a side to go along with your favourite curries.
Notes
Make your Indian hotel gravy ahead of time. You can freeze it in portions and make curries whenever you feel like it.
As long as you are getting serious about your Indian cooking think about making your own garlic ginger paste. It makes a big difference.
Nutrition
Serving:
2
g
|
Calories:
667
kcal
|
Carbohydrates:
57
g
|
Protein:
12
g
|
Fat:
48
g
|
Saturated Fat:
15
g
|
Sodium:
1164
mg
|
Potassium:
1763
mg
|
Fiber:
21
g
|
Sugar:
31
g
|
Vitamin A:
1229
IU
|
Vitamin C:
182
mg
|
Calcium:
203
mg
|
Iron:
6
mg