Hotel style makhani gravy. Want to make butter chicken like you dream about? This is the first step. The first step to other great dishes too.
Makhani gravy is a foundational sauce. Think French mother sauces. Just like hotel gravy. A step on the path to a finished dish. The right tool for the job.
This one is for butter chicken. Or anywhere you want to bring big, spiced tomato flavour to your dish.
Makhani gravy is the other gravy in just about every Indian restaurant
Here's something I bet you didn't know. Just about every Indian restaurant runs with two base gravies.
There's one general purpose onion based gravy. It's used in just about everything.
But there's another one you never hear about. The butter chicken gravy. This is that gravy. There's a little twist here though. It's also an ingredient in other curries.
It's another tool to the arsenal. For hotel style cooking. Think dal makhani, chicken tikka masala. Bhuna. Rajma. There's curry magic to be had here.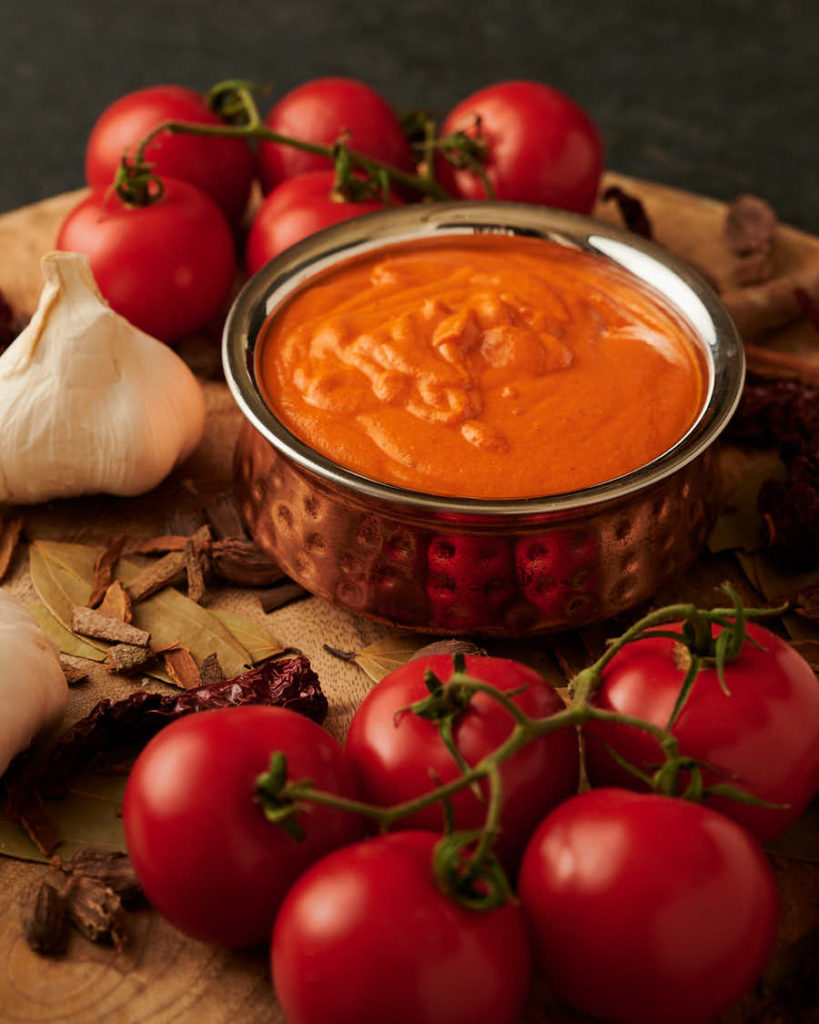 Hotel style is high end cooking
Pretty good chance you haven't heard about hotel style. Unless you're a regular around here. It's not mainstream. Not yet.
But it's really, really good. It's restaurant style cooking. Just not in the way you might know.
Restaurant style is what you get pretty much anywhere you go. It's good. I make it all the time. A lot of people do. There are lots of restaurant style recipes on glebekitchen. I'm a fan.
But when I want to pull out all the stops. When I want to totally crush it. That's when I turn to hotel style.
It's a little more refined. What's going on in really good Indian restaurant kitchens. High end Indian restaurant cooking. High end cooking. Period.
Restaurant style is one style fits all. It's fast. It's relatively easy. And it's tasty. People love it. I love it.
Hotel style is a more disciplined approach. There are multiple different base gravies.
Think about that for a second. It's called base gravy for a reason.
Because it's foundational. The base of what you are cooking. That's classical cooking discipline. French cuisine has 5 mother sauces. Hotel style has more than 10.
Don't freak out though. You don't have to make 10 base gravies. One step at a time. You're not running a kitchen in an Indian hotel. You're allowed to just have fun.

Between makhani and the hotel gravy you're in good shape. I'll probably roll out more in time though. At least one more. Two or three max.
For now you have the two big ones. And the combination of the two. So three variants. That's already pretty good.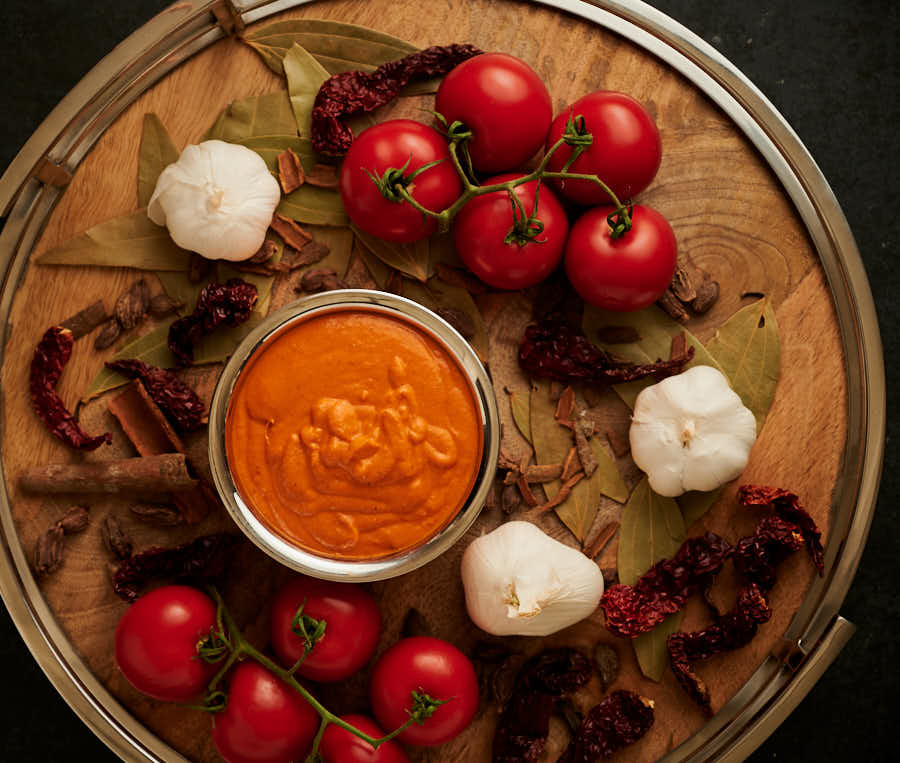 On the matter of cashews
Cashews are a pretty common ingredient in traditional Indian cooking. They add a wonderful richness to dishes. Without being cloying. Or so I'm told.
If you look around glebekitchen you'll notice there are no cashews anywhere. There's a reason.
I am allergic to cashews. So this one is tough for me. I developed and tested this recipe with cashews. I tasted it. It was perfect. And it made me unwell.
I also tested the hotel style butter chicken with with and without cashews. The cashew version won. It wasn't even close.
But this is the last time I'm testing with cashews. All the other recipes I make with makhani gravy will be cashew free. Full disclosure. I'll probably figure something out using macadamia nuts though.
The pictures are taken with cashews. So if you leave them out it will look different.
And the matter of onions
There are no onions in makhani gravy. Not a shallot. No scallions. There are zero onions here. Madness you say?
Nope. Not madness at all. Butter chicken is proof. Takeaway butter chicken may have onions. But that's takeaway.
We aren't talking takeaway here though. This is hotel style. And hotel style is upscale. It's about going the distance.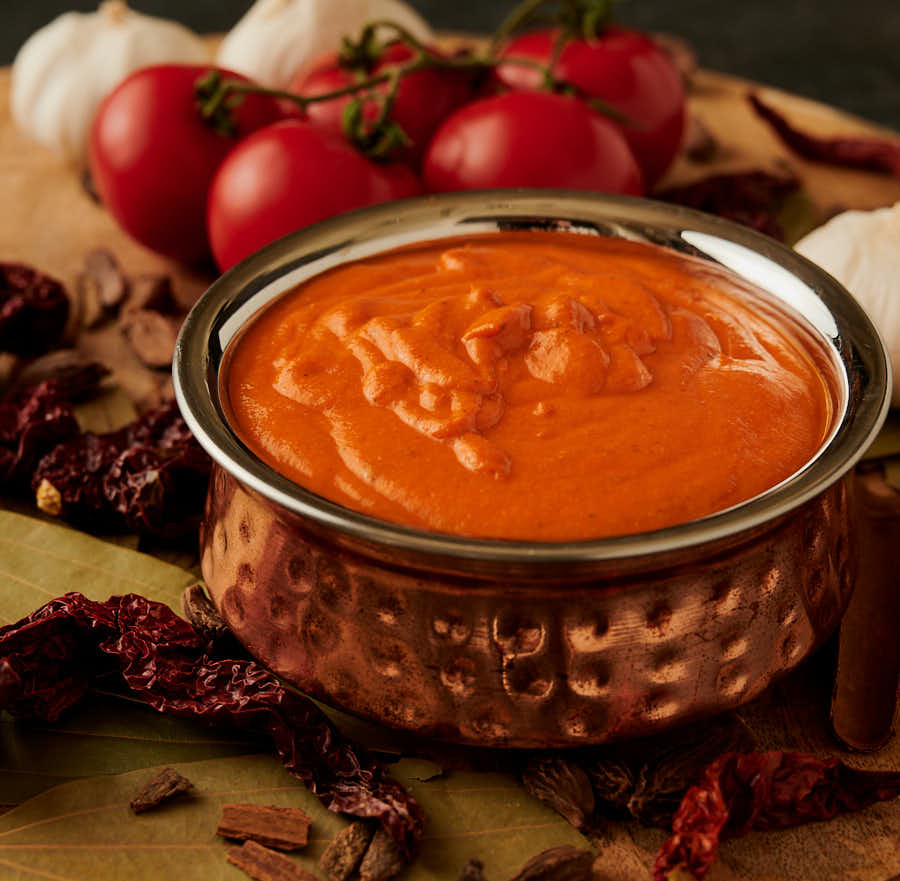 On butter and cream
If you are making makhani gravy it needs butter and cream. Makhani means butter. Hard to make it without the star ingredient.
But the timing doesn't matter as much. You can add butter and cream when you make the gravy. Or you can add it into the final dish.
Technically, it isn't makhani gravy until you add the butter and cream. But I'm using this gravy in other dishes. Where maybe butter isn't necessarily right.
So I leave it out. Stop this recipe right before the last step. Add the butter and cream into the final dish. If I need it.
And if I don't it's good to go. Like a tomato gravy. Tomato masala. So this is two gravies in one.
Makhani gravy – it's not just for the best butter chicken you can make
Makhani gravy is an ingredient. It can stand alone. In butter chicken. Dal makhani. Or it can be used together with the regular hotel gravy.
Makhani gravy and chicken tikka is pretty much butter chicken. Not quite. But pretty close.
It's also a tomato flavour bomb. Perfect for upscale tikka masala. Bhuna. Rajma. That's where the blend comes in.
A little hotel gravy. A little makhani gravy. And all of a sudden you are down the rabbit hole.
Hello Alice. So very glad to see you here.
makhani gravy – hotel style
This is how they make that butter chicken you've always wanted to recreate.
Ingredients
Step one ingredients
28 oz

tomatoes

– canned. Make sure there are no other flavours (basil etc). Just tomatoes, juices and salt.

2

tsp

kashmiri chili powder

– less if you want a milder gravy

1

tsp

kosher salt

2/3 tsp table salt

1

small

tej patta

– Indian bay leaf

1

black cardamom

whole. A small one. I hear people talk about monster black cardamom that are an inch long. I'm talking 1/2 inch here.

4

peppercorns

1

inch

cassia stick

1

tbsp

garlic ginger paste

1

green chili

= jwala aka finger hot, cut in half lengthwise and seeded

3

tbsp

neutral oil

– vegetable, canola etc

1/2

cup

whole cashews

– optional. 1/2 cup is an approximate measure. Depends how much space there is between cashews. 80 grams is what I actually use.
Step two ingredients
1/2

cup

heavy cream

3

tbsp

butter
Instructions
Step one
Put your tomatoes and the juices in the can through a food mill. If you don't have a foodmill try crushing them with your hands. The goal is to get rid of the stem of each tomato and to get things pretty smushed up. Smushed is a highly technical cooking term. It means smushed. They don't have to be completely pureed. Everything winds up in a blender later on.

If you don't want to smush, you can try cutting the cores out with a small knife and chopping the tomatoes. I've even heard a potato ricer works although I've never tried that myself.

Heat the oil in a saucepan large enough to hold all the ingredients over medium low heat.

Add the whole spices and let them crackle for about a minute. You want to see little bubbles forming around the spices.

Add the garlic ginger paste and cook until it stops sputtering. This should take under a minute.

Add the kashmiri chili and salt. Stir to combine and gently fry the chili powder/salt for 30-45 seconds. This is called blooming spices. It's important. Don't skip this step.

Add the crushed tomatoes, the green chili and the cashews if using them. Bring to a simmer, cover loosely and cook for about 45 minutes.

Let cool slightly and puree until smooth (whole spices and all) in a blender. Your blender can handle the whole spices. Don't worry.

At this point you can stop and portion your makhani gravy. Technically it's not a makhani gravy at this point. It is a tomato masala. And that's a useful thing for other recipes. That's what I do. Portion it out in one cup (for butter chicken, dal makhani) or half cup portions (rajma, chicken tikka masala, bhuna etc) and freeze it.

I turn it into makhani gravy when I cook the actual final curries. You can approach it either way. I just like the effect of fresh cream and butter on the final dish. If you do go the distance then just add a little extra cream and butter to taste when you make your curries.
Step two
If you prefer to make the complete makhani gravy up front return the pureed gravy to the saucepan. Bring to a bare simmer. Remove from heat. Mix in your butter and cream.

Done. Portion out as above or use immediately.
Notes
If you skipped straight to the recipe the cashews aren't really optional. I'm allergic to cashews. I tested this recipe with cashews and it's way better with them. Not even close really. If you can eat cashews don't leave them out. 
Nutrition
Serving:
1
cup
|
Calories:
700
kcal
|
Carbohydrates:
54
g
|
Protein:
15
g
|
Fat:
52
g
|
Saturated Fat:
19
g
|
Trans Fat:
1
g
|
Cholesterol:
84
mg
|
Sodium:
1024
mg
|
Potassium:
2931
mg
|
Fiber:
16
g
|
Sugar:
32
g
|
Vitamin A:
10892
IU
|
Vitamin C:
160
mg
|
Calcium:
160
mg
|
Iron:
5
mg