Hotel style chicken tikka vindaloo. It had to happen. Every huge flavour I could come up with. Thrown together in one crazy tasty curry.
Naga chicken tikka. Homemade vindaloo paste. And hotel gravy. Completely over the top.
This one has it all going on. A little spicy. A little sour. Real depth of flavour. I know I'm hyping it up. But I'm not worried. This is serious business. Master class time.
Homemade vindaloo paste
I used to wonder why my vindaloos weren't awesome. Tried all sorts of things. Just could not get it. Truth be told – it made me a bit crazy.
Took me talking my way into one of the better Indian restaurant kitchens in town to figure it out. The chef said four words. Four simple words. Four magic words.
We use a paste.
There it was. A little insert pan on the line. A light came on in my head. The clouds parted. The sun shone down. Angels sang. Problem solved.
It isn't hard to make. You can make batches of vindaloo paste and freeze it. Store it right next to your hotel gravy. So you're ready to go any time.
The one tricky thing to find might be kashmiri chilies. But they are important. Don't just randomly substitute another dried red chili.
Kashmiri chilies are big on flavour. Without the crazy heat. So you can use lots of them without blowing a hole in the back of your head.
Your Indian grocer will have them. Or get them online. Try hard. Did I mention it's important?
There's a lesson here as well. Restaurants respond to enthusiasm. If you are genuinely interested in something – just ask. It works.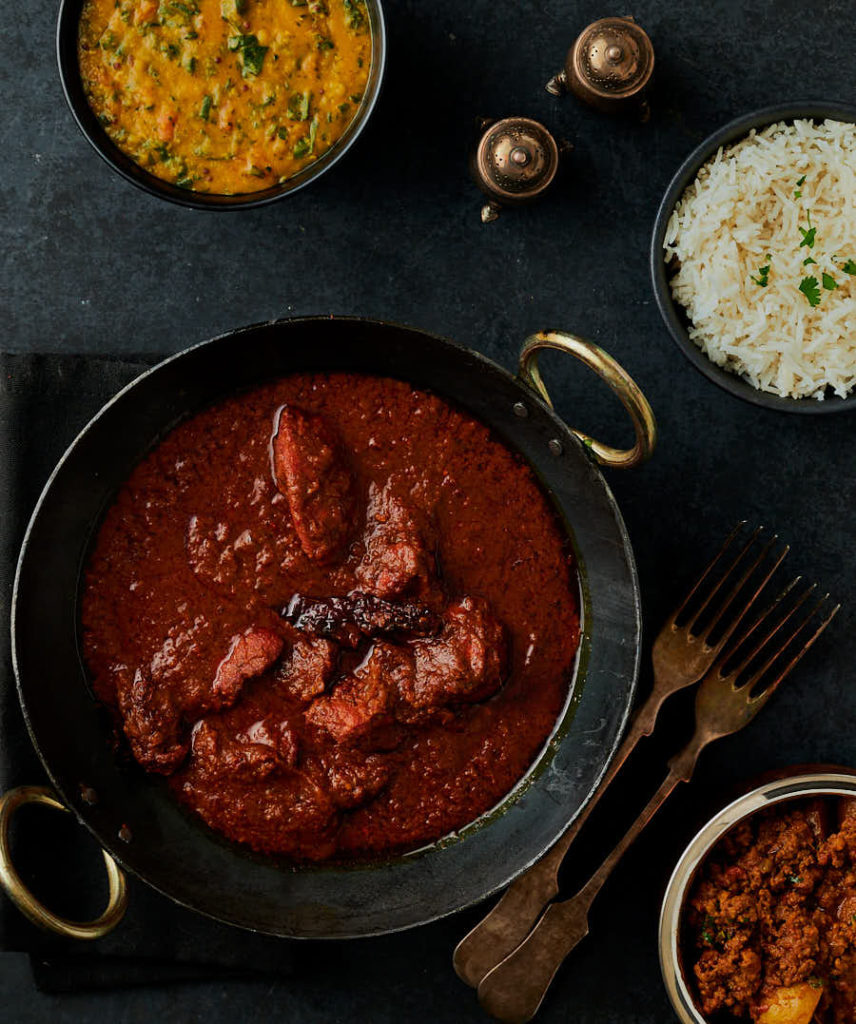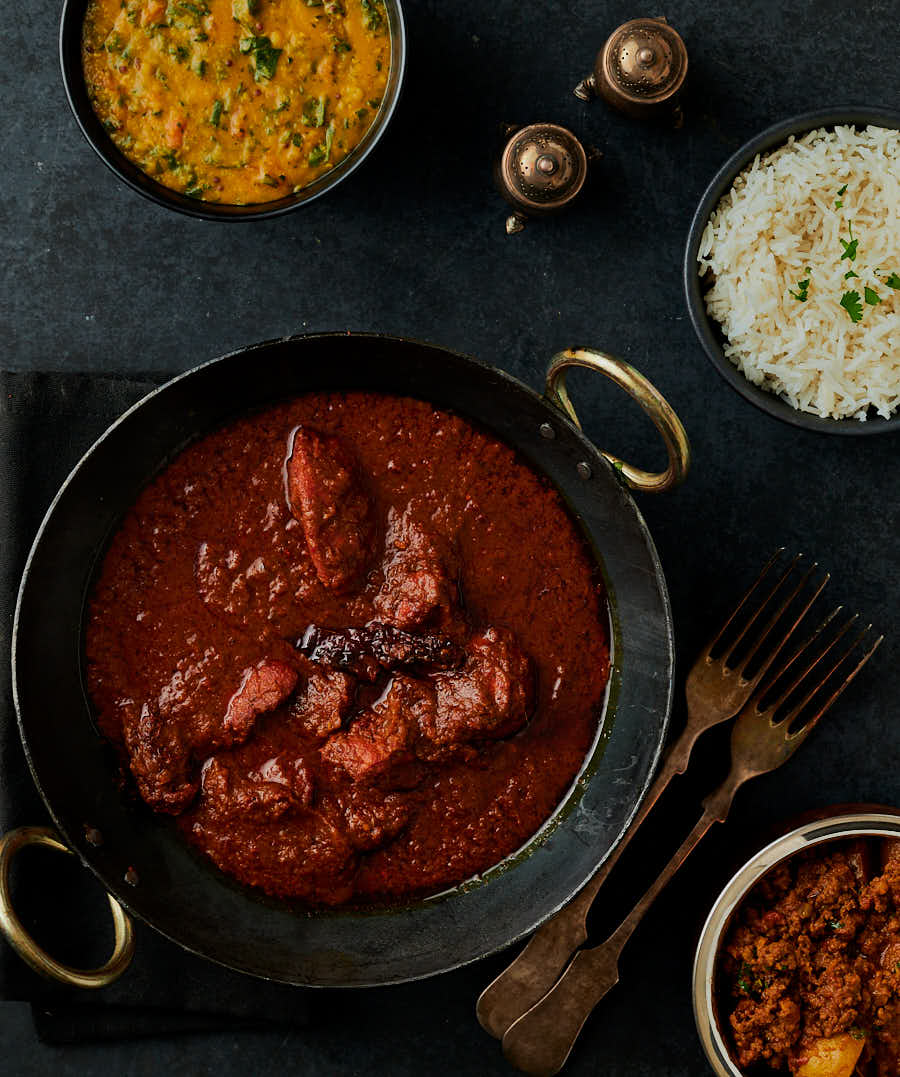 Naga chicken tikka
I have a full on tandoori marinade recipe. It's based on a lesson I got in a tikka restaurant in Bangalore. See? Enthusiasm works everywhere.
This is a simpler version. But one that works well for spicy curries. Naga pickle adds some fire. And some magic.
It's fast. Easy. You can cook it in the oven. I still like it better over charcoal. No surprise. I like everything over charcoal. But it's not critical. The naga adds enough flavour. Even for me.
The idea of making this dish with the naga tikka came from a long-time reader and very talented cook. He made it part of his curries. A lot of his curries. I'm just spreading the word. Andy and Hellen – thank you.
There's a party appetizer here too
I've put in a little extra chicken in this recipe. Because I know you'll want to snack. I do it. Can't help myself. So I built buffer right into this recipe. Why fight it? Enjoy.
When you do try a piece or two think about how it could be an appetizer. With beer. Or drinks. Just take that chicken tikka. Drizzle the pan juices overtop. Put out some toothpicks or little skewers.
And let people graze. It's a tasty little spice bomb. If your guests need something to cool things down again think about a dip to go with it.
Something creamy. Yoghurt based. I have some ideas. A little glebekitchen twist. Will do a post on this before long.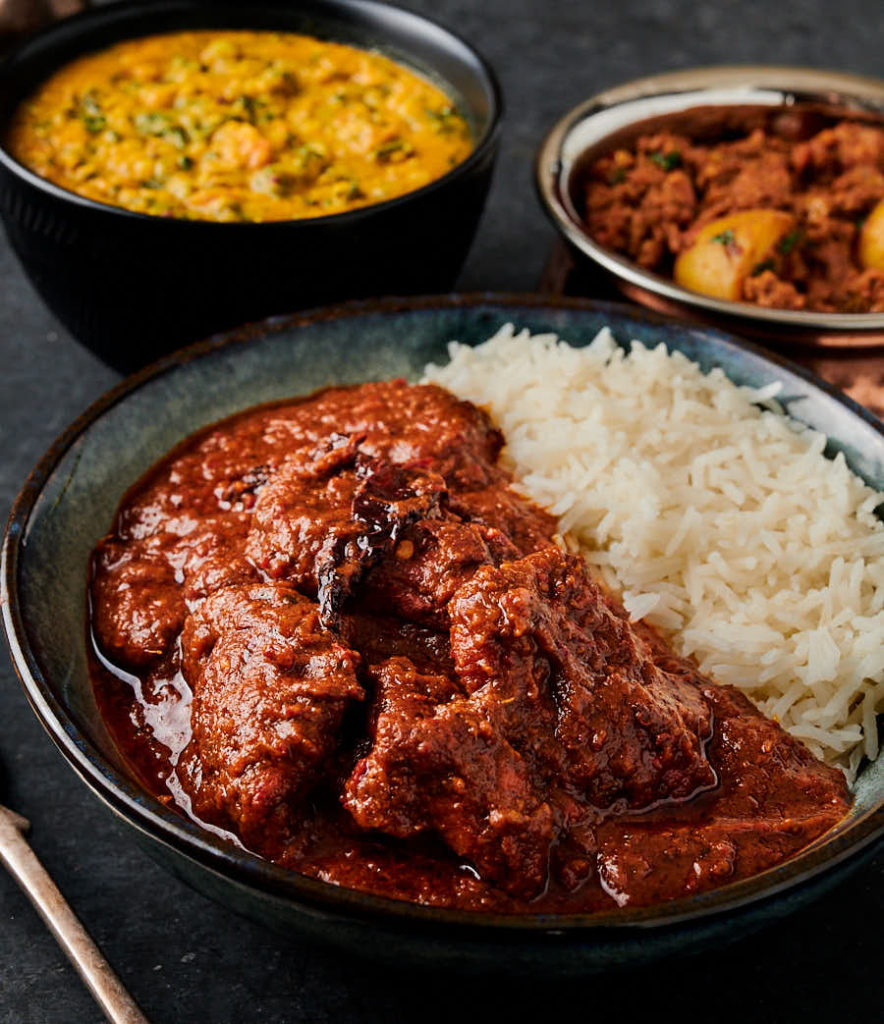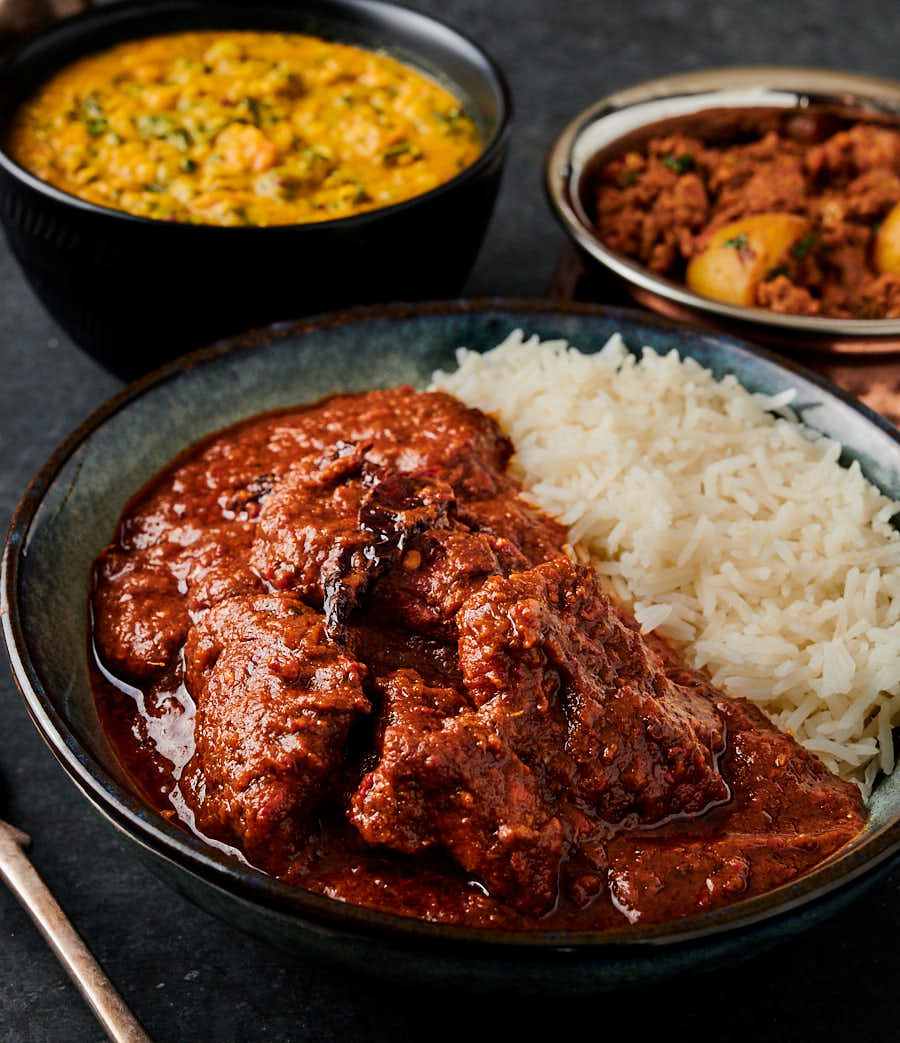 Hotel gravy – for the win
There are two popular approaches to cooking Indian at home. Traditional is the one you know. Pretty much every recipe on the internet is traditional.
Restaurant style is the other. It's a little more esoteric. But it's how they make curries in a restaurant environment. There are lots of those recipes here. Look for anything labelled restaurant on glebekitchen.
That's how Indian restaurants cook. Not sort of. Not almost. For real. If you want what they are making in restaurants where you live this is how they do it.
And then there's hotel style. That's how they do it at the really posh restaurants. Bigger. Bolder. Deeper flavours.
If you cook traditional style there are things that will seem familiar. If you cook restaurant style you'll feel at home too. This is somewhere in between.
It's more work than regular restaurant style. Up front anyway. Which is why you don't see it everywhere. More work means more labour. More labour means higher costs.
Restaurants work to price point. That's business. But I don't. And probably you don't either. So go for it.
I'm pretty sure you won't regret it. Hotel style chicken vindaloo is probably the most demanding curry on the blog to date. Not complicated.
But it will take real effort. Remember. Good things come to those that do. Really good things.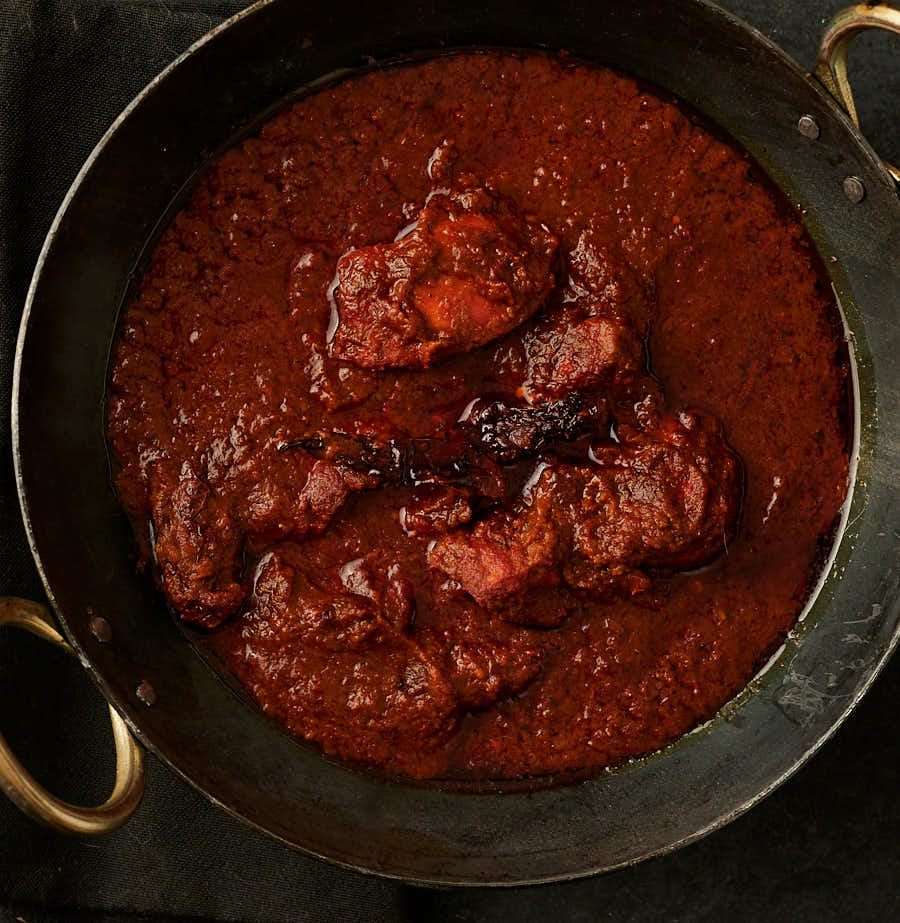 Chicken tikka vindaloo
If you want to make a great vindaloo use a homemade vindaloo paste. It makes a big difference. Do it restaurant style or hotel style or homestyle.
Doesn't really matter. That paste is going to make a big difference. That is secret number one.
If you want to go the distance though. If you want to make the a truly memorable vindaloo. One that people talk about. For months. Try this one. Hotel style is secret number two.

Naga chicken tikka? That's just icing on the cake.
chicken tikka vindaloo
If you're looking for maximum flavour hotel style chicken tikka vindaloo is a great place to start.
Ingredients
Quick naga chicken tikka
4

chicken thighs

– boneless, skinless. Cut each thigh into 3 even pieces.

2

tbsp

tandoori masala

– available from any Indian grocer. Look for a brand that isn't all salt.

1

tsp

kasoor methi

– dried fenugreek leaves, crumbled between your fingers

1/2

tsp

kosher salt

1/4

tsp

naga pickle

– available from most Indian grocers. You can push this bit if you like the heat. Naga pickle is incredibly tasty and incredibly hot. Fine line to walk…

2

tbsp

vegetable oil
Vindaloo paste
8

kashmiri chilies

1

large

shallot

chopped

2

tbsp

garlic ginger paste

1

tsp

kashmiri chili powder

1

tsp

cumin powder

2

tsp

malt vinegar

2

tbsp

vegetable oil

water

to get it to puree if needed. Add a little bit at a time.
The spice mix
1

tsp

Indian restaurant spice mix

– recipe link below

1-2

tsp

kashmiri chili powder

1

tsp

paprika

for colour more than anything else

1

tsp

kasoor methi

– dried fenugreek leaves

1/2

tsp

kosher salt
tikka vindaloo curry
3

tbsp

vegetable oil

– any neutral oil is fine

2-3

kashmiri chilies

– dried red chilies

all the vindaloo paste from above

1

cup

Indian hotel curry gravy

– recipe link below. Dilute it with 3-4 tbsp of chicken stock. If you only have powder or cubes use water. That stuff is not stock.

the naga chicken tikka

or whatever tikka you feel like using

1

tsp

tamarind paste

– paste is not concentrate. They are very different. Don't use concentrate.

1/2

tsp

sugar

– jaggery or brown sugar
Instructions
Do your prep
Make your spice mix. Make your vindaloo paste. Make your naga chicken tikka.

Note that the ingredients said dIlute your curry gravy with 3-4 tablespoons of water or chicken stock. You need to dilute it because the chicken is going in pre-cooked.
Make your quick naga chicken tikka
Combine the tandoori masala, kasoor methi, salt, naga pickle and oil in a bowl large enough to hold all the chicken.

Add the chicken and combine with the marinade. Use tongs. This stuff will stain your fingers. Nobody wants that.

Marinate for about an hour if you have time. Pre-heat your oven to 400F while this is going on. Place a sturdy baking sheet in the oven to pre-heat. No skewers, aluminium foil or mess required here. Easy.

Transfer the chicken (again, use tongs) to that pre-heated, sturdy baking sheet and place in the oven. Cook for about 6 minutes. Flip all the pieces and return to the oven. Cook until the internal temperature of the chicken reaches 165F. This should take another 4-8 minutes or so. Really depends on how big your chicken thigh pieces are. Set aside.
Make your vindaloo paste
Stem and seed the kashmiri chilies (the ones for the paste – not the ones you will put in your curry).

Soak the stemmed and seeded chilies in really hot water for a few minutes. Drain and do it again. You may need to do it a third time. At the end you want the chilies hydrated. That means soft. Take the time to get this right. It's important.

Combine all the paste ingredients in your blender. Add a bit of water and see if you can get it to puree. It will fight you. Add a little more water. Try again. You'll probably need to scrape down the sides and fight back. Eventually you'll get a paste. Keep going. You want the paste to be smooth. This is a good reason to make big batches. There's a link in the notes below.
Make the tikka chicken vindaloo curry
Heat the oil in a medium sized frying pan over medium heat until the oil just starts to shimmer.

Add the remaining 2-3 kashmiri chilies. You should see little bubbles forming around them. Cook for about 30 seconds.

Turn your heat down to medium low and add your spice mix. This is why you added 3 tablespoons of oil. You want to fry your spices in the oil. If you skimp on the oil you risk your spices sticking or burning. If your spices burn here you are starting over. Or eating terrible curry. Your choice. Personally, I would start over and try never to make the same mistake again.

Cook the spices for about 30-45 seconds.

Stir in the vindaloo paste. Fry, stirring constantly, until it starts to darken. This should take 2-3 minutes. Watch your heat. You don't want it too hot.

Add the Indian hotel curry gravy. Stir it really well. Get get the oil to combine with the curry gravy. You want everything mixed together at this point. Bring to a simmer and reduce the heat to maintain that simmer.

Add the tamarind paste and stir.

Cover loosely and keep simmering for about 5 minutes.

At this point you need to decide whether you want the sugar or not. A little sweetness is a nice touch. I like it. And I don't really like sugar in general. Notice there are exactly zero desserts on this blog. Should tell you something…

You will also need to adjust the consistency of the sauce. It will be thick. The paste makes a difference. I like about 3 tablespoons of additional liquid at this point, maybe even a little more. This is personal preference. Go for what you like.

Add the naga chicken tikka. Continue to cook for about 1 minute to warm the chicken through. When the chicken is warmed through dinner is ready.

Serve with rice or parathas and a nice dal if you like. That's an aloo keema in the pictures if you're wondering. That was good too.
Notes
Naga pickle is hot stuff. If you are not a hard core chili head tread carefully. This vindaloo is not crazy hot but if you start adding in extra naga pickle it will get there fast.
Make your Indian hotel curry gravy ahead of time. It takes time to make so think about doing it the day before.
I use this Indian restaurant spice mix in most of my Indian restaurant style curries.
For maximum flavour you really should consider making your garlic ginger paste from scratch. It makes a big difference.
If you'd rather whip up a larger batch of the vindaloo paste, it's a little easier to get to puree. The vindaloo paste recipe makes double what is needed for this recipe.
Nutrition
Serving:
2
servings
|
Calories:
886
kcal
|
Carbohydrates:
26
g
|
Protein:
43
g
|
Fat:
69
g
|
Saturated Fat:
17
g
|
Trans Fat:
6
g
|
Cholesterol:
194
mg
|
Sodium:
1892
mg
|
Potassium:
1101
mg
|
Fiber:
8
g
|
Sugar:
11
g
|
Vitamin A:
2046
IU
|
Vitamin C:
18
mg
|
Calcium:
119
mg
|
Iron:
6
mg