Birria tacos are hands down the craziest tacos ever. Birria. Melted cheese. Fried tortillas. Onions. Cilantro. Lime. Amazing.
And all that gets dipped in an unbelievably delicious sauce. That's the consomé. It's just diabolical.
Think I'm overselling? I don't. Birria tacos are a thing for a reason. A very good reason.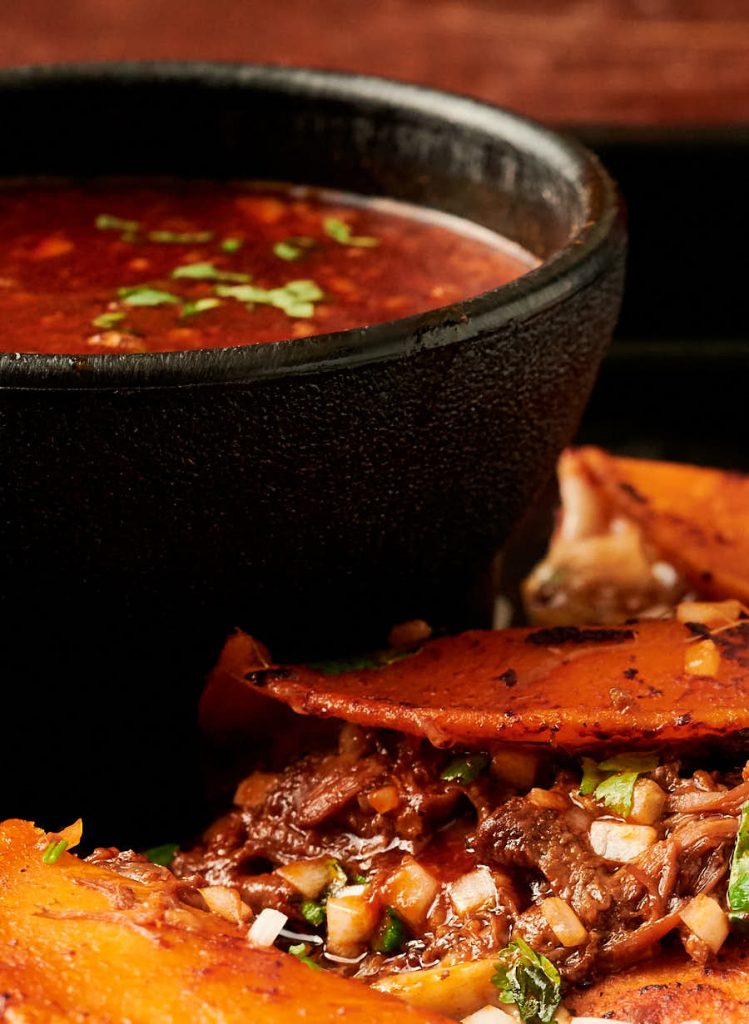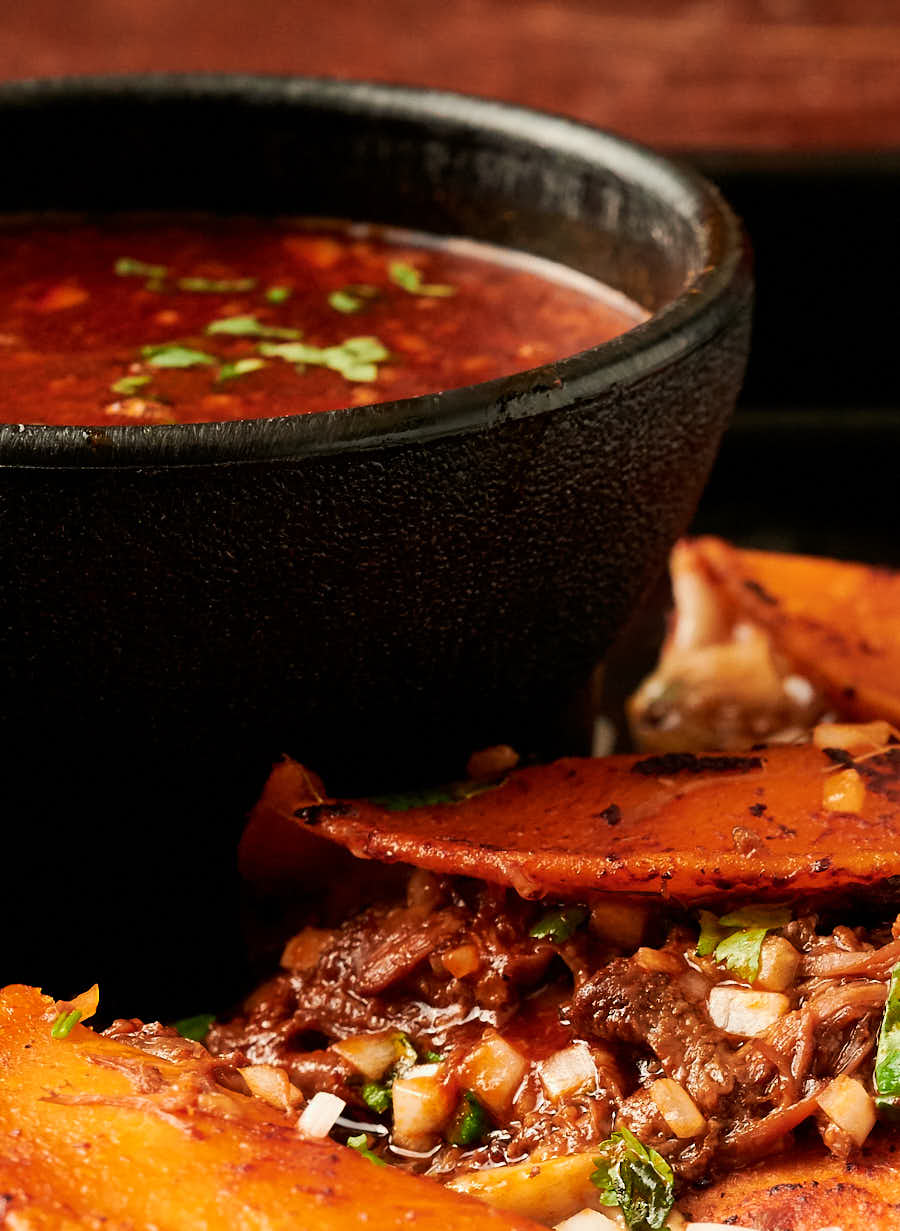 Birria tacos start with birria de res con consomé
I love all Mexican food. But I don't think there's anything that can quite touch a good birria de res. Barbacoa comes close. Cochinita pibil does too. A really good mole is hard to beat.
But a well executed birria de res con consomé is a cut above. Serious, serious business.
If you've never tried it think about the best chili you've ever had. Now think of the best stew you've ever had.
Put those concepts together and you'll start to have an idea what birria de res is all about. It's a fairly demanding recipe. But so worth it.
Ever eat something that made you lick the plate? This is in that class. Lick the plate. Lick the spoon. I'd stick my head in the pot if I could make it fit.
The beef is wonderfully seasoned. But it's the consomé that makes it what it is. A mix of guajillo, ancho and morita chilies. Really good beef stock. Tomatoes. And the flavour of the beef.
Now imagine if you took that and make birria tacos? That's magic in a tortilla.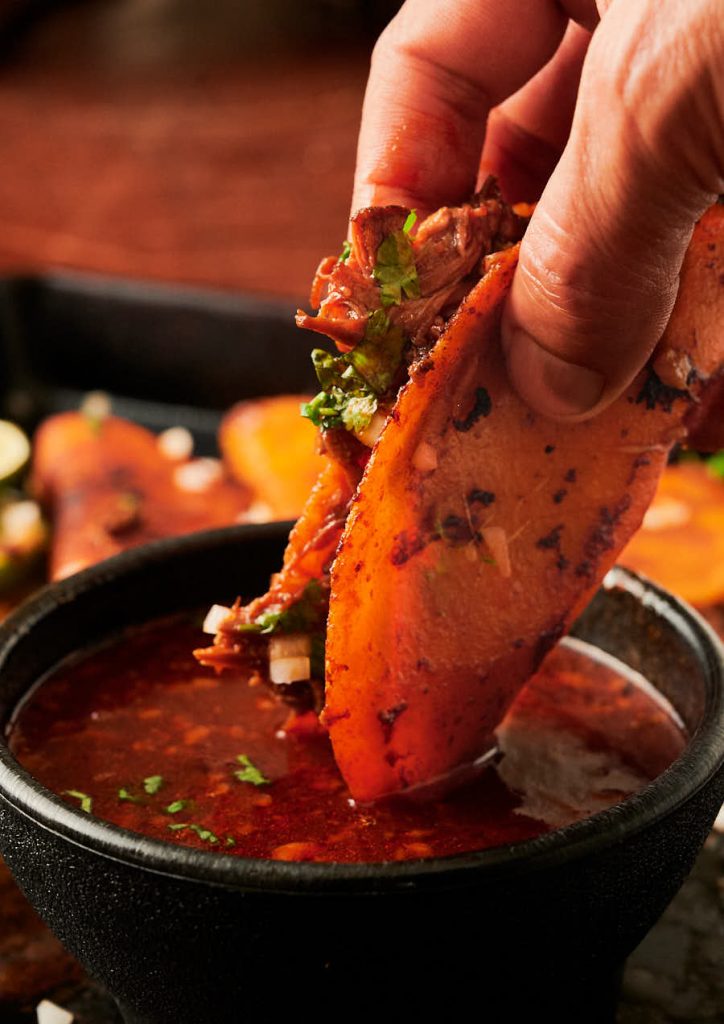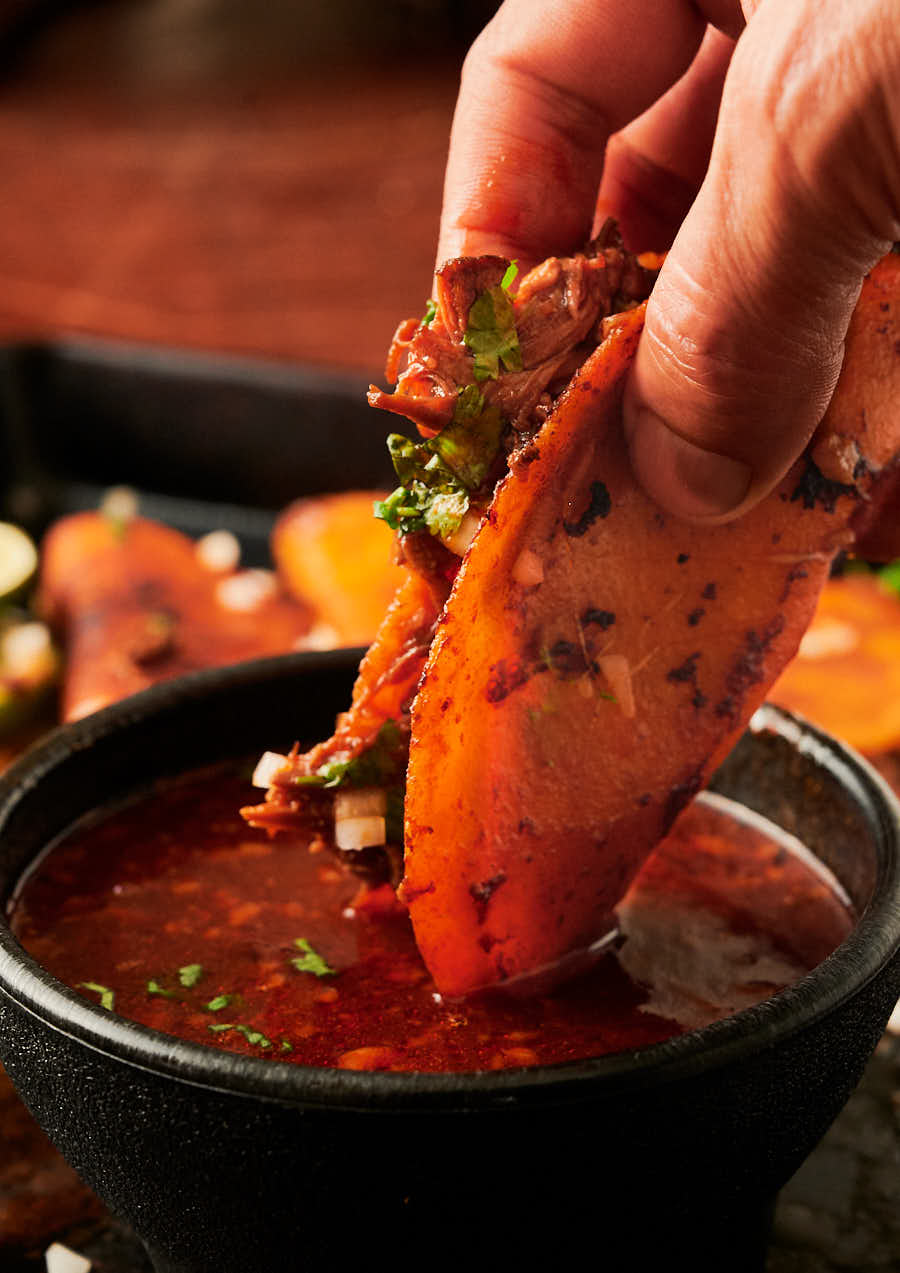 The quesa taco is some kind of genius
Birria tacos came out of Tijuana. Made it big in Los Angeles. And now the word is spreading around the world. They call it the quesa taco. Because it's somewhere between a taco and a quesadilla.
Regular birria tacos takes everything nice and slam it into one bite. One glorious, wonderful bite. I'm a huge fan.
When you put the whole quesa taco thing on top though? That's a culinary experience.
Imagine for a second.
Take a nice fresh corn tortilla. Dip it into the chili broth from the birria de res. The sauce I'd lick off your plate in front of my mother.
Fry that dipped tortilla. So it's a bit crispy.
Add some cheese. Gooey melted cheese. I could stop here and it would rock my world. But it's just getting started.
Top the cheese with beef. Drizzle it with bit of sauce. Fold it over and fry it a bit longer. So it gets that perfect – not quite crunch – toothy goodness.
Think that's off the scale? Read on. There's more. Told you this was diabolical.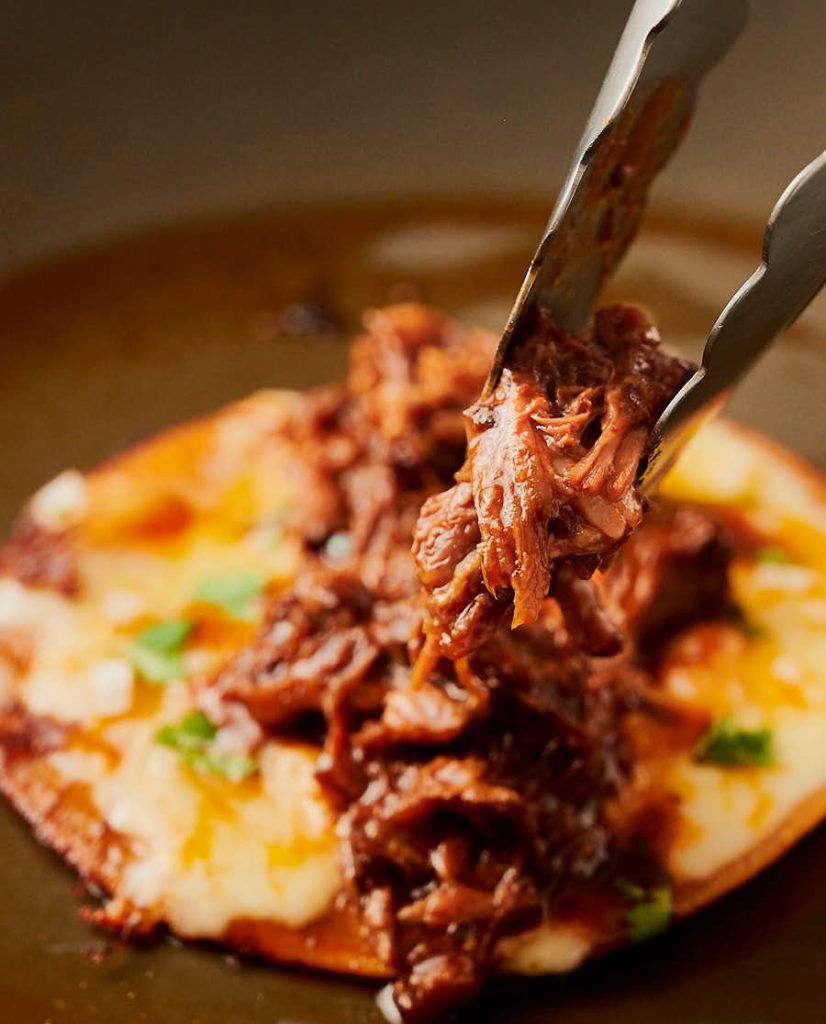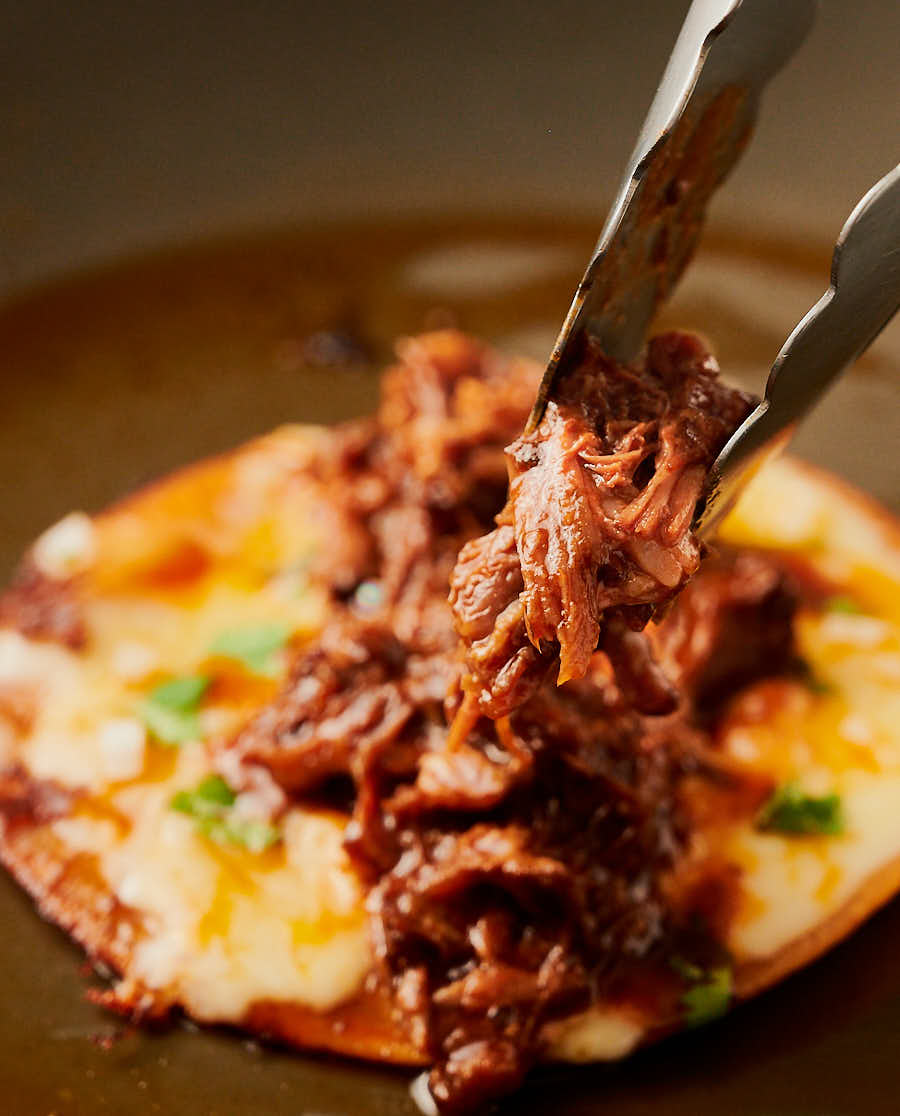 It's the consomé dip makes this one crazy taco
Take that crispy, beefy wonderful taco. Dip it in the consomé. And put that in your mouth.
The sauce runs all over your hands. Down your face maybe. You lick your fingers. Maybe even the back of your hand. Not elegant. But so good.
Go ahead. Do it. Live large. It's good for the soul.
At the end you have a bowl of consomé. It might have a few sheds of beef in it from the taco. Or a bit of cheese.
That bowl of consomé is the final glory. The thing that pushes this right over the top. You drink the consomé. Truly decadent. Absolutely wonderful.
Birria tacos. Messy. Fun. Incredibly delicious. Everyone needs to try these. Buy them. Or make them. Just find a way to eat them. Your mouth will thank you.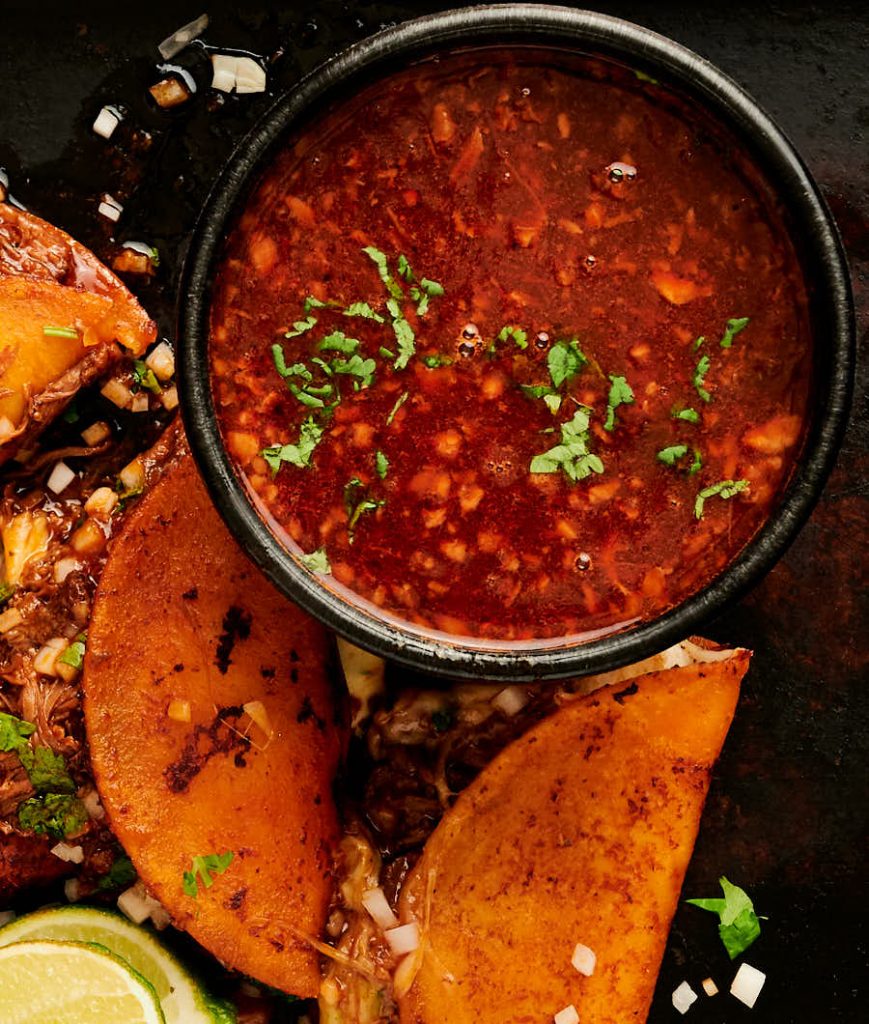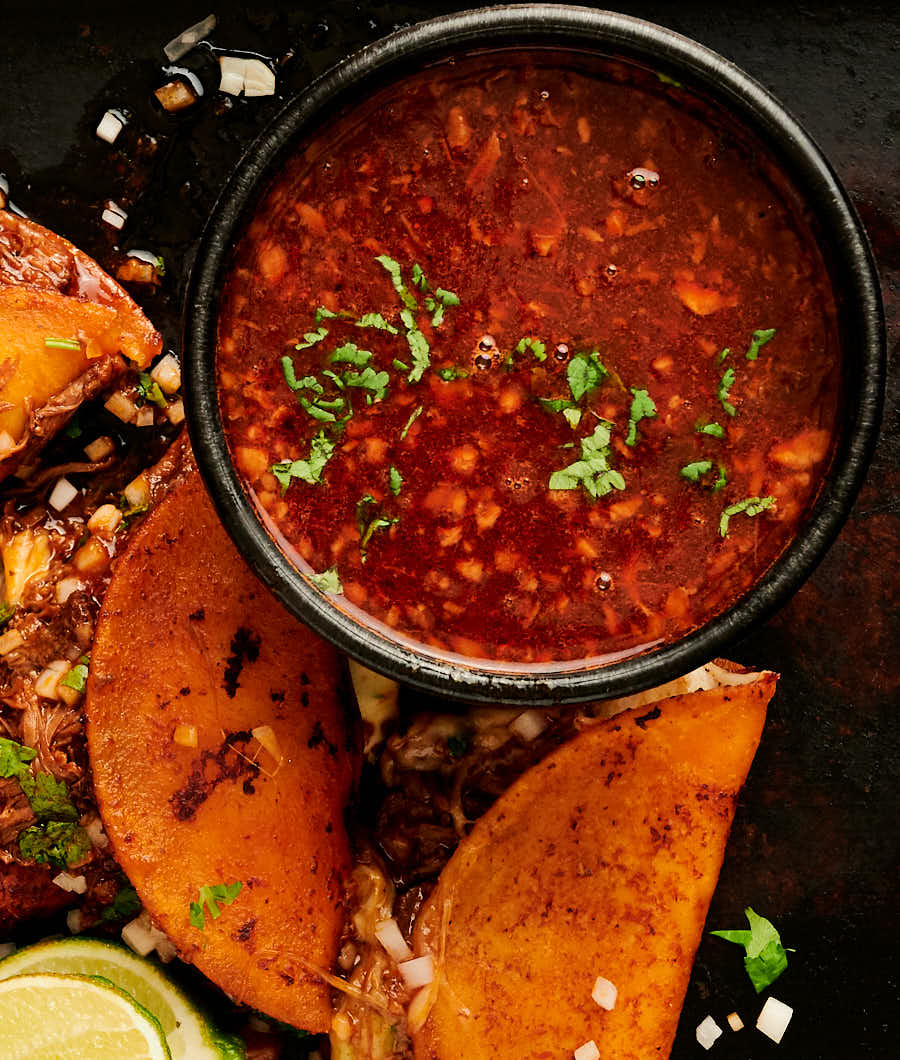 birria tacos
Birria tacos con consomé is about the craziest taco ever invented
Ingredients
16

corn tortillas

16

oz

queso oaxaca

shredded. A grated full fat mozzarella works is a pretty good substitute. Something mild that melts easily is what you are after.

birria de res con consomé

– recipe link below

1

white onion

finely diced

1

bunch

cilantro

finely diced

4

limes

quartered
Instructions
Make your birria de res ahead of time
Birria de res is a braised beef recipe. It takes time. Hours. Don't think this is a 30 minute recipe start to finish. It's 30 minutes after you make your birria de res. That takes hours.
birria tacos – quesa tacos
Pre-heat your oven to 225F. You will need it to keep the tacos warm as you make them. Or you can just feed people as they come out of the pan. That's fun standing in the kitchen type dining with friends.

Figure out how many flat tortillas will fit in your pan(s). This is your "at a time" number. Now figure out how many folded over (look at the pictures) tacos will fit in your pan(s). This is your batch size. Your batch size number should be double your "at a time" number.

Separate (strain) your birria de res. Shed the beef if you haven't already. Thin your consomé. so it's about the consistency of whole milk. You should have lots. Keep your consomé warm in one saucepan. Keep the beef warm in another saucepan. You are ready to go.

If you are a semi-confident cook you can run two pans at once. It's not that hard. Non-stick is important for this recipe. I don't recommend non-stick often but this is one of those times.

Pre-heat your skillet over medium low heat. Film your non-stick skillet(s) with a little oil. Dip a tortilla in the consomé. You want it completely coated. Place it in the pan. Repeat until you have reached your "at a time" number.

Fry for one minute. Flip the tortillas (be careful not to tear them). Add about an ounce of grated/shredded cheese. Let it melt. That should take about 90 seconds to 2 minutes. Don't be tempted to crank the heat to speed this up. You don't want to burn the tortillas.

Once the cheese is melted you have decision to make. You can sprinkle a bit of onion and cilantro over the cheese so it's in the taco. Or you can leave it out at this point and just sprinkle it on the cheesy edge once it's cooked. Or both. Up to you. I've tried it different ways and I don't have a strong preference. It's hard not to make this taste incredible.

After you have made the decision add enough birria beef to cover one half of the tortilla. Don't look at the picture where I put it in the middle. I wasn't thinking – just wanted a nice picture. My bad there. Sorry.

Drizzle a bit of consomé on the beef and fold the side without the beef over the side that does. Think quesadilla here. Remove from the pan. Set aside and repeat the whole process.

If your pan is dirty wipe it out. A dirty pan make tortillas stick. Sticking tortillas rip. Ripped tortillas make grumpy cooks. So wipe out your pan. And be happy.

At this point you will have one of your batches done. Set that aside and repeat the whole process again. And again. Until it's all done.

You want to move fairly quickly at this point. Return one batch to the pan to warm through. Transfer that batch to the oven. Repeat until your last batch is in the pan. That batch doesn't go in the oven. Pull the rest of them from the oven and serve.

To serve place two tacos on the plate. Serve with a small bowl of consomé and a lime wedge or two. Tell your guests to dip the taco in the consomé and then take a bite. Dip again. Another bite. Like a beef dip sandwich done Mexican style. Messy. Delicious. Fun.
Notes
You need to make birria de res before you can make these tacos. That takes time. Plan ahead. Make the birria de res the day before…
Nutrition
Serving:
1
taco
|
Calories:
329
kcal
|
Carbohydrates:
30
g
|
Protein:
19
g
|
Fat:
16
g
|
Saturated Fat:
8
g
|
Trans Fat:
1
g
|
Cholesterol:
55
mg
|
Sodium:
462
mg
|
Potassium:
264
mg
|
Fiber:
5
g
|
Sugar:
2
g
|
Vitamin A:
474
IU
|
Vitamin C:
11
mg
|
Calcium:
348
mg
|
Iron:
2
mg