Sometimes I amuse myself. This is one of those times. Methi chicken curry. Simple. And seriously delicious.
This one is deceptive. If you look at the ingredients it's a curry with methi leaves. You might think so what?
But that one ingredient changes everything. The fresh methi leaves add a slightly sour, herbal note. It's surprising what a difference it makes.
Oh, and there's hotel gravy. That changes everything too. Double curry flavour slam.
If you've never tried methi chicken curry you are missing out. You have to try it to understand.
I don't know why it took me so long to get to this one. Sorry about that. Here it is. Finally.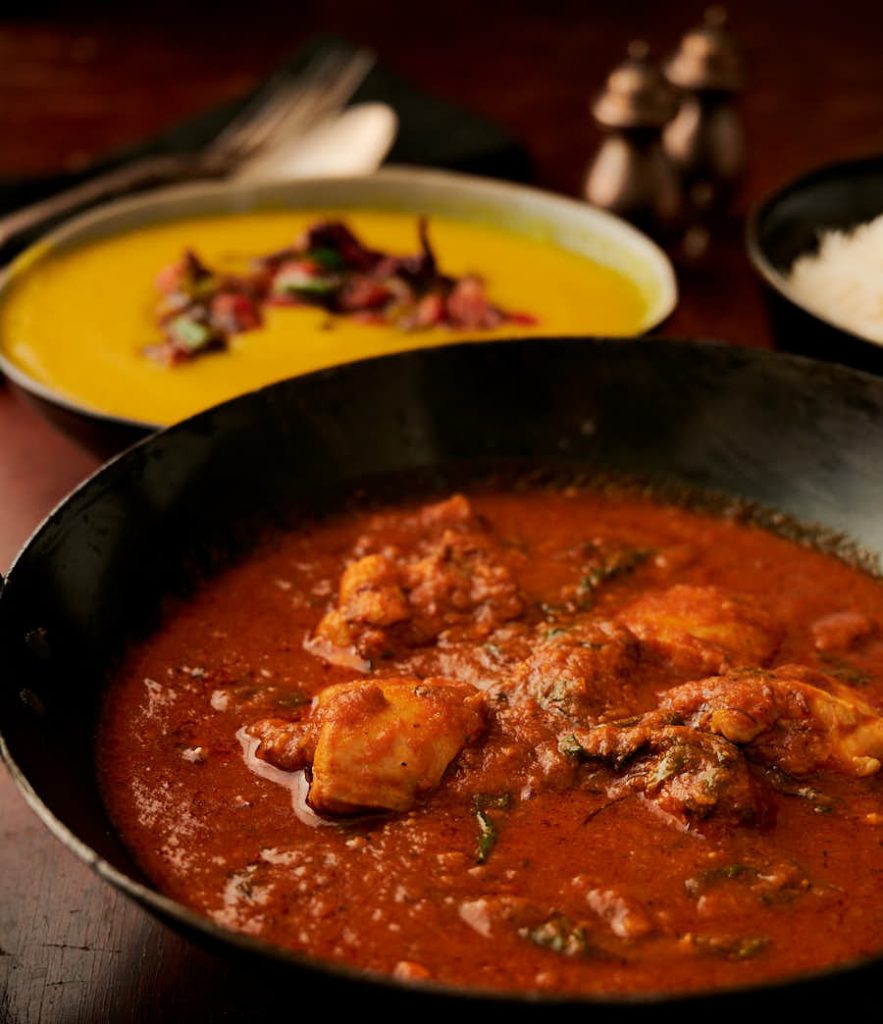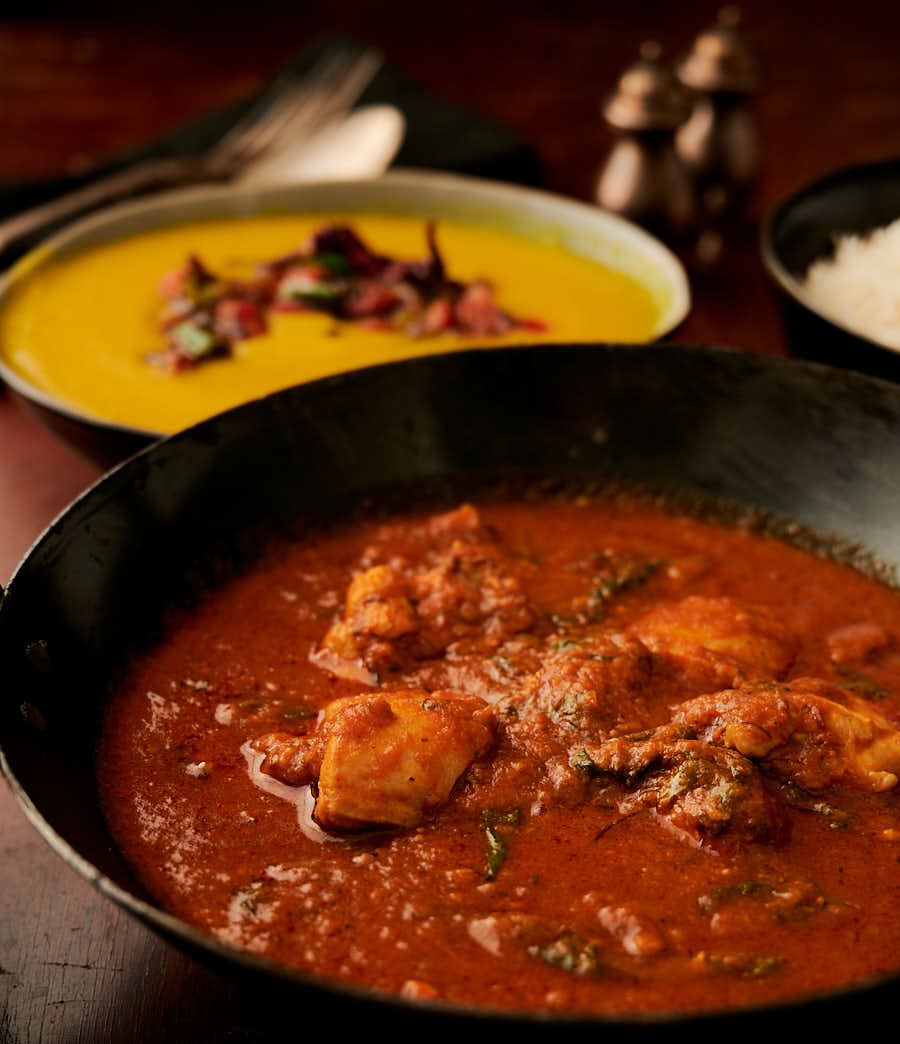 Methi matters for methi chicken curry
Not a shocker I'm sure. Methi chicken curry has methi in the name. So methi matters.
It has to be fresh. Methi leaves. No stems. Fresh leaves. There's no substitute. Don't bother asking. I will just say no and point you to another dish.
There's no conversion. There's no – "can I substitute cilantro". That would be cilantro chicken. It's like asking if you can substitute pomegranates for onions. You'll be making something. But it won't be methi chicken curry.
I tried frozen methi. I figured spinach works. So methi could too. Then everyone could make this dish. I was wrong. Very wrong.
Turns out that stuff is just terrible. Bitter. Full of stems. At least the stuff I got.
Frozen methi is just not good. I threw it out. I really don't like waste but there is no fixing it. Have you ever tried frozen brussel sprouts? Like that bad. Some things just shouldn't exist.
And dried isn't the same either. At all. Add a half cup of dried methi and you'll get something you won't be happy with.
So look for fresh methi. It isn't that hard. I can get it at a grocery store where I am. Not just the Indian grocer. The plain old every day grocer.
The sign might say fenugreek leaves. That's another name for the same stuff.
Watch for it. You will be glad you did.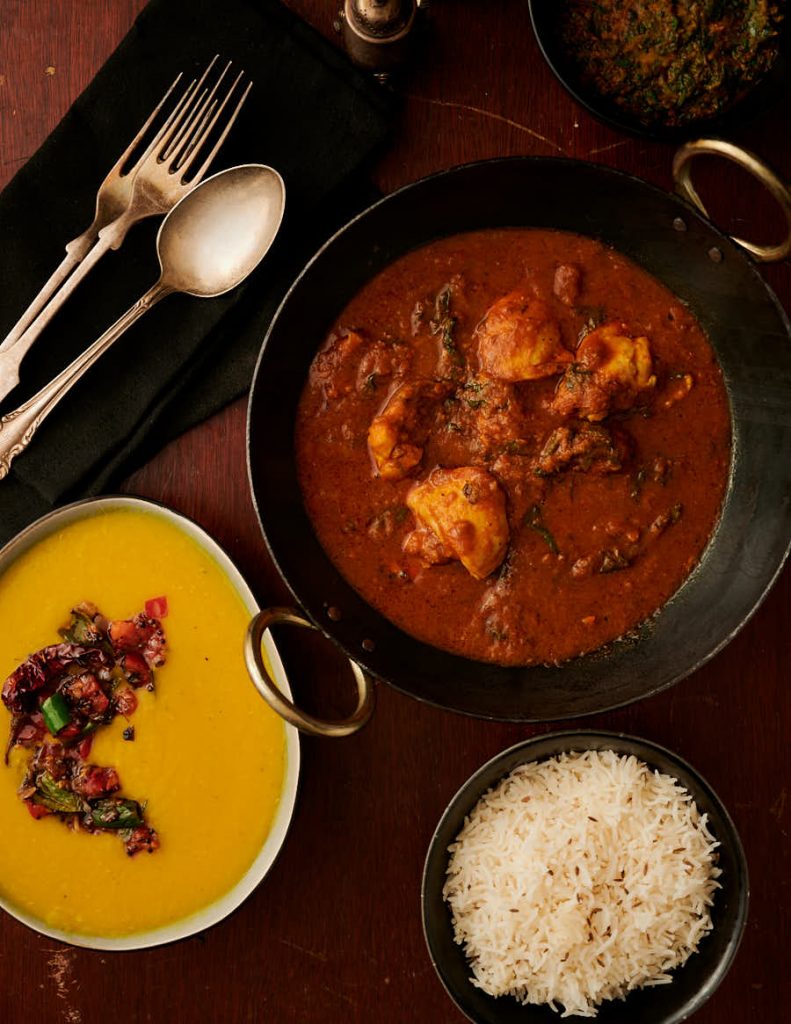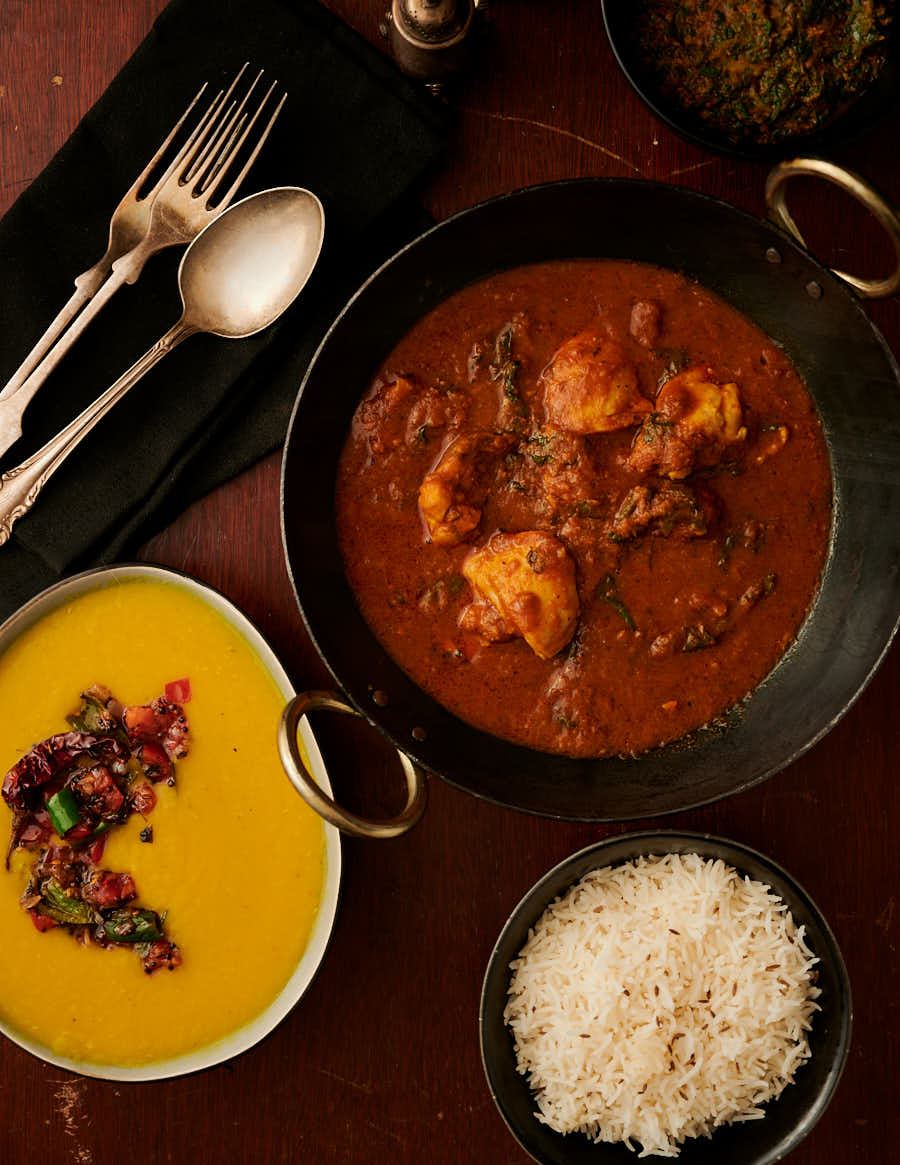 There's restaurant style cooking
If you're after exactly what they serve at restaurants you're in luck. There are lots of restaurant style curries on glebekitchen. Tons.
And they are really good. Great even. If I say so myself. I'm shameless. I know.
Getting Indian restaurant results isn't that hard. You just need to cook like a restaurant. Use the same techniques. The same ingredients. It's totally doable.
Start with this primer on restaurant style curries. You'll learn exactly how to do it. Not sort of. Not almost. Exactly how. For real.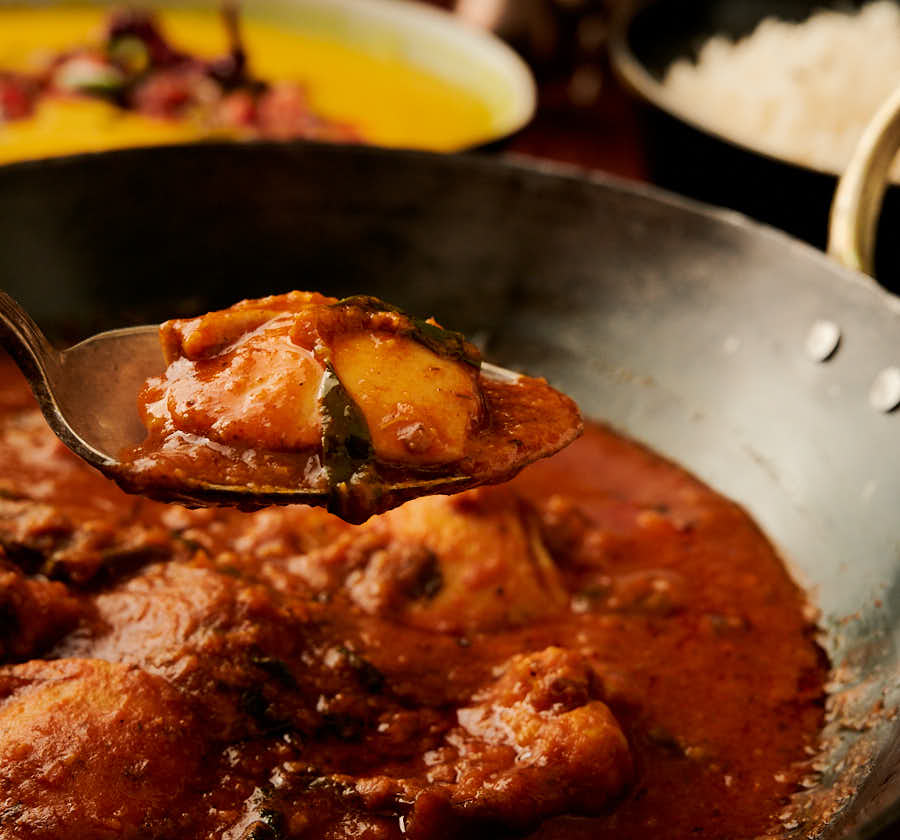 And then there's hotel style
Hotel style is restaurant cooking too. But it's not quite the same.
It's how high end restaurants cook. Really posh restaurants. Where they can afford to deliver the absolute best.
The techniques are similar. Mostly. If you know restaurant style already you'll understand.
The difference is in the gravy. Hotel style curry gravy is not the same as your regular curry base.
The flavours are bigger. Deeper. More intense. This is cooking to impress. This is wow factor stuff.
The work is done up front. And it's more work. That's why every restaurant doesn't do it. Work costs money. Work erodes profits. Or raises prices.
It's easier when it's time to make dinner though. Way less messy. Piece of cake really. And you make the gravy in batches. Freeze it. And just pull it out when you need it.
It's worth it. Try it once. You'll see.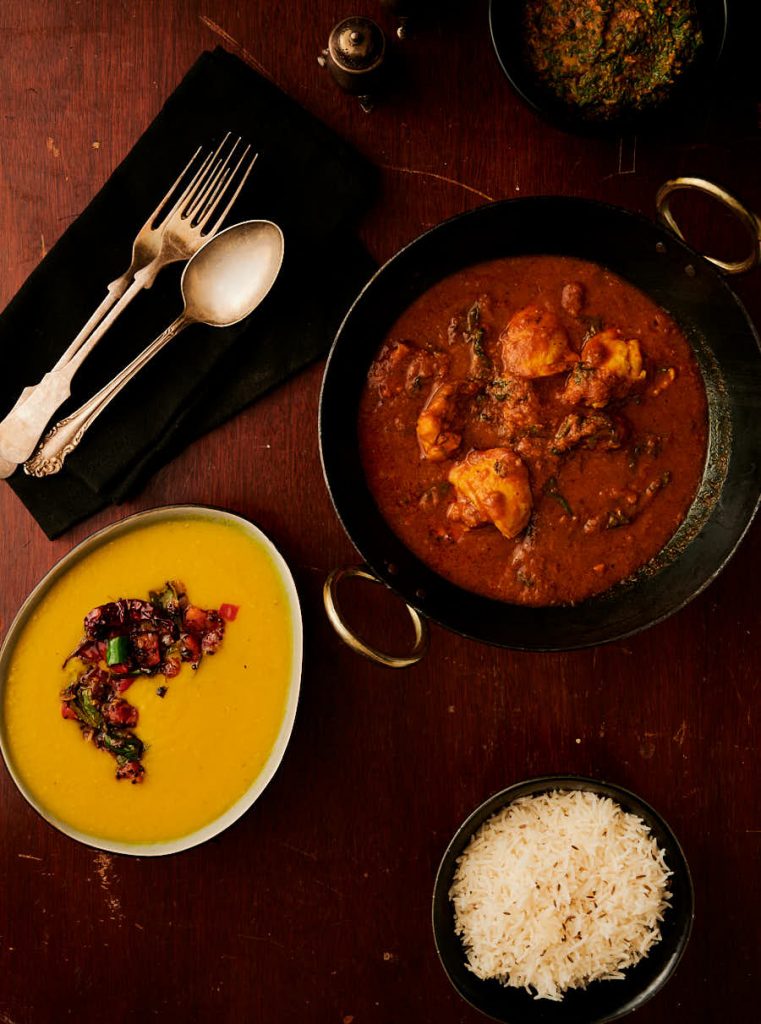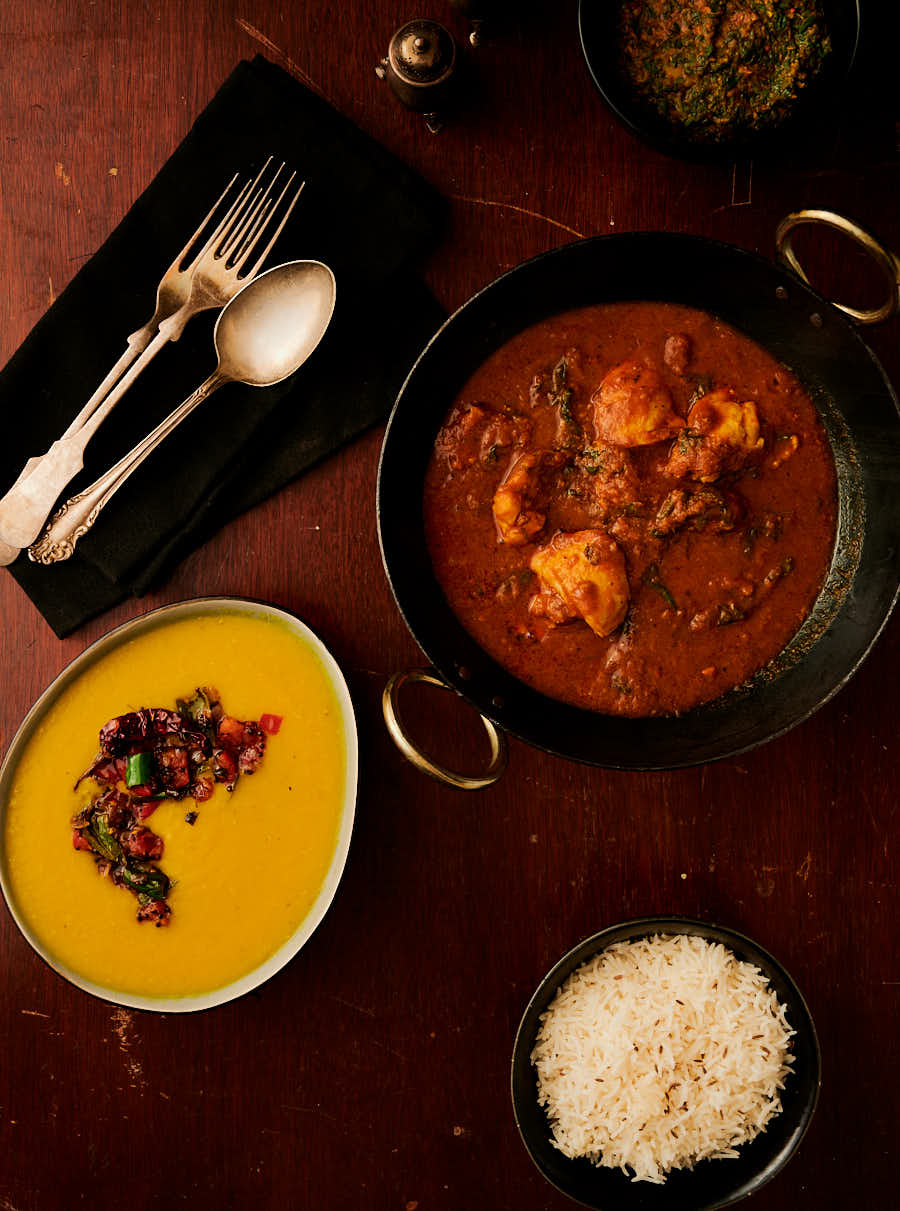 Hotel style methi chicken curry
This one is worth trying. It's really surprising how good it is. If they serve it at your local Indian restaurant you probably already know that.
But if you haven't tried it. Or if you have but you've never tried making it. Or if you just want to make really, really good methi chicken curry. Then give this one a go.
methi chicken curry – Indian hotel style
Lots of fresh fenugreek leaves give this curry it's distinctive flavour.
Ingredients
The spice mix
1

tsp

coriander powder

1 -2

tsp

kashmiri chili powder

1

tsp

kasoor methi

– dried fenugreek leaves

1/4

tsp

turmeric

1/4

tsp

garam masala

– you can push this a bit if you really like garam masala but don't go overboard

1/2

tsp

kosher salt
methi chicken curry
3

tbsp

neutral oil

e.g. vegetable oil

1

tsp

cumin seed

1

tbsp

garlic ginger paste

– recipe link below

the spice mix from above

1

cup

Indian hotel curry gravy

– Recipe link in the notes. Don't worry if it seems too thick. The juices from the chicken will thin it out.

3-4

boneless, skinless chicken thighs

cut into 4 pieces each

1/4

cup

chicken stock

– up to 1/4 cup as needed. Add enough to get the curry to the consistency you like.

1/2

cup

methi leaves

– fresh methi leaves without any stems. Stem free zone. And not dried. Please not dried…
Instructions
Do your prep
Measure out your spices. Prep your chicken. Measure out a cup (237 ml) of Indian hotel curry gravy.

Remove the fresh methi leaves from the stems. Discard the stems. You want 1/2 cup of loosely packed methi leaves. Pulling the methi stalks through the hole in a colander makes quick work of this.
Make the methi chicken curry
Heat the oil in a medium sized frying pan over medium heat until the oil just starts to shimmer.

Add the cumin seeds. You want the oil hot enough that little bubbles form but not so hot you burn your cumin seeds. If it's too hot lift the pan from the heat and hope you were fast enough.

Stir in the garlic ginger paste. Gently fry until the garlic ginger paste stops sputtering. This can get a little messy.

Turn your heat down to medium low and add your spice mix. Cook for about 30 seconds. You want to fry your spices in the oil. Don't skimp on the oil. Bad things happen if the spices stick and burn. You cannot fix burned spices. Just start over if that happens.

Add the Indian hotel curry gravy. Stir it really well to get the oil to combine with the curry gravy. You want everything mixed together at this point. Bring to a simmer.

Stir in the fresh methi leaves.

Add the chicken thigh pieces in a single layer. Nestle them down into the sauce. Cover and cook about 5 minutes. Remove the cover, flip the chicken and recover. Cook until the chicken is done. Use an instant read thermometer if you have one. You are shooting for an internal temperature of 160F. It will get to 170F as the curry finishes cooking.

Look at the consistency. You have a decision to make. If the chicken threw a lot of liquid the sauce might be right. If not, add a tablespoon or two of chicken stock and mix it in. Look again. If you are happy with it, cover and simmer for 2 minutes. If it's still too thick, add a bit more stock. I've never added more than a 1/4 cup.

Methi chicken and rice or flatbread and a nice tarka dal or chana masala makes a fine dinner!
Notes
Make your Indian hotel curry gravy ahead of time. It does take time to make so think about doing it the day before. You can freeze one cup portions and pull them out when you need them. That's what I do.
For maximum flavour consider making your garlic ginger paste from scratch. I know I say this a lot but it makes such a difference.
1 cup is 237 ml.
Nutrition
Serving:
2
servings
|
Calories:
589
kcal
|
Carbohydrates:
16
g
|
Protein:
35
g
|
Fat:
43
g
|
Saturated Fat:
8
g
|
Cholesterol:
161
mg
|
Sodium:
1253
mg
|
Potassium:
779
mg
|
Fiber:
5
g
|
Sugar:
6
g
|
Vitamin A:
702
IU
|
Vitamin C:
16
mg
|
Calcium:
88
mg
|
Iron:
4
mg