Chettinad chicken curry. Coconut. Bold spices. Curry leaves. And Indian hotel curry gravy. If you want to make something crazy delicious, this is not a bad place to start.
There's something about South Indian food. Something that keeps me coming back. And it's not just because it's a change. A change from the formula dishes served at every Indian restaurant in the world.
That's part of it. Can't deny that. But there's complexity of flavour here. Spice. Heat. It all works so well. This one just makes me smile.
Indian hotel style for maximum flavour
This chettinad chicken curry is a little different. A new approach to Indian restaurant style cooking. One I am really excited about. A game changer really.
I love Indian restaurant style. There's a huge number of recipes on glebekitchen dedicated to making it.
I cook restaurant style when I want to make curry like I get in most Indian restaurants and takeaways. Those lush gravies. That smell. You know what I mean.
But when I want to pull out all the stops. When I want to make curries like they serve in the finest Indian restaurants. The best of the best. Then I go hotel style.
Hotel curry curry gravy is more work up front. There's no doubt. But you make enough for multiple curries. And you can freeze it and pull it out as needed. Hotel style on demand.
It's easier later. When you are making the actual curries. The technique is actually simpler. And it isn't messy like Indian restaurant style. No splatter. Not anymore.
The wow factor that hotel style brings should not be discounted either. Hotel style gravy is mother gravy. Like French mother sauces.
This is disciplined cooking. Indian style. Did I mention I was super excited about it?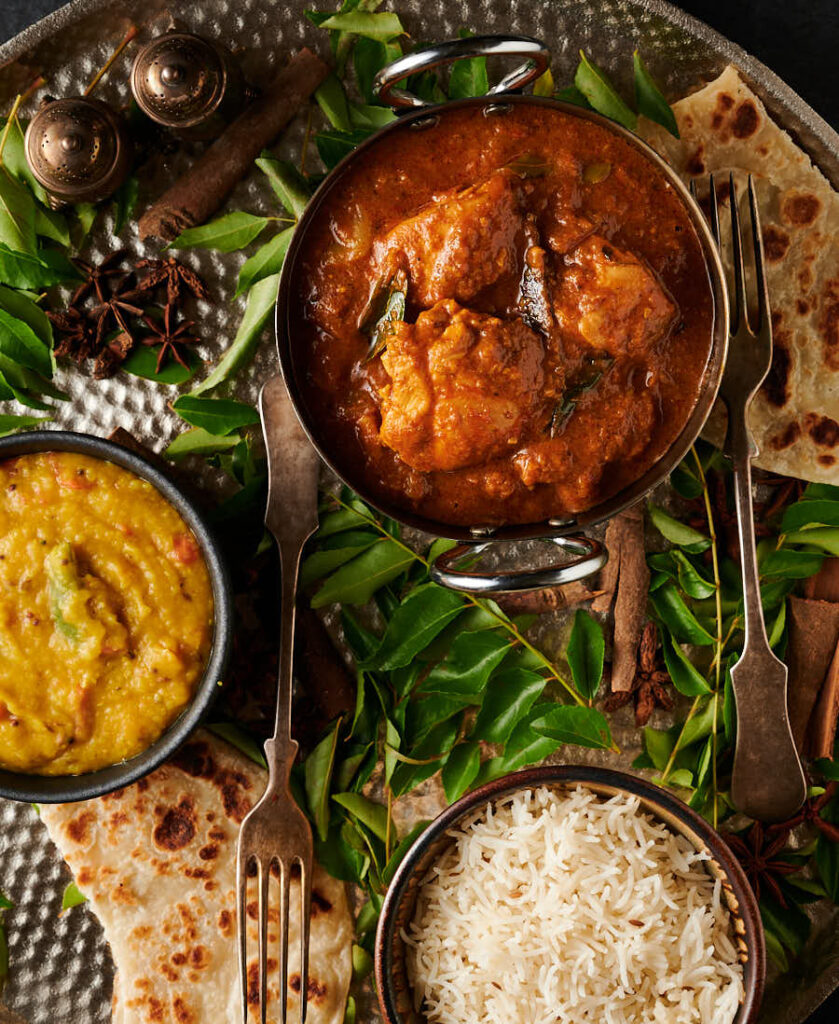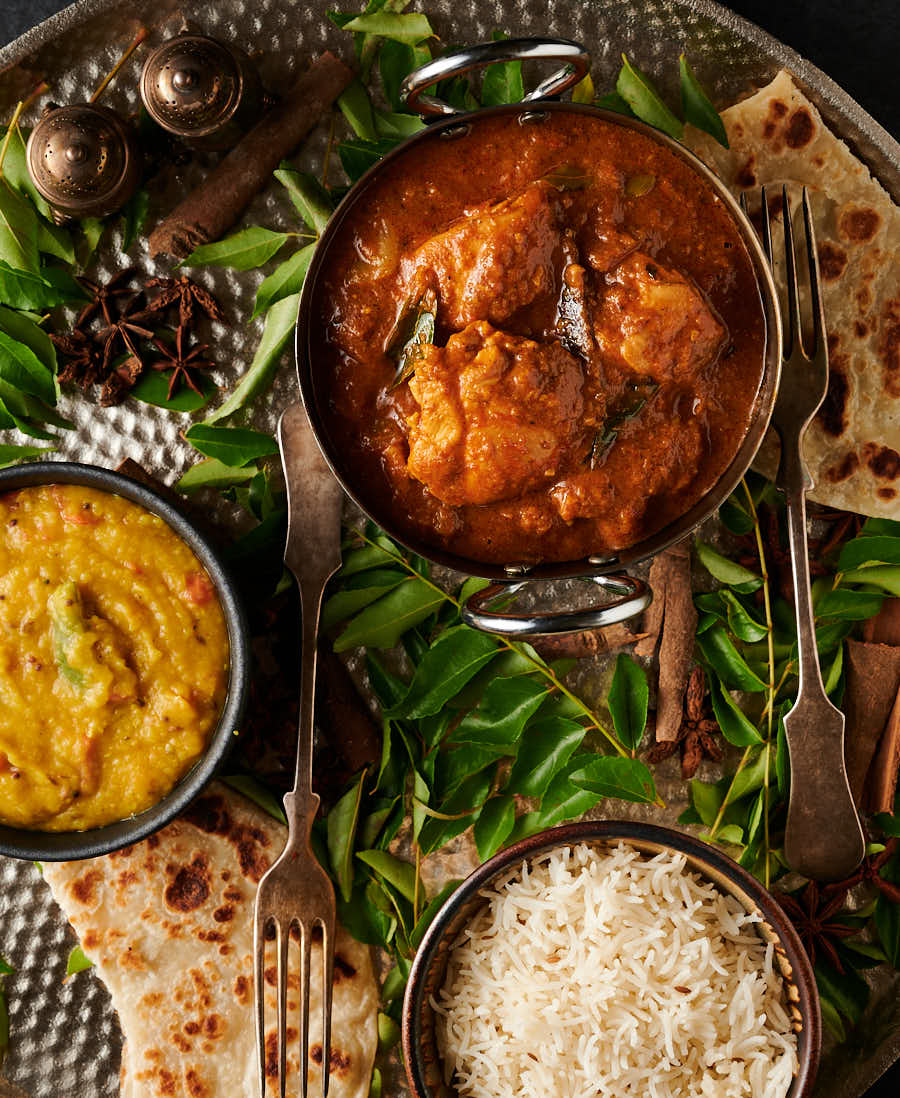 Those wonderful chicken juices
I love cooking Indian restaurant style. Don't get me wrong. But one thing has always bothered me about it.
Indian restaurants pre-cook their chicken. It's ready to drop into the final curry. It's faster. Which makes customers happy.
It's also safer in a restaurant environment. No handling raw poultry on a per order basis.
And it takes the moisture released by chicken as it cooks out of the curry. So there's no need to try to reduce the sauce to get the consistency right.
But it comes at a price. And that price is all the flavour that is in the juices. That flavour goes down the drain. That's my problem. Giving up flavour. Can't stand that.
Hotel style takes care of that. It's designed to accommodate those juices. So your curry consistency is right when the chicken is cooked.
All that flavour winds up in the curry. And then in your mouth. Where it belongs.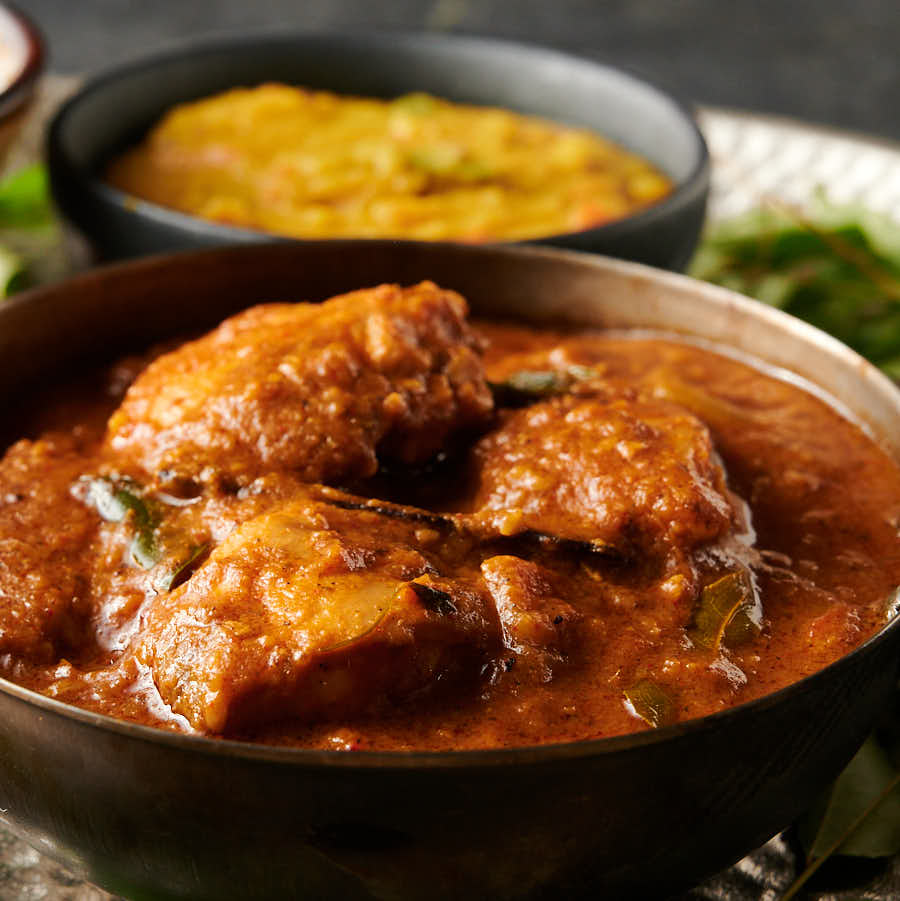 Fresh ground spices for great chettinad chicken curry
For even more wow I'm adding fresh ground spices to this. Like you weren't thinking this chettinad chicken curry was already too much work.
If you go for it though, you are in for a treat. A real treat. Fresh ground spices take this to a whole different level.
I don't always do this. And I don't tend to write about it. For two reasons.
This is more work. Which makes sense. You never get something for nothing. But I know I already push. Constantly. Always asking you to the go the extra mile. Sometimes I'm lazy too. I get it.
More importantly, I don't want to ruin things for you. Because this really is better. Noticeably better. There is just something about grinding freshly toasted whole spices. It makes a difference.
It's more hassle. No denying that. But once you try it, you'll see why it's something you need to think about doing.
In this case I don't feel too bad. I had to do it. It is near impossible to find pre-made chettinad masala. At least where I live.
And if you want chettinad chicken curry, it's hard to get around it. The masala is in the name of the dish…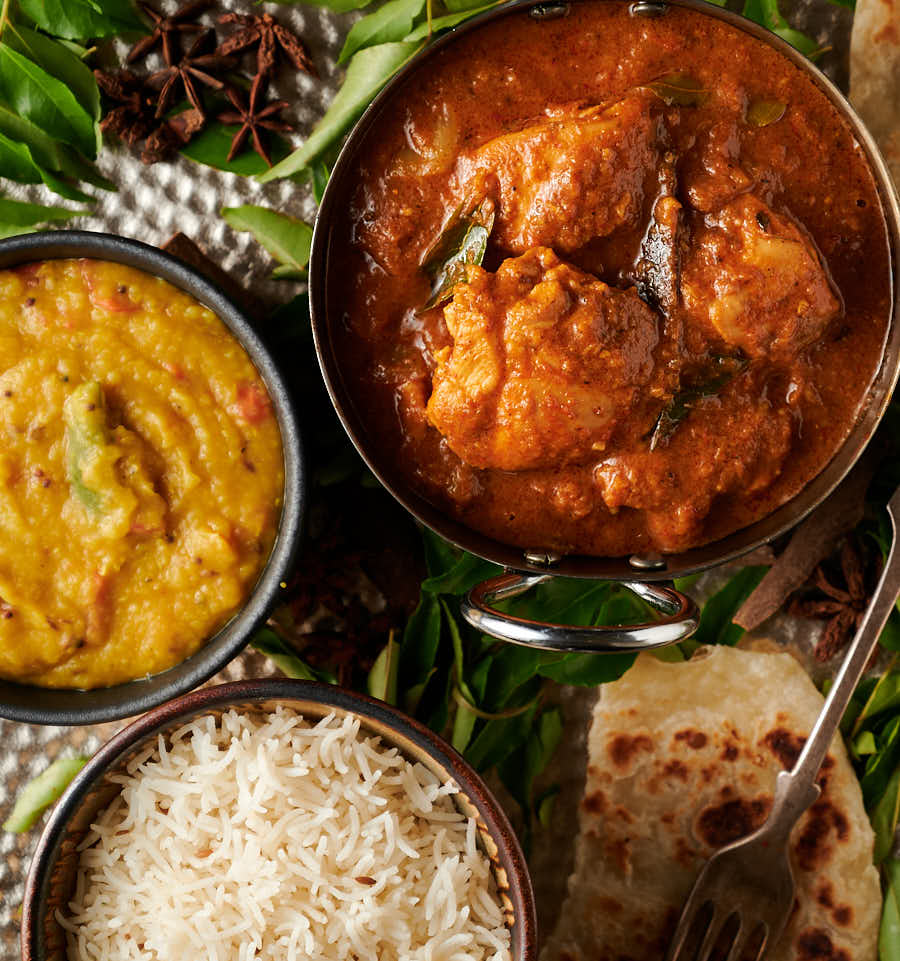 Chettinad chicken – for when you want something new
Chettinad chicken curry may not be the most common dish on Indian restaurant menus. That's a shame. It should be.
If you are looking for something different. Something delicious. With big South Indian flavours. Then this one is worth a try.
Freshly ground chettinad masala. Indian hotel curry gravy. All that flavour from the chicken. How can that not be good?
Chettinad chicken curry – Indian hotel style
All sorts of big south Indian flavours in one delicious Indian hotel style curry.
Ingredients
chettinad masala
1

tbsp

coriander seed

3

dried red chilies

– I like kashmiri chilies for this

1/2

tsp

cumin seed

1/2

tsp

poppy seeds

1/4

tsp

black peppercorns

1

inch

cinnamon bark

also known as cassia

2

arms from one

star anise

Literally break off a couple of the arms from one star anise. You don't need a lot.

1

clove

2

green cardamom pods

pinch

ajwain

optional
The spice mix
2

tsp

chettinad masala

– see above

1

tsp

kashmiri chili powder

1/2

tsp

kasoor methi

– dried fenugreek leaves

1/4

tsp

turmeric

1/2

tsp

kosher salt
chettinad chicken curry
3

tbsp

vegetable oil

– any neutral oil is fine. Coconut oil is nice as well. Try 1/2 and 1//2.

1

2 inch

cassia bark

4

tbsp

onion

chopped coarsely

1

tbsp

garlic ginger paste

– recipe link below

10

curry leaves

– fresh. And it's about 10. Not exactly 10. Just grab a few.

the spice mix from above

1

cup

Indian hotel curry gravy

– don't worry if it seem to thick. The juices from the chicken will thin it out.

3

boneless, skinless chicken thighs

cut into 3-4 pieces each

3

tbsp

coconut milk

1/2

tsp

tamarind paste

– or tamarind pulp if you make it yourself.
Instructions
Make the chettinad masala
Pre-heat a small skillet over medium-low heat.

Measure out all the large spices (coriander seed, cinnamon bark, peppercorns, star anise arms, clove and green cardamon. Put those in one small bowl. These are the "big" spices. Measure out the cumin seed, poppy seed and ajwain into another bowl. These are the "little spices". Very scientific. I know.

Add the "big" spices. Toast, shaking the pan, until they start to get fragrant. This should take a minute or two.

Add the "little" spices and chilies and toast, shaking constantly, for another minute. Flip the chilies about half way through.

Let cool and grind to a fine powder. I like a coffee grinder for this. One of those ones with the blade.
Do your prep
Chop the onion. Measure out your spice mix (everything can go into one of the little bowls you used above). Grab your curry leaves. Prep your chicken. Measure out a cup (237 ml) of Indian hotel curry gravy.

Have your garlic ginger paste, tamarind and coconut milk handy. You're good to go now.
Make the chettinad chicken curry
Heat the oil in a medium sized frying pan until the oil just starts to shimmer.

Add the cassia bark. You should see little bubbles forming around it. Cook for about 30 seconds.

Add the onions. Cook the onions until they are fully translucent. If you can get the edges to brown a bit that's a good thing.

Stir in the garlic ginger paste. Gently fry until the garlic ginger paste stops sputtering. This is the only messy step.

Turn your heat down to medium low and add your spice mix and the curry leaves. Cook for about 30 seconds. You really want to fry your spices in the oil. Don't skimp on the oil. Bad things happen if the spices stick and burn.

Add the Indian hotel curry gravy. Stir it really well to get the oil to combine with the curry gravy. You want everything mixed together at this point. Bring to a simmer.

Add the chicken thigh pieces in a single layer. Nestle them down into the sauce. Cover and ccok about 5 minutes. Remove the cover, flip the chicken and recover. Cook until the chicken is done. Use an instant read thermometer if you have one. You are shooting for an internal temperature of 160F. It will get to 170F as the curry finishes cooking.

Add the tamarind paste and coconut milk.

Look at the consistency. If you are happy with it, cover and simmer for 2 minutes. If it's too thick, add a bit of water. If it's too thin don't cover it.

Chettinad chicken curry is great with rice or, if you really want to go large, rice and a paratha. Parathas make everything better…
Notes
Make your Indian hotel curry gravy ahead of time. It takes time to make so think about doing it the day before.
For maximum flavour you should consider making your garlic ginger paste from scratch.
1 cup is 237 ml.
You may notice there's no tomato paste or passata in this recipe. That's because the tomato flavour comes from the hotel curry gravy. It's there already.
Nutrition
Serving:
2
servings
|
Calories:
640
kcal
|
Carbohydrates:
22
g
|
Protein:
36
g
|
Fat:
46
g
|
Saturated Fat:
14
g
|
Cholesterol:
161
mg
|
Sodium:
1257
mg
|
Potassium:
870
mg
|
Fiber:
7
g
|
Sugar:
8
g
|
Vitamin A:
891
IU
|
Vitamin C:
118
mg
|
Calcium:
117
mg
|
Iron:
5
mg