Chole masala is one seriously delicious vegetarian chickpea curry. This is a Punjabi jewel. Really, really good. Like no other chana masala I have ever tried.
Chole masala or chana masala?
It's different. There's about a million chana masala recipes out there. Some are good. Others are great. But chole masala is truly memorable.
I'm not really sure what the difference is between chole and chana masala. They are both chickpea curries. As far as I can tell chole is the Punjabi word for chana.
But what matters is that they have come up with a fantastic chickpea curry. Call it chana or chole masala. Doesn't change the fact that this is a great chickpea curry.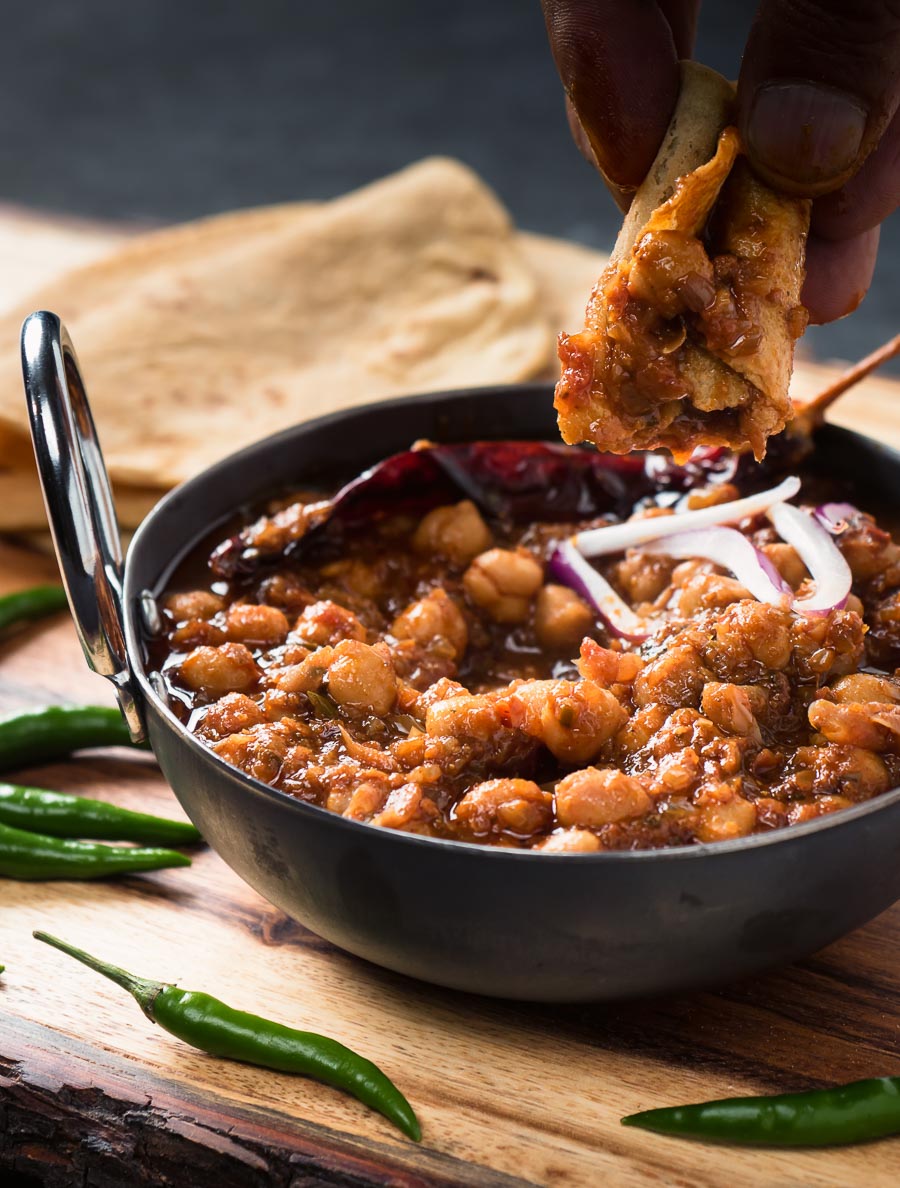 Get the picture yet? I'm saying this is the boss chickpea curry. In my mind anyway. If you came across this dish at a restaurant buffet this is what you would come back for.
I'm not saying you should go to an Indian buffet. Would never say that. Just not a fan. Mediocre Indian food sitting on a steam table. Not good. But if you did. And this was being served…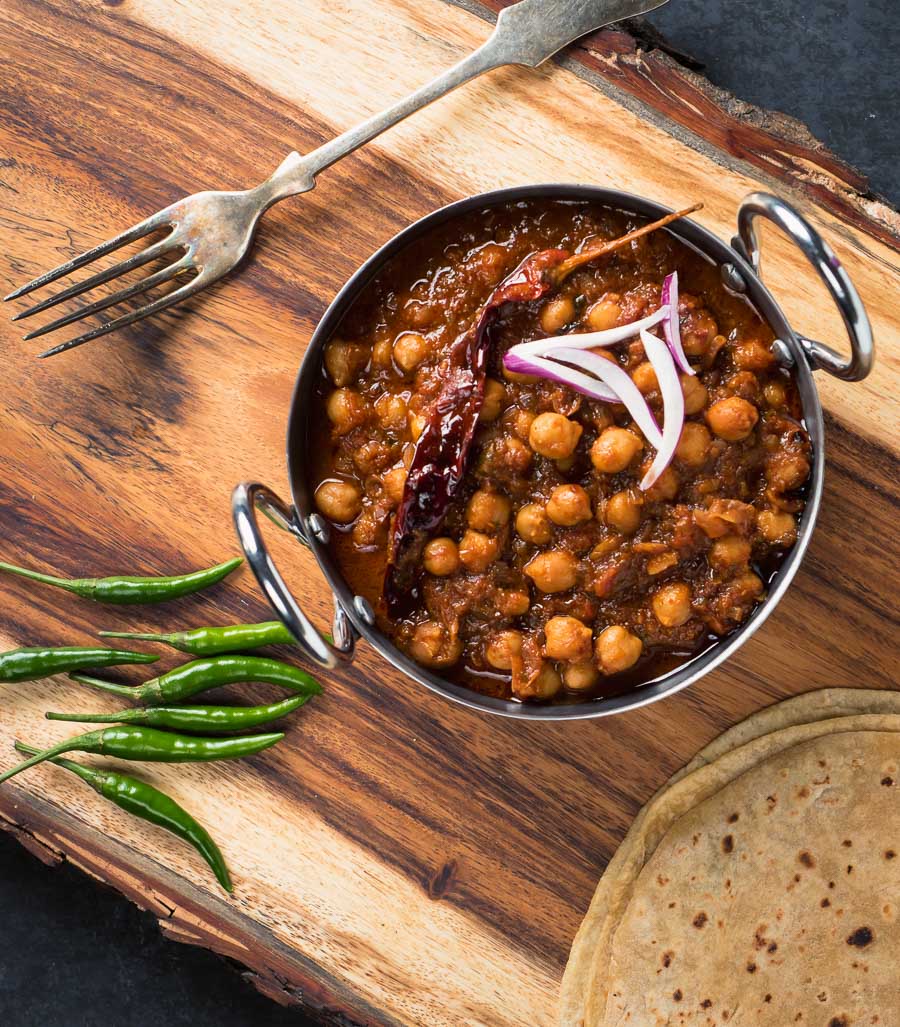 It's this crazy tomato onion curry. And what makes it special is the spicing. Savoury. Slightly sour. Earthy. A flavour bomb.
Amchoor and anardhana make this special
Two spices used are a bit unusual. They are the ones that make this special. Push it over the top. There's also some good Indian restaurant technique. Technique is always important. It's not just the ingredients. It's what you do with them.
The first is Amchoor. Amchoor is dried mango powder. It's got this earthy, slightly sour taste going on. Like tamarind but not quite. A great taste.
The other is Anardhana. Big name. But really just pomegranate seeds. Amazing how good pomegranate is in this curry.
Pretty sure this is going to take a trip to your local Indian grocer. Almost nobody has all these ingredients. It's worth the trip though. Not a waste of time. These same spices are used in lots of Indian cooking. If you like Indian you are going to need them anyway.
Just a great chickpea curry
Chole masala is a great vegetarian entree. Serve it up with an Indian flatbread and a green salad and you have satisfying meal. Seriously. I don't have even mildly vegetarian tendencies. Look around. This is not a vegan friendly blog. But I like this enough to build a vegetarian menu around it. And I'm happy about it even.
Chole masala is also a spectacular side dish for any Indian meal. Any way you serve it, it's just good. Make it. Eat it. Enjoy it. It may be the best chickpea curry you ever taste.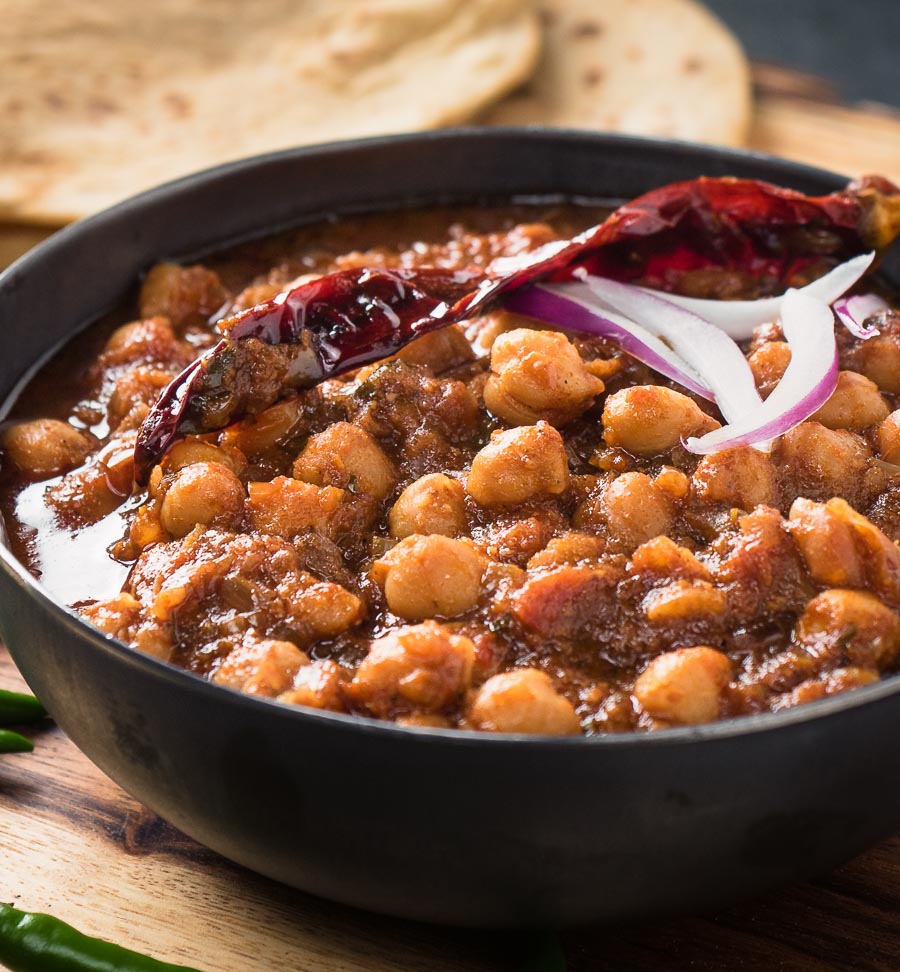 chole masala
Chole masala (or chana masala) is an absolutely delicious Punjabi chickpea curry. It not like any chickpea curry you have ever had
Ingredients
Chole masala
1

19 oz can

chickpeas

drained and rinsed

2

onions

finely diced

5

tbsp

vegetable oil

divided

2

green chilies

finely diced

1 1/2

cups

pureed tomatoes

- this is not tomato paste. Think passata...

2

tbsp

garlic ginger paste

1/2

cup

water

maybe a bit more depending on your desired consistency
Whole spices
2-3

kashmiri red chilies

2

black cardamom

3

cloves

1

2 inch piece

cinnamon bark
Ground spices
1

tsp

kashmiri chili powder

2

tsp

cumin powder

1

tsp

coriander powder

2

tsp

paprika

2

tsp

kasoor methi

dried fenugreek leaves

1

tsp

amchoor powder

mango powder - secret ingredient number one

1

tsp

anardhana

pomegranate seeds - secret ingredient number two

1 1/2

tsp

kosher salt
Instructions
Fry the onions
Add two tbsp vegetable oil to a frying pan. Surface area in the pan is going to help move this along.

Add the onions and cook over medium heat until the onions are well browned. Stir once in a while. This takes about 15 minutes. Keep going until they are soft and brown. This is important.
Prep your spices
This will give you something to do while the onions cook. Put the whole spices in a little bowl. Or toss them on the counter.

Combine all the ground spices (except the pomegranate seeds) in a small bowl.
Make the chole masala
Heat 3 Tbsp over medium heat in a second frying pan.

Add the whole spices and cook until the oil starts to bubble. This takes about 30 seconds.

Add the green chili. Cook for about 30 seconds. Add the garlic ginger paste. Cook, stirring occasionally, until it stops sputtering, about another minute.

Turn the heat to medium low. Add the ground spices and mix to get them well coated in oil. Be careful. You don't want the spices to burn. Cook for about 30-45 seconds to let the spices bloom. This is a great restaurant trick. Instantly removes that nasty raw spice taste.

Add the pureed tomato. Bring to a simmer. Mix in the onions. Add the pomegranate seed and chickpeas. Add a half cup of water and bring to simmer.

Cover with whatever cover fits (nobody ever said it has to match) and simmer for about 10 minutes. If the curry seems a bit dry add a little more water.

Garnish with a bit of red onion if you like. Serve with your choice of Indian flatbread. Chapatis, parathas pooris and naan all work really well.
Nutrition
Serving:
2
servings
|
Calories:
473
kcal
|
Carbohydrates:
38
g
|
Protein:
6
g
|
Fat:
35
g
|
Saturated Fat:
27
g
|
Sodium:
2178
mg
|
Potassium:
974
mg
|
Fiber:
10
g
|
Sugar:
17
g
|
Vitamin A:
2375
IU
|
Vitamin C:
95.3
mg
|
Calcium:
131
mg
|
Iron:
5.5
mg