Chili verde. Pork, tomatillos and green chilies jacked up by dry-roasted onion, garlic and jalapeño. One seriously delicious dish.
This is Mexican comfort food. Eat it straight up. With beans. Make tacos. Roll it in flour tortillas and nap with tomatillo salsa. The ultimate wet burrito. No rules. Just good. Any way you go. There's nothing here not to love.
I have a thing for braised dishes. A thing for Mexican cooking. And I have a thing for pork. Chili verde is a holy trinity for me. It isn't fancy. Just earthy family food. Straightforward. But so good. Doesn't have to be fancy to be great.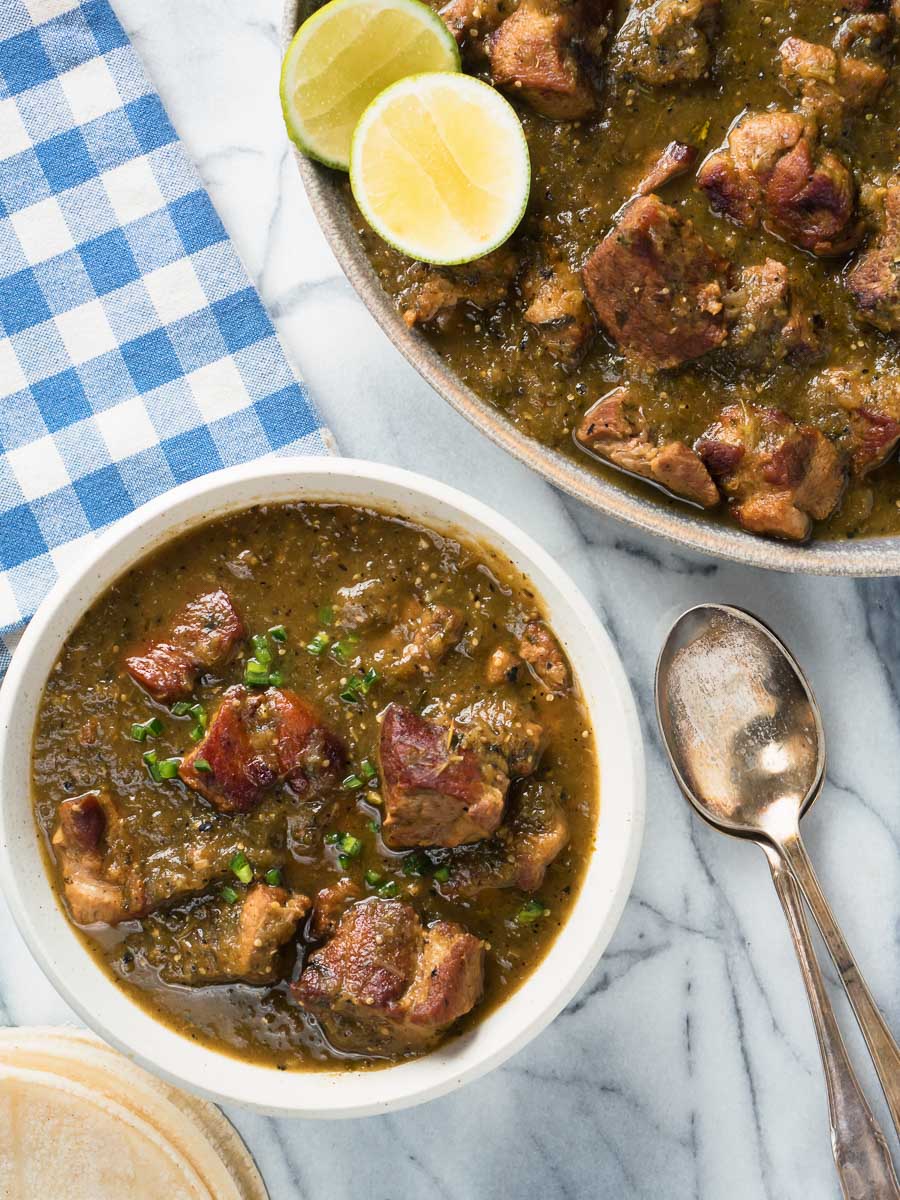 Chili verde starts with pork shoulder
Choice of pork is key. This is a stew. Low and slow. Like barbecue. Lean cuts are out. Pork loin would be terrible. Like eating dust. You need the fat. And connective tissue. That's where the magic is.
The same things that make for good pulled pork make good chili verde. You want meltingly tender. Pork shoulder. That's what works here. Match made in heaven.
Time is key as well. This is slow food. You can't make this fast. It's a braise. Braises take time. It's ready when it's ready. If you don't cook it long enough it's tough. Rubbery. Not good.
So take your time. Plan for it. It's going to take a couple hours. At least. Be warned. You cannot rush a braise. It just doesn't work.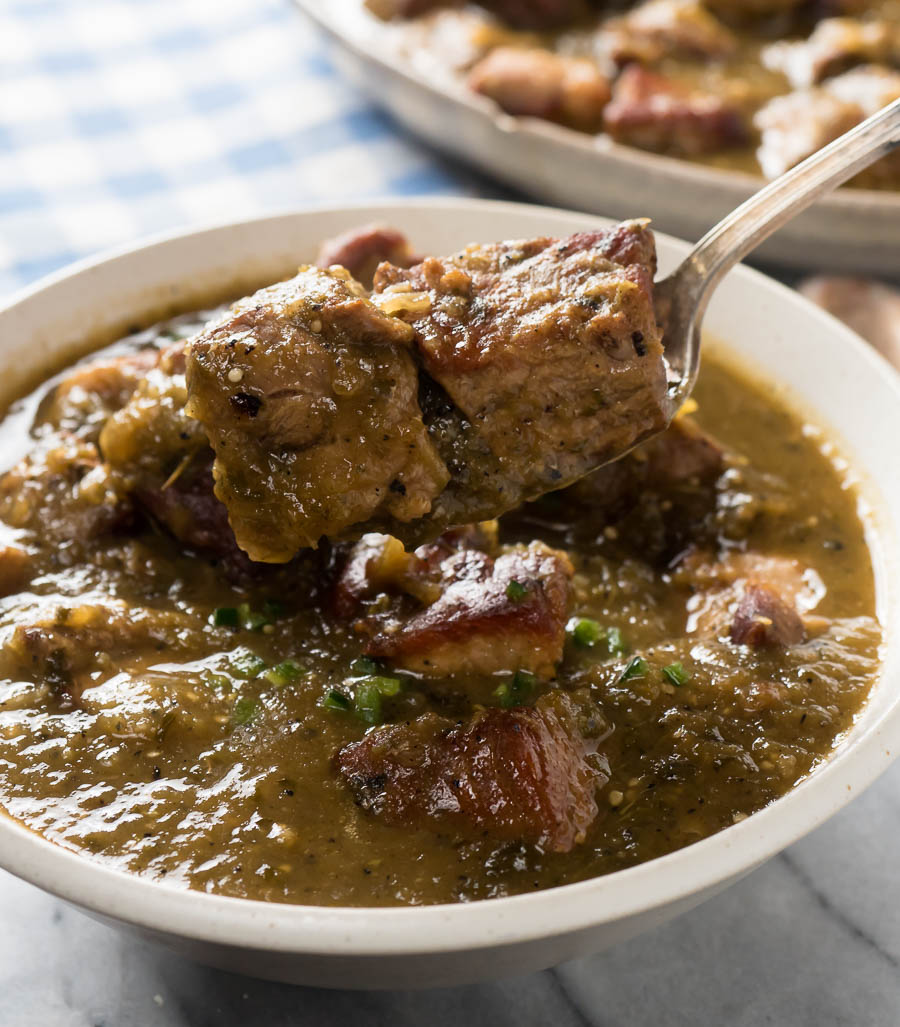 Brown the pork for deeper flavour
Browning the pork is important too. Look up the Maillard reaction. It's what happens when meat hits heat. All kinds of complex flavour compounds get created. Those flavours go into your chili verde. Embrace it. It makes everything better.
If you take one thing away from this remember browning equals more flavour. More flavour is better. There's no reason at all why you can't pull it off. Just slow down. Let it happen.
If you can make stew you can make chili verde. If you can't make stew, follow the instructions and believe. At the end of it you will be a master. It's not hard. You don't have to move particularly fast. And the results will blow your friends away.
Chili verde. For when you want the biggest flavours. When you want a chili that isn't run of the mill. When you want to make your mouth happy. It's for when you want to impress yourself. Try it. You won't be disappointed.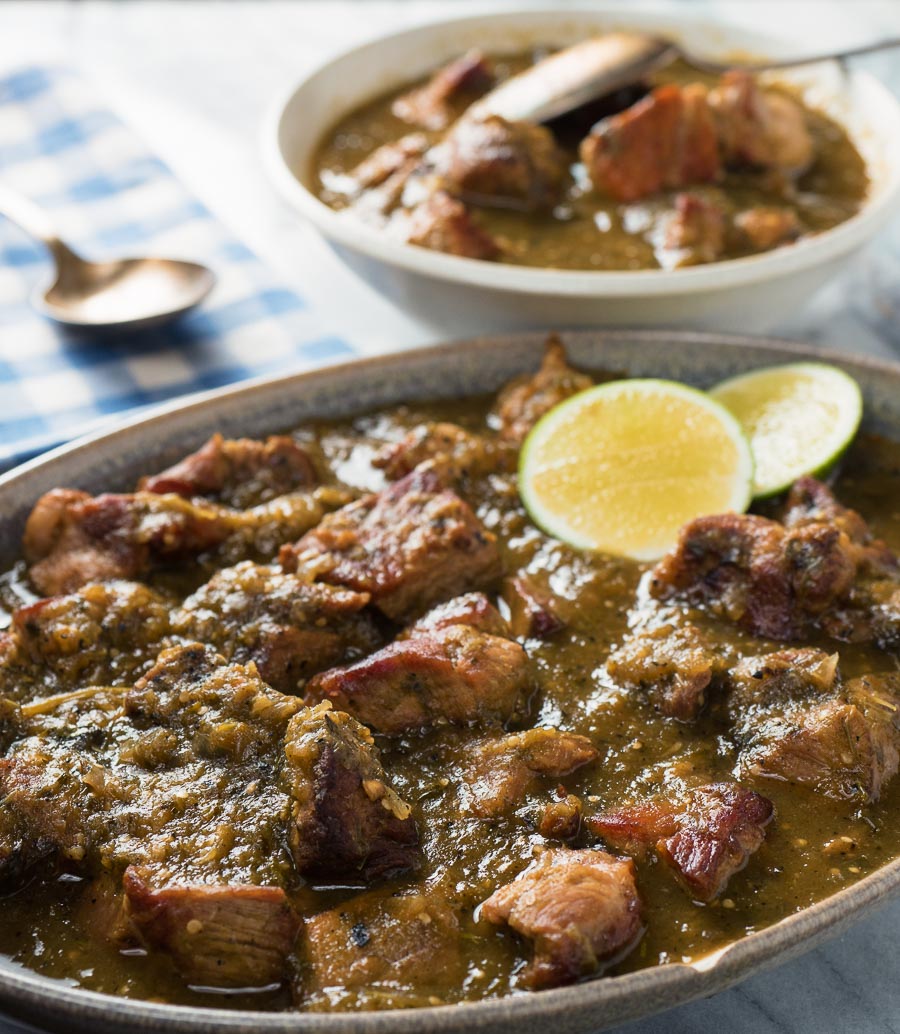 chili verde - pork with tomatillos and green chilies
Chili verde is an absolute classic dish that is best made with pork shoulder.
Ingredients
3

lbs

pork shoulder

cut into 1 inch cubes

1

large

white onion

sliced into 3/4 inch slices

5

cloves

garlic

in the husk

2

medium

jalapeños

1 1/2

lbs

tomatillos

husk removed

5-8

Anaheim or poblano chilies

roasted, peeled and seeded

1

bunch

cilantro

1

tsp

salt

plus more to taste

2-3

tbsp

vegetable oil

to brown the pork

chicken stock

as needed

1/2

tsp

Mexican oregano

If you don't have it, do NOT use regular oregano.
Instructions
The sauce
Use a comal or cast iron skillet. Heat over medium heat. Add the onion slices, garlic and jalapeño. Dry roast until the onion and garlic are lightly charred and the jalapeño skin blisters. Peel the garlic. Remove the seeds and inner membrane from the jalapeños. Set aside.

Place the tomatillos on a baking sheet lined with foil. Move your rack up high in the oven. Broil until charred. Black skin is OK. Set aside.

Light your grill. Grill the anaheim/poblano peppers until charred. Remove from the grill. Place the charred peppers in a paper bag to steam and soften. Peel and seed.

If you can get hatch chilies, use them and leave me a comment bragging about how lucky you are. Seriously. I am very jealous. I have never seen one in a store in my life.

Or you can just use canned chilies. Much easier. Almost as good.

Coarsely chop the charred onions. Chop the chilies. Place the onions, chilies, garlic, jalapeño and tomatillos in a blender. Puree until pretty smooth. It will still be a bit chunky. That's OK. If it doesn't puree easily there's not enough liquid. Add a bit of chicken stock.

Add the cilantro and pulse until coarsely chopped and distributed throughout the sauce. Add the Mexican oregano if using. Set aside.
Chili verde
Preheat a large dutch oven over medium heat. Add the oil. You want enough so the bottom of the pot is well coated.

Working in batches, brown the pork. You will need to do this in 2-3 batches, depending on how large your pot is. Don't overcrowd the pot. You will get steamed pork instead of nicely browned pork. Not good. Brown pork means flavour. Steamed pork - not so much. Set the pork aside.

Add the pureed chili tomatillo mixture to the pot. Watch out. It will bump and splatter. Wear your worst clothes. Cover it to contain the mess. Cook the mixture over medium low heat, stirring occasionally, for 10 minutes.

Return the pork to pot along with any accumulated juices. Add just enough chicken stock to cover the pork. You may not need to add any at all.  

Simmer until the pork is tender. This can take an hour or two or even more. Depends on the size of the chunks.

When the pork is fork tender (so you can stick a fork in the pork and it meets very little resistance) taste and adjust the salt.

Serve with lime for those that like a bit of extra zing. A bit of diced fresh jalapeño is tasty if you want it a bit hotter. Tortillas or pinto beans make a nice side. If you really like pintos, mix them right in. This is just a big pot of chili after all. No rules. No judgement.
Notes
If you don't want to go to the trouble of roasting peppers, use 2-3 4 oz canned of roasted green chilies. Not quite as good but still delicious.
Nutrition
Serving:
6
servings
|
Calories:
304
kcal
|
Carbohydrates:
12
g
|
Protein:
28
g
|
Fat:
15
g
|
Saturated Fat:
7
g
|
Cholesterol:
92
mg
|
Sodium:
620
mg
|
Potassium:
835
mg
|
Fiber:
3
g
|
Sugar:
6
g
|
Vitamin A:
240
IU
|
Vitamin C:
22.8
mg
|
Calcium:
38
mg
|
Iron:
2.5
mg