Spicy. Salty. Savoury. Smoky. Asian grilled chicken wings. Delicious. And dead easy.
I love chicken wings. Seriously. It's an addiction. Might be my absolute favourite thing to eat. So I like to mix things up. Asian grilled chicken wings are tasty wings with a twist. Who doesn't love a twist?
Deep fried wings are really good. Hard to beat really. That's why they do it in restaurants. I deep fry sometimes. But it's messy. And the house smells for days. Better to get deep fried wings in a restaurant. Let them clean up.
One exception. Korean fried chicken wings. Deep fried magic. They are so worth it. If you only ever deep fry chicken wings once in your life…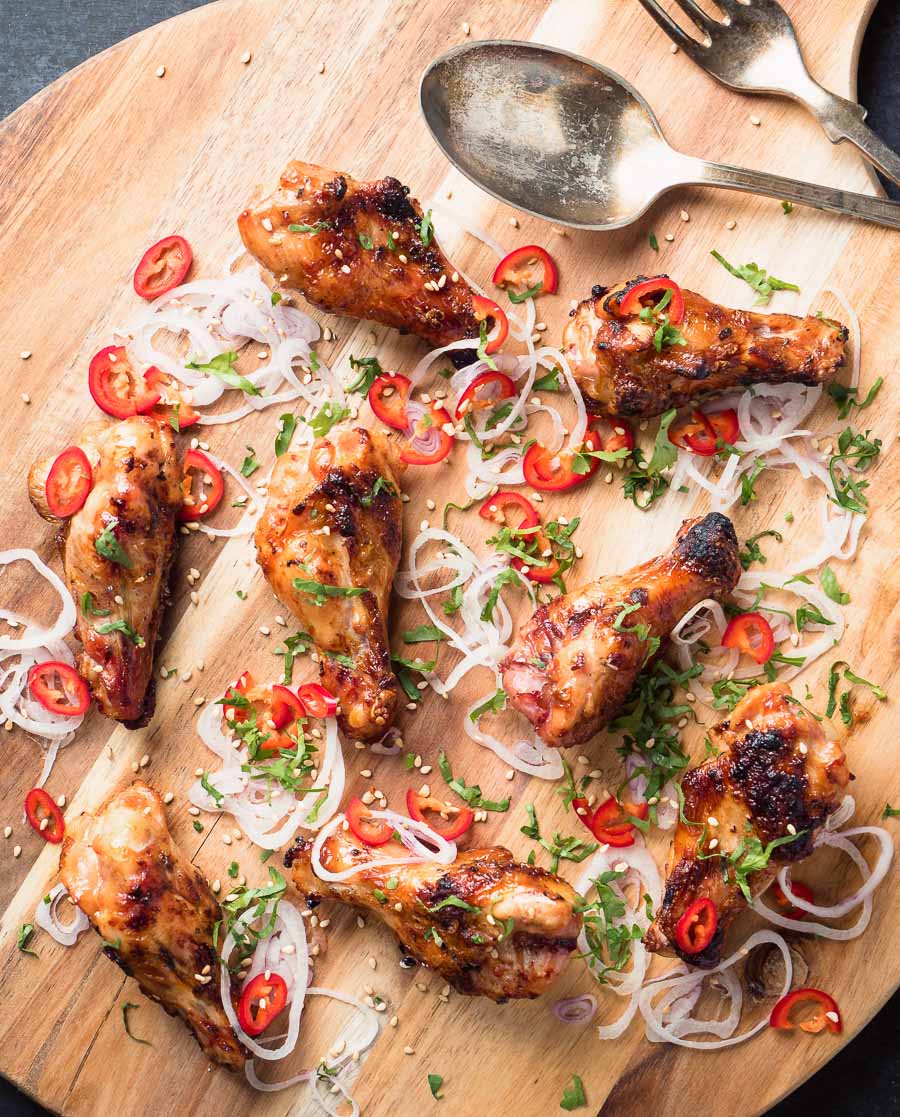 Grilled chicken wings are the way to go
Grilling is the other great way to cook wings. High heat crisps the skin up nicely. And the kiss of smoke is something a deep fryer cannot deliver. Just as good as deep fried if you do it right.
The great thing about grilling wings is you cook the marinade or dry rub. The flavours mingle with the juices of the chicken. Can't do that when you deep fry.
Plus you get a bit of smoke flavour. It's goodness on top of goodness. How can that not be great?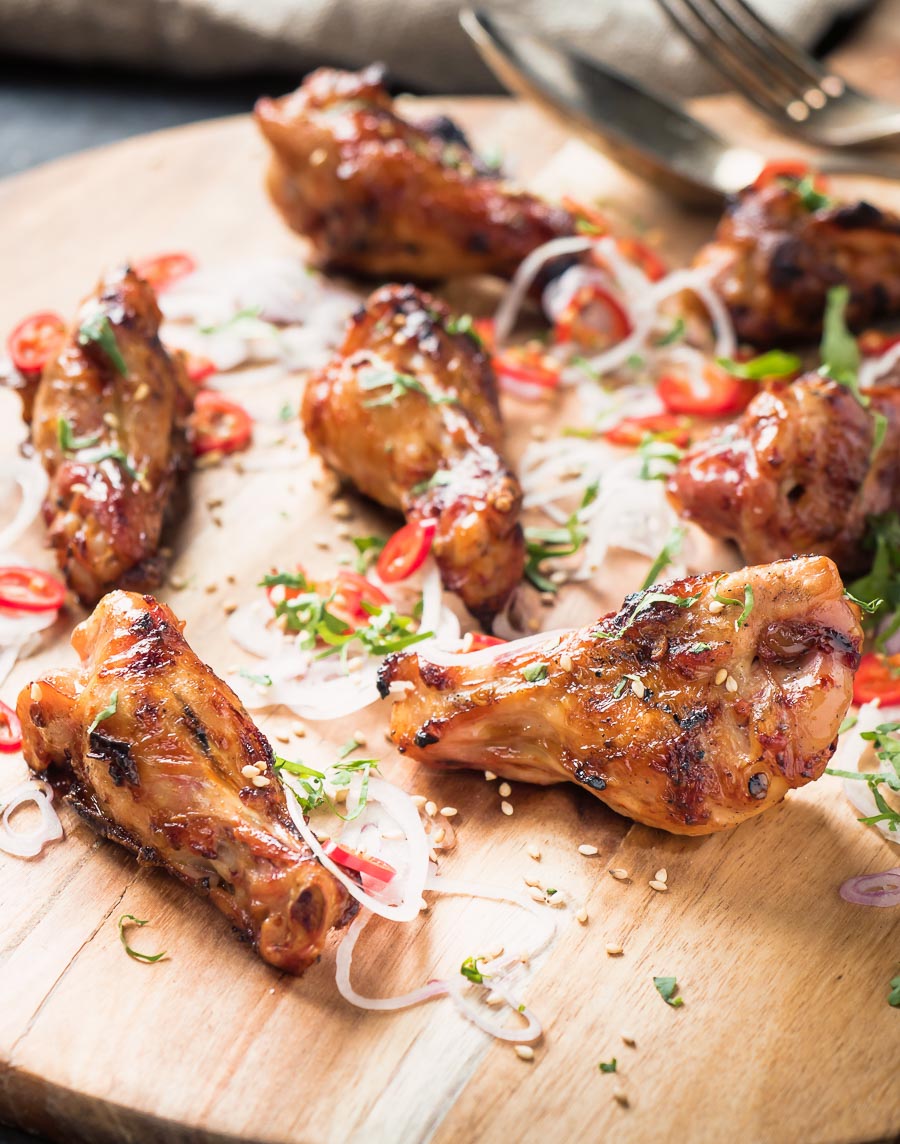 Set up for indirect grilling
You want to grill over indirect heat to start. Get them going. Build your fire so you have a hot zone and cool zone. Put a drip pan under the cool zone. Chicken wings will render a lot of fat. Messy if you don't plan ahead.
Cook your chicken wings over indirect heat until they are almost done. Maybe flip them once or twice while they cook. Keep the fat basting the skin.
Then move them over direct heat a few wings at a time. Crisp them up. Get that golden brown going on. No out of control fire this way. Perfect wings every time.
That's a great technique any time you are grilling chicken with skin. Always put a drip pan under the indirect zone. That makes for way easier clean up. And no surprise grease fires next time you fire up your grill.
Asian grilled chicken wings are crazy easy to make. Toss the wings with a bit of fish sauce and some chili paste. A bit of granulated garlic for that little extra something. Grill them up. Garnish and eat.
Every bite of Asian chicken wings is about big flavours
The garnish is key here. It's not just something to make the wings pretty. It's important. Makes the dish. Don't leave it out.
The mix of the salty chicken with the bite of red chili. The crunch of the shallot and the savoury cilantro. That's what you are after. You want all the flavours in every bite.
Asian grilled chicken wings are delicious on their own. They stand up. Big, big flavours. But when you mix in the the garnishes… Then it becomes something really special.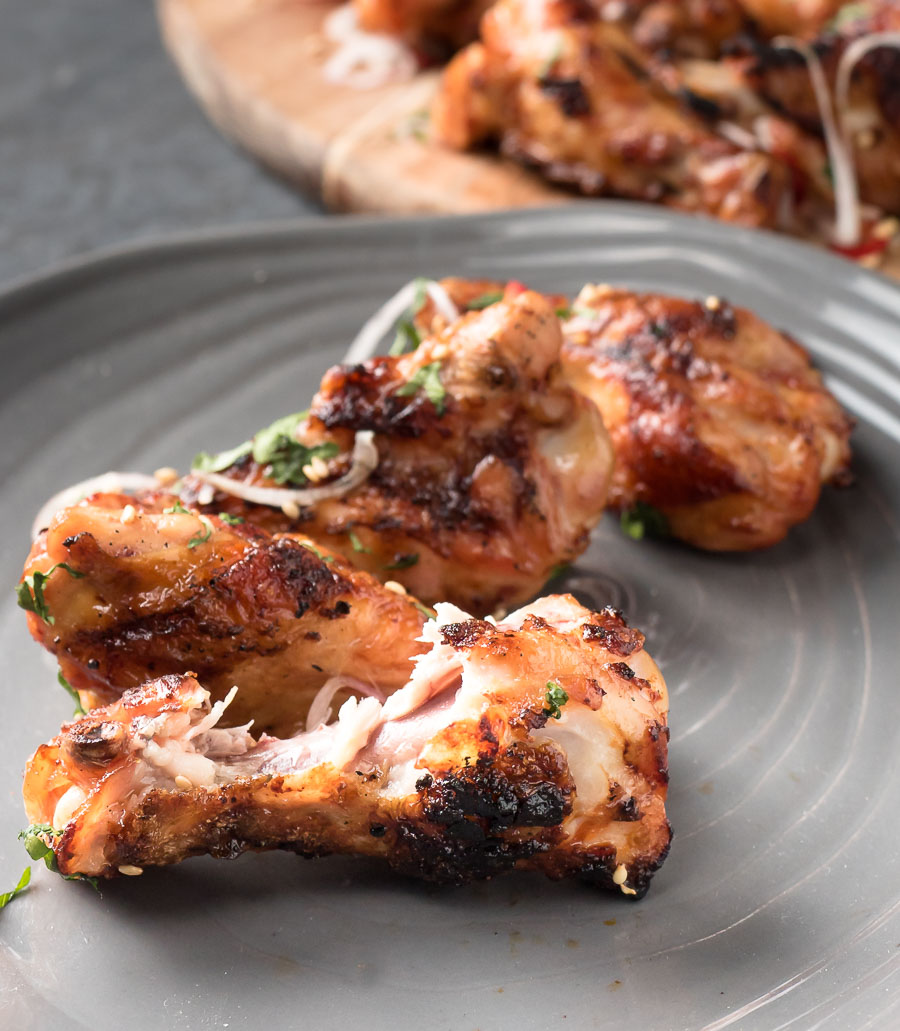 asian grilled chicken wings
Asian grilled chicken wings are salty, spicy, savoury and smoky. For when you want something special. Something out of the ordinary.
Ingredients
2

lbs

chicken wings

3

tbsp

fish sauce

1

tbsp

sambal oelek

- best with sambal but you can use whatever Asian chili sauce you can find.

1/4

tsp

granulated garlic

thinly sliced shallot, minced cilantro, sliced red chili pepper and sesame seeds

- for the topping. This isn't really optional. It's key to the dish. Don't use a crazy hot red chili unless you are a serious chili head.
Instructions
Combine the fish sauce, sambal oelek and granulated garlic in a bowl large enough to hold all the wings.

Add the wings to the bowl and toss to coat. Let the wings marinate 1-4 hours (in the refrigerator), stirring occasionally to make sure every piece marinates.

Grill the wings. I prefer charcoal but gas works as well. Set your grill up for high indirect heat. Cook the wings for about 12-15 minutes.

Move a few wings over direct heat. Watch them closely. You want them nicely crisped and brown. You don't want golden black (which is just black and nasty if you are new to this blog). Burnt wings suck.

As they brown, move them back over indirect heat. Cycle the wings through the crisping, direct heat phase until they are all just golden brown .

Continue to cook the wings over indirect heat until you get to an internal temperature of 175F or so. If you don't have an instant read thermometer please get one. Professional cooks use them. You should too.

Serve the wings garnished with the red chili, shallot, cilantro and sesame seeds. You want to make sure every wing gets some garnish when you eat them.
Nutrition
Serving:
4
servings
|
Calories:
277
kcal
|
Protein:
23
g
|
Fat:
19
g
|
Saturated Fat:
5
g
|
Cholesterol:
94
mg
|
Sodium:
1235
mg
|
Potassium:
229
mg
|
Vitamin A:
180
IU
|
Vitamin C:
3.3
mg
|
Calcium:
20
mg
|
Iron:
1.3
mg