Korean ramen. It has to happen. Japanese ramen with big, bold, spicy Korean flavours. There's nothing here not to love. Someday this is going to be everywhere.
It had to happen on this blog anyway. I love ramen. I really love ramen. And I love Korean food. So sooner or later I had to try this. And I'm glad I did. I could open a food truck on this alone.
This is not dressed up instant noodles
This is not ramyeon with extra fixins. This has nothing to do with instant noodles. This is Japanese style traditional ramen done with Korean flavours.
Not quite full bore Japanese ramen though. That takes a day to make. At least. It's epic. This is simplified. You can make Korean ramen in an hour.
That's the nice thing about adding big Korean tastes. It takes away the need to create those subtle Japanese flavours. Those nuances take real work. Not weeknight dinner material.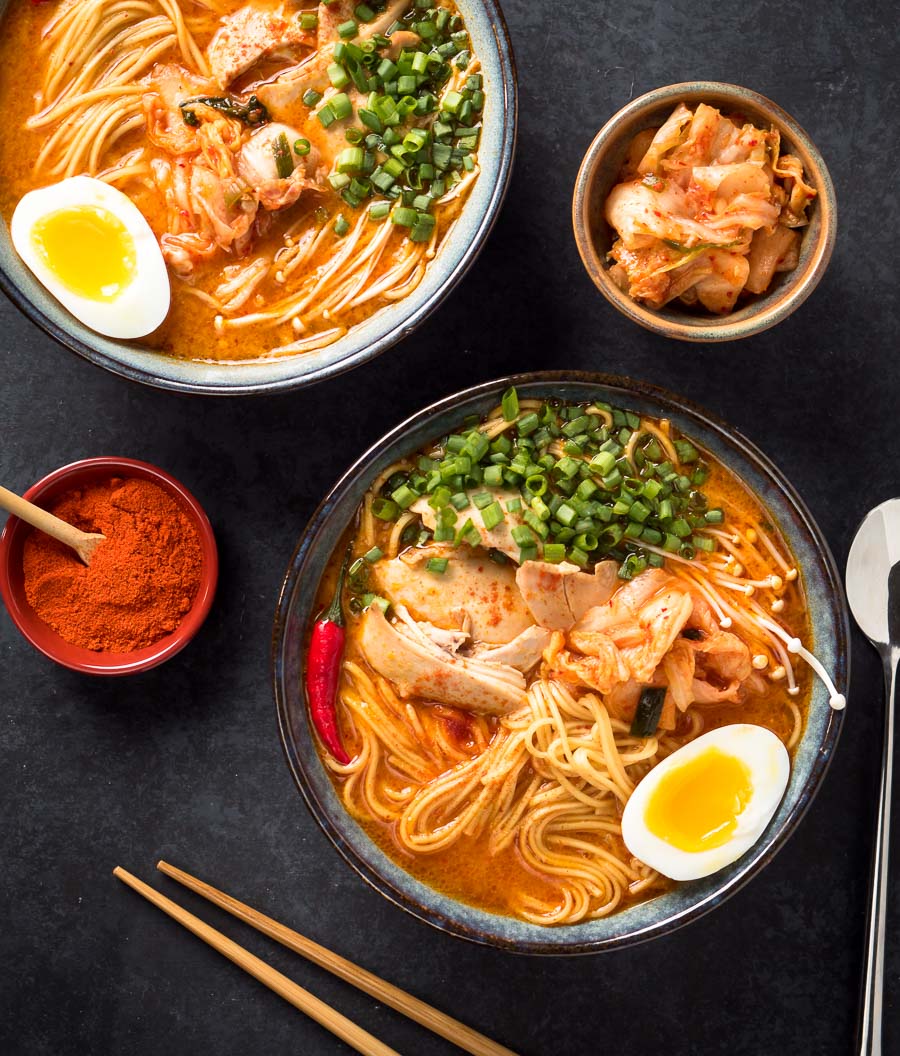 I haven't gone the whole way yet. Thinking about it though. What would happen if I took full on tonkatsu ramen broth and jacked it with gochujang?
It will be off the scale I'm pretty sure. But it would also use up some of my precious tonkatsu ramen stock. My all day stock.  I'm not sure I am game for that. Not yet.
Korean ramen – it's a food trend waiting to happen
This style Korean ramen doesn't exist in Korea. There's no such thing as traditional Korean ramen. In Japan, the instant ramen came from a deep rooted love of traditional ramen. Instant ramen was invented in 1958. Fast food.
The Koreans picked up on the instant ramen. And they ran with it. Today they eat more instant ramen per capita than any other country in the world.
They have restaurants that specialize in adding stuff to their version of instant ramen. Can't say I'd line up to try it but it's a thing.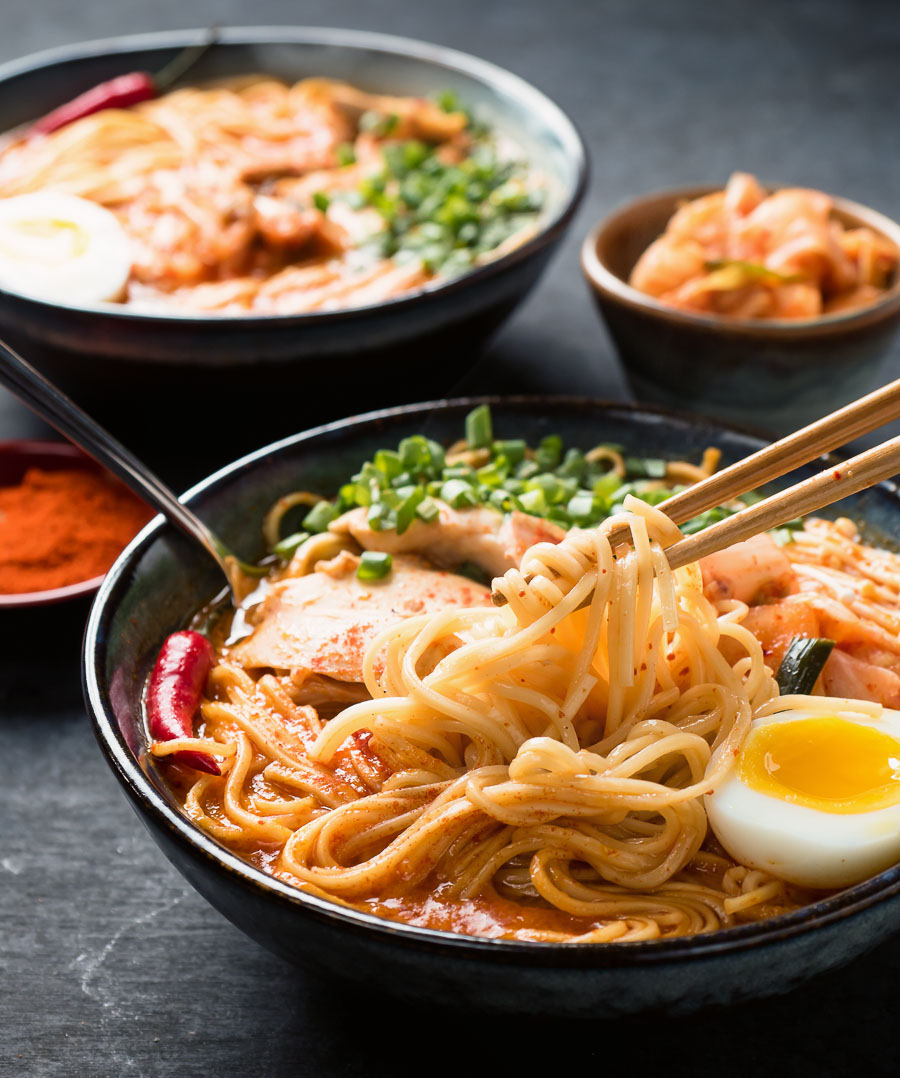 Time to learn about Korean ingredients
There are a few ingredients you will need to source to make Korean ramen. Gochujang is spicy Korean fermented soybean and rice paste.
Doenjang is optional – pretty much gochujang without the spice. Gochugaru is Korean chili flakes.
All these ingredients figure highly in Korean cooking. If you are getting into it you will wind up using them up. They are not expensive. Go for it. If you like Korean, you will use them up.
The other big one is ramen noodles. You can make this with other types of noodles but ramen noodles are special. Different. They are alkalinated.
When you are shopping, look at the ingredients. Alkalinated noodles will have potassium carbonate and/or sodium carbonate listed in the ingredients. That's what makes them alkalinated and that's what makes them ramen.
Korean ramen. Spicy. Savoury. Bold. Delicious. If you like ramen. If you like Korean. Then you will like this. Maybe even love it.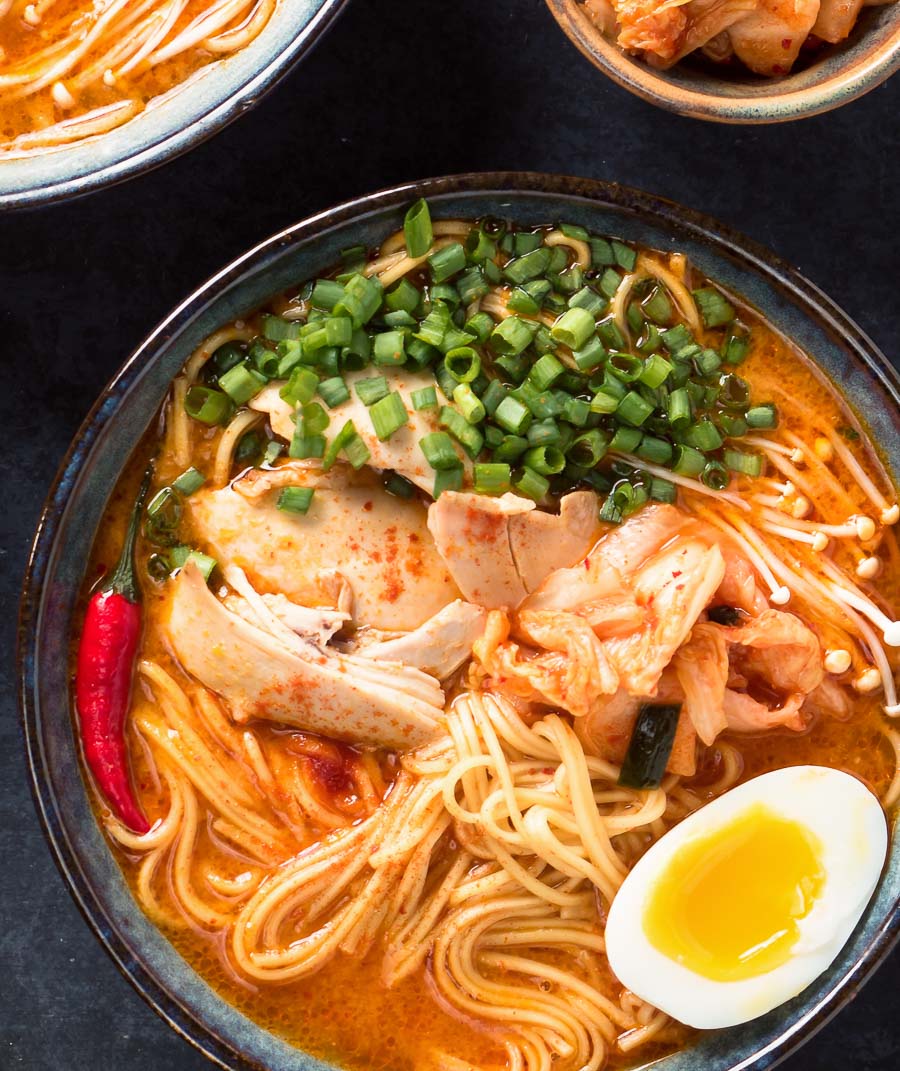 korean ramen
This Korean ramen is an upscaled version of traditional Korean ramyeon. Big, bold Korean flavours and decent ramen noodles. This is not dressed up instant ramyeon.
Ingredients
Korean ramen broth
4

cups

chicken stock

4

tsp

gochujang

1

tsp

doenjang

(optional)

2

tsp

shiro miso

1

tsp

coarse gochugaru

(not the fine powdered type)

1

tsp

fish sauce

4

skinless chicken thighs
Korean ramen
2

large

eggs

green onions, enoki mushrooms, kimchi - whatever you like really

the reserved chicken

the Korean ramen broth

4-5

oz

Japanese ramen noodles

- not the instant kind
Instructions
The broth
Bring the chicken stock to a simmer over medium low heat in a pot that is large enough to hold the stock, chicken and ultimately noodles.

Poach the chicken thighs until they reach an internal temperature of 175F. Use an instant read thermometer. Always use an instant read thermometer. This should take about 25 minutes.

Remove the chicken thighs. Set aside to cool enough to handle. Pull the chicken off the bones. You want bite size chunks. Reserve.

Strain the stock if you are worried about little bits floating around in it. Not a big deal, though. Nothing wrong with little bits. Return the stock to the pot.

Combine the gochujang, doenjang if using, miso and gochugaru in a small bowl. Add a bit of hot chicken stock to the bowl and stir to combine. You want to do it this way. If you just add the flavouring to the big pot you are going to be chasing bits of gochujang around the pot for an hour. Trust me.

Add the gochujang stock mixture to the remaining stock in the pot. Stir in the fish sauce. Taste. Adjust salt if needed. Your broth is ready.
Medium boiled eggs
In a medium saucepan, bring water to a boil. Boil large eggs for 6 minutes 30 seconds. If using extra large eggs boil them for 7 minutes 30 seconds. You may have to adjust your times slightly depending on the exact size of your eggs but this should get you pretty close.

Submerge the eggs in really cold or ice water to chill. This stops the egg yolks from continuing to set up. Peel and set aside. They will warm up in the broth.

Carefully cut the eggs in half lengthwise right before you serve. The yolk is still a bit runny so use a sharp knife.
Korean ramen
Bring the Korean ramen broth to a boil. Add the noodles and cook until done. Follow the instructions on the noodle package. Return the chicken to the broth to warm through. Slice the eggs lengthwise.

Ladle the broth, noodles and chicken into a bowl. Top with the eggs, green onions, enoki mushrooms and kimchi. Serve a bit of extra gochugaru alongside for the serious chili-heads.
Nutrition
Serving:
2
servings
|
Calories:
761
kcal
|
Carbohydrates:
65
g
|
Protein:
71
g
|
Fat:
21
g
|
Saturated Fat:
5
g
|
Cholesterol:
440
mg
|
Sodium:
1449
mg
|
Potassium:
1318
mg
|
Fiber:
2
g
|
Sugar:
10
g
|
Vitamin A:
655
IU
|
Vitamin C:
2.6
mg
|
Calcium:
78
mg
|
Iron:
4.9
mg